A SERP (Search engine result page) is a page you see after performing a search using a search engine.
What Are SERPs? Here is everything you need to know about search engine result pages.
SERP stands for search engine results page. It is a page that you see right after you perform a search using a search engine. As you may have noticed, the search engine will usually give you the most relevant search results you entered. 
SERPs may vary between search engines, but they all use similar results. We'll explore this later in this guide. 
In fact, you'll discover how to perform SERP analysis and exact strategies that helped us rank #1 on the search results pages of Google.
They are super-easy to follow and will help you rank high in no time.
Let's dive in.
What Are SERPs?
Do you remember the last searches you made in Google? And do you remember scrolling through the results? The pages you are seeing are exactly what SERP is. 
The SERP definition is simple.
SERP or Search Results Page is a page that appears when you search for something in search engines. 
There you'll get a list of all webpages for your search query ranked by the search engine.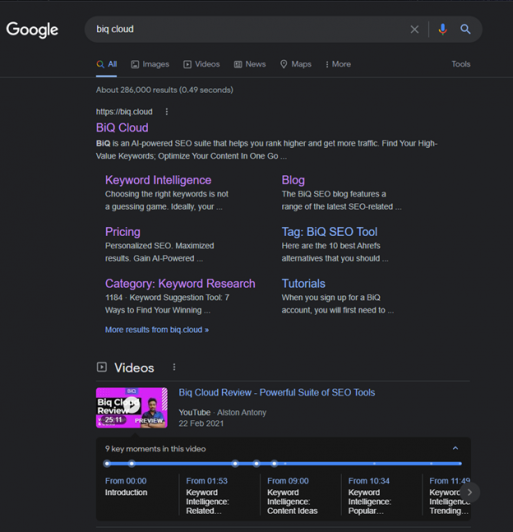 The search query or keywords is the phrase you type into the search bar. For instance, in the picture above, the search query is "BiQ Cloud."
However, you should know that not all Google results are equal.
There are different types of search results you should be aware of. In fact, the second type of search results can help you rank on top of Google within a few seconds.
What Are Organic Results?
Organic results are webpages listed and ranked by Google's ranking algorithm. All of the search results on the SERP below are organic.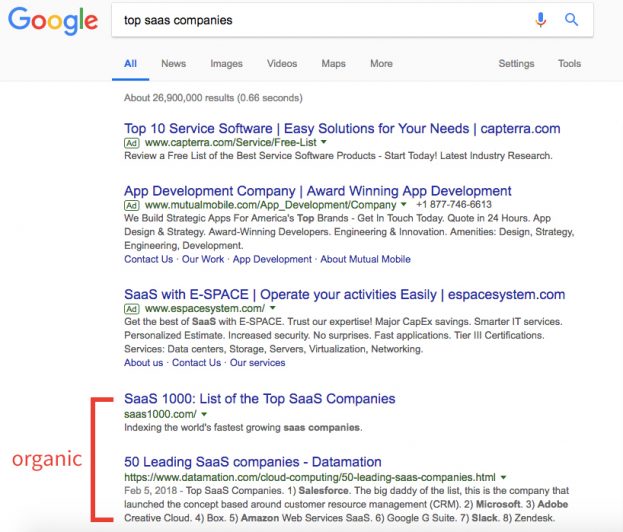 These results are the primary content of each SERP and displayed for every search in which results are found. Webmasters typically want their websites to rank high on relevant SERPs, so they used various search engine optimization techniques to improve the ranking of SERPs' rankings. 
What Are Paid Results?
Paid results are a lot different from organic search results.
They sit on the top of Google, above the organic results. And you can easily rank there just by paying Google a certain amount of money.
You can quickly spot them because they have "Ad" written next to the search result.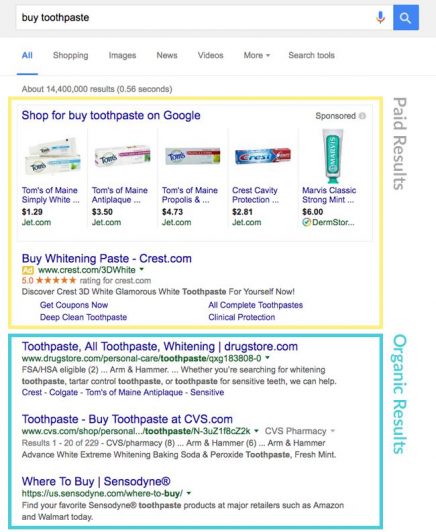 These results are also called PPC or Pay Per Click ads.
They are supplied by advertisers who bid on keywords that are relevant to their content. Paid listings provide a way for advertisers to generate traffic to their websites through search engines even if their organic search ranking is not very high. 
You might be wondering if it's really worth it. Paying for each click seems scary, right? But, as it turns out, it does, and the results are incredible…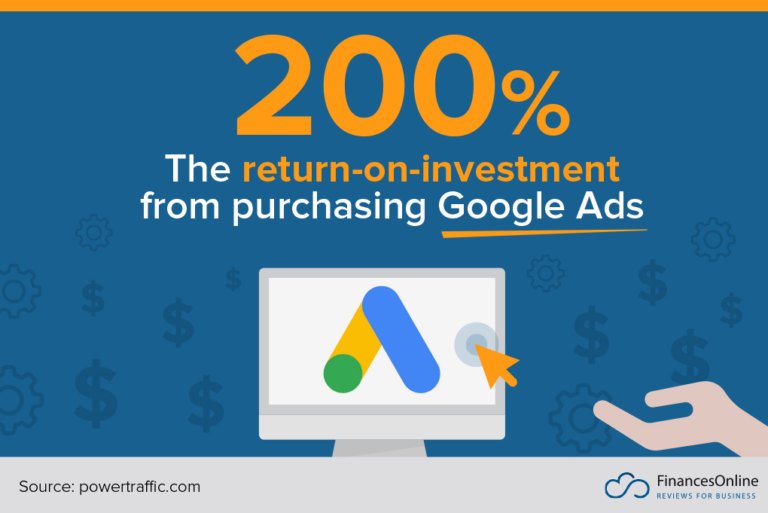 If you are unsure whether to use SEO or PPC to rank high on the SERP, I would recommend you check out our post explaining the difference between SEO and PPC.
What Are The SERP Features?
We've talked about the two types of SERP results, so you might be wondering, "What the heck is the SERP features?"
The answer is simple – Everything that isn't organic or paid search result. 
Yep, that's right, and this includes searches with the rich snippets like the People Also Ask section…
Or Knowledge panel SERP feature…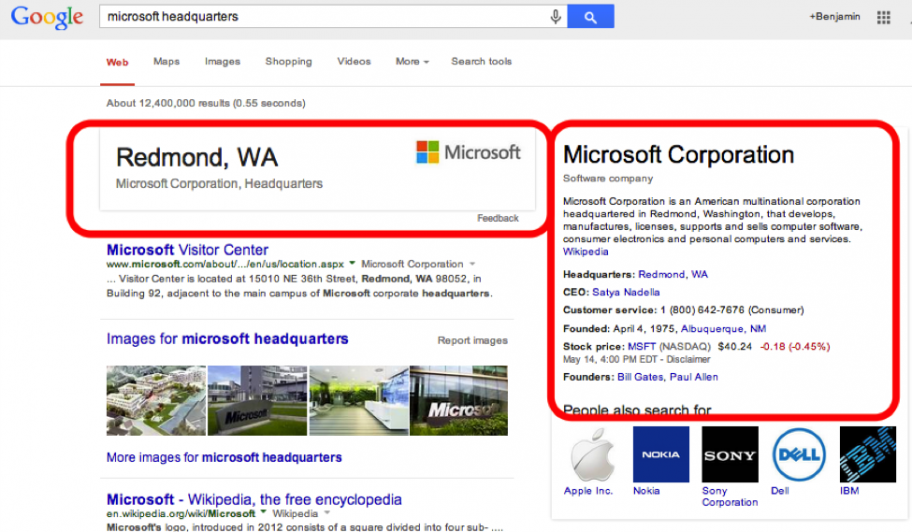 Or even a Featured snippet, which sits on top of all search results (A.K.A 0th position). If you are interested in learning more, here is a complete guide on making it to the Google Featured Snippet.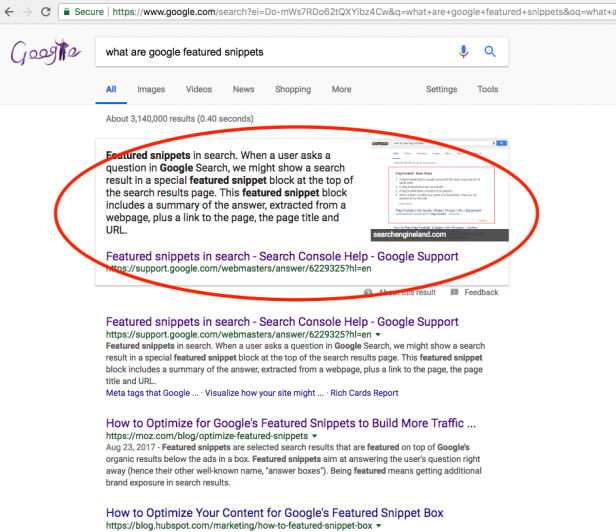 There are many other SERP features, but the three above are the most common ones. 
The strategies you're about to learn will help you rank higher in SERPs and get to these SERP features for the best results.
Why SERPs Matter For SEO?
Ranking high on SERP is critical for your online success.
The higher you rank, the more traffic you get, and the more profitable your business is.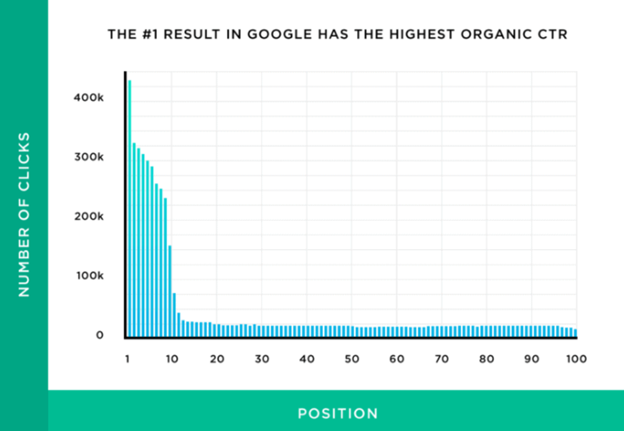 The most critical thing is to get on the #1 page of Google because page two of Google is good for only one thing.
Nobody scrolls past the first page, so put all your efforts into page ranking.
Unfortunately, that's what 90% of websites fail to do. And the results? They never see the light of SERP, nor get any traffic from Google.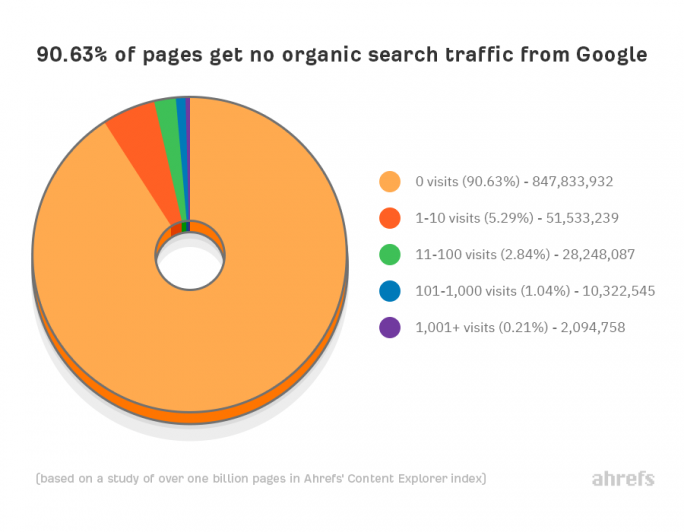 Fortunately, that's about to change right now.
How To Get In The SERPs?
Now, you can do things to your website to make it more visible on the SERP.
So I'll share with you the 5 strategies you can use to grow your traffic organically. This means that your target audience will be able to find your website naturally through search engines.
Produce High-Quality Content
Increase Site Authority
Improve Site Speed
Mobile Friendliness
Secure Your Site With HTTPs
1. Produce High-Quality Content
"Content is KING," you might have heard that a thousand times.
And it's true. Content is one of the most important things if you're looking to rank high on the SERP. If you can't produce high-quality content… Well, tough luck.
You'll get lost in millions of low-quality content search results on the 10th page of Google. 
So, let's rather look at the three steps to produce high-quality content that ranks well in SERP.
Step 1: Perform Keyword Research
Keyword research is the essence of high-ranking content.
If you fail to optimize your content for the keywords searchers type to search engines, you will never rank high and get no traffic.
Fortunately, BiQ Cloud has you covered on that with its free all-in-one SEO solution. Go to BiQ's Keyword Intelligence and type in the name of the topic you write about.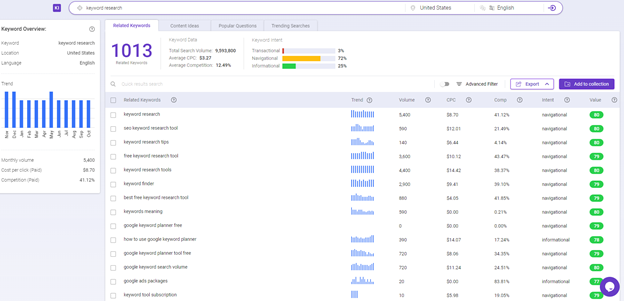 Hit enter, and you'll get a list of all keywords people to search for.
But, as you can see, the list of related keywords isn't sorted.
You get all bunch of keywords with different search intents, values, etc. If you're looking to get the most out of keyword research, you must filter only the most useful keywords.
You can easily do that with Advanced Filter in the upper menu.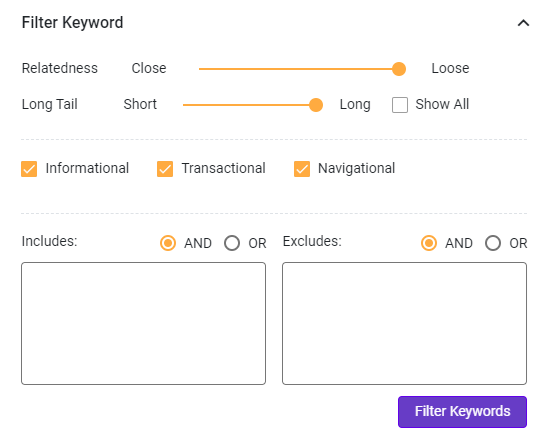 You click on it, and the Advanced Filter will open with many options to sort your keywords.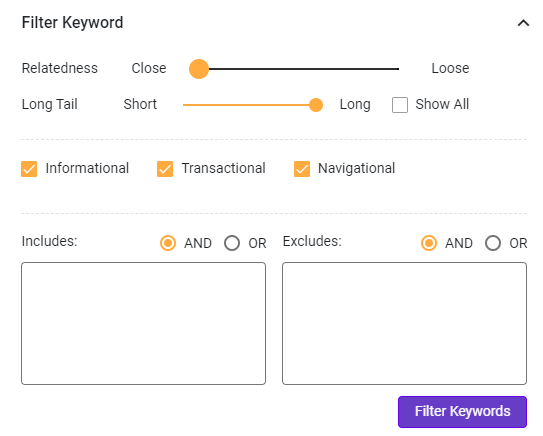 You must then set it up properly.
Pull Relatedness slider all the way to the left to show only closely-related keywords.
Set the filter to show only Long-Tail Keywords because they convert the best and bring the most traffic.
Lastly, you must pick the right search intent.
There are three main search intents, each satisfying the different needs of searchers.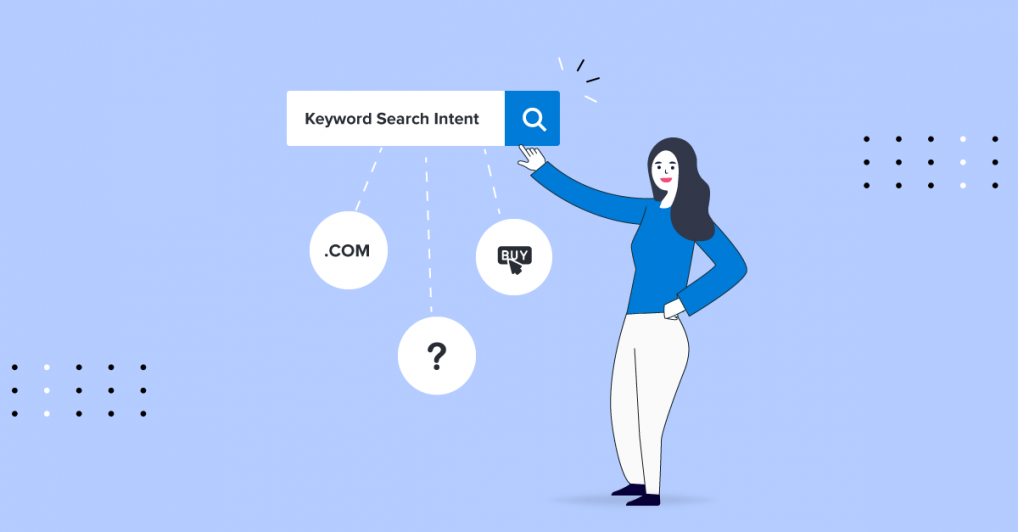 For instance, informational intent is usually people looking for "What is XYZ," while transactional intent is people looking for "Where to buy XYZ cheap."
If you're creating a blog post, set it to informational. The filter will then look like this.
(Also, be sure to sort it by the Value as in the picture below.)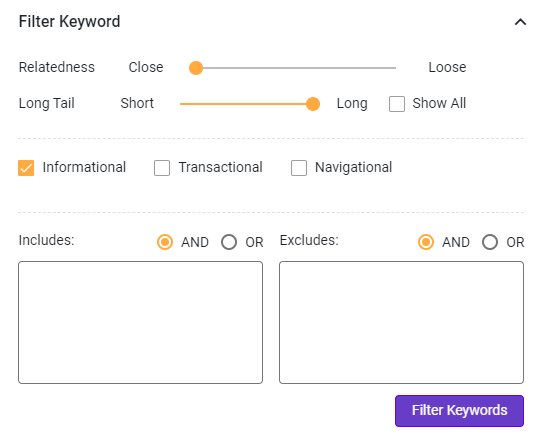 After that, you'll get a list of keywords people to search for.
Include them in your content to rank high in SERP, get more traffic and make your business more successful.
Step 2: Include Lots Of Visuals
Nobody likes to read a wall of text. It's just intimidating looking at something as below.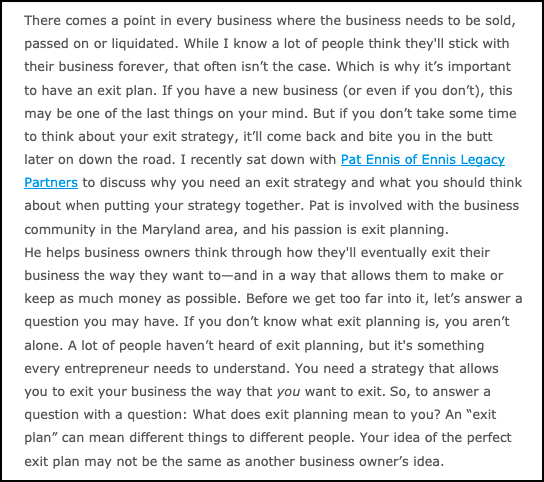 But, the opposite is also true with a well-structured text that's easy to read. And the way to make your content more readable and easier to digest is to use visuals.
You can also see this strategy used by all successful blogs like Neil Patel, Ahrefs, etc.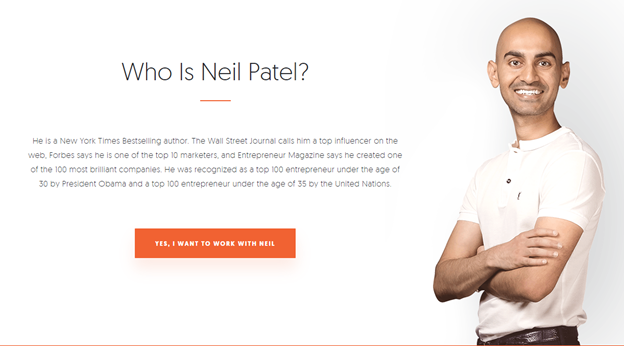 Do you see a wall of text? 
Of course not; it's highly visual and readable.
Your content should be like that too. But, making it more readable is only a tiny benefit in comparison with a sharing boost you'll get.
Make sure to use a lot of visuals in your content.
You can find free, high-resolution, copyright-free images on websites like Unsplash, Pexels, or Pixabay.
Step 3: Perfect Content Quality
Wall of text isn't the only thing that makes your content less readable.
There are many more aspects that come into play. Fortunately, making everything on point is easy with our BiQ Cloud Content Intelligence Tool.
Go To BiQ's Content Intelligence and type in your blog's URL and target keyword.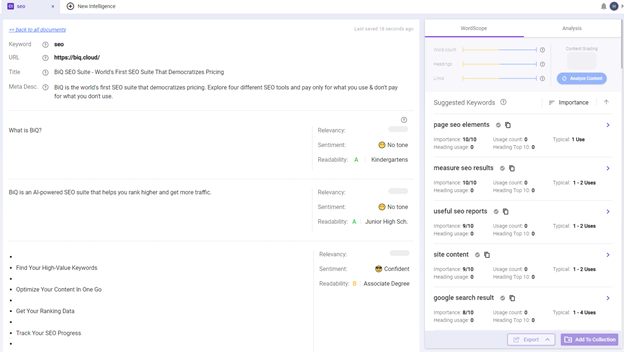 Hit enter, and you'll get a full analysis of your content.
You can see all important details such as Content Grade, related keywords, word count, and the number of headings.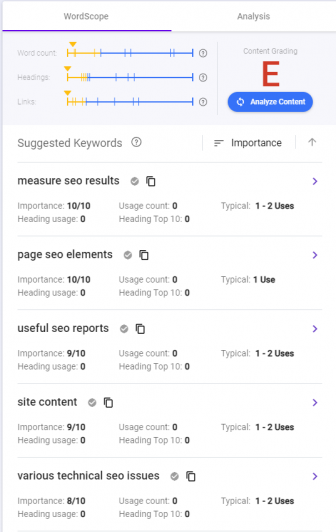 In the right menu, you can switch between Analysis and Wordscope tab.
If you switch to the Analysis tab, you can see the Readability, Fund Score, and errors that can hurt your rankings.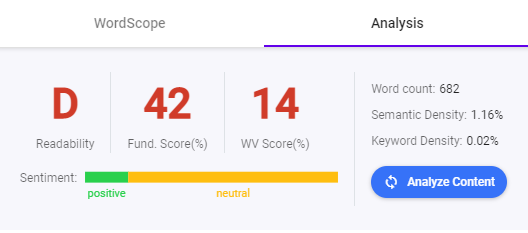 You should make sure to fix them to increase rankings and maximize SERP analytics.
Following the three steps above will make the quality of your content perfect. It'll help you get more traffic, increase conversions and rank higher in SERP.
2. Increase Site Authority
Google tries to prevent scammers and spammers from ranking higher, which could negatively impact searchers.
That's why sites with a high authority rank higher.
In this section, you'll learn how to find out your site's authority and how to increase it.
Step 1: How To Find Out Your Site's Authority
The site's authority is calculated by the number of backlinks.
In simpler terms, the more websites link back to your site, the higher your authority. This is because if you were a scammer, you probably wouldn't have a lot of websites linking back to you, right?
You can easily find out the total number of your backlinks with BacklinkGap. Just go to their site, type in your URL, and hit Check Now.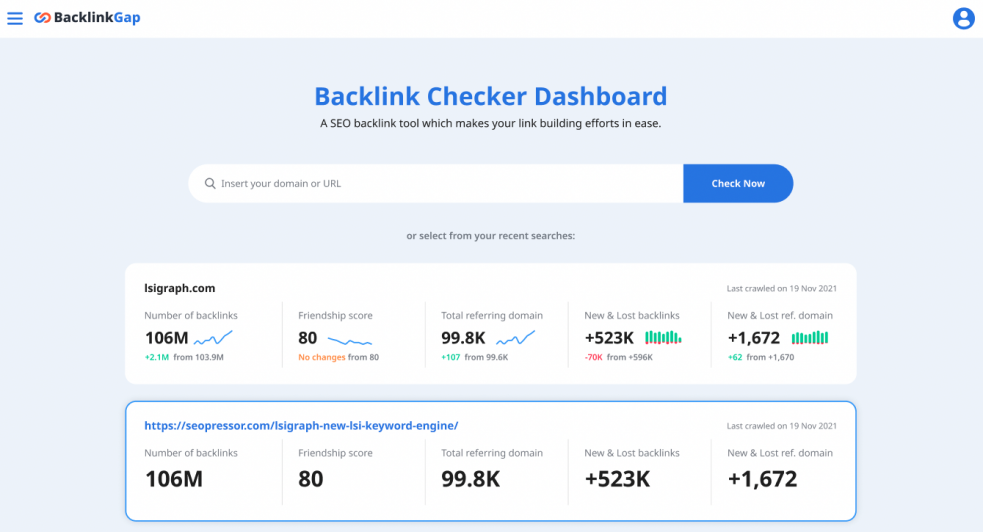 BacklinkGap's Friendship score is the metric you want to look at to identify your site's authority. The higher your friendship score, the more authoritative your website is.
Step 2: How To Increase Site's Authority
There are many ways to build backlinks and increase a site's authority.
We'll look at the three most effective strategies that can help you rank higher in the SERP and increase the site's authority instantly.
Guest posting is publishing content on an external site.
It's very effective because you can write content and include links back to your site. Also, if you engage readers enough, they might visit your site for more.
The easiest way to write guest posts is to write them on the guest posts sites. These sites are specifically looking for bloggers to write guest posts for them.
Just make sure that the guest posting site is in your niche, and you follow all guest posting guidelines so you don't risk getting rejected.
Find a few popular guest posting sites, publish your content, and increase authority. If you would like to learn more, check out our post on guest blogging 101.
User experience is crucial to your online success.
And there's nothing worse than getting excited about learning more, clicking on the link, and then… Boom, the webpage has been removed.
However, this can be a lucrative way to build more backlinks.
You could reach out to the site owner, tell him or her about the problem and offer your blog post as a solution or "replacement."
The whole process is simple, and you must first identify broken links. You can easily do that with BacklinkGap's backlink checker tool.
Go to the tool and check for broken links by looking at their HTTP response code.
After that is time to create content and reach out to the site owner, it can be as simple as an email outreach below.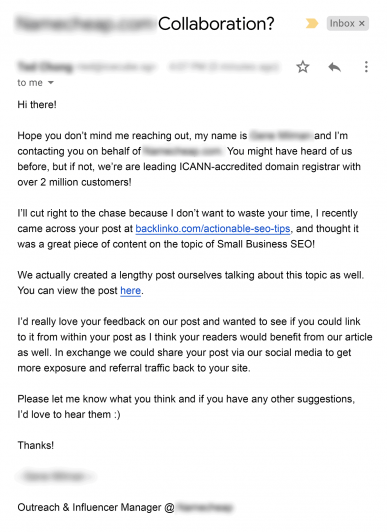 This can help you gain a lot of high-quality backlinks from authority sites. I have an in-depth guide on broken link building for SEO previously. Don't forget to check them out too!
Internal links are links that connect your web pages in the same domain. 
You can actually link back to your other webpages and increase authority. But, it's not as effective for ranking higher in SERPs as the previous methods.
If you're just starting, it may be the right solution for you. Nevertheless, here is a useful guide on how you can use internal links to boost your ranking.
3. Site Speed
Time is money is especially true with the website's speed.
The faster your website, the higher you rank in SERP. As you can see below, the fastest sites are ranking the highest.
You can easily find out your website speed with PageSpeed Insights. Simply type in your website's URL and hit Analyze.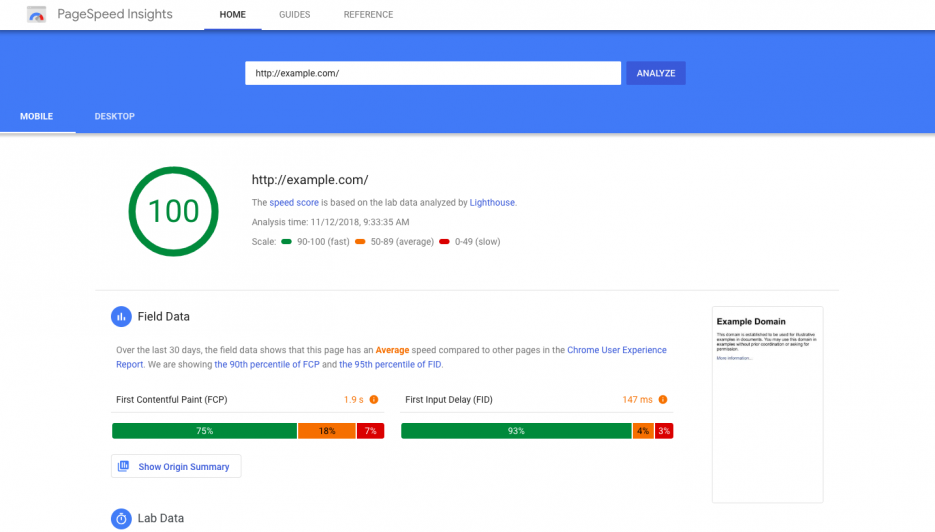 You'll get a bunch of statistics and ways to increase your website speed.
But, contrary to common belief, PageSpeed insights aren't that accurate. You must perform multiple tests with different tools for the best results.
Learn more about that and increase page speed in our post.
4. Mobile Friendliness
Whether you realize it or not, mobile optimization is crucial for ranking higher in SERP. It'll help you deliver a better user experience and even increase traffic and sales.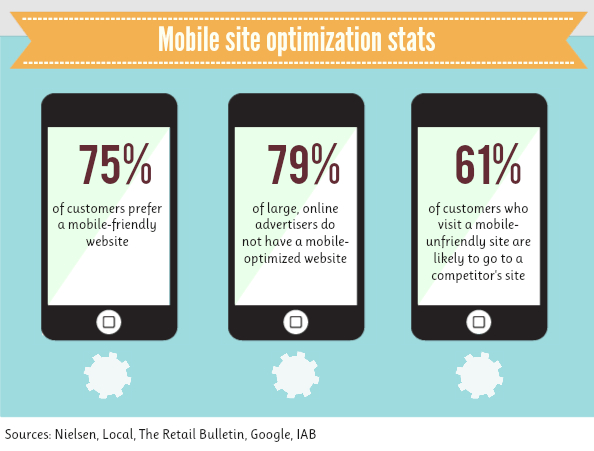 You can test the mobile-friendliness with Google's Mobile-Friendly Test tool. Simply type in your website's URL and hit Test URL.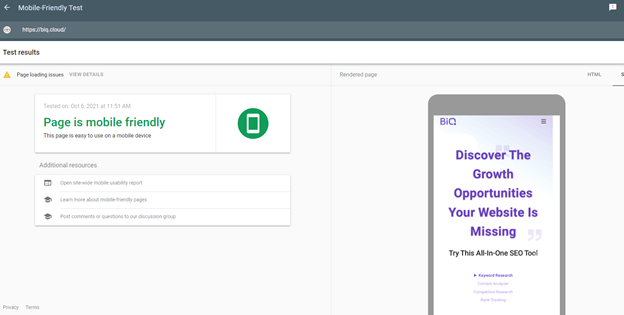 You'll get useful tips on which you can act upon.
On top of that, check out our guide on how to get a mobile-friendly website.
5. Secure Your Site With HTTPs
The site's security plays a crucial role in SERP rankings. It'll help you get more traffic, retain more visitors.
There are two protocols that are responsible for the website's security – HTTP and HTTPS.
HTTP websites are insecure, and your visitors get a warning each time they try to enter HTTP sites.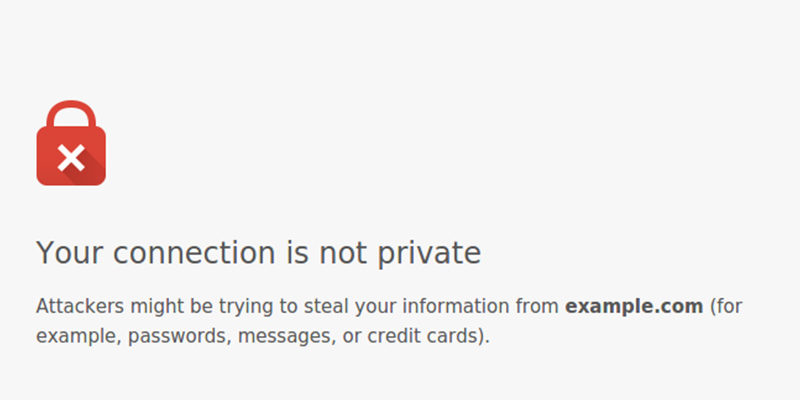 This may scare them, and you might have just lost potential customers. Using HTTPS protocol is a much better option. 
It'll also encrypt your user's data and make them safe on the Internet.
HTTPS protocol is a MUST and should be a standard nowadays. For further reading, check out this guide on everything you need to know about HTTPS. 
Ready To Rank Higher In SERP?
Ranking high in SERP is critical for your success.
It'll help you get more traffic, increase conversions and improve the brand's visibility. We've talked about 5 ways that can help you rank higher in SERPs.
Which one of them will you try first? Or did I forget to mention your favorite strategy?
Either way, let me know in the comments below right now.