What is SERP analysis and why is it so important for keyword research. Find out how you should analyze a SERP and how to integrate that information into your SEO strategy,
One of the wrong assumptions that many digital marketers make when conducting keyword research is that the process is done once they strike a balance between keyword difficulty and search volume.
This, however, often sets them up for poor keyword targeting which ultimately hurts their rankings on search engines since they can't compete favorably with similar blogs and websites.
Then again, this can easily change if you perform a SERP analysis which will not only help you qualify and choose better keywords but also inform your content writing.
With SERP analysis, you can greatly improve your keyword selection. And when done correctly, your content marketing efforts can yield amazing results that translate to increased web traffic.
So in this post, you are going to learn everything you need to know about this useful SEO research method and how you can leverage SERP analysis in your marketing and search engine optimization.
What is SERP analysis?
First, understand that SERP is an acronym for Search Engine Results Page. SERP analysis then refers to the action of analyzing the search results that your browser returns to when you submit a search query.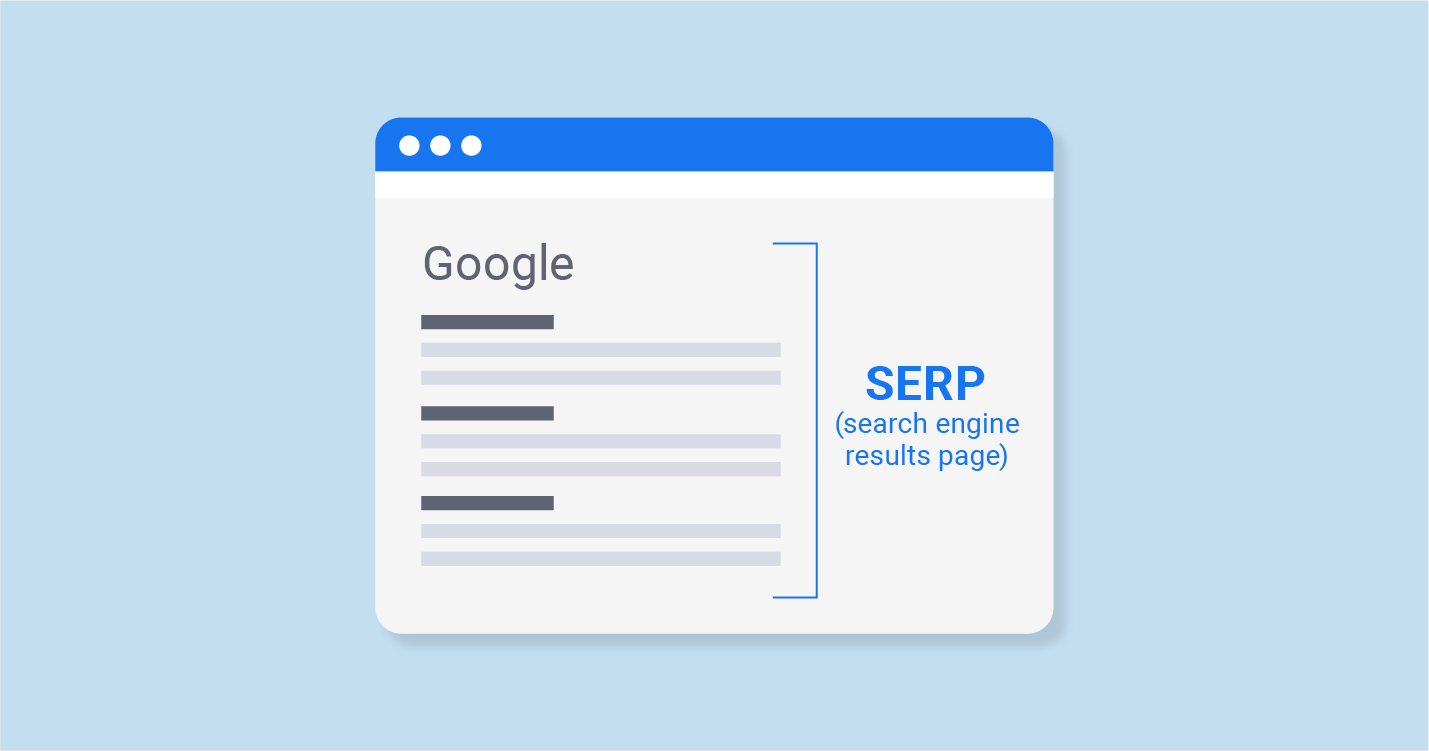 In other words, it is a process of checking top-ranking web pages in the search engine results to get insights into how Google understands the search query.
By conducting a SERP analysis, your marketing and SEO team can get important info to aid in both keyword and content creation decisions which will help push the ranking of your business and generate more web traffic.
Specifically, here are a few benefits to performing a SERP analysis.
Qualify your keywords – Determine whether the keyword you intend to use is relevant and competitive enough to outrank competing websites.
Answer search intent – See how Google understands your keywords and what kind of content it matches to answer the search query.
Understand your competition – Get a better understanding of your competitor's online marketing strategy and what are your chances to overtake them in the ranking.
When doing your SERP analysis, it is absolutely important for you to establish a procedure that details what you need to search for, how to conduct the search, and how to integrate that information into your SEO strategy.
So here is a step-by-step guide on how to conduct a SERP analysis and how to use the findings for your SEO marketing strategy:
1. Understanding search intent
Nowadays, search intent is one of the most significant ranking factors.
Especially with Google's focus on passage ranking, whereby the search giant is now looking to rank only the most relevant pages and their passages to answer the search query directly in their SERP.
You can understand any query's search intent looking through the results returned by the search engine, but generally, they are categorized into these three basic search intent:
a. Informational Queries
An informational query is usually made when a person wants to find out something about a given subject or topic. This could be anything such as a famous person, a place, object, or process of doing something.
The intention of the web user in this case usually isn't to make a purchase but they will be drawn to particular informational websites or blogs that provide them with the answer that they are looking for.
Examples of informational queries include:
How do you write SEO content?
How much does a digital marketer earn?
What link-building tactics are practical in 2020?
These users are looking to learn something new on a subject. This is why it is absolutely important for content creators to publish content relevant and useful to their target audience.
2. Navigational Queries
Users with a navigational intent in mind already know where they want to go. The search query often includes a brand name, specific blog or website, and even location.
This sometimes also occurs when a web user is looking for a specific blog or website but does not know the full URL.
3. Transactional Queries
These are queries that are made by people who have purchase intent and are looking to buy something such as a product or service.
Transactional queries tend to have the highest revenue potential, which is why their keywords often have multiple bids for pay-per-click (PPC) ads.
An example of a transactional query would be "best laptop", and as you can see it is a mix of both paid and organic results. Because people searching for this keyword has the intention to buy a new laptop.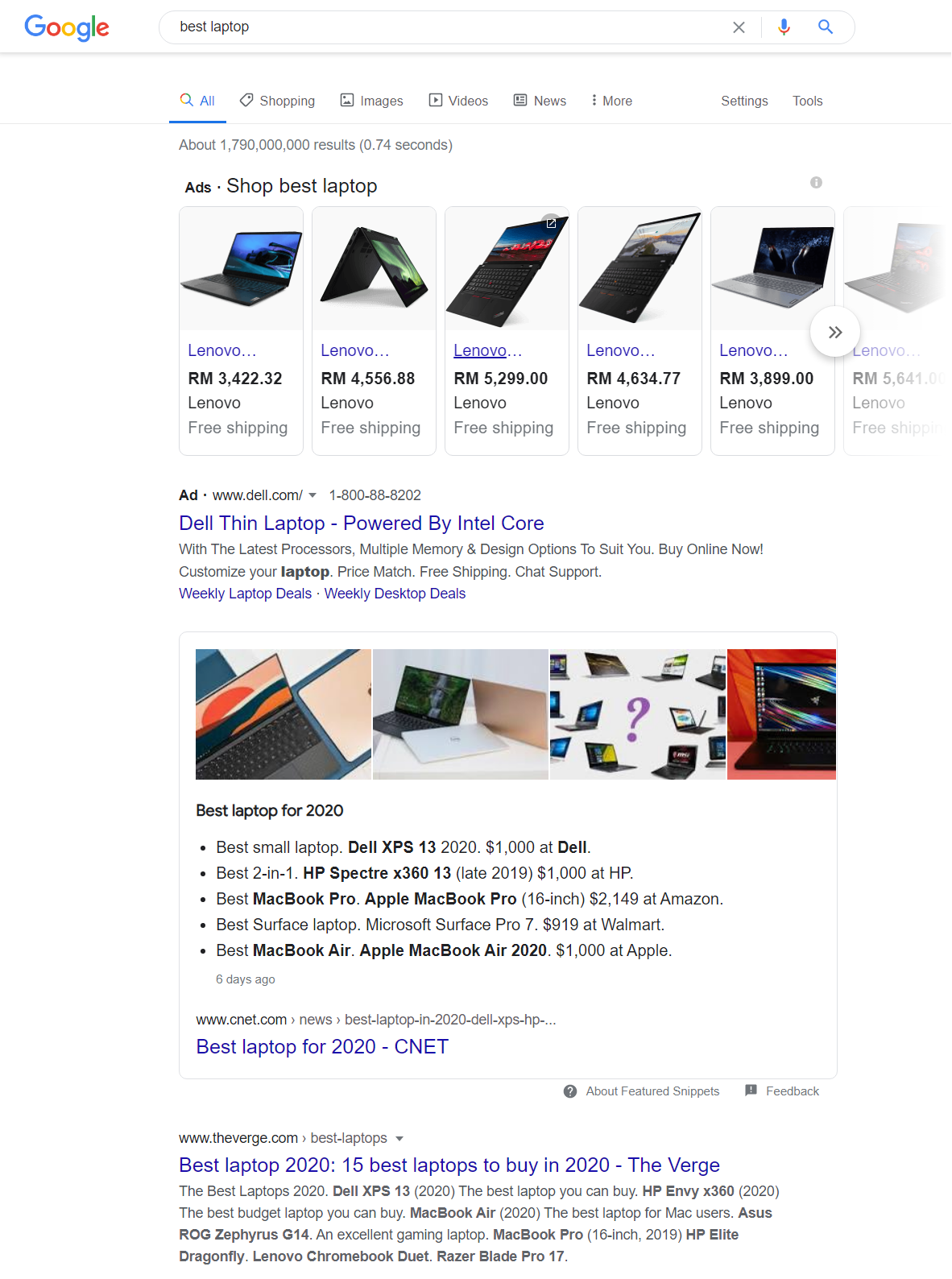 Through understanding your keyword's search intent, it can help you narrow down your target keyword list based on your marketing goals.
Do you want to focus on improving your website's ranking in a SERP to increases the click-through rate (CTR) of a webpage, website, or blog? Or are you looking to reach more buyers and increase sales conversion?
Either way, it is absolutely crucial to know how to select the right keywords based on search intent since this allows you to know what most customers are looking for.
Besides, without understanding what your users are looking for or how Google understands it, you cannot create content that ranks.
When it comes to understanding the search intent of your target keywords, you can also get this information using BiQ's Keyword Intelligence.
Just sign up for a free BiQ account and access our Keyword Intelligence. Then, enter your target keyword or phrases in the search field. For this example, the keyword is 'plumbing service'.


You can see searchers are basically looking for information when they search for plumbing services. However, if you are looking to target buyer keywords, you can set the filter to only show keywords that have 'transactional intent'.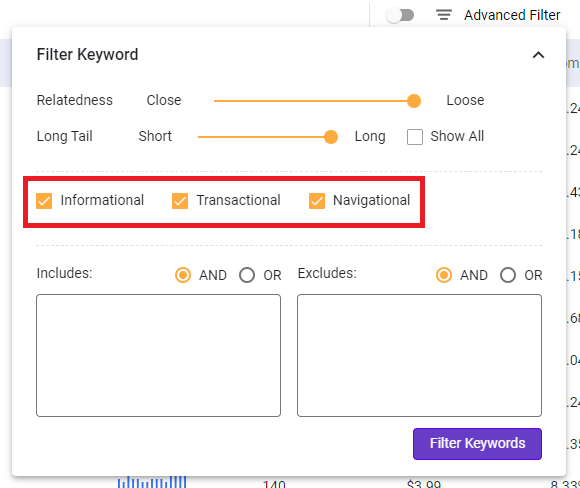 Now you can easily identify which are the keywords with high commercial value.
Having these related keywords in your webpage and content can help you meet the searcher's intent and help your overall website rank better for these keyword groups.
2. Do a competitive analysis
Understanding your keyword intent is only part of the SERP analysis. In order to leverage this SEO strategy, however, you also need to consider how competitive your keyword is.
When conducting a SERP analysis, you need to evaluate your competitors and gauge how difficult it will be for your blog or website to rank highly for the query.
One of the metrics you can use is domain authority, which gives you a clue how easy or difficult it will be for your site to rank highly.
Ultimately, your goal when conducting competitive analysis is to become aware of your brand position on SERPs, the authority of your competitors, and the effectiveness of the keywords you intend to target.
At the same time, you can also take into consideration the keyword difficulty and value once again, using BiQ's Keyword Intelligence.

Aim for keywords which value is in the green as they are easier and more beneficial to rank.
3. Discover ranking opportunities
Ranking highly on SERPs requires you to do much more than simply create good content.
You need to take advantage of the low-hanging ranking opportunities. When analyzing your keywords and their SERP, here are some of the keyword opportunities you need to watch for:
Relevant keywords that your competitors are ranking for
FAQs on the "People also ask" section of the SERP
Keywords that you already rank highly for
Featured snippet and voice search opportunities
Writing your content from a perspective of angle that your competitors aren't doing
Especially when it comes to keywords that you are already ranking for on the first page, you want to make sure to capitalize on them to rank for other related searches or optimize them to rank higher and ultimately score in the 1st position or featured snippet.
Because when it comes down to ranking positions, a study by Group M UK and Nielson shows that the difference between the top-ranking result and the third position can be as much as 40%.
So you want to make sure your content is perfectly optimized.
To discover your low-hanging fruits, you can leverage our BiQ's Rank Intelligence to identify your keywords with the best potential to optimize for first-page ranking.
Create a Rank Intelligence profile for your website, and simply set the search ranking parameters from 2 to 10, which will help you discover pages you can optimize for the top spot.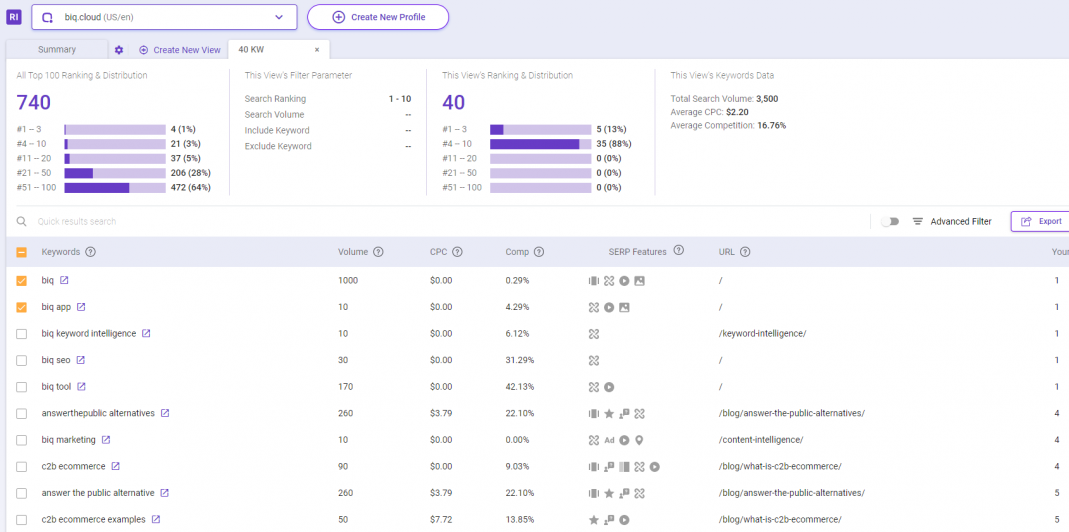 Once you got the list of ranking keywords, there are a few ways to boost them up.
If there are multiple URLs ranking for keywords belonging in the same keyword map, remember to interlink them.
Create more content related to the keywords that are ranking to help Google associate your website better with your targeted keyword.
Use Content Intelligence to check what to optimize on your URL.
4. Find related search terms
Once you have your target keyword, you would also want to analyze the search results to build the perfect content to rank highly for the specific keywords.
When it comes to this, you would want to focus on the related search terms and Google autocomplete for your keyword.
Suppose you run a cooking blog and you are writing about fruit cakes. Your seed keyword then can be something like "fruit cakes".
Take this seed keyword and type it in Google to generate long-tail variations of your keyword. This will give you a list of all the relevant key phrases such as:
baking fruit cakes
fruit cake ingredients
fruit cake recipes
types of fruit cakes
You can then make a list of all these keywords. The point is, you want to add them into your content to build relevance.
Though there are also plenty of SEO keyword tools out there that can help you generate related search terms or semantically similar keywords to use in your content, such as LSIGraph and BiQ's Keyword Intelligence.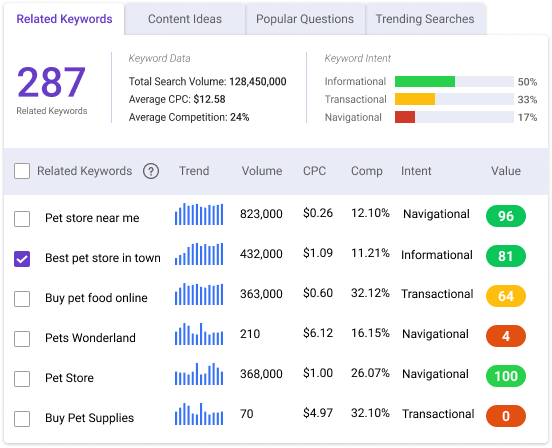 5. Build your content outline
While it is possible to simply assume the keyword intent and create your content accordingly, this comes at the risk of missing it completely as a result of poor semantics or due to Google preferences.
That's why it's always beneficial to base your content outline according to the search results that are currently ranking.
Check out Google's ranking results and "People also ask" section so that you can have a basic idea about what you should cover in your content.

Because aside from the initial query, it is important that your content cover additional and relevant information users might be interested in.
This paints a more comprehensive content answering the keyword, and can also help your content rank for multiple keywords.
Similarly, you can also get all the information using our BiQ's Keyword Intelligence under the Popular Question feature.
We compile all the questions and answer from Google's People also ask here so you can just get all the information you need at a glance.
But ultimately when you are building your content, there are also a number of questions that you need to consider including:
What type of content is appearing in the SERP? Are they blog posts, videos, or landing pages?
What is the awareness of the user searching the query? What step in your sales funnel are they currently at?
What do you want them to do next, now that they have all this information?
The goal of analyzing the SERP is not simply to rank higher on SERPs but also to understand your target audience's psychographics so that you can make your marketing strategy more effective.
When creating your content for SEO, therefore, don't just focus on the keywords. You need to also think about these vital marketing questions in order to ensure that your content is relevant and resonates with your target audience.
If you're accessing tools such as RankingGap, you can get a more laser-focused intent on both the keyword and SERP content.

With RankingGap, you can easily uncover valuable keywords as well as the content that your competitors have that is ranking for that particular keyword.
This simplifies a whole lot of work as you can work on your content outline using the best keywords as well as by referring to your main competitors' content instead.
6. Optimize your title and meta description
Finally, you need to take the appropriate steps to optimize your content so that it appears at the top of SERPs for user search queries.
It doesn't matter whether you are creating new content or republishing old content. Either way, you need to constantly optimize what you post in order to bolster its success on SERP rankings.
The most important is to optimize your title and meta description.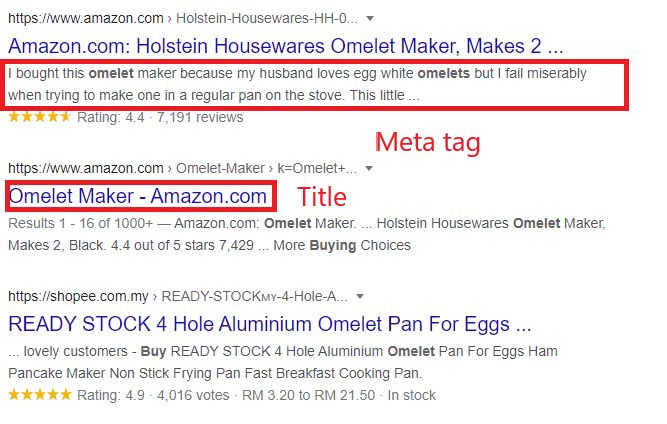 Does your title stand out among the top 10 search engine results? Is it enticing people to click? Does your title and meta description incorporate your target keyword?
These are the questions you need to consider when creating your content in order to outrank your competition, in addition to:
Incorporating your primary keyword into the title of your blog as well as in the intro and conclusion
Employing the skyscraper technique to create content that increases your opportunities for success in SERPS
Incorporating secondary keywords in the subheaders, bullet points, and in different sections of your post
Getting rid of sections in your content that aren't necessary to readers
Leveraging on "user testing" tools such as Hotjar to evaluate how your content is performing with readers
Adding valuable sections and different perspectives in your content to stand out from the competition
By practicing these techniques and optimizing your content regularly, you will be able to develop an edge over your competitors.
In turn, search engines such as Google will recognize this performance and give your site a higher ranking thus improving your site click-through-rate and increasing traffic.
SERP Analysis: The Key Takeaway
As you can see, SERP analysis is a very valuable tool that can help you to increase your ranking for keywords on the SERPs of Google and other search engines.
If you are trying to boost your SEO strategy and improve your marketing, knowing how to conduct an effective SERP analysis is absolutely crucial.
To take it above, you can even start tracking the ranking results of your target keyword's SERP to see its volatility and find out what Google favors.
At the end of the day, SERP analysis is extremely important.
By mastering this skill, you will not only improve your site's visibility on SERPs and outrank your competitors but also raise awareness of your brand and generate more traffic to your website or blog.
What are your thoughts on SERP analysis? Is there anything we missed from the post? Share it down in the comments below.