Do you struggle in deciding between SEO or PPC? Although their goal is the same, SEO and PPC are different concepts with different methods and techniques. Essentially, both would yield great results!
Are you struggling to decide whether to invest in SEO or PPC?
You are in the right place!
Search Engine Optimization, commonly referred to as SEO, can help your brand and content to rank higher and longer in the SERPs.
Organic content found through search engines has a higher chance of being trusted by audiences and, as a result, be clicked.
SEO is also more effective for local searches.
When used appropriately, it can grow your online brand presence for extended periods.

On the other hand, Pay Per Click, or PPC, requires the content marketer to spend ad resources to get content in front of the target audience.
Essentially, both yield great results!
However, it may be more difficult to choose the best search engine marketing strategy (SEM) that yields the best results and gets you more traffic.
That's where we come in.
What Is SEO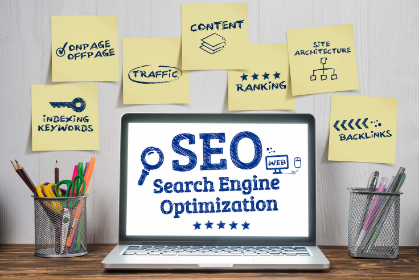 As already elaborated, SEO is the process of improving the quality and quantity of your website's traffic from the search engine results pages to your website.
Think of it this way.
Just as you get on Google or other search engines to research the best or new content marketing strategies for your business, so do your customers.
Investing in SEO provides you the opportunity to increase the likelihood of your audience finding your website whenever they research for keywords related to your products or services.
Above is one of the main reasons why SEO is important and why you must strive to optimize your website for search engines.
Anything less, and you'll likely not get the traffic or website visibility you wanted.
As a result, it's vital that you build a strong Google presence around your website and marketing strategies for your optimization strategy to succeed.
Moreover, this will increase your rank among the SERPs, thereby improving your domain authority and online visibility.
That's to say, by building up your website content, optimizing it for the high-volume keywords for which you rank, and more, Google will likely view your website as relevant and authoritative.
And when Google thinks that your content is relevant, it will push it higher up on the keyword's search results page.
Pros Of SEO
Long-Term Organic Traffic
Yes, you can actually rank highly in Google for a very long time, provided your content is relevant and authoritative.
With it, you can generate consistent search traffic for extended periods to your website.
You just have to get the right high-volume keywords and create highly engaging and informative content, publish it, and let Google do the rest.
BiQ's Rank Tracking is one of the best tools to help you track your daily keywords.
With Rank Tracking, content marketers can quickly identify keyword gains and losses to allow them to act swiftly to retain their keyword authority and competitiveness.
This Rank Tracking feature allows you to sort all your keyword rankings by pages, allowing you to monitor all your page rankings for any changes.
Cheaper
SEO traffic is very cheap, if not free.
You don't have to part with huge sums of money to get your desired traffic.
However, it demands a lot of effort and hard work to get free traffic from the search engine results pages.
Competition is very stiff for almost every keyword available.
You'll need a high-quality website and optimized content for your target audience to earn one of the SERPs' top spots.
Cons Of SEO
Time-Consuming Process
Although free, SEO can be very time-consuming and demands a lot of patience.
It actually takes a long while to rank in Google.
If you have a short period to make an impact, then SEO may not be the right marketing strategy for you.
Requires Unique And Authoritative Content
When it comes to consuming, linking, and sharing content, online searchers prefer to learn from experts.
Basically, to do well in search, you will likely need an experienced hand.
It means you can create great content for yourself.
But if you can't, then it's best to hire someone to do it for you.
You can even choose to interview experts and research other authoritative websites.
The problem is that some of these solutions can be very time-consuming and expensive for SMEs with limited resources.
What Is PPC?
Pay Per Click, PPC, is another form of search engine marketing (SEM) where you pay a publisher like Google each time someone clicks on your ad.
This model allows you only to pay the publishers when online users interact with your listings.
This means you attract more consumers who are actually interested in your products/services.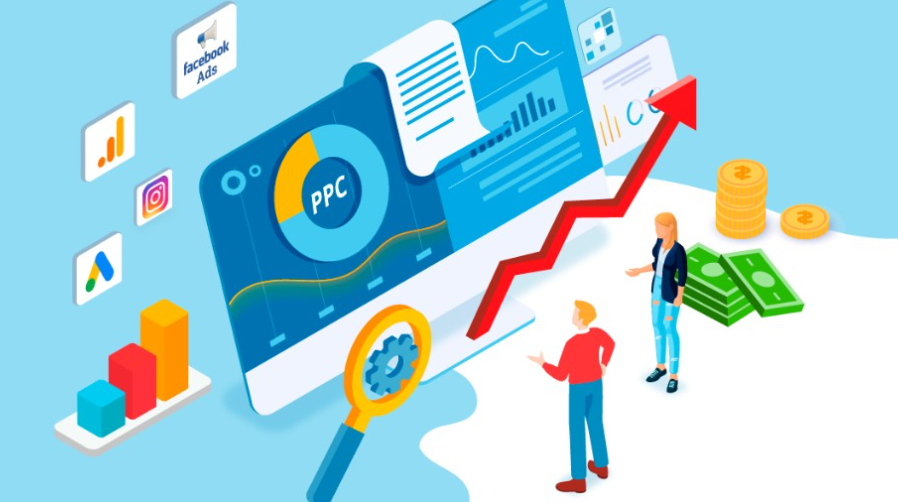 PPC marketing is mostly associated with search engines, which allows advertisers to bid on search keywords that are relevant to their target markets.
Have you ever noticed that most of the top search results are always tagged with the "ad" marker?
This is how PPC works.
Well, the higher your keyword search volume, the more you'll have to pay the publishers.
Therefore, PPC is your best marketing strategy to help you stay competitive and quickly get in front of your target market if your brand doesn't yet have the domain authority it needs to rank high on search engines organically.
Pros Of PPC
Fast
From what you've learned so far, it's evident that PPC is a more effective content marketing strategy to get traffic quicker.
With SEO, you might need to wait for several days, weeks, or even months to see results.
On the other hand, PPC immediately gets your content in front of your target audience.
Allows For More Specific Targeting
PPC also allows you to play around with different data types, such as demographics and geography.
This allows you to have more control over who gets to see your ads as you pay only for online users who want to see your ads and website.
Allows For Quick Experiments
PPC basically allows for fast feedback from target audiences.
By this, we mean you can set up an ad campaign in just minutes, run A/B tests, and also monitor your results to determine which marketing strategies are the most effective and which ones aren't.
Comparatively, SEO is much slower.
Therefore, it can be more difficult to determine which marketing strategies might have contributed to your website's success or failure.
Cons Of PPC
Expensive
PPC can get expensive, very fast.
You can find yourself losing money if you're not too careful with your PPC strategy.
Some keywords can be very costly and end up being your biggest financial mistake.
For example, it can cost you around $40 per click if you are bidding for a keyword like "car insurance" on Google.
Dropbox learned this the hard way when Google Ads charged them between $233 to $388 cost per action in 2009.
But the kicker here was that Dropbox's product cost just $99.
Ideally, Dropbox was losing money by running Google Ads.
Lose Appeal Over Time
While it's easy to scale PPC, it loses appeal very quickly.
Essentially, the longer your PPC campaign runs, the less effective it becomes.
Searchers start seeing your ads more times than they'd want.
Eventually, it becomes stale and less effective.
Ad blindness is real, which will force you to continually create new copies and images and refresh existing ads to maintain their effectiveness.
What Is The Difference Between SEO Or PPC?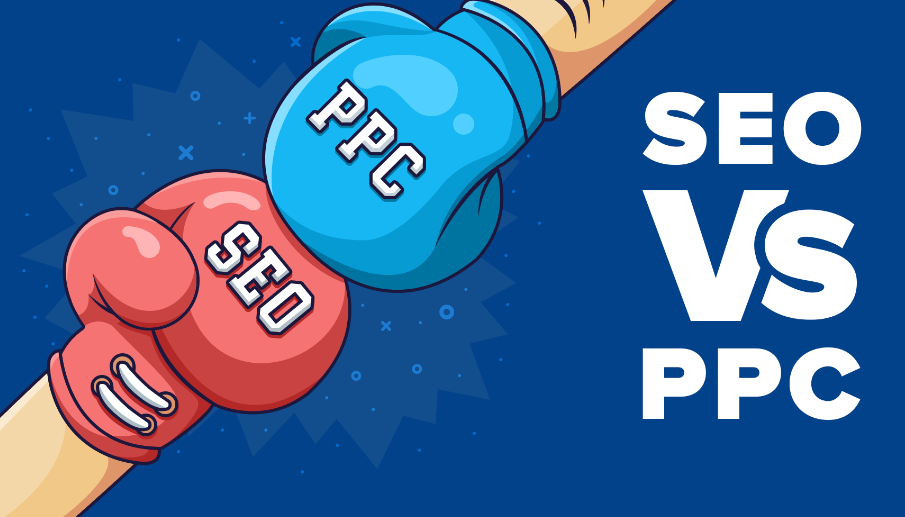 The SEO vs PPC battle has haunted content advertisers since the inception of the internet.
Most writers and content creators don't always know the difference between the two search engine marketing strategies.
But the main difference between the two is that traffic generated from SEO is free while traffic from PPC isn't free.
Both SEO and PPC are part of search engine marketing, which are the tools you should consider using in your internet marketing campaign.
Other Differences Between PPC Vs SEO
There are other major differences between the two and which one you should consider using, SEO or PPC.
Costs
This is one of the main difference between SEO and PPC.
While SEO traffic is absolutely free, PPC traffic is paid for.
However, you must also note that while SEO is free, getting free traffic from the search engine results pages requires a lot of effort and hard work.
Also, it takes a lot of time before you start seeing results from your marketing campaigns.
Consequently, the costs for SEO are indirect.
You can't pay to rank on the first pages of search engines.
However, you may need to pay for SEO services, especially if you cannot do them yourself.
As for PPC, costs depend on several factors, like how many clicks your ads get.
The popularity of a particular keyword and the number of advertisers fighting for the top spot for a particular keyword.
But overall, you only get to pay when someone clicks on your advertisement.
Positions In Search Engines Results
Here's an example of the difference between PPC ads and organic searches of when we search for "keyword tools".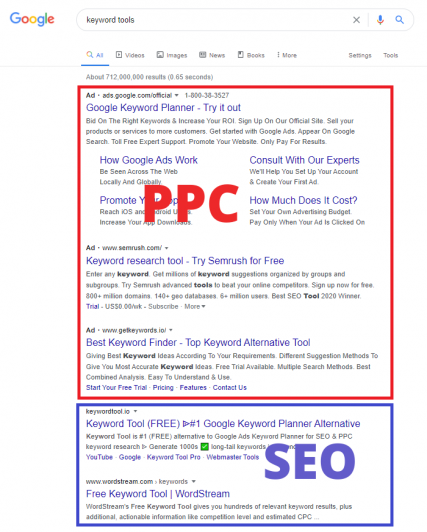 Spot the difference?
You can only get first-page positions with SEO if your website and content is optimized enough for the SERPs.
Most organic results appear in the middle of the search pages.
But to get to the top, you must optimize your website using both on-page and off-page SEO.
In contrast, with PPC, you can get your website and content on the first page and top 5 search results by paying a higher CPC than your competitors fighting for the same spot.
Traffic Potential
Which content marketing strategy can bring you more traffic; SEO or PPC?
Well, it's common knowledge that SEO can get your website more traffic than PPC.
But the trick is to get your website to rank for the target keywords your audience will search for.
Get this right, and you'll get more traffic than anyone who pays for those keywords to rank.
Organic traffic is continuous provided you're ranking in the top search positions.
As for PPC, some studies suggest that you can get more clicks with paid ads than SEO.
However, it also translates to paying more.
Conversions
Who do you think is more likely to convert?
A visitor coming from organic search or PPC ads?
If you have highly targeted and optimized ads, then there's a higher chance that a visitor coming from PPC will convert than one coming from search results.
SEO isn't as effective as PPC in terms of conversions.
You only need highly optimized keywords that will generate more conversions.
Then your PPC ads campaign will kick off.
However, you must note the high costs that it comes with.
Which Is Better For Your Business: SEO Or PPC
Web traffic is the lifeblood of all online undertakings.
Your online business's success will greatly depend on the amount of traffic you can generate using these marketing strategies.
This is an indisputable fact.
Although their end goal is the same, PPC and SEO are different concepts that use different methodologies and techniques.
So, which is the better of the two for your business?
SEO
Below are some circumstances where SEO would be highly beneficial over PPC for your online business.
If You Want Consistent Results
SEO has a significantly long gestation period.
Sure, getting your website to the first page of the search engines won't be a walk in the park.
But once your site actually gets there, you'll enjoy consistent and sustained traffic for several years to come.
If You Want to Build an Authority Website
Authority websites are considered to be established resources of relevant information and data.
They are the "go-to" websites whenever you want to search for information online.
They also rank on top of the SERPs.
Therefore, if you want your website to rank on the search engines' first pages, you must strive to make your website authoritative.
If You Want To Increase The Value Of Your Website
Think of websites like virtual real estates.
As such, if you're planning on selling your web page for a premium price, you must work on increasing its value.
This can be made possible by the use of many factors, such as consistency of traffic generated, link popularity, search engine rankings within specific timeframes, and the likes.
All these are in the realm of SEO.
PPC
Here are some circumstances when PPC is the marketing strategy to use.
If You're Looking To Get Results Quickly
PPC traffic results are fast; very fast!
It won't take more than a few minutes before a rush of visitors starts rushing to your website.
After your PPC ad campaign is approved, it will be immediately displayed for millions of online users to see.
You cannot miss having several thousands of visitors chroming your website.
The traffic will almost be immediate.
Hence, PPC works very well with product launches, CPA marketing, squeeze pages, analogous online business campaigns, and event-focused marketing.
Test A New Product/Offer
Its almost instantaneous effects make PPC the perfect marketing strategy to test new products/offers.
PPC is the best marketing tool for testing new products/services in the market with an expiration date.
So, if you have a product/offer that ends in 2 days?
Then PPC is the perfect tool to get the traffic you need in a matter of minutes.
If You Want To Dominate Search Results With Your Keywords
Earlier, we've talked about how PPC ads tend to grab the first 5 positions on search results.
Here's another example with the search term "SEO."
Being as PPC results are always displayed above organic search results, they will likely get more traffic than SEO.
Therefore, by not using PPC in your campaigns, you're basically conceding this spot and maybe two others to your competitors.
BiQ's Keyword Intelligence is the best tool to find related keywords that competitors and other websites are also interested in.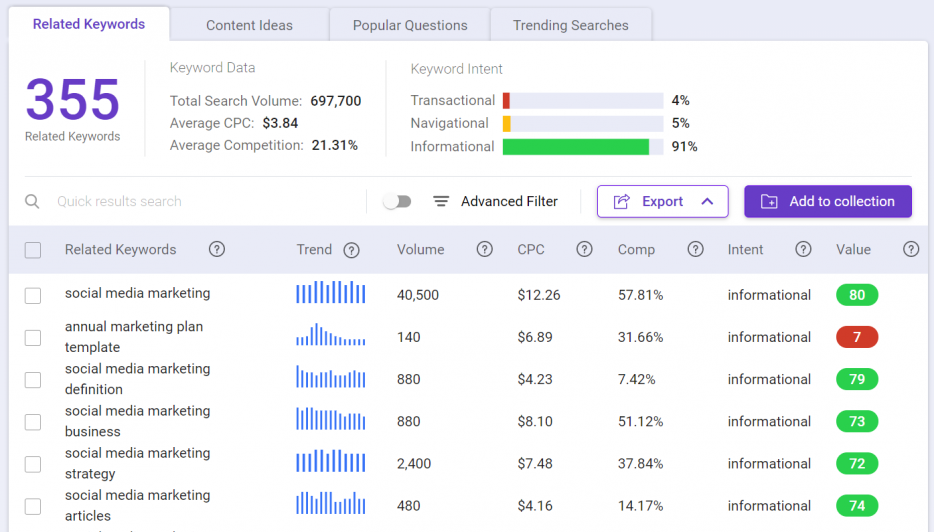 Keyword Intelligence will provide you with relevant data and insights, such as how many online users are searching for a particular keyword, their search intent, etc.
You will have more leeway to determine the higher valued keywords and how to use them on your website to drive content.
Conclusion
There you have it.
A comprehensive guide touching on SEO vs PPC and how each is important in its own way.
PPC will provide you faster results, earn you more traffic and conversions, but it's quite costly.
On the other hand, SEO might take a while before getting you the results.
But you'll receive continuous traffic flow when it eventually picks.
There are several SEO-friendly web designs you can use to get your content on top of the SERPs.
I don't want to think in terms of which is better; SEO or PPC.
Instead, both strategies can be used in search engine marketing campaigns.
This way, we can get the best of both worlds.
Which strategy do you prefer?
Let me know in the comments below!