Rich results are designed to enrich your key information and help search engines understand a page's purpose as accurately as possible. Find out what types of rich results are available and get tips on how to implement and maximize them.
You most likely already have a rough idea of rich results. Yes, they are those enhanced search engine results that are designed to display specific key information and answer user's queries at a glimpse.
For example, just take a look at the search results returned from the query "banana bread".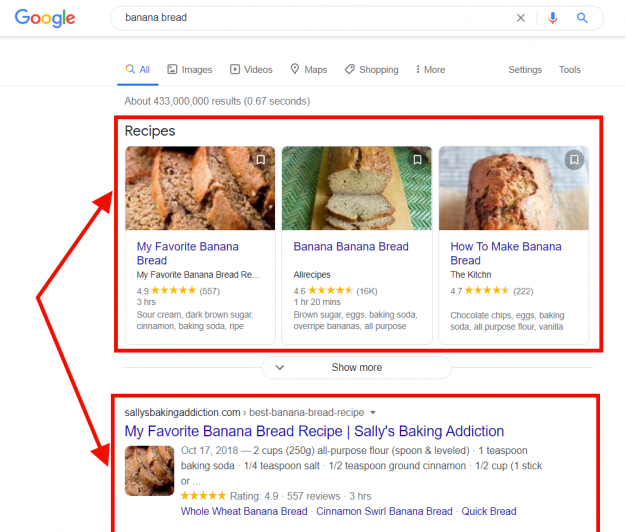 Rich results beautify and 'enrich' your website and content when displayed on Google's search results pages.
They empower search engines to better understand and present your website in SERPs. They enable searchers to quickly determine whether your site has what they are looking for.
Google, Bing, and others use Schema.org markup to present rich results in SERPS. If your site were a fashionable woman, then the schema is her makeup kit.
Featured snippets provide comprehensive answers to a user question. Google Shopping advertisements provide all the data you require to settle on a purchasing choice. Maps in search results guide you to your desired destination.
All of these are rich results.
Marketers can further exploit rich results that improve ordinary page results with pictures, reviews, products, and other qualifying data that enhances user experience.
But first thing first, you need to set up your site and content to give rich outcomes. Then, you will enable your business to stick out.
Why Are Rich Results Important?
Rich Results are important to have. Here is why: they are the new, intuitive, and special kinds of search engine results.
They are designed to stick out and assist clients in finding what they search for fast. Compared to conventional results, rich results beef up search results and carry a great potential in influencing a user to click through.
According to Milestone Research and their analysis of over 4.5 million queries, they discovered that users tend to click on rich results 58% of the time, as compared to a CTR of only 41% for non-rich results.
Perhaps this might not be shocking to you, cause it may seem obvious that users are more likely to click on rich results as compared to our regular organic results.
But the study also found that: how much CTR can actually vary depending on the type of rich result. For some types of rich results, the CTR can jump as high as 87% (Don't worry, we will reveal which in a bit).
Also, here are other reasons why it can be critical:
Better user experience: Apart from helping search engines understand your web page elements better, the primary goal for rich results is to give better search answer displays to your users.
Improve leads: Rich results are often irresistibly presented, especially when featured with an image or video. This can entice the searcher to click on the link and land in your sales funnel. Clients can judge effortlessly if a specific site in SERPs is the one they are looking for.
Improve visibility in SERPs: Even when you get featured on the first page of SERPs, you still must fight for user attention, because in any case, many of the sites listed on the first page with you are your competitors. You can leverage rich results that feature captivating images, such as deliciously prepared meals, if you are a restaurant, to get the searcher's attention.
With all these benefits and advantages, it might seem crazy if you are not optimizing your site and content for rich results displays. But then again, Google SERP and schema markup only cater rich results for certain types of content, so here's the full list.
Types of Rich Results
If you do a simple Google search today, it will dawn on you that nearly everyone is getting rich results.
A few years ago, search results were presented absent of any enhancement.
Today, search results are impressively dolled up. You see additional data underneath the links in addition to rich — normally visual or uniquely formatted — content based on what you search.
For your website, blog, or eCommerce site, here are the types of rich results you should consider leveraging for the benefits:
1. Articles
If you create content, you can mark up your standard article. Include structured data on author, headline, image, date published, and more.
This will tell Google explicitly the main details of the article instead of having them guess based on what they automatically pull in from a crawl. When you implement this Schema markup, you are more likely to have a rich result and be featured in the top stories carousel.
2. Reviews
Are you lucky to have many reviews from clients? You can gather them and mark them up with Schema.org/Review. Imprinting them with the review markup data helps Google and other search engines understand that they are reviews. Google loves to present reviews in SERPs as part of rich results.
3. Recipes
Just like the "banana bread" query screenshot, you can have your recipes directly featured in search results. If your restaurant has a unique recipe for cheesecake, you can mark that up with Schema.org/Recipe data to have Google present the recipe fully as is on search results for relevant searches.
4. Music
Rich results help users discover music fast from SERPs. If you are in the music business, you can increase the visibility of your pages and music content by making use of Schema.org/Music.
All indexed lyrics, files, and discography content on the marked-up site may begin showing live on SERPS to help users realize that you have what they want.
5. Product markup

If you add Schema.org/Product to your products, you can get rich results when your site is featured in search results. Your item may be presented with images, reviews, ratings, location, and other rich data. That's good for sales.
6. Organization
You can add Schema.org/LocalBusiness to your local business website to get it featured in SERPs with rich results. If you need to increase your local business, this schema is a must-have.
7. Top stories
This is a form of rich results that allows a site to show up in the "Top Stories" section of Google search results. By adding Schema.org/Top Stories to your site, you can get this rich result.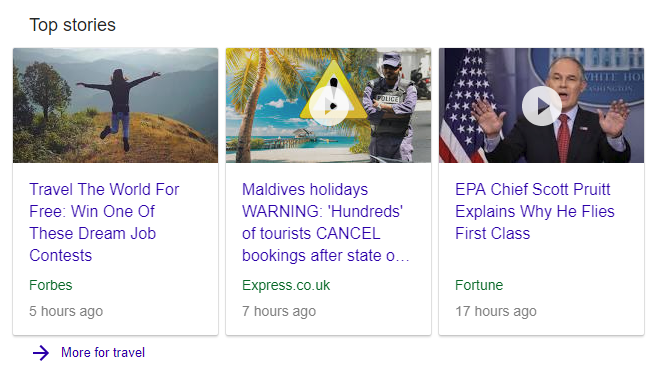 8. Videos
Google recommends that all websites use the schema.org markup for their videos, even the ones on YouTube. The more microdata on a page, the simpler it is for the GoogleBot to figure out the meaning of the video and to include it in search results.
Your page will show up in SERPs with an embedded video that could earn you a higher click-through rate.
9. Events
Event-rich results have been around for a long time, yet Google, as of late, patched up and expounded the listings. If you operate a club, venue site, or have a fundraiser event scheduled, details can show up in featured snippets if you markup the event with Schema.org/Event.
10. Books
If you are an author or run a publisher, you'll want to make sure to mark up your book product pages. You can provide information such as author, ratings, edition, and an important business feature markup that leads users to "Get Book" and call searchers to action and purchase the book.
11. Breadcrumb
How you display your link on SERP can also be pretty important. Without this markup in place, your search listings will just appear as a normal URL of the page. But once implemented, it will look something like this.

Though this does not directly impact CTR, however, you might increasingly notice them more often on your SERP result pages and is simply something better implemented.
12. Courses
People are constantly looking to improve themselves, so if you are looking to create a course. Here's a markup that can help elevate your results above others in this competitive landscape.
Online courses shown in search can be enhanced with structured data and schema markup. In the search results, Google may show a special area highlighting the course name, the organization offering it as well as a brief description.
implement Schema.org/course to have your courses displayed when people are looking for a particular skill.

13. Logo
When people search for your organization on Google, you want to make sure a knowledge graph appears especially if you are looking to build a brand. This shows some important information about your organization and especially your logo.
Having schema markup for your logo on your site will increase the chances that a knowledge graph will appear. The Logo schema markup is a very simple piece of code using schema.org Organization markup.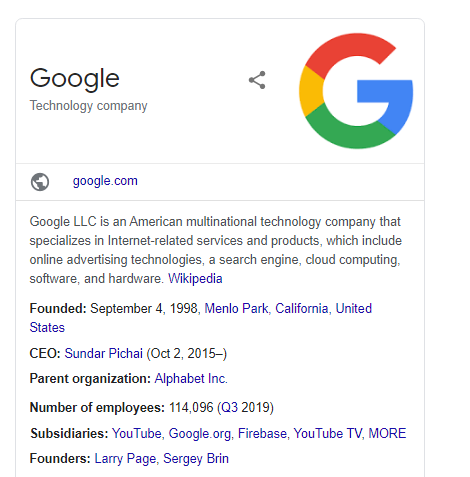 14. How-to
If your site has how-to content with step-by-step instructions, you can now get it featured right in Google search results.
The instructions will show up in either accordion or carousel format depending on how you mark it up.
However, do note that though this large rich result can earn you some serious space in search engine listings, it could also reduce clicks through to your site since the full answer is now on Google.

There's a trick however to make sure your answer always has more than 3 steps so people will require to click in to read more. Besides, there is a plus to this feature, and that it also makes it eligible for Google Assistant.
15. Video
One you must definitely implement, video results are increasingly getting featured on Google SERPs.
Adding structured data can add details such as description, thumbnails, duration, and more, which will help maximize the search presence of your videos in the search results.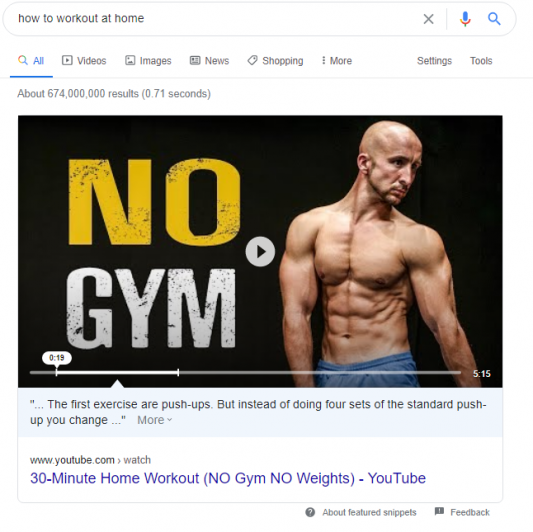 16. FAQ page
We might have saved the best for last. And yes, in case you guessed it! FAQ rich results, including branded and non-branded keywords, actually have an average CTR of 87%.
That is the highest among any other rich results types in the Milestone Research study, so make sure you mark up the questions from your FAQ page to show the questions and their corresponding answers right in search.
How to Create Rich Results
Understand the basics of Structured Data
To heighten your chances of getting rich results, you have to add data markup to your site. The structured data is a coding format called Schema.org and can be added to your page in various ways.
To start with, you can utilize the exemplary formats, including Microdata and RDFa. However, please note that Google favors JSON-LD. This is a JavaScript schema that can effectively markup structured data in a comprehensible way to both humans and machines.
See how to get started on Schema.org.
There is no restriction on what amount of structured data you can include on your pages. But there are general rules, among them, the fact that your marked-up data must be client-facing and of significant importance to the page's primary content.
Your site needs schema markup to make more sense to search engines and users—this has been our overarching message from the top. But writing these codes can be tedious, and you may need to have programming skills.
Hey, but anyone can add schema to their site. It is easy.
There are dozens of schema generator tools that you can use. For instance, the Schema App JSON-LD Generator is a popular free tool that uses JavaScript object notation.
Website owners can create a markup code by choosing from the diverse categories of schema options listed on schema.org. These could be music, recipes, or business, as explored earlier.
The schema generator comes with a pre-rendering feature that helps you see how your site would appear in search results after implementing the code. To implement the generated code, copy and paste on your site's backend.
You can even use the code on the FAQ section of your site. A nicely marked up FAQ page might qualify to appear in rich results if it matches a user query's relevance.
As a tip, Google leans towards JSON-LD design for organized information. Yes, Google supports all schema, but they love JSON-LD.
There is solid proof that Google favors JSON-LD for data markup. But they have assured severally that they support more than JSON-LD. Microdata and newer schemas may be supported but increasingly rich results presented are marked up with JSON-LD.
Just to be clear, the markup does not affect your rank in the SERPs.
Google says that structured data doesn't help much with ranking in SERPS. However, it can help Google to comprehend what the page is about, which can make it simpler for them to show it where applicable and make it qualified for other search experiences.
Implement structured data with Schema
You can use schema to describe events, functions, products, recipes, and other things on your site. When you do that, Google can get this information and present your page in a nicer format.
If you wish for rich results, you must describe your pages with a schema.
JSON-LD, Microdata, and others help search engines better comprehend what's on your site.
Schema.org offers the vocabulary for organizing these kinds of information (reviews, events, recipes, etc.) and is, in fact, a project by Google, Bing, and Yahoo!
For instance, to name a video with the schema.org markup, you need a VideoObject type, which gives the search engines the necessary data on the video.
Do a Rich Result Test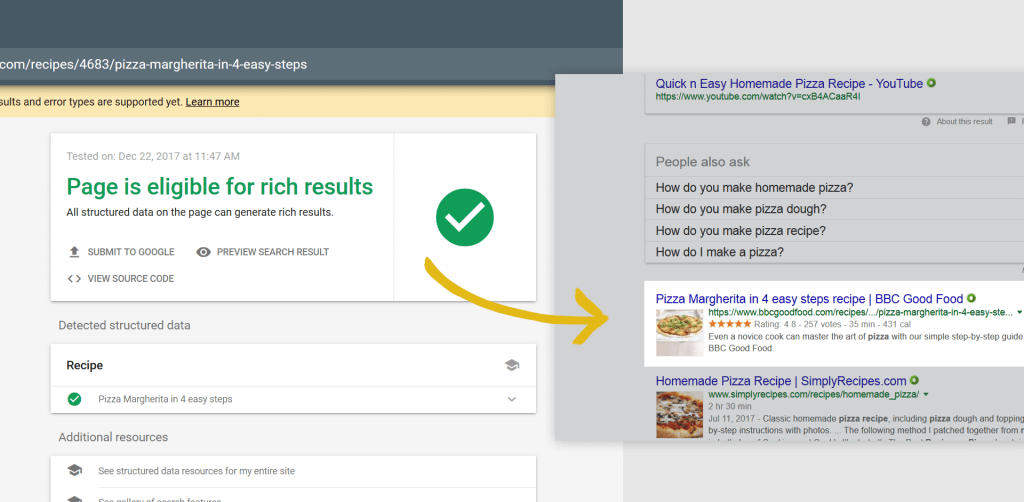 Google offers a free Rich Results Testing Tool that can help you see which of your pages are qualified for rich results.
The Rich Results Test supports all markup data that trigger rich results on Google Search. As Google adds newer markups for new search experience, the tool may support more than the previously mentioned types of rich results very soon.
There are two different ways to run the test:
1. Enter the URL of the page you need to test or enter the bit of code you need to test, or
2. Enter the full source code of a page
Google will show which parts of your site are well structured to qualify for rich results. And lastly, here are some tips on how you can maximize your rich results.
Maximize your Rich Results
Provide partial answers to get people clicking on your snippet.
Rich results give a lot of information, and the user may click back because they've gotten all they wanted. You must entice them to click on your site; otherwise, it would be a waste. Create comprehensive content and provide only parts of it in rich results to get them to click through.
Create optimized content Google prefers – listicle, long-form blog, etc.
Reduce bounce rates once users land on your site. You can provide useful content in a format that is useful to both Google and site visitors. Use listicles and long-form blog posts. When the user lands on your site from rich results, they will spend more time on it visiting other pages.
Encourage testimonials and reviews.
Reviews and testimonials are a vital method of building trust in your line of business. Rich results can feature reviews that directly link to product pages so you can demonstrate the confidence that customers have in you.
When search engines better understand your site, they give you the VIP introduction in SERPS–rich results. Use this template to get the most from rich results.
Optimize your content to rank in the Featured Snippet using BiQ.
Naturally, you also want to make sure that your content is optimized to rank in the Featured Snippet, and here's a simple solution how.
You can use BiQ's Rank Intelligence to discover low hanging fruits, by simply entering your website URL and look for your content that is ranking on the first page, from position #2 to #9.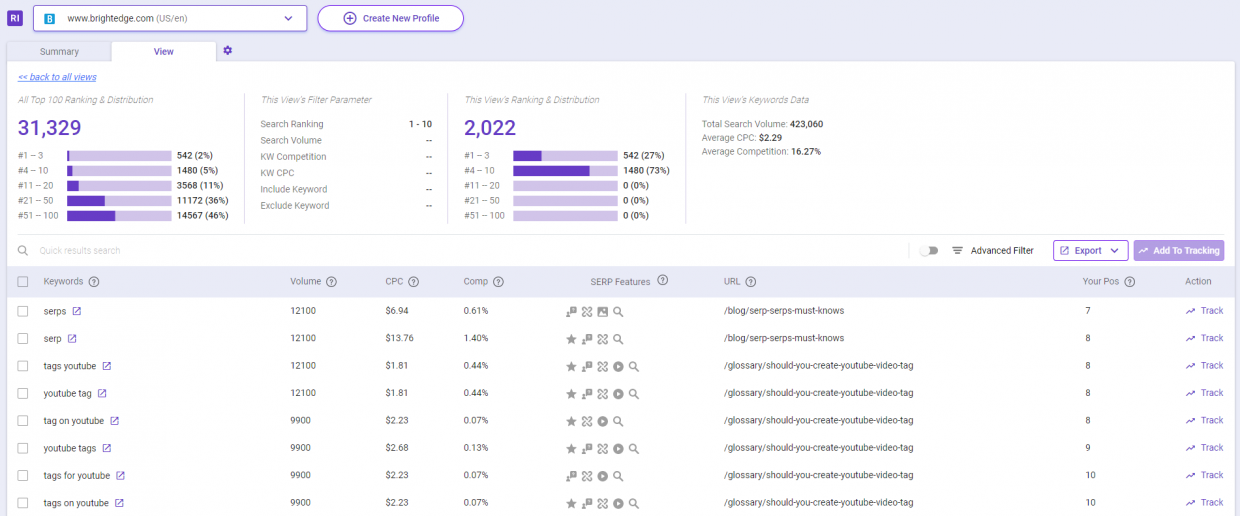 Notice that there is a SERP feature column that will show you what is being displayed for your ranking keywords. This will allow you to easily identify those that do have a featured snippet.
Next, just run your content through our Content Intelligence and it will let you know how you can improve your content as compared to the top-ranking content. It's that simple.
And now that you have all this information, get started today! Visit Schema.org and implement your schema markup to get your rich results!