Guest blogging for SEO: Discover how you can build high-quality links and scale them effectively.
Learn why you need guest blogging for SEO and the right strategy you can use.
For most seasoned bloggers and business owners, guest blogging is content marketing and SEO's bread and butter.
Whether you are looking for targeted visitors for your business or backlinks to improve your Google ranking, guest blogging is what you should be focusing on, i.e., if you aren't using it already.
If you already know how to write blog posts for SEO, then guest blogging won't be much of a hassle. All you need to do is stick with SEO best practices and learn how to pitch for guest blogging opportunities.
In this guest blogging guide, we've highlighted everything on how to guest blog: from creating an outline to submitting your final guest post.
Let's start!
What is Guest Blogging?
Guest blogging is an SEO and content marketing strategy used by bloggers and business owners to promote their business or brand through other sites.
Or put it simply: guest blogging is having your piece of content published on another site instead of posting it on your website.
Taking your content beyond your blog is a great way to build authority and reach a new and possibly broader audience.
A guest blog allows you to link back to your site to earn high-quality and relevant backlinks. It also allows you to sell your brand or business and reach a broader market.
Why Should You Do Guest Blogging?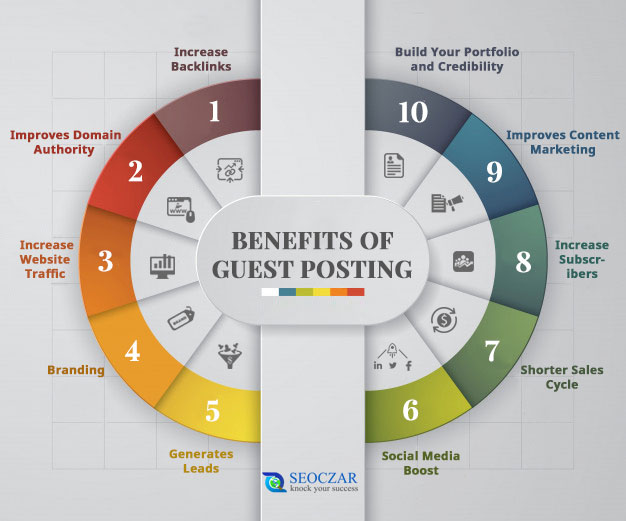 When done right, guest blogging is an effective content marketing and SEO strategy. In 2014, former Google SEO chief, Matt Cutts, said guest blogging wasn't only ineffective but dead. Since then, people have had a negative vibe about guest blogging.
This comment hit the SEO market hard because most bloggers and marketers used guest blogging as a quick fix to earning backlinks and Google ranking.
Today, Google analyzes every post's quality and rewards the most comprehensive, valuable, and relevant content.
So, should you be embracing guest blogging in 2021 and beyond? The answer is yes.
If you intend to offer value to your audience, maximize guest blogging, and you'll be on the right track.
That said, these are the three main reasons why people would opt for guest blogging:
1. To build backlinks
Google and other search engines use backlinks to rate your site's reliability, authority, and perceived value. The higher the number of quality backlinks your site has, the better it will rank on the search engines.
However, guest blogging with the sole intention of getting backlinks can hurt your SEO. Google is user-centric and will analyze the user-experience before ranking your content.
Also, high-authority sites that accept guest posts have strict posting guidelines, which means that taking shortcuts isn't a long-term strategy.
2. To boost brand awareness
Guest blogging is a great tool you can use to showcase what you do and stand a chance to win over your targeted audience. Whenever you get a guest blogging opportunity, you want to maximize it.
Whether it's a guest post for a high-authority site or a simple blog, always give it your best. That chance to guest blog could be the only remaining exposure your business needs for success.
3. To generate qualified leads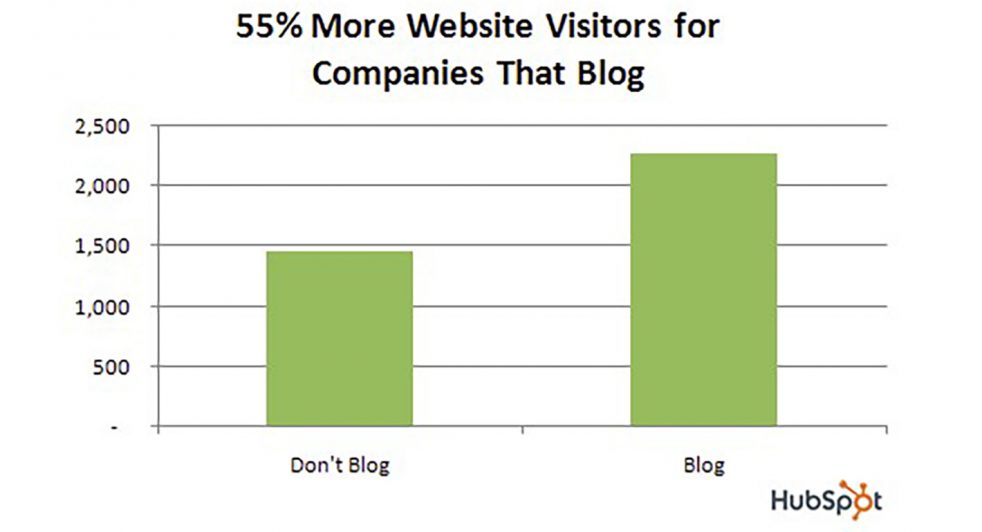 53% (more than half) of B2B marketers admit to spending more than half of their budget on lead generation, and 49% of B2B marketers say lead generation is the most challenging marketing strategy to execute.
Qualified leads are prospects that are more likely to convert. Business owners and digital marketers will often use guest blogging as a tactic to generate qualified leads. The idea is to target that audience who have the potential of becoming customers.
Here, you'll only focus on publishing your guest posts on sites relevant to your business and that have an established and loyal following.
A Step-by-step Guide On Guest Blogging.
While guest blogging is a relatively easier technique for gaining backlinks and selling your brand to your target market, most people still don't have it all figured out.
As part of our guest blogging guide, we've rounded up some tips on sourcing and pitching for guest blogging opportunities.
You'll learn everything you need to know about:
How to find guest blogging opportunities?
How to pitch your guest post ideas?
How to write a high-quality guest post?
What's next after publishing a guest post?
Keep reading or choose a section that you would like to know more about.
How to find guest blogging opportunities?
There are many ways you can find guest blogging opportunities. We have listed out at least 5 techniques you can do so. Use any or all of the techniques below to find relevant guest posting opportunities in your niche.
1. Google Searches
Google is a powerful resource you can leverage to find blog posting sites. However, you need to use the right Google search strings and operators to get the most accurate results.
For example:
If you are looking for a guest posting opportunity in the niche of content marketing, then you could use the following Google search string operators:
Content marketing "write for us."
Content marketing "guest post."
Content marketing "submit blog post."
Always think outside the box, pair up the most commonly used phrases, and hit the search button.
2. Competitor backlinks
If you want to reverse engineer your way to success without spending a lot of time researching blog posting sites, then using competitor backlinks is the way to go.
All you need to do is find high-ranking competitors in your niche, then take their homepage URLs and analyze for backlinks using backlink checker tools such as BacklinkGap.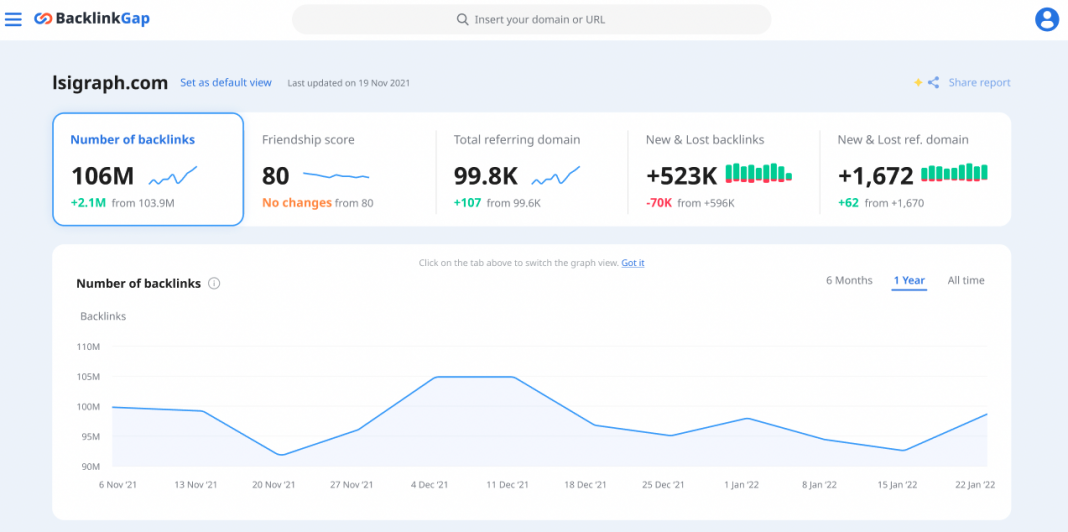 Once you find all of their backlinks, sort those backlinks from guest posting sites. Now you have a list of high-quality sites that accept guest blogs. Next is to write the perfect pitch.
3. Your personal connections
Sometimes you need to know someone who knows someone that owns a guest posting site. If you don't know anybody yet, take the time to build relationships across your network.
Leverage social media sites such as Twitter, Facebook, and LinkedIn to build connections with seasoned bloggers, and one will eventually say yes to your guest blogging request.
4. Social searches
Another great place to search for guest blogging opportunities is social media channels such as Twitter. Most bloggers or guest posters will always share their latest guest blogs with their followers.
Using the search tab on Twitter, for example, you can find some guest posts relevant to your niche. Just type in your keyword + "guest post." Next, you need to follow the links and see which sites are relevant to your niche.
5. Guest post communities
Guest blogging communities are sites where people who are offering or looking for guest posting opportunities meet and interact. Nearly everyone who has guest blogged before has either used such communities to gain backlinks or build brand awareness.
With guest post communities, you have to be straightforward with what you want and embrace an open mindset.
How to pitch your guest post ideas?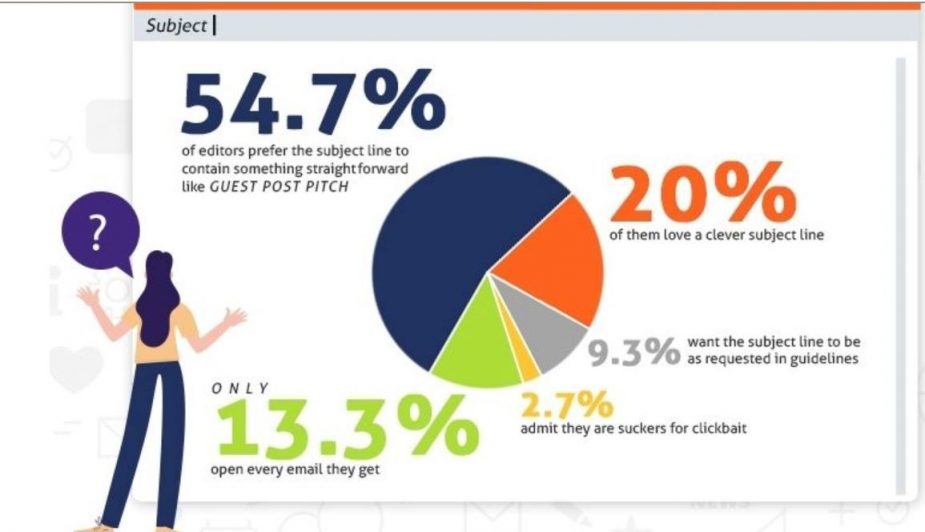 Now that you have learned how to find blogs that accept guest posts, it's time to pitch your guest post ideas. Here is how, in 5 simple steps:
1. Do your research
Researching the blog posting sites helps you identify the most relevant areas where you want your content published. You should always check the blog's content, following, domain authority, and the location where the audience is based.
2. Prove your value
A rule of thumb is to substantiate your promise instead of pitching with a generic intent. Where possible, build credibility with your achievements or qualifications.
For example, an award-winning digital marketer will probably add more value to the readers than a "part-time blogger."
3. Write a compelling subject line
Not many people will read through your entire email, so you want to win them over from the very start. A compelling subject line will spare your email from the trash or spam folder. So make sure to follow the best practices when writing email subject lines.
4. Personalize your email
Instead of using a template, script a personalized email that elicits the target's emotion, so they want to connect back with you, even if they are not saying yes to your offer.
5. Remember to follow up
Many people won't follow up on emails with the idea that they probably targeted the wrong person. But what if you are wrong? Giving it a second shot isn't that bad after all. Just make sure you do not sound desperate, demanding, or too pushy.
How to write a high-quality guest post?
More often, the structuring of your post will attract people to your blog entry.
After that, it's the real content you've got. Is it valuable? Does it answer the audience's search intent? If not, your readers will quickly close the tab, and Google will be updating a "poor user experience" on their end.
Content marketing statistics show that 60% of marketers create at least a piece of content each day, while only 46% of marketers work with a documented strategy. This means that most marketers do not organize their content.
Below are some guest posting tips that will help you create high-quality content.
1. Always offer value to your readers.
Whether you are guest blogging or writing for your audience, high-quality content is one of the SEO ranking factors you should prioritize.
Creating valuable content goes beyond writing error-free posts. What's very important is meeting the user's expectations. One sure way to satisfy your readers' needs is to cover content on the topics they are looking for comprehensively.
Important Tip:
Use our BiQ's Content Intelligence to know what's important to cover in your topic. Once you have the keyword, all you need to do is type it into the search bar and hit enter.
The screenshot above shows the results for the keyword "unrealistic Standards." You get a breakdown of the keyword in terms of similar keywords, usage, and even example sentences, as shown below.
To answer the searcher's intent more powerfully, use the keywords to craft your outline. This is the best way of creating a high-quality post that adds more value to the audience.
2. Make sure the content is SEO-Friendly.
Nobody will accept a guest blog that's poorly optimized for the search engines. Using keywords moderately is a common and most effective on-page SEO strategy you can use to ensure your content is SEO-friendly.
Important Tip:
Use our BiQ's Content Intelligence to write an SEO-friendly draft.
With your keywords, a content grader allows you to gauge your content's performance based on your writing topic.
You can also make some adjustments and see how relevant your post is with respect to the topic. Once your article shows the content grade "A," it is considered highly-optimized for the search engine.
The 'WordVector SEO' will show your keyword performance. This is done by comparing your keyword to the top 10 content on the search engine result page.

The best part about this feature is that it can tell you exactly which paragraph has lesser relevance to the overall content.

Now, you will be looking at the "Edit Needed' section to check which paragraph needs revision.

You can then dive deeper into the paragraph and better understand how to improve its relevancy to your target keyword.

Oh the other hand, the 'Fundamental SEO' tells you the on-page SEO performance. They're a lifesaver if you want a quick insight into how your content is performing. It will unveil all critical SEO errors in your content.
Try out the tool for free by creating your free BiQ account here.
3. Add actionable takeaway
With guest blogging, having an actionable takeaway means giving the readers a tangible solution to their problems, right and then. Most guest posting sites will require that you have at least one actionable takeaway for their readers.
However, some people will write guest posts where the readers' problems are hidden within or linked back to their blog. While this can earn you traffic, it's not the best way to win over customers or a new audience.
So make sure to include an actionable takeaway in your content!
4. Include backlinks
After writing a great piece of valuable content, you don't want to forget to link back to your blog.
Regardless of your guest blogging intentions, adding a link to your site will increase your backlink authority and give your readers a means to check out your site and possibly reach out to you.
What's next after publishing a guest post?
After creating your content, what is left is to submit it for review and publishing.
Here is how to submit blogs and get them published as soon as possible.
Proofread your posts using Grammarly (or any other proofread tool) before submitting them.
Only submit a guest post that meets the site's publishing guidelines.
Do not spam the content with links.
Where possible, have an internal link to the guest posting site within your post.
Do not be too promotional or salesy.
Another vital tip to keep in mind is always to track your guest blogging efforts. Monitoring the results from your guest posts will help you make informed decisions since you can easily see what works and what doesn't.
If you are to use guest blogging services, always be wary of spam sites that might hurt your SEO rankings. Only publish on legit and well-maintained guest sites, but most importantly, niche websites relevant to your brand or business.
Once the content has been published, promote your guest blog post on your social media channels. This is a great way to earn traffic.
Over To You
For optimal results with all your SEO tactics, you want to optimize for the search engines. Your guest blogging efforts will make a lot of sense if your site is friendly to the web crawlers responsible for search engine ranking.
You can check our SEO technical checklist and fix all the loopholes that are dimming your shine.
Now we'd love to hear your thoughts on:
How you expect guest blogging to change in the future
General thoughts on our guide
And of course, if you have any questions, then please feel free to leave a comment below.
In the meantime… good luck with your guest blogging!