Getting Started
Activate Your Account
When you sign up for a BiQ account, you will need to verify your email address. Go to your inbox and click the 'Verify' button to confirm that you've entered the correct email address. 

How To Get Around
We know that first-time user experiences are one of the most important parts of the user journey. So we believe that welcoming users in a simple yet effective manner can have a big impact on our product's activation rate.
With the right design, a welcome page directs users to focus on the welcome message, while simultaneously orienting them to the product.

Here's what BiQ's welcome page looks like as soon as you've successfully signed up.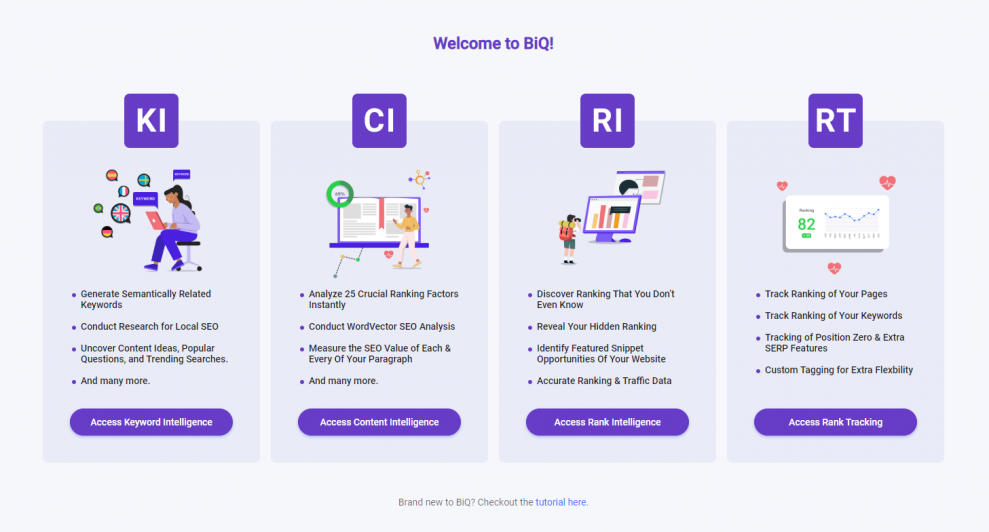 You will be greeted with the four main products of BiQ: Keyword Intelligence, Content Intelligence, Rank Intelligence, and Rank Tracking.
Beneath it is a link to our tutorials to help you get started with BiQ. Welcome models designed like this reduce the anxiety of new users - you'll automatically know where to focus first and have a pretty good idea of what you can explore next.
The sidebar also showcases all the active modules: Keyword Intelligence, Content Intelligence, Rank Intelligence, Rank Tracking, and My Collections.
(*Note that the other modules will be added along the way)

Account Settings
View your account display name, initial login method (Google / Facebook), email, and update your account settings if there are any changes made.

You can also perform basic tasks such as changing your passwords. The update password button grants you permission to do so.

App Usage
If you wish to check your account usage and see if you're near to the limit imposed for the free tier, simply head over to the App usage tab.
The usage is broken down in clear sections to provide an easier way of tracking resource consumption across the BiQ's modules. You'll also be able to filter your usage according to your preferred date range.

Module Pricing
Read this for a better understanding on how will be charged once you've crossed into the overage charges: https://biq.cloud/biq-pricing/
There are 3 ways you can submit your queries or feedback directly to our support staff. It can be via email hello@biq.cloud, the contact support tab or straight through the chat support widget situated on the bottom right of your screen.

BiQ Tutorials
BiQ Tutorials act as a knowledge hub for you to familiarise yourself with the app and the modules. It contains a detailed overview of all of the BiQ modules and exactly what they can do for you.

You'll be exposed to what each module can do for you and get a whole new perspective on an app that you'll get accustomed to in no time.