Looking for higher rankings but tired of shady old SEO techniques? Here we compiled a list of 9 proven SEO techniques that can help you get more organic traffic.
Every year, you hear someone claiming that SEO is dead or not effective. But is it really?
Come to think of it, what's really dead are the old are shady SEO techniques writers still use when creating content. Things like comment spam, thin content, and keyword stuffing are still a thing. And they can really harm your site authority and ranking.
Essentially, we have compiled a list of SEO techniques we have tested and proven to be helpful to SEO and rankings. The list covers all three aspects of optimization to ensure a well-rounded search strategy, and this includes:
On-page SEO techniques
Off-page SEO techniques
Technical SEO
Breaking down these SEO strategies and thinking will help you organize and execute your website and content more effectively, in addition to boosting your website's overall performance.
On-Page SEO Techniques
On-page SEO refers to the actions you can take for the content and pages on your website. It includes strategies that optimize individual pages and help search engines understand your content's topics and intent.
After all, your content must be a valuable source of information that visitors will find informative and engaging to garner traffic.
This type of SEO will mainly capitalize on keyword research, content creation, and keyword optimization.
Off-Page SEO Techniques
Off-page SEO helps strengthen the relationship and influence your site has with others. It includes using different strategies to build your website's reputation and authority.
Most off-page SEO relates to building quality backlinks. Having a large number of links pointing to your website from relevant, authoritative sites will also show search engines that your website has valuable and established content.
Technical SEO
Technical SEO is about building a good user experience. It relates more to non-content elements and is primarily aimed at improving your website's backend structure and foundation.
For example, improving your website loading speed or using HTTPs will generally improve your site's engagement rates user experience.
This also allows search engines to identify your website as highly authoritative, and thus improving your rankings.
Now that we've got the explanations out of the way, let's get started!
SEO Techniques to Boost Your Organic Traffic
1. Complete an SEO audit on your website
An SEO audit essentially means examining and monitoring your overall website performance and setting new goals and SEO strategies based on your findings.
Auditing your website regularly is critical for discovering why you may not be getting enough search traffic and sales. Besides, this process can help increase your overall site profits by maximizing the use of the content you already have.
Fortunately, many SEO companies already offer site auditing services, but we generally recommend you to audit your website yourself as it will keep you in the know.
Business2Community published this handy SEO audit checklist that includes all the components you should check during the process.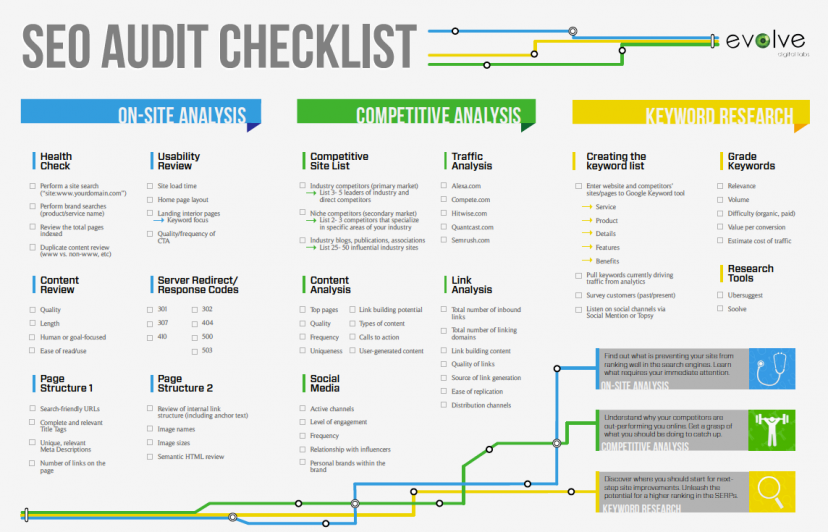 While at first glance, an SEO audit might seem like a heinous task, it is an essential step to help you understand and capitalize on your existing website structure and content.
For an effective SEO audit, make sure to check all the factors in the list and provide the most appropriate strategies and actions to improve your site's ranking and authority.
For example, your websites might already have some decent ranking, then you might want to focus on your on-page SEO, and optimize your content page titles and descriptions.
2. Improve meta title and description for higher CTR
Your website's click-through rate (CTR) is another critical SEO factor you would want to focus on.
Let's say you rank among the top for a keyword with thousands of monthly searches. While all this is great news, you actually won't get the traffic you need unless users click on your pages in the search results.
As a result, it's critical that you optimize your site for clicks from search engines. And the best way to do this is by working on your title tag and meta description.
After all, these two factors form your content's first impression on the search results page, which affects your CTR.
So what does it take to increase your click-through rate on Google's search results? Here are three tips:
Craft catchy headline that poses a curiosity gap or feature benefits
Optimize your title and meta descriptions to include your keywords
Create full-length meta descriptions that are unique and interesting
A SEMRush study also shows that increasing meta description length will actually result in a greater CTR from Google SERP.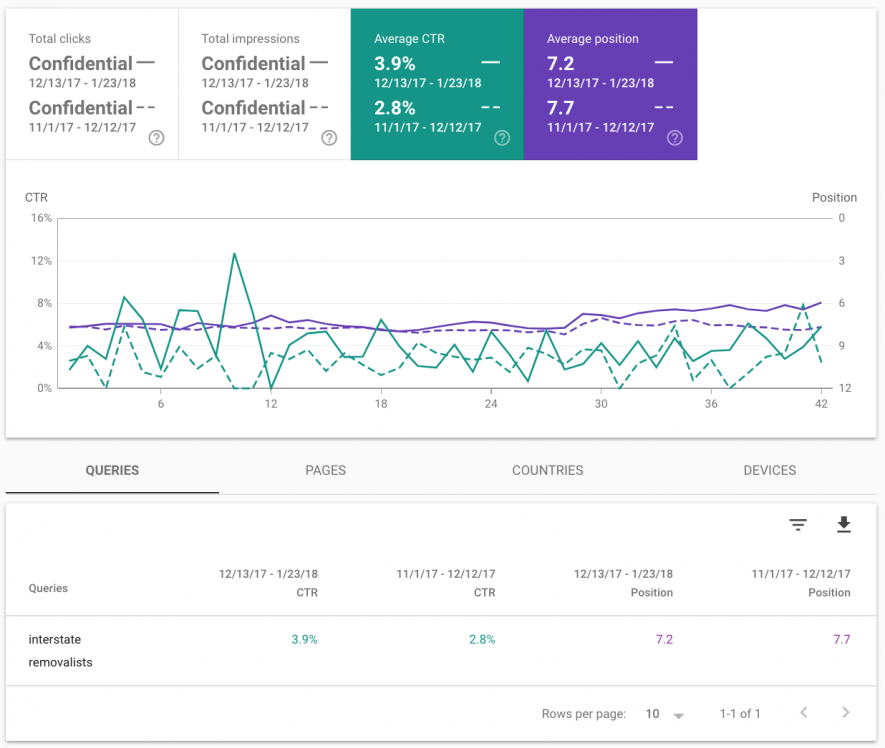 In their study using a Bayesian A/B testing calculator, their meta description that has exceeded the entire pixel limit set by Google, with truncation at the end has resulted in a 36% higher CTR.
3. Win More Featured Snippet
Featured snippets are great, just perfect for every web owner looking to get more organic traffic to their site. The best thing about snippets is that they can benefit both users and SEO.
They provide users quick answers to their queries and provide websites with a great opportunity to outrank their competitors.
One of the easiest ways to get a featured snippet from search engines is by looking at search queries that already have featured snippets.
You can easily discover these keywords with BiQ's Rank Intelligence. Simply enter your website URL and it will show you all the keywords that your website is ranking together with the featured snippet opportunities.

Analyze these pages and use them to structure your website to improve your chances of having featured snippets for search queries on your sites.
It's best to get inspiration from what already works and use it to better your site's authority and clicks. Some factors to consider:
The length of the snippet
Your competitor's snippets
The snippet formatting
The placement of the paragraph where the snippet was taken from
All these are critical features you must consider to improve your chances of getting more clicks.
At the same time, you can also use BiQ's Rank Intelligence to focus on the low-hanging fruits first.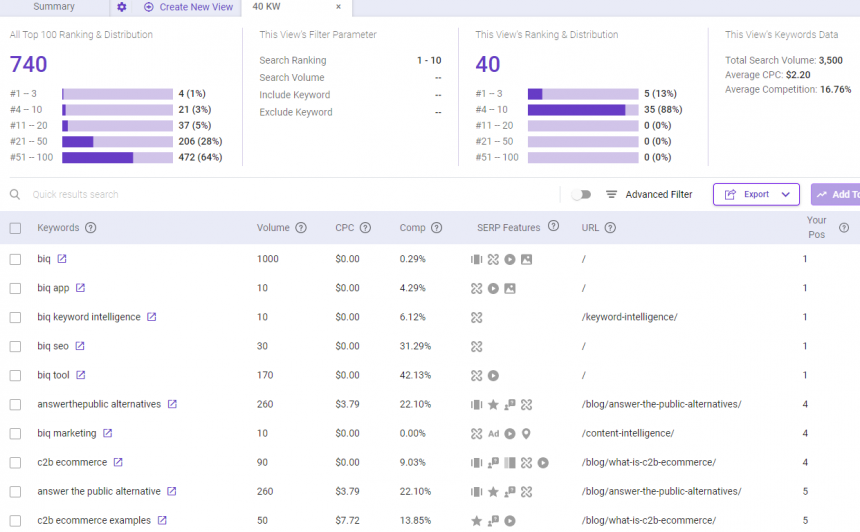 Focus on optimizing your content that is already ranking on the first page, that is positions from 2 to 10.
This content most likely matches the search intent of your query and has the highest potential to further improve its ranking with a little polish and optimization.
4. Update your evergreen content
If you've been blogging and have content older than three months, you've probably got a goldmine of posts in your archives that need repurposing.
You will undoubtedly have some posts that still generate insane organic traffic. But did you know that you can improve these posts further by updating all your content?
Google loves fresh, up-to-date content and tends to rank them higher. Refreshing and republishing your articles with new figures and stats is one of the best ways of improving your rankings.
SEOPressor saw an increase of 200+% traffic after they updated their content and landed on the featured snippet.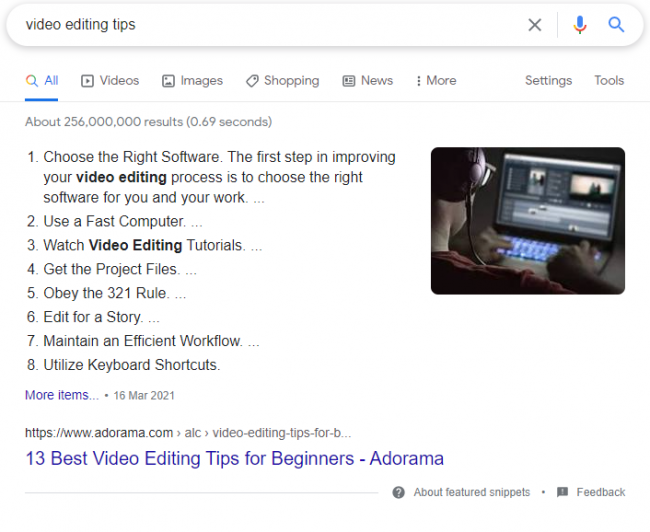 The content was already getting traffic to begin with, but after revamping it, its search rankings skyrocket again.
Here's the thing. How would you know the right posts and pages that need refreshing and benefit the most from it? Using tools like Google Analytics and Search Console are the best tools to check your content progress.
Otherwise, you can use BiQ's Rank Intelligence and Rank Tracking to discover and monitor your content tracking.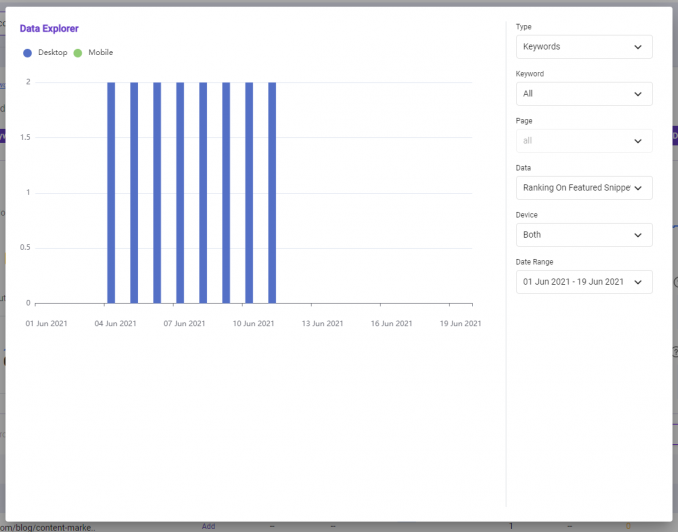 This feature will help you quickly identify your keywords' gains or losses so you can act in response to secure your keyword rankings from being stolen by a competitor or take the chance to further boost your keyword rankings while it's in trend.
5. Boost underperforming content with backlinks
While backlinks might not always be easy to acquire, they can be very effective tools in boosting your web page rankings and authority.
You've probably already spent a lot of time and money building links to your web pages. Now, the best part comes when you have to link to some of your other posts. Such links can be very effective, especially when used to boost some of your underperforming posts.
Backlinking is the best way of ensuring that none of your posts lead to dead pages. Revamp old underperforming articles to help them get more organic search traffic.
6. Fill in your content gap
A content gap exists when your competitors have content about certain topics that you haven't covered yet in your postings. But content gaps can also occur at page levels if you aren't too careful.
To find out if your content is fully optimized, you can use the Word Vector tab in BiQ's Content Intelligence.
Simply paste your target keyword and URL, and the tool will help you compare your writing to the Top 10 rankings in SERP and provide suggestions on how you can further improve your content.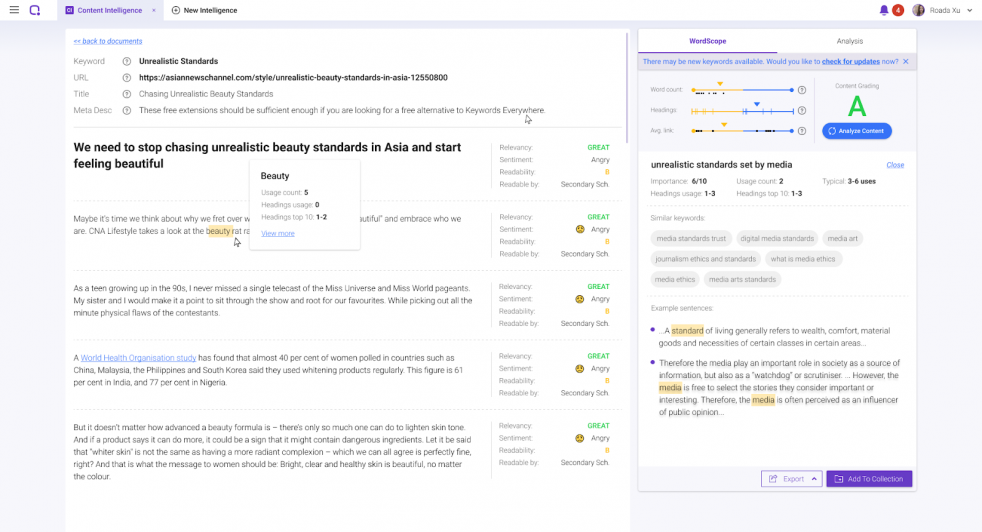 Filling in your content gap will not only help your pages rank for keywords, but it can also increase your topical relevance which in turn, will boost the ranking of other related keywords on your website.
By this stage, you already know that Google is an algorithm. It's designed to look at content on your web page and understand your intentions for creating it.
And talking about things that relate more to your primary topic is one way to effectively increase the search engine's confidence in your website's intentions.
7. Beef up your thin content
A Backlinko study has found that longer content often leads to more accumulative backlinks and this often links to more traffic and better rankings.
However, writing 2,000+ blog posts isn't for everyone. It's not only more time-consuming and intensive, but it's not always necessary too. Moreover, most users only need just a sentence that answers their queries.
That's why ultimately we recommend you to do a SERP analysis on your keyword to see what are the word lengths of the content ranking.
After all, it is not ideal to write along-form content about a topic that would generally require you to write brief point-form content.
What you want to avoid is thin content. These are content that doesn't provide any value and doesn't generate any traffic despite being published for a while.
The reason may be because it is badly written or is simply not relevant to the user's search intent.
The idea is to revamp and rewrite them. Do some good strong research on the topic and read what others have written on the topic and see how you can improve it and add more value.
Better yet, put it through BiQ's Content Intelligence to make it more relevant to your target keyword.
8. Convert unlinked mentions to links
It's not uncommon for some sites to mention your business or products and services you offer without linking back to you.
Such unlinked mentions can occur for several reasons. But mostly, it comes down to forgetfulness and not malice.
Either way, it can be frustrating to see your work being used online but not getting the accolades or recognition for it.
Luckily, there's a solution for this:
Find all unlinked mentions of your business online
Reach out to the business and attempt to convert them into links
Provided you have a good internal linking structure, this should be a good thing, especially if you manage to turn these businesses into links. Some of the authority from such links will also flow into some of your pages.
Similarly, you can also build your own internal link structure and look through your pages and content to find places where you can anchor your sales landing page.
9. Take advantage of YouTube SEO
Videos, predominantly from YouTube, have become common in search engine results pages. Unfortunately, most SEOs forget about YouTube completely when thinking of search engines.
But as the most popular video site to date, YouTube boasts over 2 billion monthly active users with over 1 billion hours of video watched every day, so you might want to start considering video marketing.
Granted, YouTube marketing isn't for everyone or every industry. But with almost everyone owning powerful video cameras, playing around with video marketing will be worth your while.
The best way to invest in YouTube videos
Invest in video-friendly SEO
Create custom thumbnails
Create video playlists
Not only with these SEO techniques and tools earn you more organic traffic, but they will also put you in Google's good books and improve your rankings.
Besides, including explanatory video or video testimonials in your content is also a great way to improve your visitors' "time on page" as well as conversion.
Track and Repeat SEO techniques
When leveraging these SEO techniques, it's always vital to track your progress and constantly work on improving your site.
These SEO strategies and tools are the best way of getting you the results you're looking for without compromising on content. So try them out today!
Also, do you have any other awesome SEO techniques we didn't cover in this blog post? Share them down in the comment section down below.