Looking for ways to improve your SEO on Squarespace? In this guide, we will walk you through a 5-step process to optimize your ranking and visibility for search engines.
You're tired of churning out one piece of content after another and seeing a minimal (or zero) increase in traffic or sales.
Every time you upload blogs to your Squarespace website, you have some hope that maybe, just maybe, your content will finally blow up.
But just like all the previous times, no one seems to take notice, and your blog posts end up getting lost in the maze of Google. It's a frustrating feeling, and you're almost giving up on content creation altogether.
Are you wondering what it's going to take for your site to be visible enough to those high-paying clients? Say hello to SEO for Squarespace blog post.
Here's the thing. Creating content and not using Squarespace SEO is like trying to drive a car with no wheels. You can tramp on the peddle all you want, but that beast is going nowhere. Not now, not ever.
The logic here is simple.
No SEO for your Squarespace website = No traffic = No money
But your story is about to change for good. In this blog, you'll learn actionable Squarespace SEO tips. It doesn't get any better than this, folks!
Is Squarespace Good For SEO?
Squarespace is recognized by users—including us—as an impeccable website builder for design and templates.
However, it's less known for its solid range of SEO tools.
Just so you know, Squarespace websites often hit that coveted #1 spot on Google's SERPs!
For starters, Squarespace has a handy SEO checklist for people using their product to create a website.
The product comes with:
Sitemaps
SSL certificates
Mobile-friendly UI
Clean HTML and URLs
Basic on-page SEO tasks like changing title tags, meta description, and URLs
This means Squarespace takes SEO pretty seriously. However, that checklist only holds the basics of SEO. Here's what you can do to achieve further Squarespace SEO optimization.
How to do SEO on Squarespace?
There's on-page and off-page SEO
Squarespace SEO pretty much boils down to the following:
On-page SEO – to make sure your content has the best chance to be found
Off-page SEO– to spread the word and increase your site's authority
Both practices can help drive traffic to your Squarespace site, but according to Search Engine Journal:
"…Off-page SEO won't do much good if you don't pay attention to the fundamentals- on-page SEO."
In fact, Google's very own "How Search Works" report states that:
"…The most basic signal that information is relevant is when a webpage contains the same keywords as your search query…"
So before you start optimizing your site for off-page SEO (think: link building, guest posting, blog commenting, etc.), use the on-page checklist below to make sure your Squarespace site is optimized for search.
Step 1: Do Keyword Research
Does the idea of doing keyword research for Squarespace SEO optimization leave you feeling stumped? We feel you. It can sometimes feel like a challenging task, but it does pay off.
In fact, Backlinko's recent analysis of 11 million Google SERPs found an association between keyword-rich title tags and first page rankings.
That said, keyword/keyphrase research remains the best way to discover user questions and related topics. And it's not just about using simple keywords. It's more about optimizing content to suit search intent.
First off, brainstorm keywords that you want a specific piece of content to target. If you deem the keywords to be strikingly similar, pick one phrase or word to represent similar keywords.
Please choose one of your keywords or phrases and enter it into Google. You'll see a whole bunch of data about your main keyword, but there's one thing you should track: what the competition is doing.
The lower the SEO difficulty (competition with other websites), the better.
If you're finding it hard to research the right Squarespace SEO keywords to target, BiQ's Keyword Intelligence can help.
It leverages a powerful keyword analyzer feature which helps you see why someone might be searching for the target keyword in the search engine.
With this data, you'll be able to plan your content in such a way that it meets your user's needs.
And if you need to uncover your competitor's ranking keywords, BiQ's Content Intelligence has got you covered.
Go to Google and key in your target keyword. Browse the top ranking sites and assess them on Content Intelligence with the same target keyword.
What you'll see on the dashboard are actionable insights. Insights that show you the exact areas where competitors are outwitting you.
Better still, the tool allows you to audit your content against the Top 10 ranking results for your keyword. You'll be able to pick out any missing content gap and further optimize your content to make it more relevant.
Step 2: Offer high-quality content
Every other year, search engine algorithms become a tad bit more complex.
So for your Squarespace content to rank high on SERPs, you must make an effort to provide top-notch content, which is the type that actually provides value for users.
To create content that's worth its weight in gold, consider these five pointers:
a. Create content strategy and silo
Think of your site like a "how-to" book. Every how-to book has a title (explaining the umbrella theme), subsequent chapters (categories), and segments within those chapters (sub-categories).
Google views your site in a smaller manner. It interprets the site URL as the title, the homepage as the introduction, and internal pages as chapters.
And like any book, your Squarespace website needs to be categorized cohesively so that ever-busy Google crawlers can easily find what they're looking for.
And you can only achieve this if you have a solid content strategy in place. So, work with your team to create a foolproof content strategy with silos at the heart of it all.
b. Include your target keywords in your URL
While it's not a major ranking factor, keyword-optimized URLs can help show a page higher on SERPs and impact the decision-making of searches.
To write a URL that's optimized to support SEO efforts, simply throw in a single target keyword or two.
According to recent research by HigherVisibility.com, nearly two-thirds of top-ranking websites use target keywords in their URLs. So you definitely don't want to overlook this aspect of SEO on Squarespace.
c. Use multiple content formats
Let's not ignore this simple fact: people have preferred formats for digesting information, and the format needs to be friendly to browsing as well as deep-dive studying.
If your Squarespace website still has pure rolls of plain web content, then you're probably missing out on the opportunity to reach new audiences.
You could package your content into downloadable videos or eBooks, blog posts, research studies—just anything to bring in more search traffic.
d. Make sure your Squarespace content is comprehensive and optimized
Brian Dean's 2019's seminal analysis of 1 million Google search results found that:
"…optimized and comprehensive content significantly outperformed shallow content."
So how you objectively define comprehensiveness and then write in a way that the search engine considers to be thorough?
A potent SEO tool like BiQ's Content Intelligence can help with that task.
Leveraging a powerful analysis feature called 'Word Vector,' this tool tells you the performance of your content against the Top 10 content in relation to your target keyword.
The best part? This tool can tell you exactly which section has the least impact on the overall content. Then you can go ahead and create an optimized content strategy with zero gaps.
e. Image optimization
Every single image on your Squarespace website should have a descriptive alt text. This is to ensure that if your images cease to display for some reason, searchers will still be able to understand your posts.
And remember, Google can't read your images without alt text. So if you don't optimize your images (including their types, sizes, and image filenames) for Squarespace SEO, you might as well kiss goodbye to any hopes of ranking top on Google.
Step 3: Connect to Google Analytics & Google Search Console
Are you intimidated by Google Analytics? Well, you're not alone.
But while Google Analytics is hugely complex, it provides you with a very in-depth look at your Squarespace website performance.
It even links with all of Google's marketing tools (including Search Console), making it a go-to choice for anyone looking to ramp up their SEO efforts. You can use these dedicated tools to check Google indexing, submit a sitemap and spot any issues.
You can further analyze your SEO rankings alongside other Analytics data by linking your Google Search Console and Google Analytics account together.
First off, you need to have a Google Analytics account.
If you already do, proceed to the next all-important step: letting the Search Console data import in Google Analytics. Get the full breakdown of this process on Google's very own support page.
Step 4: Build internal and backlinks
Keyword research? Check. Content optimization? Double-check. Now it's time to get your content to be noticed.
You can do this by building both internal and external links.
Internal linking encourages people to check out other content on your site. For instance, you could insert phrases like 'You might also like' to act as gateways to other high-value, SEO-optimized pages.
Meanwhile, you would also want to encourage backlinks to your own Squarespace content. A backlink to your website indicates to internet users that your brand/ website is worth attention.
It's a signal that helps attract an audience by association since backlinks presents you as an authority or valuable information source within your niche and industry, which will help boost your rankings!
And there you have it! A simple way to add links to your already impressive Squarespace website.
Step 5: Optimize user experience
Any worthwhile Squarespace SEO starts and ends with the user in mind. The least you can do is make their navigation on your site a total breeze.
Observe these three-pointers, and you'll be good to go:
a. Create a custom 404 page
If users visit your website only to be met with a "page not found" notice, chances are they'll move on from your website because they didn't get what they were looking for.
The main goal of your Squarespace website is to keep people glued. But if users land on a default "page not found," they're probably going to navigate away. But, if you customize this page, you might just be able to keep them around for long enough—woohoo!
A default 404 page on Squarespace looks like this:
As you can see, it doesn't offer much, other than a "trying again" and a "return to our homepage." Boring and uninteresting, right?
The good news is, there's a lot you can do to customize this page, including: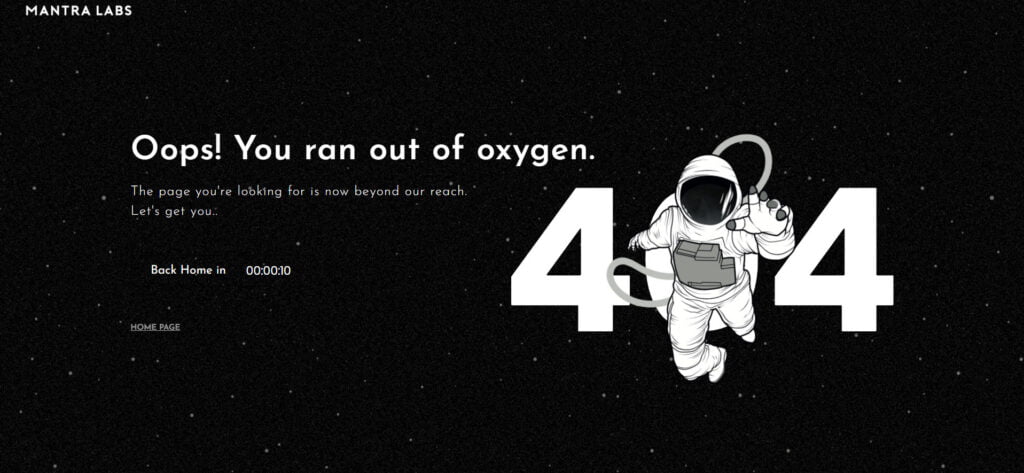 Adding an eye-catching heading: Try to use a more personable heading that will grab the attention of searchers and make them stick around some more. Some ideas are:
"Hey! You've landed on a page that doesn't exist yet (sorry!) But check this out…"
"Whoops, we can't find the page you're looking for, but stick around…"
"Uh oh! You might be lost, but don't leave just yet!"
Adding a contact form: Incorporate a contact form to the bottom of your page so searchers can get in touch with you if they'd like to. It could be something like: "Still can't find what you're looking for but want to get in touch?"
But there's one common misconception in relation to 404s that we'd like to dispel.
It's not always prudent to simply redirect to the Home page, as this can lead to poor user experience and low retention rates. Essentially, visitors might not realize the page they were looking for isn't available and may end up feeling wasted and frustrated.
b. Optimize mobile experience
Ideally, all Squarespace products are designed to be mobile-friendly right from the start.
But there are things you can do to really hook mobile users to your website. These include:
Keeping your pages under 5MB: Pages with more than 5MB of the content may load slowly on mobile gadgets, so the smaller, the better.
Don't depend on spacer blocks: Spacer blocks (you know, the things that are used to add more room between content sections) are often hidden on mobile in most Squarespace templates. This can cause your layouts to look incredibly awful on mobile, and as a result, drive potential clients away.
c. Check your website with Google Web Vitals.
If you want to optimize the user experience and hopefully keep them for a second or two longer, you need to stay on top of your website's core vitals.
So what's the big deal with these "vitals"?
Well, Google recently made it official. Your site's overall speed, responsiveness, and how it acts while loading will start to influence its position on SERPs.
Three factors have now become new ranking signals, called Core Web Vitals:
Loading time—how long does it take for the largest portion of your content to load. Aim for under 2.5 seconds, though we'd argue for under 2 seconds.
Interactivity—how fast things start showing up in browsers. Aim for 100ms or thereabouts. 300ms is painfully slow.
Visual stability—how much your page moves around when fonts, ads, images, or videos affect your content.
Simply run your site's domain name and URL prefix on Google Search Console, and the tool will do its magic. Then from the insights that you'll get, you'll know which areas to improve on so that users can have a positive overall experience while on your site.
Wrapping Up
When it comes to Squarespace SEO optimization, it's always best to think of your visitor/reader first before Google.
If your content is superbly written, addresses your audience's needs, and is easy to read, then the search engine will take that into great consideration. What are you waiting for? Improve your Squarespace SEO today with the tips above! It's now or never.
Want to see how BiQ can help take your Squarespace SEO campaign to the next level? Check out BiQ here and try it out today!