SEO for SaaS: Here are a variety of search engine optimization strategies that work well in the SaaS space to improve your website's online branding and organic traffic.
SEO for SaaS: A Comprehensive Guide to Building Your Brand and Visibility on Google
If you are looking to grow your software as a service (SaaS) business, it's clear you need to be implementing search engine optimization (SEO) into your marketing strategy.
Especially with 4.66 billion people around the world using the internet as of 2021, the potential customer base to reach through search engines for SaaS companies is massive.

Not just that, an effective search engine strategy can be the most significant source of reaching your customers, having the power to both attract strong organic growth and qualifying your conversion and leads.

In this post, we've put together everything you need to know about SEO for SaaS and how you can implement your own SEO strategy into your SaaS business.
But first, let's go over what is SEO to SaaS companies.
What is SEO for SaaS?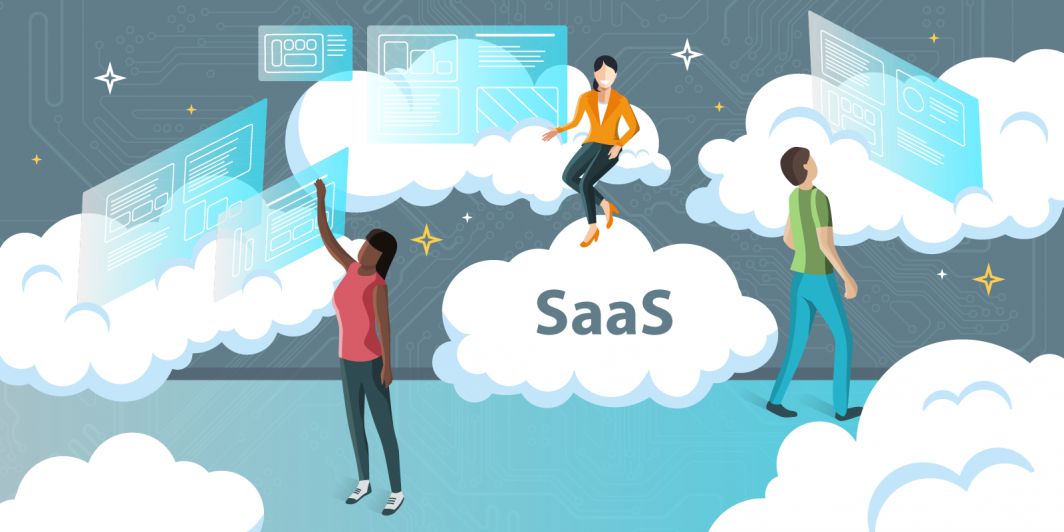 SEO for SaaS refers to the process of implementing SEO strategies for SaaS websites to attract organic traffic as a way to drive their business growth.

Though many SEO fundamentals would apply here, the focus of SEO for SaaS is on building their branding and finding keyword opportunities that are likely to drive conversions and sales.
Compared to paid marketing tactics like PPC or social ads that SaaS companies often employ to rapidly scale their customer acquisition, SEO can be one of the most cost-effective ways to improving your website's visibility.

When successful, SEO for SaaS can yield great impacts and results. Just take a look at SaaS companies like HubSpot and Drift.

HubSpot, for example, is currently ranking #1 in the business and consumer services space with over 30 million total visits to the website every month. And this doesn't even include other websites they have built for their community like Inbound.org or ThinkGrowth.org.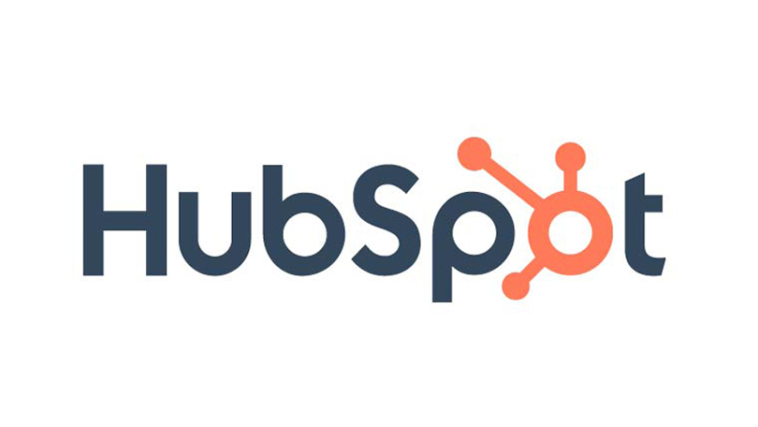 Founded in 2006 by Brian Haligan and Bharmesh Shah, it just took the SaaS company 8 years to grow from zero to over US$100 million in revenue and achieving the IPO status. Of course, the key driver to their success here is SEO.

What is the importance of SEO for SaaS?
No matter your situation, if you have a website and want to stand out on the Google search engine result page (SERPs), you must have a search engine optimization strategy.

SEO can help place your SaaS website front and center in your buyer's journey.

Optimizing for the search engine will directly influence your ranking visibility and organic traffic, affecting the number of leads or online sales you get. What you want is the desirable #1 position on Google SERPs.

According to Search Engine Journal, over 25% of people click on the first Google search result, and afterward, it gets significantly lesser as you go down the page.
However, more importantly, here are 3 reasons why SEO can be such a critical SaaS strategy.
SEO helps you scale exponentially
When it comes to the SaaS business, a strategic growth timeline is critical to success, and in that aspect, SEO is one of the most effective ways to ramp up your lead generation efforts.

Content marketing is a common theme among most SaaS actionable strategies and often can bring long-term results with sustainable, compounding value over time. So if you are in it to win it, publishing SEO content can reap a lot of benefits.

Just imagine content that you had publish today still raking in more traffic and leads for months and years to come. It is a long-term investment but when put at scale can bring your website exponential traffic growth.
SEO helps to reduce cost per acquisition
Your target audience is already on the search for your software to solve their problem.

Increasing your website's organic search visibility to show up for relevant queries naturally can be one of the most cost-effective ways to acquire customers.

It involves only a one-time investment to pay for an SEO expert or agency's hiring cost and the total work hours spent on executing keyword research, creating evergreen content and key landing pages that can potentially rank.

When successful, your content would drive your website's continuous organic traffic. And with the proper marketing funnel, your business can convert them into leads and then into customers.

On the other end, with paid marketing tactics like PPC, it can quickly become costly when you are target high competition keywords. Every click comes with a cost, and when you turn off or reduce your paid advertising, the traffic stops.
SEO makes a website user experience better
Rankings aren't the only things that mattered to SEO, when optimizing, this would also include considerations on how your users are engaging with your site.

User experience metrics like social shares, average time on page, and exit rates all play a role in influencing Google rankings and can also be good indicators of how your user feel when exploring your website.

That's why following Google recommended SEO guidelines that call for easy navigation from a mobile device or fast loading speed is important in that it creates a better experience for your users. After all, would you trust a SaaS brand which website takes forever to load?
SaaS SEO strategy: A Step-by-Step Guide
Now that you are convinced why you must use SEO in your SaaS growth strategy, let's dive into the how.
Here we will cover the fundamentals you need to know about optimizing your website across the funnel.
Run an SEO site audit
Before you kickstart your keyword research or content creation, it is important to make sure your website is first and foremost performing at its best.

Here's a quick SEO site audit you can run to make sure everything's in check or read our other post here to know about SEO site audit in more detail.
Step 1: Check on-site issues that may be hindering your ranking
For on-page SEO, one of the most basic checks is to make sure your target keywords are in your meta tags. So head on to your homepage and key landing page to "view page source" and have a look to see if you have included your keywords in your title and meta description.

Title and meta descriptions help inform Google and your audience what your page is about and should always be clear and descriptive.

Note that there is no need to stuff keywords in your meta tags, but instead use synonyms or LSI keywords to increase your chances for multiple keyword rankings.

Next, check your web performance and page speed in Google PageSpeed insights. This is a handy tool by Google to help make sure your web pages work fast on all devices. It's completely free so just plug your website in and follow the suggestions provided to score a perfect 100%.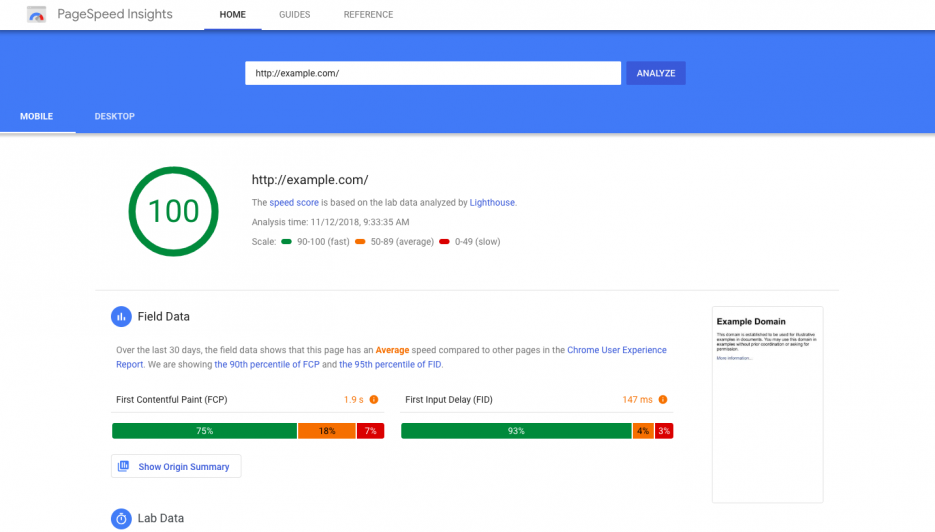 Lastly, make sure you log into your Google Search Console account's Coverage report. This section will show you how many pages of your site have been indexed in Google, as well as any errors that Google has run into.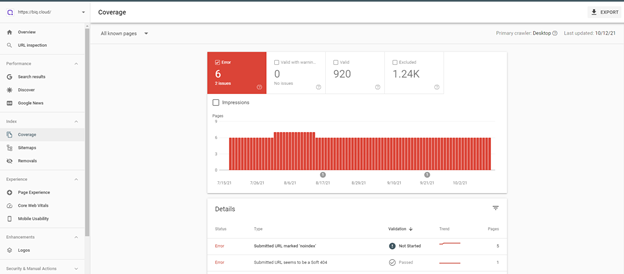 If you have any, be sure to fix these errors and optimize your page performance as per Google's suggestions here before you proceed to the next step.
Step 2: Find pages ranking in positions 5 to 10 to push them into the top spots
While you are at Google Search Console, also head over to the Search Results to find your keywords or pages that are ranking in the bottom half of the first page.

Specifically, you're looking for keywords that are ranking from positions #5 to #10 with high impressions to further re-optimize and improve their rankings. We call these keywords our low-hanging fruits and are often just a few tweaks away from landing on the top spots.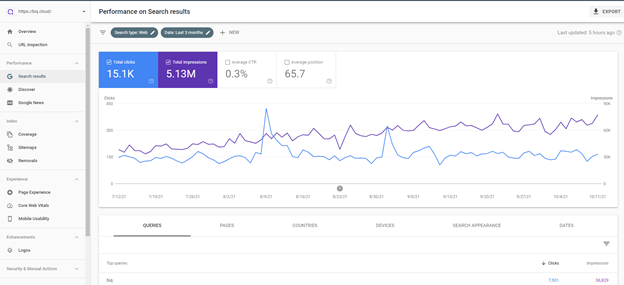 Once you have your keywords and page URL, you can easily reoptimize them using our BiQ's Content Intelligence.

Our tool will show you a paragraph-by-paragraph analysis that gives you a quick glance at your content's relevancy, sentiment, and readability.

But most importantly, it compares your content's Word Vector against the Top 10 rankings for your keyword and will let you know if you have any missing content gap or specifically which part of your content should you strengthen or optimize.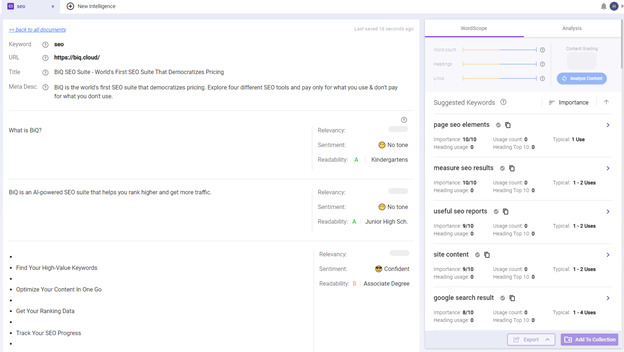 Find the right keywords
To truly succeed with your SEO SaaS, aside from optimizing for your ranking keywords, you also need to ensure that you are ranking for the search queries that your prospects are using to find your software.

And this is where keyword research comes in.
Step 1: Get to know your potential customers
To get the problems, passions, and target keywords that drive buyers towards your software, you need to learn as much about your buyer as possible.

There are millions of search queries made every day but not everyone is your potential buyer. Some might be aware of the problem but are not willing to pay for a solution, while other potential buyers may be users of your competitors that are looking for an alternative.

So before you venture further on deciding the right keywords, you need to first define and refine your SaaS product's buyer persona.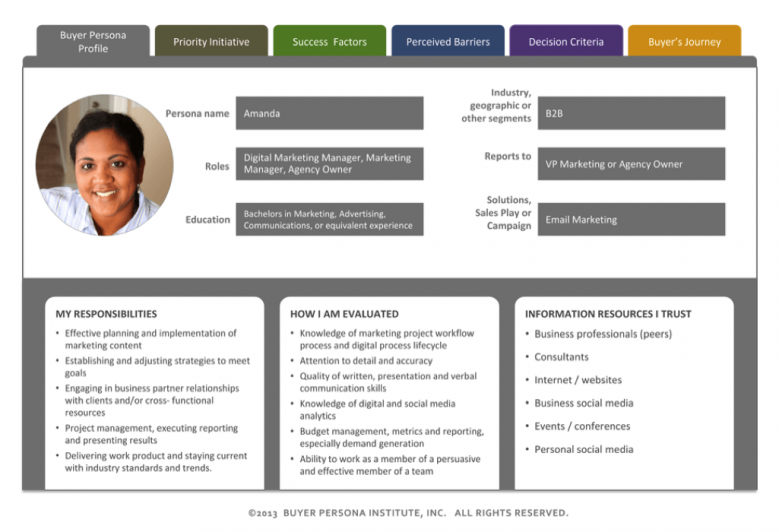 Map out who your potential customers are by referring to your existing customer database or conduct in-depth interviews with your customers to get to know them better.

The idea here is to understand who your buyers are and getting deeper insights into identifying the problem areas of your persona and what are their motivations and needs.
Step 2: Do keyword research
Next, do your keyword research using BiQ's Keyword Intelligence. You can simply type in your topic or industry and the tool will return you will related keywords that you can further explore.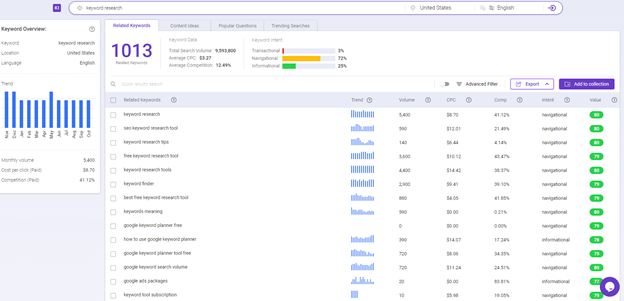 The tool has a handy search intent filtering feature that can help you process and organize the keywords according to where your potential customers are at in the different stages of your buyer's journey.

For example, filter only informational keywords to find the top of the funnel keywords you can target for prospects early at the customer's journey who are looking for tips and guides to their problem.

These keywords often have a high search volume and are a good chance for you to create brand awareness and position your software as the potential solution for their problem.

On the other hand, you can also target transactional keywords like "best office communication app" or "task management software" which are keywords with high buying intent to build landing pages targeting users ready to purchase software like yours.

Besides that, you can also refer to the keyword trend or the Trending searches tab on our BiQ Keyword Intelligence when you are planning your content schedule. This can be helpful for you to ride the wave as the keyword's popularity grows.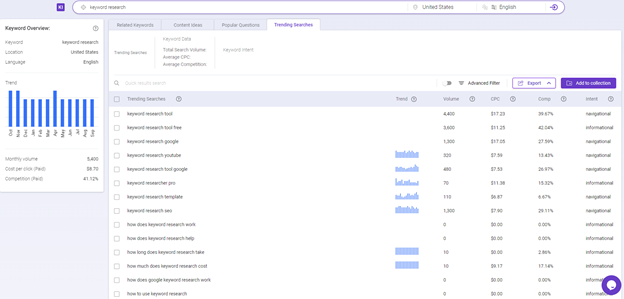 Quick SEO tip: If your SaaS website is just starting out, we recommend that you target long-tail keywords with lower search volumes first as these keywords tend to be less competitive than super popular keywords.
Step 3: Reverse engineer competitor's best keyword
To complete your keyword research, it's also essential that you spy on your competitor's ranking keywords and marketing strategy.

Or as a matter of fact, we recommend you doing your competitive analysis first instead of typing random words into a keyword research tool and going through hundreds of keywords.

Through using a competitive analysis tool like BiQ Rank Intelligence, you can uncover the list of exact terms that your competitor is ranking for, their positions, and their search volume. This will better inform your keyword strategy and uncover any potential opportunities.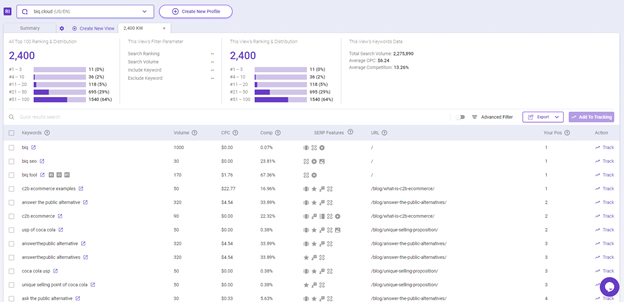 Create the right content
Now that you have your list of target keywords, naturally what comes next is creating optimized and high-quality content, and here's how.
Step 1: Identify the search intent
For every query, users are looking for an answer. So it's absolutely important to provide the information that people are searching for.

A good place to start is by analyzing what is already ranking for Google's SERP. For example, if you search for the term "how to do keyword research", you'll notice that most of the results here are listicles.

Analyzing the SERP page will often give you a clue on what most users are looking for and how you should go about answering your content.
For SaaS SEO, it's also important to remember that a big part of content creation is to create your content and map them to the different stages ins your sales funnel.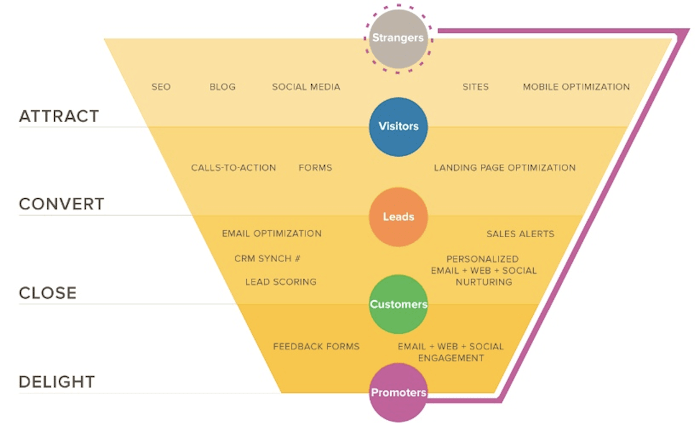 Keep in mind that while each content is created to answer the user's search intent, it should also serve the purpose of qualifying users into leads and further directing them down the sales funnel until they convert into a customer.

In the case of SaaS businesses, users would often need multiple touchpoints and brand interactions before making the final purchasing decision.

Usually, this can mean anytime between weeks or even months from when they first discover your content to making a purchase, and you certainly don't want them leaving midway when they find a more attractive offer from your competitors.

A study from Hubspot shows that the average sales cycle for SaaS business is 84.3 days, so make sure you have optimized content created for every stage that gradually moves them down the funnel within this timeframe or less.
Are they looking for information about a problem? In that case, build a problem-focused article that will address your user's pain and introduce your SaaS product as a solution.

Or are they in the consideration stage, thinking if your product is really necessary? In that case, link them to a use case or case study to further convince them.

Don't just solely focus on creating content or product pages. The goal of your SaaS marketing is to direct them through your sales funnel.
Step 2: Create relevant content
When it comes to creating content for SaaS SEO, be sure to keep in mind that you need to create high-quality, optimized content to have a better chance at ranking.

According to Backlinko's study analyzing 11.8 million Google searches, one of the things they discover is that comprehensive content with depth tends to rank higher in search engines.

This has sparked a wave of creating long-form content over 2,000 words. However, not all are created equal, as much as it's important to cover in-depth, it's also essential that you do not stray of topic and to make sure you have optimize your content for your target keyword.

Some of the best practices will be to include your keywords in:

Your page meta title and description
Your H1, H2, and H3 headings
Alt images and descriptions
Your first and last 100 words
Though this is just scratching the surface of on-page SEO, to optimize your content fully, we recommend you trying out our BiQ's Content Intelligence which supports content optimization for both pre- and post-published content.

On the other hand, one of the most common challenges that SaaS SEO might face include competiton from aggregator sites like Capterra or G2.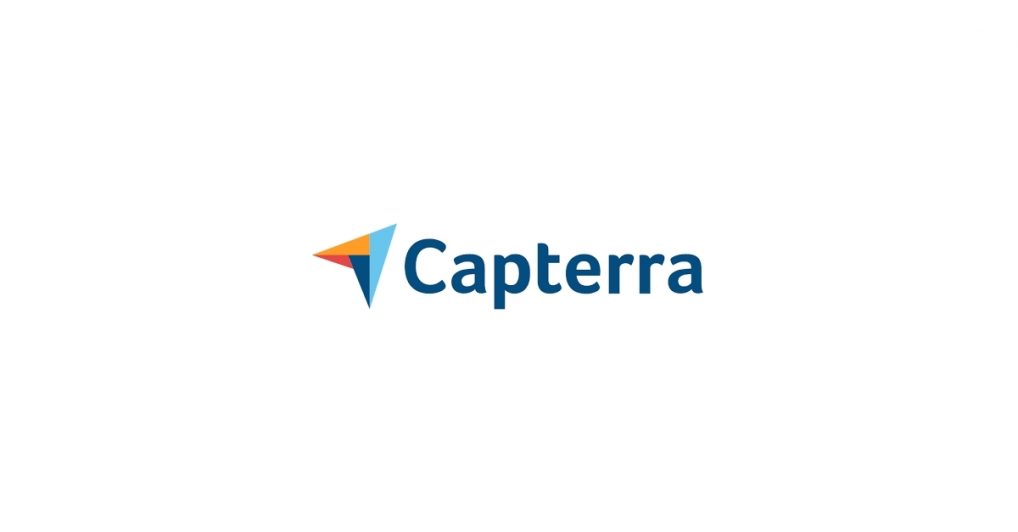 These sites have built out extensive landing pages and would often rank for competitive, comparison keywords like "best SEO software" or "project management software". So in that case, the content you might want to create is to enlist your product here.
Step 3: Post consistently
Though you might think how often you should post will depend on the size of your company or goals, for the best SEO efforts, it's optimal that you publish content consistently with a content frequency of around two to four posts a week.

According to a Hubspot study that look at the content schedule of 13,000 companies, it found that brands which published 16 times a month actually witness 3.5 times more traffic than brands which only published once a week.

So in any case, make sure you have a consistent content schedule to take advantage of this!
Get high-quality links
Finally, backlinks are fundamental to SEO.

To complete your SaaS SEO strategy, you need to build related, high-quality backlinks to your site and content to gain a higher edge in ranking for more competitive keywords. And here are 3 quick link building techniques to get started:
Step 1: Use press release
One of the most effective tactics for SaaS companies, press releases can help quickly kickstart your brand awareness by getting hundreds of high-quality backlinks from notable media outlets and news agencies.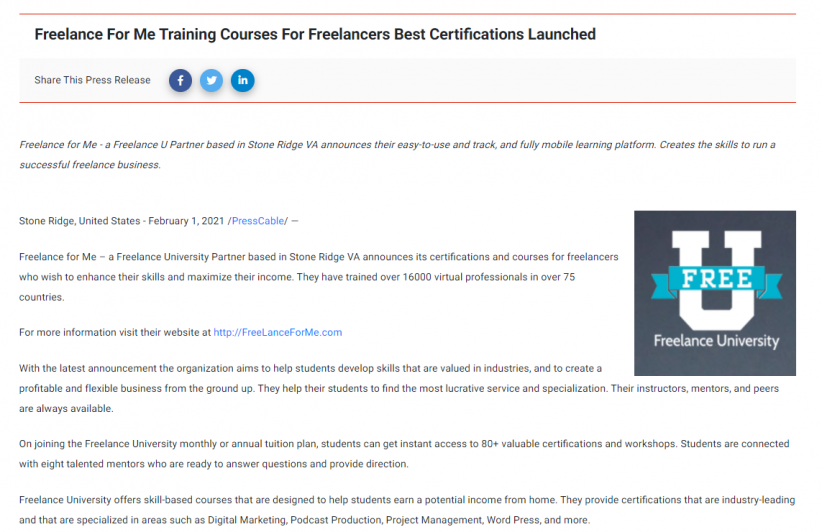 Who knows? Your news might also attract the attention of journalists who will get you more coverage, which will bring massive return of investment for just a single press release.

To learn more about this, you can visit one of the most popular news agencies MarketersMedia and PR Newswire that can help you achieve your communication goals.
Step 2: Resource links building
Perfect for SaaS businesses, using resource page link building is a super scalable approach that can help you get tons of links and referral traffic from actual paying customers.
The practice mainly involves outreaching to build backlinks on resource pages that are already linking your competitors and trying to win the same links.
A quick competitor backlinks analysis will reveal the URLs, but another way is to make a quick query of "best (your SaaS product)" and get started there.
Step 3: Turn unlinked brand mention into links
Last but certainly not least, turning non-baclinking URLs mentioning your brand is one of the most easiest and effective ways to link building.

To find these brand mentions, you can often just do it old school by using intext search or you can resort to using many handy tools available to discover brand mentions online, just like Link Prospector by Citation Labs.

Next, just send an outreach email with the request, and voila, you are done!

Conclusion
Ultimately, great SaaS software deserves great SEO.
Follow this complete SaaS SEO strategy to reach your goals and acquire customers through organic traffic with high efficiency.