Find out the top 7 meta descriptions best practices that you will love in 2020. These important tips will help you to get people to click and visit your website.
Questions like this often arise: What is a meta description? How do you write a great meta description in 2020? What should I write in the meta description?

Following on from our Ultimate SEO Content guide for 2020, I thought I'd follow up on the tips on how to create your best meta descriptions and answer all of the questions above.
Before we go further, let's take a look at the basics of meta descriptions.
What are meta descriptions?
Meta description or also known as meta description attribute is an HTML element that describes and summarizes the contents of a web page. In short, it's a summary of your web page.

It tells both the search engine and readers what your page is all about. Here is the snippet of how it looks like on the search page: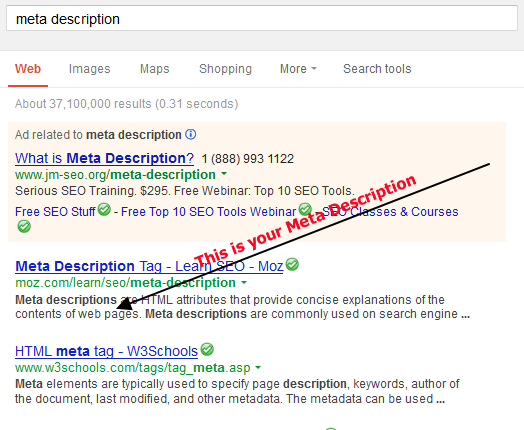 A search optimized meta description will encourage people to click the link and visit the website. No matter which position you are on the search engine result page, if your meta description is convincing enough, you'll slowly move up.
Does meta description have any effect on your SEO?
Here is the thing, a meta description does not affect your ranking directly. But it will affect your click-through rate in the search results. Thus, it affects your rankings in the long run.
Just imagine if you are ranking in the third position on page one, you will be competing with the top two sites. Having a great meta description will attract searchers to choose you over them.
When more searchers choose to click and visit your page, the search engine will then think your page is more relevant to the search query than the other two pages. With this, you will have a higher chance of moving your ranking up.
So if you are still contemplating whether writing a meta description is worth your time? It is definitely a yes.
Meta description length
So, what is the exact meta description length in 2020? There is no exact number on the description length announced by Google. But we have seen it changed several times in recent years.
Back in 2017, the length was increased to 320 characters. Later, in 2018 it was cut into half again. Now, if you look into the search result pages and check the average length, you'll find the existence of both long and short meta descriptions.
With this finding, we can safely assume that Google seems to be constantly experimenting with the length of meta descriptions.
Therefore, I would personally recommend you to write all your important information in the first 150 characters so that even if it gets truncated, searchers can still see what you want them to see.
Meta Description Best Practices
Writing an effective meta description isn't hard if you know what works and what doesn't. Let's take a look at six best practices for meta descriptions plus one extra bonus tip for you!
1. Include your target keywords
We have continuously heard that Google does not use the keywords on your meta description to rank pages. But we have also seen the same keywords searched being highlighted on the search engine results page.

Even then, this does not mean Google is really using them for ranking purposes. It merely tells us that Google will return with results that are more relevant to the search query.
If you are not sure which keywords to target for your pages, use BiQ's Keyword Intelligence to perform comprehensive keyword research.

Detailed keyword research will help you to understand and target keywords that people search for. It will help in increasing your search visibility and website traffic.
2. Create unique and interesting descriptions
Once you have your target keyword in place, it's time to create your best description that represents your blog in a glance!
Anyone can write a meta description, but not all can capture one's heart.
As you can see from the example above, they are all unique and different from each other. No one meta description should be the same as the rest because this will defeat their purposes.
A unique meta description will differentiate you from your competitors. Searchers would rather click on a description that piques their interest and curiosity than the "general" description.
Consider what your audience really wants and examine what is your offering's unique selling proposition. Check your competitors' meta description on the search results page and make sure you have got a great new angle for yours.
3. Create relevant descriptions
Make sure your pages are delivering what you have already promised on your meta descriptions. No one likes being deceived. And most importantly, Google will find them out if you do.
A searcher could come to your website after reading your meta description. They may find it interesting or contain what they are looking for. This will build up high expectations of your website.
If your website fails to match their expectations, they will simply close your website and may decide not to return again. This will not only hurt your website's reputation but also your ranking due to high bounce rates.
Always focus on creating a description that is relevant to your pages. For example, if your website is about optimizing your video marketing for search engines, it should deliver the relevant value on the page.
Make sure your meta description delivers its promises on the page.
Start by understanding your user intent and create descriptions that better describe your page.
4. Use a short call-to-action
A good meta description acts as an organic advertisement, so use enticing messaging with a clear call-to-action (CTA) to maximize the click-through rate.
We shouldn't limit ourselves to just using CTA like 'learn more' or 'click here'. Make it as natural as possible. Let's look at the examples below.
Your CTA can be very straightforward like the example above. They are telling searchers to 'contact' them if they want to book their service. But how do you contact them?
You guessed it right! You have to click that page and visit their website to find their contact information.
Wouldn't that count as a good example of CTA in a meta description? Let me know what you think in the comment section!
Here is another example of how the CTA can be used subtly:
From the meta description itself, we know the page will talk about the 7 key steps to create a successful content marketing strategy. After briefly telling you what the page is about, it uses the word 'define' to ask you to take some action without forcing you to do so.
Those are some examples of how call-to-actions can be used without making your meta description too aggressive. A good CTA will increase your click-through rate since it gives the searchers a clear instruction of what action to take and what's in it for them.
5. Never use double quotation marks
You should never include double quotation marks in your meta description. Double quotations are not recognized by Google. The descriptions that have quotation marks will get cut off when they appear on the search engine results page.
It is best not to include any non-alphanumeric characters in your meta description. This will risk your message not being delivered to your potential audience.
6. Keep on testing and optimize
Don't be afraid to experiment with your meta description to see what works best for your website.
Test different meta descriptions on pages that have good rankings until you find the one that has the highest click-through rate.
There is a saying – if you can measure something, you can improve.
Fortunately, we can check the click-through rate of specific pages using the Google Search Console or also known as the Google WebMaster Tools. For those who are asking, this tool is completely free! So you have absolutely no excuses to not use this toolset.
Also, take this chance to find pages with reasonable volume but low click-through rates. Try experimenting with the lengths, keyword position, and any of the best practices mentioned in this post.
Now, here comes the bonus tip for you!
Bonus tip for your best meta description!
7. Use emotion keywords
I recently read a book titled "Contagious: Why Things Catch On" by Jonah Berger. This book shares about the six factors that will help you to make any ideas, products or behavior to catch on or viral. And one of the factors that caught my attention is "emotion".
Emotion, when used correctly, will make your audience take action. Emotional words usually used in the title are to drive clicks and shares. But you do not have to restrict this great strategy to just your title – use them in your meta description too!

Using emotional words can stir an emotional response from the readers. We can use emotional words in our meta description to entice our audience to click through to read your post.
Back to the book, the author found that most viral articles usually include high arousal emotions such as awe, excitement, humor, anger or anxiety.
Some examples of high arousal emotions words are "mistakes", "love", and "fascinating". Check out these examples of useful power words.
Give them a try and let me know if it works in the comments section!
To sum it up, here are the 7 meta description best practices.

What happens if you don't have a meta description?
If you don't have a meta description for your page, Google will usually automatically create one for you. But not having one means you are missing out on an opportunity to attract more traffic to your website.
Setting your own meta description gives you full control on how you want to present your message to your potential audience. It also enables you to optimize your target keywords so that searchers can find you easily.
Why is the meta description important?
At this point, we should be fully aware that a meta description does not have a direct impact on your ranking. But think of it as a conversion factor that helps to bring more traffic to your website.
Here are some of the reasons why you should pay attention to this little gold pot.
It helps you to "advertise" your offerings
When you are ranking for a keyword, the search engines will show your meta description as a summary of your page.
This is your opportunity to showcase your brand or products to your potential new visitors. When you have the chance to appear on the search results, you should do your best to tell the searchers why they should choose you over the rest of your competitors.
Other than that, a well-crafted meta description makes searchers feel confident about your website.
It helps you to filter your target audience
While everyone wants to drive more traffic to their website, we must understand the importance of quality over quantity.
One thousand high-quality traffic is better than ten thousand low-quality traffic. This is because low-quality traffic will usually lead to higher bounce rates.
To refresh your memories on the bounce rate, it refers to the percentage of times a visitor leaves your website from the landing page. In other words, you want to reduce your bounce rate to as low as possible because it gives a bad signal to search engines if you have a high bounce rate.
Meta descriptions help you to reduce the bounce rate by attracting the right audience to your website.
For example, when you read the description below, you will only click them if you are looking for cinnamon and honey broiled grapefruit recipe.
If you are not looking for that particular recipe, you may not click on it because it does not match your interest. By doing so, they are able to filter only the audiences that are interested in making the mentioned recipe.
When you are able to attract and match your content to the right audience, this will ensure that they stay longer on your website, which contributes to lower bounce rates.
It helps to increase your click-through rate
On the results page, we will see these three elements that will affect the searchers' decision to click through: the page URL, the page title, and the page description.
Among those three factors, the meta description itself takes up almost half of the space by having two full lines. This is the place where you can give your most persuasive message to convince searchers to click through.
As discussed previously, the more people who click through your website, the better your site will rank in Google as it indicates a good signal.
Be mindful that your content must match with what you have promised on your description. Remember that having a low click-through rate with a high bounce rate will tarnish your reputation in the eyes of both the searchers and search engines.
The search engine wants to provide the most relevant results to its searchers. But if you use a misleading description that baits searchers to click on a link which comes without delivering your promises, that will do more harm to your website. It gives a bad user experience and any search engines and human beings would not like that idea.
Meta description Checker
If you are looking for a meta description checker tool, there are many on the Internet. Just type "meta description checker" and you will see tons of them ranking well.
For me, I would recommend you to use To The Web. This free tool gives you a short summary of your meta description performance at a glance.
The first thing you want to check is whether your website has a meta description. After that, you want to check the length and make sure all the important information is within the first 150 characters.
Better still, get real-time content analysis for better SEO with BiQ's Content Intelligence!
Not only will you get an analysis of your title and meta description, but you'll also get to optimize for the lesser known-ranking factors that may get you ranking high instantly!
Here is a snippet of how the Content Intelligence looks like: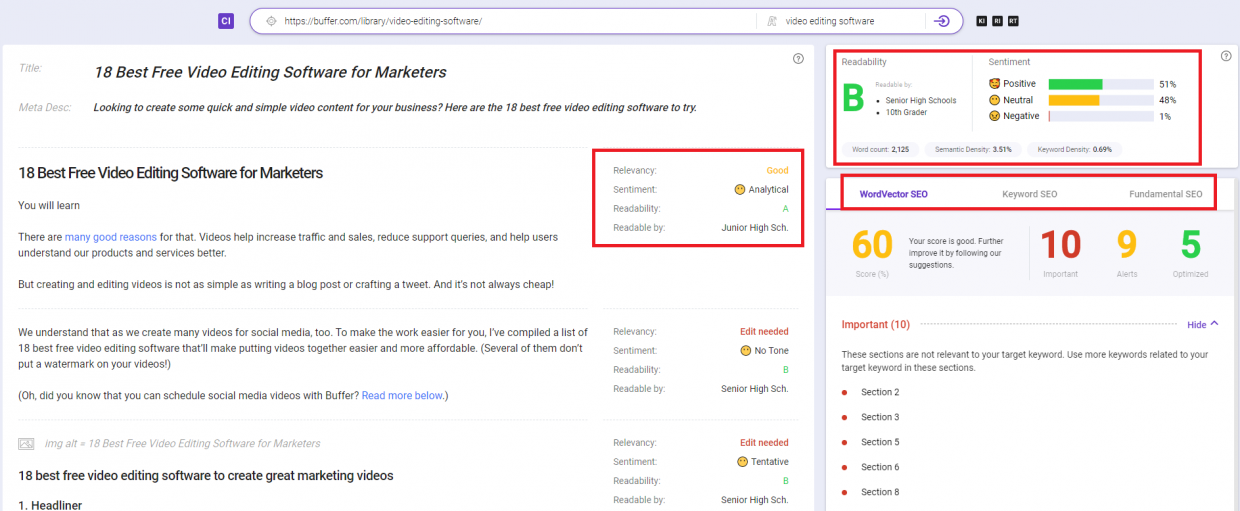 Conclusion
If you have missed it – optimizing your meta description alone won't give the SEO boost that you need to increase your ranking instantly. It needs to be paired with some other SEO strategies to boost your ranking and traffic.
We tend to overlook meta descriptions when you have bigger things to worry about as part of your search optimization strategy. But ignoring them means you are neglecting your possibility to get more traffic.
Thankfully, writing a meta description doesn't require much time and effort from you. But it is interesting how this small action can determine how well you can rank in the search results.
Think of your meta description as your advertisement. A readable and compelling description will draw readers from the search engine results page to your website. Always keep in mind that a great meta description is equivalent to being handsomely rewarded with traffic.
Are there any meta description tools that you would like to share? I would love to hear them all in the comments section.