LSI keywords are keywords that are semantically related to each other. Does it really helps your SEO in 2020? Find out your answers here.
Recently, we've been hearing a huge speculation on whether LSI keyword really does work in your search ranking or not.
Looking at the buzz surrounding that topic, we've decided to collect all sides of perceptions from the experts and bring it into today's discussion.
Before we go more in-depth, let us first look into the fundamentals of LSI keywords.
What is LSI keyword?
Latent Semantic Indexing or LSI keywords are keywords that are semantically related to each other.
Although they may look alike, LSI Keyword is definitely not synonyms. They are words that often supplement each other in a context. The examples below will explain why it is not.
To give you a better understanding of how LSI keywords work, let's look at the example below.
Let's say you want to write a blog post about your recent vacation to Seoul, Korea. How do the search engines know what topics are you talking about in your blog post?
Imagine if you use the three different sets of keywords below in your content, what will the search engines think?
Seoul, flight, accommodation, places to visit
Your content may be talking about how to travel to Seoul, how to get there, where to stay, and showing a list of places to visit.
Seoul, best singer, best dancer
Your content may be talking about the entertainment industry because the keywords you are using are related to singers and dancers.
Seoul, university, acceptance rate
Your content may be talking about educational information because the keywords you are using are related to a university and the acceptance rate.
The thing is, how does the search engine know what topic you are writing about?
You got it right! By using LSI keywords.
According to Backlinko, Google scans your page for LSI keywords to determine what your page is all about. They reinforced the thoughts by sharing a Google research paper stating that they use "words frequently occurring together to understand an article's main topic.
But do LSI keywords really help your SEO in 2020?
While researching on LSI keywords and their usefulness, I found this tweet by John Mueller from Google. He posted on Twitter the line "There's no such thing as LSI keywords – anyone who's telling you otherwise is mistaken, sorry."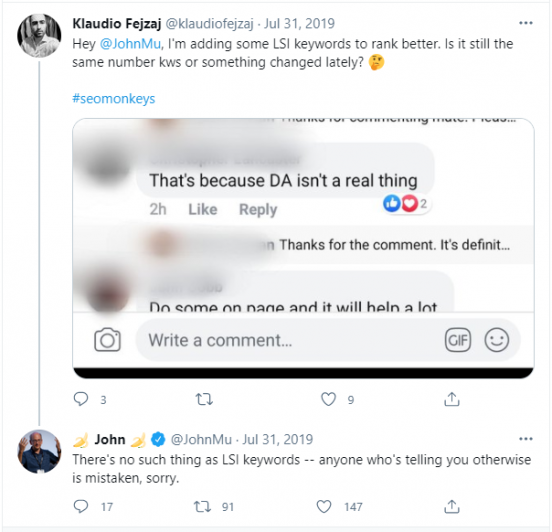 This tweet started with @klaudiofejzaj asking him if adding some LSI keywords will help him to rank better. The reply from John has then gotten some attention from others who are asking for more explanation on his tweet. But to no avail.
Amongst the responses to John's reply, here are some that caught my attention:
"Hmm not sure about this. I find LSI tools great for visual representation of linked concepts. Helps define perception. Really useful for SWOT analysis of a digital profile. Not useful to use solely for keywords analysis."
I find this a rather a pretty fresh idea on how to use LSI keywords. Rather than using them to support the main keywords, it is used as a SWOT analysis of a digital profile! Have you ever done the same thing too? Be sure to let me know in the comments below. We will further discuss how to use LSI words in a bit.
Also, Clair Marr brings up an interesting point that using LSI tools help in giving a great visual representation of linked concepts. Looking at the definition of LSI in Wikipedia, it says that LSI is able to correlate semantically related terms that are latent in a collection of text. In simple words, LSI determines whether two texts are semantically close to each other.
"LSI Keywords, TF-IDF, Co-Occurrence, Neural matching. tomayto, tomahto. It's just semantics. Pun? Yes
Ok these are not one and the same. But the use case as an SEO could be: Deciphering user intent and creating comprehensive content."
Like how Jeffrey mentioned, what's more important is you are creating a comprehensive content and it is able to answer your user's intent.
So the question is…
Can LSI keywords answer your user intent?
Here's some compilation of what the experts have to say on using LSI keywords to answer your user intent:
LSIGraph
What Is LSI keyword & How To Use It Effectively
"When you search for 'warriors' in LSIGraph, it will return with a list of LSI keywords. All these keywords give an insight to what people have in their mind when searching for 'warriors' in the search engine."
Jeff Bullas
How User Intent Affects Your SEO Performance: Intent-Based Keyword Research
"Google algorithms not only see target keywords, but they also consider the whole content of the page. And LSI (Latent Semantic Indexing) keywords are those which will help you answer users' queries and create useful content."
Andrea Lehr, published in Hubspot
https://blog.hubspot.com/marketing/what-is-latent-semantic-indexing-why-does-it-matter-for-your-seo-strategy
"Additional and more accurate categorization helps users, publishers, and marketers alike. Publishers, for instance, can increase engagement because LSI-driven content is more targeted and ensures that it's landing in front of the right audience. Users entering queries also benefit because they can easily (and more quickly) find the content that answers their questions."
As I dig deeper into the relation of LSI keyword and user intent, it brings me into a rather same path; almost all agree that semantically related keyword does answer your user intent.
A user intent, also called search intent or query intent, is about what the user actually has in mind when searching into an online web search engine. On the other hand, satisfying user intent is ultimately the search engine's number one goal.
In fact, Think with Google published over 200 editorial posts on "search intent" topic alone. Let's take a glimpse of it: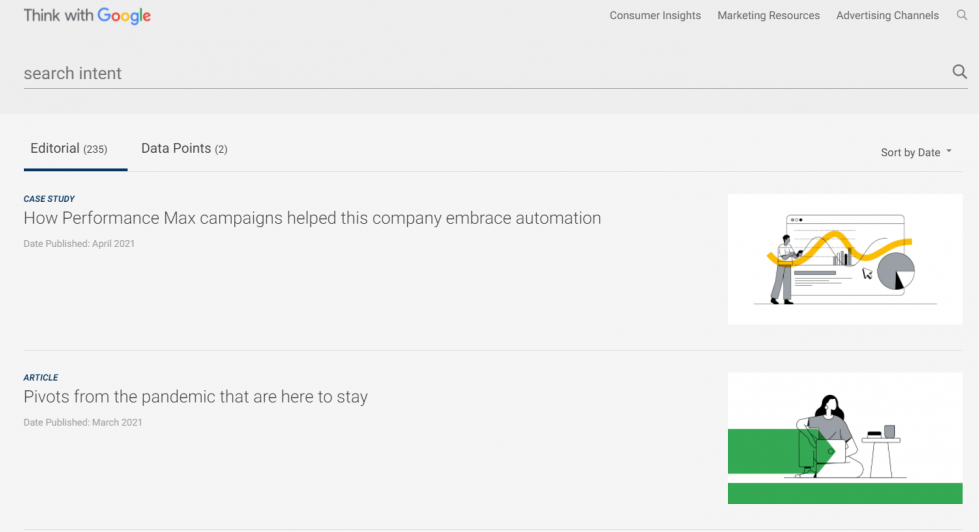 What Does This Mean For Your SEO Strategy?
If you want to succeed in SEO today, search intent has to be part of your strategy.
Let's look at the example below to understand how using LSI keywords can help to answer the searchers' intent.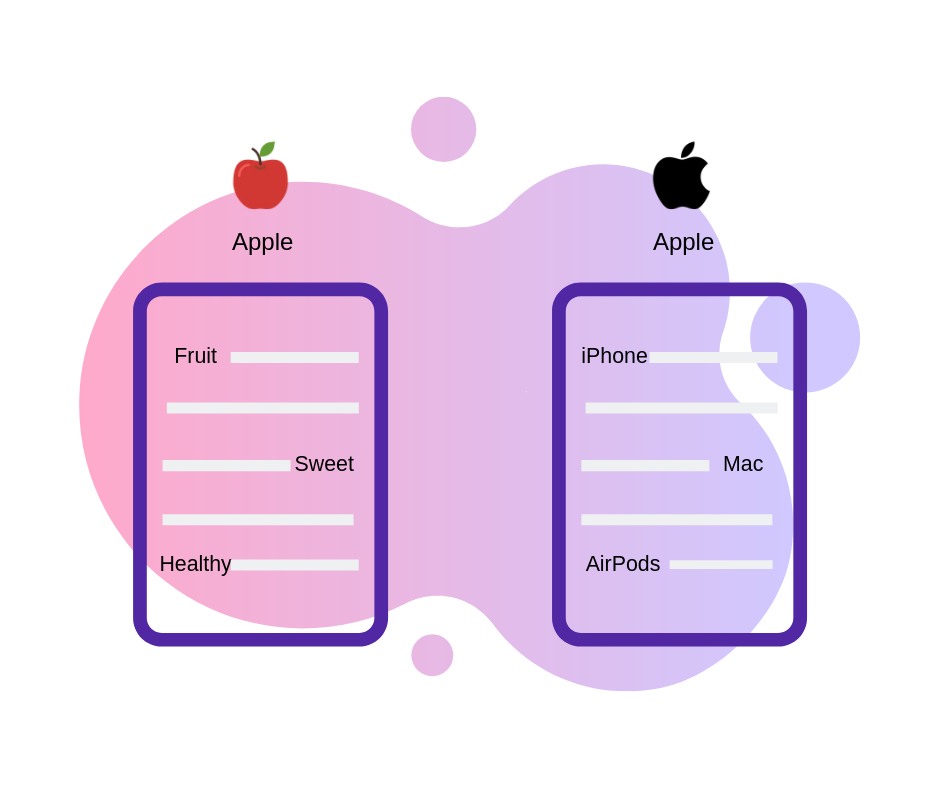 If you are writing content about an apple fruit, how do you make sure that Google understands your content is about apple as a fruit and not the brand Apple?
Using the same keyword 'apple' over and over again will not help Google to understand what your content is all about. Searches wishing to find more about the Apple brand may come across your content that is not matching with their intent.
To avoid this mismatch, use other keywords that are semantically related to the apple fruit. This will help Google to understand what your content is all about. In turn, searchers will only see your content when their intent is to search for an apple fruit.
"Fruit", "sweet", and "healthy" are not synonyms to apple fruit, but they are terms that are closely related to your intended keyword.
Using keywords that are semantically related to your main topic helps Google to understand your overall topic and later deliver them to the right audience.
How to use LSI to boost your SEO?
After spending more than a day reading and researching how other marketers use LSI keywords to boost their search optimization, here are some takeaways you can refer to:
Meta descriptions: Using LSI keywords in your meta descriptions helps search engines know what your content is about. You want to use your target keywords and at the same time make sure it is descriptive enough for them to understand. This is where semantic keywords play an important role.
Content quality: Rather than using the same keyword over and over in your content, use LSI keywords to increase the readability of your content. It gives more meaning and a better understanding of what your content is about.
Image optimization: When you use an optimized alt attribute with a target keyword, it gives your page a boost because the alt text is a helpful relevance signal for search engines. But you don't want to excessively use your target keyword as the alt text because it will be marked as spam if you do so. Try using LSI keywords instead to help search engines 'see' your image.
Anchor text: Anchor text can provide both search engines and users relevant contextual information about the content of the link's description, but using the same keyword as you anchor text will be deemed as over-optimization. To prevent this from happening, use semantically related keywords as part of your anchor text strategy.
Reoptimize old blog posts: When was the last time you look into your old blog posts' performance? In our case, we do them frequently. If you need proof that reoptimization is worth your time, Hubspot did them well by achieving an average of 106% increase in their monthly organic search views! Remember to keep your original keyword phrase and supplement them by adding one or two LSI keywords.
How many LSI Keywords should I use?
It's not always the number that matters. It's the quality.
LSI keywords do not replace your main keywords. They are here to supplement your main keywords and help the search engine understand your content better.
The first rule of thumb is to ensure that you don't keyword stuffing.
Keyword stuffing is the practice of putting keywords in multiple places in an attempt to manipulate a site's ranking in Google search results.
These are examples of keyword stuffing by Google:
Lists of phone numbers without substantial added value
Blocks of text listing cities and states a webpage is trying to rank for
Repeating the same words or phrases so often that it sounds unnatural
Choose the most relevant LSI keywords to your main keyword and place them naturally throughout your content. Simply placing them without considering the relevancy will not help your search optimization efforts.
In deciding how many LSI keywords to use, LSIGraph shared this guideline on their website:
"A good rule of thumb is to maintain a 2-to-1 ratio of LSI keywords to your main keywords. When using LSI keywords in your content, make sure that they are in the same paragraph of the keyword they are supporting as this will help provide more context of your main keyword to Google. What's more, Google can better understand your content now."
This means that if you are targeting one main keyword in your content, using one or two LSI keywords will be sufficient to strengthen the context and semantic relation of your content.
How do you find LSI keywords?
Now that you know the fundamentals of LSI keywords, let's jump into how to find LSI keywords. These tools are in no particular order. Feel free to check which tool matches your need for semantic keyword research well. Let's begin!
BiQ's Keyword Intelligence suggests keywords that are semantically related to your target keyword. Simply enter your target keyword and it will return with a list of valuable related keywords.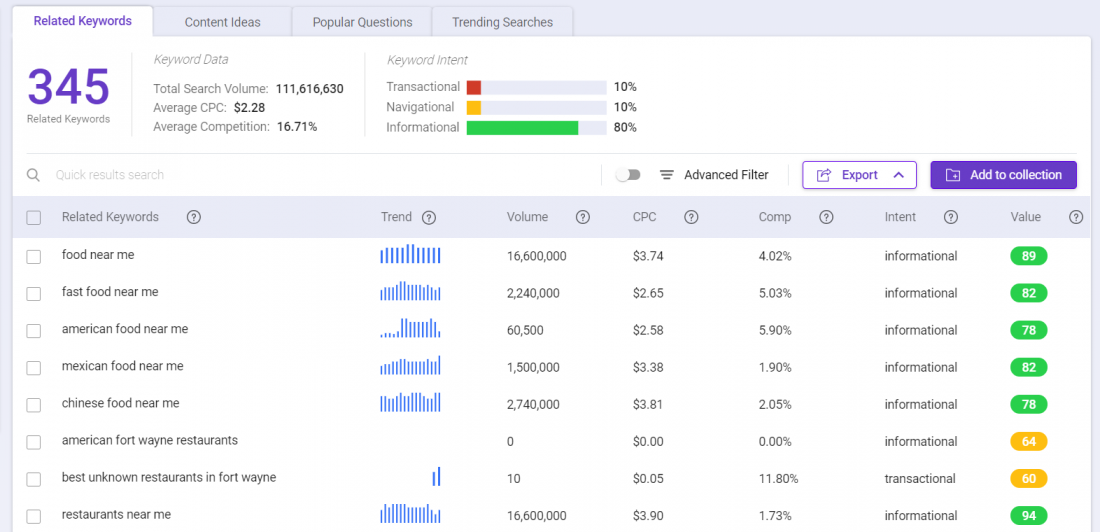 Each keyword comes together with its important metrics such as trend, volume, CPC, and competition.
If you are not sure which related keywords to use, you may simply sort the keyword by its 'value'. A higher-valued keyword can potentially bring traffic with lesser competition to your website.
Other than that, you can also filter the keyword results by its relatedness and long-tail. Just click the 'Advanced Filter', and specify your preference.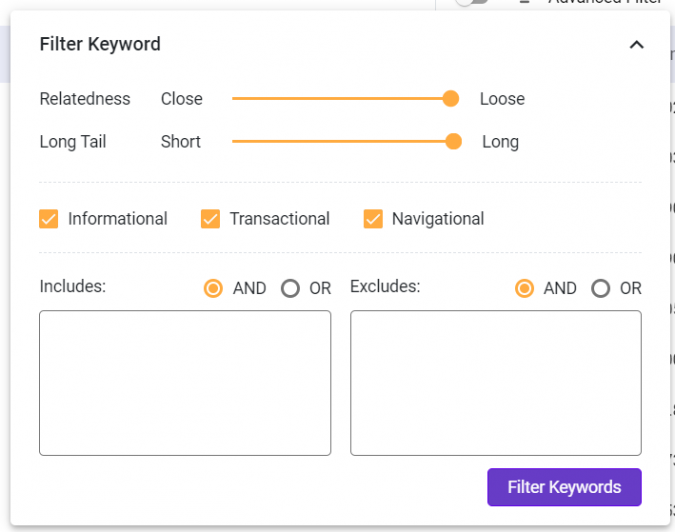 This feature is especially useful if you are looking for only long-tail keywords for your SEO strategy.
Bonus: Free Access To Keyword Intelligence
2. Use Google
This may be one of those old-school methods but it is certainly a good place for any beginners to start with. There are two ways you can search for your semantic keywords using Google: Autocomplete and Related Searches.
To give a better understanding of how to use Google Autocomplete to find your LSI keywords, let's look at the example below.
Before I published my recent article on "How to rank for 'Near Me' Searches In Local SEO", I have done some quick keyword research by just typing "near me" on the search box.
These are the phrases that are suggested to me: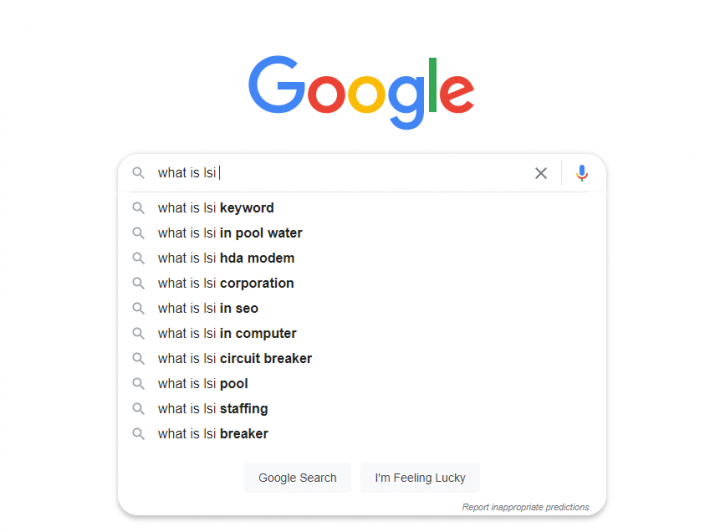 These boxed words are your sources of finding LSI keywords. These are keywords and phrases that humans use to search for when they search for anything related to "near me".
Google-related searches are quite similar to the above method. The only difference is you can find these keywords or phrases at the bottom of the first page. These are the keywords that are related to your search term.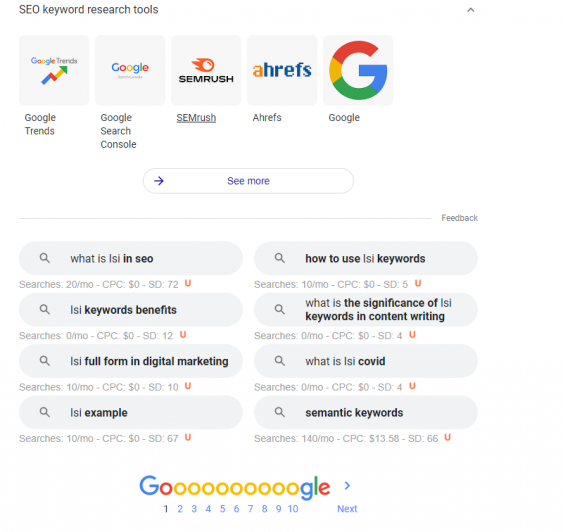 Find the related searches in the 'searches related to' section.
LSIGraph is a simple yet commonly used LSI keyword tool. Once you land on their site, you'll see that their tool is mainly about generating LSI keywords. Just insert your keywords in the search box and click 'generate' to get a list of LSI keywords.
Using their premium subscription, you can get a lot more data than just LSI keywords. You will also get to see some important metrics such as search volume, trend, and latent semantic value. These valuable data will help you further in deciding which LSI keywords to use.
Answer The Public is a keyword generation tool that further breaks down keywords that contain prepositions, comparisons, an alphabetical list, and most importantly, related keywords.
The keywords generated can be displayed visually or in a list format.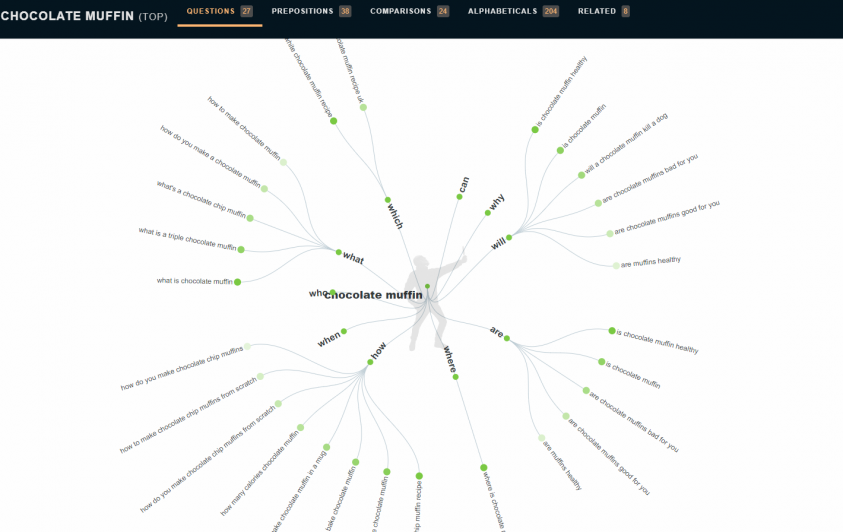 I have seen some marketers suggesting Ubersuggest to find LSI keywords. It is simple to use too.
Just insert your keywords and it will list out 'suggestions' and 'related' keywords for you.
Another tool you can use to find LSI keywords is by using Keyword Tool. Like Ubersuggest, it shows you the keywords that people are typing into the Google search box.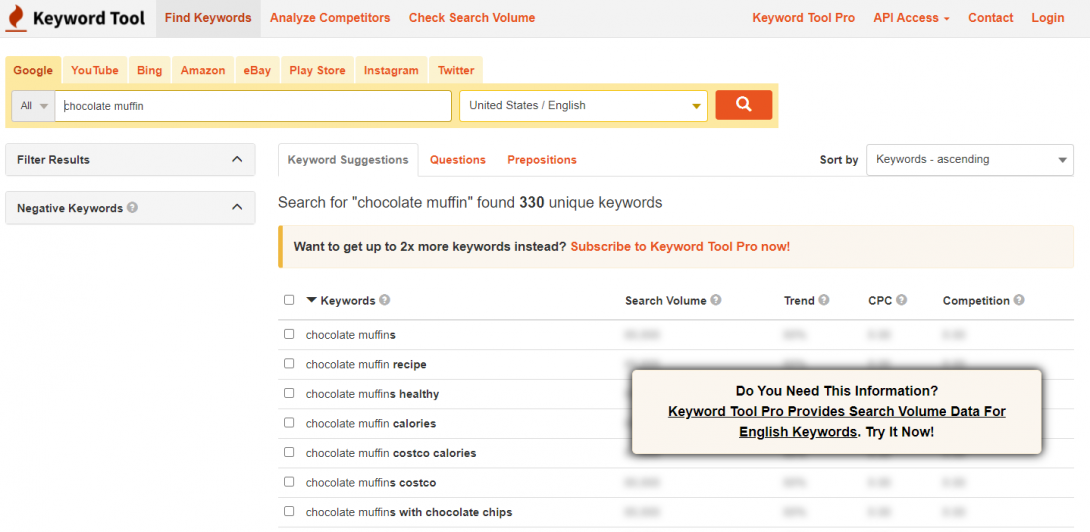 The only difference between Keyword Tool and the rest is it lays out different search terms for other platforms than just Google, namely Youtube, Bing, and more.
Twinword Ideas LSI Graph visualizes the semantic relationships between keywords. It allows you to visually see how each keyword is related to your topic.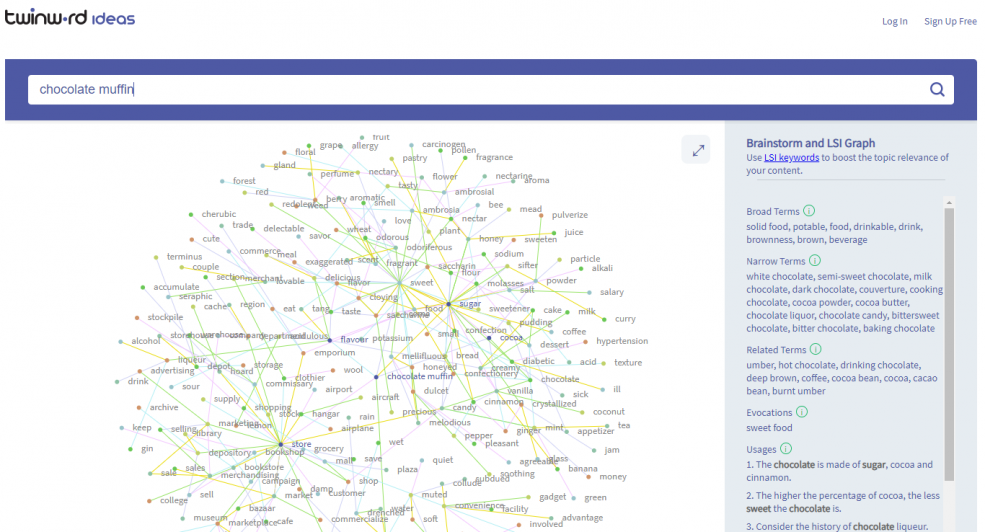 Conclusion: It's always the same goal
Up until today, there's no single proof that Google uses LSI but again there's nothing wrong with using LSI keywords in your article.
As what @JeffreyBowdoin said, it is the user that matters the most.
If using keywords that are semantically related to your main keywords helps searchers to find your content, which matches their intent, shouldn't you continue doing so?
It is true that LSI keyword is not the only answer for your quest in matching the right message to the right audience. In doing search optimization, there is more than just adding LSI keywords to your content. For example, you may want to understand who is your target audience and their buyer's journey beforehand.
With that being said, it's worth taking the time to identify and add semantically related keywords in your content. If you noticed, up until here, I have added a few LSI keywords for my main keyword "LSI keywords". I've found that doing so gives me more content ideas and values to the readers.
Now, back to you: Have you ever used semantically related keywords in your content before? Let me know in the comments below.