Search engines prefer websites that have good user experience (UX). Good UX increases dwell time on your website, which in turn, increases ranking. These are our 7 ways you can optimize UX for SEO.
Having talked about different ways to optimize your content, links, and other vital sections of your website for SEO, you must remember that getting traffic doesn't just stop there.
Remember that maintaining site traffic is also as important as obtaining it.
To do this, you have to ensure that your audience has the best user experience while going through your content.
There are various ways you could achieve this.
You could ensure that you have more relevant content than your competitors, ensuring that you stand out, improve on page speed, etc.
Doing this ensures that users click through to your website, stick around and eventually lead to conversions.
What is User Experience?
User experience in content marketing and SEO is the overall experience a user has when using your company's products and services.
Your user experience needs to be useful enough to fulfill your customer's needs.
It would also be best if your content or platform were easily accessible and useable, have a clear-cut image or identity by using elements that evoke emotion.
Your content and general platform(s) should also be easily findable, navigable desirable, and credible.
How User Experience is Important to SEO
Optimizing for a good user experience means merely providing the visitor with a satisfactory user experience.
Simply put, user experience is intended to fulfill your audience or user's needs.
Search engines often update their algorithms in favor of websites that have a good user experience.
It ensures that users have a positive experience when going through your platform, which guarantees that they stick loyal to your product or brand.
The more your users do this, the higher you'll be able to rank.
A good user experience provides a meaningful journey for the customer as they explore your website.
Making their journey meaningful, enjoyable, and memorable serves as a positive influence on their decision-making process.
This will increase the time spent on your website, which, in turn, improves ranking.
A positive influence makes it more likely that your visitors will purchase, stick to your brand or product, come back for more, refer you to some of their close friends, and even to their social media circle.
The more your brand gains reputation, the higher you'll be able to rank.
A good user experience can also ease your cost of brand development and support.
You won't have to redistribute your expenditure to marketing your product.
Instead, you could use these funds to develop your product or other sections of your company that needs it.
Your audience will help market your brand on your behalf.
Overall, if your customers have a great user experience, it will be a win-win situation for all involved!
Your users will be happy and buy your product.
You'll gain free advertisement, boosting your rankings eventually.
Optimizing for UX with SEO
1. Keyword research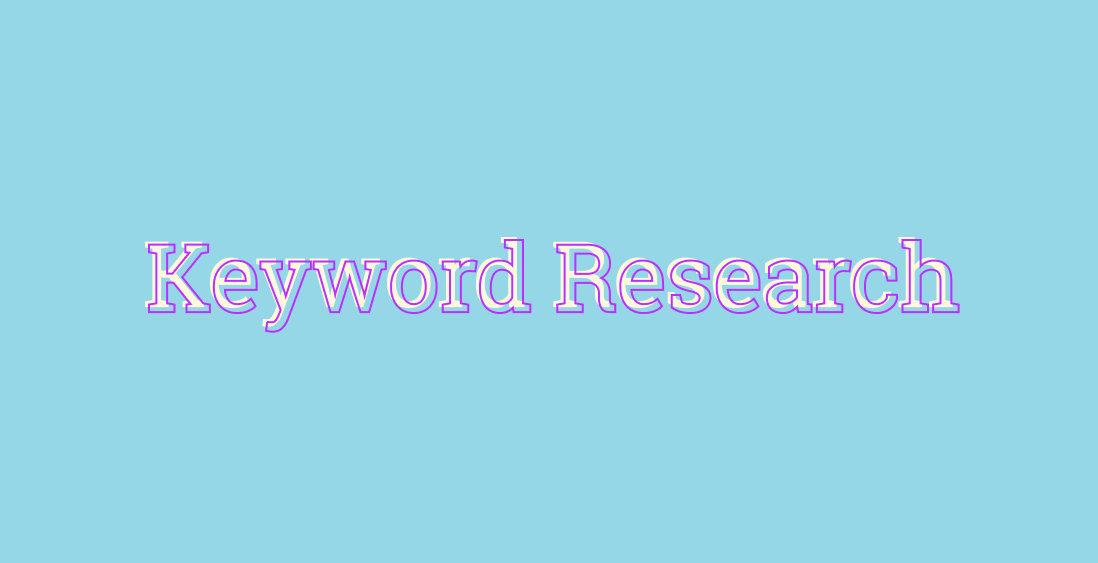 Keywords research as a part of SEO involves using keywords and phrases that help Google understand what your content is all about.
Google uses bots that crawl through your page looking for common words or phrases.
When a user types in a search query, Google uses that information obtained from crawling your site to link the user to results most relevant to their search query.
It is also good to note that although the user clicks through to your website, it doesn't stop there.
How you use those keywords in your content also matters.
Keyword placement in your content is also important since most users scan through your page before reading any content.
You'll need to place the keywords in strategic positions such as titles and subtitles where the user can find them easily.
Understanding the user's search intent is one great advantage that you'll have over your competitors.
Users who find keywords and keyword phrases placed strategically throughout your content accompanied by relevant content are more likely to stay and read it, which boosts conversions.
How do you identify search intent?
You could identify search intent using BiQ's Keyword Intelligence.
For instance, if you want to know the user's search intent regarding the keyword "user experience," you could type in the keyword in the form field provided.
The tool will display the keyword's search intent and their percentages.

If the search intent is informational, as with this instance, then it means that the users are in the awareness stage and they require more information regarding that particular topic.
You could then filter the results to only show informational intent.
Go ahead and create informational content to cover the user's search intent.

You could use the results to come up with topics containing keywords with informational intent.
Scroll down to get related keywords and their search intent purposes.
You could use this information to understand your target audience better and provide them with relevant content.
2. Stand out from the rest on search results
As we discussed earlier, you could optimize your page's various aspects to ensure that they stand out and shine brighter than your competitors.
You could achieve this by optimizing your title, page URL, and meta description.
Title

Writing good titles can be tedious.
However, they are the first thing your potential visitors see.
Therefore you must optimize them if you want more traffic to flow to your website.
There are several ways you could achieve this:
Do lots of research
You'll need to do exhaustive keyword research and try to understand how potential users may be searching in your niche.
Look for keywords that have the potential for more traffic and get acclimated to the nuances used in your niche.
Analyze your competitors
Performing a competitor analysis is also a great way to help you figure out what you're up against.
Your competitors may have all the right keywords, but they may be implementing them in the wrong way.
Check out this website.
They may have all the right keywords, but their targeting is a bit mechanical.
Improving this and creating a good user experience could see you getting more traffic to your website and surpassing your competitors.
Page URL
A URL can be more than your page's address.
You could use it to tell visitors more about your site.
A URL that doesn't look mechanical, one that has been optimized, implies to your visitors that you have put great thought into creating the perfect website.
It also eases their mind that the website is less likely to be spam, increasing the chances that they'll click through to your website.
Meta description

The meta description is the other make or break factor that influences how much traffic you could get.
The reason is that most users read the meta description to get a better idea of what your content is all about.
Creating a user-friendly meta description that informs your target audience about the relevance of your content to their search query in a conversational way will increase your chances of getting more traffic.
3. Your page
Well-optimized pages improve user experiences and, subsequently, conversions.
You could enhance two sections on your page to feel this effect; your header tags and navigation.
Header tags

These tags are used to separate headings and subheadings, and they range from H1 to H6.
H1 is usually the most important, and its importance decreases as you go down the ladder.
Users go through headers to find keywords, which helps them determine whether the content fulfills their search queries.
When used appropriately, header tags can improve readability by helping the reader distinguish between content.
They could also be used along with images to provide essential reader breaks that could keep your content from becoming too monotonous.
Navigation

Your page's navigation is one other important aspect of improving your website's user experience.
It would be great to have an easy navigation bar that users could use to navigate your content seamlessly.
To achieve this, you could do some research on your competitors and other similar sites and determine the most navigable navigation bar and, if you can, improve on it.
Ensure that all tabs are visible and that it is not unnecessarily complicated.
4. Content optimization
Once you've got your target audience on your page and they have decided to stay there, the next stage is to ensure that your content fully satisfies their need.
To do this, you'll need to optimize your content that provides a solution for their search query.
You could use BiQ's Content Intelligence, a feature in our bigger BiQ SEO Suite, to ensure that your content is tailored to cover your target audience's needs.
Let's assume that you want to write content based on the keyword "marketing standards."
Most writers hop over to Google, type in the keyword, and then open several tabs.
They then go ahead and read through every single tab and try to understand the information written.
The problem with this strategy is that it's time-consuming and tedious.
BiQ's Content Intelligence analyzes top-performing content on Google based on your preferred keyword.
It gives you a breakdown of how you can use this content.
It also provides you with all the similar keywords related to your keyword and examples of sentences.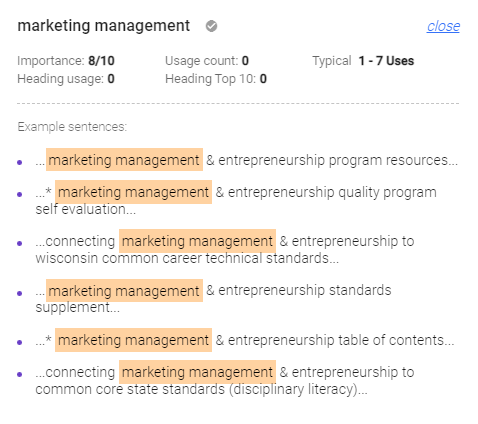 Suppose you are looking to satisfy a user's search intent for a topic on marketing standards.
In that case, you need to use related keyword phrases such as "marketing management" and "finance content standards" to help them understand your content better.
You could even use the keywords as an outline for your content.
Expounding on them could provide you with the necessary material to create relevant content for your target audience.
5. CTA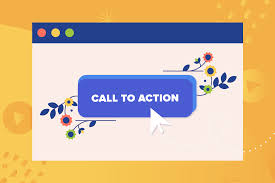 CTA, aka call-to-action buttons, are buttons used in websites or landing pages that, when clicked, guide users to your conversion goals.
Inserting these buttons in the most relevant spaces will ensure that you get the maximum amount of conversions possible.
To get a better idea of where to place these buttons, you could perform a/b tests and put them in various sections of your page.
You could then place the button where you got the most clicks.
You could try placing them just below the header.
You could also use secondary CTAs to increase your odds.
6. Page speed
According to Google, eCommerce websites that improve their load speed by one-second stand to make an extra 7% conversions per year.
The stakes are quite high regarding page load speed, with 25% of users stating that they abandon pages that load for too long.
46% of users also claim that they'll not return to sites that perform poorly.
Websites that have a slow page speed could significantly reduce your conversions.
All this boils down to user experience.
Websites that take too long to load provide lousy user experiences, which ultimately affect their rankings.
If you want to improve your page speed, we suggest you check out Google page-speed for suggestions.
7. Add images
Images can be another excellent way to help break your reader's monotony when going through your content.
It would be best if your content had relevant images that are also informative.
However, it would help if you were careful on the images' sizes since too, big images could slow your website's load time.
Research conducted by Amazon found out those pages that loaded slowly by even 1 second reduces revenue by $1.6 billion in a year.
To avoid this, you'll need to upload optimized images that have a fast load time.
Optimizing your images involves reducing your images' size without sacrificing their quality.
Providing your target audience with useful, high-quality images with a quick load time will improve your website's user experiences.
Conclusion
The sections mentioned above define user experience, how user experience is important for SEO, and how you can improve your user experience.
Good user experience doesn't just lead to higher conversions.
It could also help you get a loyal audience that follows your content.
These loyal readers will help keep your website afloat, purchase your product at some point, and market your website to friends, which could boost your rankings.