Looking to conduct an SEO audit but not sure where to start. Here's your complete guide to get started on auditing your site from the tools you need to the step-by-step checklist that will help you identify both ranking issues and opportunities.
Search engine optimization is a long-term process, and amidst content creation and link acquisition, part of your ongoing SEO strategy should include SEO audit checks.
Having regular SEO auditing offers a way to identify SEO issues that could be affecting your website's ranking on Google and other search engines.
Without realizing it, there may be issues that prevent your site from being listed or ranked, your content may be subpar, or you may have problematic links that you might not notice is affecting your traffic.
Why is SEO audit important?
In the words of Ryan Holiday, the obstacle is the way. You need to check on your website for these issues to transform them into ranking opportunities.
Your business rivals could be taking traffic by making changes that you could somehow be receiving the rewards for. You can miss out on chances of growth if you fail to audit your site consistently.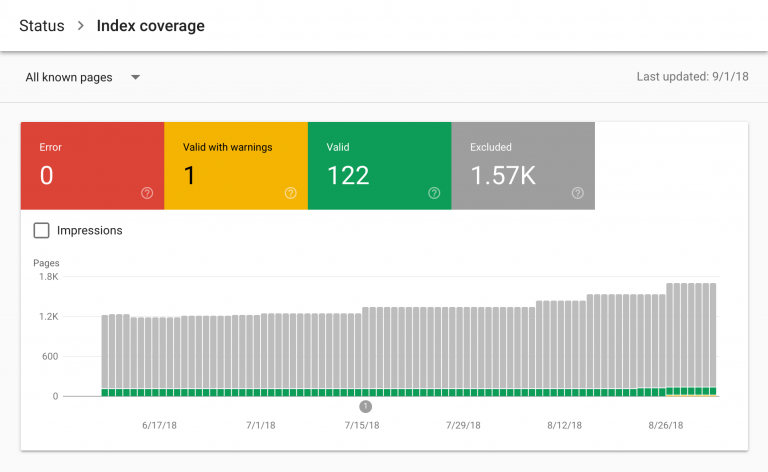 When it comes to the frequency of conducting an SEO audit, we recommend you to do it every quarter. But aside from that, here are 4 timings when you should audit your website.
You have a new website and need a plan of action going forward.
You are about to roll out a new protracted campaign.
You encountered a drop in search engine results.
Your traffic and conversion are suddenly lower than before.
Your SEO Audit toolbox
An SEO audit can be a tedious endeavor. After all, you need to break down all the site pages and analyze them to identify ways to improve.
Rest assured though, the process can be so much easier with the help of various SEO audit tools, and here we have helped you identified the freebies. So make sure you sign up for these tools first, before we get started on the process!
1. Google Analytics
A staple SEO tool, you can also use Google Analytics to discover whether your traffic is increasing or dropping over the long run.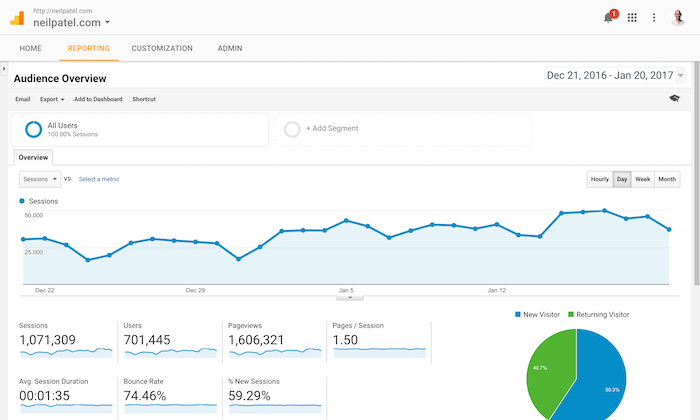 As you may be familiar, the SEO information in Analytics comprises a rundown of keywords that bring you traffic and the number of visits for those terms. When it comes to your site audit, the metrics you are looking for on the tool will include bounce rate and time-on-page.
A high bounce rate and low time-on-page are important signals that will inform you if the page has any issues or if you need to enhance your site experience after somebody lands on your site.
However, this tool is ideal for providing information to analyze, it is more focused on answering"Did we do alright with SEO traffic yesterday?" As opposed to the more forward-looking "How would we be able to improve SEO traffic tomorrow?"
2. Google Search Console
Google Search Console (GSC) gives ground-breaking and helpful features to support and streamline the SEO site audit.
GSC enables definitive SEO audits and shows the mistakes essential to address and accomplish higher rankings in SERPs. GSC can help you keep the site sharp and running great with the potential for top ranking.
Officially known as Google Webmaster Tools, GSC has an entire group of features and detailed measurements to improve SEO sites.
These furnish website admins with data on how well their site pages are performing for list items.
Most important, when it comes to GSC, you get to see and improve how Google sees your site. You get to increase its usefulness, rectify blunders, and plan content for higher ranking. You'll be able to unearth duplicate content, broken links, and comprehensive data on URL indexing.
3. Google PageSpeed Insights
PageSpeed Insights (PSI) is a solution covering a page's speed and gives proposals on how that page might be improved.
When you decide to use this Google tool, at that point, you can examine your page by entering its URL. In the outcome, you'll get a report indicating the issues that make your page delayed based on two metric information:
Above the fold load – The time required for the page to show top page content after a user request.
Full page Load – The time required for the program to load the page after a user request.
PageSpeed Insights gauges your website page working speed for both versatile desktop and mobile. Subsequently, your URL is diagnosed twice for mobile and desktop.
A page speed score of more than 89 is a decent measure for your page. However, for an even far superior outcome and elevated user experience, aim for page speed scores closer to a hundred.
Additionally, when it comes to user experience, now you also need to examine your site's Core Web Vitals, and rest assured these metrics can be found across the popular developer tools.

To get started on optimizing these metrics, use GSC to identify the group of pages that require attention.
Once, you've identified the pages that require work, just plug your page URL onto PageSpeed Insights to diagnose the issues on the page and follow the actionable guidance on exactly what to fix.
4. BiQ SEO
We might be tooting our own horn, but when it comes to on-page SEO, one of the most comprehensive tools available is none other than our BiQ SEO suite. Just sign up for free tier access and have fun exploring.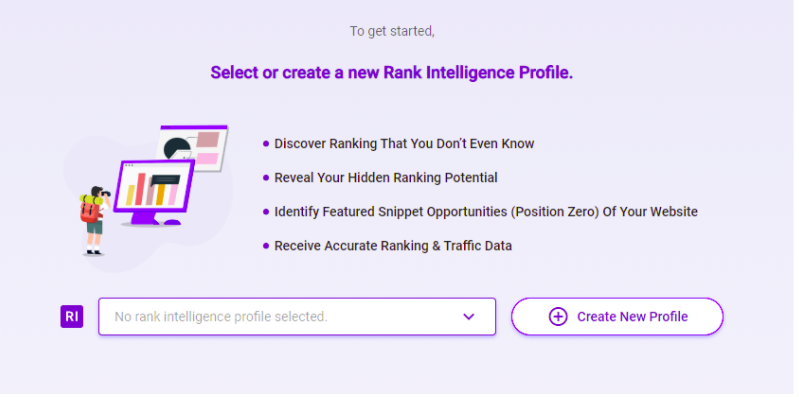 Simply enter your keyword, target URL, or domain and click 'Analyze Now.'
That's it, all you need are these 4 tools, and let's begin!
Conducting your SEO audit
When it comes to conducting your SEO audit, you need to be clear on what issues you are looking for and how you can fix or improve them.
1. Compare your rankings and understand your competitors.
It would help if you studied your business rivals. Whether you are dealing with a new site or are evaluating it as a component of your continuous process, the more you think about what different players in your niche are doing, the better are your opportunities for progress.
You need to benchmark your site's rankings just as well as profile your content against the competitors. You can do this using BiQ's Rank Intelligence tool.
Simply key in your competitor's website URL and it will reveal all its site rankings.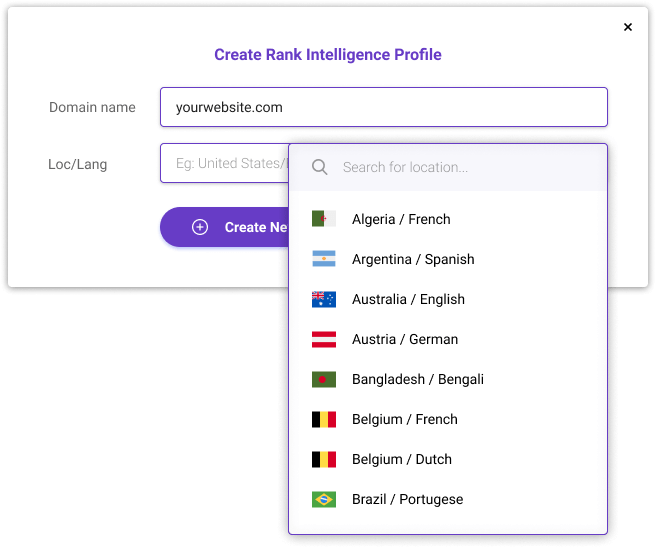 This examination is useful for narrowing the content gap between you and your well-performing rival.
You can also filter the keywords based on the parameters you need, and at this point, you should focus on their high ranking or high traffic keywords.
Our recommendation is to: set the filter to only reveal keywords that are ranking on the first page of SERPs, and with a monthly search volume traffic of at least 100.
You can undoubtedly share the information out as a CSV to sort through your preferred keywords.
Likewise, a stunningly better approach is to set up similar metrics for your URL. Export them out for in-depth review in an excel sheet, which gives you much more control to channel and zoom into the data.
Once you understand what keywords your rivals are ranking for, you can make great content focusing on those equivalent watchwords to snatch it from them
2. Check for identical versions of your site in Google's index.
This is an essential review to run on your site. It helps to guarantee that Google is indexing just a single and consistent rendition of your site.
Your site could sit on:
- http://www.example.com
- http://example.com
- https://www.example.com
- https://example.com
To a regular user, there may be a negligible distinction here. To an internet search spider, these links all represent various variants of the webpage.
So make sure your site has only a single rendition indexed, and you need to check for copies. Don't worry, this is a rather straightforward process.
Head to Google search and do a site:domain.com search to find the URLs that are indexed for your site.
If you see a blend of site forms, you have a potential issue that should be tended to.
Ensure that just a single form of your site is browsable. Choose to go with one among the listed, and the others ought to be 301 diverted to the sanctioned form.
3. Check your site's indexed URL
Uncover website pages that Google isn't indexing. To do that, launch the Google Search Console. When you do a "site: search," investigate the number of recorded URLs.
You may be stunned when you see the number of pages that Google has listed.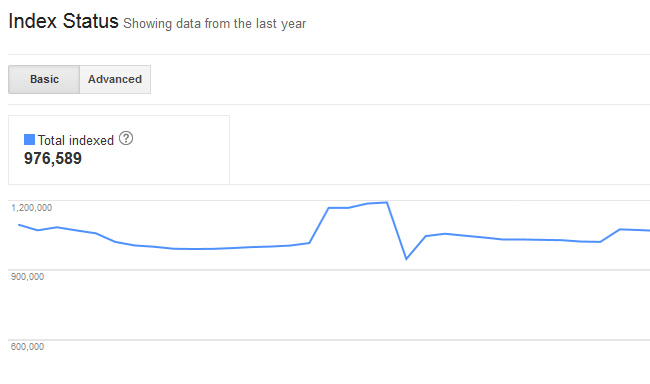 If you run an online store, what number of items do you have indexed? If you have a lead generation site, what number of pages and posts have you distributed in your CMS?
All we are doing here is checking the number of indexed webpages on your site. If the result is higher than you expect, you may have an issue with copy or content pages that should be removed.
If the outcome is lower than you would expect, it may be that your site isn't being crawled or indexed. It ought to be.
4. Check for manual actions
If your website is considered to be infringing upon Google's Webmaster Quality Guidelines, they can (and infrequently do) issue a manual activity.
This used to be called manual punishment. It implies that your site's rankings will drop and that you won't have the option to rank as exceptionally high as you already were until the activity is rectified; this activity can either be at page-level or site-wide.
In the worst-case scenario, your entire site will be deindexed and won't rank for your domain name. You can verify whether a manual action has been given against your site in Search Console.
You will see a 'Security and Manual Actions' tab in the lower left-hand side menu, and inside this, a link to manual actions. Click on it, and you'll be taken to a page where you'll see the status.
Ideally, you should see a green tick that shows that no issues currently exist on the site.

5. Analyze your site's speed
Site speed has been a significant ranking factor for quite a while. Back in 2018, Google revealed a committed Page Speed Update that presented speed as a ranking element.
Today Google has declared that they will reveal a Page Experience Update in 2021. This affirms what many have suspected for quite a while; UX is more important for SEO accomplishment than at any time in recent memory.
We can't deny that speed is necessary for UX. Indeed, considering SEO audit needs, Google has distributed information to show that the possibility of a client leaving a site increases the more slow a page loads.
6. Check for mobile-friendliness issues
We live in a versatile first world, and if your site isn't built for mobile, there is an awful possibility that you are not appropriately putting your client's experience first.
Mobility has been a ranking variable since 2015. Most of the websites are currently either responsive or utilize committed mobility adaptations, yet this doesn't imply that issues can't arise.
What's more, it's now been confirmed that mobility will frame some portion of Google's 2021 Page Experience update. You can check for any existing issues in the Mobile Usability part of the Enhancements tab on Search Console.
7. Understand your site's page experience
To rank in Google, you need to improve your site for UX Signals. As such, your content and site elements need to satisfy clients. At the point when you do, Google will give you top rankings.
Google has recently published a Web Vitals initiative that is expected to give direction on quality signals fundamental to creating an extraordinary client experience on the web. These incorporate the speed, format, and responsiveness of the site.
Once again, use Google Analytics to find pages with high bounce rates and low time-on-page and analyze how you can improve them.
8. Review your on-page SEO
You should ensure to audit the on-page SEO across your site to ensure that you are not passing up occasions to all the more likely enhance your site.
On-page SEO identifies with things like links, content, meta descriptions, alt tags, and so forth.
If you currently have over hundreds or even thousands of content on your site, break down your tasks according to traffic and look into those with high traffic first. Normally, these are content that is already ranking well and only requires minimal revision or updates.
On the contrary for pages with low traffic, they are most likely suffering from mismatched search intent or thin content.
Analyze these pages with GSC to see if you can further improve them to cater to the impressions that Google has decided to show them for.
Compare your content to top-ranking pages and analyze search intent.
Search intent is one of the main things that SEOs have zeroed in on lately. We realize that Google has gotten the hang of understanding the purpose of a searcher's question, and pages that are capable to address this are often rewarded with the highest rankings.
In your site audit, invest in investigating the highest-ranking pages for the keywords you are focusing on.
If you notice an apparent contrast between your content and the pages that position highest on Google, you should consider modifying yours in view of the search intent.
You can leverage BiQ's Keyword Intelligence to break down search intent. For example, let's imagine that you are offering an advanced learning solution that you believe is a distinct advantage for developers.
Maybe the first keyword that comes to mind is 'software development e-learning platform.'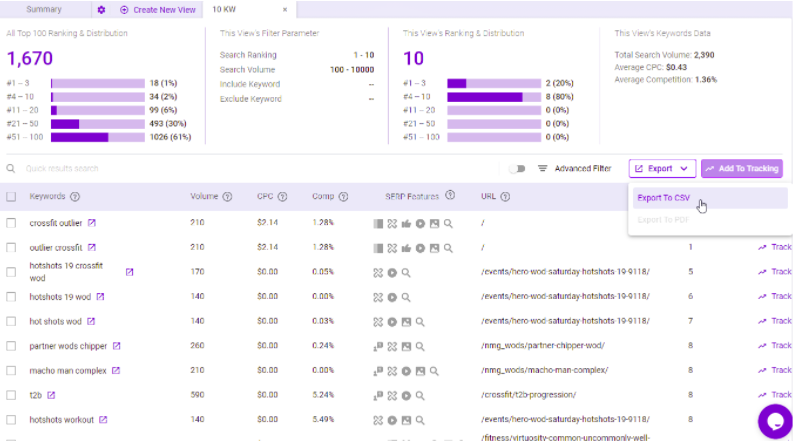 Enter this exact search phrase into the keyword tool. It will show you the intent rate dependent on the number of related keywords.
From this example, the search phrase 'software development e-learning platform' is informational. It implies that searchers are in the discovery stage of the buyer journey. You must create more informational content.
At the same time, you can also use BiQ's Content Intelligence to identify gaps in your content. In the analysis tab, select Word Vector to reveal your content's benchmark against the Top 10 SERP content according to your target keyword.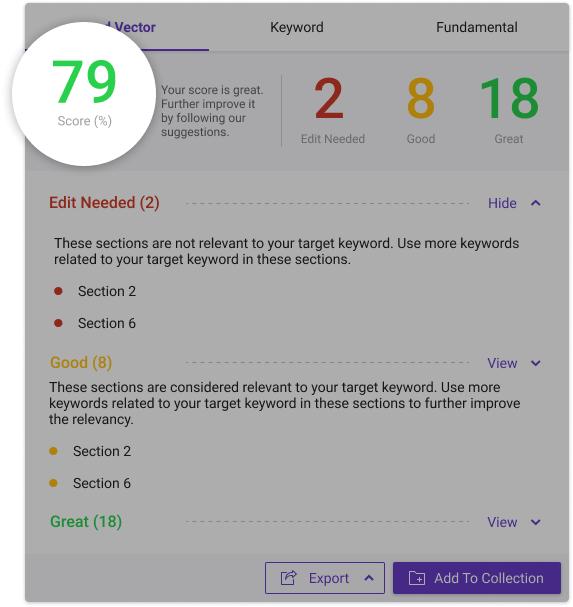 The most extraordinary aspect of this tool is that it can advise you precisely which content has lesser significance to user needs. Go to the Alter Needed segment to check which content sections need updating and optimization.
9. Check your internal linking
Broken internal links make a truly helpless client experience. If a client clicks a connection on your site, they hope to be taken to that page, not served a 404 blunder.
Yet, that aside, it is a negative quality signal for search engines. Identify content siloes you can make and research for keyword gaps.
10. Clean up your sitemap
Your site's XML sitemap ought to be leveraged to show Google those essential pages on your site that ought to be indexed. In your Site Audit report on GSC, you may see issues identifying URLs in your sitemap introduced as mistakes.
These mistakes are set off if your sitemap document contains URLs that either lead to pages with similar content, divert to an alternative site page, or returns non-200 status codes. Remove any wrong pages from your sitemap.
11. Check your redirects
You may discover issues that exist with diverts, but finding and fixing these is regularly an easy and quick undertaking.
Once more, you can use GSC to locate various issues that relate to redirects. If they are actualized inaccurately, this can cause crawling problems.

12. Check for toxic links.
Some links can destroy your ranking potential. If Google believes a link to be an endeavor to manipulate ranking, it contravenes their Webmaster Guidelines. Ensure to check for toxic connections as an aspect of any SEO audit.
13. Check for thin content pages.
Thin content is ordinarily of almost no use to clients and search engine bots, yet it thins out your ranking potential.
You must find thin pages and resolve these issues; this is normally either improving these pages by creating unique content or keeping them from being indexed by adding a no index trait.
14. Fix issues with orphan pages
You might have pages that exist on your site but are not connected to any other page. If a page isn't connected to anywhere, it is an orphaned page.
The speediest fix here is to either add key pages to your site's home page or add at any rate one internal link from your pages.
Key Takeaway
And that's a wrap. Your SEO audit is completed for now. It's important to conduct a thorough SEO audit every quarter or at least every year.
While it's awesome to build your SEO, it also takes a good SEO audit to maintain and keep your website up-to-date with the latest developments in search marketing.
So schedule your audit in your calendar as you will with your campaigns, because it takes both to maintain your SEO health.
And what do you think, are there any tips you would like to add on, leave them down in the comments below.