Why is evergreen content important? Learn the secret behind creating great evergreen content that boosts your SEO success.
Discover the six ingredients to create evergreen content that lasts.
Content is undoubtedly becoming an essential ingredient for a successful digital marketing strategy. Over the years, businesses have focused more on their content marketing techniques while still balancing the other digital marketing efforts.
Demand Metric research shows that 90% of consumers find custom content useful, and a Marketing Sherpa study ranks content creation as the single most effective SEO technique.
But as content marketing advances, marketers and business owners are finding better ways to communicate with their audience.
Evergreen content is the new strategy that's gaining popularity in the content marketing niche, and there are several reasons why it sees rapid adoption.
So, what is evergreen content, and why should you incorporate it into your digital marketing strategy?
What Does Evergreen Content Mean?
Evergreen content is a piece of content that remains relevant and fresh over a long period. This means that the audience can reference the content now and in the future to find valuable and useful information/insights.
There are two main categories of evergreen content.
1. Content that remains evergreen year after year without the need to update it.
For example, the "How to articles" – How to bake a cake or How to make pizza at home.
Note: There could be different ways or even new baking styles, but this is an evergreen content that remains relevant and useful even without updating it for decades.
2. Content that remains evergreen only if it's updated regularly based on the trends and developments in that particular market.
For example: How to delete music from iTunes or how to rank higher on Google, etc.
Note: This content category will only be relevant some years down the line if updated to match the software advancements or Google's ranking changes and updates.
Types Of Evergreen Content 
Based on the classification above, there are several types of evergreen content. Here are some of them with their examples.
Blog Post
Here is an example of an evergreen blog post: 25 Tips to make your diet healthier.
People looking to adopt a healthy eating plan will keep referring to the evergreen content found in this article – now and in the future.
Listicles
Here is an example of an evergreen list post: YouTube's ten most-watched music videos.
This content will only remain relevant if it's updated regularly since YouTube views are subject to changes.
Product/Service Reviews
Here is an example of an evergreen review post: iPhone 11 vs. Galaxy S20.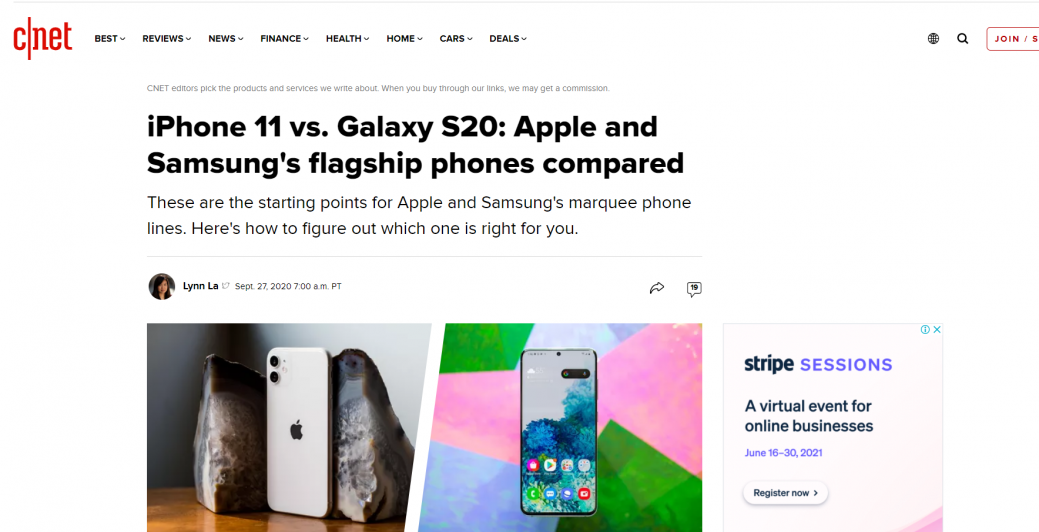 This article will always help customers compare the two phones before making a purchase decision and is a perfect example of evergreen content.
Other examples of evergreen content include case studies, special reports/guides, and interviews.
Business owners and digital marketers are now prioritizing evergreen content before the topical, trending topics that attract a temporary spike in traffic before becoming irrelevant.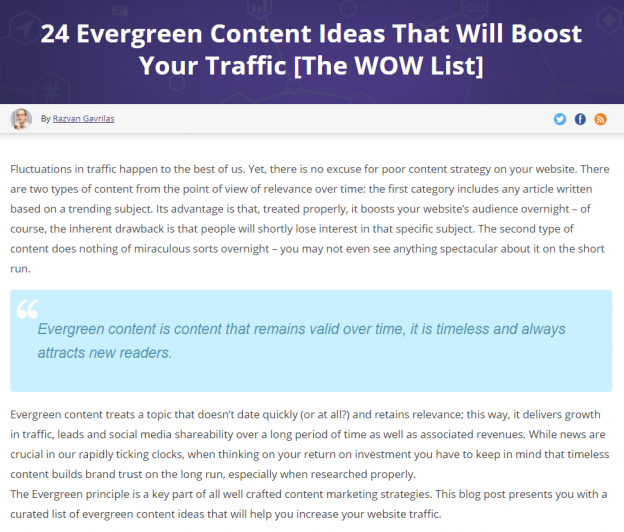 But how important is evergreen content to your business? Below are some benefits to keep in mind.
Why Is Evergreen Content Important?
Your site gets regular traffic
Evergreen content offers a timeless piece of information that your audience will find helpful over a long time. Then, it continues to look relevant to Google.
Higher search engine rankings
As evergreen content generates high traffic to your website, it can improve your search engine rankings. Furthermore, evergreen content is value-driven. People will always stay longer on your page, and the readers will even recommend your content to their peers. With time, the search engines will rank your content at the very top due to its perceived value.
Builds you backlinks
If you publish evergreen content regularly, people will come to trust your site and even link to it since they are sure their readers will find more value. Such backlinking then improve the ratings of your website.
It's a long-term SEO strategy.
Evergreen content allows you to build a backlog of highly-competitive keywords and quality backlinks naturally. This means you're enriching your long-term SEO strategy, which can help you rank before your competitors.
How to Write Evergreen Content: 6 Tips For You
Creating evergreen content that retains its relevancy years and even decades after publication is not by accident.
You need to come up with an evergreen content strategy that will deliver results. Below are some tips for creating evergreen content for your blog or business.
1. Choose the Right Keywords
Keywords determine the questions you'll be answering in your content. The right choice of keywords allows you to target the right topics that add value to your audience.
Some keywords are searched more frequently than others, meaning you need to keenly choose those keywords that answer the users' questions and still drive traffic to your site.
Creating evergreen content narrows down to knowing what the audience is searching for and why they are searching.
Important tip:
Use our BIQ's Keyword Intelligence to find the right keyword to target. This tool comes with a keyword analyzer feature that allows you to know exactly why someone is searching for a particular keyword in the search engine.
Once you know why a keyword has a high search volume, you can then structure your evergreen content to meet the audience's needs.
The keyword search volume indicates the competition surrounding that keyword, and you can choose to target the related keywords.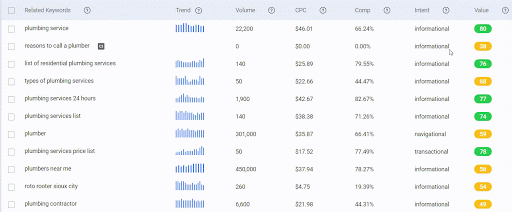 You can also sort the keywords based on their value. The higher the keyword value means you can drive more traffic at a lower competition.
Here are some other keyword research tips you can use to boost your search engine rankings: 7 keyword research tips for SEO
2. Check the keyword trends.
To find evergreen blog topics, you need to map your content and do some keyword research on your niche. A rule of thumb is to avoid topical ideas/topics that can become obsolete once that event/incident passes.
For example: avoid linking your content to a trending story that's most likely to lose relevance in a week, month, or so. Instead, you want to look for keywords surrounding the topic and maximize on them.
Where possible, structure your content to cover everything valuable the audience are searching around the topic. This way, your content will remain fresh, useful, and helpful to the readers – all-time long.
Important tip:
Use the Content Ideas feature in our BIQ's Keyword Intelligence to find evergreen content ideas that fit well into your blog post.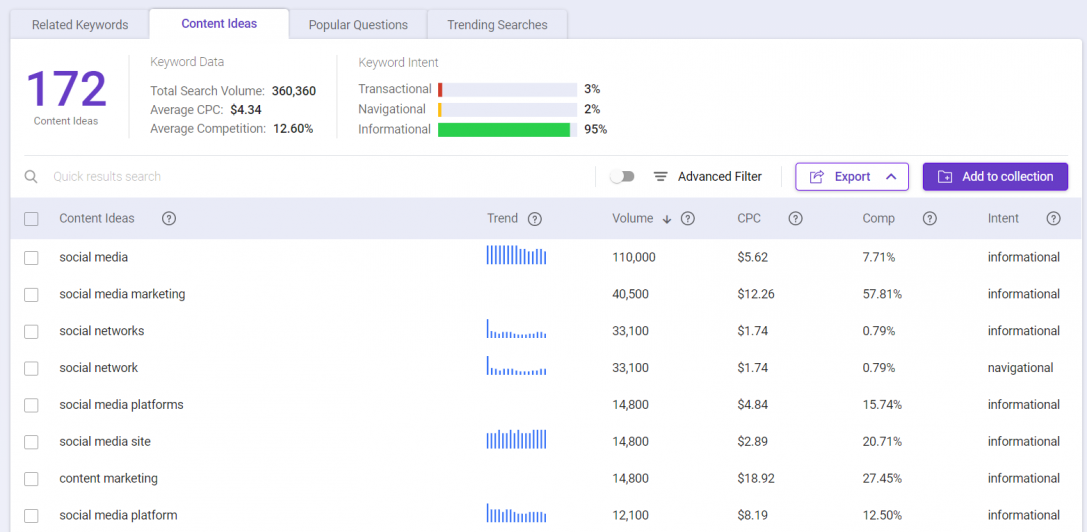 When you enter a given keyword/phrase into the tool, the search volume tells you how popular that topic is and whether you should target it in your post.
The keywords' vital metrics also give you an idea about the topic's demand and whether or not it's trending. This way, you can capitalize on the trends to drive engagement.
You can also use Google Trends to check the popularity of a Google search term and weigh if it's worth incorporating into your content.
However, you should choose those topics that are trending and have the potential to remain relevant even after the trend is over.
3. Understand what the user wants
The key to a successful content marketing strategy is knowing your audience. If you don't understand your users, there are pretty high chances you're going to give them the wrong content.
But knowing what your audience is searching for across the internet is not enough.
You want to know why they are interested in specific keywords and how you can cover for their unmet needs.
This may sound somewhat complicated, but there is a tool out there to guide you through this process.
Important tip:
Use our BiQ's Keyword Intelligence tool to identify the keyword's intent and unlock the best way to target your audience using well-curated evergreen content.
For example, in the screenshot below, the keyword "content marketing" has an informational intent.

This means that the searchers are looking for more information regarding the phrase "content marketing." Your evergreen content should then cover topics that give more value to the readers, such as:
The ultimate guide to content marketing

What to look out for in your content marketing strategy
4. Write Quality Content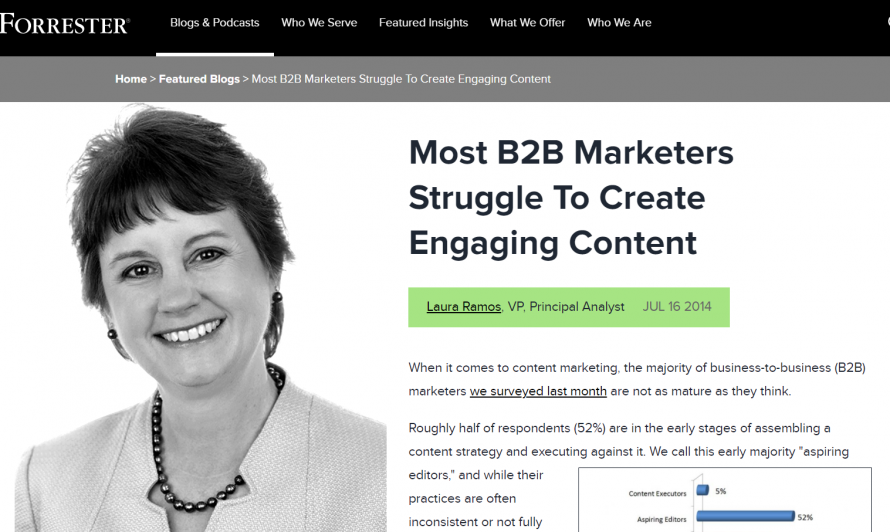 Forrester survey reports that 87% of B2B marketers admit they struggle to produce high-quality content that truly engages their buyers. Further insights from this research show that:
Most marketers produce content to fill the channel – 62% of respondents say they create content on a campaign-by-campaign basis, and 47% admit they only focus on feeding that content to the various channels: email, website, social media, etc.


Most contents don't add value to the customer or audience – 71% of respondents say their content strategy feature showcases and customer stories. Yet, only 3% admit this is the main focus of their efforts.
Important tip:
Ensure the content adds value (solve the readers' problems) and is easy to read and comprehend.
You can use our BiQ's Content Intelligence to create evergreen content that is both value-driven and SEO-friendly. This tool comes with a content grader, which will guide you as you make the necessary edits to achieve the best content quality.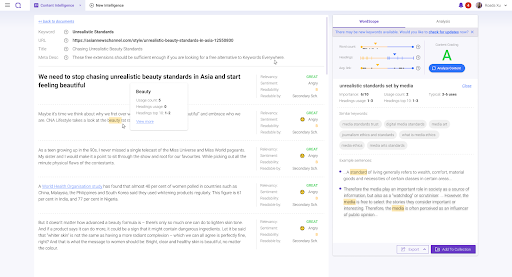 Other than that, the content tool also helps you to understand what's essential to cover your content. It gives you a breakdown of your keyword in terms of usage, similar keywords, and example sentences.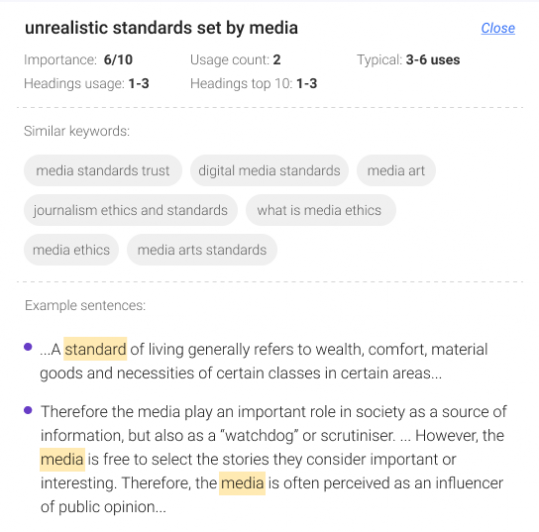 They should be the go-to-source that shapes your article as you write. For example, if you're writing about "unrealistic standards", just running a Wordscope analysis can get you similar keywords like media standards trust, media ethics, and so on.

In other words, you can't hope to satisfy searchers who are looking for unrealistic standards without writing about these similar keywords.

You can also make use of the keywords to craft your outline! That's an example of killing two birds with one stone effectively.

5. Track your rankings
To make sure you're progressing in the right direction, always track your site's ranking, at least once in a while. Where possible, compare your ranking with your best-performing competitors.
You may use BiQ's Rank Intelligence to help you discover the content gap between your site and that of your competitors.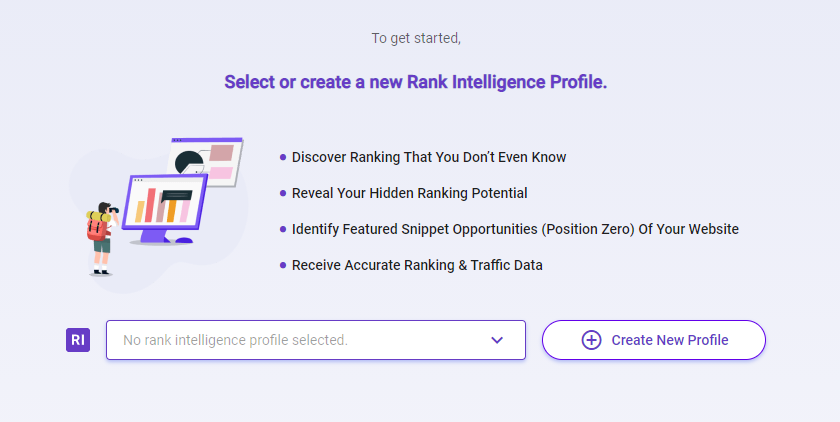 Enter the competitor's URL and create a new profile.
Proceed to select the parameters: Search Ranking (say in the top 10) and Search Volume (e.g., range from 1 – 100), then create a view.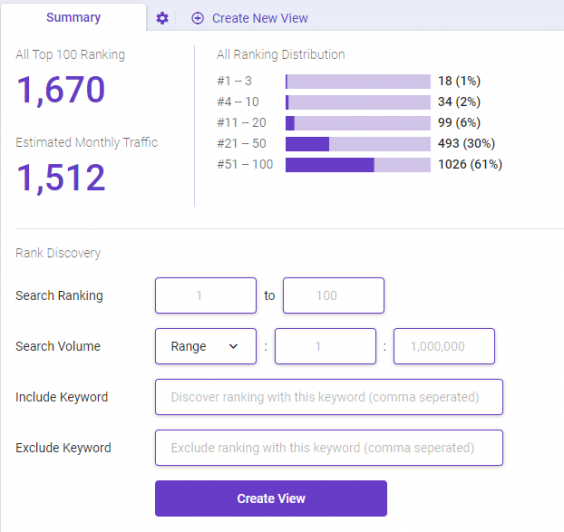 Now you can export the data obtained as a CSV file so you can sort through the keywords. You can also follow the same procedure for your site then compare the results on the same excel.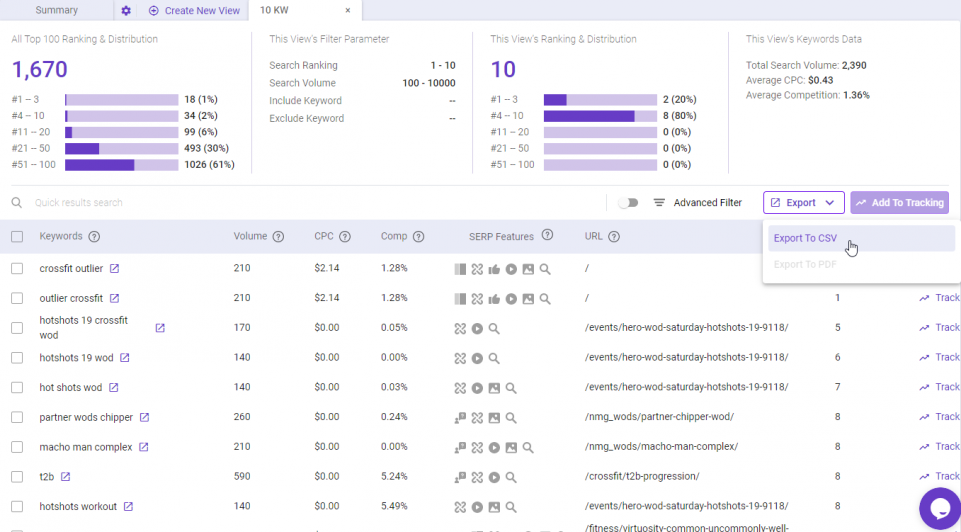 This way, you'll know which keywords your competitor is ranking for, and you can borrow these keywords.
By comparing the keywords you and your competitors are ranking for, you can pull together some evergreen blog ideas to inspire your evergreen content.
Then, use BiQ's Rank Tracking to keep track of your keyword's daily rankings and its historical data since the day it's added.

Quickly identify your keywords' gains or losses so you can act in response to secure your keyword rankings from being stolen by a competitor or take the chance to further boost your keyword rankings while it's in trend.
6. Update your content
As much as you want to create evergreen content, some parts may become outdated. You will, therefore, need to keep updating your posts over time to improve content relevancy.
But updating your posts goes beyond checking for changes that may affect the relevancy of the content to inspecting for broken links. Fortunately, this shouldn't be much of a hassle. There is even an online broken link checker that simplifies that for you.
If you're to renew some links, always prioritize better, in-depth, and latest resources from authoritative sites. A rule of thumb is to link directly to sources, not sources of sources.
You should also update your content to match the current search engine ranking factors. For example, if your old posts had no Alt text for images or the headings were not well optimized, you should update them all together.
Important tip:
When updating your content, you can use our BiQ's Content Intelligence to improve content relevancy. 
Within the Content Intelligence tab, switch to "word vector." This tool will tell your content performance with respect to the top 10 performing content on the search result based on your target keyword.

This feature will also show you which paragraph has lesser relevance to the overall content. The "Edit needed" section will tell you which paragraph needs revision.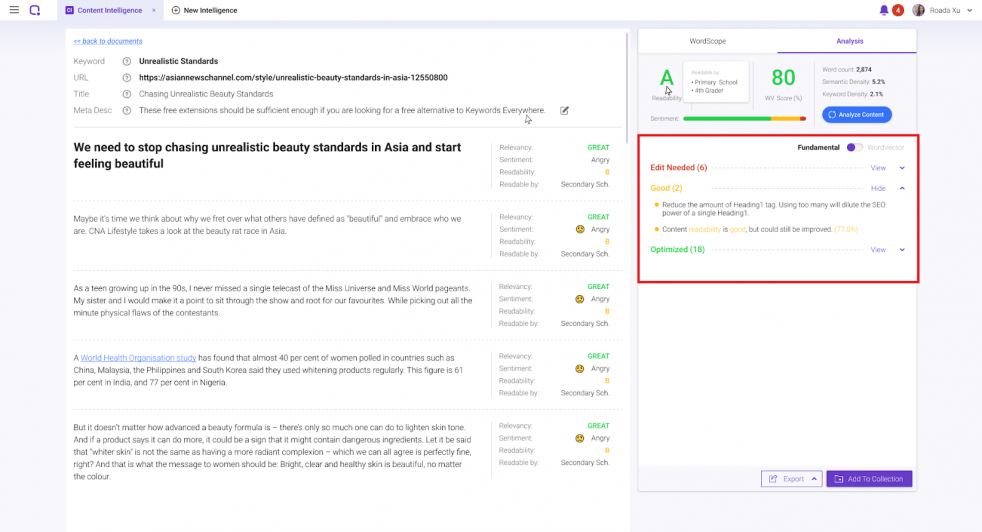 Final Thought: Seasonal vs Evergreen Content
Now that you know why you need evergreen content and how you can source some evergreen content ideas, it's worth noting that your site still needs to cover seasonal topics to rank better. The idea is to strike a delicate balance between the two.
Seasonal content will give you exposure through that sudden spike in traffic necessary to attract new site readers/prospects. Seasonal topic ideas that you should maximize are news, press releases, and the latest trends and stories in your niche.
That said, you may be interested in our previous article: Seasonal vs Evergreen Content Dilemma: What's Best For You?
In short, evergreen content will help you play the long game. It adds value to new and old users and should always remain fresh and relevant.
Are you currently using evergreen content in your content marketing strategy? Let me know in the comments!