What is affiliate marketing? Learn how to use affiliate marketing and transform your business into a money-making machine in this guide.
Today you'll learn what affiliate marketing is.
You'll discover strategies that marketers like Pat Flynn and Finch Sells (the two best affiliates) used to earn thousands of dollars.
You'll learn how to start affiliate marketing from scratch. It'll help you transform your blog into a money-making machine instantly.
This is an easy-to-use guide about affiliate marketing for beginners.
Let's get into it.
What Is Affiliate Marketing?
Affiliate marketing is about promoting someone else's product with a commission for every purchase you drive.
That's probably the simplest affiliate definition.
On average, commissions are around 5% to 30% (heavily dependent on niche and affiliate programs).
You may be wondering if it's worth it.
I mean, if you get a 5% commission, you won't earn much, will you?
But as it turns out, reliable affiliate marketing programs can boost revenues by 30%.
Got you interested? Read on to learn how does affiliate marketing works.
How Does Affiliate Marketing Work?
Let's dig a little bit deeper into affiliate marketing. There are four stages starting from picking the product to getting paid.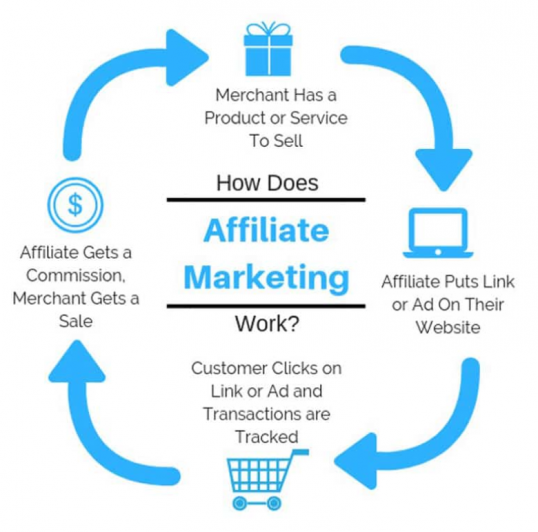 Basically, you promote a product by putting a link to it on your blog.
You'll then persuade your readers that they must get it, they click on your link, buy, and you'll earn a commission.
Sounds simple, isn't it?
Next, here is the most awaiting question: how much can you exactly make as an affiliate marketer?
How Much Can You Make As An Affiliate Marketer?
In short, you can make a lot of money with affiliate marketing. Just look at the earning that an affiliate marketer getting from just one product: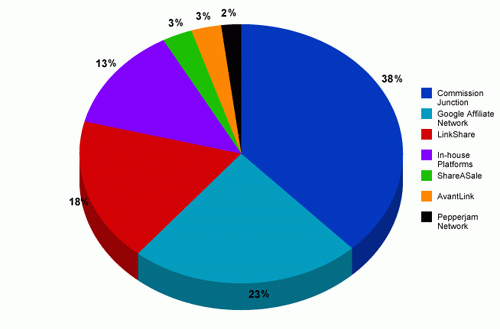 Imagine if the affiliate marketer sells 10 different products; that will be $2 mil!
We've talked about it earlier; making 200k a month without doing anything is like a dream.
It's a great passive income strategy that can increase revenues.
In fact, 65% of merchants say that 5% – 20% of their annual revenue comes from affiliate marketing.
You can do the same; let's discover how.
How To Become An Affiliate Marketer
You've learned what affiliate marketing is and how it works.
Now, it's time to put it in action. We'll go over 6 ways that will help you become a successful affiliate marketer.
They'll help you get more traffic and increase revenues.
1. Identify Your Niche
The first question you must ask is – what products will I sell?
There are four things you must consider before picking the niche.
Pick a niche you are passionate about.
If you don't, you'll end up selling something that doesn't interest you, and you'll probably give up.
The quality of the content won't be excellent either…
You shouldn't pick a niche just because it's profitable. Instead, choose a niche because you want to help others genuinely.
If you pick an unprofitable niche, you won't earn much.
Passion plays a significant role, but you also have to think about the profits that you will be getting. That said, below is a list of the top 20 most profitable niches.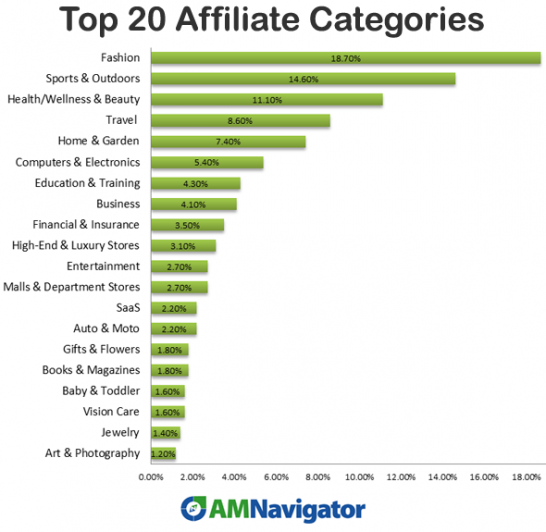 Pick the profitable one, and you're passionate about doing.
You picked a niche because there's a big trend going on. You thought that you'd make a lot of money.
However, the trend usually looks like this.
It'll sink after a while, and you'll find yourself in a dead niche.
Be super-specific with picking a niche.
It'll help you tailor your content to your audience, make it more personal, and drive more sales.
The more specific the niche, the higher the conversions.
2. Choose The Right Affiliate Network
Affiliate network connects merchants and affiliates (advertisers).
It's a middleman that tries to maximize the revenues by offering an affiliate program.
One of the most popular affiliate networks is Amazon Associates.
It's super easy to use. You just need to sign in, promote a product, and earn a commission.
There are a lot of affiliate marketing networks that can suit you like:
ClickBank
eBay Partner Network
CJ Affiliate
ShareASale
We'll talk about them in detail in the last section.
3. Perform Keyword Research
You'll now need to find what people search for. You can do that by performing keyword research.
Go to BiQ's Keyword Intelligence, type in target keywords, and hit enter.
You'll then see a list of related keywords with in-depth data, including the keyword's search volume, competition, CPC, and so on.
You must then use a filter to show only the right keywords. Click on the Advanced Filter in the upper menu to open the filter.
Drag the Relatedness slider to the left to target only related keywords. Choose long-tail keywords because they bring the most profits.
Uncheck everything except the Transactional intent (in this case, we want only searchers who wish to buy).
Hit Filter Keywords to get a list of filtered keywords.
Pick the keywords with the highest cost-per-click (CPC). They tend to bring the most sales.
When you find the right keywords, it's time to put them in action.
4. Create & Publish Content
Content is the most crucial part of successful affiliate marketing.
It'll improve rankings, help you build a rapport with readers, and establish yourself as an authority.
You shouldn't write only promotional (affiliate) content. though
In fact, most of your content should be informative to help readers by teaching them something new.
It's challenging to be successful because the competition is enormous. Nevertheless, an effective content strategy can bring you to the top.
We'll use BiQ's Content Intelligence for that.
Enter your content URL in the tool, and you'll get an in-depth analysis of your content.
There are two tabs at the upper-right corner you can switch between. In the WordScope, you can see the grade score, word count, headings, and average links.
You'll also see all the related keywords you should include.
Switch to Analysis to see the readability, fund score, and SEO stuff you should improve to rank higher.
Strive to perfect every area and fix all errors.
It'll make your content more enjoyable and SEO-friendly. It'll help you to improve the quality and outperform others.
You should publish content consistently, at least 4 times a week.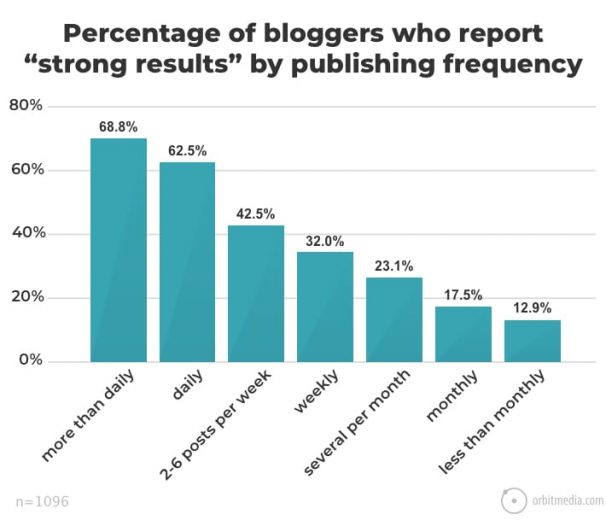 It'll help you get more visitors to your website and increase traffic. Ideally, you should have a content calendar – releasing new content at the same time.
It'll make you look more committed, and your readers will know when to check your site for new content.
You might be wondering how affiliate content looks like. We'll go over the three types of affiliate marketing content.
#1 Product reviews
It's an article reviewing a product you promote.
You'll talk about its weaknesses, strengths, and overall experience.
You'll also include a "Buy Here" button with your affiliate link, which will help you earn a commission for every purchase.
#2 Product comparisons
It's similar to the previous one.
Product comparisons are about comparing multiple products and promoting the best one.
You can see an example of a product comparison from Backlinko below.
#3 List posts
It's a basic "Top 10 Books You Must Read" type of content.
You provide your readers with XY things they must try and include an affiliate link to purchase.
5. Optimize Your Landing Page Conversions
A landing page is a page dedicated to driving conversions.
What does a landing page look like?
We'll look at the structure and three tips for maximizing conversions. The basic structure of a landing page looks as follows.
However, making a landing page alone won't help you that much.
You'll also need to optimize it to increase your landing page conversions. We'll look at how to do that in three easy tips.
The most important thing is the user experience.
If you fail to optimize it, your visitors will leave you for competitors.
The two most important things are mobile optimization and speed.
60% of searches are on smartphones. If you don't optimize your website for them, they won't buy it.
The second thing is site speed.
Only a one-second delay can drastically decrease your revenues.
Fortunately, you can easily fix that.
We've created a comprehensive guide on mobile optimization and website speed with tips that will help you improve instantly.
Visitors must trust you before they make a purchase.
You can add in more trust with testimonials and reviews from happy customers.
However, be sure not to sound too good to be true…
That can backfire and have the opposite effect on your revenues. Keep it real and believable.
The most important thing is a call-to-action (when it comes to sales).
The key thing is not to make it vague.
You must make your CTA personalized to achieve the best results and make your affiliate marketing success.
Make your CTAs super-specific and tailor them to your audience.
6. Promote Your Affiliate Site To Drive Traffic
If you're done optimizing a landing page, it's time to find visitors who can buy.
We'll look at three ways to promote your affiliate site.
The higher you rank, the more traffic you get.
Making your site SEO-friendly will allow you to rank higher, get more visitors to your website, and boost revenues.
However, ranking higher takes a lot of time and effort.
You can learn more about how to rank higher in our definitive guide.
PPC ads are a much faster solution than SEO.
You can start the Google Ads campaign within a few hours and immediately get on top of the search results.
They'll also help you get more profitable visitors.
Unfortunately, most marketers shy away from them because they think they don't have the budget for that…
You pay for every click, so it must be expensive, right?
But as it turns out, you get a lot more back than you spend.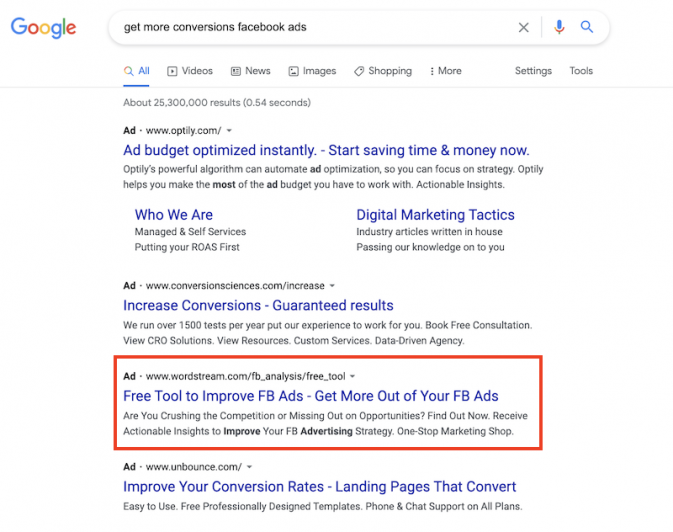 You can switch it off at any moment.
It's a great tactic, especially if you're just starting and want to get on the first page of Google.
Social media is a place where we spend the most time.
It's excellent for promoting your affiliate website.
You can do that through social media ads, building a following, or joining groups and sharing your content.
7. Bonus tip: Use Backlinking
Backlinks are enormous when it comes to affiliate marketing.
They help you get new visitors to your website and increase your chances of ranking higher.
They'll establish you as an authority and boost your traffic.
Unfortunately, the opposite is also true. If you don't have any backlinks, nobody will find your website…
But getting backlinks is easier than you think.
We'll talk about the two backlinking strategies that will help you generate more backlinks instantly.
You offer to write a blog on another website for a backlink in return.
It can be a huge link building opportunity, especially if you can write for a popular website. You'll link back to your content from their site and gain a valuable link.
If you capture readers' attention, appeal to them, and make them interested, they won't hesitate and get to your website for more.
Another great way to build backlinks is through broken links.
A broken link is a link that redirects a user to "404 Not Found". It's usually because the link isn't valid anymore.

It leads to poor user experience and may prevent a sale. However, you can use it to your advantage.
Simply create similar content that was on the broken link and reach out to the website owner.
They'll be grateful for your help, and you'll gain a backlink in return.
Discover more backlinking strategies in our post.
What Is The Best Affiliate Marketing Program?
Picking the right affiliate marketing program is crucial.
Choosing the right program will make it easier to earn money and promote products while being user friendly.
We'll talk about the 5 most popular affiliate programs below.
1. eBay Affiliate Network
eBay is the world's biggest flea market.
You can choose from millions of products to promote and sell through affiliate marketing.
If you just create a new account, you make 2X more in the first 3 months and get a 100% bonus when referring a new eBay purchaser.
This presents a great opportunity if you're just starting.
The average commission rate is around 50% – 70%.
On the flip side, there's a 24-hour cookie length (a customer must buy within 24 hours of clicking on your link). That's nothing special; in fact, Amazon has it the same way.
However, unlike other platforms, eBay has lots of auctions.
People are bidding on the products, and it usually takes 7 days to make a purchase. That can mean that even though your visitors clicked on your link, they won't purchase within 24 hours.
And you'll get no credit, no revenues.
2. Amazon Associate
Amazon Associates is similar to the eBay affiliate program.
You can create an account and start selling immediately. It's also a large trustworthy platform with unlimited niches.
It's great, but still not as big as eBay.
They have a 24-hour cookie length but a way lower commissions.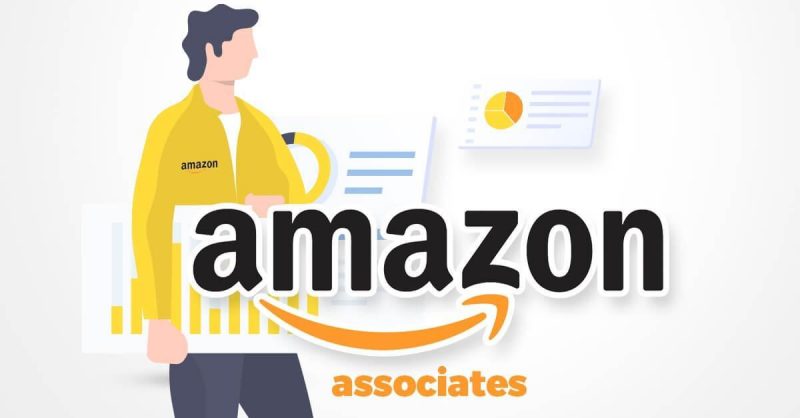 However, the problem is that products can quickly run out of stock and many fakes.
This can harm your credibility and decrease satisfaction.
3. ClickBank
ClickBank is the oldest network solely for digital products.
It has many niches, and it's super easy to use (click & go). The best thing about it is the commission rate and cookie length.
Unlike the previous two, ClickBank offers a 60-day cookie length and up to 90% commissions.
But there's a catch… And it's huge.
The quality of the products isn't excellent either.
For example, they usually sell e-books that are of low quality without brand recognition.
4. ShareASale
ShareASale has a super-clear and straightforward interface (compared to other programs). It's very intuitive and easy to navigate through.
However, it has a bit of an outdated design. The affiliate links aren't very WordPress friendly either…
However, if you don't run a WordPress site, you're good to go.
There's no average commission rate because commissions depend on the specific merchant you sign up with (same with cookie length).
5. CJ Affiliate
CJ offers a huge range of small and big merchants selling a variety of products across all niches.
It has a nice design and handy features like deep link generation.
Unfortunately, it's not as intuitive, and it has a long learning curve. It'll take a while to figure everything out.
The commission rates and cookie length are individuals – dependent on the merchant you sign up with.
Conclusion
You've learned what affiliate marketing is and how to start.
It's a great way to make money online.
If you can do it right, it can be a gamechanger for your revenues (just like with the affiliate marketing example below)
We've talked about 7 ways to start affiliate marketing. All that's left is just to put it to work.
Do you have any additional tips I haven't mentioned?
Write a comment below right now and let me know.