Why is a content calendar important? How do you create a content calendar that could help boost your content marketing? Discover now.
Here are tips and tools on how to create a content calendar for your content marketing campaign.
Statistics derived from the content marketing institute show that 53% of marketers in organizations where content marketing works most effectively have a documented content marketing plan. This shows how many people prefer using a content calendar.
However, let's first look into what a content calendar is.
What is a content calendar?
A content calendar refers to a documenting scheduler or a planner. Essentially, it's a written schedule of when and where you propose to publish any upcoming content. It also includes any status updates, partnerships, or promotional updates that add to the existing content.
Content calendars can be found as both hard and soft copies. They can be made on various print media such as spreadsheets, and some are even available as online software. In this article, we'll focus more on the software aspect of content calendars.
For instance, content calendars can be used to plan a social media strategy. You could schedule when and where you plan to share your social media posts.
When the set date and time arrives, your content calendar will share your posts on your behalf, which gives you more time to work on other tasks that require your attention.
Content calendars are also used to track campaigns and track deadlines for both businesses and individuals. These types of calendars are known as editorial calendars. They are especially vital if you use them to boost your content marketing campaigns and grow your online presence.
There are various ways BiQ could help you plan your content calendar. Doing this could improve the type of content you create; it could also boost your engagement with your audience and promote conversions.
Read on and discover how you can use this tool to improve your content marketing campaign and make it more effective.
Why Is Content Calendar Important?
There are several reasons why you should incorporate content calendars in your work.
First, various content calendar formats can serve multiple purposes. You could have as many calendars as you need.
A blog content calendar for your blog, one for your social media, an idea calendar for your content, etc.
Here is an example of a content calendar. You could use a similar format for your online content.
Now, why should you have a content calendar?

It helps keep you organized.
Having an online content calendar helps you keep track of your content marketing strategy, especially if you are involved in email marketing or any other type of venture that requires you to plan. Planning also helps you to get a better perspective of your overall marketing strategy.
It'll be easier for you to notice any gaps in your content and readily adjust to them, especially if you have problems with over-focusing on particular topics at the expense of other topics.
Perfect for brainstorming.
If you work as a team, then the chances are that your team members are more likely to get more creative when you organize your content with a content calendar.
The reason for this is quite simple; organizing your content helps you chop down the topics into digestible pieces that become easier to analyze. This allows your team members to analyze and adjust to your audience's preferences more efficiently, thus boosting your outreach and engagement.
It helps you maintain your campaign's consistency.
It will help your campaign if you keep the content flowing consistently and within regular intervals. Being consistent helps your audience plan in advance and set aside some time to read your content. This way, you'll get better engagement, which will lead to better results from your venture.
Here is a sample of the content calendar:
It helps you stay in the know on important dates.
Content calendars are especially great if you have a hectic routine because they help you stay in the know. For instance, let's say that an important holiday is coming up, say the Christmas festivities. Setting a reminder will remind you in advance to write and schedule relevant content for Christmas.
Using this approach will help you stay ahead of the curve and minimize any unnecessary stress. You'll be able to plan the best possible blog post ahead of time so that you won't have to whip something up at the last minute.
Maintaining an effective team.
If you work as a team, you'll be able to coordinate your resources effectively. If, for instance, you have a marketing department and a sales department, having a content calendar will help you streamline your activities in such a way that they correspond to your customers' needs.
You'll address your customer's pain points more accurately, which will significantly improve customer relationships. It will also help your company's executive branch go through the planned events and see if they effectively support its overall marketing strategy.
Helps plan for your social media marketing.
Content calendars can also help you plan for your social media content, which, in turn, will enable you to figure out your best and most engaging content. You could then take your most successful content and use it on your social media advertising, effectively improving your outreach and engagement.
How do you create a content calendar?
Now that you understand why a content calendar is essential to your business, the next logical step will be to learn how to create one. Your content calendar can be as simple or as complex as you want it to be.
As outlined below, you need to take various steps to create a successful content calendar.
1. Decide the content types.
When creating a content calendar, it would be best to start with your most essential content types. How do you know the most critical content types? Well, this refers to the content that has the best engagement with your subscribers.
They could be articles, blog posts, audio, videos, or even case files depending on your audience. However, do not aim to try many content types at once since they may overwhelm you. Instead, stick to the content types that have been known to bring you great results.
You could try something new every once in a why and assess your audience's reaction. If you get more engagement from the more recent content, you should keep producing such content. However, if the content doesn't bring better results, you could go ahead and drop it.
2. List out content topics.
The next step is making a list of your content topics. Doing this will help you get a general idea of what content topics you need to cover using which content type. It will help you assign your content topics effectively across your content calendar.
Use the Content Ideas feature in BiQ's Keyword Intelligence to quickly find ideas that will make great blog posts, which will keep your readers coming back for more.

The tool allows you to enter relevant keywords or phrases and develop a list of ideas that help you write relevant content that connects with your readers.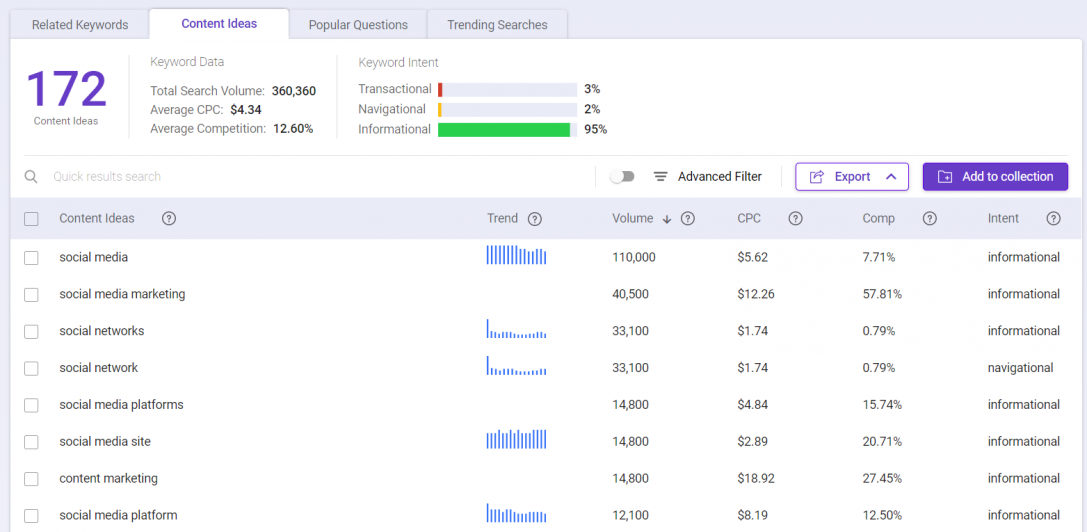 The best part?

All keywords come with a set of vital metrics that you can use when deciding which topics you want to focus on.
For instance, you could use the search volume to determine if a topic is either in demand or emerging. Using this tool also helps you keep an eye on trending topics, which you can capitalize on for better engagement.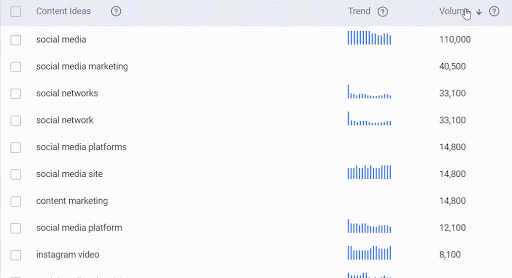 Give the tool a try for free by signing up for a free account here.
3. Decide on your publication frequency.
Publishing content is well and good; however, if you want to grow effective engagement with your audience, the best thing to do is maintain a consistent pace.
According to the marketing insider group, the more content you publish, the higher the number of leads you get. For instance, companies that published more than 400 posts in a year received over 3x more leads than those who published 100 posts or less.
This implies that whichever number of posts you may want to publish in a given period, you'll have to ensure that you remain consistent. Having a consistent publishing schedule helps your audience view your brand as reliable and trustworthy.
4. Break out the content types into steps.
Breaking out the content types into steps allows for better planning. If you don't do this, you may lean more towards one content type than the other, which can be a huge problem. You could be spending more resources on audio content without getting any return on investment.
For instance, the blog post creation process consists of four typical steps; keyword research, outlining, writing the content itself, and adding visuals. On the other hand, for podcast creation, the steps include finding a topic, writing a script, recording the audio, and editing the content.
5. Add each step to your content calendar.
After breaking your content types into the steps it takes to create them, you now need to assign each step onto your content calendar. This helps you establish a steady workflow that will guide your work throughout the stipulated period. You'll be able to work through the milestones without feeling overwhelmed by the workload.
To establish a great workflow, include the name of the person who is responsible for each step into your calendar.
6. Update the calendar as you go
Now that you've set up your content calendar and have begun working on it, you are good to go. However, what's great about the online content calendar is that you can update it as you go. If you feel like you may have left out some critical information, you can go ahead and add it.
You could review your content topics or even add in more content types to test them out. While doing that, you should ensure that you remain as consistent as possible. It would be best not to make too many changes since they may disrupt your audience's engagement.
That said, it's important to conduct site-wide content audits once in a while. You may start with identifying your performing and under-performing content using BiQ's Rank Intelligence.
First, enter your website URL into Rank Intelligence. Then, select the country where the audience is based.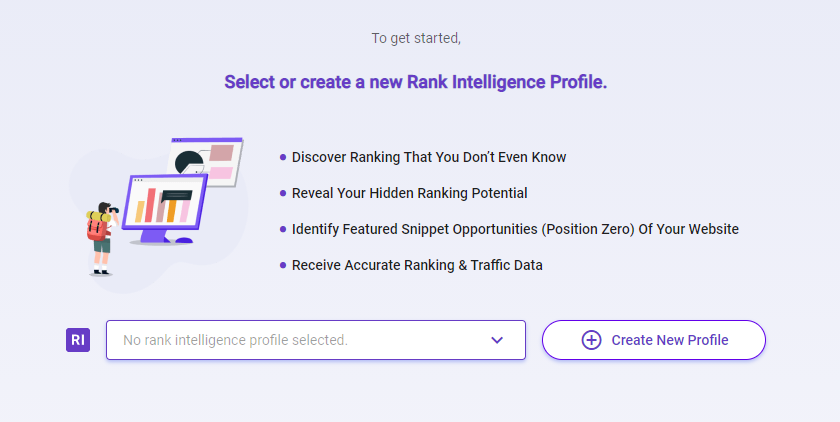 You will get to see all the keywords your website is ranking for together with the important insights such as search volume, cost-per-click, and competition, and so on.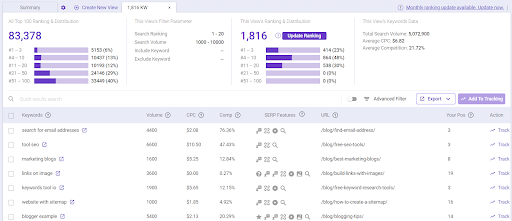 These insights let you know the search terms that searchers are searching for to reach your website.
Once you identified the content that you want to improve, enter its URL in the Content Intelligence.


BiQ's Content Intelligence will start to analyze your content and show you all errors that can be further improved. Make sure to switch to the Analysis tab on your top right corner.

The Fundamental analysis tells you the on-page SEO performance.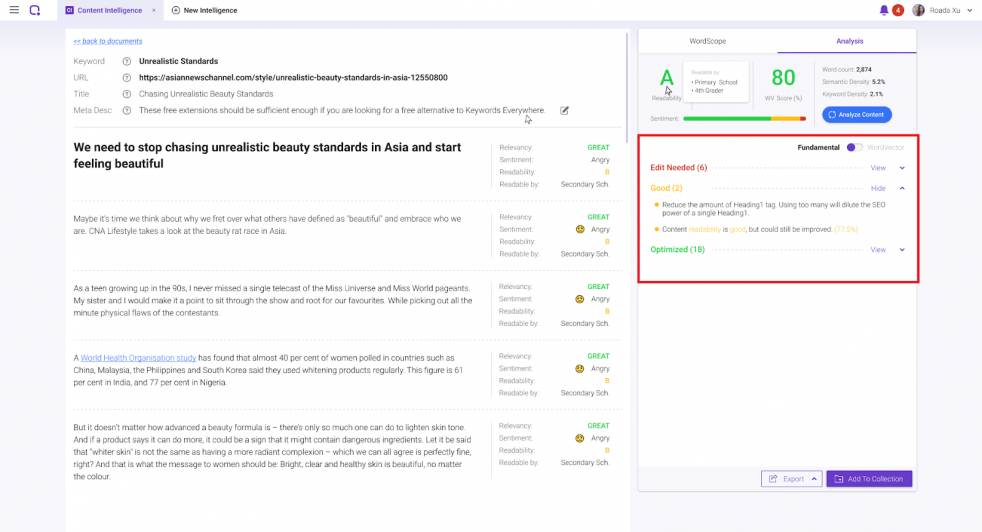 They're a lifesaver if you want a quick insight into how your content is performing. It will unveil all critical SEO errors in your content.

The 'Edit Needed' section shows errors that have impacted your search rankings. You will see a list of errors and the actions you need to take to fix them. Start fixing them to improve your content performances today.

While the WordVector tells you the performance of your content against the Top 10 SERP content in relation to your target keyword.

The best part about this feature is that it can tell you exactly which paragraph has lesser relevance to the overall content.

Now, you will be looking at the "Edit Needed' section to check which paragraph needs revision.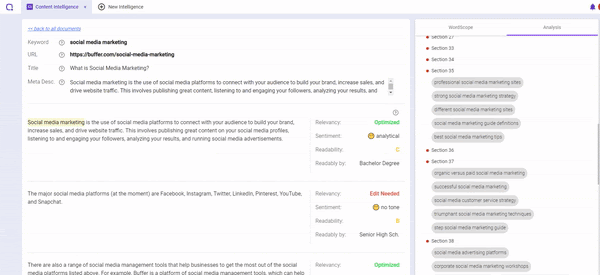 You can then dive deeper into the paragraph and better understand how to improve its relevancy to your target keyword.

Helpful tip: Try to use related keywords to increase your overall content relevancy than stuffing the same target keywords.
Content Calendar Tools
There are various free content calendar tools you can use to plan for content publications.
Let's look at four free content calendar tools you can use to improve your online campaign.
Google sheets
Content calendar Google sheets is a free web-based spreadsheet program included as part of the free google docs office suite. The program enables you to edit, organize, and analyze various types of information. It allows collaborations from multiple users.
Google sheets have two features that can be great as an organization calendar, especially if you have more than one department. It can be remotely accessed by multiple users who can then make edit and format files, and any changes done can be tracked through its revision history.
Microsoft excel
Microsoft excel has various templates that can be used to plan out your content. For instance, the software has a social media content calendar template that allows you to plan for what you want to share, such as messages, links, and any visual content such as videos for a particular period.
Besides having a free content calendar template you could use, Microsoft excel has a straightforward style that is easy to incorporate into your workflow. It works great for personal use and as a shared content calendar with your team members.
Airtable
Airtable has an excellent user interface that is simple and easy to use. Airtable also allows you to share relational databases with relevant parties. The online platform's ease of use enables you to spin databases reasonably easily, making it a good option for beginners.
You can use its content calendar planner to plan your content topics and content events and streamline them with the rest of your organization's departments.
Trello
Content calendar Trello is also another great online platform that can be used as a content calendar, and the best thing about it is that it's free.
Trello's content calendar is excellent with the organization. At first glance, you can determine the project being worked on, the person working on it, and how far along the project is.
This makes the online platform perfect for organizations. It is also great for personal use and can be a great way to pace your workflow. With Trello, you can work without any worries that you may have forgotten any task and relax when you are on a break.
Conclusion
Content calendars are an excellent option for both individuals and companies. If you want to keep your online content streamlined or ensure that your team members have a streamlined workflow, then you'll have to use a content calendar.
Content calendars will help you organize your work better, plan, and at the same time, analyze your audience's response systematically and efficiently. They are practical and can be relied on to keep records for workflow and your campaign's progress.
Create your content calendar today and transform your content marketing campaign!