SEO best practices that are missing in your SEO strategy. Use these 7 best SEO practices and tips to help you increase your website traffic and ranking.
As we see new businesses emerge every day, the competition for the searchers' attention increases. To help you stay competitive, I am going to share the SEO best practices that you will need.
With 75% of searchers saying they do not browse past the first page of search results, it is important that your website isn't left in the dust.
This article will show the best SEO practices you can rely on to rank your website higher and start getting the traffic flowing in.
What is SEO?
One of the mistakes that most people make when doing SEO is a lack of knowledge of what SEO involves and what it takes to achieve high search engine rankings.
SEO stands for Search Engine Optimization.
Definition: it is the process of optimizing your website content so that a search engine will show them in the search results.
How does SEO work?
Search engine spiders will gather and index content on different topics. Once a user keys in a particular query, a search engine algorithm matches the available data with the searched phrase or keywords and displays them.
Now, what does SEO stand for in marketing?
SEO helps you to gain visibility in search engines and get lots of free high-quality traffic. So, if you want to build a sustainable acquisition strategy, you will need to add SEO to your marketing strategy.
Unlike paid promotion, SEO is a long-run process. You need to plan strategically what works the best for your website.
All this boils down to our article today, what SEO best practices can you adopt to bring your website to the top?
7 SEO Best Practices for Better Rankings
A combination of various SEO best practices is needed before you can see your website appeared on Google's first page.
Here are a few SEO best practices to get you started on the right footing:

1. Create Content that Aligns with Search Intent
The user intent, also referred to as the search intent, is the primary motive behind any internet search. Google, or any other search engine, ranks content based on the search intent. Thus, for your site or article to rank high on Google's first page, it must pass the search intent test.
For example, when an internet user searches for "how to cook an omelet," they are looking for content covering this topic.
As such, Google would provide search results for blogs and YouTube videos that satisfy the user's needs.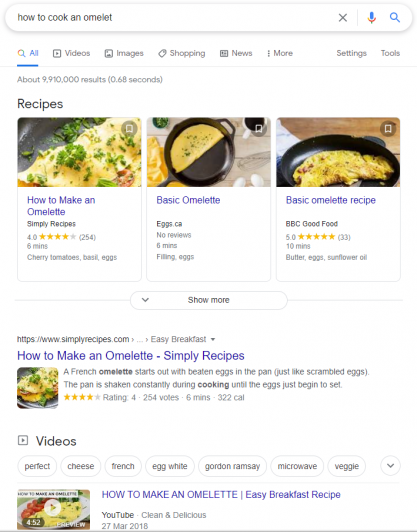 If you change the query to "buy omelet," it would then shows websites that sell omelet.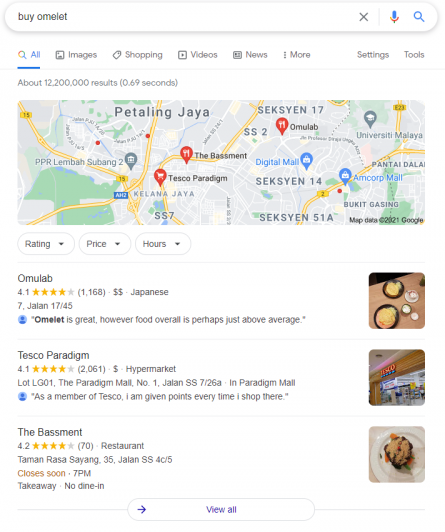 Understanding user intent can help you create content that ranks high on the first page of search engines. It acts as a guideline to what you should answer in your content.
Fortunately, you can use BiQ's Keyword Intelligence to check the intent behind the keyword search.
Just enter your keyword, and the tool will show you the intent type.

Search intent can be transactional, navigational, or informational.
So when the search intent is informational, write content giving information such as how-to guide or tips.
Vice versa, when the keyword has transactional intent, you can offer irresistible offers or show how to proceed with the purchase.
SEO best practice #1: Create content that matches the search intent.
2. Choose The Right Keyword To Target
Keyword research is a fundamental element that you need to fulfill in your SEO strategy.

You need to know what kind of keywords your target audience is searching for and what you can do to rank those keywords.

Well, how can you optimize your website if you don't know what keyword to target?

So the first thing you can do is simply brainstorm. Look at your product or service, and jot down all the keywords that people may use to find you. 

Once you got them, use BiQ's Keyword Intelligence to discover more keywords.
Here's how it works:
Step #1: Enter your keywords.

Step #2: Sort the keywords based on their value. A high-value keyword gives you more traffic at a lower competition.


Step #3: You may opt for long-tail keywords by filtering the results. Long-tail keywords are more specific than short-tail keywords.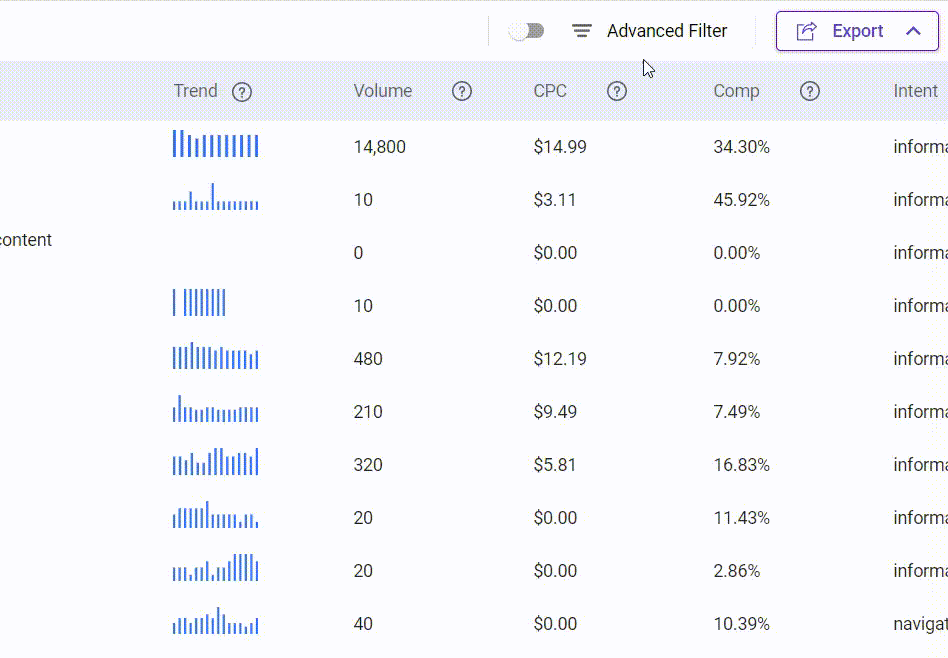 Users know they need to be specific if they want to get the results that they want. For example, "social media marketing for beginners" will bring up the results they are looking for.

On the other hand, you will have a much easier time ranking for the long-tail keywords because it has lower competition.
SEO best practice #2: Use long-tail keywords for a higher ranking.
3. Optimize Your Meta Tags
Optimizing meta tags – page title and description – is one of the highly overlooked SEO best practices.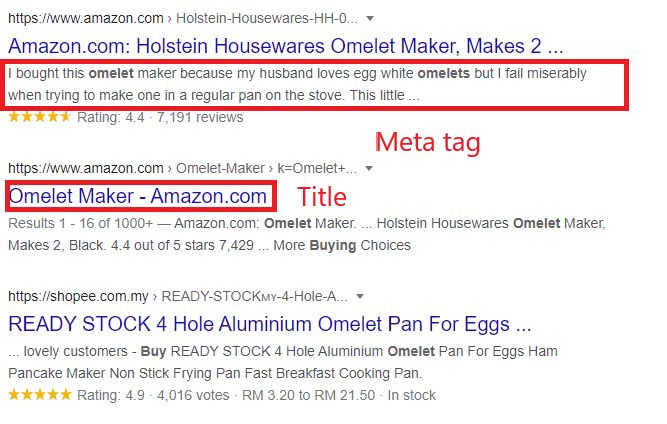 Let's look at these two separately:
Page Title
The title tags describe your clickable headlines, which will appear in search results whenever a user enters a query. These tags are very critical when it comes to the indexing and ranking of your content.
According to Google, creating quality titles is considered one of the SEO best practices. It helps users get a quick overview of what content to expect when they click the article.
Usually, users click on any search result based on their insight from the page title. As such, your pages should have high-quality and informative titles.
Search engines such as Google will display your title up to its 60th character. The implication is that the search engines will show your page's full title if it is within the recommended 50-60 characters' length.
However, the length is not enough. Other SEO best practices when creating page titles include:
Include the target keywords
Match the search intent
Avoid stuffing it with a keyword
Be concise and descriptive.
Meta Descriptions
A meta description is a brief overview of your page, and you can find them below the page title.
While meta descriptions have no direct influence on the search rankings, they can determine your page's click-through rates.
The best meta description should be interesting, informative, and relevant to your page's content. Ideally, it should be able to convince users to click them.
The SEO best practices for meta descriptions include:
Writing unique descriptions for the different pages
Using an action-oriented approach
Insert the target keyword naturally
Capture the search intent
Be accurate in your summary.
You may use BiQ's Content Intelligence to check if your meta description is fully optimized.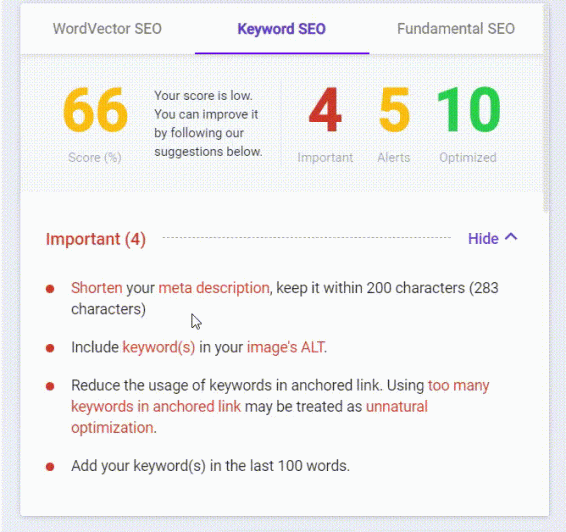 It will prompt you if you need to revise your meta description. For example, your meta description is too long, and you need to shorten them.
SEO best practice #3: Improvise your page title and meta descriptions.
4. Do Proper Image Optimization
Optimization isn't just about the text; you should optimize the images as well.
The rationale behind optimizing images is that they are critical in enhancing your site visitors' experience.
How much time do you spend choosing images to improve the aesthetics of your blogs or pages?
Most likely, you spend a lot of time but do you spend any time ensuring the images enhance your search engine rankings?
If used properly, images can enhance your SEO and even contribute to your organic traffic growth.
Here are a few SEO best practices for optimizing your images:
Your site's speed is a critical ranking element, and the images you include on your website contribute to the page size and speed. Thus, for better site performance, ensure that you optimize all the images.
The context of use should influence the decision on which format to use between JPEG and PNG. For instance, JPEGs are best for photographs, while PNG is useful for images with line drawings and texts.
The other file format option you can consider is WebP. This format produces 26% and 25-34% smaller images than PNG and JPG formats, respectively.
The size of your images affects the page load speed, so as one of the SEO best practices, it is important to compress the images you use on your pages.
You can use tools such as TinyPNG, ImageOption (for Mac users), ShortPixel (for websites running on WordPress) to compress your images.
Include all your images' alt text
Even though Google and other search engines have advanced capabilities to read and understand images, including the alt text, remains a critical SEO practice.
Besides improving your website's accessibility, adding the alt text makes it easy for browsers to understand any image you include on your site.
When creating your alt text, make sure it is informative and add your target keywords but sparingly. To prevent keyword stuffing, you may use related keywords or longtail keywords. For example, if your target keyword is "content marketing," you might use "how to create a content marketing strategy."
Simply add your target keyword in the Keyword Intelligence, and you will find hundreds of related keywords ready to be used.
If you are not sure which related keywords to use, sort the keywords by their value. Choose the highest value keywords that are relevant to your content.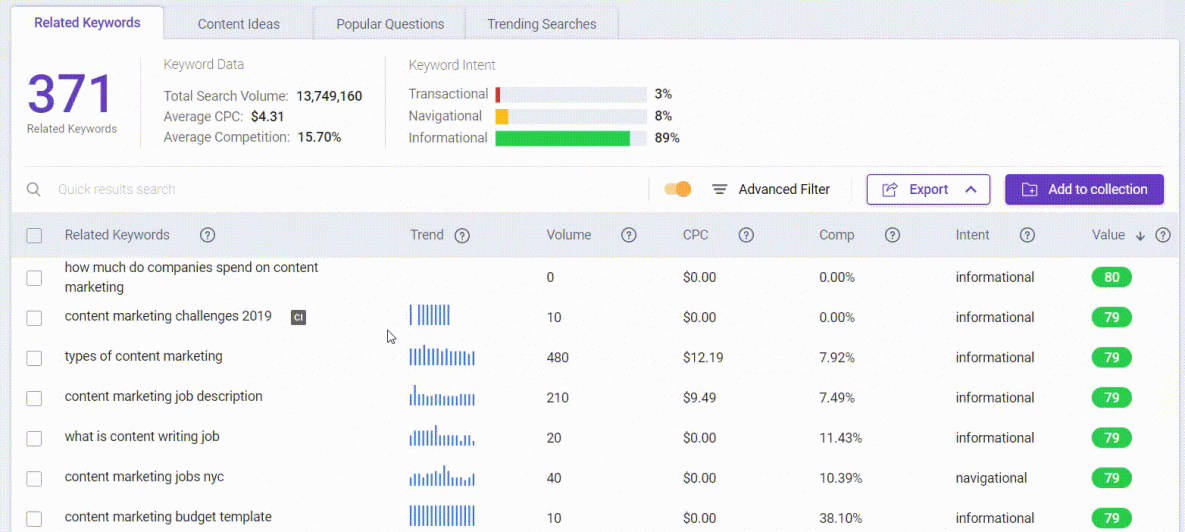 SEO best practice #4: Use the best image format, use compressed images, and add alt text.
5. Enhance Your Site's User Experience
The behavior of users on your website is an essential factor that search engines consider when ranking content. Thus, the user experience is vital when thinking about search engine rankings.
While focusing on load speed is among the critical SEO best practices, you should also embrace other aspects that influence your visitors' experience to achieve maximum benefits. 
Some SEO best practices for better user experience include:
Use responsive web design – responsive web design isn't just about how it looks but also how it acts and feels. Make sure your website works well on mobile, tablet, and desktop devices. 
Include heading and subheadings – H1, H2, and H3 tell the search engines what your website is all about. Additionally, it improves readability by allowing users to skim and get a quick overview of your content.
Use visuals whenever possible – people are naturally drawn to visuals. Use visuals like screenshots, videos, and images whenever possible to attract attention and also explain your points better.
Avoid intrusive popups – where necessary, such as when looking for email subscribers, adopt the exit-intent popups or design them to target visitors who have interacted with your content for more than 5 minutes.
Make sure page loads fast – load speed can really make or break your website. The bounce rate will typically skyrocket when the webpage takes ages to load. This may give a signal to search engines that your page content is not relevant to users. As a result, you will see your rankings drop. 
46% of people say waiting for pages to load is what they dislike the most about browsing the web on mobile devices.

Google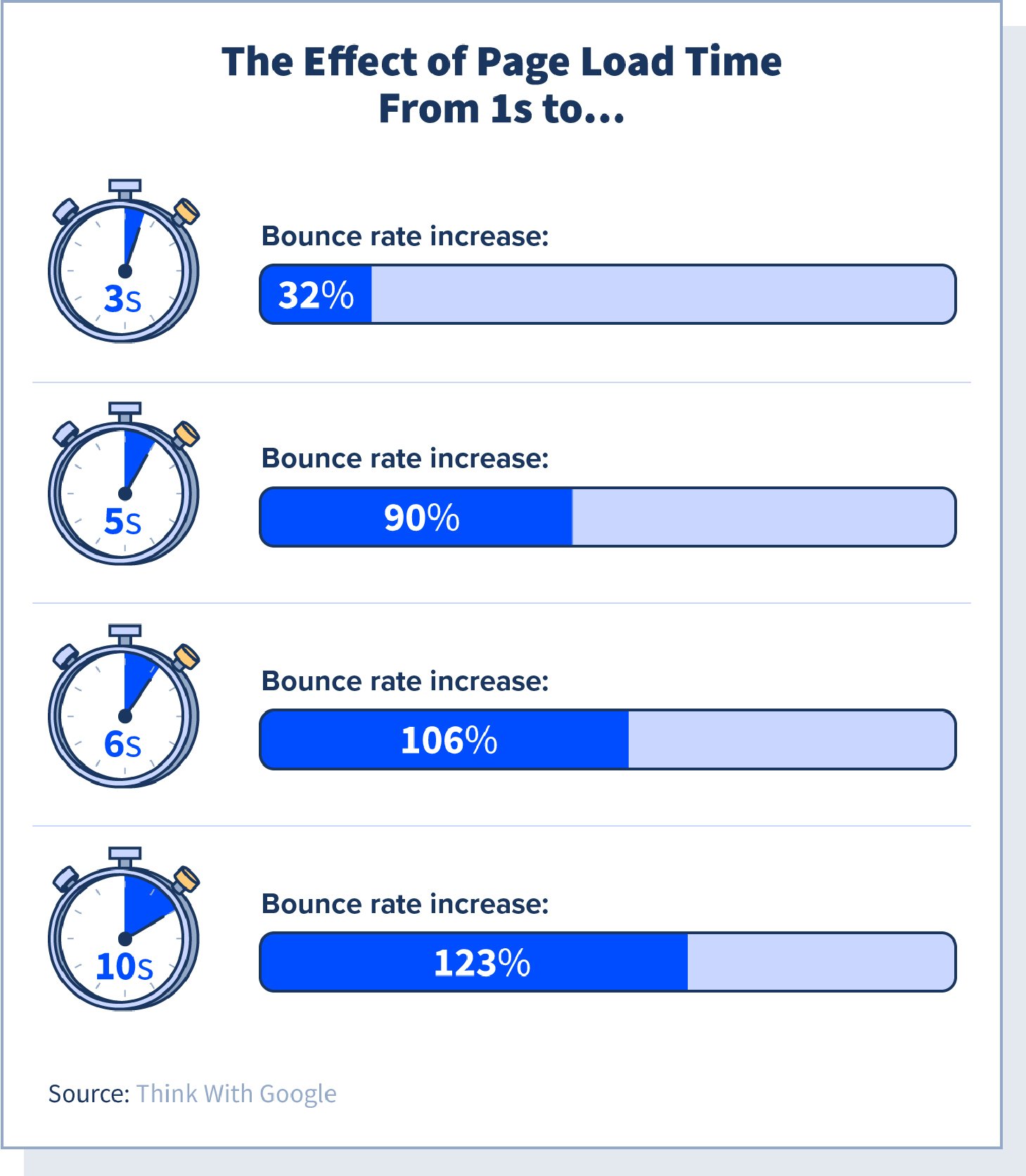 SEO best practice #5: Improve the user experience to ensure they can find what they are looking for with ease and speed.
6. Create SEO Friendly URLs
A good URL is essential for both search engines and user experience. It helps describe what the website is all about. In other words, it should be accurate, attractive, and well-structured.
Here are some tips you can apply when constructing your SEO friendly URLs:
Describe your content accurately – includes accurate words that describe the page content.
Keep it short and sweet – your URL should be as descriptive and briefs as possible. 
Include keywords – put your target keywords at the beginning of your URL.
Use hyphens to separate words – hyphens are treated as spaces between words.
SEO best practice #6: Create short and keyword-rich URLs.
7. Use Internal Linking
Internal links help search engine crawlers to understand your website structure better. At the same time, it also allows users to navigate through your website.
Besides, using internal linking improves your visitor time on your website and lower bounce rate. When you link relevant content that would help the readers, they will stay longer on your website. 
Here are some of the best practices you can use when creating your ideal internal link structure:
Use anchor text – use a natural sentence as your anchor text.
Use relevant links – link to content that is relevant to your source context.
Use a reasonable number of internal links – there is no magic number for the number of internal links you should use, but use it sparingly.
Do not use the same anchor text for two different pages – use other anchors for different pages to avoid confusion.
Writing descriptive anchor text, the clickable words in a link, is a useful signal to help search engines and users alike to better understand your content. The more Google knows about your site—through your content, page titles, anchor text, etc.—the more relevant results we can return for users (and your potential search visitors).

Google
SEO best practice #7: Use internal linking.
Embrace SEO Best Practices to Improve Your Website's Rankings
Whether you are starting with search rankings or being there for a while, these SEO best practices will be handy.
However, it is essential to note that these are just basic SEO practices to help you achieve higher rankings.
After you have successfully employed all of them, you should always stay updated with SEO trends and changes and learn more about other SEO strategies to remain competitive in your niche.