What is a good content strategy? Learn how to create a great content strategy that helps you grow your business.
Here are eight simple steps to help you build a great content strategy.
Businesses in all fields today have more competition than ever. You find that over 65% of businesses today actively invest in content marketing as a way of staying ahead of the competition. Just look at the illustration by Hubspot below: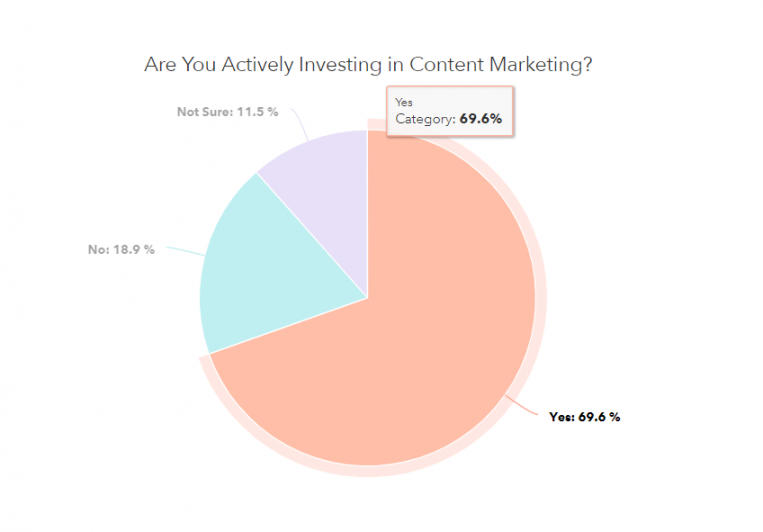 Successful content marketing starts with a great content strategy.
However, for most people, the very thought of creating a content strategy may seem daunting.
But if you think of it as more of a working game plan to help you achieve your marketing goals, processes, and expectations, it becomes less scary.
So, what is a content strategy?
What is a Content Strategy?
Developing a content strategy is a process that requires planning, creation, distribution, and measurement of content in all its online forms.
Think of it like a metric that's used to achieve your predefined marketing and other business objectives.
It's one thing to create content in today's digital realm, but creating value-added content that promotes your brand's goals is something else.
Therefore, whether you're looking to generate leads, raise awareness, or increase your sales, establishing a well-defined content creation strategy is the surest way of closing any gaps preventing you from achieving your content marketing goals and results.
Basically, learning how to create a content strategy is only half the job. It is how you implement that knowledge and apply it in your content that counts.
That brings us to the next question: how do you develop a content strategy?
8 Steps to Create a Content Strategy
From the content strategy definition above, it's evident that a good strategy requires good planning. The key here is to strategize before producing content.
Remember, it's not just a matter of churning out content for the sake of it.
You must produce great content for your users to stay and engage with your posts. Additionally, it's one of the most effective ways of boosting your rankings in SERPs.
Understandably, this makes content strategy a far more superior approach to your marketing objectives.
So, we narrowed it down to eight essential steps that will help you form an effective content strategy template:
1. Be Clear on Your Goals
All great content is created for a specific purpose. Creating a content strategy that clearly outlines this purpose must be defined for you to expect the desired results.
It's not rocket science. You simply ask yourself, "what's your purpose for creating this content?" the key lies in what you intend to achieve through the content you want to create.
Therefore, you must know who you are creating your content for and why?
You may create content for any of these reasons:
Boost brand awareness
Convert users
Attract past customers
Generate leads
Improve search ranking results
Etc.
Whatever your reason for crafting new content, you must have clearly defined goals and use content strategy to achieve them. Ensure you know your goals before you start planning your content strategy, and you'll have a much easier time understanding the best solutions for your strategy.
2. Understand Your Audience
Any content strategy is only always as effective when it's directed to the right, intended audience. In all honesty, even the best, well-crafted content won't mean much to an online user who isn't interested in it.
Therefore, before you start typing, you must collect valuable information by watching for the following clues:
What your prospects are into
What sites they are visiting
Which types of content they engage with more
What they spend their money on
Which social media platforms they use to share content on
If you get the answers to all these questions, you will be better placed to answer the most important piece of all:
How can you solve your prospect's problems?
Before you can answer that question, you need to know how your prospect finds you.
Fortunately, there's a tool that can help you solve the mystery. Meet Rank Intelligence.
Rank Intelligence reveals all the phrases and keywords that your audiences use to find your website.
First, enter your website URL into Rank Intelligence. Then, select the country where the audience is based.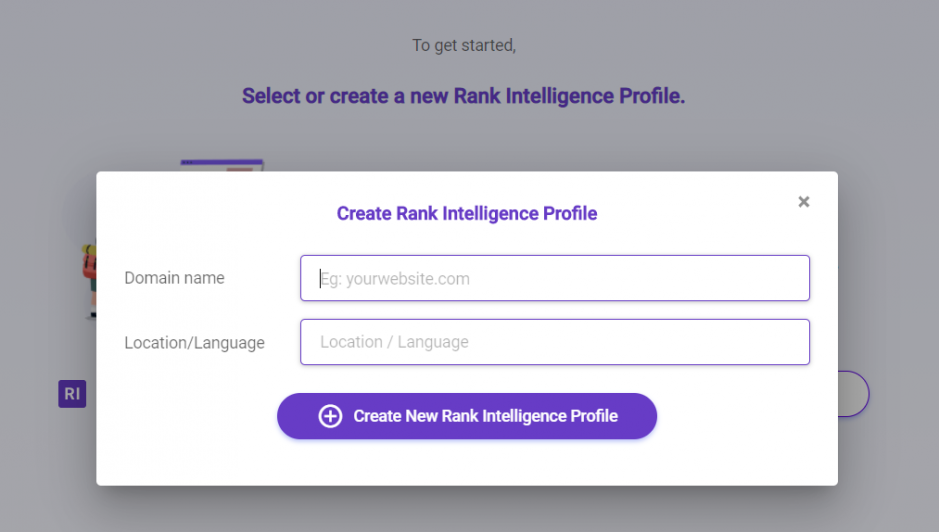 You will get to see all the keywords your website is ranking for together with the important insights such as search volume, cost-per-click, and competition, and so on.
From these insights, you will discover not only the search phrases they use to find you but also your most popular content.

3. Brainstorm Content Ideas
By this stage, you should have a rough idea of who your target audience is and the kind of content to relay to them.
The next phase is to lock in on the best topics your audience cares about the most. Here's where Keyword Intelligence comes into play.
Use the Content Ideas feature in BiQ's Keyword Intelligence to quickly find ideas that will make great blog posts, which will keep your readers coming back for more.

Enter your keywords or phrases, and this tool will come up with a list of content ideas that you can use to prove a hit with your readers.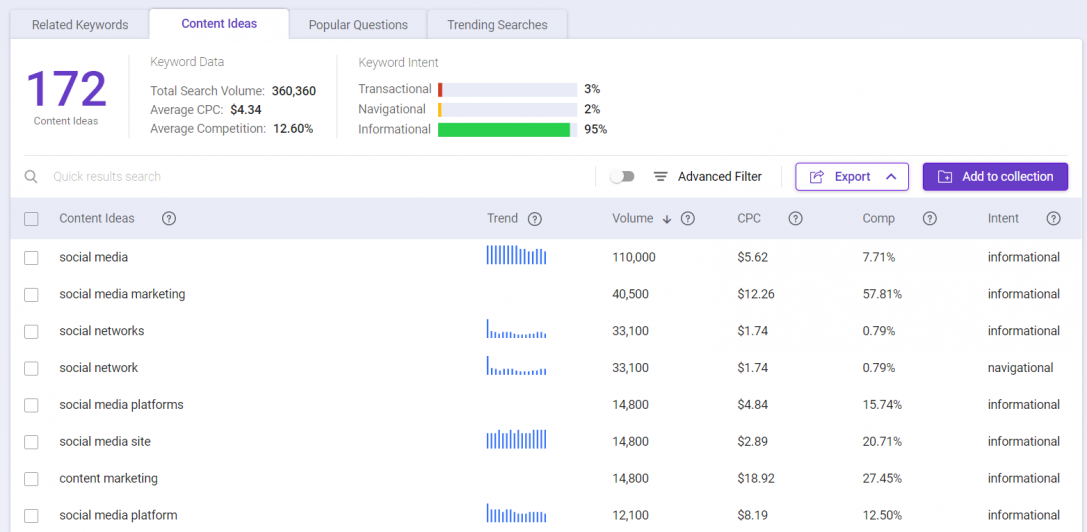 The best part?

All keywords come with a set of vital metrics that you can use when deciding which topics you want to focus on.

For example, you can use the search volume to determine a 'demand' for the topic. At the same time, the trends tell you if the topic is emerging. Keep an eye on what's trending to capitalize on it to get engagement.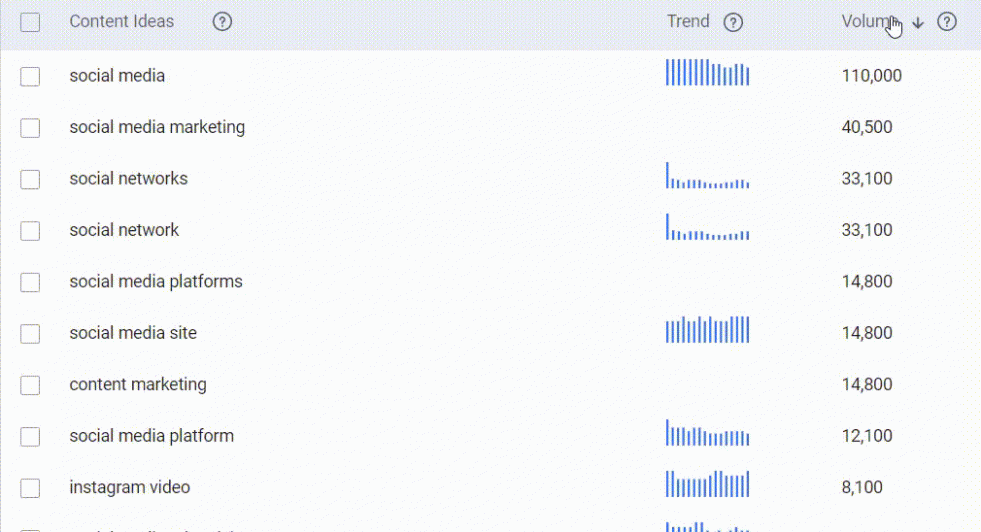 Get to see trending topics in Keyword Intelligence.

Another way to get more content ideas is by looking at your competitors' best performing content.

Simply enter your competitors' website in the Rank Intelligence, and it'll show you all the ranking keywords.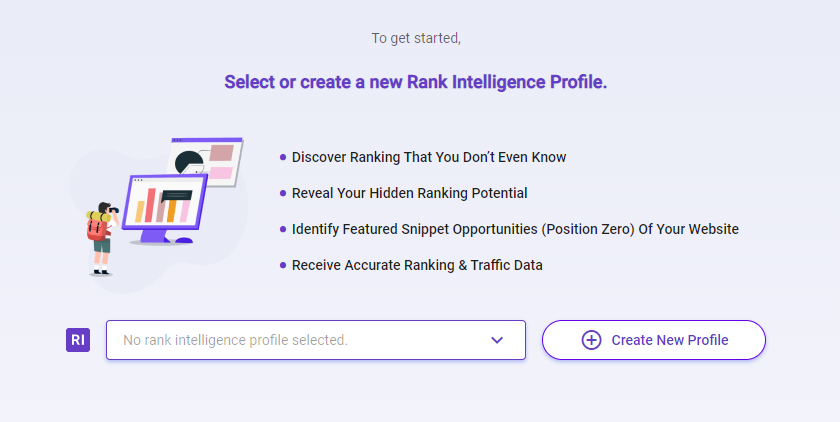 Go through the keyword lists to help you brainstorm for more content ideas.
4. Map Your Audience Needs to Your Product or Service
Map out your audience's journey to determine what factors drive them to take specific actions. Therefore, you want to have detailed information regarding your product's discovery phase, the consideration phase, the point of purchase, and hopefully convert them to repeat customers.
As with all online businesses', your buyers' will judge your brand based on the first impression. But even this relationship won't end there. The ultimate goal of every content created is always to drive revenue. Brand awareness and reputation occupy the top layer of this funnel.
Eventually, all content must connect to consideration and purchasing decisions to retain buyers.
That said, you need to understand each buyer's journey's user intent so that you can map the right content.
The question is: how do you identify user intent?
Easy. Use Keyword Intelligence.
Say you want to know the buyer's intent when searching for content related to your post online. BiQ's Keyword Intelligence will estimate the keyword intent percentages based on all keywords in the post.

The keyword above has an informational intent, which means the searchers are in the awareness stages.
Since the searchers are looking for more information, you can create informational content such as 'why do you need content marketing?' and 'top content marketing examples'.
Scroll down, and you'll be able to identify each keyword intent so that you can understand your target audience better.

This feature helps you in eliminating assumptions and guesswork as it identifies the users' intent. Therefore, you always know the best content to create, how to use it, and who its target audience is.
5. Determine Which Types of Content You Want to Create
Truthfully, knowing which best content marketing strategy to use can be quite overwhelming. There are so many options to choose from. You can quickly end up creating the wrong content for your audience.
Besides improving your SEO, a content strategy is also an excellent tool for building relationships with your prospective and existing clients. You must choose the right type of content to relay useful and relevant information to help solve your prospects' problems.
Content can come in the form of:
Videos
Infographics
Case studies
Blog posts
Webinars
Podcasts
Social media content
How-to-guides
Different types of content marketing need different strategies to reach their respective target audience. The business type and the number of audiences also play a significant role in determining which content type to consider.
For optimal results, experts recommend that you implement several types of content marketing strategies.
For example, it's possible to invest in blogging, email marketing, and social media advertising at the same time. While this may seem a bit overwhelming, it will help you reach a broader audience.
6. Conduct a Content Strategy Gap Analysis
Here, you'll be looking for different trends to determine what successes to build on and the sections that need improving. Therefore, you will be looking for gaps in your content that may prevent you from maximizing your marketing strategies.
You can use Content Intelligence to identify the gaps in your content strategy. Its AI-proprietary feature, WordVector, tells you the performance of your content against the Top 10 SERP content in relation to your target keyword.
The best part about this feature is that it can tell you exactly which paragraph has lesser relevance to the overall content. The line-by-line analysis will inform you which paragraph needs revision.

You can then dive deeper into the paragraph and better understand how to improve its relevancy to your target keyword.

Here's a great tip, try to use related keywords to increase your overall content relevancy than stuffing the same target keywords.
7. Create a Content Strategy Calendar
This step bridges the gap between developing a content strategy and creating actual content. Your output must remain true to your organization's strategy by scheduling the foundational content that you will use within the set timeframe. You must also ensure all your fundamental content strategy processes are accessible by your entire team.
Most new content creators in the industry are always looking to push as much content out there as they can. However, this doesn't always resonate well with your audience. Ultimately, every piece of content we create is for our audience. So, work on doing what works best for them, and they will appreciate you for it.
There are many content calendar tool that you can use. One of them is Trello. It is simple to use and great for simplifying your workflow.
Here is the free blog editorial template that you can use in Trello.
Your calendar's first element should incorporate all research made on topics, keywords, formats, etc. Given that your first objective will be to capture your audiences' attention and build loyalty, you will need to populate your calendar with core content pieces. Go after relevant and useful topics that thoroughly address your audiences' pain points.
Check out more content marketing tools you can use.
8. Measure Your Efforts
Lastly comes one of the most important tasks of all. You need to refer back to your goals and use different metrics to determine your progress. Any growing business must learn to closely and carefully monitor the success of their contents' effectiveness.
Putting effective performance measurement systems in place should help you keep track of your business's progress. It will also provide you with vital information about which sections to improve on and which parts to focus on more.
If you want to track your website's content progress, you may use BiQ's Rank Tracking to do so. This tool can help fill in the time lag or missing data you would otherwise see in your Google Search Console.
All it takes is to create a rank tracking profile for your website, and you can keep track of your keyword's daily rankings and its historical data since the day it's added.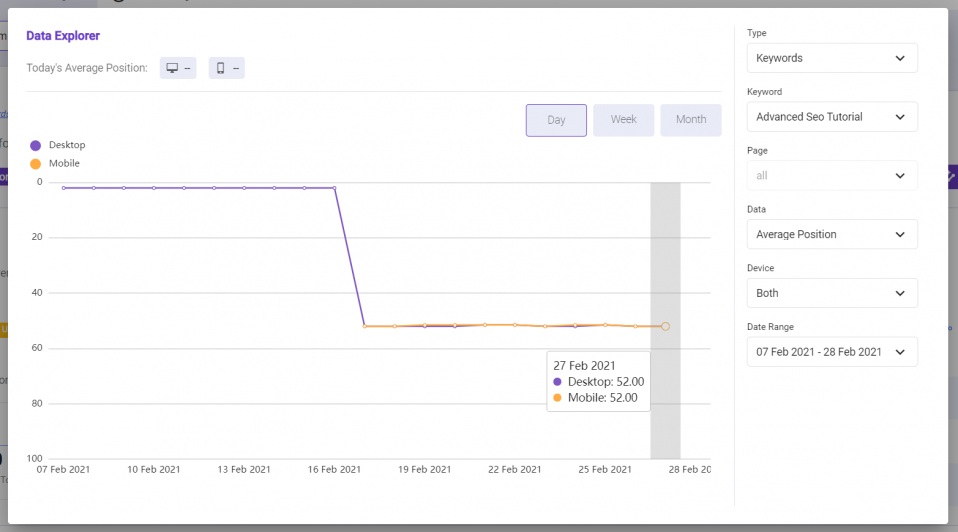 Quickly identify your keywords' gains or losses so you can act in response to secure your keyword rankings from being stolen by a competitor or take the chance to boost your keyword rankings further while it's in trend.

In addition to the multiple keyword rankings movement for the page. Be the first to know when something critical happens.
Conclusion
There you have it:
My 8-step content strategy.
Now I would like to hear from you…
Which strategy are you going to try first?
Are you going to do a content mapping or redesign your content strategy?
Or do you want to search for more blog post ideas?
Either way, let me know in the comments below!