When it comes to blogging, there are a few areas a writer has to cover. Learn the 10 blog best practices that are SEO friendly and can drive traffic to your blog.
Understand the blog best practices and establish a successful site.
In today's digital marketing world, blogging is much more than merely 'putting pen to paper.' Yes, you can easily start a blog and publish killer copies, but getting people to see and click on your blog and ultimately buy your product/ service is a whole different art.
You see, cyberspace is an ever-crowding sea of overwhelming digital overload. And all this noise is making driving traffic to any blog or website a monumental undertaking.
To rise above all the noise and actually boost blog traffic, you'll first need to understand some of the principles behind how traffic works.
This includes things like email marketing, social media marketing, and SEO. Talking about SEO, here are:
The 10 Best Practices For Blog
Blog Best Practices #1 – Use Related Keywords
Did you know that 90.63% of Google pages don't get any traffic? Why? Most website owners don't bother to use relatable keywords in their copies.
To avoid being part of this group, ensure to undertake keyword research before writing up a blog. Keyword research basically helps you to realize what your potential customers (or readers) are querying for on search engines and how.
What's more, keyword research answers questions such as:
How hard is it to rank for a specific keyword?
How much traffic is my blog likely to get when you rank for the keyword?
What kind of content do you need to rank for the keyword?
Are the users searching with this keyword likely to become your audience?
Keyword research involves analyzing and comparing different keywords to find which ones offer the best opportunities. Use BiQ's Keyword Intelligence to find related keywords that searchers are interested in.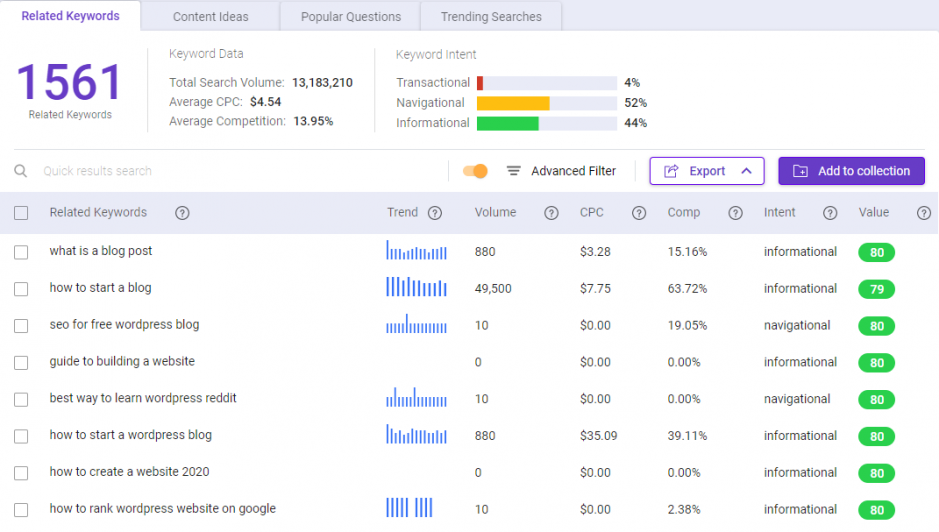 You will see all keywords come with vital insights such as how many people are searching for the keywords, the searcher's intent, and so on.
If you are unsure which keyword to use, you can sort the keywords based on their value. The higher valued keyword means it can potentially bring more traffic to your website at a lower competition.
Blog Best Practices #2 – Target topics with "Search Topic Potential"
As you may know, large brands dominate competitive keywords with their insane backlink profiles as well as deep pockets. Take the term "best credit card" for example. Major players like CreditCards.com, Credit Karma, and NerdWallet dominate Google's search results for this term.
And from the top five results, the average number of backlinks from unique websites (for each result) is about 300. As such, ranking for "best credit card" in the short-to-medium term is impossible for 99% of people. This is why it pays to target topics with better 'search potential.'
For instance, "best credit cards for lounge access" instead of "best credit card." In as much as "best credit cards for lounge access' has lower organic traffic and search volume potential, you won't need loads of backlinks to rank, and the competition is less serious.
Find easier topics to target by using BiQ Keyword Intelligence "Trending Searches and Popular Questions" tab.
You can look for newer and trending keywords using the Trending Searches feature in BiQ's Keyword Intelligence. Here's an example of what you'll be getting.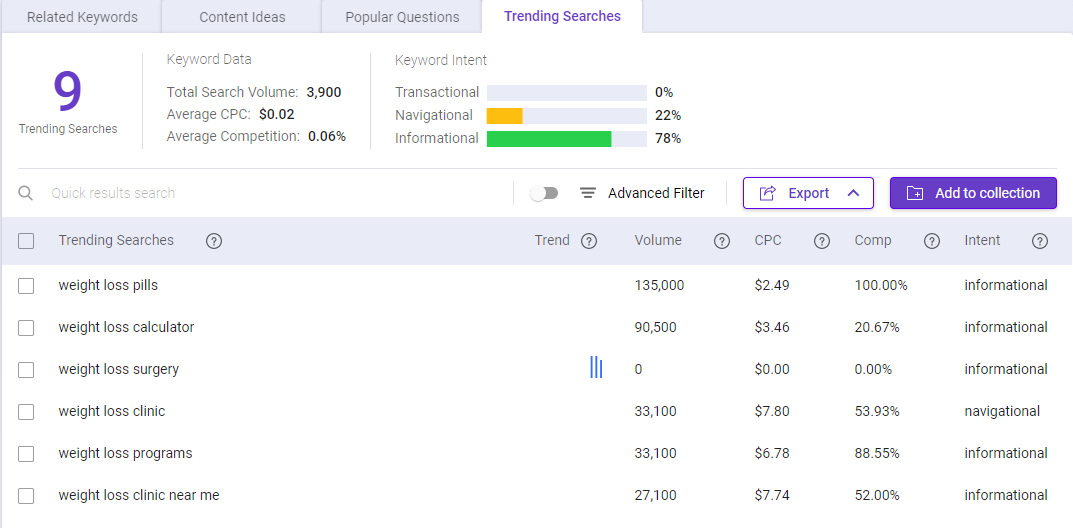 Trending searches show the latest keywords or topics around your selected keyword. It helps you discover what trending searches people are searching for online.
On the other hand, you can check out the Popular Questions feature in BiQ's Keyword Intelligence. You will see a list of questions with answers.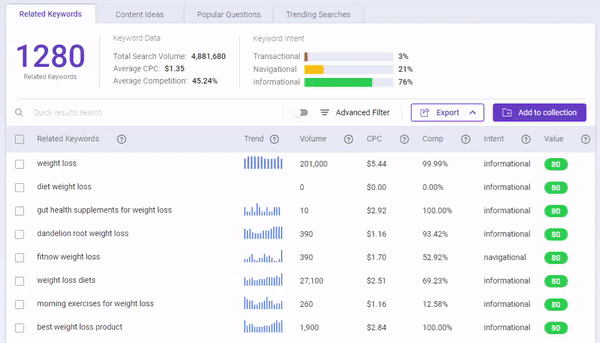 The feature shows questions that searchers frequently ask in the search engine.
What you need to do next is to compile a list of questions that are related to your topic and include the answer in your content.
Blog Best Practices #3 – Have an Enticing Headline
You must incorporate click-worthy titles in your blog to drive traffic, search results, and shares. Headlines are the first thing users look at whenever they search for something on the net. So your headline must be enticing enough to capture attention immediately as well as compel busy readers to stop scrolling and click.
According to Copyblogger, 80% of all visitors who visit your blog will read the headlines, and out of those, only 20% will proceed to finish an article. This simply goes to show that an excellent headline is not only crucial but also game-changing. With that said, an enticing headline consists of common, uncommon, emotional, and powerful words.
You can use a blog title generator to generate catchy headlines that help drive traffic, SEO value, and social shares to your site.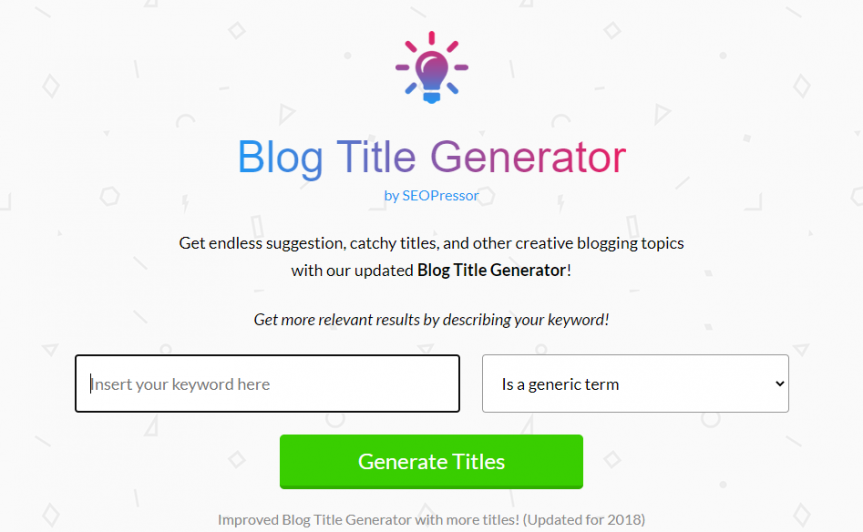 Blog Best Practices #4 – Use Paragraph and Headings
It's important to acknowledge that users who'll visit your blog are all dissimilar people. Not all of them have the time to read through every line in your copy. As such, utilize headings and paragraphs to allow those who don't have the time to read everything to take in only those parts that interest them.
Additionally, you can use headings and subheadings to improve your blog's SEO rank, which ultimately leads to more traffic. Headings also make your content more engaging and lower cognitive load. While paragraphs break it up for better readability.
BiQ Content Intelligence has the exact metrics that are catered to boost your visibility. You'll be able to see them when you switch over to the WordVector toggle and hit the analyze content button.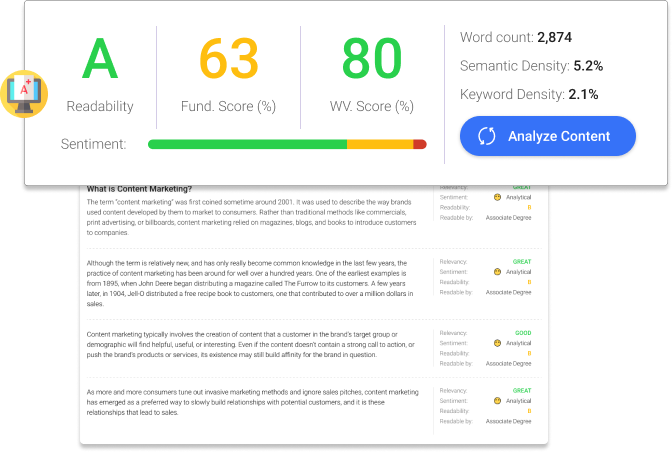 Readability: This tells you how easy it is to read the section. This is an indirect ranking factor because if your content is easy to read, your readers are sure to spend more time on your website.

Sentiment: Show the analysis of your content's emotions behind the words; positive, neutral, and negative. This guides you in building a strong customer experience by avoiding sounding negative in your content.

Word Count: You'll have a higher chance of ranking if you write long-high quality blog posts that could help your organic traffic grow. When your text is longer, Google has more clues to determine what your content is about.

Semantic Density: This shows how semantically relevant your content is with your targeted keyword. Through this, you can develop targeted content that answers your customer's questions.

Keyword Density: This shows how many times your targeted keyword is repeated in the content. Naturally including keywords will increase relevance for a particular term.
These are lesser-known factors that could actually contribute to your ranking when optimized well. Go ahead and understand your content better with BiQ Content Intelligence today!
Blog Best Practices #5 – Write to your Audience
You may have what you think are the best blog content ideas, but if that's not what your audience is looking for, you won't drive much traffic to your site. It's thus crucial to research what your potential audience wants, their problems, and how you can help through your blog.
In other words, it is understanding user intent.
You may use BiQ's Keyword Intelligence to check the keyword's intent. Let's say you want to know the searcher's intent when searching for 'content marketing.' Type them into the keyword tool.
It will show you the estimated keyword intent percentages based on the total number of related keywords.

The keyword has an informational intent from the example above, which means the searchers are in the awareness stages.
Since the searchers are looking for more information, you can create informational content such as 'why do you need content marketing?' and 'top content marketing examples'.
Scroll down and you'll be able to identify each keyword intent so that you can understand your target audience better.

That is a great help because it eliminates assumptions and guesswork to identify the searchers' intent.
One thing's for sure- nobody cares about what you do. As in, if you're selling tires, you'll hardly sell anything by telling your audience how good you're at selling tires. Instead, tell them how to select the best tires for their specific vehicle and the types that work best with different terrains.
Then you can mention that you sell tires. This way, your audience feels that you've already helped them with some information they needed so they start considering coming back to you for the tires themselves.
Blog Best Practices #6 – Incorporate Target Keyword in Three Main Places
As you know, every blog topic should have a keyword that makes its content 'searchable'. This is the keyword most SEO experts call the 'head' keyword. Take a blog post headlined 'how to lose weight naturally' for example.
The head keyword here is 'natural weight loss.' Yet, other than the headline, you'll need to incorporate your target keyword in three other crucial places:

A title tag is simply an HTML specifying a web page's title. Title tags get displayed on SERPs (Search Engine Result Pages) as the clickable headline for a specific result. What's more, title tags are crucial for SEO, usability, and social sharing.
Google suggests that writing title tags accurately describe the content on your web pages for better ranking. So if you're targeting a given keyword, ensure it features tactfully in the title tag.
Remember, readability is paramount. Don't cram your target keyword in the title tag if it doesn't make sense. For instance, if your target keyword is "kitchen cabinets cheap," you can add in stop words or rearrange it into "How to Find Cheap or Free Kitchen Cabinets" to create a title tag that makes sense.

Also known as "web address," a Uniform Resource Locator (URL) specifies a web page's location on the internet. In other words, a URL is a human-readable text designed to replace the IP addresses computers use to communicate with servers. It helps to specify how to digitally retrieve a particular resource or webpage.
If anything, a URL consists of a domain name, protocol (HTTP, HTTPS, FTP, etc.), and path, which is the specific subfolder structure for each web page. And because a URL is a minor ranking factor, you can improve your blog's search visibility and ranking by including your target keyword in the URL.

Have you structured the HTML coding for your website? It tends to appear like an outline consisting of a main heading and subheadings. Now, it's crucial to place keywords in the headings for better SEO results.
You see, as part of HTML coding, headlines get defined with heading tags H1 to H6. The H1 tag represents the most crucial heading on the page (usually the boldest or largest too), while H6 defines the lowest-level heading.
Since search engines use headings for categorization (not cosmetics), you want to include your target keyword in them, and especially the H1 tag. It indicates your most important topic.
Blog Best Practices #7 – Optimize Images
Google images are one of the top ways users can discover the information on your web page. In fact, users can today explore information around images with more context, thanks to new features like prominent badges, image captions, and AMP results. Adding content to images makes results more useful, which translates to higher-quality traffic for sites with worthwhile images.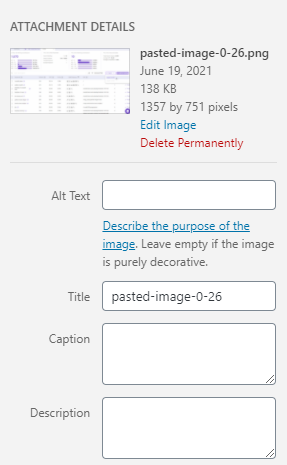 Now, when it comes to optimizing images for SEO, compressing images, using descriptive file names, and adding alt tags are some of the most beneficial things to do. Luckily, these are simple tasks. All you need to do is describe your specific image in words to optimize it.
Blog Best Practices #8 – Add External and Internal Links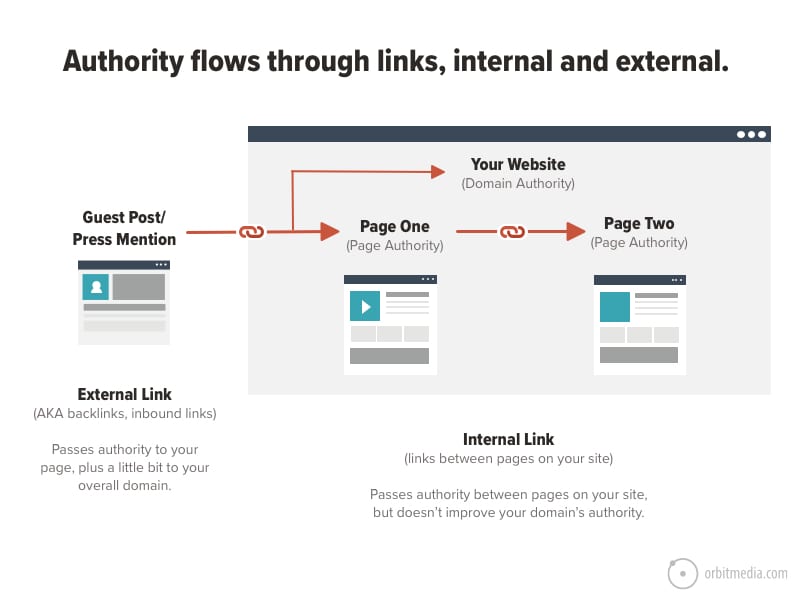 Links are basically roads and bridges to more content users love or need. In general, the more links your page has- from both internal and external sources- the higher its PageRank. PageRank is the foundation of Google's ranking algorithm, and remains crucial to this day, despite Google discontinuing its public PageRank scores in 2016.
Internal links offer additional content via their anchor text, which helps Google realize what your page is about. So it's good practice to include internal links to other relevant pages on your site whenever you publish something new. On the other hand, external links increase the authoritativeness, expertise, and trustworthiness of your content.
Referencing authoritative sources can help substantiate whatever you're claiming in your content.
Blog Best Practices #9 – Publish Content Regularly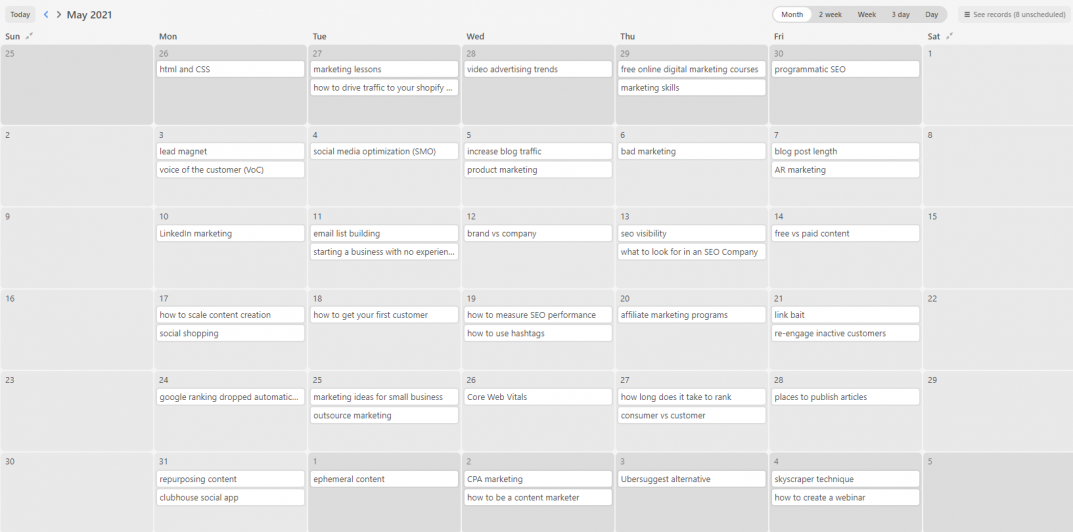 While posting on a given schedule is good, posting often is excellent! Yes, posting every week is no longer good enough. If you have good content, people want it and they want it fast.
Google too loves more regular updates. Because adding updates to old blogs and posting fresh content more often helps with better ranking for SEO. You see, constant blogging helps with brand awareness, and most importantly, builds organic traffic.
Traffic going to blogs is normally compounding. Meaning it gains the site organic results over time. So by constantly updating your content, you get more recognition, more reads, and possibly, more fans.
Now, how often is it? Most small businesses find success posting 1 to 4 times a week. Larger businesses should push out daily, or even multiple daily posts.
Blog Best Practices #10 – Social Share
To encourage engagement, which ultimately attracts more traffic, promotes your blog as much as you create content. You can best do this by posting your blog on channels your audience love. So first start by finding out where your potential audience 'hangs out' on the internet.
Promote your blog in such channels, start conversations by posing questions, and leave comments. Being present is the easiest way to create a relationship with your audience, and make yourself an authority in a given subject. It is also one way where you can get free blog traffic!
Conclusion
In as much as there are other methods of improving SEO, the aforementioned blog best practices are an excellent starting point. They'll surely get drive traffic to blog and give you the ranking you desire just like the other popular blogs. So ensure to incorporate them whenever you're writing blogs.
All the best!