Mobile marketing is a must-have skill for marketers and advertisers. Types of mobile marketing are barcodes/QR, mobile ads, and SMS marketing. A strategy you can use is create mobile-friendly content
As the world becomes more mobile-centric for their day-to-day activities, mobile marketing through devices seems like a must-have skill for marketers and advertisers.
Unfortunately, that is not the case.
Most marketers are treating mobile marketing as a general extension of the PC or desktop environment, which is not right.
Mobile marketing is its own arm of marketing and hence should be treated differently.
Through the channel, you can develop bespoke marketing campaigns and reach potential clients in absolutely new ways.
The channel gives marketers an opportunity to various individual touchpoints and offers new ways to engage audiences before the competition.
What Is Mobile Marketing?
Mobile marketing refers to the process of advertising a business or a brand in a way that is designed for mobile devices through applications, websites, and social media channels.
The unique marketing strategy allows brands to target wider audiences than they would by only concentrating on desktop marketing strategies.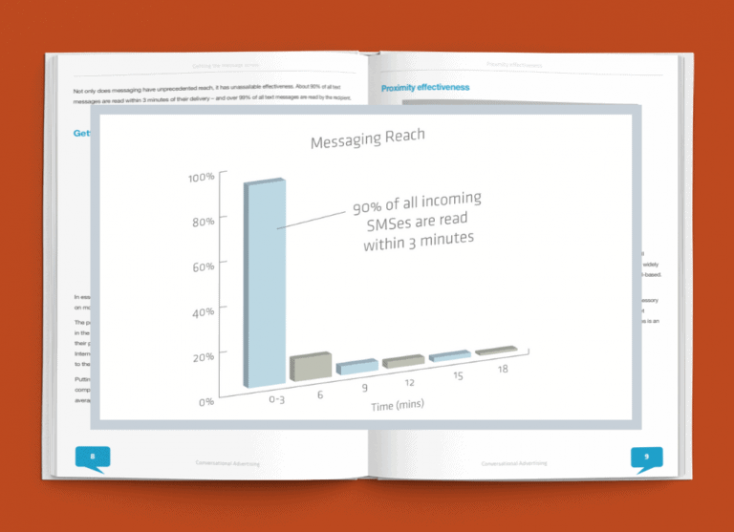 According to research done by Statista, over 2.14 billion people globally are expected to make their purchases online in 2021.
This is over 500 million people, up from 1.66 billion in 2016.
This shows how mobile marketing is essential, particularly now.
You should take advantage of these statistics plus the number of hours people spend on mobile devices to showcase your brand!
Because the average individual spends around 5 hours a day using their phones, it is only feasible that marketing efforts be optimized for mobile users across different digital channels.
Why Mobile Marketing?
If the statistics mentioned above are anything to go by, mobile marketing has enormous potential.
After all, 49% of Americans own more than two smartphones.
And 79% of mobile users have their devices near them for more than 5 hours per day!
Be as it may, taking advantage of this opportunity requires planning. 
Mobile trends evolve very fast, and it takes commitment and hard work to keep up.
From mobile applications to SMS and email, each contact point needs prudent consideration when developing a practical mobile marketing approach.
Here are more reasons why mobile marketing is vital.
Reach
There are more than 2 billion mobile users now, and the number is expected to grow considerably by 2025.
This means that it is easy to reach people via the devices and engage customers effectively by creating a timely and personalized brand interface.
People spend more time on their mobile devices and become habituated to using some sites and apps.
This makes them loyal and more likely to make a purchase through an app that they trust than other channels.
Also, click-through rates are always more on websites and apps on phones than desktops.
What's more, mobile can help your message or posts go viral because content can be shared faster and seamlessly than with desktops or any other devices.
Smart-phones are portable.
They go wherever their owners go meaning your adverts go with them too!
Personal
91% of mobile users keep their phones on them or near them.
As such, brands can use this chance to make one-to-one engagements with such people through their devices.
Connecting with an audience through mobile creates a personal touch in various ways.
For instance, as a marketer, you can develop customized web pages depending on your users' behavior.
You can also share super personalized or tailored push notifications or offer unique coupon codes for purchases made from mobile devices.
Instant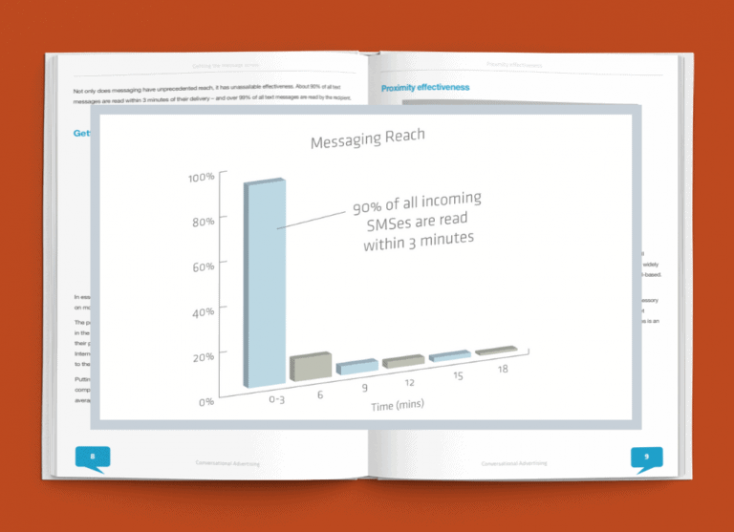 One of SMS marketing's significant benefits, besides 99% SMS open rates, is how fast customers open SMS marketing messages.
According to a report by Mobilesquared, 99% of SMS's are opened within 3 minutes compared to 6% for emails.
What's more, 99% of all marketing messages are opened within 20 minutes!
This means you can reach your audience constructively and instantly with less effort.
Cost-Effective
Running conventional advertising systems such as printing, TV, or billboard ads is obviously more expensive than running an SMS marketing campaign.
Also, unlike other digital ads like email marketing, PPC, or creating a website, text messages are relatively easy to run.
You do not need any technical skills.
Mobile E-Commerce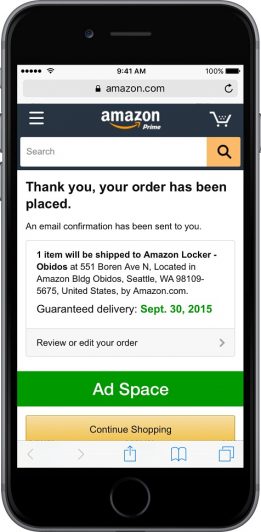 As mentioned earlier, more than 1 billion people use mobile devices to browse today, and digital shopping is trending now more than ever!
Actually, more than a third of the e-commerce industry is mobile-driven.
It is no longer a secret that the COVID-19 pandemic forced a surge in e-commerce activity worldwide.
People found it safer to make online purchases than to go to brick-and-mortar stores.
That is why mobile commerce is becoming popular as retailers and companies gradually switch from techniques designed to create awareness about their online brands to integrating mobile marketing in their business strategies.
E-commerce shopping apps are now the real deal.
This means making it easy for clients to make purchases by just tapping a button on mobile is the priority of most companies.
Also, most shopping apps not only provide memorable shopping experiences for customers but also collect data about their purchasing habits, making them ideal for driving sales.
So, if you are not investing in e-commerce, you are putting your brand at a disadvantage.
Especially if you consider the fast-growing popularity of internet shopping and the multi-screen world we live in today.
Types of Mobile Marketing
Mobile App-Based Marketing
You can create your own as part of a mobile marketing approach or partner with established third-party apps.
Services as Google Admob allows users to create ads that appear within different third-party applications.
Barcodes/QR
These are codes scanned by a phone's camera.
Consumers are redirected to a page where they can see more details about a particular brand.
Location-Based Marketing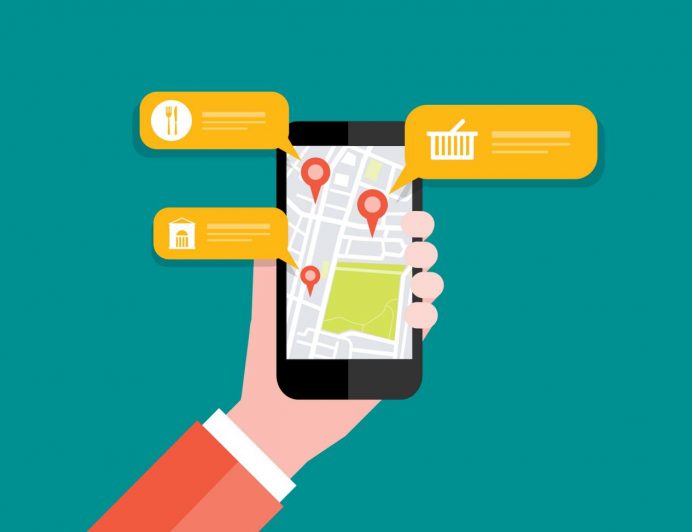 These are mobile adverts that appear on devices depending on a customer's location.
This means they will get adverts about different brands located in that specific area they are in.
Mobile Ads
These are similar to banners that appear on desktops.
The only difference is that they are designed to fit on the screens of various mobile devices.
SMS Mobile Marketing
Is your audience ready for SMS notifications or not?
You will never know the answer to that until you put your systems to the test.
Nonetheless, what most people don't know is that the invasive method is beneficial when implemented appropriately.
In fact, the method sees a whopping 97 % open rate and 40% CTR (click-through rate)!
Keep in mind that you only want to send messages to people on your mailing list, making it very useful.
As such, when advertising, remember to:
Keep the messages very short
Show value clearly and quickly
Include a clear and easy to see CTA
Make sure your audience knows who is sending the message
MMS Mobile Marketing
MMS (Multimedia Messaging Service) is a marketing technique that uses media to engage potential clients.
MMS is like a bigger brother/sister to SMS with the additional effect of being able to have multimedia within the text.
The content usually includes:
Images
Videos
Audio clips
Gifs
Audio clips (although rare)
Multimedia messages allow brands to boost their text/message with visuals to optimize their effect.
That said, MMS is not only about sending lovely messages with good pictures.
There are some aspects that you must keep in mind if you want the best results.
The factors include: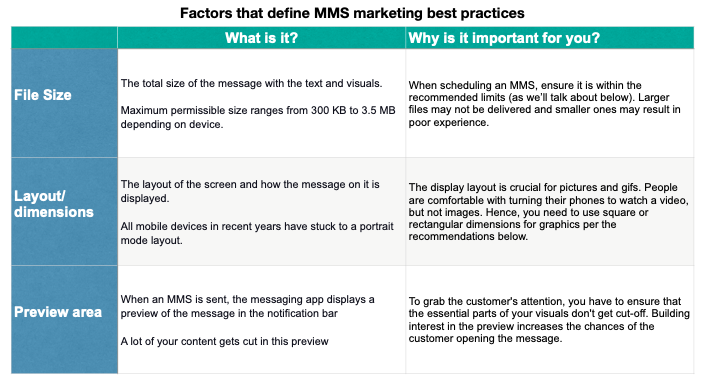 Keep them short and precise.
Concise and straightforward content gives better results for mobile marketing than longer text as an extended copy is likely to lose your audience's interest.
Also, try to split the message between the media and the body and include CTA to make it seamless for readers to quickly share or take action.
Mobile Marketing Strategies
Create Mobile-Friendly Content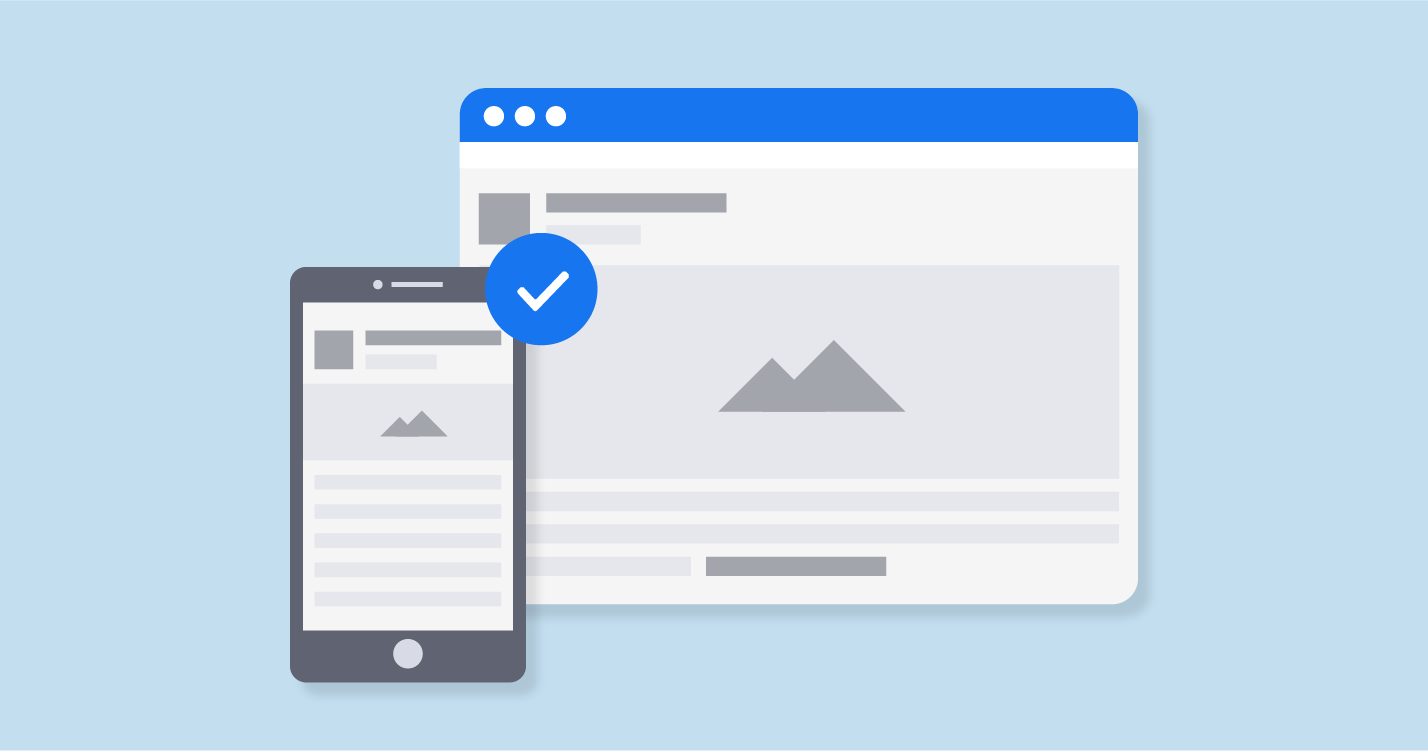 A mobile device's screen somehow limits your users' navigation.
As such, it is essential to build content that can easily be viewed from various screens.
To achieve that, herein are some rules to follow for mobile marketing:
Be bold and brief and use bold headlines.
Add big Call to Action buttons. Make them large so that it is easy to tap on and easy to complete.
Customize your content so that it is relevant and contextual for your readers
Make it easy for your customers to navigate your site. Ensure readers can access what they want from your site quickly with minimal clicks.
Test everything from the text to navigation flow and even visuals. Don't assume anything — test before you put your site out there. There are various tools online, like BiQ Content Intelligence, to help you ensure that your content is both SEO and mobile-friendly.
Optimize Your Web And Landing Pages For Mobile
The design and flow of your web pages should be designed for mobile marketing.
Ensure that content is easily viewable and loading speeds are up to per.
To achieve that, make sure that you build landing pages that are mobile-friendly to reduce loading time.
Find The Right Audience
A noble mobile marketing strategy is one that is designed to draw attention from a particular audience.
Yes, the chances are that you already created profiles for the ideal clients or your target customers' persona.
Nonetheless, knowing the social media platforms, your target audience spends their time on is vital.
You will have an idea of the type of mobile content to create for such customers.
Create Enticing CTA For Mobile Users
Call to Action (CTA) is one of the essential aspects of any marketing technique.
While it is relatively short (2 to 3 words), it certainly encourages viewers to take action in a manner that feels easy, pulling, and natural.
Seamlessly directing them into your sales funnel.
Optimize Your Email For Mobile Marketing
All your emails and messages must be mobile-friendly.
Keep them short and precise.
Come up with scannable, short, and easy-to-read content.
You can use short paragraphs (2 to 3 sentences) and bullets to make it easy for your followers to read and digest your content as well as what they are supposed to do to purchase or subscribe.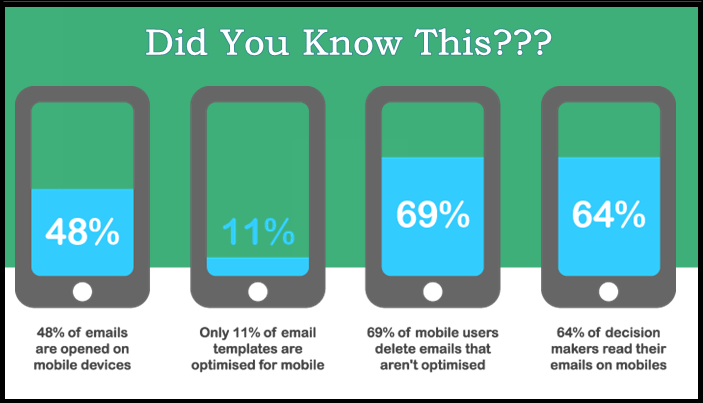 Also, the screen of most mobile devices is usually small.
When reading content, the chances are that your customers are likely to be doing other things concurrently.
So it's vital that you engage them in a friendly and charming manner.
Minimize the number of words in your messages and make sure any content is easily scannable for mobile marketing.
As mentioned earlier, use bullet points, short paragraphs, and headers to make the text easy to read.
Optimize For Mobile Marketing Search Engines
SEO is an essential part of any digital marketing method, and mobile should also be factored in that.
Mobile search ads need to be designed particularly for mobile devices because desktop and mobile search results differ around 80 percent of the time.
This means that if you search for something using a mobile phone and search the same thing using a desktop, the results you will get will be slightly different!
As such, marketers must consider certain factors when optimizing for mobile search. They include:
Branded keywords – This is especially vital for popular brands. You must own your branded keywords as you keep loyal clients focused on the business. If potential clients search for the keyword and another cheaper brand appears first, they can easily be swayed to go for the other brand.
Local SEO – Have a mobile website that is optimized for that location if you serve a specific location.
Proper phrasing – Think about how mobile users search. For example, most mobile users rely on abbreviations or shorter search phrases, so optimize your brand for the terms clients are most likely to utilize when searching for your product or service on mobile.
Not sure how to target your keywords?
BiQ Keyword Intelligence can help with that!
You can just key in any word or phrase that relates to your brand.
Keyword Intelligence will provide you with all the relevant statistics such as search volume, search intent, and the average CPC (cost per click) that advertisers are bidding on Google Ads.
In the example below, I've done a quick search on "mobile marketing" and these are the results.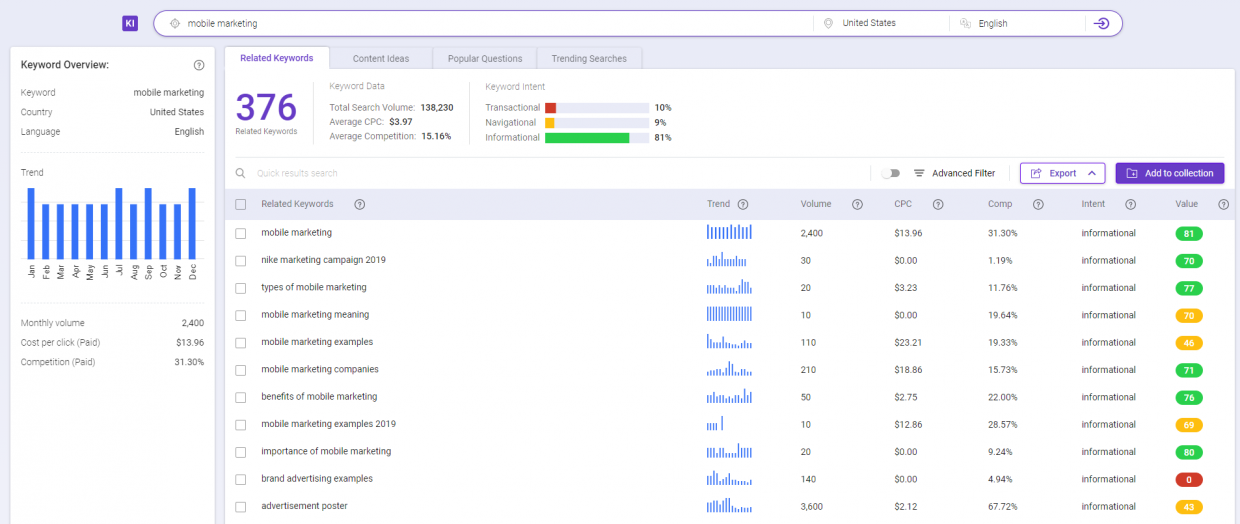 In A Nutshell
As consumers worldwide switch to their smartphones and tablets to socialize, communicate, and most importantly, shop, it is very crucial that marketers develop exclusive and clear-cut mobile marketing approaches.
And as you do so, keep in mind that the secret to reaching customers on their mobile phones is to deliver your marketing messages contextually, clearly, quickly on the right channel at the right time.