Click-through rate basically tells you how many people visited your website either from an advertisement or organic searches.
You've put a lot of effort into your marketing strategy.
You've developed the sales funnel and run multiple campaigns. Yet, you can't get any sales. What's the problem?
Your potential customers aren't performing the desired action.
Fortunately, you can easily fix it by optimizing the click-through rate. CTR talks about the effectiveness of your strategy.
It'll help you identify the problem areas and fix them.
Increasing it will allow you to convert more customers and boost your sales. You'll also get a discount on PPCs.
You'll rank higher and make your business successful.
Today you'll learn what CTR means and discover 7 ways to increase it.
What Is CTR?
Click-through rate is a ratio that tells you how many people clicked on a piece of your content after seeing it.
It's an important marketing metric every business should monitor.
It'll allow you to see if your marketing efforts are working or you should change the direction of your strategy.
How to Calculate CTR?
Calculating the click-through rate is easy.
You just need to divide the total clicks by the number of impressions
(people who have seen it).
However, you don't need to do it manually. it's usually automatically calculated in your analytics tool.
But why should you even care about CTR?
Why Is CTR Important?
Monitoring CTR is crucial for your success.
It'll help you see the effectiveness of your strategy and spot the problem areas. Aside from this, there are 3 important reasons why you should improve your CTR.
More Conversions – increasing CTR by 2X can lead to 50% more sales. That's why CTR is one of the most important conversion metrics
Higher ranking – the higher your CTR, the higher you rank. Only a 3% increase in CTR can move you up one position in Google
Better ads – high CTR shows high relevance and quality. Google will reward you with showing your website to more people and a lower cost per click.
Having a high CTR will help you maximize your potential and help build a solid marketing strategy.
What Is a Good CTR?
There's no specific number that can tell you if you have a good click-through rate or not. In fact, an average CTR varies between industries.
You can see an average AdWords CTR for the top 20 industries below.
Compare your current CTR with your industry's average and see how you're doing.
As a rule of thumb, if your CTR is below 2%, it's considered low.
We'll now look at the ways to increase your CTR. They'll help you rank higher, boost traffic, and drive more sales.
How To Boost Click-Through Rate?
We'll look at the 7 easy ways you can start implementing today to help you boost click-through rate and make your customers perform the desired actions.
We'll divide them into three categories.
the CTR tactics that you can use with anything.
The specific ways to boost organic search CTR.
The specific ways to boost CTR for ads
Follow the tactics below and maximize your CTR to transform your website into a successful and profitable business.
Write Irresistible Headline
Your headline is the most important part of your strategy.
You must capture your readers' attention immediately. If you fail to do so, they'll scroll down and you've lost them.
"8 out of 10 people will read headline copy, but only 2 out of 10 will read the rest." – David Ogilvy
Let's look at the 3 tips that will improve your headline and help you avoid losing potential customers.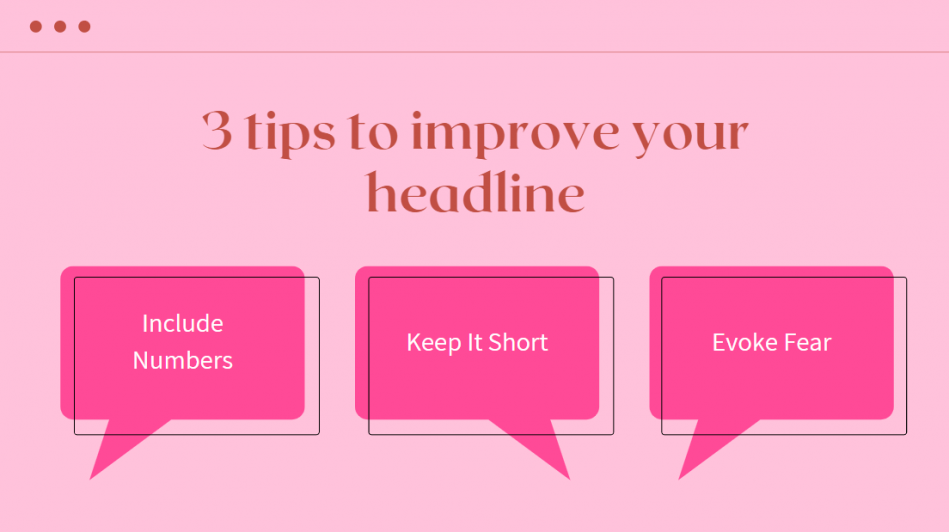 Include Numbers
Numbers make your headline more compelling.
"The headline with a number had a 30% higher conversion rate. Headlines with odd numbers have a 20% higher CTR than headlines with even numbers." – CXL
They tell your readers exactly what they can expect – X specific ways to do something. So try including a number in your headline whenever it's relevant.
Also, it's much better to write "5 Ways" than "Five Ways".
2. Keep It Short
Avoid writing long headlines. Instead, keep it concise and to the point.
"Headlines with 8 words had the highest click-through rates, performing 21% better than average." – Outbrain
It'll reduce the chance of Google cutting your headline in the SERP as well. 
3. Evoke Fear
We're much more fearful of losing something than getting more.
That's the reason why negative headlines perform better.
Transform your headlines into negative ones.
Evoke fear and include words like lose, kill and fear. Make your readers feel like they're missing out on something if they don't click.
"Negative superlatives in headlines perform 30% better than no superlatives and 60% higher than positive ones." – Outbrain
However, the headline isn't the only thing your readers notice.
"90% of visitors who read your headline also read your CTA." –
Have A Strong Call-To-Action
You MUST include Click-To-Action (CTA) to make people click.
If you don't, no one will and you'll end up with low CTR.
"Emails with call-to-action increased clicks by 371% and sales by 1617%." – DSOIM
It can skyrocket your clickthrough rate and make your business successful.
However, you must follow a few best practices for the best results.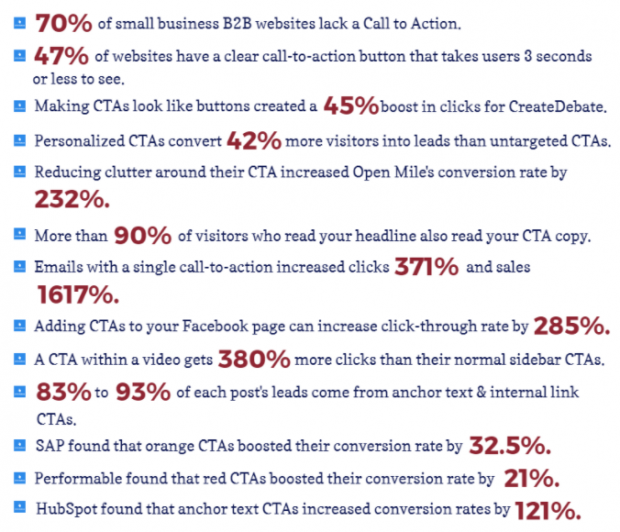 Be specific!
You must be more sophisticated to make people click.
You can't simply write "Click here" and expect people to click. It's boring, vague, and doesn't give you any good reason to do so.
A much better option is to include a benefit in the CTA.
Write, "Get your weight loss program", instead of "Click here".
It's much more persuasive and drives more sales. 
2. Use First-Person Pronouns
"Get your weight loss program" is much better than "Click here". However, it's still not perfect…
You should improve it by writing in the first person.
"Changing button text from the second person to the first resulted in a 90% increase in clicks." – Campaign Monitor
It'll make your readers feel like they already have it, trigger their emotions and make them click.
Get Your Weight Loss Program => Get My Weight Loss Program
Just a tiny change like that can make all the difference.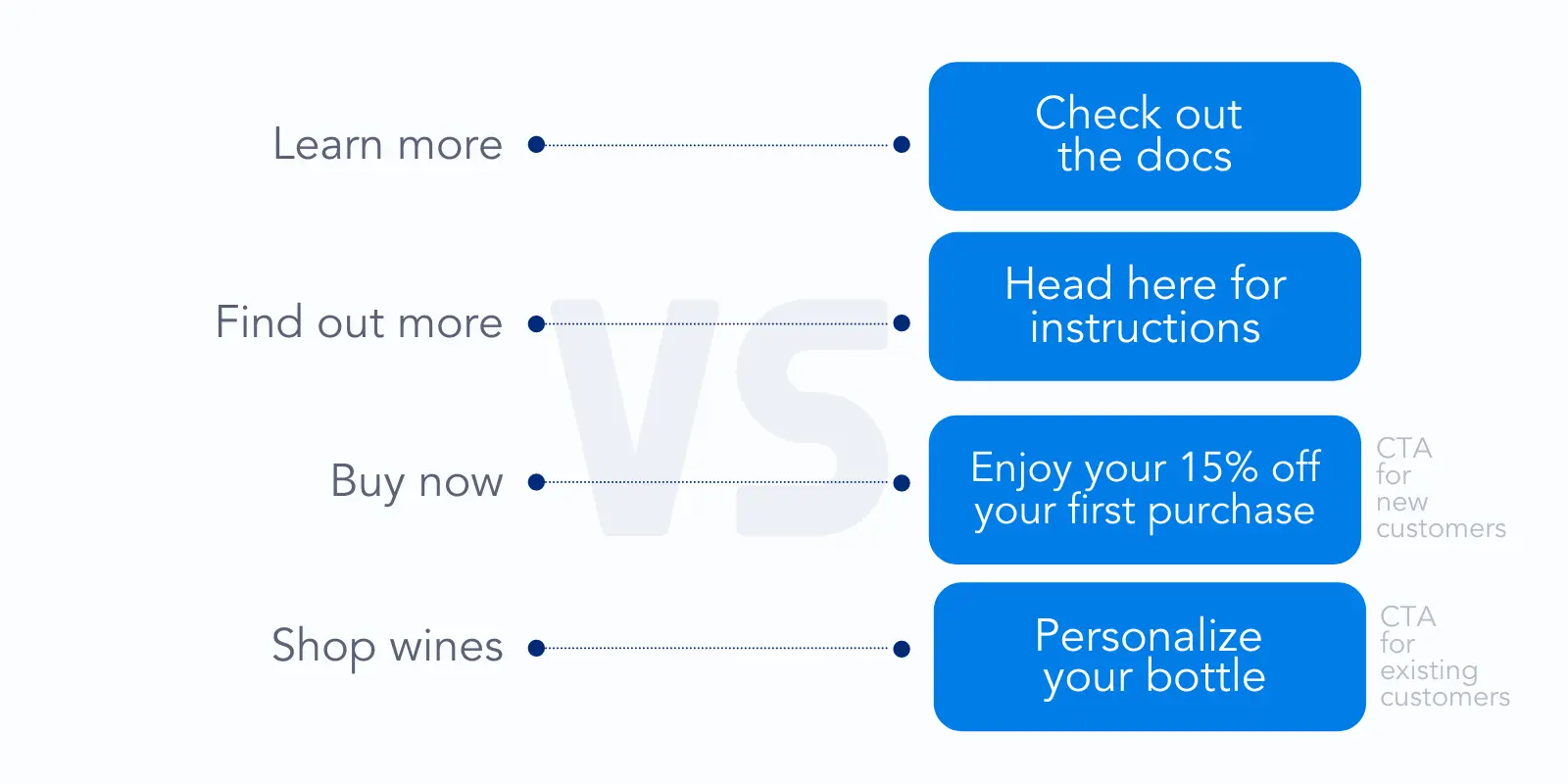 3. Create a sense Of Urgency
You must make your readers act now to get the results
Give your CTAs a sense of urgency. It's easier than you think, you can do it easily just by adding "now" or "today".
"Adding the word "now" to the CTA increased click-through rate and conversions by 147%." – CXL
CTAs are all about tiny changes that bring maximum results. Follow the 3 steps above and make your CTAs better.
Get more people to click and improve your CTR.
Target The Right Keywords
Keywords are the most important for improving click-through rate.
They're especially important when running PPCs because you can't afford to lose money by targeting the wrong audience.
You should also match your readers' expectations.
You should always over-deliver and give them the desired result.
The easiest way to do it is through BiQ Cloud Keyword Intelligence.
Go to the BiQ Cloud Keyword Intelligence and type in the keyword you're currently targeting with your marketing strategy.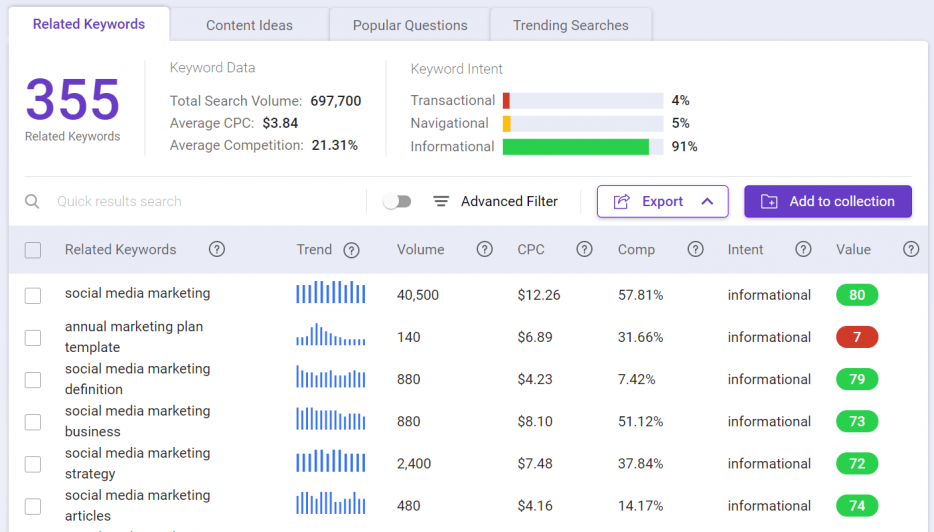 You'll get a list of all related keywords. Hit the Advanced filter and filter them.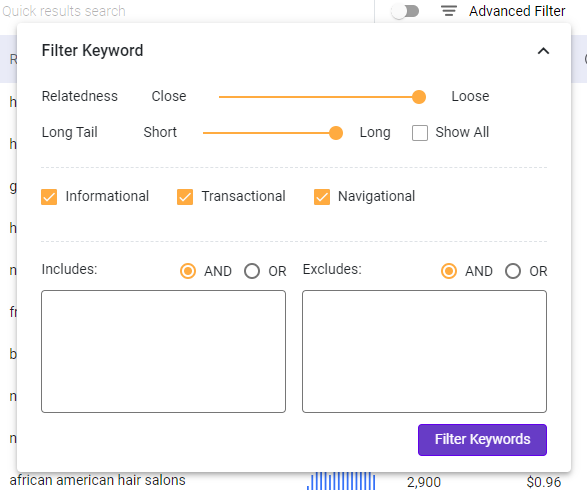 You'll get an option of filtering keywords by length and intent. They're the 2 most important metrics for proper targeting.
You should always target long-tail keywords in your strategy.
"The average conversion rate for long-tail keywords is 36%." – Neil Patel
They'll help you target the right audience and make your content more relevant. You should pick the intent according to your strategy.
Pick the transactional intent for your PPC campaign.
You're paying for every click, so you should make sure these clicks bring you the highest ROI.
"People click on paid results over organic results 2 to 1 for queries with high commercial intent." – WordStream
However, you should pick informational intent when writing content.
Always deliver what your audience is looking for. It'll help you make your content more relevant and boost CTR.
Let us now look at strategies for boosting CTR in the search engine.
How to Boost CTR For Organic Search
Your organic search CTR should be your priority.
You may be tempted to optimize your PPCs because they bring you higher revenue. However, contrary to common belief, stats show something different…
"Over 40% of revenue is captured through organic search traffic. Social only accounts for merely 10% of web traffic, and paid search just 10%." –BrightEdge
We'll look at the two ways to improve your CTR for organic search. They'll help you get more traffic and drive more sales.
Implement Schema Markup
Schema markup helps the search engine understand your website better. It can also make it stand out by adding features like review, listing, etc to the search results.
In addition to boosting CTR, it'll help you get more traffic and target the right audience.
"Traffic to recipe pages increased 2.7X, and the session duration was 1.5X longer by implementing schema markup" – Rakuten.
However, how effective is it in increasing CTR?
"Implementing local listing schema and breadcrumbs to the homepage increased CTR by 43% over 9 months." – SEJ
The best thing about it is that only a few websites utilize it.
"Less than one-third of websites use schema markup." – SEW
This can be your chance to stand out and get more clicks. It'll allow you to rank higher too, which is linked with higher CTR.
"On average, moving one position up in search results increases click-through rate by 30.8%." – Backlinko
We've created a comprehensive guide on using schema markup. Go over it, apply the strategies and boost your CTR.
Master Meta Description
Schema markup will allow you to stand out.
You'll then need to persuade your readers to click. You can do it easily with a compelling description, so you should prioritize optimizing it.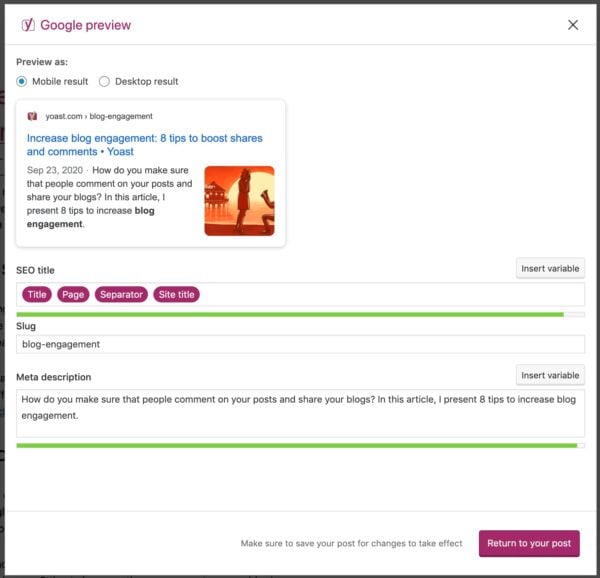 "43% of people click on a result, solely based on the meta description." – OptinMonster
Even though it's so important, not everyone utilizes it. In fact, 25.02% of top-ranking pages don't have a meta description.
However, making a compelling description is easier than you think. You can do it with 3 easy steps.
Include keywords – it'll help you rank higher and target the right audience
Use the full length – increasing meta description length led to a 36% increase in CTR
Include benefits – features tell while benefits sell. Include benefits in your meta description to make it compelling
Follow the 3 tips above and make your meta description more compelling. It'll help you drive more clicks and improve CTR.
How To Boost CTR For PPCs
You may be turned down by the idea of PPC. You can't afford to pay for every click, right?
However, stats show something different…
"On average, businesses make $3 in revenue for every $1.60 they spend on ads." – Disruptive
It's an excellent strategy, especially if you're starting. It's the only way to get high in Google from the beginning.
"Brand awareness can be increased by up to 80% through Google ads." – Disruptive
We'll look at two approaches to boost your PPC click-through rate. They'll help you save money on cost per click AND boost your ad rank.
Site Link Extension
Site link extensions help your ads stand out in the search results.
There are many types of extensions, however, sitelinks have shown the greatest results.
"The mere presence of sitelinks typically lifts ad CTR by 10-20% (+20-50% on branded searches)." – DigitalReachAgency
Site link extension allows you to add additional links below your ad.
They take more space and give your readers more choices to decide if they like your offer. You should always use ad extensions.
They'll help you stand out and increase the click-through rate.
However, keep them short, enticing, and snappy.
A/B Testing
You can't know with 100% certainty if your ad will work.
The only way to know is by testing. The same copy, product, and image with just a tiny tweak in the headline can drive massive results.
The only way to know that is by split testing.
Create 2 separate ad variations and put them in action simultaneously.
You'll show it to the same audience, compare the results and pick the winner to run your ad campaign with.
Testing will help you see what works.
It'll allow you to increase CTR and boost your conversions.
The Conclusion
Click-through rate is a crucial marketing metric. Measuring it will allow you to see the effectiveness of your strategy.
Compare it with your industry standards and see how you perform.
Make the necessary changes and boost your ranking and sales. You'll have a more solid strategy and make your business successful.
Follow the advice above and maximize your business results today.