Google's mobile-friendly update got rolled out on 21st April 2015. This update turned a website's friendliness into a ranking factor. Read on to learn more about Google's mobile-friendly algorithm.
According to research, approximately 2.87 billion people used smartphones in the year 2020.
Around 80% of mobile device users used them to search the internet in 2019.
Unlike before, owning a mobile phone is a necessity and not a luxury.
Most people find themselves browsing the internet when free using their mobile phones.
When Google discovered the intense use of mobile phones to browse the internet, it saw users' need to get timely and relevant results.
On 26th February 2015, Google announced significant changes to its algorithm to enable users to enjoy more mobile-friendly content.
Have you ever browsed through a website using your smartphone?
It means the site is mobile-friendly.
A mobile-friendly website ranks higher on Google than a site or blog that has not.
You should update your site to make it mobile-friendly.
When you comply with the Google mobile-friendly update, Google will direct much valuable traffic to your site.
As a result, your fans or clients will increase, skyrocketing your sales.
Won't you love that?
That is why you will be informed about Google's mobile-friendly update in this article.
Relax and make yourself comfortable as you continue reading.
The insight is worth the hustle for you as a site or blog owner.
Here is all about the Google mobile-friendly update.
What's Google Mobile-Friendly Update About?
Google's mobile-friendly update got rolled out on 21st April 2015.
The update is generally known as the Mobilegeddon.
With this update, your site could be either mobile-friendly or not.
There is nothing in between.
Google went ahead and explained a mobile-friendly site using images.
Though the rollout happened in April, Google had earlier informed website and blog owners of using a website's mobile-friendliness as a ranking factor.
But what was the reason behind this update?
On the day Google implemented the change, it gave reasons for carrying out the update.
Why Google Updated the Mobile-Friendly Signal as a Ranking Factor
According to Google, search users should enjoy the best user experience.
Also, the results should be timely and valuable, whether on apps or mobile-friendly web pages.
Google stated that the Google mobile-friendly update would come with three significant impacts as expressed below.
3 Major Impacts of Google Mobile-Friendly Update
1. It affects search rankings carried out on mobile devices only
The update concentrates only on the searches done on mobile devices like smartphones and tablets.
When the user searches on his or her stationed desktop, the update will not count.
More searches of your website or blog on a mobile device will mean a higher ranking for your site.
2. Affects all languages for search results
You need not worry about what happens when people search your site using a different language.
Google recognizes all languages spoken worldwide.
A user may search in Spanish, English, French, or any other language, and Google will recognize and record the search.
With this update, language is no barrier.
3) The effect is on each website page and not the entire site
Unlike some ranking signals, Google's mobile-friendly update affects an individual page of a website.
Each page found on your website will determine whether Google ranks your site high or not.
It is, therefore, vital to ensure that every page of your site is mobile-friendly.
The above impacts took place immediately.
It doesn't matter what your website deals with.
Google's mobile-friendly update affects all sites.
Is Google Mobile-Friendly Update Just Another Algorithm Update?
The answer is no.
Mobile device usage has increased from when it got introduced to the world.
Every year, more and more people use mobile devices.
Today, owning a smart or mobile device is a necessity and not a luxury like years before.
Makers of mobile devices have integrated them with every aspect of our lives.
Today, you can do almost everything in the comfort of your home.
Some people buy and sell online.
Others love looking for answers on search engines like Google.
As a result, most people have embraced them.
Can you stay an entire day without your mobile phone?
Therefore, Google's mobile-first algorithm was not just an update but also a cultural shift.
Google used this cultural shift to move the market.
Most website or blog owners like you think that Google activates such updates to make their lives difficult, but it's not true.
Changes like the Google mobile-friendly update improve the experience of the users.
It helps people like you get aligned or familiar with the user behavior and market trends.
Google mobile-friendly update responded to the way clients behaved. It did not concentrate on organic search.
Google just flowed with what the users were doing and wanted, and it turned out to be the best decision ever!
You may wonder why Google gives a damn about every user's experience using them as a search engine.
Here is the insight.
Why Google Care About Its Users' Experience
The main reason is business.
Google is there to make money like you are with your site or blog.
When people enjoy the best experience while searching on Google, they will always come back.
While searching, they keep on clicking ads placed on Google.
The more people click on Google's paid ads, the more money Google gets.
So Google has to maintain its users' happiness.
Of all the search engines available today, Google has always been on top.
It means that their efforts have been paying off.
How Google's Mobile-Friendly Update affected SEO
Google's mobile-friendly update affected SEO as soon as it was active.
Experts anticipated that the effect of Google's mobile-friendly update would be higher than what the Penguin and Panda update did.
But that was not the case.
After Google activated the mobile-friendly change, site and blog owners analyzed how their sites faired.
Some ranked high, average, and low.
It depended on whether each page of their site was mobile-friendly and well optimized for Google search.
The change acted as expected.
Websites that did not have mobile-friendly pages got impacted negatively in mobile search.
It led to the fall of such sites in the SERPs.
By then, MozCast could track temperatures on the desktop.
But after the Google mobile-friendly update got rolled out, Moz had to create a MozCast Mobile for tracking temperatures on mobile devices.
According to Dr. Pete's analysis, MozCast Mobile's temperature reached its peak on 22nd April of 2015, at 80 degrees Fahrenheit.
The lowest point was on 18th and 19th April, where MozCast recorded 65 degrees Fahrenheit.
Going with what happened between 18th and 27th April, the Google mobile-friendly update did not affect much.
The desktop rankings also got affected, meaning the changes experienced around the mobile-friendly update's launching time may not have been related to it.
According to 3Q Digital's analyst, Colin Guidi, the ranking was affected most by the load times and sites' speed than the Google mobile-friendly update around that time.
It's another indication that the mobile change did not have much impact as speculated.
Google had just implemented the number of times a site got loaded and its speed as ranking factors, making it very interesting.
But Google has not backed up this theory that its mobile-friendly update didn't have many rankings and traffic impact on sites.
Despite making your site mobile-friendly, some other factors may make it rank higher or low.
According to Google, search intent is one of the significant signals for ranking your site.
BiQ Keyword Intelligence is an excellent way to get search intent.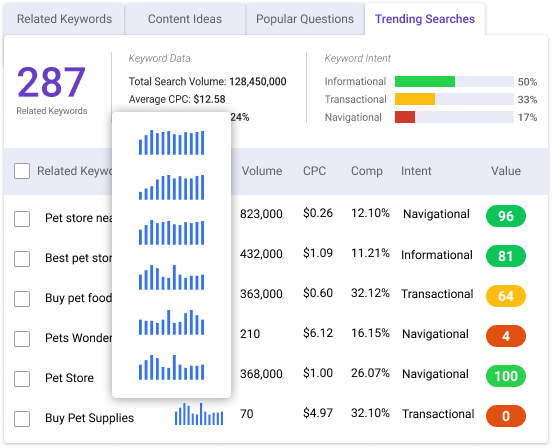 First, key in the keyword used in your keyword tool. Let's use the example of a "boys' shirt."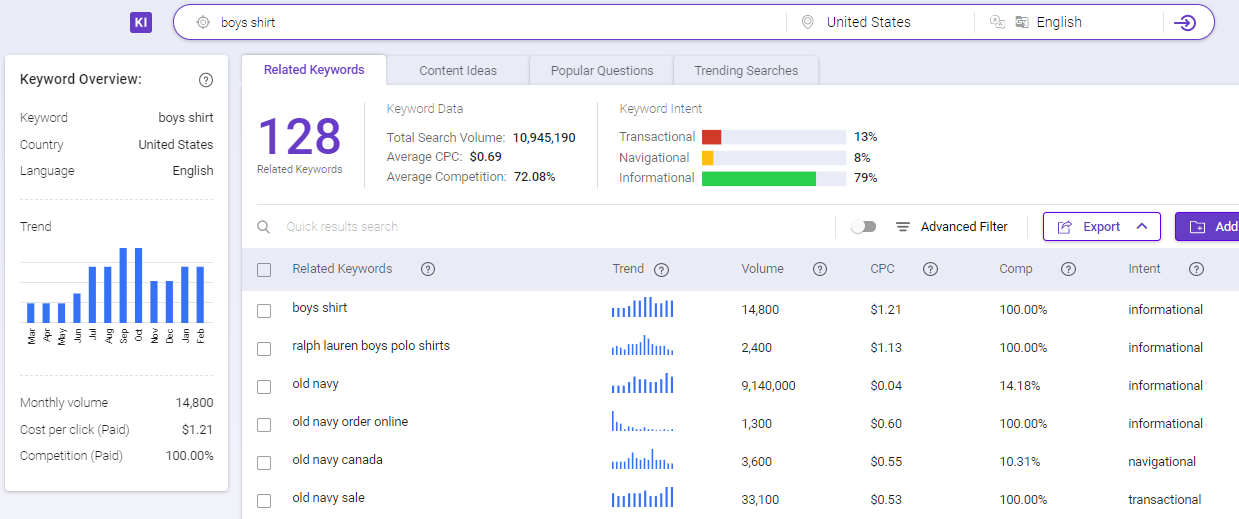 It will show you the keyword intent when you type it inside the keyword tool.
The keyword intent given indicates that searchers are in the stage of their awareness.
To make your site rank high, take the keyword intent received and offer information based on them.
For example, "why you should sell fashionable boys' shirts to America?" or "what boys' shirts are on-demand in America?"
Keyword intent helps you to understand your targeted clients better.
As a website or blog owner, you need to comply with major Google ranking factors like Google's mobile-friendly update to rank high on Google.
What Should I Do?
The following is what you need to do to comply with Google's mobile-friendly update.
1. Optimize Your Site for Mobile
Ensure that searchers can get you from anywhere using any device.
When users reach you through unlimited means, you enjoy a lot of traffic, translating to more sales or fans.
Users have much trust for sites they can access using both their mobile and stationed devices.
A searcher enjoys a better user experience while browsing your site from any device.
It saves time, bringing about convenience.
2. Create Mobile-Friendly Content
You wouldn't want to make your site's pages mobile-friendly, but the content is not mobile-friendly.
BiQ Content Intelligence is a great tool to help you create mobile-friendly content.
Here is how to use it!
Key in your target keyword and URL inside the block editor.
You will get interactive writing tips as BiQ Content Intelligence analysis is in real-time.
You can also see the word count and grade you've achieved with your content.
This indicates if your content is relevant.
It also informs you of your keyword density.
With BiQ Content Intelligence, you can edit your content to be the best.
3. Optimize Page Loading Speed
Users love it when they click on a page, and it opens immediately.
It is, therefore, essential to increase your site's page speed.
That way, the bounce rate will reduce, improving the user experience of your readers.
4. Add Schema Markup
Structured data helps the user locate information fast and quickly.
For your website or blog to rank high on Google, you need to add schema markup on every page of your site.
5. Check if Your Site is Mobile-Friendly
You can use Google mobile site test to check whether your site is mobile-friendly.
If not, ensure it does for it to rank high on Google.
If you have no clue to do so, seek the services of a professional webmaster.
6. Keep Track of Your Ranked Keywords
Specific keywords rank high for mobile phones.
Ensure your site or blog consists of such words.
You can search for keywords that are ranked using BiQ Rank Tracking.
Using this tool, you can track the movement of your site's pages and daily keywords.
You only need to create your site's Rank Tracking profile.
You will be able to see the ranking of your keywords each day.
The tool will also give you a history of this data, indicating each keyword's gains and losses with time.
As a result, you can improve and protect your keywords from your competitors.
You also get to analyze your site page's keyword ranking, giving insight into what to do to make the page rank higher.
Conclusion
As illustrated above, Google's mobile-friendly update is essential for all website or blog owners.
When you comply, your site ranks higher on Google.
It means that many searchers can reach your site, translating to more sales or fans.
Is your website mobile-friendly?
If it isn't, then act now.