Link bait is the practice of providing valuable content on your website so that other websites will naturally link to it. Here are 5 ways you can create link bait content.
Creating link bait content creates a compelling movement that will stir your readers to think and link to your for reference.
For a lot of companies, marketing in the local streams and lakes comes easy over time. You know what bait to use to lure the fish (the target audience) into your boat.
The good thing about the local waters is that there's always someone on the shore willing to lend a hand. Or you can do what most do, stay on the sidelines a little and monitor the baits they are using.
Eventually, you'll learn who likes the flamboyant bait (TV, Billboard, etc.) for a big strike or who wants to have it easy by letting a simple, enticing bait sit there and get discovered over time (referrals) to drive in a giant fish.
In due time, it becomes your territory, your stream. You know it inside out, including what works and what doesn't.
Then one day, you decide to get out of your bubble and expand your brand online. You know, to find some new, bigger types of fish.
Holy carp (pun intended), you find yourself in the middle of a sea. Except in this territory, the weather and waters are almost invisible to the novice eye, and your old hacks might not really work here. Oops!
It dawns on you that you need to find some different bait—link bait to find success in these waters.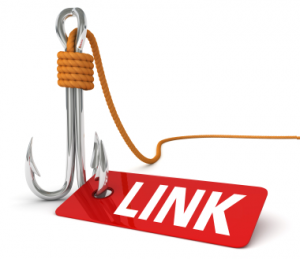 What Is Link Bait?
Well, link baiting definition can be inferred a little from the name itself.
Think of link bait as a logical placement of your web content for tempting other websites to link back to you, not because you asked them to, but because they can't help themselves!
It's more or less like hyperlinking, except that this time, you're not creating the backlinks. Other sites are doing it for you, and voluntarily so!
Often, this bait content is amazing, valuable, and a straight "hook." Anyone who comes across it on the internet would be swept off their feet- literally. They'd be itching to link to you.
Linkbait can be in the form of original thought-provoking content, a logically-created ebook, a viral video, infographic, evergreen blog, cute pictures, just to name a few.
In our opinion, bloggers have the upper hand when it comes to link baiting as they are the ones who can create keyword-optimized, highly discoverable content.
How Does Link Bait Work?
The sad, cold, hard truth in the world of blogging and content marketing is that most content doesn't earn any links. And that includes high-quality content too.
When you're trying to craft content that others like and your audience are itching to get, you're already performing link baiting in the most basic form:
You're creating content that is good enough for others to link to it (to take THAT bait).
Don't let the below quote by Brian Clark trick you into believing that creating high-quality content is enough to earn links. There's more to it than meets the eye.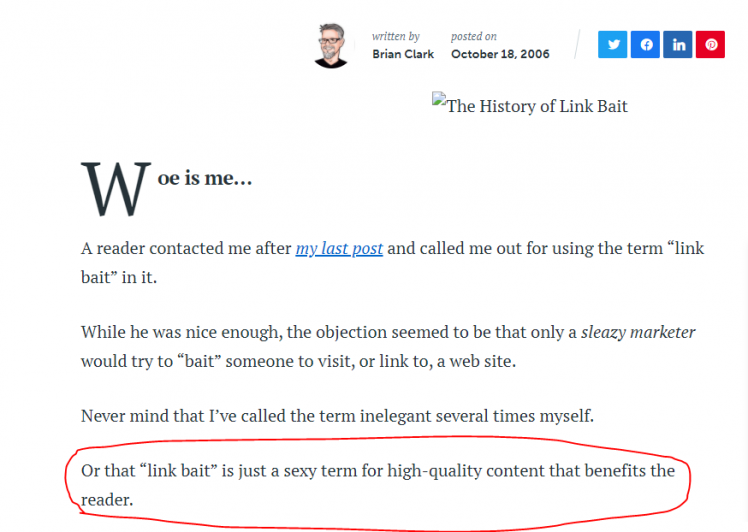 Remember that content that you poured your heart, soul, sweat, and blood into—that blog that you created with every stretch of your knowledge and every ounce of effort?
Well, it turns out that it can attract only a couple of links at best.
A study by Buzzsumo and MOZ analyzed 1 million pieces of online content. Guess what they found? That's right—75% of those pieces had no backlinks. None. Zero!
Keep in mind that the selection of these articles was random. We're not talking about the worst 75% of content on the net here, but ALL content—good or bad.
That can only mean one thing: if you want to attract links to your content (no matter how good it is), you have to work at it. You have to go out of your way and create content that's worth clicking.
So, what does a link baiting strategy (aka clickable strategy) bring to your marketing table?
Everything that typical link-building gives you:
You might be able to earn referral traffic through the links.
Your content will be SEO-worth. It'll rank higher in search engines.
And, you'll get access to a new audience: an audience that couldn't help but say 'wow' to your content and blogs.
What Makes a 'Link Bait' Piece Work?
You're probably thinking, "What do I have to do to create a great piece of "linkbait" or "how to do link baiting content"?
First of all, crafting a link-worthy/share-worthy piece is not as difficult as others make it seem.
And second (some drum rolls here, please), there's a proven formula for making link bait.
A good "link bait" piece offers all of the following five items:
It Offers True Value
It Provokes Emotion
It is Easy to Read and Understand
It is Link-Worthy
It Is Visually Attractive
1. It Offers True Value
If your content has been returning zero traffic, then maybe you've been missing the point all along.
Look, content that might seem valuable to you but not be useful to others. After all, value is relative.
It is easy to turn to arbitrary metrics to gauge content value (word count, length/depth, etc.). But in the world of SEO, people generally see a lot of value in case studies and in-depth, keyword-optimized, original content.
By keyword-optimized, we mean articles that pack a punch in terms of intent. These are pieces that solve your audience's biggest pain points.
Since you can't always have the resources or time to pull off a case study that's worth its weight in gold, in-depth keyword-optimized articles are your best bet here.
For this, you need a tool that can help you identify your target audience's search intent.
Allow us to recommend BiQ's Keyword Intelligence. This tool leverages a powerful keyword analyzer to see why your target audience might search for a particular keyword in the search engine.
Scroll down, and you'll be able to identify each keyword intent so that you can understand your target audience better.
With these insights, you will be able to create in such a way that meets your audience's needs. 
And if you have a great keyword in hand but don't know what goes into your content, BiQ's Content Intelligence can help with that. For any keyword of the document you create, the tool analyzes it with the top-performing organic content on Google.
In the end, you get a complete breakdown of your keyword usage, similar keywords, and better yet, example sentences—just what you need to shape your article and satisfy your audience. 
Talk about killing two birds with one stone!
2. It Provokes Emotion
Let's face it; people are hardwired to share content that makes them feel some way.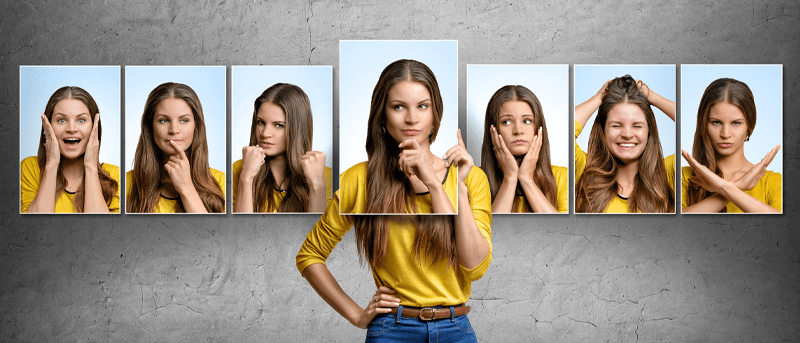 If you take a look at the most shared content today, you'll see that they are packed with emotions.
One way to do this is to turn to humor. Who wouldn't want to share something genuinely funny? Just make sure your content is topical, original, and a genuine rib-cracker.
Alternatively, you can share something sexy. Pour out some inspiration. Make a claim that will cause ripples in the online space.
Talking about ripples, don't be afraid to tackle controversial topics (this case study by MOZ is a perfect example). Just make sure you're not throwing stones at anyone or doing something that will hurt your company in the long run.
3. It is Easy to Read and Understand
This might sound cliché, but you need to drill down on the writing basics and not overcomplicate things for your content to go viral.
Your font should be legible, with clear spaces between lines. As for the text color, stick to black. Don't try any fancy colors, or the "link bait" piece will hit a dead end even before it takes off.
Also, consider breaking your content down into easily-digestible segments. Short, concise paragraphs increase readability three-fold.
The good news is that you don't have to take chances with your content's readability. Trust BiQ's Content Intelligence to do the job for you. Once you key in the page URL, our tool will conduct a paragraph-by-paragraph analysis of your content.
Among other things, you'll see a complete overview of your content performance, including its readability.
Among other things, you'll see a complete overview of your content performance, including its readability.
Then you can use the insight to optimize your piece and make it as legible as possible.
To improve readability, you also need to include appropriate images.
According to BlogSpot, people are likely to retain 65% of information if it includes a relevant image. The same research also shows that the brain processes visual data 60,000 times faster than it takes to decode text. No surprise there, really.
Not only do visuals increase readability, but they also help people consume information easier and quicker. This, of course, increases the likelihood of people enjoying your content, and therefore, linking to it.
4. It is Link-Worthy
Creating a link-worthy piece (you know, one that has the potential to create more backlinks) has been every marketer's headache since god knows when.
Not anymore.
Here are some tactics to make your content more worth of links:
Create evergreen content- Could be Ebooks, Guides, How-to's, Explainers, Checklists, etc.
Incorporate bait images- These could be visually appealing screenshots/pictures/infographics that entice people to click on them.
Build a resource center- Include guides, whitepapers, webinars, etc.
Write like a thought- leader in your field- Be confident, original, interesting, and authentic.
Incorporate quotes from well-known marketers and experts – Always works like magic!
If you think these tactics are a stretch too far (before you say it, they are pretty doable), try BiQ's Rank Intelligence tool instead. It is the perfect illustration of "keep your friends close and enemies closer!"
But how, you ask.
Easy—this tool allows you to create a new profile using your competitor's website URL. You will then be presented with all the keyword ranking data from your rival's website.
Once you have this insight, you can sift through the keywords and know the kind of keywords that are making your rival's content "link-worthy." 
Then you can go ahead and craft content targeting those same keywords you "stole" from them. No guesswork. There are no blind shots—just a tried-and-tested tool that performs the "link-worthy" magic before your very eyes!
5. It Is Visually Attractive
For starters, posts containing visuals have 94% more total views than articles without.
We've even illustrated this statistic in an image so you can see what we really mean.
People are naturally drawn to visuals. Catchy visuals. 
Visually attractive content is a sure way to double the chances of crafting content that will turn into linkbait.
There are plenty of ways to make your posts visually appealing:
Videos
Screenshots
Visual quotes
Infographics
Graphs
Charts
GIFs
Original photos
And a lot more!
3 Successful Link Bait Examples You Can Learn From
Perhaps the best way to understand what makes a successful piece of content, and learn about the impact that link bait can have, is to be inspired by real-life link baiting examples.
Here are three of the most successful link baiting campaigns ever:
1. Xkcd's Radiation Dose Chart
Page authority: 88
Linking root domains: 988
Total links: 5863
This is basically a chart showing the amount of radiation an individual absorbs from various sources.
The concept of visualization comes to life so well in the chart.
It is a great way to visualize just how much radiation you can get from things like CT scans, x-rays, and airplane flights.
Why was it so successful? You ask.
Well, being able to visualize a concept that's hard to understand is one of your best bets when creating link bait.
And the chart does this to perfection.
By using small blocks to illustrate just how many "sieverts" are in these distinct sources of radiation, the chart makes the whole concept digestible.
You can do the same with your concept. By merely getting people to read and comprehend your content, their chances of linking to it will increase considerably.
2. NerdWallet's 'Millennial Homebuying Myths' Study
Page Authority: 68
Linking root domains: 1100
Total links: 2200
This is a piece of content that deconstructs one common myth that most believe to be true.
There's this misconception that "Millennials are renting longer, living with their folks, and are stuck with student loan debts. In a nutshell, it would seem like they aren't interested in owning a house."
But this piece by NerdWallet proves otherwise. With data from credible sources, the site goes ahead to ascertain that most millennials would rather own than rent a house. They just can't afford it.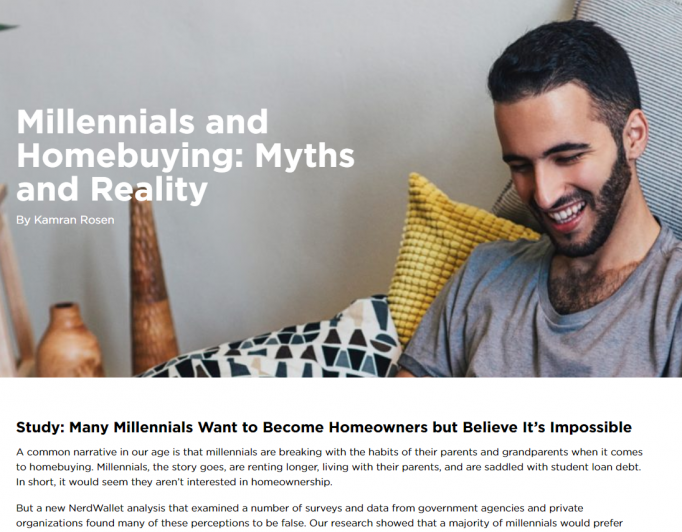 You can chart this path successfully too.
By debunking a common misconception and changing people's train of thought, you make other bloggers, content creators, journalists want to cover your content. And when there's a wealth of authoritative data to back up your claims, they also want to link it to it. Simple as that!
3. SEJ's Social Media Infographic
Page Authority: 81
Linking root domains: 282
Total links: 876
A project by Search Engine Journal, this infographic depicts the growth of social media.
It's an epic visualization of the strides that social media has made over the years and what lies ahead. All this is backed with hard numbers—statistical data. 
In short, the infographic is such a hit because it's visually appealing.
Putting together such a huge amount of statistical data in an easy, digestible manner is what every reader wants. So you can see why people go out of their way to share the infographic.
Wrapping Up
There's more to link baits than creating link-worthy content.
Linkbait is anything and everything that can voluntarily get you top-notch backlinks.
But before you set off to create a piece of content you think will make excellent link bait, just make sure your answer to the question, "Will my target audience still find this valuable?" is "Yes. Without a shadow of a doubt!"
Now go ahead and market the hell out of that content. All the best!