What is link building and why is it important? Learn how to use link building to increase your SEO ranking and visibility in search results.
Link building stands out among the most defining factors to SEO success.
First thing first, what is link building?
In short, link building is the process of other sites linking back to your website using hyperlinks.
Through this method, users navigate to various places on the internet. Search engines also rely on links to crawl the web, through individual pages on your site and between websites. While there is a lot of success associated with building links, it remains one of SEO optimization's most challenging tasks.
There are several procedures that a business needs to follow to succeed in it. Most importantly, mastering the art of developing useful links pushes an organization above others in the competitive business world.
Although it might take a long and enduring process for a successful SEO link building strategy, the benefits are worth the challenges encountered.
With link building tactics changing every day, it is important to remain vigilant on the upgraded techniques. Note that learning about links is crucial for any business that wants to make an online presence.
Improve Brand Authority with Link Buildings
If you want your organization to grow as an influential leader, build links. One of the easiest ways to achieve this is by publishing quality and genuine content. Coming up with new content each time you create content exposes your site to a new audience.
Remember that the purpose of your SEO effort is to enhance your brand presence. Get creative and develop informative content relevant to your brand for your audience. Always ensure that you engage a reliable publishing house for your content. As a result, users get assured that you are giving them valuable and trustworthy content.
Anyway, we will talk more about how you can build more links in a while.
So why link building is important to your website?
More Referral traffic
Do you have an idea about how to build a link that attracts lots of traffic to your site? There are diverse strategies to meet this, but linking your site stands at the top of the list. By creating quality content, you manage to attract trustworthy sites that link to your site. That way, more users are most likely to visit your website.
Long-standing benefits
Compared to conventional marketing strategies, link building has long-term benefits. Here, you do not have to invest in each business campaign routinely. By using backlinks, it helps an organization to get constant referral traffic until the link validity expiry.
Keep in mind that SEO link building strategy is an enduring process. Strive to perfect it by not creating a broken link in your site. This happens when a user renames a page and forgets to update the internal links. When you succeed in this, it gives a more credible site for your future market.
Use Building Links to Enhance Conversion Rate
When you link your posts or sites to various websites, there is a higher chance of attracting different audiences. Consider engaging an influencer to share your content effectively.
The conception that a famous person has shared your content speaks volumes. Not only does it make your post visible instantly, but it also manages to convert your leads to ready-made customers.
Types of link building for your SEO success
In this section, we will discuss three main types of link building for your SEO success.
Also referred to as the incoming or inbound links. They are links created when one site links to others. Backlinks enhance SEO success by sending signals to search engines for others to vouch for your content.
When several websites link to a similar page or site, search engines assume that your content's quality is worth relating. For that reason, backlinks improve your search visibility which positively impacts your SEO ranking.
To check your website's backlinks, I'd recommend you to use BacklinkGap as it's a free backlink checker. This means that you can view all your backlinks and analyze your backlink profile strength, but you don't even have to pay a single cent.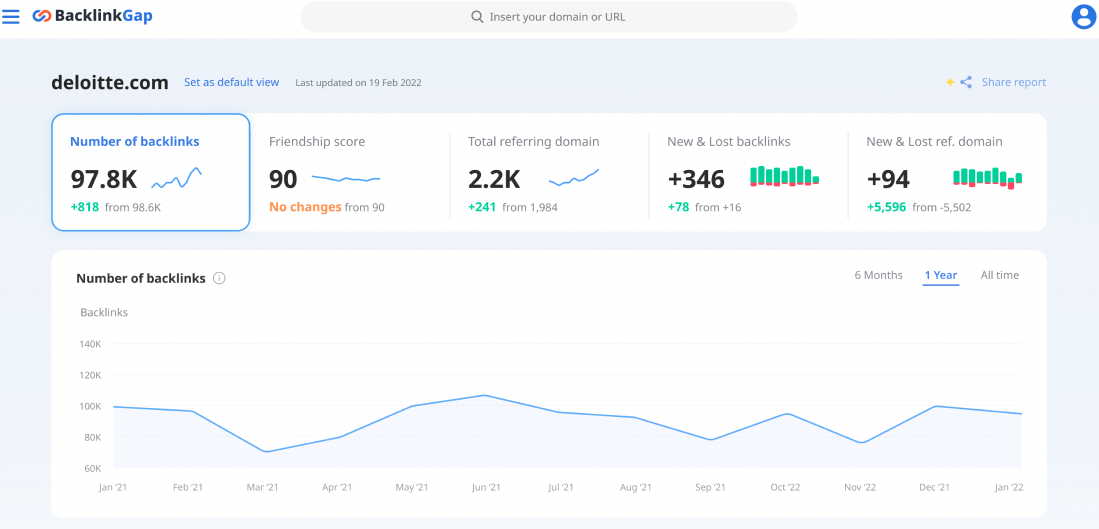 2. Outbound Link
This is the opposite of an inbound link. Commonly known as the external link, they link a site to another. If your content manages to link out to leading external sources, it may boost your search engine optimization in various ways.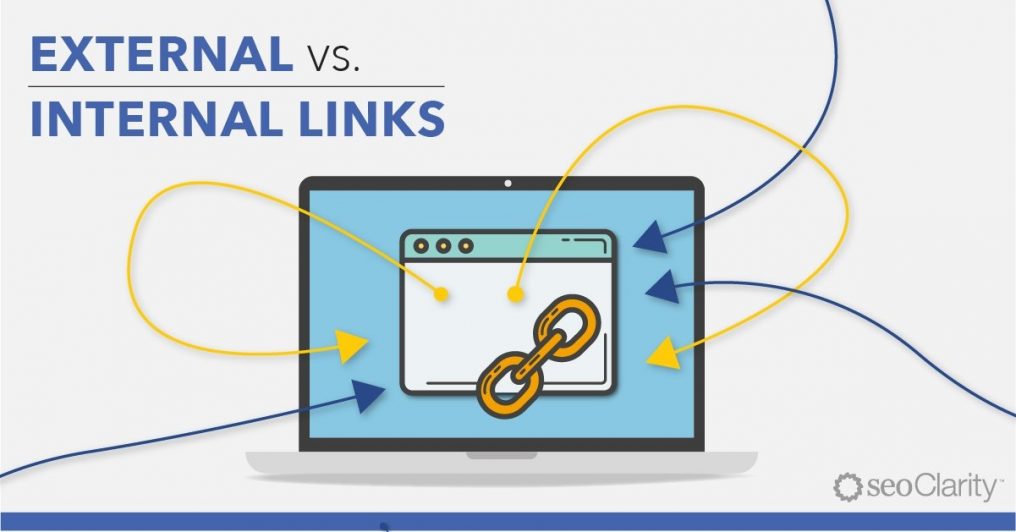 One way is that external linking guides the search engine to recognize your niche. Also, it enhances the quality and trust of your website, which plays a crucial role in your SEO presence.
Internal linking refers to linking one page to another within your website. There are various types of internal links. Apart from linking your menu, post feed, and homepage, you can also include internal links within the content. These are called the contextual links.
Their main purpose is to guide your audience to an interesting part of your content. Keep in mind that the more links your site receive, the more significant it becomes to the search engines.
Link Building Do's You Should Consider for Your Business
1. Concentrate on Creating Valuable, Link-worthy Content
Developing link-worthy content requires planning and the right strategy. Some of the main characteristics include informing the audience about the latest news and inspiring and motivating them to take action. It should also entertain and offer solutions to your target audience.
You may want to use BiQ's Content Intelligence to write in-depth and relevant content for your audience.
Just enter your topic or target keyword in the content tool. Then, it will start analyzing the keyword with the top-performing organic content on Google.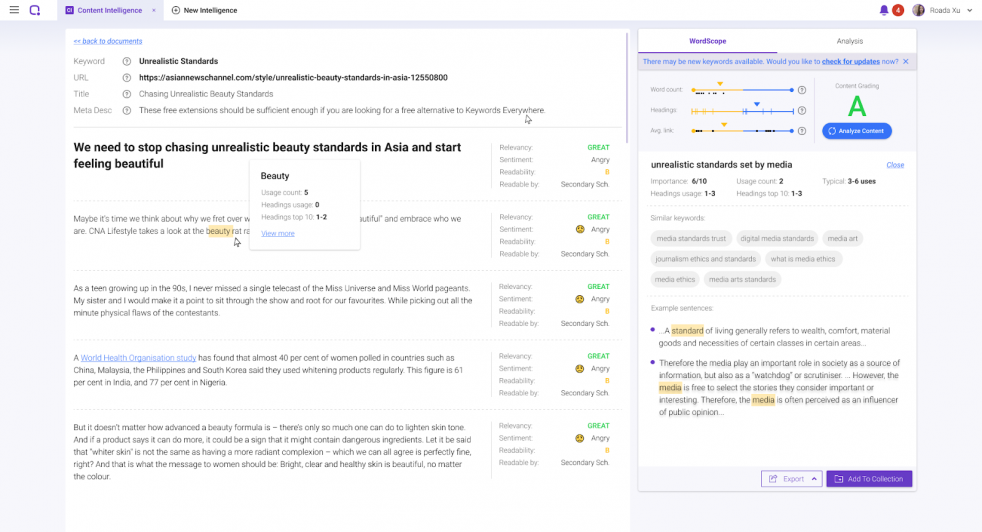 Better still, it gives you a breakdown of your keyword in terms of usage, similar keywords and example sentences.
They should be the go-to-source that shapes your article as you write. For example, if you're writing about "unrealistic standards", Wordscope analysis can get you similar keywords like media standards trust, what is media ethics, and so on.
In other words, you can't hope to satisfy searchers who are looking for unrealistic standards without writing about these similar keywords.
You can also make use of the keywords to craft your outline! That's an example of killing two birds with one stone effectively.
As you write your content, BiQ's Content Intelligence automatically notices the weak areas in your content.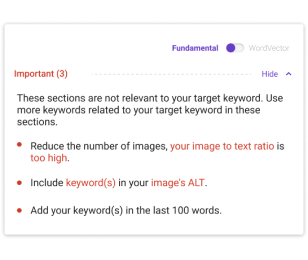 The Fundamental analysis will show you the critical on-page SEO errors on your content. While the WordVector analysis tells you the performance of your content against the Top 10 SERP content in relation to your target keyword.
The best part about this feature is that it can tell you exactly which paragraph has lesser relevance to the overall content.

Now, you will be looking at the "Edit Needed' section to check which paragraph needs revision.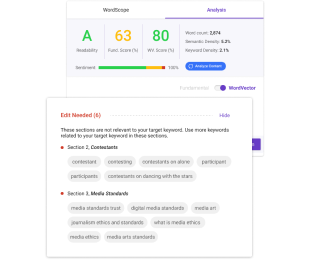 You can then dive deeper into the paragraph and analyze how to better improve its relevancy to your target keyword.
Remember that educative and straight to point posts easily translate to conversions. Content Intelligence simplifies the process by selecting the opportunities and threats in your content. Then, it infers the results to develop an appealing link blog for the market.
Tip: If you are not sure which keyword to target, be sure to use BiQ's Keyword Intelligence.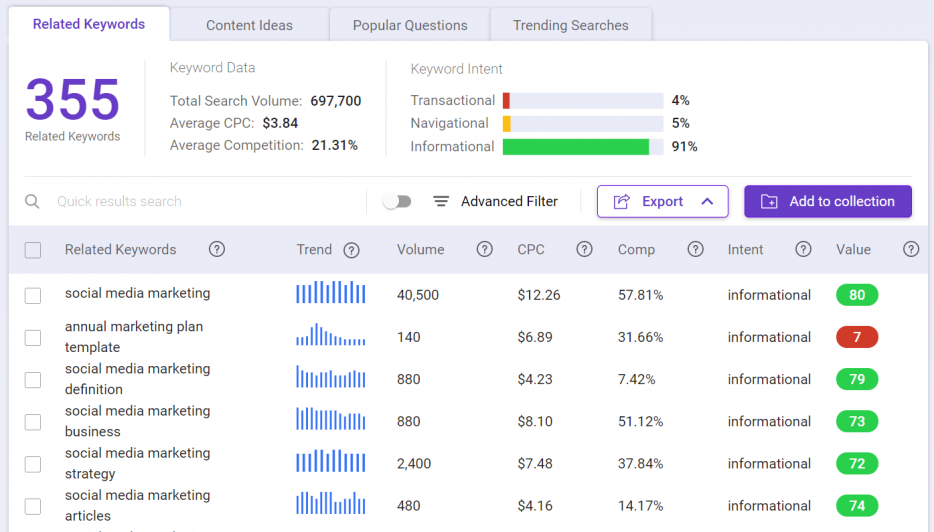 It allows you to gather data on keyword volume, trends, keyword competition, related keywords, and more.

What makes BiQ's Keyword Intelligence stand out from the rest of the keyword research tools on the market is the keyword analyzer feature. It helps you see why someone might be searching for the keyword in the search engine. With this data, you will be able to plan your content in such a way that meets your users' needs.

If you are unsure which keyword to use, you can sort the keywords based on their value. The higher valued keyword means it can potentially bring more traffic to your website at a lower competition.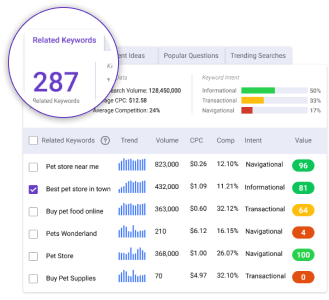 2. Create the Blog
Blogs give businesses an ideal platform to share, update, and deliver quality content. Not only do they allow natural links in your site, but they also reach out to various authoritative voices. Note that the link success in your blog depends on the quality of content created.
It would not make any sense to create a bogus blog topic and expect other sites to link out. Ensure that you create a relevant topic fit to meet the audience's needs in the most straightforward way possible. If you are looking for more blog post ideas, make sure to check out our post on blog post ideas to drive traffic.
There are no exceptions to the perfect number of links on a blog post. However, strive for two to five external links per post. Including too many links on your blog may not appear attractive to your audience. Instead, you should briefly explain the concepts needed rather than building links everywhere.
3. Create Newsworthy Content
Your content becomes newsworthy if you manage to catch your audience's attention with an interesting topic. To achieve this, consider the delivery timing of your content. The golden thumb rule is never to give your audience stale news.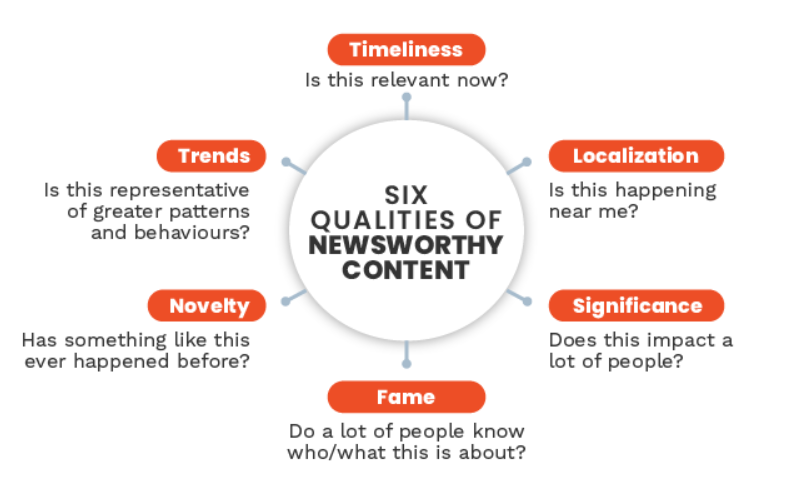 Evaluate the significance of your content to your target audience. Does it add any value to lives or solve a serious problem? Do not forget the human interest aspect too. By writing about real-life experiences, you may easily manage to get your audience to relate to it.
Note that it is human nature to come back to an interesting place. If you succeed in creating newsworthy content, it guarantees more traffic to your site. Additionally, it also translates to better conversions and generates more links to your site.
4. Outreach to Other Bloggers with Link Building
Creating high-ranking content within your industry requires patience and the right skills. Therefore, it may take some time for a newbie in the industry before you get linked to another blogger or a professional within your industry.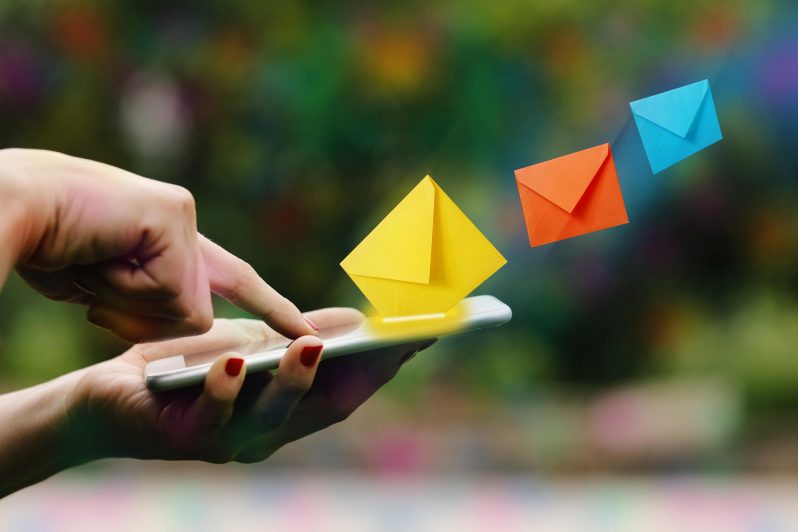 Bear in mind that you need to get your content on the search engines for other bloggers to recognize your expertise. Before you reach such levels, you can collaborate with a few experts and link on each other's relevant posts.
Start by creating valuable content. That is the basis of convincing other people that your content is worth a link. By using this approach, you can steadily improve your skills to attract some external SEO links.
5. Invest in social media link building
According to google link building, social media signals do not emphasize establishing a site or a page's authority. All social media shares are considered as no-follow links. While they may not enhance your site authority, they have a couple of SEO benefits. 
According to a recent Orbit Media report, social media can, in some way, impact your site. One main advantage is that it can boost your brand visibility and guide customers to understand the value your company provides.
The main purpose of a social media marketing strategy is to help your business earn organic SEO links. This improves the status of your site, Google rankings, and other search engines.
Compared to the huge numbers of followers on social media, it is wise to optimize your company's various online platforms. Not only does it allow you to get discovered easily on a search result, but it also puts you ahead of your business rivals through brand recognition. We have previously written a full-length article on social media marketing tips, don't forget to check them out and apply them for a better result.
Link building Don'ts You Should Avoid
1. Do not buy Backlinks
The ideal way to minimize risks in your SEO effort is to avoid buying backlinks. While it may appear tempting, the short term benefits are not worth the risk.
Over the years, Google has improved their SEO value estimation on companies. That makes it easier for them to easily pinpoint organizations that do not follow the set rules.
In reality, there is nothing wrong with trading your best links. The only challenge is that individuals have abused the deed by overtrading in several sites to heighten their SEO links. Such kind of action does not translate to the real SEO value of an organization.
For successful backlinks selling, ensure that your trading partner is relevant to your industry. That way, it may increase your referral traffic and augment your SEO in the long run.
2. Avoid Exchanging Links
There is a higher risk of damaging your Google index with excessive link exchanges. Accepting to link with any site that comes along comes with various risks. Since you may not know about the safety of these sites, it may lower your value in google link building rankings. The risks cover exchanging links both to and from your site.
From 2012, Google failed to recognize all the connections from spam links and private blogs. Since Google has an ultimate role in SEO growth, this gives you a valid reason to keep off from backlinks exchanges as it does not add any value to your search engine presence.
3. Stay Away from Automated Programs
Automated link building has immeasurable benefits to the users. However, you need to understand that Google values a more natural SEO links building strategy compared to the engineered ones.
An example that has faced the wrath on this is the Private Blog Networks. This company has earned Google ranking algorithms bad reputation because of using automated programs.
Despite automated programs building the best links, it does not influence SEO principles or exploit them. This approach can potentially result in penalization and a challenge to Google's web crawling and radar.
No matter how advanced your automated program is, strive to establish a perfect balance between the manual process and automated link. That way, you improve your backlink attempts and avoid Google algorithm risks, which can greatly mess your SEO rankings.
4. Do not Link to an Unconnected Topic
You do not have to create several contents to succeed in your link builder SEO journey. Rather, you can develop a few highly valuable contents and rank better than the rest. The secret behind this is to offer your audience value by linking your content to a relevant site. For instance, if you want your page A to rank for "Best car windscreens," do not use it to link page B, which has a different anchor text.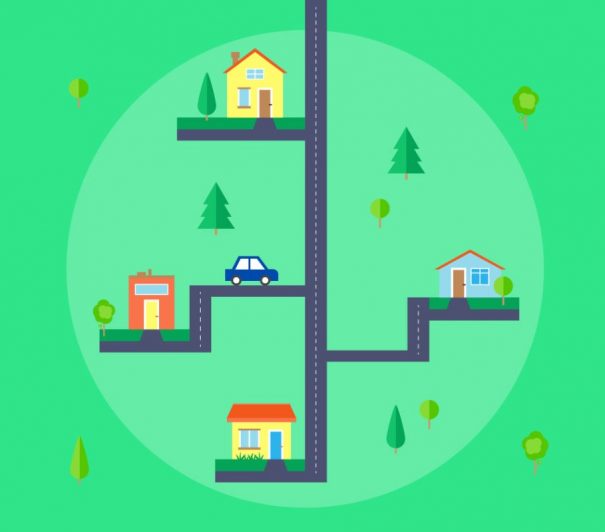 Link to content that is relevant to your visitors.
Your main purpose here is to avoid confusion with your audience by giving them what they want to hear. Additionally, it is easier to filter them with a satisfied target audience through the lead funnel for better conversions and Google rankings.
Final Thoughts
While developing an SEO link constantly changes, you should focus on putting your audience's needs at heart. Ensure that you give them satisfactory solutions to their needs by developing link blogs to relevant sites.
Note that quality and newsworthy content puts you above the rest. For long term success, ensure that you understand well how and where to put your best links.
While internal linking offers to display an organization better, external links enhance the SEO ranking and increase the audience presence.
What is your best link building approach? Let me know in the comments.