Want to learn SEO fast for free? I've got you covered. Here are 6 ways you can do it.
Here are 6 actionable steps you can use to learn SEO fast.
As digital marketing becomes more mature, it's easy to see why companies are continually improving their SEO skills.
For digital marketers, learning SEO is a given, but the process can be hectic, especially if you're new to it and don't have access to the right resources.
Over the years, experts have come up with techniques that enable beginners to learn SEO faster and effectively.
And while it's a bit demanding to learn SEO fast (in terms of efforts and maybe resources), it's definitely worth it in the long run. Not only are you saving time, but also learning industry-tested SEO skills.
Learning SEO-free and fast and achieving the desired results requires the right set of tools and resources.
In this guide, we've highlighted the 6 actionable steps you can use to learn SEO fast and enjoy long-term results.
But first, you may be wondering: is SEO still relevant in 2021? Find out the answer below.
Is SEO still relevant in 2021
SEO is an integral part of modern marketing and will definitely remain on top of the companies' priority list. The reasons for prioritizing SEO are evident: competition is increasingly catching up, and businesses must innovate to stay relevant in the market.
Appearing on top of the search engines helps businesses remain visible in the online space, and it also improves their perceived authority in a given niche.
Likewise, ranking for the right keywords means most traffic will be directed your way, hence more leads and prospective customers.
Below are the other reasons why SEO is important for your business:
It boosts brand awareness.
It improves your site's user experience and usability.
Local SEO boosts local traffic, engagement, and conversation.
SEO is cheap; hence it lowers your customers' acquisition cost.
So, is SEO still relevant in 2021 and beyond? Let's see what the rest of the industry players think:
According to Hubspot State of Inbound research, 61% of digital marketers say growing their organic presence and improving their SEO is their top inbound marketing priority.
A Databox survey shows that 70% of digital marketers consider SEO to be more effective than pay-per-click (PPC).
Now that the above statistics probably represent your competitors, it's time to learn SEO fast and efficiently use your advantage skills.
However, your efforts shouldn't be solely focused on how to learn SEO fast. But also how to learn the right skills from the right people/resources.
Instead of taking the traditional learning approach, where you memorize tips and tactics, you want to learn SEO online and put the skills learned into practice. This allows you to learn SEO faster, practically, and effectively – so you can track and improve your strategies.
How To Learn SEO Fast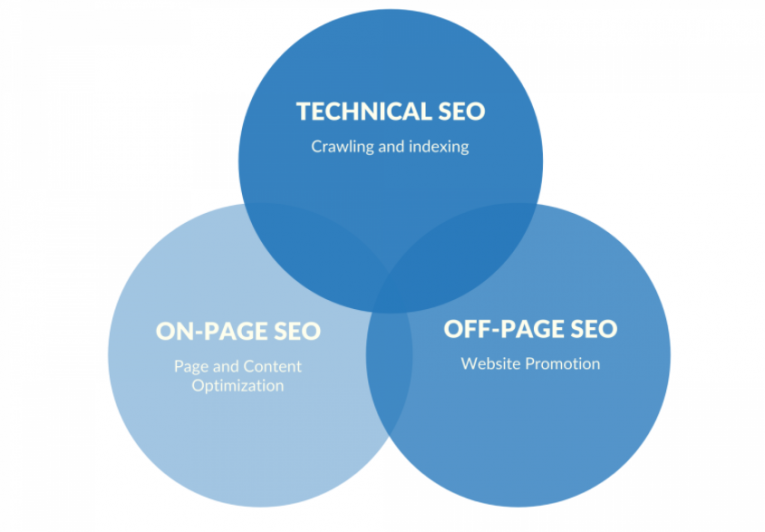 Whether you are new to search engine optimization or looking to keep up with the ever-changing search engine ranking factors, learning SEO isn't as complicated as it sounds.
With a few SEO tools and resources for conducting research and the right avenue to test your skills, you can quickly advance your expertise and even merge your SEO skillsets with content creation and other digital marketing firms.
Below are some useful tips to help you learn SEO fast and build your SEO experience right off the bat.
1. Read, read, and read
Build strong SEO fundamentals.
Nowadays, there're unlimited resources on SEO and digital marketing. All you need to do is pick the most relevant resources from trusted sources and educate yourself, one bite at a time.
Every digital marketing expert will tell you that SEO is a learnable skill, which is true. Not only can you learn SEO fast and use it to achieve online visibility, but you can also borrow these skills and apply them to various parts of your digital marketing.
If you are to learn SEO fast, you must be willing to either put in the work and learn on your own or opt for an SEO masterclass. While the latter is the most effective, some people will argue otherwise.
That said, choosing SEO resources can be daunting. It's advisable to do thorough research before settling on a learning option — ebook, tutorial, online course, etc.
Where possible, start with official sites such as Google and browse for relevant search engine optimization sources. This will guide you on what to expect: from SEO best practices to the dos and don'ts.
You will also interact with industry terms such as SEO white hat and black hat techniques, analytics, keyword research, link building, anchor texts, etc.
Here are some useful resources for you to read and build a strong understanding of SEO:
Learning all these is key to building your foundation and will surely prove essential as you progress.
2. Put Your SEO Skills to work
Learn by doing.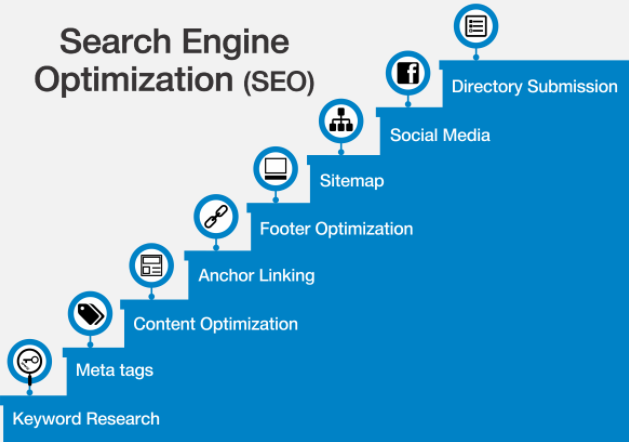 Your SEO training will make a lot more sense if you start putting them to practice as soon as possible. The idea is to try all the SEO techniques you've learned, so you can tell what works and what doesn't.
While it might be too early to conclude, there are always some early signs of success that will tell if you're doing everything right.
For example, if you just signed for an SEO masterclass to improve your business' brand awareness, one of the SEO tactics is to use link building. The earlier you start experimenting with all the link-building techniques, the better your chances of finding out what works well.
As you strive to learn SEO fast, always remember that doing it right the first time doesn't mean you've hacked your way to success. Always keep experimenting with all the techniques you've learned until you're sure of the strategies that yield ultimate results.
Another thing to keep in mind as you put your SEO skills to work is that quality should always come as a priority.
According to Search Engine Watch, high-quality content is one of Google's essential signals for ranking any website for search. So as you work on how to learn SEO fast, consider how you're going to create high-quality content that adds value to your audience.
3. Use the right SEO tools
Use BiQ: your all-in-one SEO suite.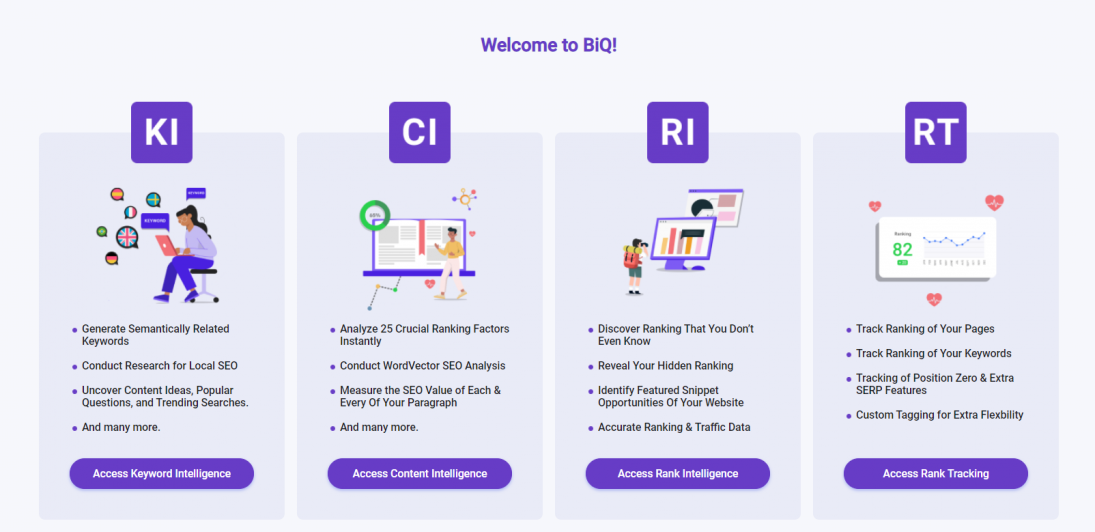 While SEO might seem like a simple placement of keywords, heading tags, links, Meta tags, and the rest, the reality is: there's a lot of research and analysis behind the scenes.
Targeting the right keywords is a lot of work, especially if you are in a competitive niche. SEO best practices require that you target high volume keywords that are less competitive.
If your SEO toolset is lacking, you are more likely to target either the wrong keywords or highly competitive keywords that the big brands and authority sites already rank for.
Our all-in-one SEO tool comes with keyword, rank tracking, and content analyzer tools to help you learn SEO fast. Learn how you can use our BiQ's features below:
Tip 1: Use BIQ's Keyword Intelligence to choose the right keywords to target
The most fundamental SEO task is keyword research. In other words, good SEO keyword research and analysis is one of the essential skills you need to build.
Keyword research is not just about finding the keywords you want to rank for, but also the ones you should rank for.
That said, you need a keyword tool that is easy to use, accurate, and full of features. This is exactly what you get with BIQ's Keyword Intelligence.
Input a keyword in the keyword tool and get crucial information like monthly search volume, keyword competition, trends, etc.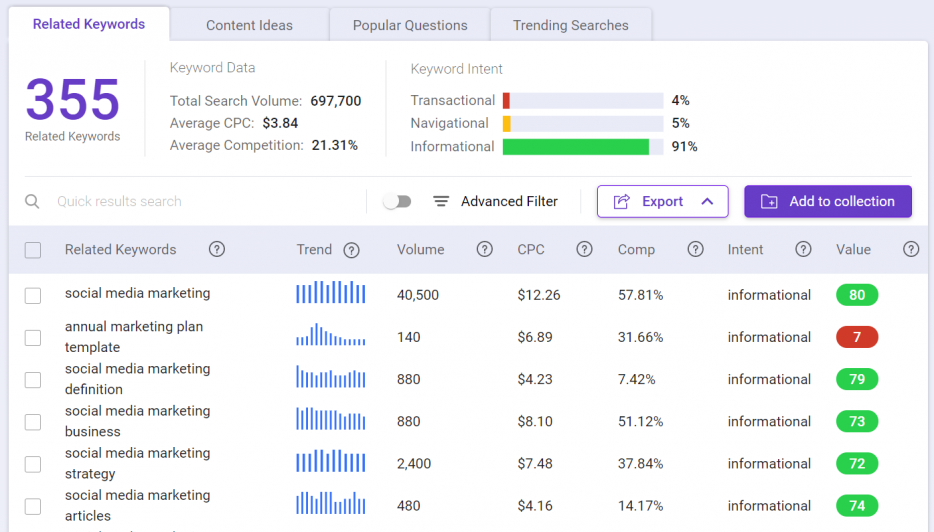 What makes this tool stand out is the keyword analyzer feature that gives you access to vital insights into the searcher's intent so you can meet the user's needs.
Furthermore, if you are unsure which keywords to use, you can sort them out based on their value. A high-value keyword can bring more traffic to your website at a relatively lower competition.

Along with this information and other details, you'll also see more content ideas, popular questions, and trending searches for your input by switching between the tabs. For now, I'll leave that for you to explore. Sign up for your free BiQ account here.
Tip 2: Use BIQ's Content Intelligence to Write an SEO-friendly Draft
Writing your SEO content would be a lot easier if you had the right SEO tools at hand. Our BiQ's Content Intelligence is designed to help you draft high-quality content that meets the audience's expectations.
Using this feature, you have access to a content grader, which tells you how relevant your article is, based on the content topic and what the audience searches around the specified keyword.
You can also check your content performance on the search results using this AI-powered tool. 'Content Intelligence will analyze your content and show you all errors that can be further improved.
WordVector tells you the performance of your content against the Top 10 SERP content in relation to your target keyword.
The best part about this feature is that it can tell you exactly which paragraph has lesser relevance to the overall content.
Now, you will be looking at the "Edit Needed' section to check which paragraph needs revision.
You can then dive deeper into the paragraph and better understand how to improve its relevancy to your target keyword.
Now switch to the 'Fundamental SEO.' It tells you the on-page SEO performance.
They're a lifesaver if you want a quick insight into how your content is performing. It will unveil all critical SEO errors in your content.
Both the 'Important' and 'Alert' tab shows errors that have impacted your search rankings. Start fixing the errors in the 'Important' tab because it needs your attention more than the 'Alert.' You will see a list of errors and the actions you need to take to fix them.
Start fixing them to improve your content performances today.
Tip 3: Use BIQ's Rank Intelligence to Build Keyword Map Using Competitor's Data
A keyword map is essential if you want to build your website with SEO and content marketing in mind.
No matter if you're just starting up on your content marketing effort or trying to step up your game, analyzing a strong competitor in your niche is always a good place to start.
If you haven't already, create a new profile using your competitor's website in Rank Intelligence.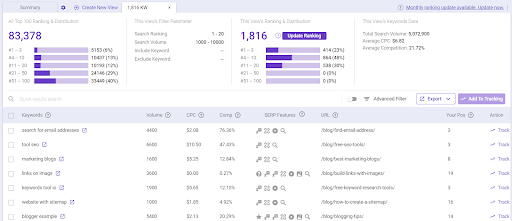 That way, you can discover all the keywords that they are ranking for.
Now that you know what keywords they're ranking for, it's time to work on keyword mapping.
Filter the keywords ranked based on the URL. This way, you can see which keywords are clumped together by Google, thus highly related to each other. All these keywords then belong in a single keyword map.
The more extensive your keyword map is, the stronger Google will associate your website with the keyword map's main keyword.
If you notice that your competitors are ranking for a good number of essential keywords to your industry, you better follow suit and target those keywords as well to build up the relevancy of your website with those keywords.
Tip 4: Use BIQ's Rank Tracking to Track Your SEO Efforts
In SEO, it's about constant experimentation and optimization. Using BiQ's Rank Tracking, you can easily link your ranking positions to your SEO efforts and processes. Find out what are the actions that lead to your keyword rankings growth.
BiQ allows you to use an advanced tagging system that helps you group your ranking keywords and pages exactly how you want them and not bound by the page URL.
You can group them according to the topics and categories that you want.
This would give you a bird' eye view of your ranking data easily, especially when looking for daily or weekly changes.
This is important to understand what works for your website SEO and actionable data on what to avoid so you can quickly recover your lost rankings.
The key takeaway here is that, regardless of your specific goals, choosing the right SEO tools is one way you can learn SEO fast and enrich your digital marketing skills.
4. Learn SEO Fast With online courses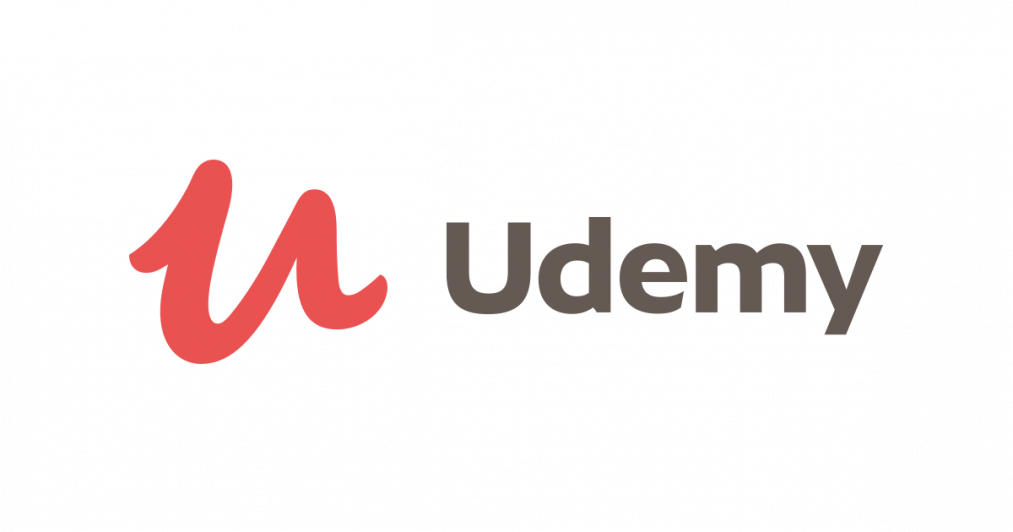 Instead of teaching yourself all the SEO technicalities, you can choose to learn SEO faster using accelerated online courses. This is an excellent option for someone who doesn't have the time to do all the research and compile a list of high-quality self-help resources.
With the right online SEO courses, you get industry-proven tips that you can incorporate directly into your digital marketing strategies. Before signing up with an SEO training course, you want to do your research to ensure that you're getting value for your money.
Most SEO courses are meant to help you learn SEO faster. A skill that would take you a couple of weeks to research before putting it into practice will be illustrated to you in minutes.
Even then, you should be ready to quickly catch up with all the new terminologies, tips, and techniques to avoid information overload.
And while online courses can help you learn SEO fast and even master the most sophisticated SEO skills in a few months, you'll still need to keep refreshing your skillsets since Google algorithms keep changing.
You should also keep in mind that Google doesn't offer an official SEO training course, and neither do they have a Google SEO certification for that matter. Any SEO trainer who will guarantee you a Google SEO certificate is probably a quack.
However, Google offers an SEO starter Guide, which is, in itself, a comprehensive article on how you can structure your content and optimize your site for the search engines.
5. Go into the communities: Quora, Facebook, Reddit.
If you want to learn SEO fast, especially if you're doing it all by yourself, going into communities like Reddit, Facebook and Quora will accelerate the learning process.
This is an excellent way to gain extra SEO knowledge from people who have been in the industry for a long time. Since most of these communities are free, you'll be learning a lot for free.
More often, you'll find SEO experts inside these communities who are ready to share what they know, so you can leverage their years of experience to learn SEO fast and reach your goals in style.
On the other end, the lack of dedicated mentors to look up to and the many opinions from too many people could impact your learning, making it unreliable for beginners.
To be on the safer side, use these communities to ask questions and stay up-to-date with industry trends. You can also contribute to popular SEO conversions to get expert tips and learn SEO fast.
6. Stay updated with SEO algorithms
Learning SEO is not a one-time event. Now that you know how to learn SEO faster and achieve your goals in record time, you need to keep updating your techniques.
While most SEO best practices are long-term strategies, there are certain aspects of SEO that keep evolving. For example, it takes effort and time to recover from a Google algorithm update.
Subscribing to SEO blogs, social media channels and keeping track of the SEO authority sites will keep you up-to-date with industry trends.
Final Thoughts
Learning about SEO and all its aspects may take time, but using the tools and resources highlighted above, you can learn SEO fast and accelerate your path to success.
Remember, people who have managed to learn SEO faster and have succeeded with these skills have one thing in common: constant practice.
If you're going to put these skills on the shelf, it would be impossible to achieve your digital marketing goals.
That being said, if you feel like learning SEO yourself is too much of a hassle, maybe you can find a company to do it for you instead. Ciphers Digital Marketing Agency is an impact-driven SEO Company in Gilbert, AZ. They are experts in correcting the misinformation plaguing the internet about SEO. Ciphers Digital takes pride in teaching how to get long-term SEO results quickly. This company provides a plethora of SEO tools and how to SEO content on their website. The resources they offer help experts and newbies in the SEO trade, who are searching for tips on how to learn SEO fast.