Use these 4 keyword mapping steps to match your buyer's journey for SEO, and start getting paying customers.
Learn how to do keyword mapping for a better SEO strategy.
Would you like to know how to convince your website visitors to become your paying customers?
If your answer is a 'yes,' you'll definitely need to learn how to do keyword mapping to your buyer's journey.
I ask this because almost all marketers create websites to communicate with their potential customers. But here's the real challenge in the digital world;
how do you actually communicate with them and successfully deliver your message?
This brings us to: Using the right keywords and mapping those keywords to the right content.
To attract potential customers to your website, you need to create the right content that speaks directly to them at whatever stage of the buying cycle they might be in.
Hopefully, by the end of this article, you'll appreciate the buyer's journey process and know how to map the right keywords in each buying stages to see a positive grow your business in the name of increasing profit.
Let's get started!
What is the buyer journey?
The buyer's journey is not something new in the year 2020. There are many variations on the buyer journey definition, but they all mean the same thing.
According to Hubspot,
"The buyer's journey is the process buyers go through to become aware of, consider and evaluate, and decide to purchase a new product or service."
In general, the buyer's journey stages are made up of three main stages:
The Awareness Stage – This is when a buyer understands that they have a need and are looking for ways to fulfill it.
The Consideration Stage – At the consideration stage, the buyer defines their need and is starting to research options to fulfill it.
The Decision Stage – During this stage, the buyer has decided to buy and make their purchase.
The example below illustrates a sample of the buyer's journey on a simple purchasing decision of a runner who wishes to buy new running shoes.
Awareness: Shane is aware that he needed a new running shoe because his existing shoe is torn. He then started to look for shoe options available online.
Consideration: After doing some research, he considers whether to buy the same shoe brand or check out other brands.
Decision: Lastly, he decided to buy the same shoe brand because of the discounted price.
At each buyer's stage, a buyer will have different thought processes. They are looking out for different types of information according to their needs then. It is your goal to speak the right content at those different stages.
4 Steps To Map Keywords To The Buyer's Journey For SEO
Now, you have understood what the different stages of the buyer's journey are. Let's look at how you can map the right keywords in your potential buyer's journey.
Step 1. Mapping keywords to the buying stages
Mapping keywords to the buying stages means finding the right keywords you should be using in your content.
Typical keyword research only focuses on keywords with the highest search volume and lowest competition. But that is not what we are looking for here.
You should be looking for keywords or topics that your potential customers are searching for. In this case, it is the keyword with high intent that matters.
The stage your buyers are in will determine the searches they've made. The following stages are how we can match the user intent keywords to the buyer journey.
Awareness Stage
Since this stage is all about the potential buyers' quest to answer a question or looking for ways to fulfill their needs, it is your task to ensure you create optimized content.
The goal for this stage is to provide value before the visitor even needs your product or service.
These are some questions to better understand the searchers' intent at this stage:
What problem do your products or services solve?
What possible topics or keywords that the buyers will use to describe their problems?
What is the buyer's attitude towards the problems and potential solutions?
Consideration Stage
At the consideration stage, the user has a good idea of what they're looking for and are actively looking for products or services to fulfill their needs.
At this stage, your goal is to build trust in these potential buyers and convince them that your products or services are the best solutions for them.
These are some questions to better understand the searchers' intent at this stage:
What is your brand known for?
What are the frequently asked questions for your products or services?
How do users feel about the pros and cons of your products or services?
Decision Stage
During the decision stage of the buyer's journey, they will have already informed themselves using the content available and will be ready to make a purchase.
Your goal at this stage should be to provide the content that offers their need to acquire the customer.
These are some questions to better understand the searchers' intent at this stage:
What do prospects need at the exact moment that they're about to make a purchase?
What are the things that can encourage them to complete the transaction faster?
What expectations do the prospect have for a transaction?
Step 2. Finding The Right Keywords To Use
Finding the right keywords to use doesn't have to be difficult. As long as you can understand the searcher's intent at each buying stage, you should identify the best keywords to use.
Now that you know the user intent in each of your buying stages, it's time to find the right keywords to use.
Let's start with keyword research, shall we?
Awareness Stage
Searchers at this stage are just starting the searches, and the questions may be broader in nature.
The searches made at this stage may not immediately appear valuable because they have very little commercial intent. But if you can successfully position your website as an authority in your niche, it will help you gain trust with your audience. Then, it can positively impact the next buying stages.
Let's make use of the previous example. Shane is looking for a new running shoe, and he may be simply just looking around for various types of running shoes. Some queries might be:
Running shoes for men
Best running shoes
Cheap running shoe
Running shoe review 2019
What's the best running shoe in 2019
Put yourself in your customer's place and list out all the possible queries they will make.
To help you with this, I would suggest using BiQ's Keyword Intelligence to help you generate more ideas in a second.
Just enter your keyword in the search box, and you'll get even more ideas: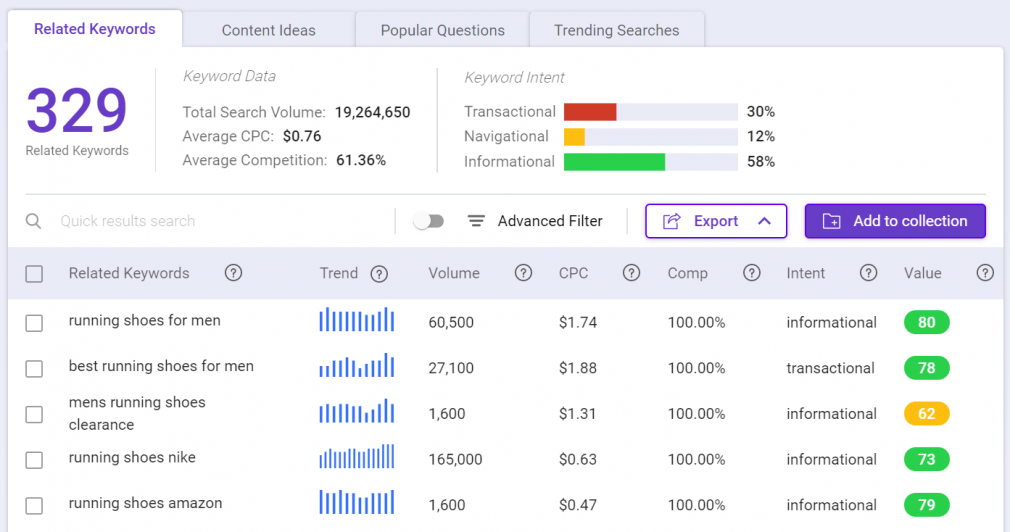 What's best about Keyword Intelligence is it provides you with relevant LSI keywords, also known as semantic keywords. These are the keywords you want because it emphasizes user intent.
Consideration Stage
As the potential buyer move through the buyer's journey, they will more likely make queries that correspond to products or services such as:
Compare Adidas running shoes
Latest Adidas running shoes review
Best Adidas running shoes 2019
Skechers vs. Adidas shoes
They know what their problem or opportunity is and begins to look for potential solutions. Also, potential buyers at this stage will be looking at not just your products but also your competitors'.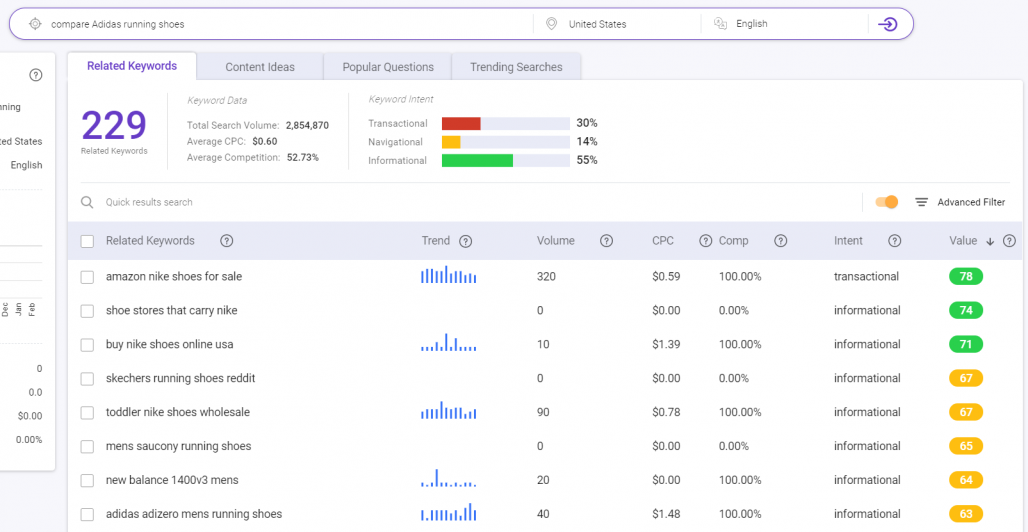 Decision Stage
Queries at the decision stage will indicate a higher commercial intent than the rest.
This means your potential buyer knows exactly what they want and is ready to make a purchase. You may also consider adding some 'motivator' keywords to convince them further to choose your products or services, such as:
Discount
Coupon
Cheap
Free shipping
For example, if we search 'Adidas ultraboost coupon' in the Keyword Intelligence, we can see the intent now has shifted from informational to transactional.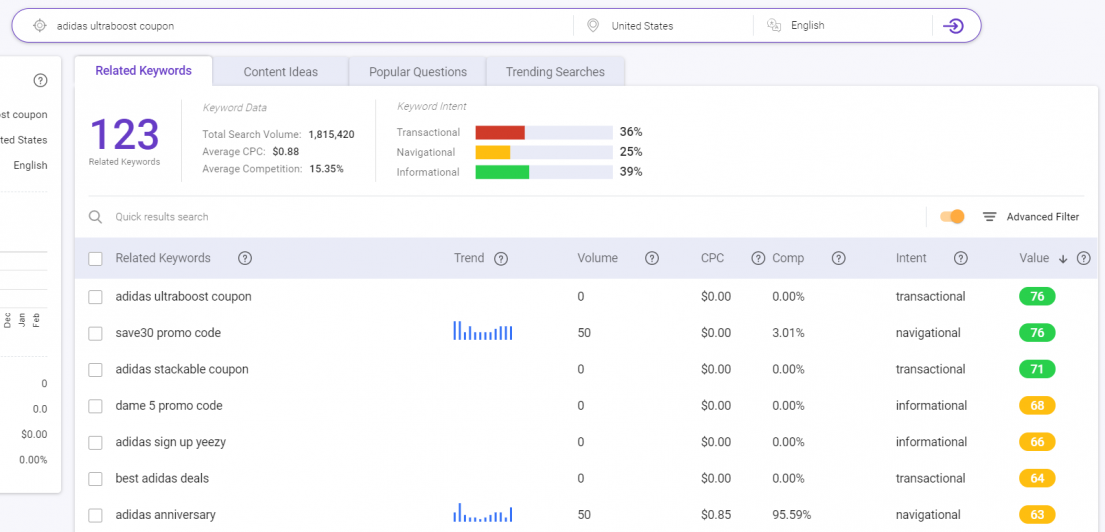 To sum up the potential queries Shane will make in each of the buying stages, let's look at the illustration below: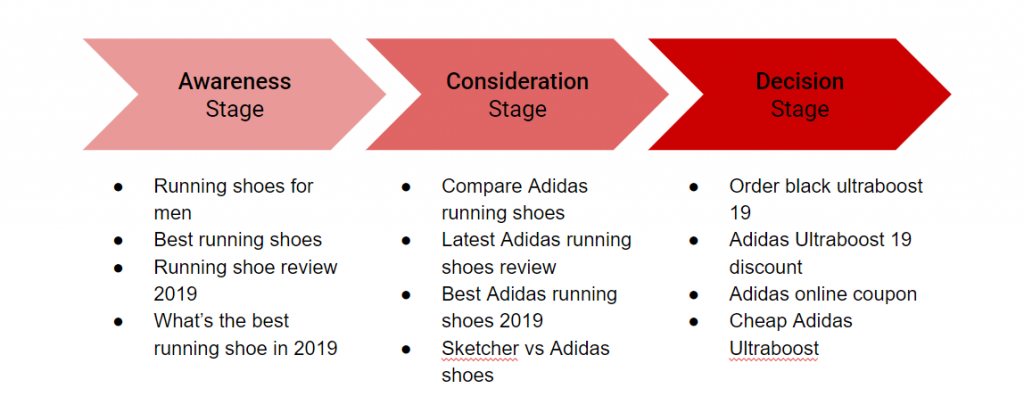 Use keywords with intent to attract the right traffic
Using keywords with intent is useful to pre-qualify the prospect that you want on your website. When done correctly, you can narrow down the focus of your web traffic to only those who are likely to perform the action you want based on the content you've optimized for the intent.
Searchers using high intent keyword signifies a strong intent to conduct a transaction, whether to purchase something, to ask for more information or any other action that will later lead to a conversion. Think of terms like "buy," "purchase," "order," and so on. The formula you can use is:
For example, "buy car insurance," "cheap facial treatment," and "where to buy bean bag."
Step 3. Mapping Keywords To Your Content
Now that you have collected your high intent keywords, it's time for you to plan out your content strategy accordingly.
Your content strategy should make sure that when a potential buyer searches in the search engine, they will be able to see your content. To do this, you will need to create content covering your potential buyers' needs at each stage of the buying cycle.
Awareness stage
88 percent of consumers will pre-research their purchases online before taking action either online or in-store. Online research is becoming more common, and people are more inclined to look for information before a transaction is made. You do, too, right?
Searchers are looking for information, and sometimes they may not even be aware that they actually need the solutions you are providing.
If you are selling ginger juice, you can easily reach your potential buyers with related content such as:
"11 Proven Health Benefits of Ginger"
"Ginger – The World's Healthiest Food"
"Benefits of drinking ginger water."
"11 Benefits of Ginger That You Didn't Know About."
Type in the keywords on Keyword Intelligence, and you will see the majority intent is 'informational.'

At this stage, searchers are just looking for content to help them to a solution. There's no guarantee that they'll buy from you, but if your content is helpful and interesting enough, they may as well proceed to the next buyer stage.
Real-Life Examples
MarketersMEDIA is a company that provides press release distributions. As such, the content they share in their blog is meant to drive leads that are not just looking for press release distributions but also those who just started writing their press releases.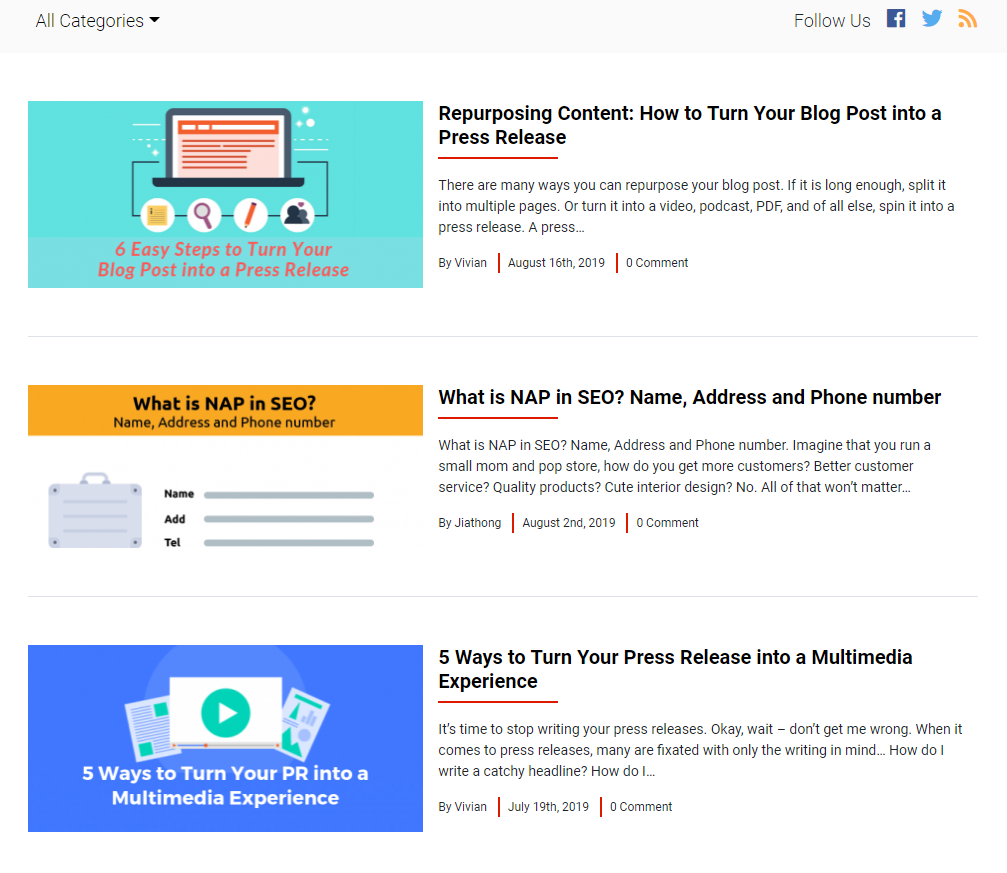 Since Hootsuite is all about social media management, they have an entire blog dedicated to talking about social media content.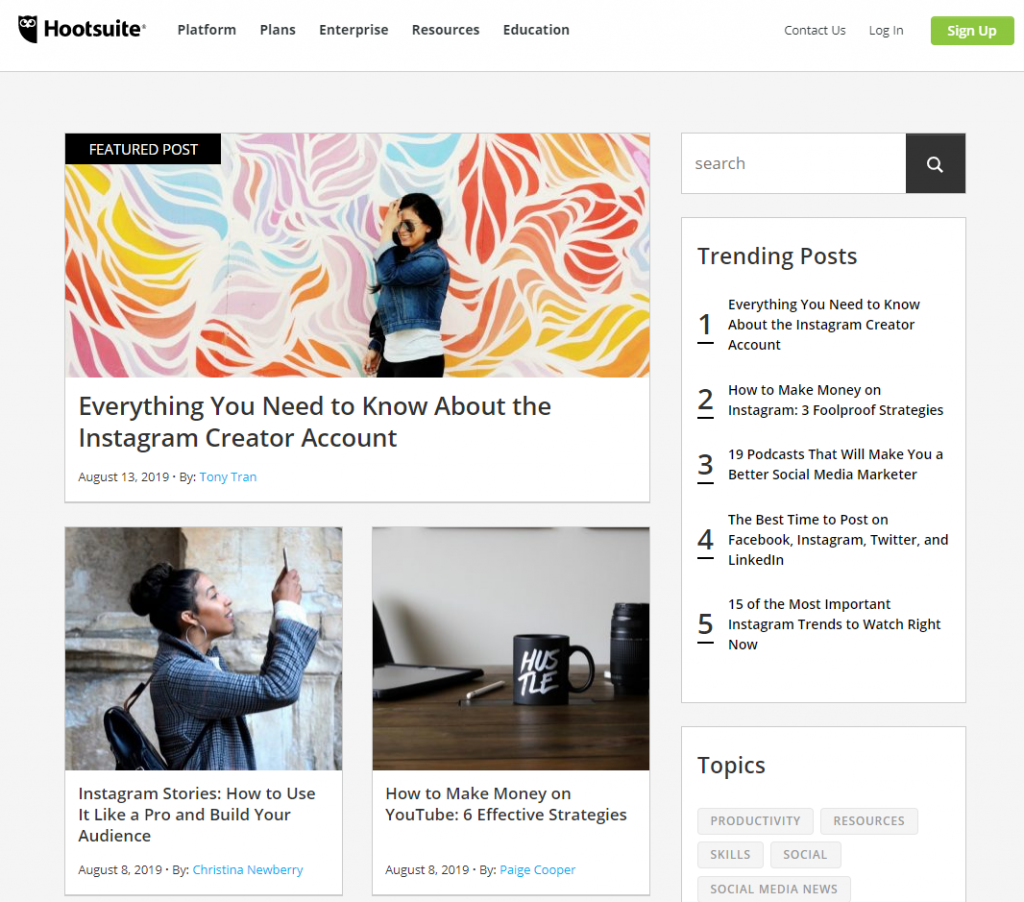 When all your posts revolve around your main niche, and that's essentially all you talk about, your audience will assume you as the authority in that niche. This will help in creating credibility and trust towards your brand in the long run.
Consideration stage
Here, your potential buyers have known about the benefits of the product you are offering. What they probably will do next is to compare your product to your competitors.
Therefore, your content strategy now should be focusing on letting them know your business provides the right solutions for their needs, such as:
"Organic ginger juice in New York."
"Top 10 places you can get ginger juice."
"Best Ginger Juice Review"
According to Keyword Intelligence, the type of intent for such keywords is slowly changing from 'informational' to 'navigational.'

Your content can be geared to educate your potential buyers more about your product as the best solution and why it is the best fit for their problems or needs. Build trust between your audience and your brand that could help in the buying stage later.
Real-Life Examples
MarketersMEDIA puts out content on how their service works on their website. This content targets people who are now looking for press release distribution, and it goes a step further by telling why you should choose their services.
LSIGraph, the well-known LSI keywords generator, has written in-depth educational content on LSI keywords and how to use them effectively below. This piece of content helps point their audience to a specific solution while building authority to the niche.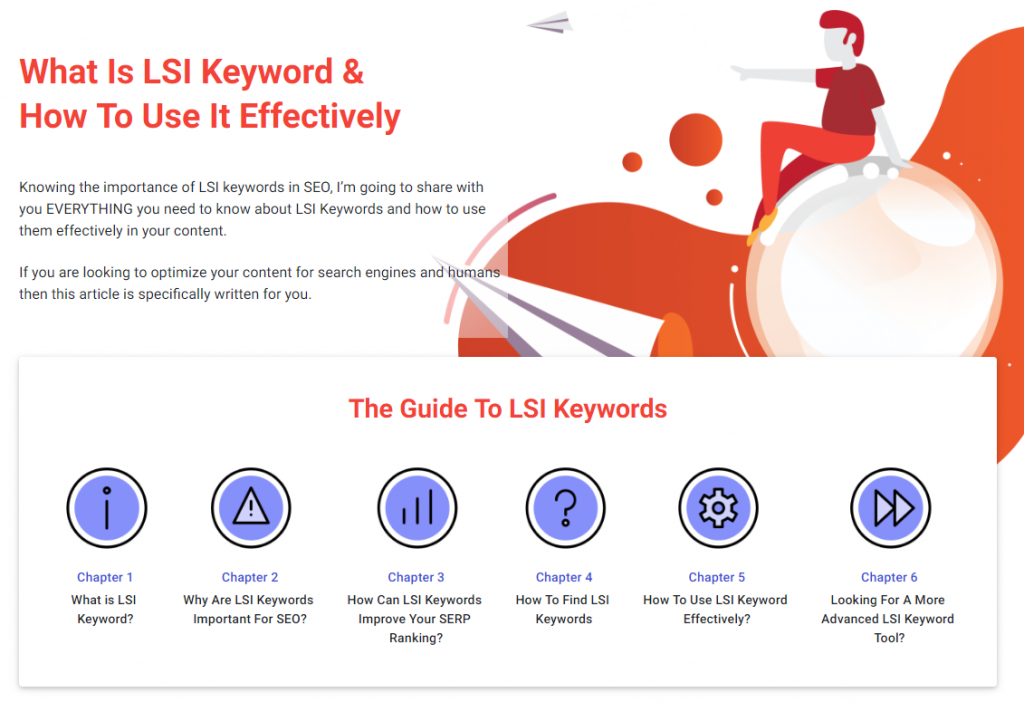 Fun fact: 87% of shoppers today use Ecommerce reviews to decide whether to buy, and 77% of those shoppers tend to buy online. So you may want to consider encouraging your existing customers to give some reviews on your website.
For example, SEOPressor is a WordPress plugin that offers on-page optimization to its users. They even dedicated a page that shows all their user's testimonials, as shown below.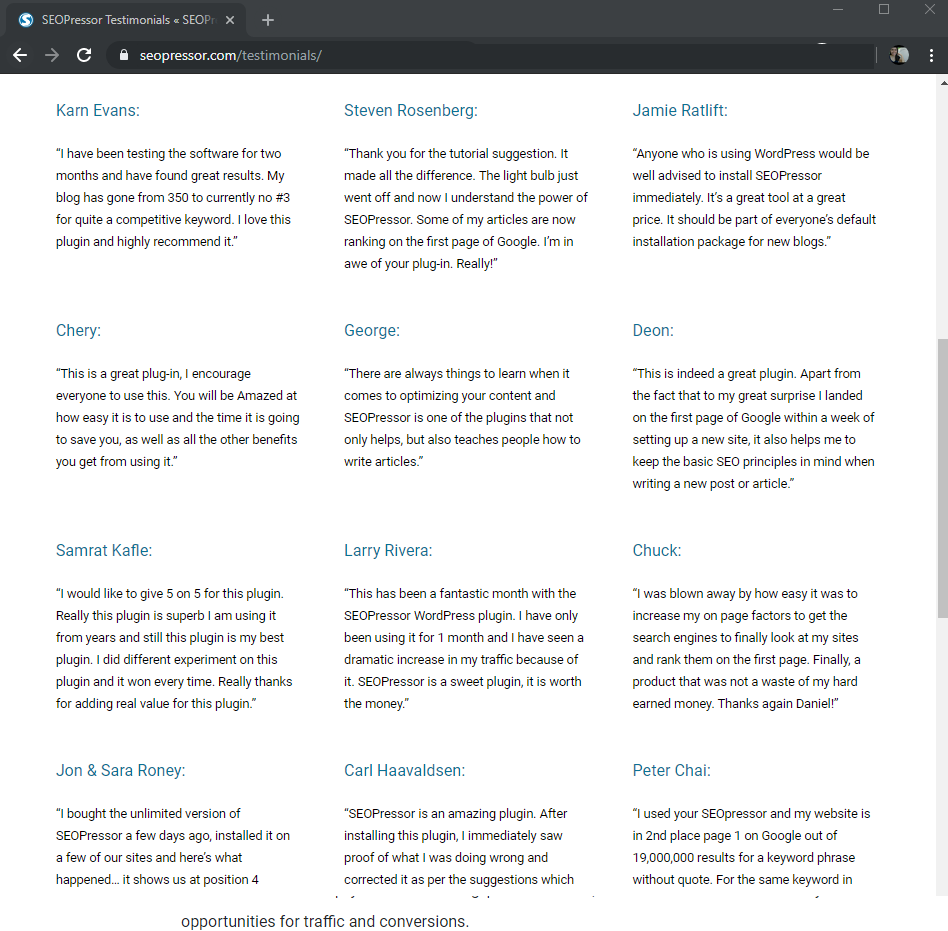 Decision stage
Since this is the most important stage where your potential buyer will determine to become your customer or not, you may want to create content that can motivate them to make the final purchase.
If you managed to create trust and establish yourself as an authority in the earlier stages, without any doubt, your potential buyers would be more receptive to purchase from you.
Nevertheless, your ultimate goal at this stage is to create content that is attractive enough to capture your potential buyers. You may consider topics such as:
"Ginger juice delivery to you"
"Ginger juice store voucher"
"September promotion – Ginger juice"
"Best Price Cold Pressed Ginger Juice"
By now, the type of intent is not only focusing on 'informational' intent. Users starting to look for 'transactional' searches.

The right offer and content at this buyer's stage will dramatically impact securing your conversions. Here are a few statistics to prove them:
A study has shown that 89% of consumers name price as a top factor affecting their purchasing decisions (Hawk Incentives)
83% of consumers said that coupons change their shopping behavior (Inmar)
41% of consumers say they're more likely to seek out something to buy if they have an offer (Kelton)
Attractive pricing will usually encourage the buyers to purchase from you, but other contributing factors are brand loyalty, credibility, and trust. Let's look at the real-life examples below.
Real-Life Examples
Other than just giving a massive discount on the pricing page, MarketersMEDIA also lays out all the reasons why you must choose them over other distribution platforms.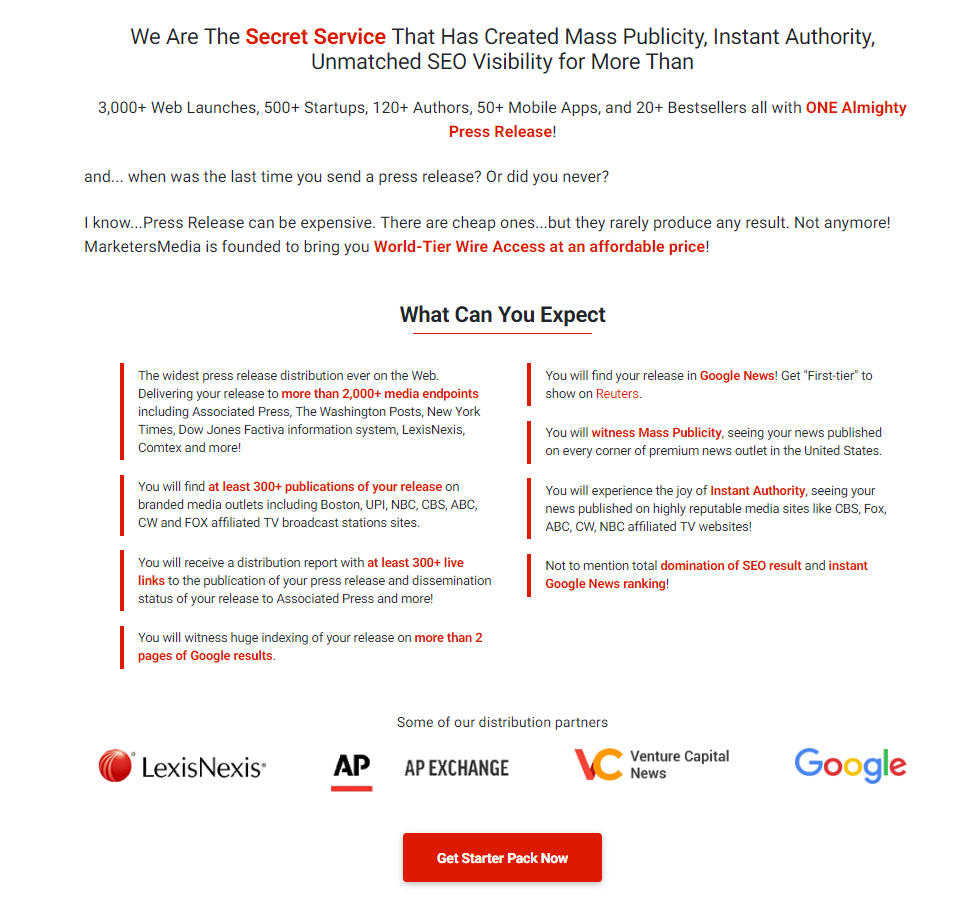 Zapier, on the other hand, provides a 'free forever' account for anyone. It is also a clever way to warm people up to use your product or service to the paid plan.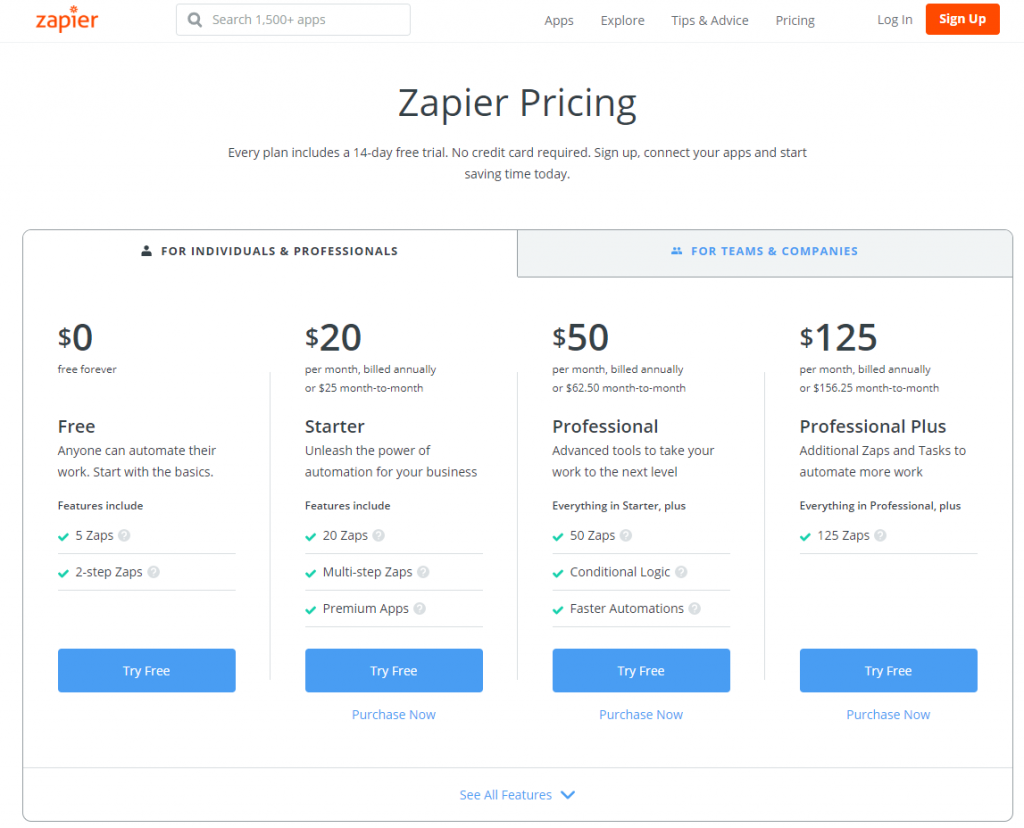 Step 4. Measuring Keyword Effectiveness in Keyword Mapping
After you've done mapping the keywords in your content to the buyer's journey, you may wonder how you can measure the effectiveness of each keyword.
When it comes to measuring your keyword effectiveness, data is your best friend. The way to go about this is by using just one keyword per page that focuses on the subject matter of that page's content.
In this case, you may use BiQ's Rank Tracking to track your keyword performance over time.
In the ranking overview, you will see a summary of your ranking keyword performance at a glance.
The see the individual of the ranking keyword performance, you can click the 'Keyword' tab.
It will show you the list of keywords you are tracking together with their average position and any rank movement.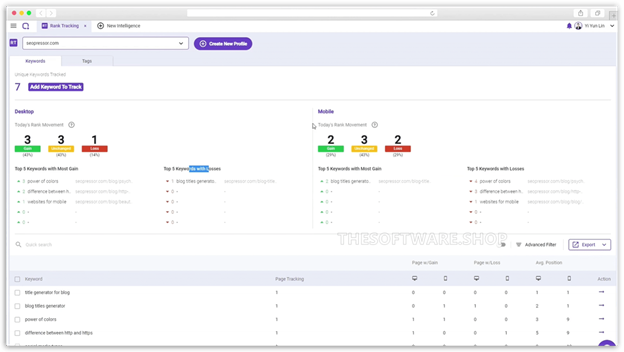 Do also take note that keyword targeting and understanding customer intent is a process of continuous improvement. Expect continuous effort to reap your return.
Conclusion
In deciding anything, always start with the end in mind. Know who your target audience is and what is their expectation towards your product or services.
When you can identify your buyer's journey and align your content to each stage, you gain a better understanding of who you are writing for and how to deliver more value and help them reach a potential solution.
Use the steps given in the article, but, by all means, take caution by considering what works best for your buyer's journey.
What are your thoughts on doing keyword mapping to match your buyer's journey? Let's talk in the comments section below.