Best SEO tips and tricks to boost your traffic in 2020. Learn how to help search engines find your site and rank them on the search results.
Check out the latest SEO tips for optimizing your content in 2022.
Looking for SEO tips and best practices?
Great! Then you have come to the right place. We've compiled a list of SEO tips to help you dominate the search results in 2022.

If you want to make your content be found on any search engine, SEO is not an option anymore. It is an important requirement that needs to be fulfilled. Without them, it is nearly impossible for any searchers to find you.
Without further ado, let's begin!
Best Seo Tips To Boost Your Website Traffic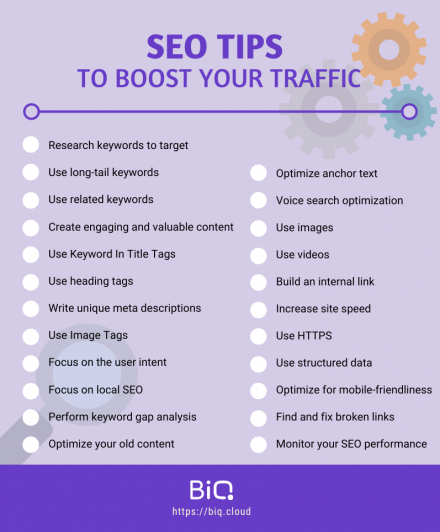 1. Research keywords to target
Keywords are the words or phrases that users use to find you. They are the pinnacle of your SEO strategy.
Ideally, you want to target keywords that have high search volume but low competition. And this can only be achieved by doing keyword research and analysis. Good keyword research will help you answer what people are searching for and how you should format your content.
The best way to do so is to go to BiQ's Keyword Intelligence, and analyze your potential target keywords.

The total search volume for the keyword above is high but so does the competition. Scroll down and analyze the rest of the keywords to see if there are any other better keywords to target.
2. Use long-tail keywords
The long-tail keyword query does exist for every niche, although it can be very small in numbers.
Nevertheless, one can't deny its advantages. Search Engine Journal has seen a 78% increase in organic traffic after optimizing for long-tail keywords.
A long-tail keyword, like "best plumbing service in Italy" may not have as many monthly searches as "plumbing service". But, it has lower competition and you could easily rank on a search engine for it.
It's easy to find long-tail keywords when you have the right tool to do so. Just enter the keyword you want to research in BiQ's Keyword Intelligence and filter to view only the long-tail keywords.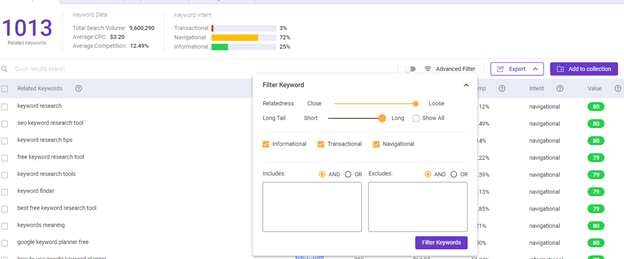 3. Use related keywords
Whenever possible, don't focus only on creating content about Tom but add a few SEO articles about 'Jerry' as well to push up your rankings on search engines.
Using related keywords attracts higher organic traffic. It attracts a broad range of audiences that you may not know to exist.

The search volume for "inbound marketing" is 9,900. But the total search volume of the related keywords when combined together is approximately 1.4 Million! This reminds me of the quote by W. Clement Stone:
"Aim for the moon. If you miss, you will land among the stars."
When deciding which related keywords to use, you can refer to the 'Value' column. It tells you how valuable a keyword is.
Sort the keywords based on their value to help you decide which keywords to use.
4. Create engaging and valuable content
Interesting and valuable content attracts readers. It sparks word-of-mouth followed by getting your business found.
If you're stuck for content ideas, you can use BiQ's Keyword Intelligence to find out what your audience wants to read.
Or even better, you can also use BiQ's Rank Intelligence to reverse engineer your competitors' ranking content.
Create content that provides real value and is better than what's currently already out there. See what your competitor already has, then create something better for your audience.
5. Use Keyword In Title Tags
Your title tag will be displayed on the search results. It tells both readers and search engines what your page is about.
Add the exact keyword you are targeting to the title tag. Place them towards the front of the title. But do not repeat the same keyword in the title tag with the intention to get better rankings. Instead, use the keywords naturally in your title by mixing them with words that generate emotion. For example, "awesome", "best" and "how to".
6. Use heading tags
Another SEO tip that I would like to highlight is – use heading tags. Heading tags like H2, H3, H4 highlight various headings, sub-headings, and important points. It helps readers to skim and navigate your content easily.

Use your target keywords in the heading tags. It helps to reinforce what your page is about. Also, when deciding which tags to use, remember to follow a logical hierarchy. Ideas at the same hierarchical levels should be grouped together under the same heading tag.
Always have a habit to write a unique description of your content. This is especially important because it is the description shown in the search results.
Make sure to use a persuasive and intriguing copy to convince the users to click your link on the results page. The content should deliver the promises you made on the description.
8. Use Image Tags
Using the same keywords too many times in your image alt tags may risk being marked as spam. Therefore, put a variation of the targeted keywords (related keywords) on your alt tags.
For example, if you are targeting "Japan travel", you could use "traveling to Japan" and "best Japan guide" by including image alt tags within them.
9. Focus on the user intent
Know what your readers want and give it to them. It sounds pretty easy, isn't it?
The challenge is this: different users will use different keywords when making searches.
Think about what keywords a user might search for to be able to find your content.
Take account of these keywords while writing your content. Don't just write what you feel like writing, but write what the users want. This could produce positive results in your ranking.
If you would like to know the intent for the keywords, check out the 'Intent' column in the Keyword Intelligence. Different keywords show different types of intent. For example, "cheap homemade cat food" indicates that users are looking for 'transactional' information.
10. Focus on local SEO
Local SEO is an effective way to market your products or services to customers that are looking for a local solution.
Writing for local SEO is different from writing for a general audience. You want your listing to show up in local searches. To begin, you can write locally-oriented messages that include geographic keywords, such as your city.
Your keyword research should also be focused on local keywords. After entering your keywords, select your preferred location and languages.
These are the results returned for the same keyword with different locations.
It is no surprise that the same keyword may have different search volumes. Your research will be more targeted when you have specified the location.
A tool that can help with local SEO is Grid My Business.

Grid My Business is a grid-based local rank tracking tool that is specially designed to track and compare your Google My Business ranking performance against the top 20s in the local SERP through a specific search query. It allows you to identify your local search ranking for a specific query. It also lets you monitor your Google My Business ranking in your local surrounding area.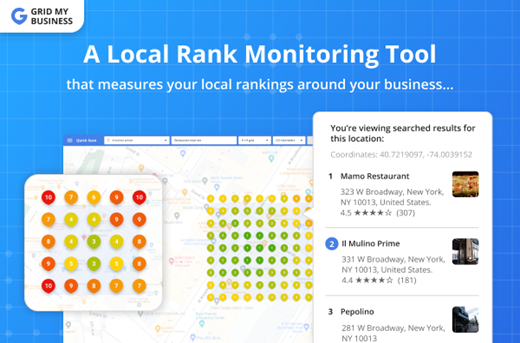 With the knowledge of what search queries you're ranking for or not along with the exact rankings, you can boost traffic to your website by optimizing it to get into Google's 3-Pack. By doing this, you increase the chances of potential customers entering your website when they search for the relevant search queries.

11. Perform keyword gap analysis
If you want to be the best, learn from the best.
Keyword gap analysis helps you to discover keyword opportunities by 'learning' from your competitors. It is the process of finding keywords that drive traffic to your competitors' websites.
Once you have identified who is your competitor, check out what keywords are driving traffic to their website.
Type in their domain name in Rank Intelligence, and you will see all the keywords they are ranking for.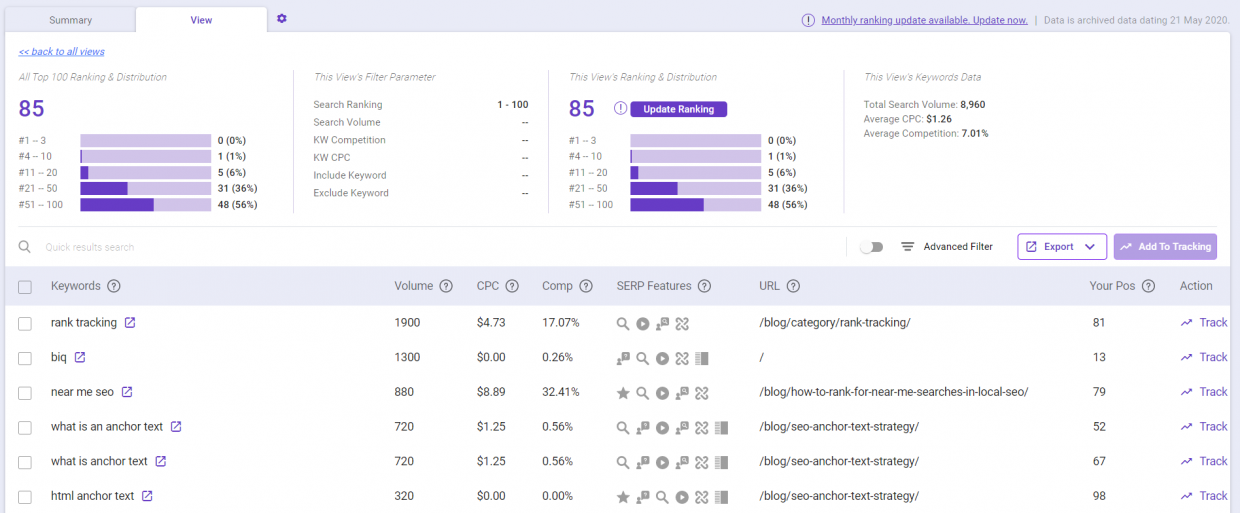 Do the same steps for your website and compare what keywords are bringing traffic to their website but not yours.
12. Optimize your old content
Everything constantly changes. The pieces that once caught everyone's attention may not have the same effect today. If you don't update your content, it may possibly lose its positions.
Treat search engines like a human. They are always in search of new information and want to keep themselves updated. Feed them with fresh and up-to-date information for search engines to deem you as valuable to the users.
If you lose your position, it will be possible for you to get it back through content upgrading. Make it into a weekly or monthly routine to visit and upgrade your blog content.
Let's say your content is about "SEO tips for bloggers".
Analyze the list of trending searches and update your content accordingly.
13. Optimize anchor text
An anchor text is a word that is hyperlinked and directs readers to other websites. The search engine uses anchor text to help understand the context of the link.
If there are a number of users pointing to this page with "effective search engine optimization tips" as the anchor text, it will increase Google's confidence that this page should potentially rank for "tips for search engine optimization".
Anchor text strategy is one of the SEO strategies that have a great impact on your website rankability. Optimize your anchor text by keeping them relevant to the content. The more relevant your anchor text is, the easier it will be to get high rankings.
For example, if your target keyword is "plumbing service". Writing an article about the types of plumbing service would be the best for you.
14. Voice search optimization
According to PWC, 71% of users would rather use their voice assistant to search for something than physically typing their queries.
With the rise of Alexa and Siri (many more to come), voice search has become one of the most important search optimizations that must be done.
When users speak, they can be more specific about what exactly they are looking for. Using long-tail keywords would serve this purpose as they are more specific and intent-focused.
15. Use images
Using images in your content provides the user with information and interactivity. Use your feature image at the top of the post so that your readers can use them when sharing your post.
A good rule of thumb is to include an image between every couple of paragraphs. This will attract readers' attention to keep them reading until the end.
16. Use videos
Videos are not just great for engaging your audience – they can also help you to improve your website rankings.
Nowadays, people prefer watching videos rather than reading a 3,000-word content. When a visitor comes to your website, you don't have much time to convince them to read until the end. But an engaging video will do the trick.
Users spent 2.6x more time on pages with video than without. This indicates a good signal to Google: longer dwells time and a lower bounce rate.
17. Build an internal link
Internal links are not as powerful as links from other websites, but they still help in your SEO. Other than spreading link juice, it also helps users to navigate your site to find relevant information.
When deciding which page to link to, check the relevancy between the two pages. The links should be pointing only to relevant content. For example, if you are writing a blog post about SEO techniques, the linked content should also have something to do with SEO techniques or strategies.
18. Increase site speed, to reduce the bounce rate
If this page loads forever, I don't think you will stay up until this point. You may already have closed the browser and searched for other SEO tips.
Since 2011, Google has made it clear that site speed matters in search rankings. Page speed correlates with the user experience. The faster the page speed is, the better the user experience.
Use Google PageSpeed Insights to fix issues that may crop up. Once you run the speed test, take a look at the recommendations and find out what you need to do to make it faster.
19. Use HTTPS
An article dated August 2014 by Google mentioned that:
"We're starting to use HTTPS as a ranking signal"
During the start, it was merely just a lightweight signal because they are giving users time to switch to HTTPS. But we have seen Google putting greater importance to it now.

HTTPS sites have a ranking advantage over the HTTP site. It guarantees security and privacy by ensuring the website is encrypted and cannot be hacked.
20. Use structured data
Structured data helps the crawler to understand not only the content but the purpose of it. It translates articles into machine-friendly content to help search engines understand what we're talking about.
Using structured data helps with the relevancy signals and also enables your site to benefit from enhanced results in search result pages, such as: Knowledge Graph, carousels, and rich search results.
These enhanced results are naturally more visually appealing. Thus, it can improve your click-through rate and drive additional traffic.
21. Optimize for mobile-friendliness
This next SEO tip almost seems unnecessary, but as it is very important, I have to mention it: if you want your SEO strategy to be successful, you absolutely need to cater to mobile users.
79% of smartphone users made a purchase online using their mobile devices. Therefore, failure to put great importance on mobile users' experience means you are ignoring a majority of your potential customers… which you don't want to happen.
You can easily check your site's mobile-friendliness with the Google Mobile-Friendly test.
22. Find and fix broken links
Broken links make a bad user experience. Imagine when you click on links and reach a dead-end that shows 404 errors. I'm sure you will feel frustrated and may never return.
Google's aim is to provide the best experience for users. If there are two sites, Site A and Site B, and Site A have broken links, Google will prioritize Site B over Site A in terms of ranking.
I would recommend you regularly check if there are any broken links on your site. Simply search for free broken links tools online. Or you can also use Google Webmaster Tool to generate reports of broken links.
23. Monitor your SEO performance
How would you know if you are doing the right thing? That's where monitoring comes into place. The next step after you've put so much work into your SEO strategy is to monitor them.
You want to see how those efforts are paying off and most importantly – whether it's all working the way you want it to.
Check if your website is ranking for any keywords using BiQ's Rank Intelligence.

It shows the keywords your website is ranking for and the search position. Add these keywords to the Rank Tracking and observe the performance regularly.

Over time you will get to see a quick overview of your ranking distribution, overall ranking movement, and the average position.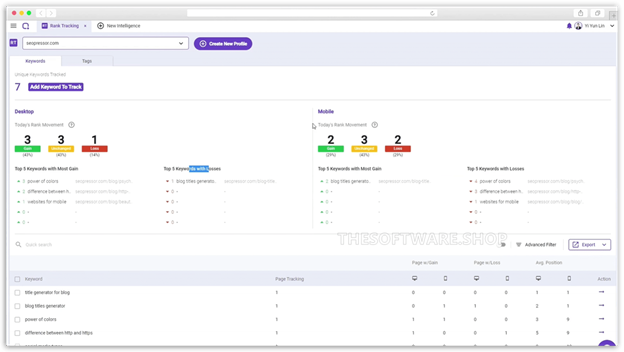 Conclusion
Google algorithm is prone to changes several times a year, which means we must constantly make sure our sites are up-to-date and comply with the latest updates.
I have previously written an article that talks about the strategies to create the best SEO content. If you have yet to start creating your SEO content, you may want to check out the article.
Dominating the first page of search results can have an extremely dramatic impact on your business. But it isn't just about SEO tips, tricks, or hacks. You need to start doing it to see the results!
Sign up for a free account and start using BiQ today.
It is no secret that it may take a considerable amount of effort to optimize every single page, but it will be a great investment in the long run!
Let me end this post with this inspiring quote by Tom Hanks:
"It's supposed to be hard. If it were easy, everyone would do it."