7 Keyword research tips to find untapped keyword opportunities for better SEO. Learn how to grab keyword opportunities with the best free keyword research tool inside.
7 Keyword Research Tips to Bring In High-Quality Traffic and Boost Your Website Traffic.
The one thing that is consistent despite all the algorithms updates by Google is keyword research.
Unfortunately, you may often find it's challenging to find the right keywords to target.
Why?
It could be because you have no idea how to do it, or you may have been doing it the wrong way.
The good news?
Keyword research isn't as hard as you think.
In this article, you shall learn keyword research tips to help you find keyword opportunities.
Researching keywords for SEO is essential, but not many people know how to do it right.
If you are one of them, make sure to read the keyword research tips until the end!
But before then, let us look at some keyword research basics.
Defining Keyword Research
Have you found yourself looking for answers in the search engine?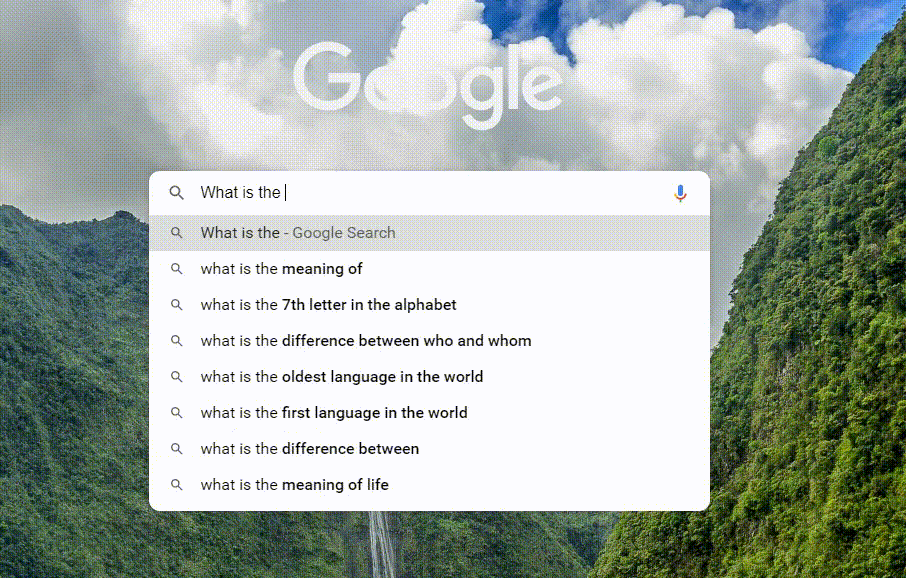 What is the best free keyword research tool?
What are the best keyword research tips?
How to search for keywords that bring traffic?
And the list goes on.
Once you click on the 'Search' button, you expect the search engine to give you the answers you are looking for.
Well, frequently, you got your answer right.
The search engine will find highly relevant content to your queries and provide the best answer for you.
If you want the search engine and people discover your content, you need a keyword, a good one.
How to search for keywords?
Answer: Keyword research.
Keyword research involves the process of finding and analyzing keywords that people use in search engines. It allows you to achieve better rankings in search engines by knowing which keyword to target and how to optimize them.
Why Keyword Research Is Essential for SEO
Optimizing for search starts with keyword research. Keyword research helps you discover what topics are trending and what keywords you should use.
You need to make sure the keywords you used in your content match your target audiences' keywords. And that's how your content will appear on the search results page.
But keyword research is NOT just about getting traffic to your website. 
It's also about getting the right kind of traffic.
Let's see:
Which would you choose:
100,000 visitors who visit your website but did not do anything, or
100 visitors which each of them purchases $100 worth of product on your website
I bet you will choose B without hesitation.
Keyword research helps you identify the right keywords that convert users into buyers. If you use the wrong set of keywords, you may end up on option A – where you attract traffic that will not contribute to your end goal.
Keyword Research Tips For Better SEO
There are many ways to do keyword research: manually or using a keyword research tool like BiQ's Keyword Intelligence or combining both.
Either way, I will share some essential tips that will help you find untapped keyword opportunities for your website.
Understand the Keyword Intent
Most marketers struggle with the right keywords to target and use in their marketing strategies.
Understanding what you want to achieve with your chosen keywords is essential for your marketing skills.
Keyword intent is the reason the user is searching. When you get your keyword, try to imagine what a client would search using that word or phrase.
As a result, you will be able to narrow your traffic based on that intent.
The keyword intent gives you direction on what to offer your audience. Users could be looking for information, just navigating around, or want to buy something. It will help you create specific content based on what your target audience wants.
Keywords intent may be either;
Informational: The goal here is to learn something. Users seek answers using various questions.
Transactional: Users with transactional or commercial intent are usually ready to purchase something.
Navigational: This kind of intent indicates that the searcher is looking for a particular website.
If you get stuck looking for your keywords' intent, you can utilize the Keyword Intelligence tool by BiQ.
Try to enter any keyword into the keyword tool. It will show you the estimated keyword intent percentages based on the total number of related keywords.

If you want to see the individual keyword's intent, you may scroll down and get a more in-depth insight into the keywords.

Once you identify the keyword intent, make sure to check out the volume and competition too. It tells you the estimated number of people looking for the keyword. When these insights are combined, you may choose keywords that match your goal and potentially give the number of traffic that you want.
Check out some other ways you can use Keyword Intelligence to level up your SEO strategy.
Use Local Keywords For Local SEO
Are you selling any product or service in your local market? If yes, then this tip will work like magic in catapulting your business to the next level.
Local SEO works pretty much the same way generic SEO works, except with the combination of local-based keywords into the mix.
72 out of 100 users who did a Google search visited a store within 8km of where they are searching.
Imagine getting that same number of potential customers to your business.
Here's another statistic you will love: 28 out of 100 local searches result in a purchase!
In other words, if you are not doing local SEO, you are missing out on potential conversions for your business.
So how do you find and use the local keywords?
Firstly, you need to figure out what keywords or phrases people are searching for, which you may do so by using the Keyword Intelligence tool.
Enter your target keywords and select your preferred language and location.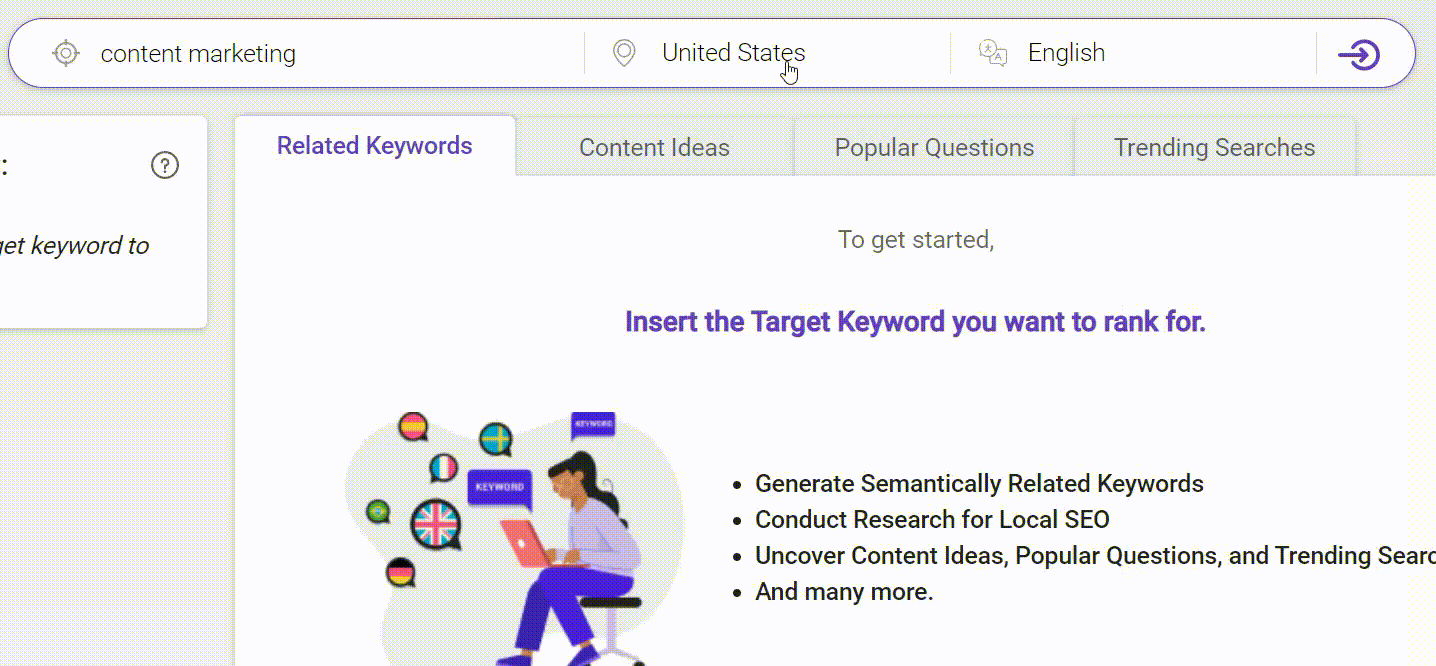 Different locations will show different results for the same keywords. This is because the tool shows you the exact keywords and phrases that the local people are using. So the search volume of the keyword can be 100 in one country and 1,000 in another.
Other than that, you can also add local elements such as countries, cities, and districts.
Now, let's combine them:
Keyword + Location 
For example, if you sell kids clothing in Florida, you can add "Florida" in your target keyword.

General terms like 'kids clothing,' 'coffee shop,' and 'plumber services' are highly competitive and vague.
But when combined with a local-based keyword, you may stand a great chance of showing up in the top results.
You may further expand your local keyword research with the next tip.
Research Keywords Right Inside Search Results
Have you ever go back and forth from the search results to the keyword research tool because you need the metrics?
Skip the hassle!
You can now do your keyword research swiftly right inside Google's search results using the LiveKeyword extension.
After installing the extension, you can see the essential keyword metrics directly in your Chrome Browser.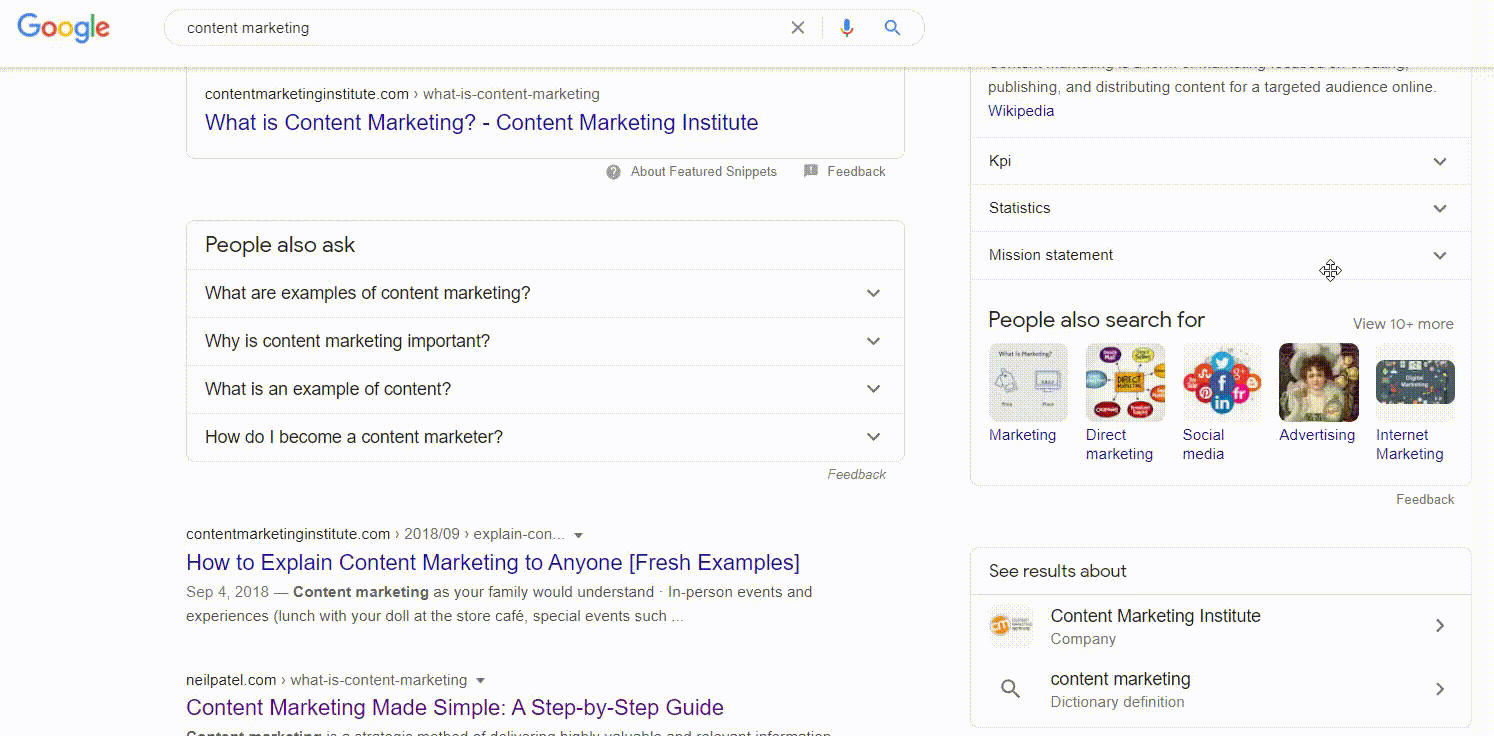 It also gives you the 'Related Keywords,' which contains related keywords, volume, CPC, and competition.
You will also see another section, 'Related Searches,' which also contains the same metrics as the 'Related Keywords.'
The extension supports more than 60 countries. So you can discover how many people are searching for a keyword in a specific country.
Here's another best keyword research tip you shouldn't miss out on…
Reverse Engineer Your Competitors' Ranking Keywords
The best thing about this tip is you don't need to worry about finding your main seed keywords. Instead, you will be browsing through hundreds of keyword suggestions from competitor keywords.
Just enter your competitor domain name, and Rank Intelligence will fetch the top ranking keywords.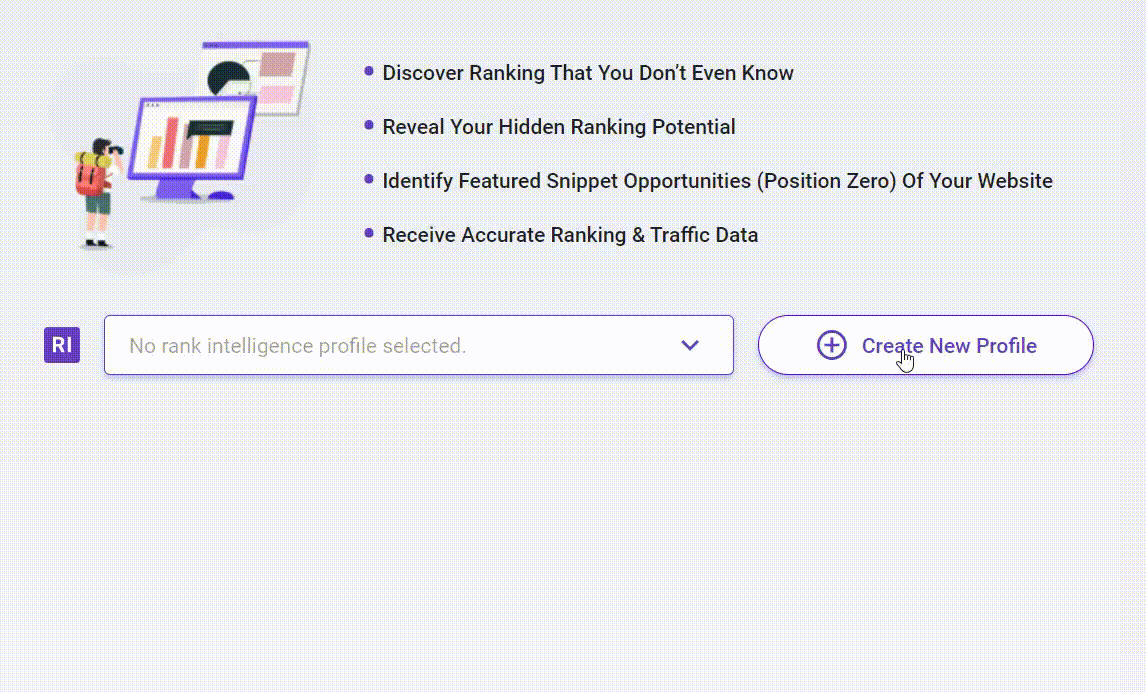 If you want to target a specific location, select your preferred language and country from the dropdown list.
Some of your competitors may have thousands, if not millions of keywords, is ranking. You don't want to rank for each of your competitor's keywords. That's not just time-consuming but also not a practical move.
So what you should do is narrowing down your research. Filter the results based on the ranking position and search volume. Or include any specific keywords and phrases that are relevant to your niche.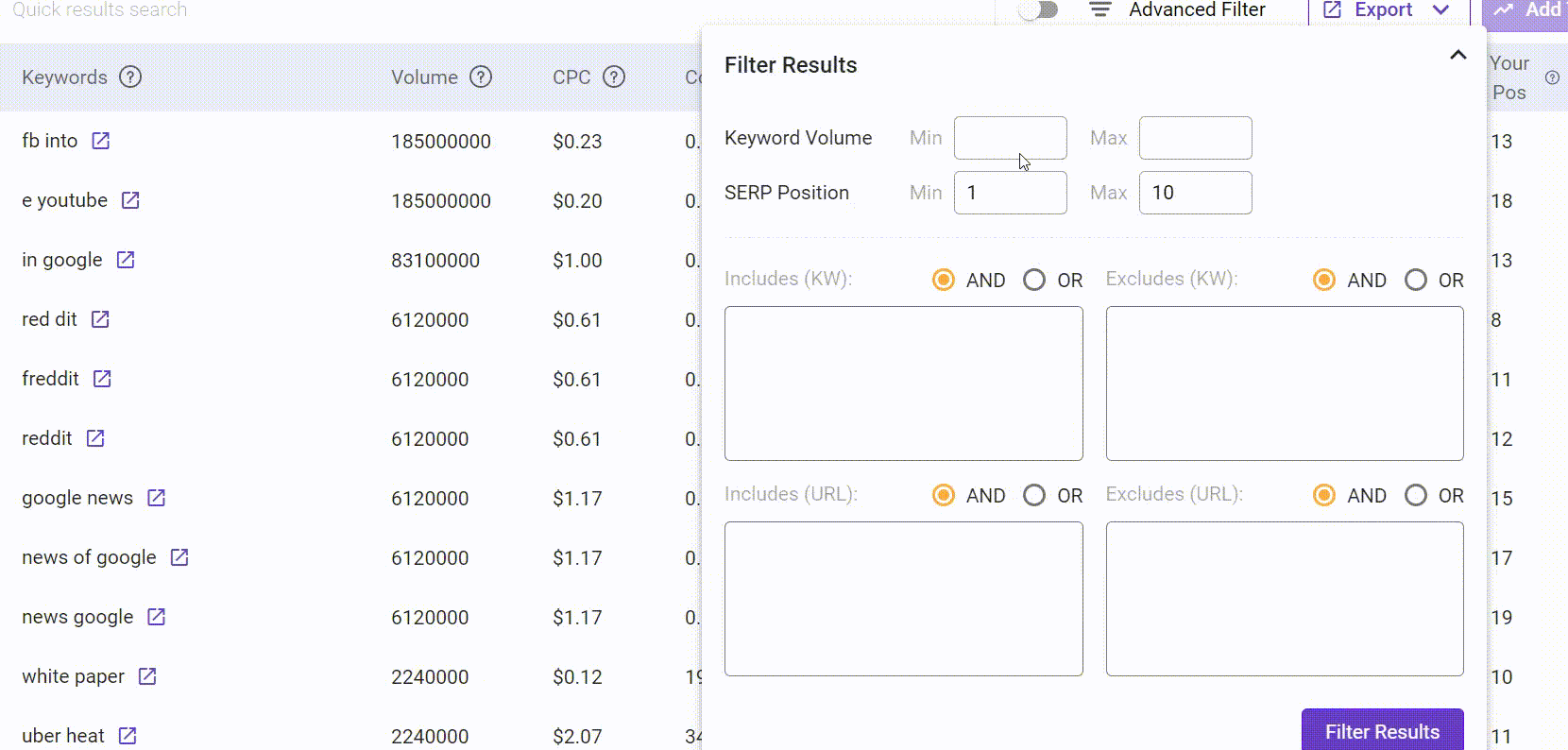 You will see each ranking keyword come with its essential metrics and insight. The SERP Features tell you if the keyword has any SERP features present in the SERP, and the Position shows the keyword's ranking position.
If you don't know your competitors, simply type a few keywords relevant to your businesses on the search engine. The results that you see on the SERP are usually those who are competing for the same keyword.
Another way of getting your competitors' keywords is to use a keyword gap analysis tool such as RankingGap.
Take a look here…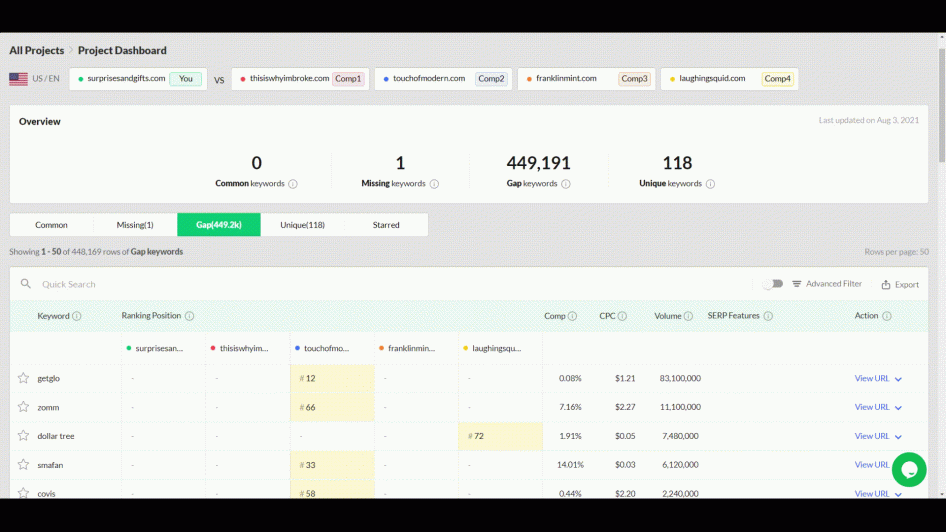 All you have to do is just key in you and your competitors' domain and create your project. It will generate a list of keywords ranking in the top 100 for the domains that you're comparing.
Quite similar to Rank Intelligence I would say…but what makes it different is that you are comparing your top competitors to find out the best, high-ranking keywords.
If you're interested in checking whether the keywords you researched were effective, you may use a SERP tracking tool called Grid My Business.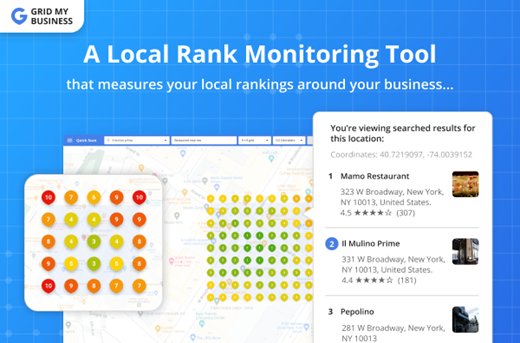 Once you've identified what keywords to use and optimized your website, you can use Grid My Business to track the local search rankings and see whether your business climbs up the ranks under those keywords.

Find And Use Long-Tail Keywords
We tend to type long phrases online when we are looking for precise information or ready to buy. Lucky for you, it's usually pretty easy to rank for this type of keyword.
Why?
It's because fewer websites are competing for long-tail keywords. For example, a keyword like "SEO strategy" has 268 million results on the SERP. It means you will need to compete with them to rank at the top. While a long-tail keyword "SEO strategy for beginner" has lesser competition with just around 5.64 million results.
Long-tail keywords are usually specific phrases with lower search volumes and levels of competition. But their conversion value is higher than the short-tail keywords because they are, again, super-specific.
You can find long-tail keywords using the same keyword tool that I have shared in the previous tips.
Click the 'Advanced Filter' to filter only long-tail keywords. You may also choose the level of your long-tail keywords relatedness to your main keywords.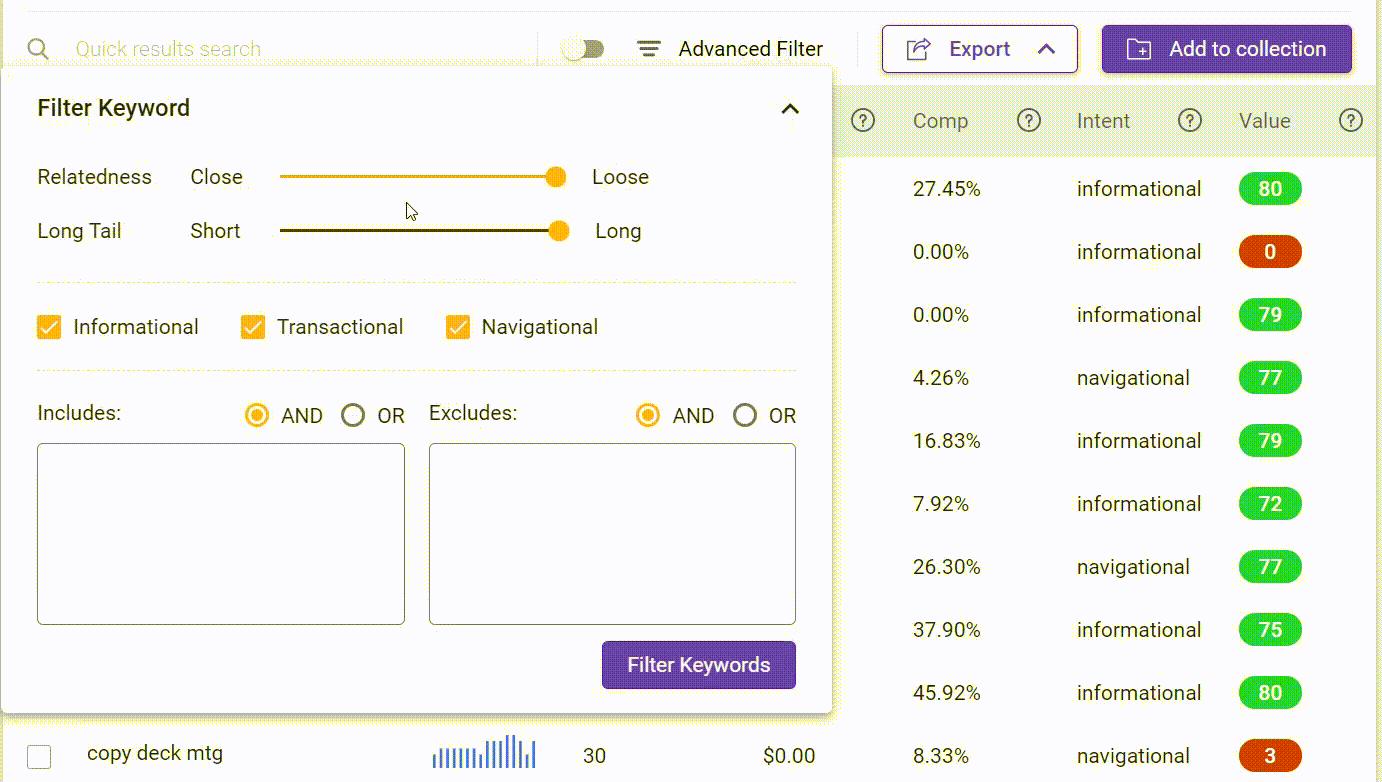 If you are unsure which keyword to use, you can sort the keyword based on its value. The higher valued keyword means it can potentially bring more traffic to your website at a lower competition.
Look for Popular Questions People Ask
Have you ever noticed the list of questions on the search results page? Well, I'm sure you do.
I present to you the majestic question box: People Also Ask.
The People Also Ask box is one of the Google SERP features that answers your searchers' questions.
By clicking on any question from the list, you would see the brief answer and the link to the webpage where the answer is located.
Get your content featured, and you will be able to catch more attention and increase visibility in the search results.
So how do you find popular questions?
Check out the 'Popular Questions' in Keyword Intelligence. And you will see a list of questions with answers.
The feature shows questions that are frequently asked by searchers in the search engine.
Compile a list of questions that are related to your topic and include the answer in your content.
Pro Tip: You may also expand your question list by checking if your target keyword triggers any People Also Ask questions.
Go to the Rank Intelligence and check if your ranking keyword has any People Also Ask features. Filter only the top 20 sites rankings and evaluate your chances to improve your position.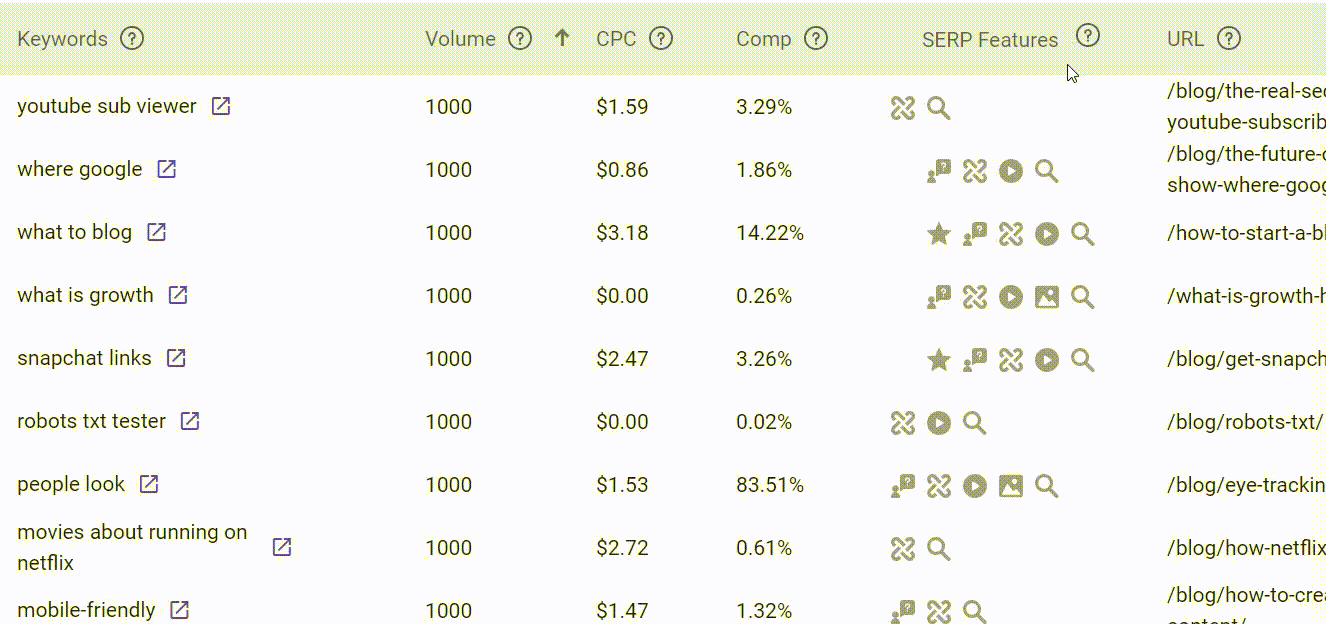 Now, all you need to do is provide short and precise answers in your content. By doing so, you will generate meaningful content focused on end-users because those are the questions that real people ask.
Put Keywords in the Right Places
At this point, we have talked about how to find keywords, how to identify the keyword intent, and what type of keywords you should use.
Now I will share with you another critical keyword tips: where should you put keywords for SEO?
Here, I have summarized the top FIVE places you should put the keyword: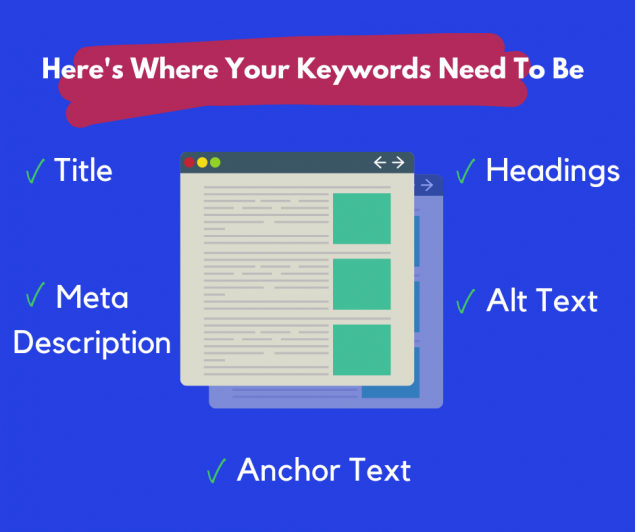 Title – using keywords in the title signals to Google what topic you are trying to rank.
Meta Description – it helps users to get a glimpse of what's your content is all about.
Headings – headings help users to navigate your website easily. Simultaneously, the subheadings will help users decide about your content relevant to their needs.
Alt Text – adding keywords to your image allows you to reach a bigger audience. It is because images are indexed too.
Anchor Text – this gives users and the search engines a clue about what's on the page you are linking.
The rule of thumb is simple: use your target keyword naturally and as a way to describe your content. So avoid trying to cram words into a sentence that doesn't make sense.
If you are concerned about finding the perfect spots in your content to put your keywords or you just don't want to have to remind yourself about it for every single article you write, you can use SEO writing assistants like LSIGraph's Semantic Writer, which is designed to analyze your writing in real-time, as you write it, to make sure that you have ticked all the important SEO checkboxes.
Semantic Writer even suggests to you which part of your content you could improve upon to increase its SEO-worthiness.
Now Over To You
I hope the keyword research tips give you some ideas on what you can do next to improve your ranking and traffic.
Now over to you: What other keyword research tips have worked for you so far? What hasn't worked, and why?
Let me know by leaving a comment below.