Learn what is a content creator and how you can become the best content creator in your industry.
Here are 9 tips for you to become a successful content creator in your industry.
What do you see when you search the internet for information? All the sites or pages you come across contain content, whether in written or video form. All that information is the work of a content creator.
You must be wondering, "what is a content creator?" We'll look into that in the next section, so keep reading.
Businesses must provide content to their audiences to thrive in this digitally driven world.
Unfortunately, a large percentage of companies don't take content creation seriously, as you can see from the infographic below. Yet, everything a business presents to its online audience in the form of content can either attract or push them away.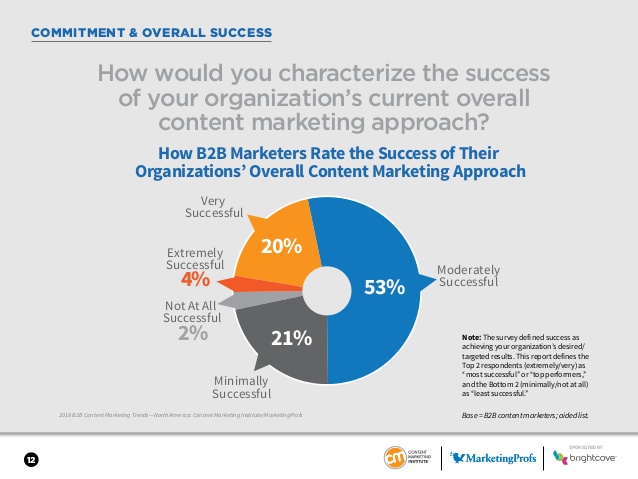 As a marketer, it's critical to always pay attention to the type of content you create online. Having an excellent content creation strategy is one of the marketing strategies you can use to become more successful in marketing. Let's delve deeper into the concept.
What is a Content Creator?
A content creator is responsible for producing appealing educational or entertaining material for a specific audience.
Content is in many forms, including blog posts, emails, photos, videos, infographics, or e-books. After looking at the content, the audience should develop a particular interest and visit your web pages or social media handles.
A well-thought-out content idea influences the audience positively and brings a change in the reader's purchasing power. As such, it is vital to have a content creator on your team or to become one yourself as part of making your brand more appealing.
How To Become A Successful Content Creator?
Now, you must be wondering how you can become a successful content creator?
Becoming a content creator at a personal or organizational level is not a straightforward process.
It takes time, requires effort, and calls for a high level of discipline. If you commit to the outline in this guide, you will get answers to those pertinent questions you have.
Here are the nine tips to becoming a successful content creator:
1. Keep Up with the Trend
Every time you create content for your audience, it must resonate with their needs. It also must be within what's happening in your industry.
The best content creator spends enough time digging deep into the internet to see what's trending. With this information, they can understand the elements that currently shape their audience's mindset.
Make it your habit to read widely and put the information in one place for ease of access. Make use of apps like Feedly to put up an RSS feed for relevant news blogs. Find out where your buyer personas spend their time online and follow those blogs too.
It is also essential for you to keep up with the latest trends in content creations. You can look for newer and trending keywords using the Trending Searches feature in BiQ's Keyword Intelligence.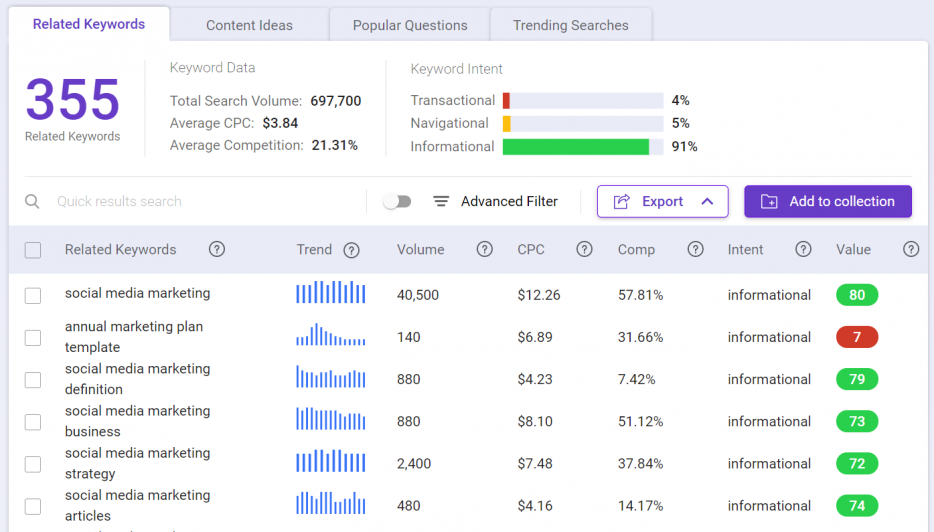 Trending searches show the latest keywords or topics around your selected keyword. It helps you discover what trending searches people are searching for online.
If you know what people are actively looking for, you'll be in a better position to produce content that appeals to them.
2. Write Consistently
Once you start the journey to becoming a content creator, you must be consistent with it. Anything you do not use, you lose, and this goes for your writing skills as well.
If you ask any successful content creator, they will tell you how crucial it is to keep flexing your writing muscles. It's only through regular writing that you can turn those ideas in your head into shareable content.
You may not write an entire 1,500-word blog every day, but spare some time every day to jot down thoughts and ideas. Figure out a time when your mind is most clear to do this.
Content Ideas
Ideas will not always flow easily every time. Instead of scratching your head looking for the next content ideas, check what people are looking for online.
Use the Content Ideas feature in BiQ's Keyword Intelligence to quickly find ideas that will make great content, which will keep your readers coming back for more.

Enter your keywords or phrases, and this tool will come up with a list of content ideas that you can use to prove a hit with your readers.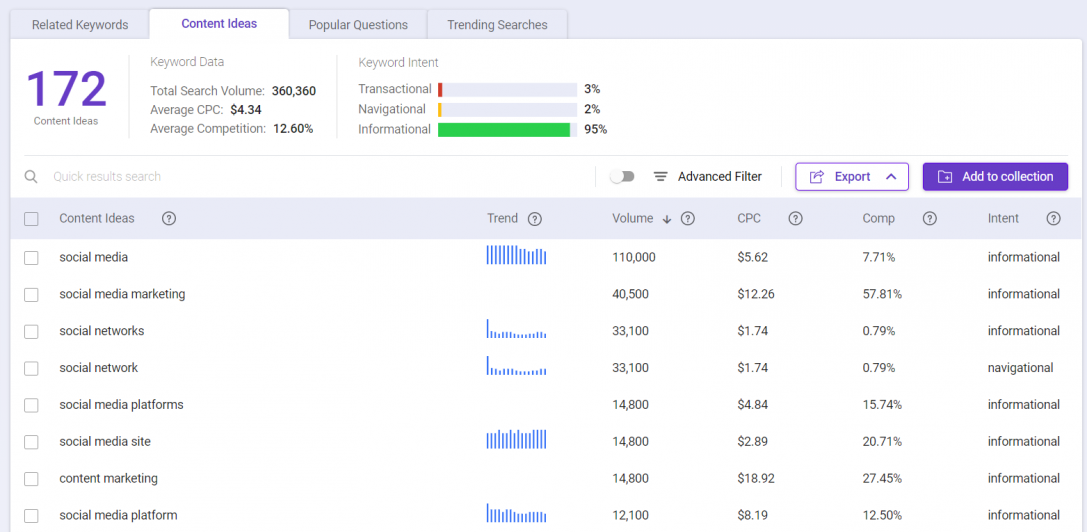 The best part?
All keywords come with a set of vital metrics that you can use when deciding which topics you want to focus on.
For example, you can use the search volume to determine a 'demand' for the topic. At the same time, the trends tell you if the topic is emerging. Keep an eye on what's trending to capitalize on it to get engagement.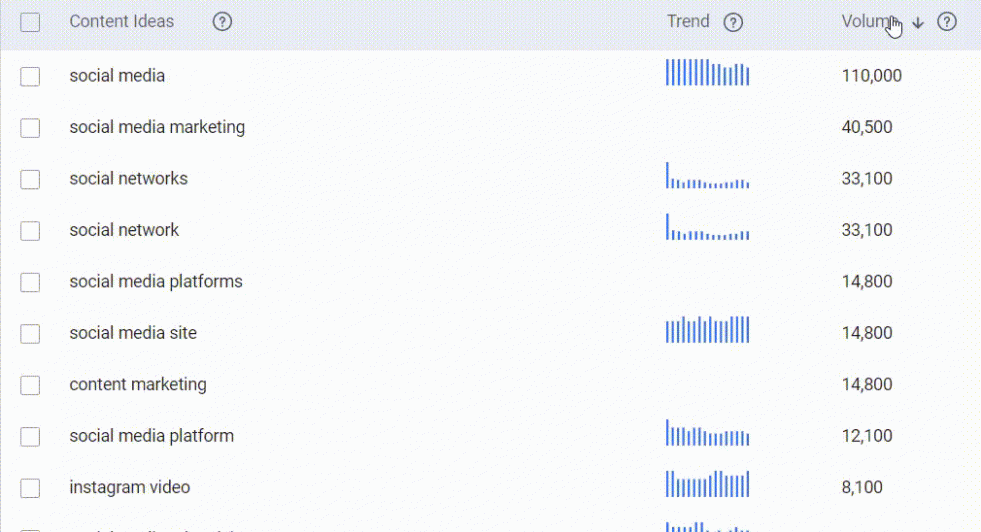 Give the keyword research tool a try by creating your free account here!
3. Prioritize User Intent
To become a great content creator, you need to prioritize user intent. This means that you need to understand why people are looking for specific information.
Here at BiQ, we simplify this process for you by showing whether the keyword intent is transactional, navigational, or informational.
Let's say you want to know the searcher's intent when searching for 'content marketing.' Type them into the keyword tool.
It will show you the estimated keyword intent percentages based on the total number of related keywords.

If a keyword scores high for informational intent, for example, you'll be better off creating educational content around that keyword. This is as opposed to creating transactional content to make sales.
Scroll down, and you'll be able to identify each keyword's intent so that you can understand your target audience better.

That is a great help because it eliminates assumptions and guesswork to identify the searchers' intent.
4. Study your Target Audience
The needs of your audience should always come first whenever you are creating content. Remember that people spend an average of 15 seconds on a website. This is how much time you have to capture their attention or lose them to your competitors.
If you don't give them what they're looking for, they'll look for it elsewhere. In your content creator job, you need to study your audience deeply enough to establish their interests. This way, you can quickly develop creative opportunities that would otherwise not be easy to find without the audience.
All content creators who thrive at what they do understand their audience inside and out. Questions to ask yourself include:
What information does the audience want that you've not yet given them?
What are their problems or pain points, and how can you solve them?
Where are they in their buyer journey?
Understanding your audience at each level of their journey helps you attract them to you at each stage. Some of the factors to consider here include age, locations, gender, vocation, family size, and salary range.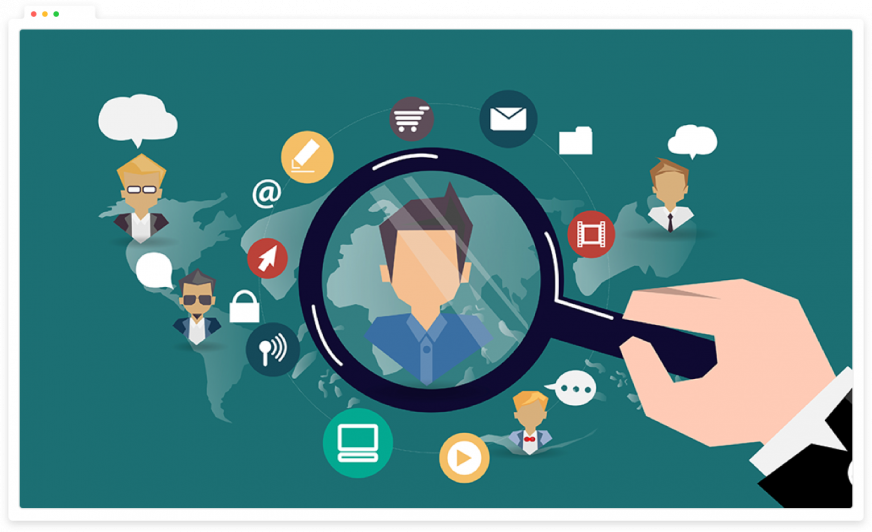 Keep in mind that a potential customer engages with a business 7 times before purchasing a product. You, therefore, want to make each of these interactions beneficial to your business.
For example, a new site visitor looking for answers but doesn't know much about your brand will benefit from informational content.
If what they read on your site gives them a solution to their problem, you have them hooked. They may want to find out how you can solve that problem for them. Content in the form of a blog will help them through this stage, directing them to the next.
Mastering the lead nurturing strategy will also be an added advantage to your content creator profession.
If you have a website, you can check the topics that people used to find you using BiQ's Rank Intelligence.
Enter your website URL into Rank Intelligence. Then, select the country where the audience is based.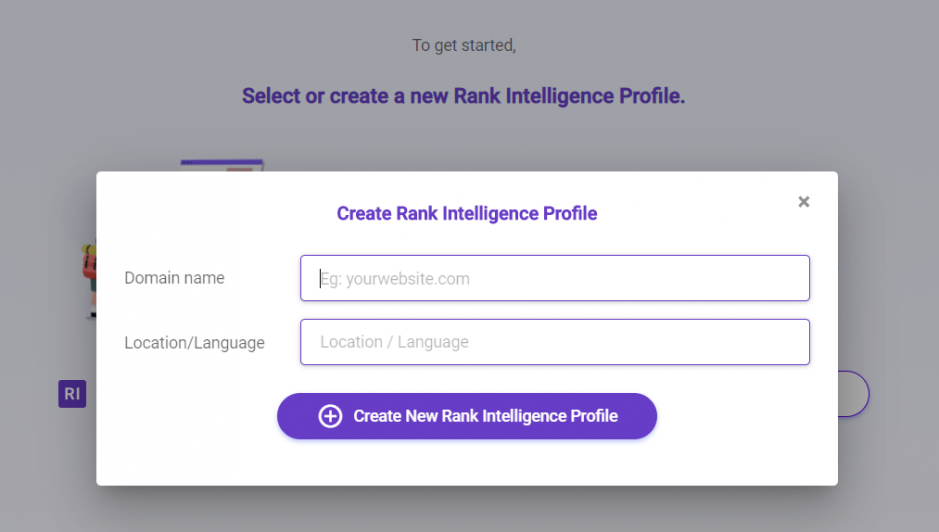 You will get to see all the keywords your website is ranking for together with the essential insights such as search volume, cost-per-click, and competition, and so on.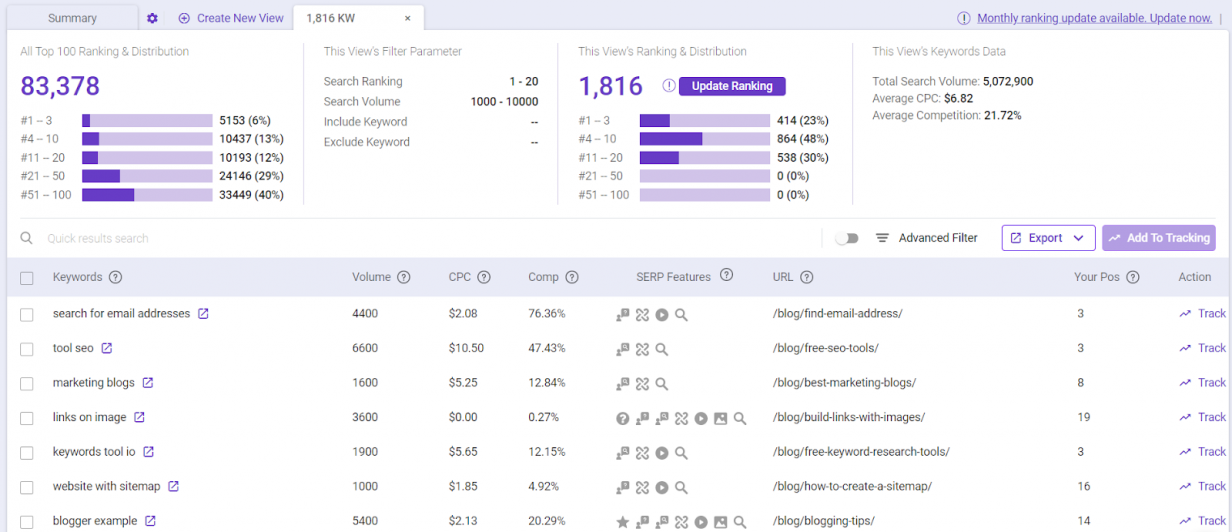 These insights let you know the search terms that searchers are searching for to reach your website.
5. Curate Other People's Content
Curating other people's content entails finding excellent content from various sources and presenting it to your followers or subscribers. The aim is to add value to your followers by highlighting the expertise that exists within your industry.
Curated content could be in the form of a blog post from an expert in your field or a company thriving in the industry.
Think of a curator in a museum who chooses the most relevant artifacts and artworks for display. Your job as a content creator is also to select the best content for your audience.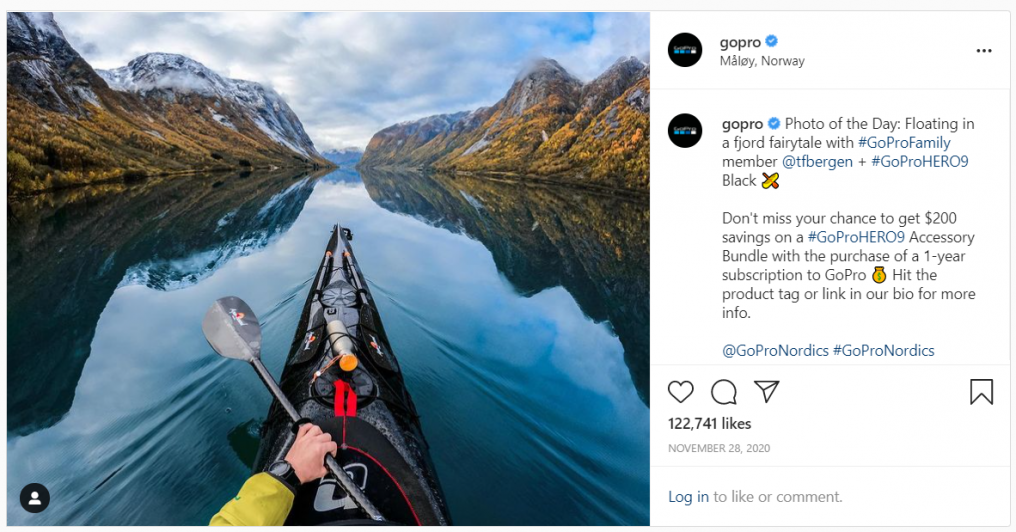 One benefit of curating content is that it fills gaps in your content creation calendar. Your content marketing strategy demands that you post content to various networks weekly or multiple times a month.
However, the unexpected happens, and gaps arise in the content calendar. Curated content can help fix this shortcoming while maintaining a regular posting schedule.
You should ensure you only share the best content there is so that your followers rely on you for valuable content. Remember to keep your introductory sentence short and precise. If possible and depending on the content, add a unique perspective to help build your reputation.
Learn more on how to curate content in this post.
6. Understand your KPI or goal
Making your content discoverable online is no easy feat. Imagine how big the internet is and how much content it holds.
WordPress statistics show that approximately 2.75 million posts are published daily on the platform alone. Your content competes against so much similar information out there.
A study in 2018 revealed that 61% of marketing professionals have the biggest challenge in generating traffic and leads. Regardless of how good your content is, you need to take a step further to make it discoverable. This is where Key Performance Indicators (KPI) and the optimization of your content come in.
A KPI refers to a specific metric that you use to measure your content's performance against your expectations.
Some useful content marketing KPI include:
Unique page visit – it shows you how many visitors actually visit your web page
Time on page – it tells you how long visitors spend on your web page.
Content score – to assess the quality of your content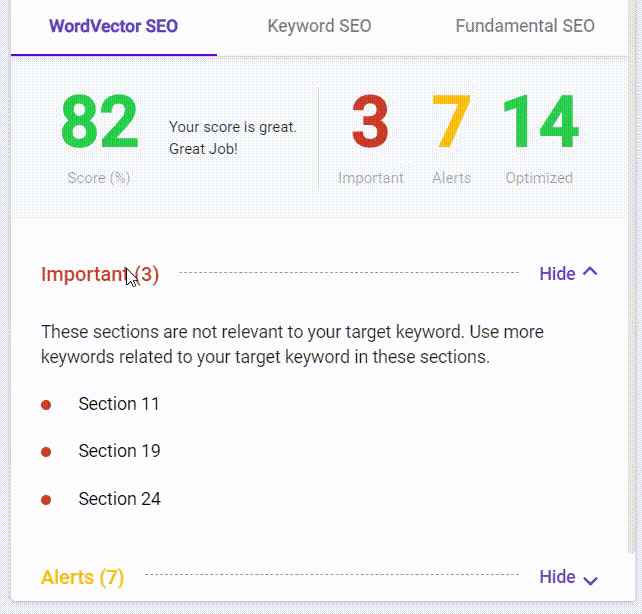 Which KPI you should focus on is going to depend on your goals. Dedicate some time to understand what is it that you want to achieve through your content creation. Once you have your goal in place, it'll be easier for you to create meaningful content for your audience.
7. Offer Solutions
As a marketer, you already know the problems within your industry and the solutions people are looking for. Part of becoming successful in content creation is to be able to offer much-needed solutions.
If you want your audience to resonate with your content, don't just tell them things they already know. Besides, don't recite what you know, but strive to explain why those things are essential. Your audience needs to know what they can benefit from your content.

When people come looking for information, it's because they want to satisfy a specific need. Sometimes they want to solve a problem while at other times they want to learn more about the industry. Take your time to create useful and valuable content your audience can understand and draw lessons from.
8. Tell a Story
 92% of consumers want ads that feel like stories: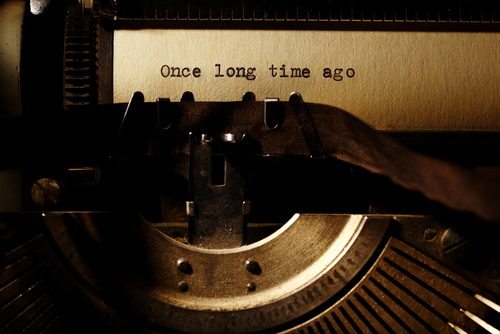 Storytelling is an effective strategy used in content creation. It's a witty approach to turning bland web pages and blog posts into captivating and memorable pieces.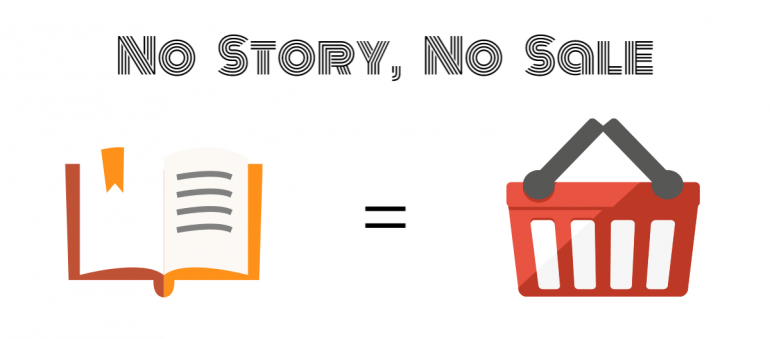 People want more than just facts. To make your storytelling more compelling, ensure it:
Turns up the entertainment factor
Is relatable to your audience
It has an easy-to-follow structure
Is memorable
Is supported with data (proper research is essential)
Includes visuals
You can learn storytelling with time, and as you understand why it's vital, it'll become easier to incorporate it in content creation. Check out our post on how to use transmedia storytelling techniques.
9. Improve Your Skills
The concept of successful content creation is not complete without mentioning the need for ongoing improvement. You need to develop a curious mind that prompts you to keep learning new ways to improve your skills. Get into the habit of questioning things around content creation, all geared toward becoming better at what you do.
For example, as a content creator, you need to learn skills in SEO content creation. SEO writing is an integral part of content writing, as it makes your content appealing to search engines. This means that it can rank higher on search results, and readers can easily find your content.

SEO writing takes you back to keyword research. You must ensure that you're creating content around the relevant industry keywords.
Once you got your keyword, use BiQ's Content Intelligence to practice your content optimization.
BiQ Content Intelligence provides you with the best content-driven strategies, which are SEO-friendly. While you write in the block editor, you will also be getting interactive writing tips to help you.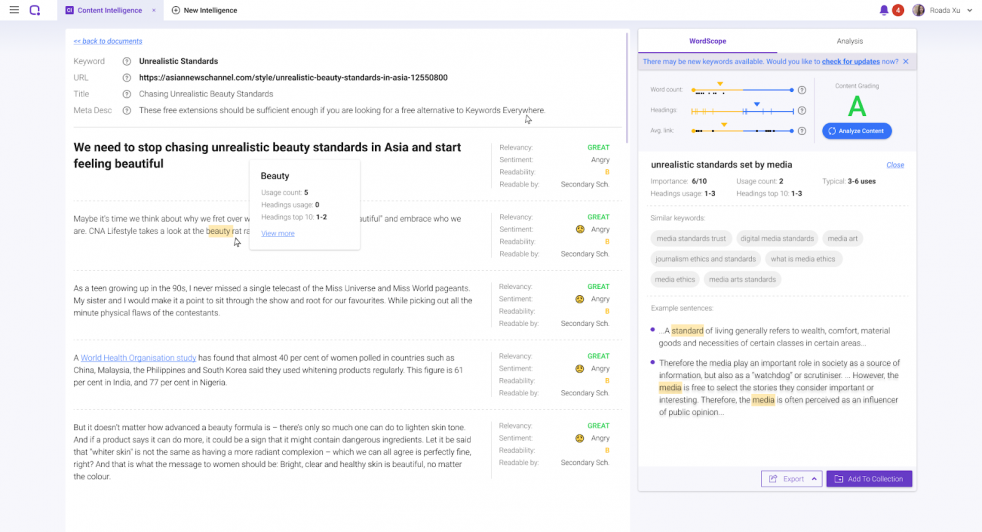 In the Content Intelligence Analysis tab, switch to 'Word Vector.'

WordVector tells you the performance of your content against the Top 10 SERP content in relation to your target keyword. 
The best part about this feature is that it can tell you exactly which paragraph has lesser relevance to the overall content. 
Now, you will be looking at the "Edit Needed' section to check which paragraph needs revision.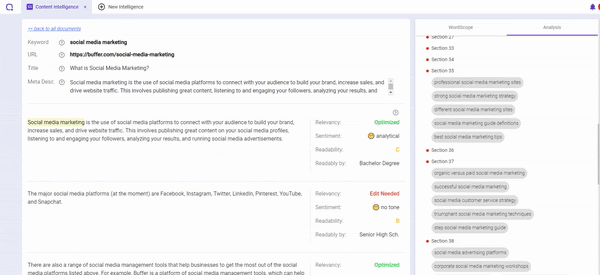 You can then dive deeper into the paragraph and better understand how to improve its relevancy to your target keyword. Content Intelligence is definitely a must in your list of content creation tools.
To give you some insights into SEO writing's importance, remember that people perform about 5.6 billion searches daily. Marketers, retailers, and companies are all competing for the attention of the same audience. They all fight hard to stay relevant and to have their content show up first on the Search Engine Results Pages (SERPS).
The higher your content ranks, the higher the chances of conversion. Sites in the top SERP positions have a 45% click-through rate, which is impressive for unpaid, organic search results.
As mentioned, SEO writing is a broad concept. There's so much that goes into good SEO writing that we can't cover it all in this one post. Dedicate some time to learn about essential SEO elements like on-page optimization and SEO best practices.
Final Thoughts
Take your time to review all the 9 tips on becoming successful content creators. You may not implement all the tips at once, all the time, but it's helpful to keep you moving forward.
You also now understand that becoming a successful content creator is a journey that entails many components.
It's more than just providing information to interested readers. A content creator resonates with the user's needs, understands their pain points in the buyer journey, and provides solutions.
As a marketer, it's essential to study the art and science of content creation as a marketing strategy.