Here are six lead nurturing strategies you can use for a successful lead nurturing campaign. Learn what lead nurturing is and accelerate your conversion process.
Are you looking for effective lead nurturing strategies? Today, we will learn what lead nurturing is and how you can use them to accelerate your conversion.
Building a strong relationship throughout the customer journey can be challenging. Each customer interacts with a brand uniquely, and pulling together some techniques from the best lead nurturing strategies is key to winning over your prospects.
Over the last couple of years, marketers and business owners have adopted a customer-centric marketing approach. Businesses are extending their focus beyond lead generation. Nowadays, lead nurturing strategies are redefining the customer buying journey.
A 2015 Demand Gen study found that 51% of digital marketers need five or more interactions in their lead nurturing campaigns. This is a clear indication that most sales do not happen instantly after the prospects first interact with a brand.
Another interesting survey by Marketo shows that 50% of leads aren't always ready to make a purchase, which means converting a prospect into a lead doesn't equal closing a deal. All this explains why lead nurturing strategies are increasingly becoming popular.
But what is the definition of lead nurturing, or why is it important?
Before we look at the six techniques you can borrow from some of the best lead nurturing strategies, let's first understand these terms:
What is lead nurturing?
Lead nurturing is a process in which brands and businesses build a relationship with their prospects. A brand will develop relationships with its audience with an end goal of converting them into loyal, recurring customers.
An example:
You visit a dog website, and you see a free eBook on how to potty train a puppy. Just before clicking the download button, you're prompted to submit your email. What follows is a series of content and tips on how to house train your dog.
In a couple of weeks or even months, you'll have learned a lot about your dog, and you're now ready to purchase some grooming supplies and pet toys. This is a perfect example of how brands use lead nurturing strategies to build a profitable customer relationship.
Why is lead nurturing important?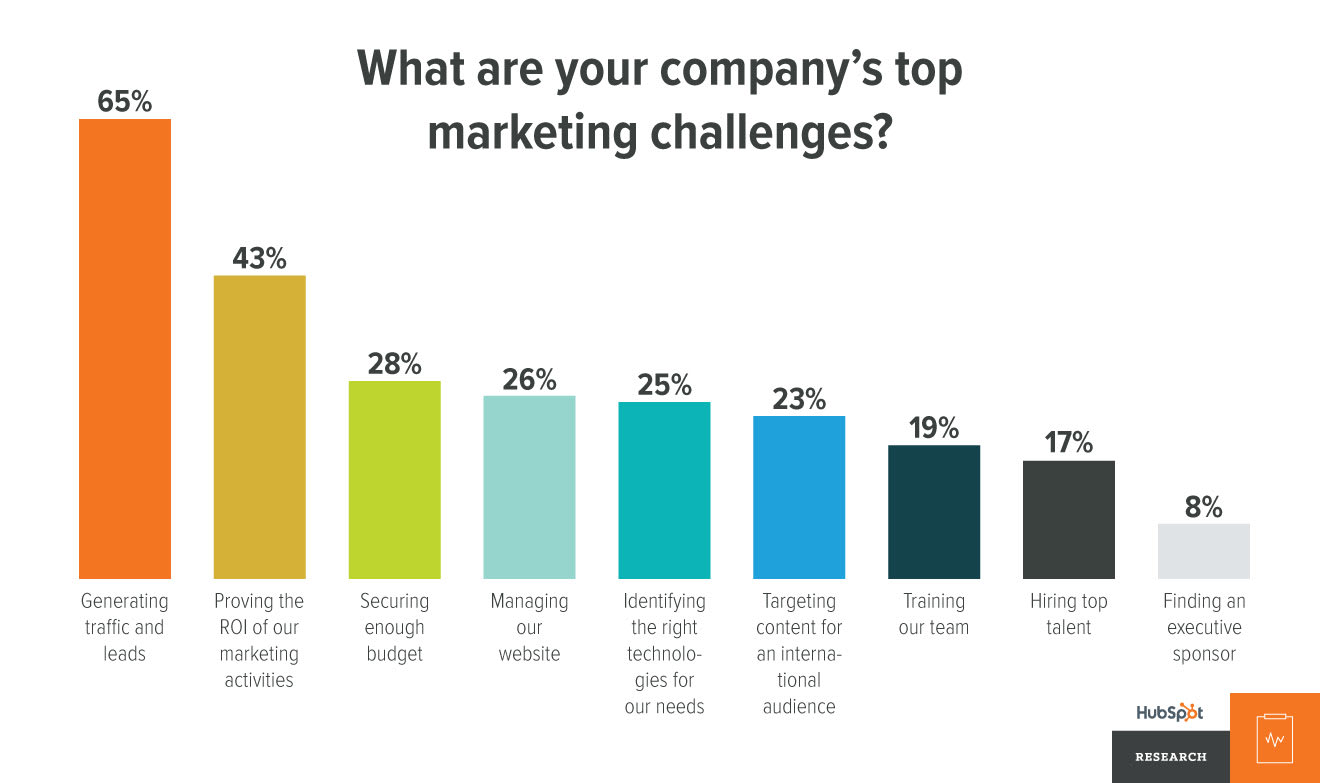 Lead nurturing means you're paying attention to the prospects' needs and sticking with them through the customer buying journey. Companies that focus more on nurturing each lead generated, instead of letting the sales team go in for a hard sell, sees better ROI.
Annuitas Group Market Study found that nurtured leads motivate high-value sales/purchases. In the survey, respondents who employed some lead nurturing strategies saw nurtured leads make 47% more high-value purchases than non-nurtured leads.
With the right lead nurturing strategies, selling isn't always a priority. As you focus on building quality relationships, your prospects will see the value you're offering (i.e., being helpful and educating them further about the product/service) and are more likely to be loyal customers.
Lead nurturing strategies 101: Choosing What Works Best
To build a long-lasting customer relationship, you want to pay attention to some of the best lead nurturing strategies. All you have to do is find what works for you and incorporate them into your lead nurturing campaign. Here are the six best techniques you can borrow.
1. Create Targeted Content: Educate according to the buyer's journey 
The first step to creating targeted content is to know your audience. You also want to segment your target market based on their needs and wants. This will give you an idea of what content fits a particular group among your prospects.
What follows is to map the right content into the customer buying cycle. This is where most lead nurturing strategies fail. Instead of focusing on selling the product, you want to pay attention to the process – what drives and motivates the customer to take action.
The purpose of content at this stage in the customer buying cycle is to help your prospects identify their needs. This is often referred to as the awareness stage. It is here that you give value. Educate your prospects and get them to trust you.
Once your leads are aware of their needs and that you are there to help them solve the problem, it's time to dig deep into your offers. Here, content should take your prospects through the evaluation process and let them choose what works best for their unique needs.
The last stage is persuading your prospects to take action. Content at this phase should highlight your competencies, which, at this point, are best known to your leads.
Not all the lead nurturing strategies out there will work for your type of business or niche. You can easily get lost in the creative process if you try copying your competitors. The best way forward is to study your market, know what they want, and give them exactly that!
Note:
To better your lead nurturing strategies, use our BiQ's Keyword Intelligence to identify the keyword's intent. This way, you not only know what the prospects are searching for but why and how you can use those keywords to your advantage.
Let's say you want to know the searcher's intent when searching for 'content marketing.' Type them into the keyword tool.
It will show you the estimated keyword intent percentages based on the total number of related keywords.

The keyword has an informational intent from the example above, which means the searchers are in the awareness stages.
Since the searchers are looking for more information, you can create informational content such as 'why do you need content marketing?' and 'top content marketing examples.'
Scroll down, and you'll be able to identify each keyword's intent so that you can understand your target audience better.

The keyword intent can be any of the three: transactional, informational, or navigational.
That is a great help because it eliminates assumptions and guesswork to identify the searchers' intent.
You can then tune your content to reflect the prospects' intent and give them a solution.
Here is another tip, use Content Intelligence to write your content.
BiQ created the content tool to provide you with the best content-driven strategies, which are SEO-friendly. Not only can you write a highly-relevant content for your intended audience, but you also have higher chances of getting a higher ranking.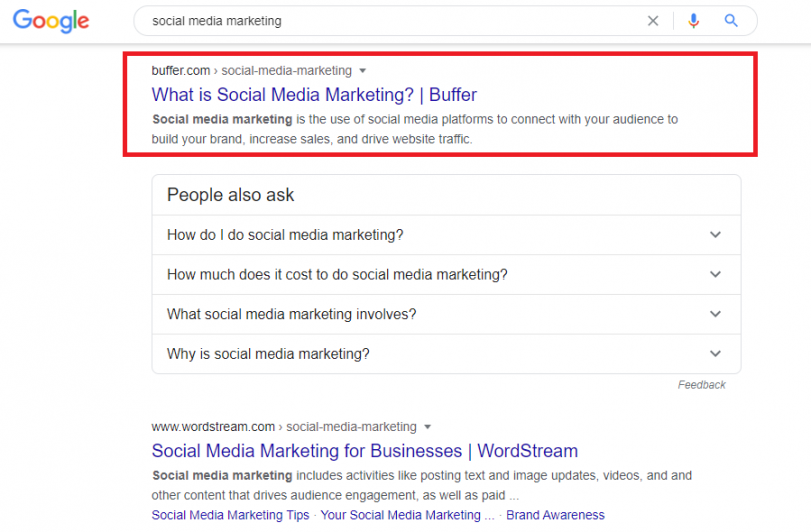 Assuming that you have a great keyword in hand, you need to know what goes inside your content. The typical practice for a content writer to do this is to hop over to Google, type the keyword in, and open a dozen tabs consisting of the top articles. 
The problem is it takes so long, and human observation is prone to error. This is where BiQ Content Intelligence comes in handy. For any keyword of the document created, the tool analyzes it with the top-performing organic content on Google.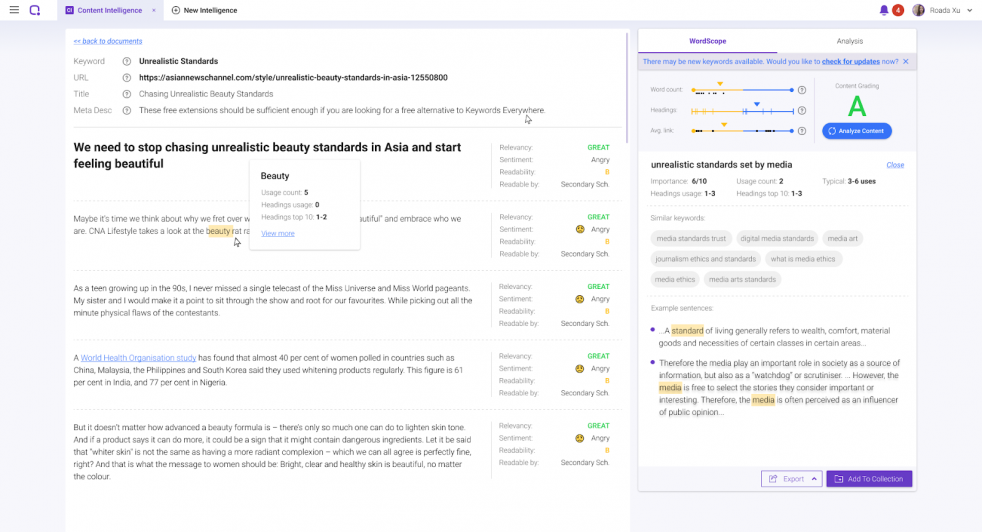 Better still, it gives you a breakdown of your keyword in terms of usage, similar keywords, and example sentences.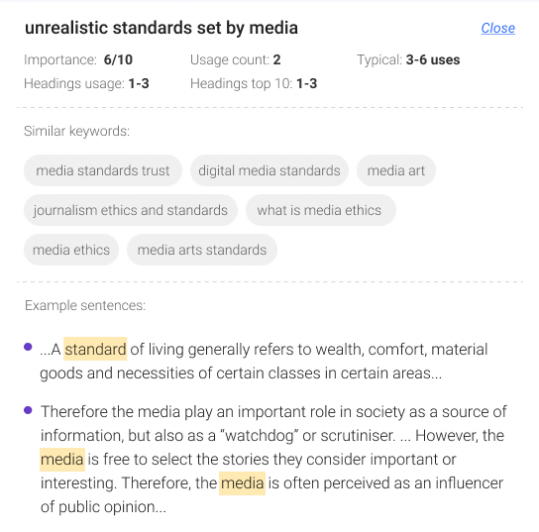 They should be the go-to-source that shapes your article as you write. For example, if you're writing about "unrealistic standards," just by running a Wordscope analysis can get you similar keywords like media standards trust, what is media ethics, and so on.

In other words, you can't hope to satisfy searchers who are looking for unrealistic standards without writing about these similar keywords.

You can also make use of the keywords to craft your outline! That's an example of killing two birds with one stone effectively.

2. Personalized Emails: Customize Your Lead Nurturing Strategies
All the lead nurturing strategies will have an email marketing campaign, but most emails don't convert. Most marketers take the shotgun approach – meaning their emails are more promotional, less valuable, and less appealing. This is often due to a lack of planning.
There are three main reasons why your lead nurturing strategy should use personalized emails:
It increases engagement – Personalized emails increase the click-through rates and boost conversion rates. Each email you send to your target audience should reflect their pain points and seek to offer a solution.
It builds trust – Customers will always buy from the people they know, trust, and value. By personalizing your emails, you take your lead nurturing campaign to another level. Personalization builds trust, and your prospects will buy from you when the time is right.
It moves your prospects through the sales funnel – What differentiates the best lead nurturing strategies from the average is the rate at which leads become paying customers. Personalized emails engage your leads and push them to take action.
Personalization is one of the most crucial lead nurturing strategies you can borrow from some of the most successful brands. How you treat and engage your prospects matters the most if you're looking to get them hooked for the long haul.
If you've been using emails to run your marketing, then you know personalization starts from the email subject line, recipient's name, all the way to the call-to-action section. You don't have to overdo it. Just tailor the emails to your prospect's interests and behaviors.
3. Social Media Engagement: Engage Your Prospects and Win Them Over
Whether you are a small business owner or a digital marketer, your online presence means a lot to the business. Engaging your prospects through social media channels such as Facebook, Twitter, and Instagram can put you ahead of the competition.
Social media engagement is one of the lead nurturing strategies that can rapidly boost conversion rates when executed correctly. The simple reason is that every business is moving online, so do customers.
Standing out from the crowd and offering unique content that engages your prospects can sell your identity. Prospects will see you as an industry leader, and they will have you on top of their minds the next time they need the services/products you offer.

You can also give offers or promotions as part of your lead nurturing strategies – to boost engagement and incentivize your relationship with the prospects.
Where possible, use some social media metrics to score your customer engagement and track your progress along the way.
There's a lot you can do to boost social media engagement. You have to be creative enough to post exciting topics that draw the audience's attention.
If you are already running some other lead nurturing strategies, make sure to incorporate this technique into your playbook. You don't want to lag as your competition builds relationships to snatch your potential leads!
4. Content Above all: Give Extra Value to Prospects
Content is a crucial ingredient to all the lead nurturing strategies.
Without a relevant content strategy, your lead nurturing fails since your prospects won't see value in your relationship. Most businesses will attract prospects by giving them something for free such as an eBook, whitepaper, etc.
Giving away something for free, then following up to implement your lead nurturing strategies can help boost your conversion.
These "gifts" should contain more information about you and your business. It should also highlight what you do and why you're the right person for the job.
Note:
Use our BiQ's Keyword intelligence to find content ideas that will drive value to your audience and engagement to your site. All you need to do is enter keyword phrases, and this tool will create a list of content ideas relevant to your readers.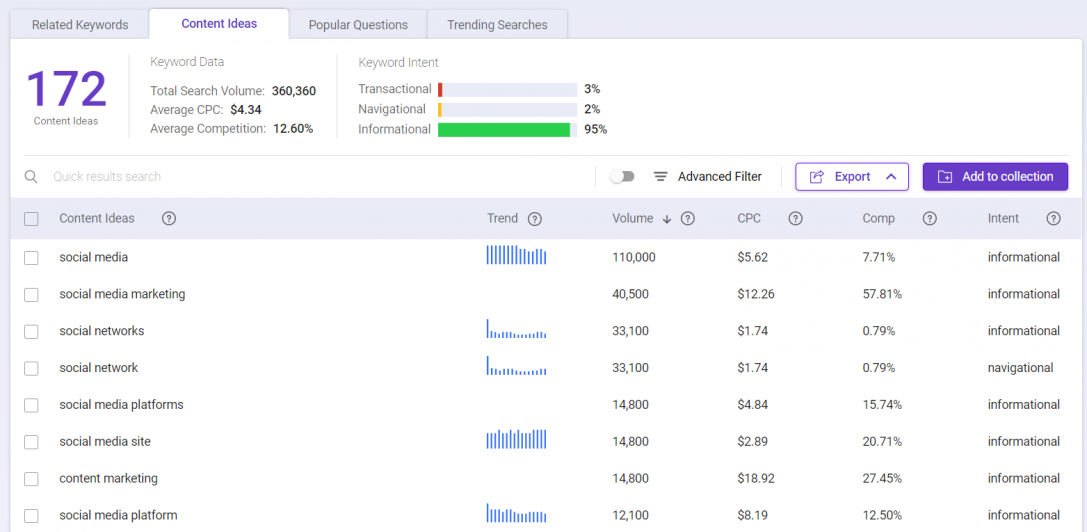 All the keywords come with some content metrics such as Volume that determine the topic's demand. You can use this feature to decide the content ideas you want to give more weight.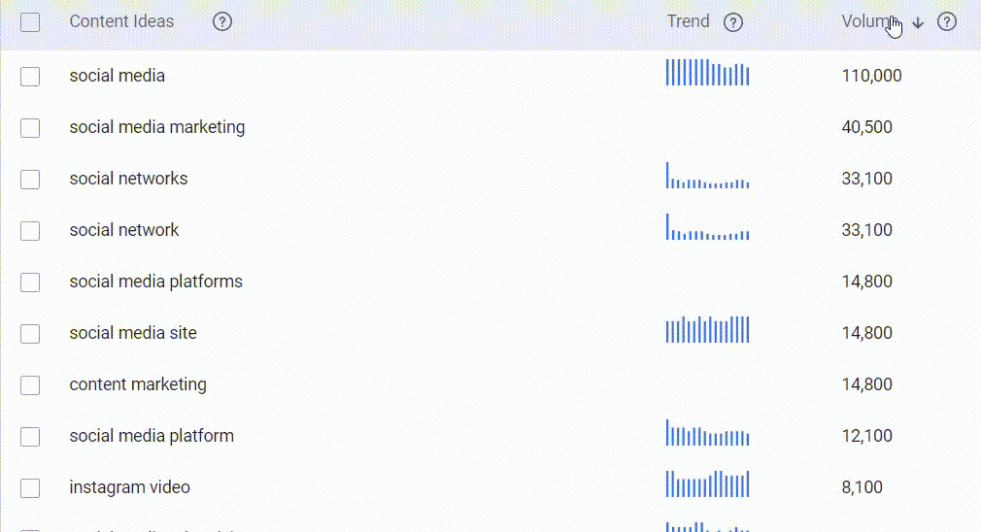 There's also a Trends column that allows you to check if the topic is emerging so you can leverage it to drive engagement. All these content-driven features, coupled with the other lead nurturing strategies, can significantly boost conversion.
5. Leverage Retargeting Ads: Revisit Your Lead Nurturing Strategies
Before you can incorporate this technique in your lead nurturing strategies, you want to develop a creative retargeting campaign. Facebook statistics show that retargeting ads are 76% more likely to convert than regular old-display ads.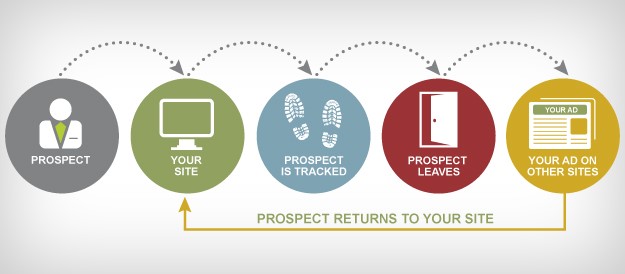 There are two tried-and-tested channels where you can launch your retargeting campaigns – Facebook and Google. With Facebook, your ads will be scattered randomly within the prospect's newsfeed. However, Google will display your ads at the top of the search listings.
With Google, your leads could easily browse past the ad. Facebook is common among most marketers and business owners, but you can test both to see what works best with your other lead nurturing strategies.
To help you better, here are some interactive Facebook post ideas to help you drive high engagement.
6. Be Active Everywhere: Make it Easy for Your Prospects to Contact You. 
If you have implemented all the great lead nurturing strategies we've highlighted above but fail to display your contact details for prospects to reach you out, you'll not close any deal. Your conversion rates will be at the bare minimum.
Customers will feel frustrated if they think you're the right person they can buy from only to realize your contact details are missing. The same happens if you limit your contact details to an office email or business landline.
As a rule of thumb, provide multiple channels through which your leads can get in touch. You can choose to specify which channel they can use to ask questions, give a suggestion, or make an offer.
It doesn't matter how concrete your lead nurturing strategies are – if you can't convert leads to sales, you are making no impact. This means you are wasting your marketing and lead nurturing efforts, not to mention the wasted resources.
Final Thoughts
Your lead nurturing strategies don't need to take any particular shape, and there's no right or wrong way of doing it.
The customer relationship journey is a complex one, and you have to test all the techniques to see what works best for you and your business.
To make your lead nurturing strategies a success, place the prospects' needs first, create the right content for the right audience, and always remember to close, even if it means retargeting them several times.
Building trust and winning over prospects doesn't happen overnight. You should be ready to invest the time and effort and have the patience to watch your sales funnel grow as prospects turn into customers.
And the last takeaway to gain a competitive edge is never to stop testing; otherwise, your lead nurturing strategies won't improve!
Did I miss any important lead nurturing strategies in this article? Or do you have any successful lead nurturing campaign that you want to share with everyone? Let me know in the comments.