it's hard to grab the attention of your target audience. There however is one simple solution and that is transmedia storytelling. Learn what it is and if it is suitable for your company or brand.
In this digital age, there are increasingly more people online than ever before, but still many brands and marketers are struggling with the same problem, i.e. grabbing the attention of their target audience.
The solution however is simple: transmedia storytelling. Whenever social media and the search walk a new route, market agencies and brands should follow suit.
Your users, after all, are on various devices and platforms which makes it an important quest for brands and marketers to connect and engage with them on the right devices and right time.
Out of sight, out of mind. If you don't interact well with your users across all platforms, you may very well lose touch with them.
Besides, a McKinsey study has shown that brands with more digital touchpoints are more likely to be selected by consumers.
Here we're going to introduce you to transmedia storytelling, a new and valuable way of offering content where users can assume an active role and interact with the brand.
This also involves a multichannel approach to modern marketing if you are looking to achieve significant results. Read on to learn how you can use transmedia storytelling to permeate your audience's life.
What is Transmedia Storytelling?
In terms of marketing, transmedia storytelling is the approach of sharing a brand's single story in various formats across different platforms.
Your approach is to create engaging content for your audiences across different platforms and devices.
For transmedia storytelling to be effective, you must have stories on all your audience's preferred platforms and ensure that the content is unique depending on the channel of placement.
Additionally, you must make sure that all the content is linked and synchronized with one another subtly or overtly.
But before we dive deeper, let's go back to the roots and take a look at how did the concept of transmedia storytelling begin?
"Transmedia Storytelling" was first defined by Henry Jenkins, an American researcher in 2003 in his book, the Convergence Culture.
He talks about the need for marketing to adapt rapidly to changing consumer behavior and communication techniques.
However, instead of just rehashing the same content over and over again in different formats, transmedia storytelling should each add something unique to build a bigger story.
This makes it easy for you to touch and influence different segments of your audience uniquely. Additionally, it creates a form of synergy that is significant in modern marketing.
The fact that you engage your audience across different channels and use diverse techniques to permeate their lives also increases your marketing efficiency.
To help you understand better, here are some brands and their use of transmedia storytelling:
Transmedia Storytelling Examples
The transmedia storytelling concept has gained much traction over the years. Numerous brands have already incorporated this idea into their marketing. Here are a few examples of transmedia storytelling:
1. PBS Kids
One of the successful examples of transmedia storytelling, PBS Kids incorporates digital games and interactive videos played using numerous learning technologies. For example, they use laptop computers and preschool-specific interactive whiteboards in their learning.
The PBS Kids learning program also adopts the transmedia approach and focuses on familiar narratives, settings, and characters across various media formats like interactive online games and digital videos.
Besides, PBS also includes non-digital learning materials like foam shapes and books, all used to complement the already available instructional materials which make it one of the stronger brands in kid's education.
2. Star Wars
The Star Wars franchise is yet another organization that has been successful at transmedia storytelling.
Ideally, you cannot master everything about Star Wars from one media. You will need to go through various cookbook recipes, video games, and theme park attractions to get a deeper overview of Star Wars.
Star Wars transmedia storytelling approach was not only deliberate but also cohesive. It brought together different aspects from performance to interactivity to participation to beat the traditional instructional approach.
The franchise also created content that could be accessed across multiple ages, races, genders, narratives, and cultural spectra, which created a form of unity among communities around values, skills, places, and characters.
3. Airbnb
When it comes to transmedia storytelling with Airbnb, their brand has gone way beyond most brands advertising challenges to tell their story.
Using animations in its film, the company added some life to their story while still expressing the difference Airbnb makes economically.
This is on top of its immersive digital experience to highlight its brand story and significance in the community.
To supplement the approach, the company incorporated social media updates, written articles, and behind-the-scenes clips.
In the end, the campaign was hugely successful, registering over 8 million views and with a reach of more than 15 countries.
The authenticity and uniqueness of the approach contributed extensively to the success of the campaign.
Is Transmedia Storytelling right for your brand?
As you can see, transmedia storytelling means something different to every brand or creator.
For brands like Star Wars, it means crafting a realistic story world that users can lose themselves in for hours on end. For others like, PBS kids, it's more of a case of telling a consistent narrative across different interfaces and platforms.
Whichever approach you may take, transmedia storytelling requires deliberate brand building, strategizing, and commitment to be active and present across multiple platforms.
So if you are a brand or company that is looking at building a long-term brand or further scale your growth, transmedia storytelling just might be for you,
But do note that this is not a technique that you can use just here and there, it is a significant commitment to your brand and audience. Now, are you ready? It's time to get into the most important part.
How can you apply Transmedia Storytelling to your marketing?
Now that you have a better grasp of transmedia storytelling, how do you apply it to your digital campaign? Here are a few tips to help you create an effective transmedia storytelling campaign:
1. Find your audience on their platform
While transmedia storytelling stresses the connectivity of your audiences across multiple platforms, the key is to understand where they are.
If you are a brand selling adult diapers, it wouldn't actually make sense to create a brand on TikTok which user age range are mainly around 16 to 24.
Essentially, you want to understand your buyer personas. Here's a list of questions that can help you get into the details. Ask yourself:
Who are they? Understand their demographics such as gender, age, marital status, and education level
What is their job? Find out what their job position is, what kind of company and industry, and job responsibilities. Are they the decision-makers for the company?
What is a day in their life like? Describe what an average day is like, do they check their email inboxes daily? Are they on Twitter, Facebook, or Instagram?
What are their values? Discover what they value most in making a purchase decision. Is their push factor pricing, great customer support, or functions?
What are their pain points? Describe the challenges and obstacles your audience face. What is it that drives them to use your products or services?
Where do they go for information? Pinpoint the primary sources they use to get information and research their purchase decision process
You can have multiple personas but keep it at the three most important customers, and always refine your personas as you get more information.
2. Explore your audience favorite formats
This comes down to how well you understand your users. The success of content marketing largely depends on the relevance of your content to your specific users.
If you plan to engage in transmedia storytelling, you must be aware of your audiences' preferred platforms. If your audience frequent certain social media platforms like Twitter or Reddit, you would need to focus more on such platforms when distributing your content.
You can use different media and content types in your transmedia storytelling approaches such as print materials, digital content, direct communications, social media, and experiential media.
You can even go for more creative options include comic books, posters, stickers, flyers, books, and magazines for print materials. Never limit yourself to traditional marketing approaches.
You can decide to use any or a combination of video games, videos, podcasts, fan fiction, website content, or ebooks in terms of digital content.
In case you decide to go with direct communication, your options will include emails, chats, instant messages, chats, or text messages.
With social media users increasing each day, you cannot afford to overlook social platforms when running a transmedia storytelling campaign.
The common and most effective social media platforms include YouTube, Tumbler, Instagram, Facebook, Twitter, forums, and fan sites.
Experiential media is yet another format you can consider. It involves using toys, theme parks, exhibitions, live installations, concerts, and theaters to tell your brand story.
While there are different types and formats of content you can adopt in your marketing, ultimately it is important to understand how your audience consumes each of them.
For example, if a large percentage of your audience consumes blogs more than videos, then you would want to do blogs compared to videos.
However, do not forget that the use of diverse content approaches and media is what makes transmedia marketing relevant and beneficial in the end.
Google SERP optimization is a must
When it comes down to how your audience research information to make their buying decision, it often comes down to Google.
People need to feel informed and confident when making the decision to buy. That's when we all pull out our phones to read reviews or research for any other better alternatives.
More important than ever, brands and marketers also have to be present on the SERP pages for your brand keywords or any related buyer keywords.
To achieve this, you need to do keyword research and create content for your target keyword.
Start by creating a free BiQ account and head on to Keyword Intelligence and search for keywords related to your product or service. You can input your seed keyword and set the location of your target audience.
Our tool will then show you all the keyword details you need to make an informed decision on which query to focus on. Particularly with our search intent filter, you can choose to focus only on keywords with commercial intent, a.k.a buyer keywords.
3. Create a brand style guide
When it comes to branding, consistency is everything.
Having a brand style guideline can help you ensure your brand consistency. The idea is to create a rulebook containing specifications on everything that plays a role in the look and feel of your brand.
This can include typography, logo, color, tone of voice, and everything that will influence how you present your brand to the world.
To build your own business brand style guideline, here four steps we recommend:
Understand your brand's mission, vision, and core value
Take your target audience into consideration
Collect brand guide inspiration
Answer these six elements on brand style guideline: voice, brand story, logo, imagery, typography, color palette
Make sure to have it listed down and understood by everyone on your team!
4. Build your marketing funnel
When creating your content, always understand its purpose. Are you creating this content to educate and engage your audience, or is it to convert them into users?
A marketing funnel is the simplest way to map your content to your customer's journey. A basic funnel will start from the awareness phase and gradually move to the purchase stage.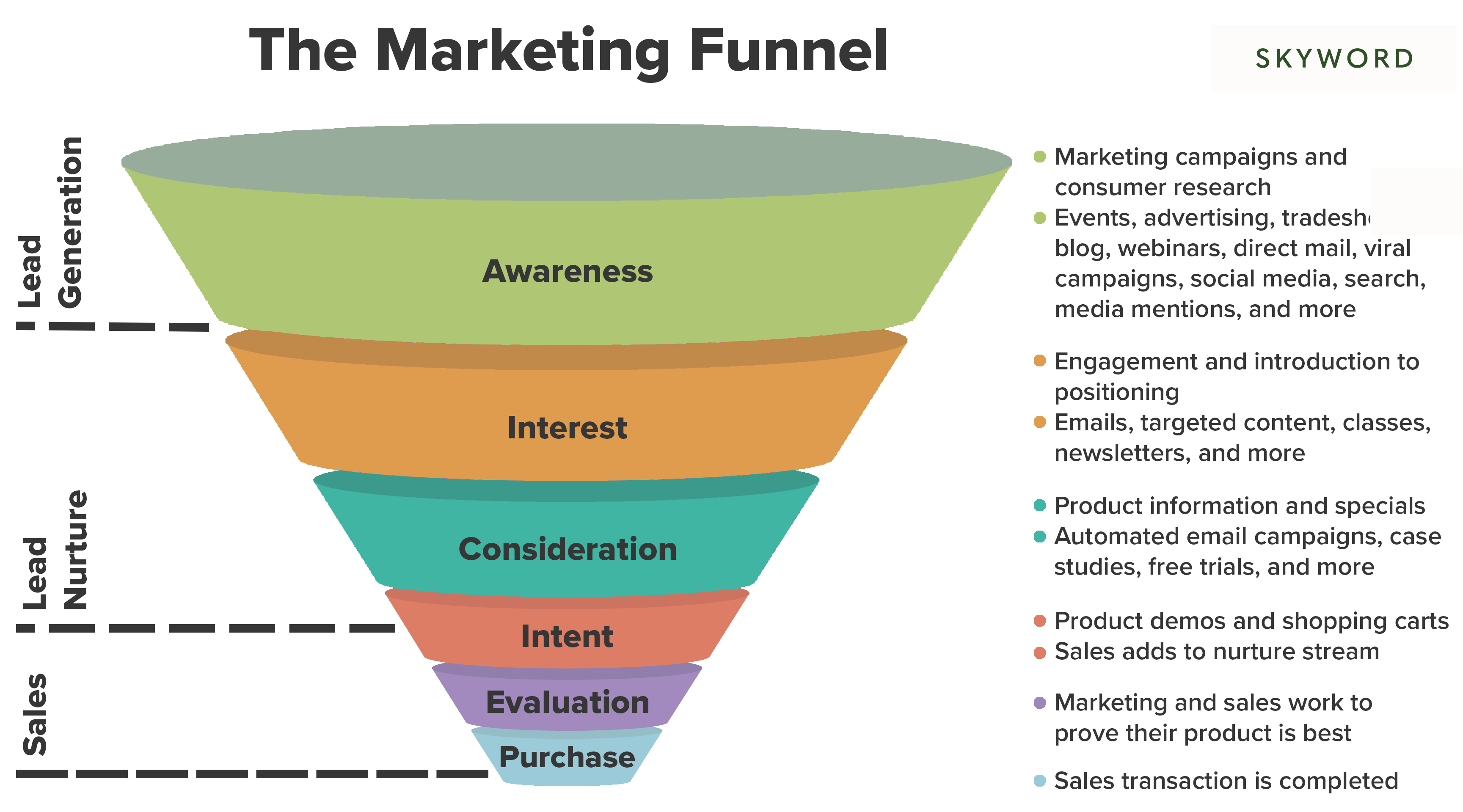 To create an effective marketing funnel for your transmedia storytelling campaign, you should focus on creating content that matches each stage of the buyer journey – awareness, interest, evaluation, commitment, sale, and post-purchase.
Build and connect cross-platform content
Notably, transmedia storytelling is about sharing content across different platforms in various formats.
Using a marketing funnel will make it helpful to keep track of your content at each stage of your buyer's journey and also to interlink between content or across platforms to create synergy and push them down your marketing funnel easily.
You will need cross-platform content for your campaign to be effective. This is where you create content that aligns with the various platforms you intend to use to engage your audience.
Understanding how each of the platforms works and how the audience's behavior on such platforms helps you create the right content.
5. Optimize your written content
In today's fast-paced, social environment, content in all forms is flying around the web. But it's not all great content. A lot of the content produced is just a rehash of another content.
However, even if you have really produced a great unique piece of content, sometimes it can end up dormant with the sea of content.
Ultimately, you still need to consider optimizing your content, especially if you are looking to win in the Google search results.
Our BiQ SEO tool can help with this. Using BiQ's Content Intelligence, you can compare your written content to the Top 10 results in SERP and fill in any content gap you might be missing.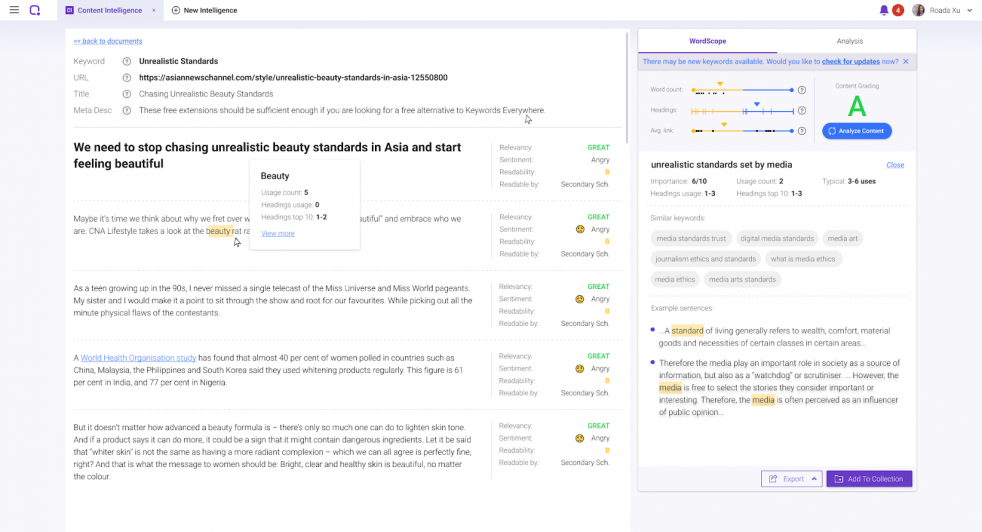 6. Establish a community
Your success in content marketing is largely dependent on the availability of a large audience willing to consume your content.
You should create a community that will engage with your content each time you post. So consistently provide free useful content and invest in social media to engage with your users.
Take enough time to understand your target audience to create content that resonates with its needs, demands, tastes, and preferences.
Improve Marketing Outcomes with Transmedia Storytelling
As modern marketing continues to evolve, it is important that we always improve and innovate our marketing strategies to keep in touch with our audiences.
Because no matter the change, audiences are still at the heart of digital storytelling. Transmedia storytelling can be your brand's game-changer for digital marketing.
Start building your transmedia storytelling strategy today and target your users consuming content anytime, anywhere, and on different devices.