Check out the different types of content marketing you can use to grow and engage more audiences.
Check out the different types of content marketing you can use to grow and engage more audiences.
In today's digitized world, traditional marketing strategies are becoming more ineffective. If you want to improve your business and beat the competition, you need to adopt new tactics. This is where content marketing comes in handy.
Before we look at the different types of content marketing, let's check out the definition:
According to the Content Marketing Institute, content marketing is an approach that prioritizes the consistent creation and distribution of valuable and relevant content to attract and retain a specific audience. It also convinces them to take actions that create value in their lives.
But the most significant difference between content marketing and other strategies is that you do not pitch your products and services to prospective clients. Instead, you give them useful and relevant information that can help solve their challenges.
What are the Different Types of Content Marketing?
It can be quite overwhelming to select the right content marketing strategy for your business with many options to choose from.
This article explores different types of content marketing and how you can use them to improve your business's sales and profits.
Blog Posts
Blogging is the ideal content marketing strategy for small businesses. Establishing a blog is a straightforward process that doesn't cost much.
Moreover, you can make the most of your limited marketing budget by implementing SEO on your blog to increase organic traffic from search engines.
According to Forbes, websites with a blog have 434% more indexed pages on Google than those that don't.
Besides improving your SEO, blogging is also an excellent way of building relationships with prospective and existing customers.
If you publish valuable content consistently, your audience is more likely to consider your business when they are ready to make a purchase.
Before you start blogging, identify the topics that you want to cover on your blog. Typically, it should be a topic that is relevant to your niche.
Use Keyword Intelligence to give you more ideas and inspiration for your next blog post.
To get started, simply enter your keyword or phrase in the keyword tool.
Let's say your business is related to plumbing services. Type in the term, and you'll get to see something like this: 
Monthly Volume – Average monthly search volume of a keyword
Cost Per Click – Cost Per Click (CPC) is the estimated sum of money that advertisers are paying to bid on this keyword on Google Ads
Competition – Competition is the number of advertisers bidding on each keyword relative to all keywords across Google. It helps you understand how competitive the keyword is
The keyword intent shows the classification of keywords in terms of transactional, navigational, and information intent. It tells you what type of content you should write to match the real searcher's intent.
Scroll down and see the list of keywords related to the keyword you've entered in the tool.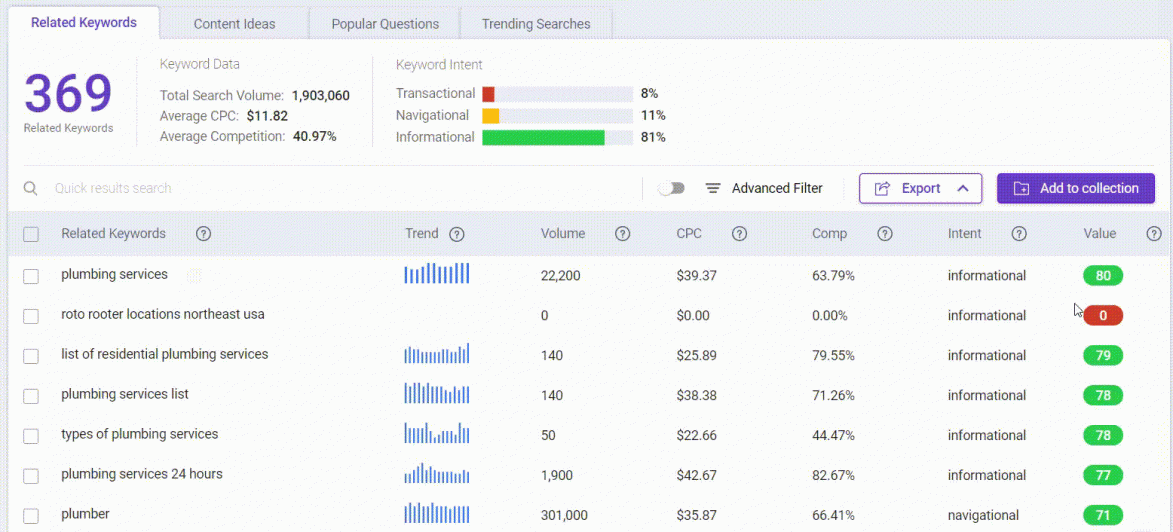 You'll be able to see how valuable a keyword is by looking at the Value column. A higher-valued keyword means it will potentially give you more traffic at a lower competition.
Each keyword comes with metrics that give you a broader view of what you can strive to rank for. 
Switch to the Popular Questions tab to get some ideas on what questions people frequently ask. You can include the questions in your blog content too.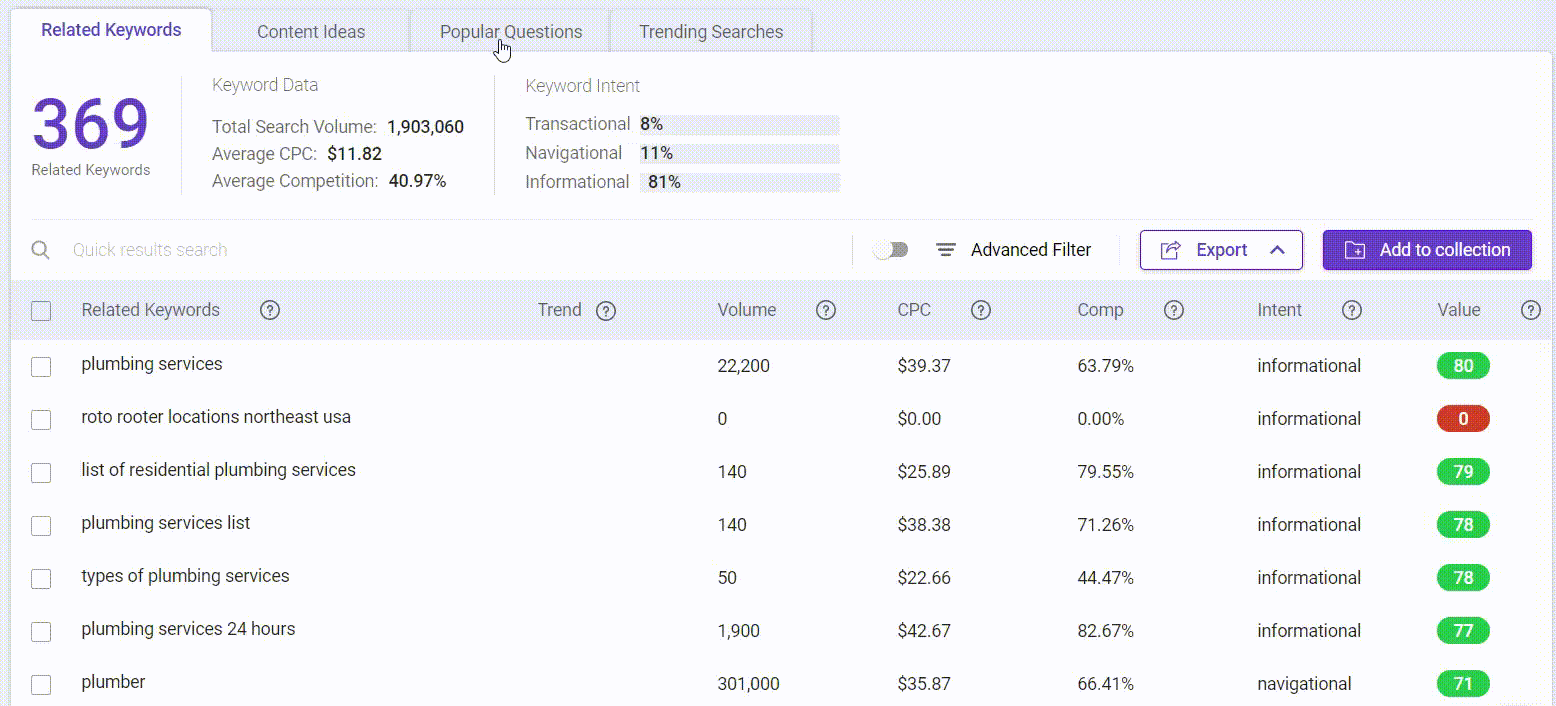 You can also hover to the Trending Searches tab to see the search terms that are currently trending.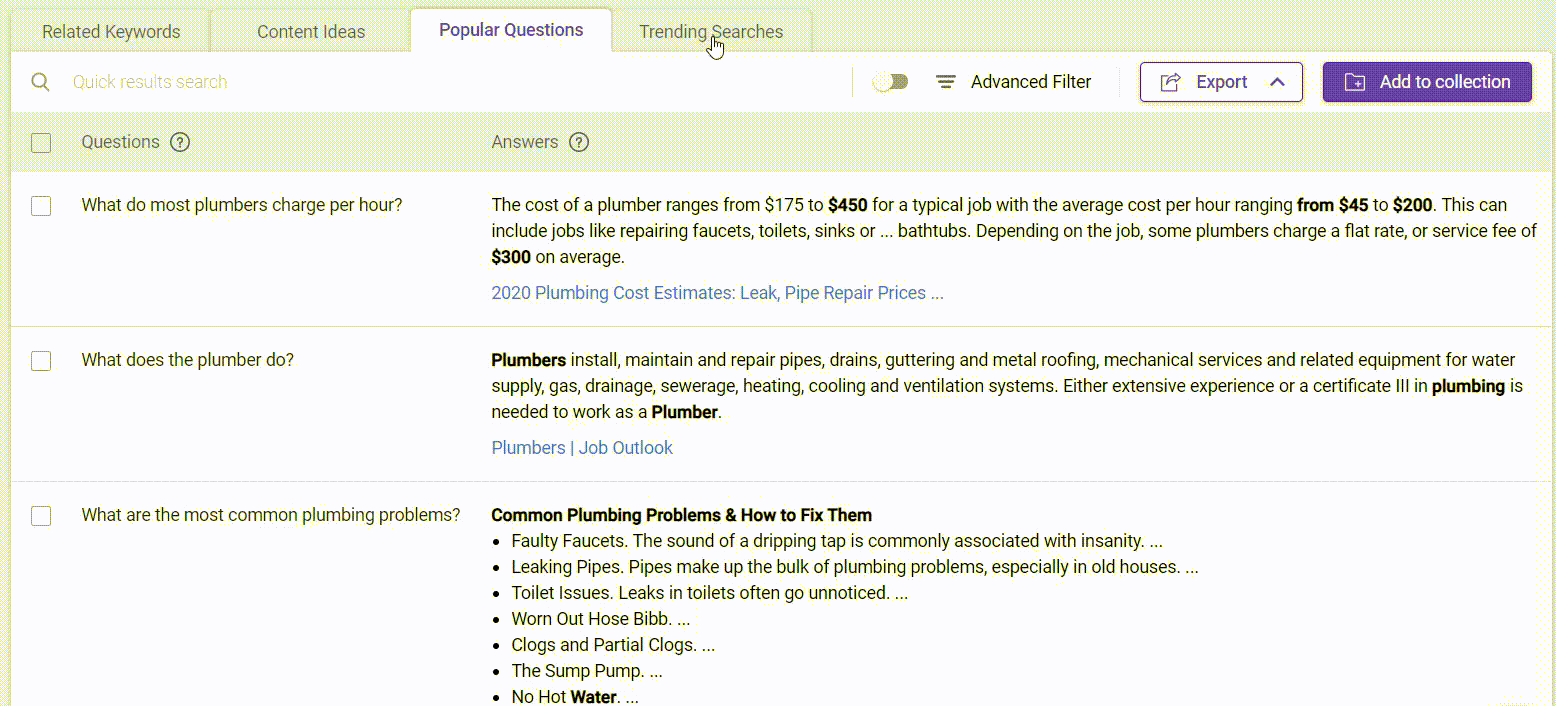 This approach will give you ideas on the type of content you need to publish to grab their attention.
Trust me; whichever way you use it, this is a great tool to start with.
Webinars
Webinars are an effective content marketing channel. To attest to this, 66% of B2B buyers watch webinars before purchasing a product.
Hubspot, a platform that focuses on inbound marketing and sales, has dedicated a page that contains all of their free webinars. When you click on any of the webinars provided, it'll lead you to a landing page that summarizes the webinar content.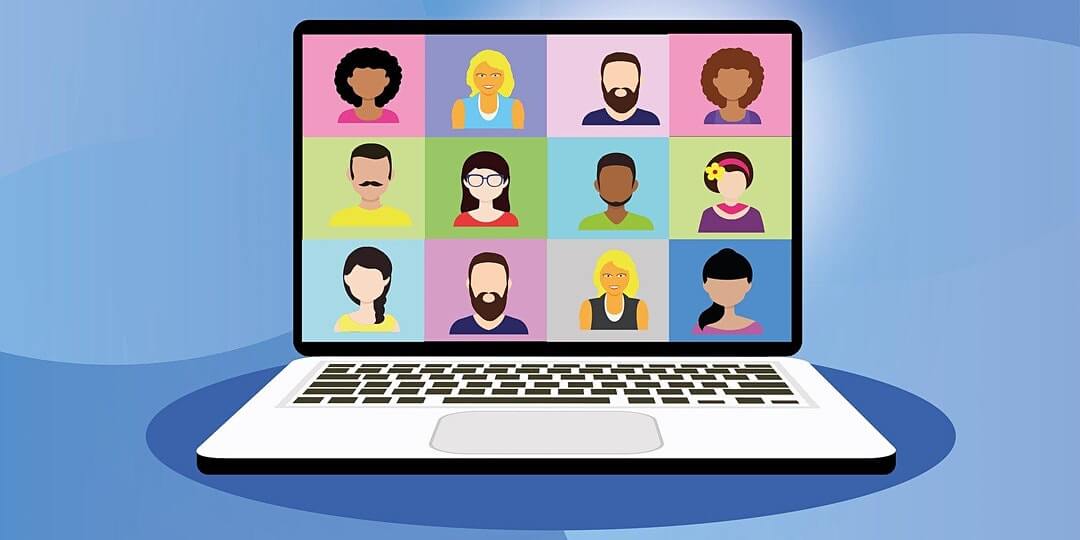 They know that webinars are a good way to generate new leads. Most importantly, it will consist of qualified leads.
Why?
Because each webinar is created for a specific audience in mind. Audiences that find the webinar useful and relevant to them will feel the urge to sign up.
73% of B2B marketers and sales leaders say a webinar is the best way to generate high-quality leads.
"We do one webinar and we get between 500 and more than 1,000 leads… with an hour of live webinar and a little promotion."


Patrick Whatman, Head of Content, Mention
Here's another great example of on-demand webinars by Trello: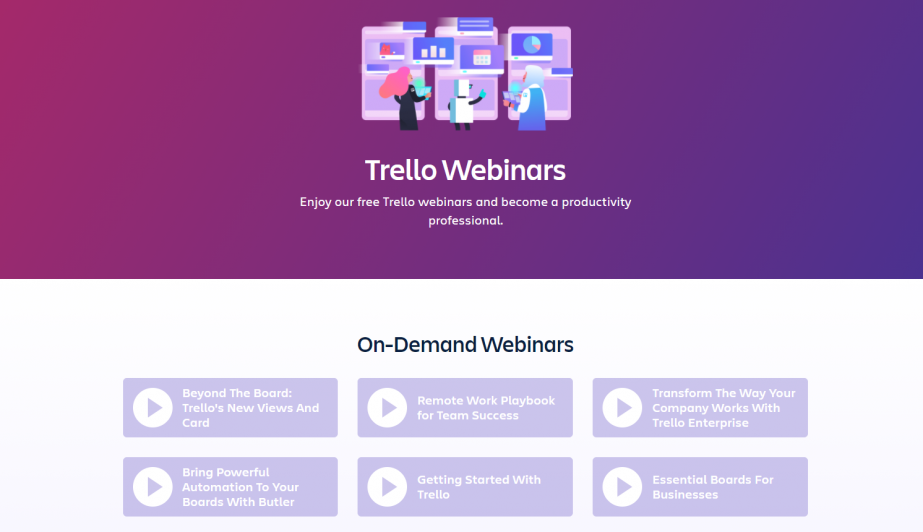 I love how Trello mixes in plenty of useful content. You can find not just 'Getting Started With Trello', but also 'Business Class 101' webinar.
The generous webinar content about team productivity and business basics by Trello made them look appealing and sincere in helping their audience.
And of course, the audience too will feel their sincerity – turning them into potential leads for the company.
Perhaps one of the benefits of content marketing is that it helps you drive more conversions over time.
Videos
Videos are highly effective in keeping your audience engaged.
According to HubSpot Research, 54% of internet users like seeing videos from their favorite brands, which is more than other forms of content.
Additionally, videos are versatile. You can create various kinds of content that engage your audience and leaves them craving for more. One of them is Video blogs, or commonly known as Vlog.
Vlog is powerful in building strong and transparent relationships with your audience.
Gary Vee documents his journey every day on his YouTube Channel, DailyVee. His highly engaging content not just attracting his current fans but also garnering new fans.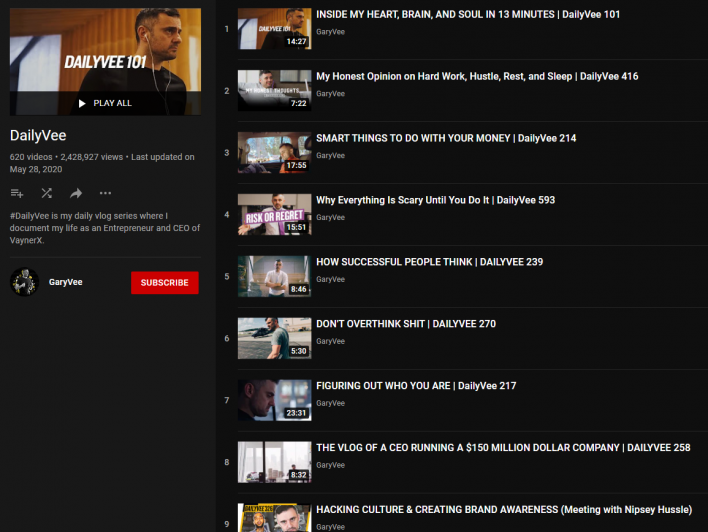 You can get more ideas for your vlog topics by checking out those who already planted their name on Youtube. Check out the most-subscribed channels as of October 2020: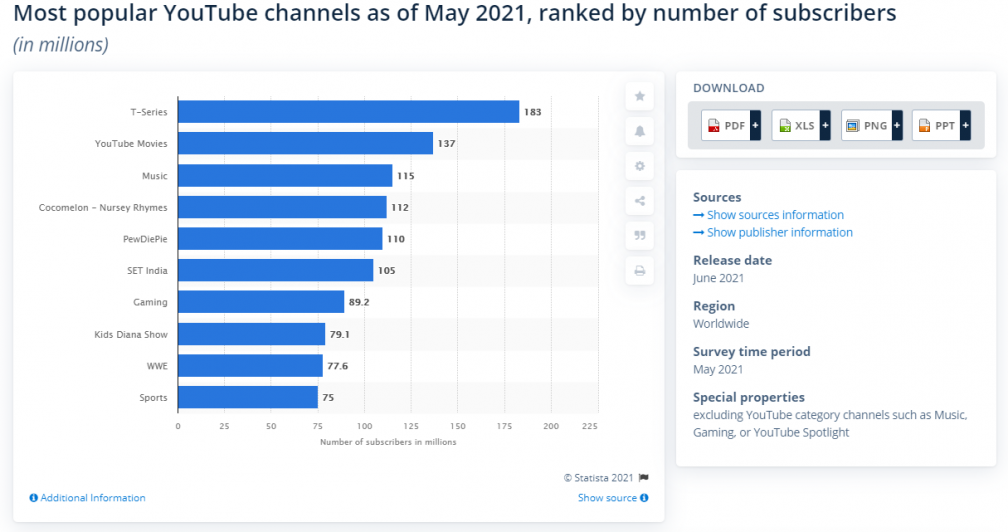 If you think you are not a fan of Vlog, check out these 7 B2B video marketing strategies that you can use.
Infographics
Due to their visual appeal, infographics can breathe new life into your content marketing campaign.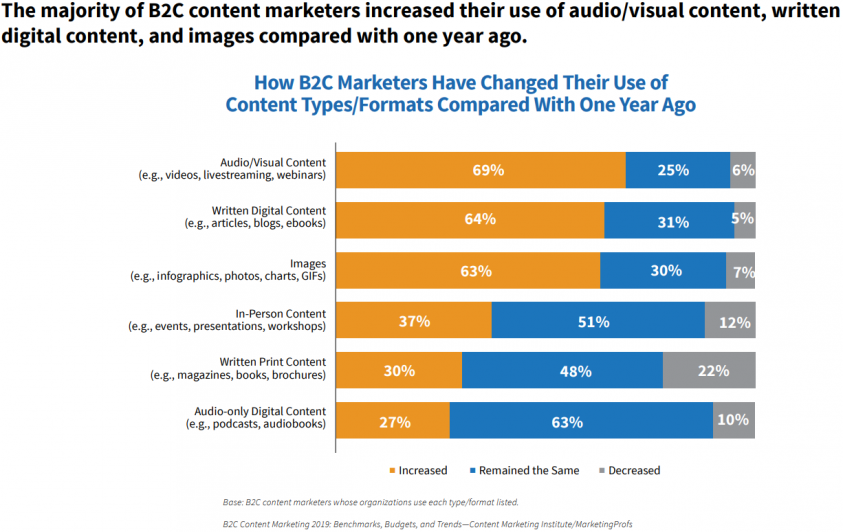 In fact, the majority of B2C marketers increased their use of images compared with one year ago.
Infographics are ideal for presenting statistics and complex processes in a way that is easy to understand.
And as our attention span is decreasing, infographics play an important role in grabbing the audience's attention.
Moreover, infographics are affordable and take a shorter time to make than other types of content. Even better, they can make your products more reputable if there is complex data involved.
There are different types of infographics including:
Flowchart
Timeline
Comparison
Data Visualization
List-based or informational
Process
Interactive
Geographic
Infographics can be used to summarize your blog content. Here is an example by SEOPressor on the common SEO myths.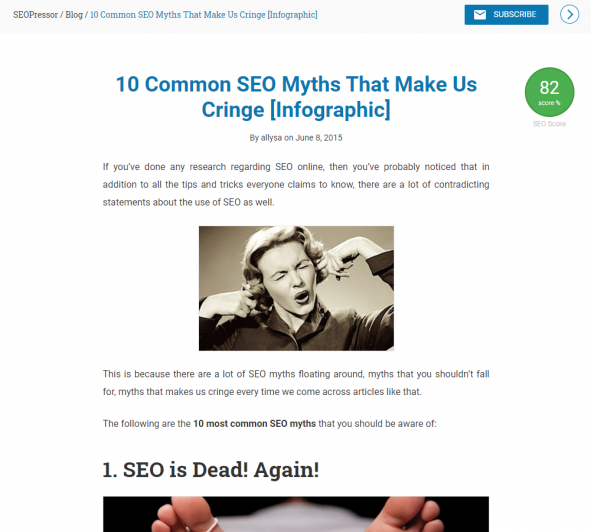 As you can see, it is presented in a simple and easily digestible format.
Podcasts
A podcast is a series of audio content, mostly released as episodes. The episodes tend to vary in length and format, with some covering interviews and others offering a particular topic description.
In recent years, podcasts have become incredibly popular. Currently, there are more than a million podcasts.
Notably, podcasts are easy to create. The equipment required to make an episode is relatively inexpensive, and you don't have to be a sound engineer to make it sound great.
Furthermore, podcasts also allow you to produce several types of content simultaneously. For instance, you can record a video and publish it as a podcast, video, and blog post. This ensures that you capitalize on your content marketing campaign.
 Other than creating a popular Youtube series, Gary Vee also provides podcasts that are full of personality and practical tips that can help you become a digital marketer. 
Social Media Content
Social media plays an important role in your content marketing success. It helps you build brand awareness, nurture relationships with existing customers, and drive return at every stage of your sales funnel.
There are more than a billion people on average log onto Facebook daily as reported by Facebook. Not just that, it also represents a 12% increase in year-over-year.
And as I dig deeper into the statistics, I found out that Facebook is the most popular social networks worldwide: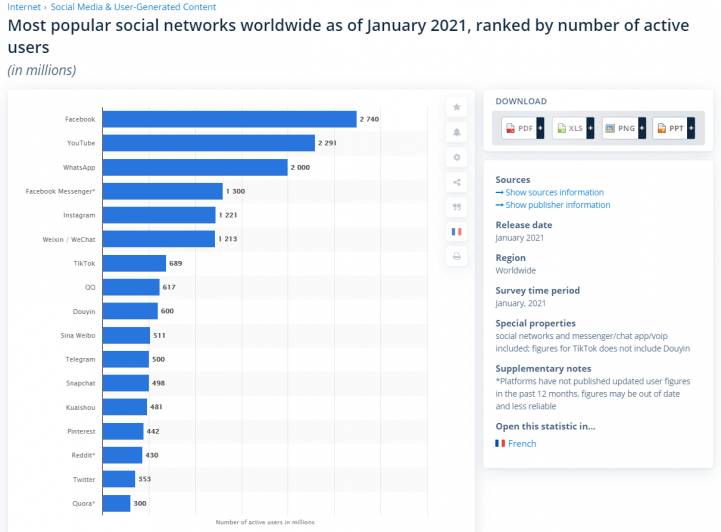 Despite that, you need to be mindful of what you post on your social media. Here are some reasons why consumers unfollow brands on social media: 
Usually, people log in to their social media for entertainment, not to buy your products. So it's important to tone down the promotion and sales-y content.
Instead, think about the kind of information that your audience needs and how you can help.
Email
With an ROI of 3800%, email marketing is by far, the most effective form of online marketing. Emails are useful in improving your relationship with existing and previous clients, encouraging loyalty and repeat purchases, and acquiring new customers.
An effective email has four parts – a subject line, the body, a call-to-action statement, and then sign-off.
The subject line is your only chance to create a first impression. Studies show that it takes three seconds to capture the reader's attention. For this reason, your subject should be interesting such that it encourages the recipient to open the email.
If you write a captivating body, do not forget to include a call-to-action statement. After all, what is the need to send an email if you are going to get nothing in return? The CTA statement should be clear and compelling.
The end of your email can create a lasting impression. Ensure that you sign off with a personal touch and include your contact information.
Whitepapers
Some people tend to mistake whitepapers for e-books. While both are types of lengthy content, whitepapers usually have more data and information than e-books. Whitepapers are more detailed, which is why 71% of buyers use them for research, according to the Demand Gen Survey Report.
You can find various white papers examples across industries in Paperflite: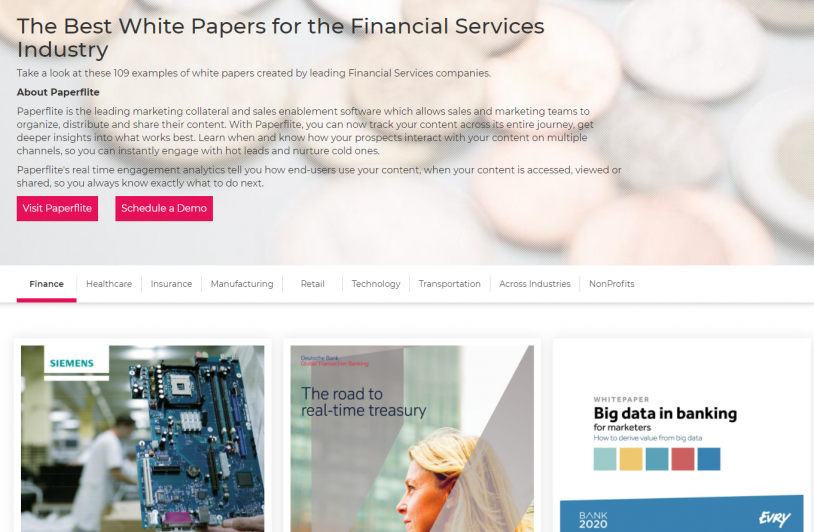 Due to its length and nature, you may find white papers need a lot of work. But it also shows your authority over your niche. You will be able to address a problem and propose your solution to your target audience.
You can make a whitepaper visually appealing, even if its content is primarily utilitarian. Focus on the design when formatting page layout and highlighting vital takeaways. Use legible and attractive fonts to encourage readers to read the entire document.
Case Studies
Case studies are success stories from your previous clients that tell how you helped them prosper. As a business owner, you can use case studies to show prospective customers the best ways to use your products and services.
Consumers like case studies because they show how your business adds value and solves their challenges. For this reason, it is better to use a real-life example instead of showcasing your products and services. This approach increases the trustworthiness of your brand among new leads.
For example, since we have a customer that has successfully reduced his operation cost, we decided to interview him and turn them into a case study. You may read them here.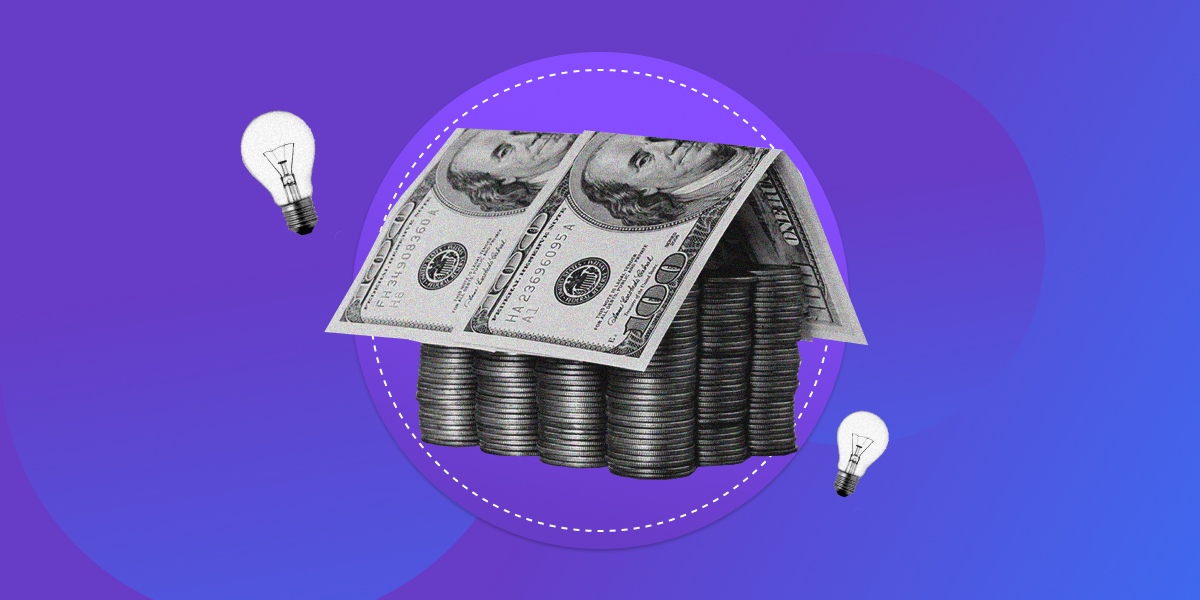 E-books
Like whitepapers, e-books are effective long-form content that you can use to generate leads and interact with existing clients. The most important aspect of an e-book is its value. Ideally, it should cover topics that offer your target audience insights on how they can solve their challenges.
E-books are useful for collecting information from your intended audience. They are usually gated, meaning that the interested party must provide information about themselves to get the download link.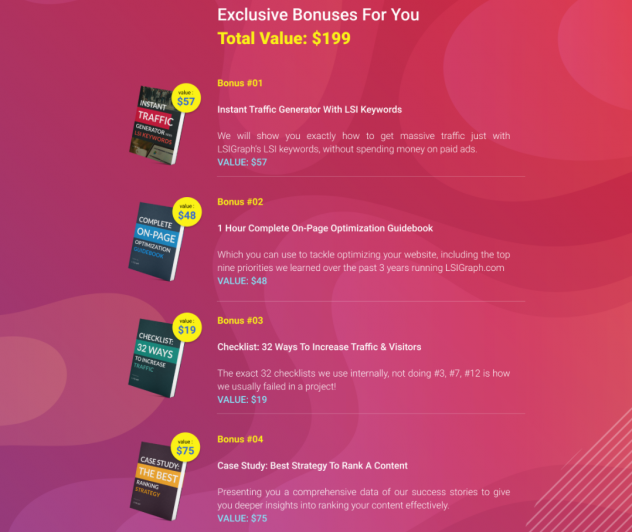 It is worth noting that e-books require more time and effort to generate than other forms of content marketing. That said, they are a worthwhile investment because they are profitable.
Memes
Despite being relatively new to the world of content marketing, memes are extremely useful. A meme is an image set with a trending message that gets circulated online rapidly. Memes can significantly increase your traffic, especially if you get the timing right and align them with your social aesthetic.
One of the famous meme marketing campaigns by Netflix would be the Bird Box. The movie was promoted directly and indirectly using a range of funny and viral memes.
This creative content marketing strategy may require you to stay in touch with the latest trends in your industry.
Template & Checklists Downloads
Checklists are worksheets that provide a list of things to do in a systematic order to achieve a specific outcome.
They are suitable for small businesses because they are easy to create and help you to generate new leads.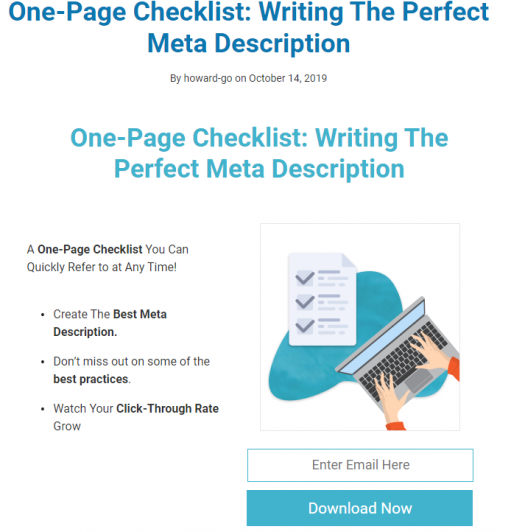 One-page checklist on writing the perfect meta description by SEOPressor.
After creating a checklist that provides valuable information, you can share it on social media or integrate it into blog posts.
Courses
There is no better way to showcase your proficiency in something than creating an online course.
Udemy, the largest global marketplace for learning and teaching online, has released a report showing a 425% increase in enrollments. 

That also goes with the increase in course creation because experts are looking for ways to share their knowledge and earning income.
When you teach a particular topic, it shows that you know what you are saying, you are excellent at what you do, and you are an expert in your niche.
After picking a particular topic, the next step is doing research to see if it is in demand or not. Many people shy off from teaching competitive courses because they believe that they won't beat their competitors. In reality, the more popular a course is, the more people are likely to sign up.
Lastly, you need to choose how to deliver your content. Ensure that you balance audio, practical, and video lessons to allow all people to enjoy an optimum learning experience.
You can promote your courses in many ways. For example, I love how Hubspot incorporates their free course in some of the blog posts: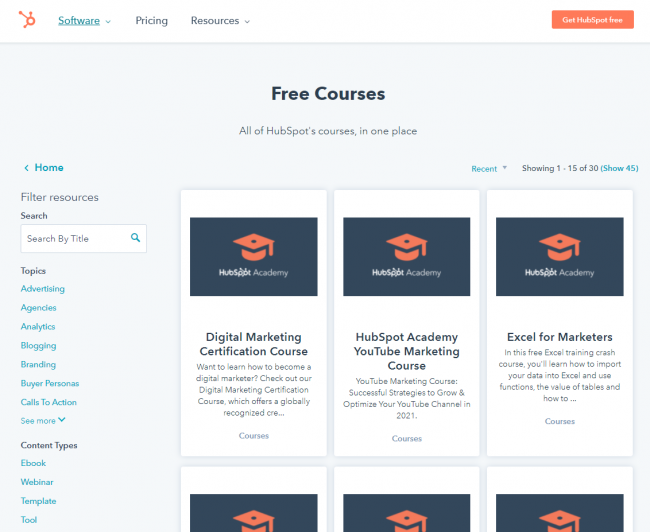 That way, your courses can be an excellent strategy to get potential leads.
SlideShare Presentations
Since many businesses tend to overlook it, SlideShare is the sleeping giant of content marketing.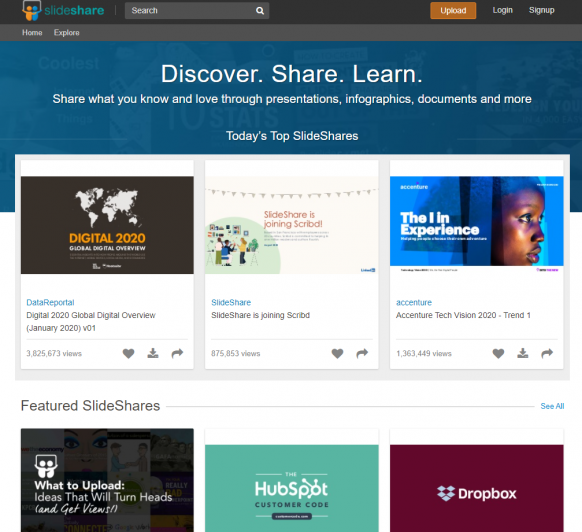 With over 18 million users, this platform is the world's most popular professional sharing community. Its standout feature is the ability to embed presentations.
The best thing about SlideShare is that you don't have to create fresh content – you can repurpose existing stuff. However, you need to include an irresistible title and make the slides attractive.
Moreover,  SlideShare allows you to view detailed analytics such as best-performing slides, number of views, and top referral sites.
How-to Guides
How-to content is similar to long-form blog posts. But it goes more in-depth and teaches the audience to achieve what they want.
That means it goes back to understanding what your target audience wants before you can start to produce one high-quality how-to guide.
If your business offers products like software and other stuff that requires expertise to use, how-to guides are a must-have. Because, as the name suggests, these guides show your target audience how they can use your product.
Ensure that you delve into the details and include a provision to ask questions if someone experiences any difficulty.
Testimonials and Customer Reviews
Testimonials and customer reviews are the content generated from your clients directly. If your business is a niche market, testimonials give others a reason to buy from your company.
Established companies use this method to market their products. It is no coincidence that celebrities and other luminous persons endorse a majority of their products.
While for small businesses, the best way to promote customer reviews is by adding them to emails and social media posts.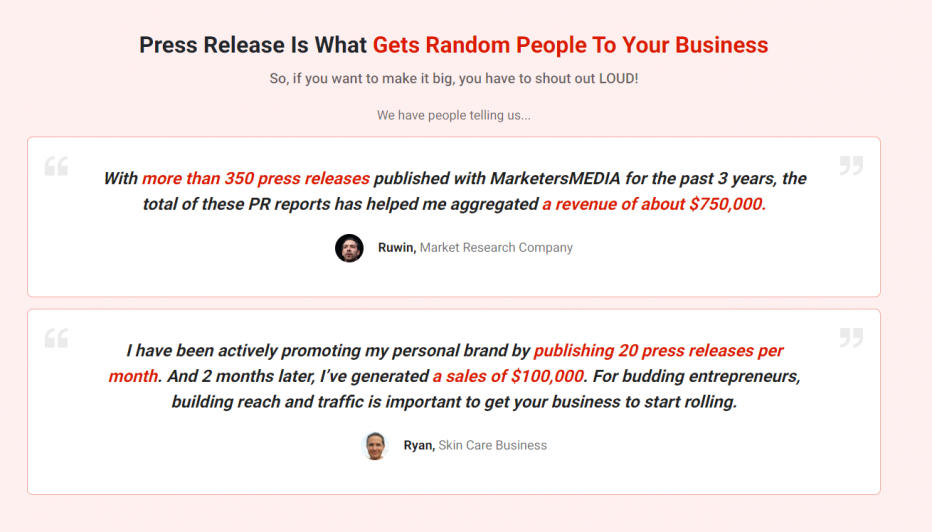 MarketersMedia uses its client's testimonials on its website.

Conclusion
Different types of content marketing will need its strategy to reach your target audience. Also, it depends upon your business types and the number of audiences.
So which one are you going to use?
If you own a small company, the best place to start is blogging. Otherwise, let your objectives define the strategies you adopt.
For optimal results, experts recommend implementing several types of content marketing. For example, you can invest in email marketing, blogging, and social media advertising. While this seems overwhelming, it helps you reach a broader audience.
When you take a diverse approach, consistency is vital. Ensure that your blog's message is in tandem with what you send via email or post on social media. This not only makes your brand easy to recognize, but it also enhances your reputation.
Finally, always ensure that the content you share is relevant and valuable to your target audience.
Are there any other types of content marketing that you think is missing from the list?
Let me know in the comments below.