Everyone can be a seller, but to become a successful one with sustainable growth is never easy. The marketing funnel is just what you need to conduct your business more efficiently and effectively.
Why should a business have a marketing funnel structure in place?
If you want your business to do well and get more sales, you must absolutely get your marketing funnel right.
This is the journey or a process of converting your leads into customers who might end up being loyal and advocating your product or services.
We understand your frustration when you try to get new customers but have no idea how to do that.
The average customer engages with 3 -5 pieces of content before talking to a sales representative.
87% of shoppers begin researching the shop online before making a purchase, so having the right content is key to gaining their attention.
All About Marketing Funnel
What is a Marketing Funnel?
A marketing funnel consists of stages or paths that your customers travel through – all the way from first awareness about your business to the purchase funnel marketing.
Why is it called a funnel? Well, take a look at the marketing funnel diagram below. The size of your audience at each stage will typically look like this:
Stages in the Marketing Funnel
The marketing funnel flow chart typically has the TOFU, MOFU, and BOFU stages.
TOFU
Top of the funnel marketing (TOFU) is content designed mainly for the awareness and interest stage.
There will be a significant number of leads at this stage; however, the majority of the leads might not buy from you.
In this stage, your audiences are still doing their research, much like a first date.
Ensure that your content does not come out too strong by trying to hard-sell your product or services.
This might annoy and drive away most of your leads, just like asking for their hand in marriage on the first date.
In terms of content to get more audiences and leads, you can try blog posts, research reports, infographics, or e-books.
MOFU
Middle of the funnel marketing (MOFU) is content designed for the consideration and intent stage. At this stage, your audiences are aware of their problem and are considering solutions to their problem.
Again, do not put out content that comes off too strong; remember that you are still building trust among your leads.
It would be best if you continued to put out content that can nurture and convince them that your product or service can solve their problem.
Contents to consider putting out at this stage are comparison guides of alternative solutions, videos, or podcasts.
BOFU
Bottom of the funnel marketing (BOFU) is content designed for the evaluation and purchase stage.
Here, your potential customers are ready to pick a solution.
They have done a thorough research and have probably identified several businesses that they should buy from.
The content that you publish should be able to help them decide that your solution is the best.
It should help them start a conversation with you, and you should approach them in a consultative manner.
Some BOFU contents you can consider are case studies, live demo, free trials, consultations, and most importantly, customer testimonials.
5 Stages of Content Marketing
Stage 1- Problem/ Needs Recognition
At this stage, the audiences who are strangers to your brand learn about who you are and what you do. So, it is important to identify your target audience.
They say that first impressions are important. So this is your opportunity to build trust within your target audiences with the content you post.
It is imperative that you put out free informational content at this stage as they are not ready to buy from you yet, and they don't know your value yet.
Since they are now familiar with you, they already have a mental note of your brand's connection to their problem.
Here, you can further elaborate about the problem and raise awareness of the issue – connect the problem to your brand.
Stage 2 – Information Search
Since your audiences are now more aware of their problems, they will start to do more research on solutions for their problem.
At this stage, the content you put out should contain SEO keywords so that your content will come on top of the search page.
The readers are most likely to click and trust the contents that come out on top before the ones on the second page.
This is why you need to optimize your keyword research. You can do this with BiQ's Keyword Intelligence tool.
Using this tool, you can gather data on keyword volume, trends, keyword competition, related keywords, and more.
What makes BiQ's Keyword Intelligence stand out from the rest of the keyword research tools on the market is the keyword analyzer feature.
It helps you see why someone might be searching for the keyword in the search engine.
You will be able to choose which long- or short-tailed keywords are suggested to optimize your content and pick the ideal, most relevant suggestion in one glance.
On top of that, you could also install LiveKeyword by BiQ for free.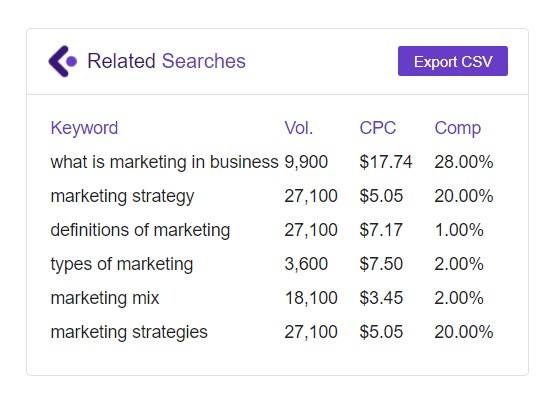 Upon installing and activating, the Chrome-exclusive extension allows you to look for search volume, cost-per-click (CPC), and competition metrics on Google.
You will be able to plan your content in such a way that meets your audience's needs with the data provided.
If you are unsure which keyword to use, you can sort the keywords based on their value.
The higher valued keyword means it can potentially bring more traffic to your website at a lower competition.
Stage 3 – Evaluation of Alternatives
At this stage, your audiences are now aware of the myriad of solutions that they can choose from. You have competition now.
One way to go about this is to evaluate your competitors. Analyze the content that they post and see which type of content gets more views and traffic.
An in-depth investigation and analysis of your competition will allow you to assess their strength and weaknesses in the marketplace. With this, you could implement effective strategies to your competitive advantage.
To make this easier for you, try BiQ's Rank Intelligence tool.
Let's say your business is an online retailer for carpets.
While you're targeting a long list of keywords, you have a few main keywords you want to rank for because they're the keywords with the highest volume and purchase intent for your products.
Naturally, all your competitors will also be targeting those keywords.
That's why it's also important for you to keep a tracking profile of your competitors and the target keywords.
You get to monitor and gain valuable insights through Rank Tracking tool to maintain your ranking and stay afloat above your competitors.
If a specific competitor is starting to gain the high ground, it's a sign that you need to look into why that is.
What changes have your competitors made recently? Is your competitor publishing more content related to that topic, are they running a social media campaign, or have they been acquiring more backlinks?
Stage 4 – Purchase Decision
The purchasing decision follows logically from the previous three phases. The potential consumer has identified an issue, researched their choices, and decided which is best for them.
They're getting ready to take out their wallets now.
But before that, you need to know that putting out content that reassures your potential customers feels confident with their decision to purchase your goods/ services.
Contents like case studies or customer testimonials as well as purchase incentives, will push your customers down the marketing and sales funnel.
In fact, about 67% of consumers would most likely engage with discounts or offers.
Believe that when your audience has progressed this far through the marketing funnel stages, sales will begin to flow at this stage.
Maintain future customer relationships before they can buy.
Stage 5 – Post-purchase Behavior
The sales process does not end when a customer makes a purchase. It's just as important what happens after the sale.
New customers will be more likely to believe they made the right decision when met with a thoughtful onboarding process, personalized attention, and all of the tools they need to use your product effectively.
They're even more likely to share their happiness with others through reviews and product endorsements when they're confident.
However, if your new customers have a less satisfying experience with their purchases, they are more likely to ask for refunds, leave unfavorable feedback, and recommend others to buy from your competitors instead.
What Marketing Funnel Metrics to Track?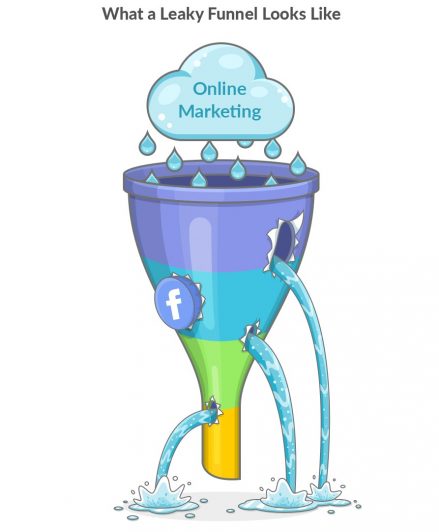 This is what a marketing funnel leak looks like. Surprisingly, repairing the leak isn't as complicated as you would think. Here are some of the metrics that you can track:
Organic Traffic Source
When there is traffic, it means the chances of getting sales are high. It is as simple as that.
On that note, organic search appeals to customers based on how you rank according to a search engine's algorithm.
Besides Google, there are many ways to get organic traffic, such as social media.
Make sure that you can identify where your organic traffic is coming from and continue to nourish the source.
On the flip side, you should also fix your other sources that have underperforming traffic.
What you can do is to find new keyword opportunities, optimize underperforming content, and also dominate featured snippets.
SERP Click Rate
Search Engine Result Page (SERP) is important in ensuring your traffic. So, higher SERP ranking, higher traffic.
Organic search results are more important than paid ads because users often ignore paid advertisements.
If other people click on a search result, it will get more clicks, and as a result, a higher rank.
When it comes to getting clicks, user behavior and intent are important.
How do you make sure your content delivers the right sentiment to your readers?
Fortunately, you may use BiQ's Content Intelligence to analyze the reader's sentiment behind every line. All you have to do is insert your target keyword and URL to study them.
Oftentimes, the user decides which content is most relevant. If you're looking to improve your click-through rate (CTR), then create content that answers common search queries.
Make sure it's informative and that it delivers on the promise of the headline.
Funnel Conversion Rate
Various conversion rates should be monitored in the marketing and sales funnel.
For example, you'll want to track the rate at which visitors become leads, leads become Marketing Qualified Leads (MQLs), MQLs become sales qualified leads (SQLs), SQLs become sales opportunities, and sales opportunities become actual sales.
These different conversion rates provide you with insight into how effective each stage of your conversion funnel marketing is.
Time on Page and Exits (Engagement)
The industry standard for a decent average session time is 2 to 3 minutes.
Two minutes may seem short, but it is sufficient for users to read content and interact with your website.
As a result, longer sessions suggest more active visits.
Engagement is important for sales conversion, like building a relationship. Make sure that you are putting out engaging and interesting content to reduce the bounce rate.
You would not want your visitors to exit your page without taking any actions, as this could harm your SERP ranking!
Time is a precious resource to us humans. The amount of time visitors stay at your website indicates how much they are willing to spend on your content. Take advantage of that!
Optimize User Experience
User experience is just as important for engagement. Nearly 95% of consumers distrust websites with poor design.
If your website's UX is optimized, users can receive immediate value without even realizing it. According to a new study, improving UX is one of small businesses' top three priorities.
Yes, your website should be attractive, and your content should be exceptional. However, 76 % of customers believe that the ability to pinpoint knowledge is the most critical aspect of web design.
Remember that a satisfying and rewarding site experience will attract existing users as well as new ones.
You can optimize your website's UX by simplifying the design, adding interactive content, linking wisely, and, most importantly, optimizing for mobile surfers!
Conclusion
Marketers often make the mistake of investing in just a few of these stages rather than all of them.
Without first establishing brand identity and confidence, the audience and potential customers can detect excessively sales-focused content or pitches.
Therefore, you must focus on creating content for all the stages and identify the "marketing funnel leaks".
Apart from that, remember that the ultimate goal is to adapt your marketing funnels to serve your users best so they can manage most of your marketing for you.
Now that you are armed with this knowledge, it is time to create your own compelling marketing funnel!