One of the buzzwords associated with search engine optimization is keyword research. Although some people take it for granted, keyword research is perhaps the most critical aspect of any digital marketing campaign. Before you understand the dynamics of keyword research, you first need to know what keywords are.
What Are SEO Keywords?
Keywords are words and phrases that shape your online content. Pertaining to search engine optimization, keywords are the terms that internet users type into search engines, also called search queries.
The goal of every digital marketer is to create contents that have keywords that are relevant to what people are searching. This increases the content's visibility and boosts search engine ranking.
The Importance of SEO Keywords
As mentioned above, the most significant benefit of integrating keywords into your content is that they improve your website's rank on search engine result pages. When your website has more visibility, it gets more traffic, which eventually translates to more sales and higher profits.
It is almost impossible to run a successful SEO campaign without keywords. Once you have the search queries relevant to your niche, you can start working on optimization tasks such as:
Defining your website's architecture
Designing and organizing product description and categories
Creating content for blogs, emails, and social media posts
Optimizing landing pages and sales pages
How Do You Find SEO Keywords?
Finding the right keywords for your SEO campaign might seem challenging, but if you follow the right approach, you can hack.
Here are some tactics you can use to identify the right SEO keywords.
Google Suggest
A common mistake made by marketers is targeting keywords that have too much competition. Unless you are an established company or an authority in your niche, it is impossible to rank for such keywords. Instead, you are going to lose precious time that you would have otherwise used to focus on more realistic strategies.
The best way to start your SEO campaign is by targeting long-tail keywords. Unlike single-word search queries, long-tail keywords are less competitive. You are more likely to succeed at SEO as a beginner if you use a phrase like 'best toys under $50' instead of 'toys' alone.
Luckily, finding long-tail keywords is straightforward using Google Suggest, also called Google Autocomplete. For example, if you want to create content about losing weight, it would be unwise to choose 'weight loss' as your keyword because it is too competitive. However, Google will give suggestions that have less competition like 'weight loss tips at home', 'weight loss diet after birth'.
Google Keyword Planner
The Google Keyword Planner is useful to your SEO campaign because it uses data from Google, the most popular search engine.
Before using this platform, you will need to set up a Google Ads account. However, you are not obligated to have active ads.
Another issue that you are likely to encounter is monthly search volume ranges. This means that instead of giving accurate figures, it shows ranges, like 1K-100K. The solution to this is adding the keyword you are targeting to a plan, and the Plan Overview will show you the exact number of impressions you get.
Google Trends
Although monthly search volume is a crucial metric, it doesn't show you how a keyword is trending. Over an extended period, the trend of a search query is more valuable than its raw search volume.
LSIGraph's Keyword Research
LSIGraph is a powerful keyword research and content writing SEO suite. LSIGraph's Keyword Research allows you to easily find the most profitable keywords to target.
Keyword Research returns a list of semantically-related keywords that you can use to increase your content's keyword density without falling into the trap of keyword stuffing. Semantic keywords are synonyms, co-occurring terms, or implied words that are contextual to the keyword you are researching.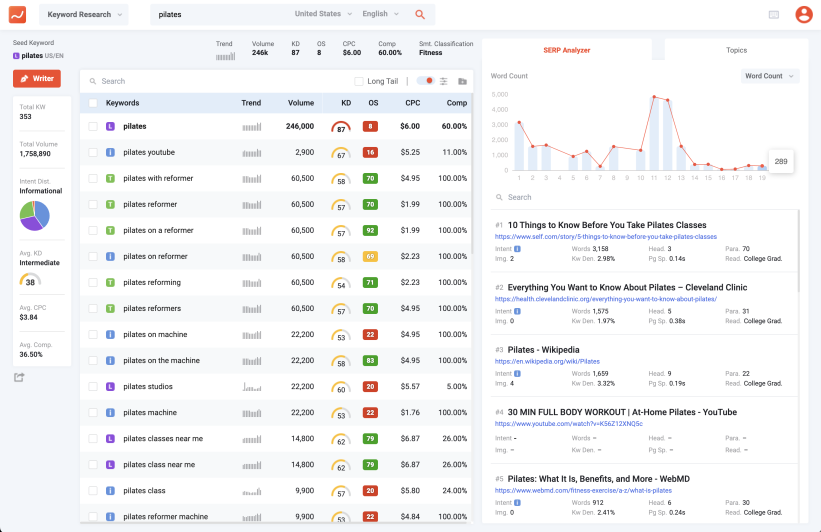 LSIGraph's Keyword Research will show you important metrics for each of the keywords to inform your decision on which keywords to target or add to your writing. The metrics include the keywords' search intent, search volume, difficulty, cost-per-click, and competition.
One of LSIGraph's unique features is its Opportunity Score, an in-house metric developed to help you evaluate keywords that are easy to rank for with the least amount of effort. In other words, low-hanging keywords you can target if you want to rank with minimal investment.
Find Keywords Used by Your Competitors
While there's no denying that keyword research tools are effective, they are certainly not exhaustive. A smart way of ensuring that you cover all fronts is looking at the keywords that your competitors are using.
The benefit of looking at what your competition is doing is that you get keywords fast. You can get thousands of keyword suggestions within a few minutes.
Some of the tools you can use to reverse engineer your competitor's keywords include Ahrefs, Moz Pro, and SEMRush.
Whatever you do, only copy from websites in your league. You will not benefit from keywords in an authority site in your niche if your website doesn't get millions of visitors monthly.
Types of SEO Keywords and Examples
Here are the different types of keywords you can use in your SEO campaign.
Targeting Keywords
Targeting keywords are search queries related to your audience, niche, and products and services.
Here are the common types of targeting keywords.
Market segment keywords: these are generic keywords related to your brand or niche. e.g. skating shoes.
Customer-defining keywords: these are search queries that are relevant to a specific audience. e.g. skating shoes for women.
Product keywords: these are keywords that mention a particular product from a specific company. e.g. Samsung Galaxy S10.
Branded keywords: these are search queries that include a brand alongside a descriptive search phrase. e.g. Samsung smartphone
Competitor keywords: these target brand names and products of competing businesses. For example, Samsung can use a competitor keyword like Huawei smartphones.
Geo-targeted smartphones: these search phrases identify a specific location. e.g. Los Angeles camping sites
Types of Keywords by Length
The following are three types of keywords by length.
Short-tail keywords (head terms): these are short search queries that tend to be highly competitive. e.g. weight loss
Mid-tail keywords: they are a more extended and more descriptive version of head terms. They are also competitive. e.g. best smart TVs
Long-tail keywords: these look like sentences and have lower competition than the other two, making them easier to rank for. e.g. best running shoes for pregnant women
Buyer Keywords
As the name suggests, these are keywords that a user types into a search engine when looking to buy a product or a service. Each type of buyer keyword represents a different type of search intent.
Informational keywords: these are the search phrases users type when looking to know more about a brand and its products and services. e.g. what are the best skating shoes?
Navigational keywords: these are terms used when researching different options before making a purchase. e.g. Nike running shoes
Transactional keywords: these are specific terms because the user already knows what they want to buy. e.g. best skating shoes under $250
How to Choose the Best Keywords
Choosing the right keywords is vital if you want to have a successful SEO campaign. Generic keyword research will drive more traffic to your site, but picking the best ensures that you attract the right audience.
Here are insightful tips on how to find the best keywords.
Think like a customer: when listing your keywords, put yourself in your client's shoes. You can learn more about your customers by asking them or consulting their friends and family. This allows you to know the terms they are likely to use on search engines.
Study your competition: identify your direct competitors and research the keywords they are using. This is an excellent way of broadening your ideas.
Use long-tail keywords: despite having low search volumes, long search queries are less competitive and attract more relevant traffic. They are ideal for small businesses.
Use keyword research tools: this software helps in collecting data on keyword search volume and trends, their competitiveness, searcher intent, etc.
Analyze the results: keywords change regularly, albeit the changes are minor. Keep an eye and take note of these changes to avoid being left behind.
How to Use Keywords in Your Content
After the research phase, the next step is integrating the keywords into your content. Before anything, identify the primary keyword. Some marketers try optimizing their content around several terms, but this often results in disappointment.
For example, if you are writing an article about premium smartphones, it would be unwise if you avoided talking about entry-level smartphones. Instead, use alternatives to the primary keyword like high-end smartphones.
Additionally, observe the number of times you use your main keyword throughout the content. There's no point of using it 50 times, as Google considers this unnatural, and you could be penalized for stuffing.
Your title tag and URL should contain the main keyword. The same also applies to the meta description. Although Google doesn't use the text in your meta description for ranking, this snippet of information gives searchers an overview of what the page contains on search engine result pages. It also increases your organic click-through rate.
Next, use a few variations of your primary keyword. For example, if your blog is about digital marketing, you can use online marketing and internet marketing. You can use Google Suggest to get these.
Lastly, use internal links to add authority to new content. New web pages tend to lack backlinks and inbound links, but you can give them instant link authority by internally linking to them.
When using internal links, ensure that the anchor text has your target keyword. This helps Google understand that you are talking about a particular topic.
If you find all these to be a lot to take in, you can use SEO content writing tools like LSIGraph's Semantic Writer which analyzes your content for SEO worthiness in real-time as you write it. Tools like Semantic Writer streamlines your SEO writing process and makes sure that your content is not missing any important SEO points.
Final Words
Although most people do keyword research when creating new content, it doesn't mean that you can't use the search queries on existing articles. If you want to breathe new life into old content, start by identifying its weak links.
Once you note down the areas that need improvement, try to infuse trending keywords without changing the original meaning of your old articles.
Ideally, each page on your site should target a specific keyword. Generally, the homepage will focus on broad industry terms, such as digital marketing. Then, you want to create categories targeting more specific areas like social media marketing, email marketing, blogging, etc.
Whatever you do, avoid stuffing keywords and forcing keywords to fit into your content unnaturally. Keep in mind that you are writing to provide value to people. Even worse, search engines can penalize your website.