Marketing is about understanding trends. And trends are directed by a generation. This is why marketing to Generation Z matters as they represent opportunity and growth for businesses.
Outstanding marketing starts from adapting to different consumer trends and markets. There are five estimated generations in the business world. Generation Z comes right after the Millennial generation. To the casual eye, these two generations share several attributes.
Yet, delving deeper, you may notice trivial differences likely to call for different marketing approaches. Gen Z covers everyone born from the year 1997 to the mid-2000s. At least 32% of the world population belongs here.
Unlike Millennials, Gen Zers grew up with gadgets such as iPads and cell phones. Not a single moment does Gen Zers recall a life without the internet. According to experts, Gen Z has an attention span of not more than eight seconds.
Targeting them in your marketing plan requires a prudent approach. To start with, every instant counts. Therefore, take advantage of swift and digitally appealing techniques for easier penetration.
Understanding Generation Z Characteristics
Compared to the Millennials who experience a monetary boom, Gen Z has persevered through hard economic times in the Great Recession. Below are some leading Gen Z characteristics likely to have originated from early internet exposure.
1) Appreciates Stability and Security
One common trait with Gen Zers is financial mindedness. In short, they value financial security and pragmatism. This translates to financial stability brought about by small investments, stable income, and conformist expenses.
Although Gen Zers are more sensitive to prices, they are less likely to become loyal to a brand. To them, price is the most vital factor before making a purchase. Some of the main platforms where they learn about a new brand include social media, Google, Amazon, and referrals from family and friends. Likewise, they easily refer others to a satisfying brand.
The easiest way to attract Generation Z is to offer surprises and rewards. Based on a 2019 report, 41% of Gen Zers would probably refer someone to a product to receive a reward or coupon. Beyond pricing, this is one effective approach to lure young shoppers and grow a brand in the process.
Equally, special offers easily motivate them to develop brand loyalty. When looking for quality, young consumers are more likely to buy from huge name brands. In such a situation, they rush to leading brands when purchasing electronics, cars, appliances, or Smartphones. On the other hand, they prefer private labels when searching for low-priced products.
2) Sees Identity as Social and Contextual
It is worth noting that before social media became prevalent, an individual's identity revolved around natural characteristics. This touched on how someone spoke, dressed, or related with others. To some extent, the identity was predetermined by family traits, residence, racial and others. With the internet becoming mainstream in the 90s, there was the inception of a new life.
At the moment, social media directly influence Generation Z's self-esteem and self-worth. In reality, online connectivity sped up the dynamic change of brand identity and building brands.
Gen Zers would represent their identity by the context they are in. It is common for Gen Zers to use social media to portray their unique personalities in a way that defines authenticity to them.
In contrast to the pre-digital era, one can easily open up and self-disclose on social media platforms. Most online avenues come with inbuilt features like audience metrics. This and other components inspire the development of self-identity against brand identity amongst Gen Z customers.
3) Born as Digital Natives
Generation Z bore witness to a climax of technological innovation. Such hi-tech advancements bear positive and negative impacts on Gen Z. Mainly positivity, an abundance of information allows Gen Zers to widen their know-how and become more proactive in absorbing new information.
Because of this, they are also known as a generation of curious beings with a thirst for new knowledge and information. This has also shaped Generation Z communication preferences to a more digitalized method.
Understanding the characteristics of a generation helps marketers move in the right direction in implementing marketing strategies.
Top 5 Generation Z Marketing Strategies
For Gen Zers, a major basis for constant digital connection is to seek relief from strenuous teen and young life. Earlier generations also had their escapades moments. The only difference is that Gen Z found their lives interwoven with digital innovations.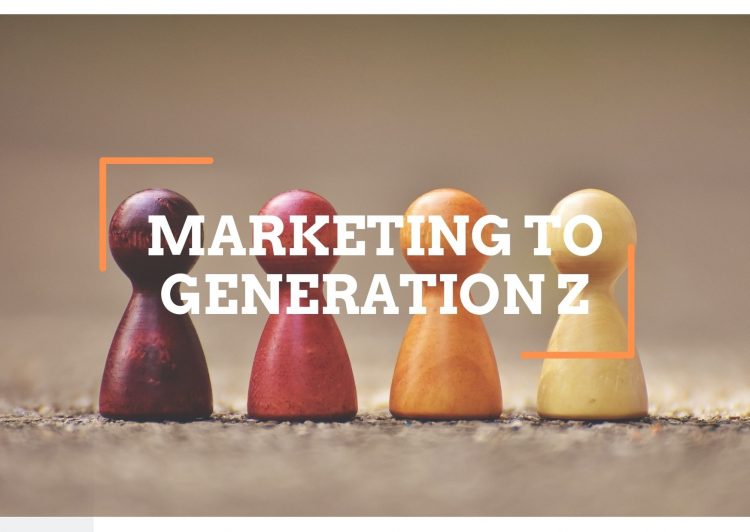 Presently, More than 70% of Gen Zers feel more at home on YouTube and other online platforms. In its different manifestations, the digital world offers an opportunity for Gen Zers to experience competence and diversification. Regardless of any segment or generation, this is the best practice to triumphant digital marketing.
Since Gen Zers spent most of their time online, your marketing ideas should resonate around the most popular platforms. Remember that one size does not fit all when it comes to winning Gen Zers over. Hence, embrace personalized marketing, be practical, learn Gen Z language, and make your strategies more meaningful.
According to a Gartner, Gen Z is more willing compared to other age bands. With a buying power of about $143.2, this exposes a ready market to make a kill. Other than making profits, businesses need to have a solid purpose when targeting Gen Zers. The best way to go about it is by creating engaging content and getting them involved.
Here are other vital strategies that every marketer should employ when targeting Generation Z.
1) Optimize Mobile Experience
Generation Z relies on their phones for social interaction, shopping sprees, and learning. This is an age group not shy to order online through their mobile devices. Additionally, in every purchase, they expect nothing less than a fresh and innovative customer experience.
With this generation getting accustomed to phones early in life, their spending behavior relies deeply on that exposure. Thanks to a diversification of mobile apps, post-Millennials are more multi-tasking. In all their activities, they use manifold options available on phones.
Gen Zers also favor experiences more than bargains. This means that they can spend any amount of money if the factors influencing their purchase meet their expectations. Besides, they are more global and interlink relationships and communication through digital apps like Instagram and Snapchat.
Overall, Smartphone spins around the normal life of Gen Zers. Even with numerous gadgets at their disposal, mobile phones stand out because of their convenience. Not only are cell phones easy to carry around, but they also offer a whole load of features accessible in different locations.
In fact, BiQ's Rank Tracking tool allows you to track your keywords rank on both desktop and mobile devices. This makes it the perfect tool to keep track of which keyword that needs to be optimized.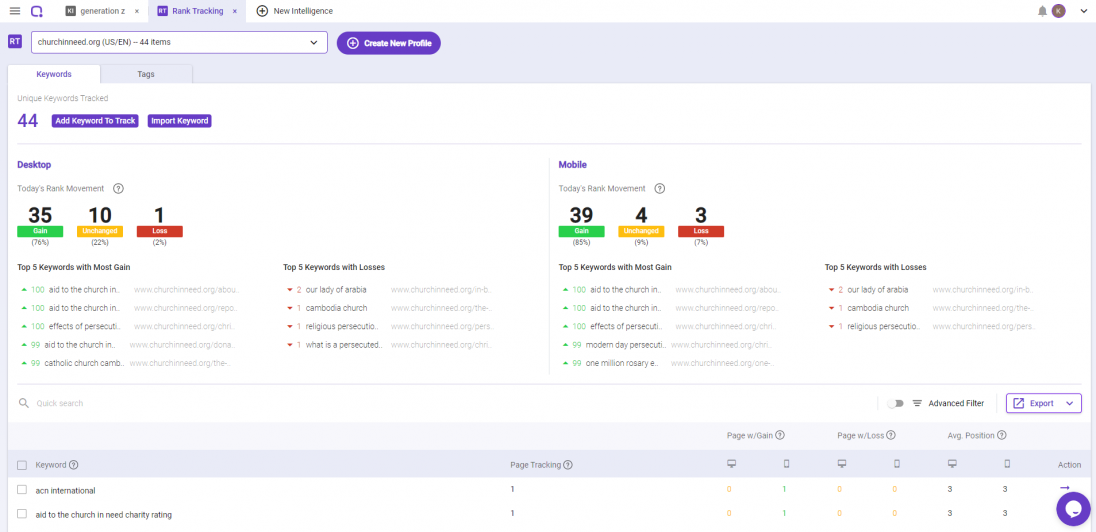 A marketer as well has to live up to the standards of Generation Z and exceed their expectations. After all, this generation represents the incoming future of business. One effective strategy is to use the right keywords that target the younger generation.
BiQ keyword Intelligence is an ideal platform that helps marketers to research for prospective target keywords. With a strong keyword analyzer feature, it is easier to determine why your audience searches for a particular keyword in the search engines. With this, organizations manage to develop content that meets the targeted audience-specific needs.
2) Craft Effective and Appealing Content
Content marketing is the easiest way to inform people about your brand and engage your current customers. For those new in content marketing, you have to come up with a winning strategy. It is worth remembering that successful content writing starts from creation to distribution.
Ultimately, the main idea is to use your writing skills to magnetize and convert your audience to customers. Firstly, you have to identify your content writing objectives. What are your main intentions, and how do you plan to measure success?
It is possible to get caught up in the whirlwind of content creation. Without a strong common goal, all your creative marketing ideas may fall flat. Next, research and appreciate what your audience needs. The paramount strategy is to answer your audience's most pressing questions needs most appealingly.
As said, Gen Zers are curious beings. So, always update your content according to the latest trends. Moreover, you can brainstorm ideas with your audience and conduct effective keyword research. By using BiQ keyword Intelligence, you can explore a multitude of keyword opportunities.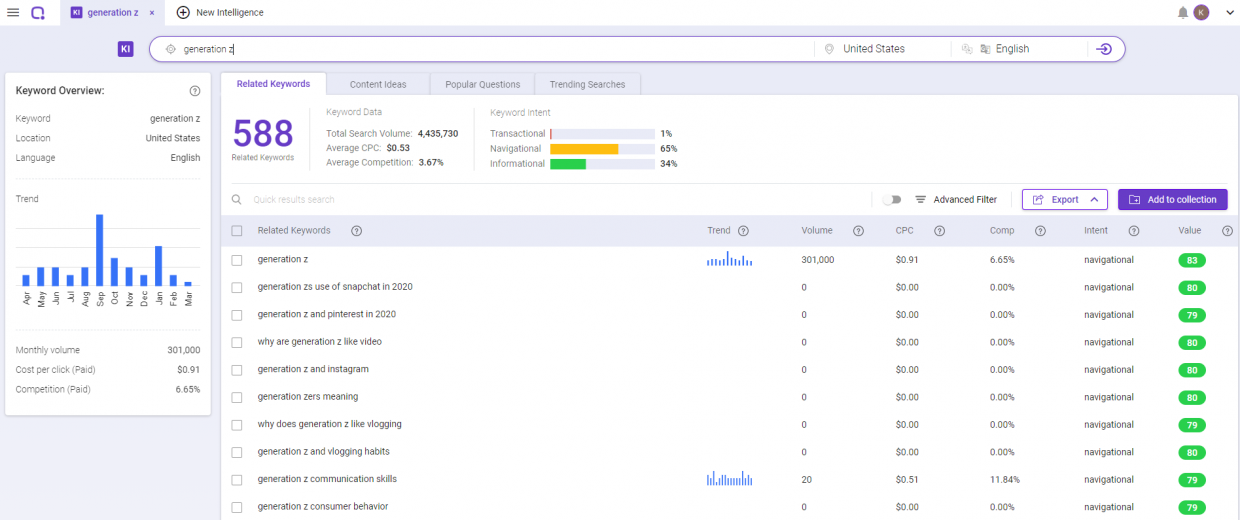 This incredible keyword tool offers a wide list of relevant keywords that most people use. It can get confusing on the most excellent keyword to use for your content through several popular keywords. BiQ keyword Intelligence simplifies the process by giving keywords value. Prudently, settle for keywords with high-valued keywords as they attract more traffic to a site at a less competitive rate.
3) Drop Traditional Marketing Methods
Rising technology transforms how brands implement change and introduce new strategies. Every year, more digitized tools and tactics come into play. To stay ahead of the curve, organizations need to handle the complex demands for incoming marketing processes.
Although conventional marketing methods are still helpful, they are not the most proficient strategy in current times. Digital marketing fuels a strong connection between businesses, leads, and old clients more than before. Compared to lower customer engagement in traditional strategies, this is a plus to any organization.
Furthermore, traditional marketing requires a considerable investment which may not bear fruits. For example, an ad in the local dailies becomes effective if viewed regularly. That calls for several ads campaign, which may cost an organization a huge chunk of money.
Equally, there is less available audience attributed to traditional marketing techniques. With adverts limited to a particular region or audience, this is a huge drawback to any business success.
In your marketing endeavor, measuring your success is vital. Unfortunately, conventional methods do not offer a straightforward process to estimate campaign effectiveness. As a fact, it is common for companies to invest hugely in promotions only to perform dismally.
Contrarily, digital marketing offer tons of data about your ad, prospects, and customers. With a clear picture of the magnitude that visits your site, it becomes easier to create contents that effortlessly convert.
4) Be Authentic and Transparent
It is undeniable that customer loyalty and trust do not come through flashy or loud promotions. Simply, it requires a deeper and authentic approach to stand out amongst competitors. An authentic approach boils down to marketing your brand rightly to the targeted audience. This approach gives opportunities for brands to make more sales and gain a loyal audience.
Also, transparency is a critical component in any business running. Particularly, Gen Zers do not have the patience to verify if a brand is true or not. If a brand does not appear credible from the beginning, they easily move to the next.
One effective way to build a brand based on transparency and authenticity is to involve your audience in your interactions. For instance, communicate about the main hurdles within the industry and how you overcome them.
Meanwhile, encourage your followers to share their high and low moments. Do not hide vital information about your product's ingredients and usage. If possible, share the production process. Always convey openness and transparency in your sites and social media platforms. When your prospects raise concerns or queries, answer them politely, clearly, and honestly.
5) Collaborate with Influencers
Most brands are taking advantage of modern strategies to improve the efficacy of their campaigns and enhance brand awareness. Working together with social media influencers has elevated organizations to greater heights. Apart from humanizing adverts, popular influencers attract throngs of online users.
Such an approach highly influences buyer's purchase decisions. With consumers more informed, brands should not invest on longer repetitive adverts. Instead, they should collaborate with influencers to connect with the audience without invasive promotion techniques.
This is because customers consent to suggestions made by popular influencers. Therefore, brands should join forces with influencers to drive conversions and sway purchase decisions.
Conclusion
Every culture shift and innovation attracts new challenges as people learn how to adapt. As a reliable marketer, you should adjust well to any evolutions. With that in mind, Gen Zers are people that you should concentrate on as they are an emerging group of main consumers.
However, if you successfully capture their attention, they can focus on a long interactive discussion. The trick lies in how you make your appearance to win their attention easily. Some of the most promising strategies to use include paying attention to upcoming social trends and integrating them in content creation.
Afterward, allow easy sharing of your content. Likewise, concentrate more on your headline to instantly capture attention. Finally, communicate your marketing ideas using digitized visuals.