Businesses issue press releases to generate more traffic, drive sales, and generate social signals. Let us show you some press release guidelines so you can make yours stand out from the rest.
Ten years ago, people relied on morning newspapers and magazines for news.
During that time, it was perhaps the most efficient method of conveying news to the masses.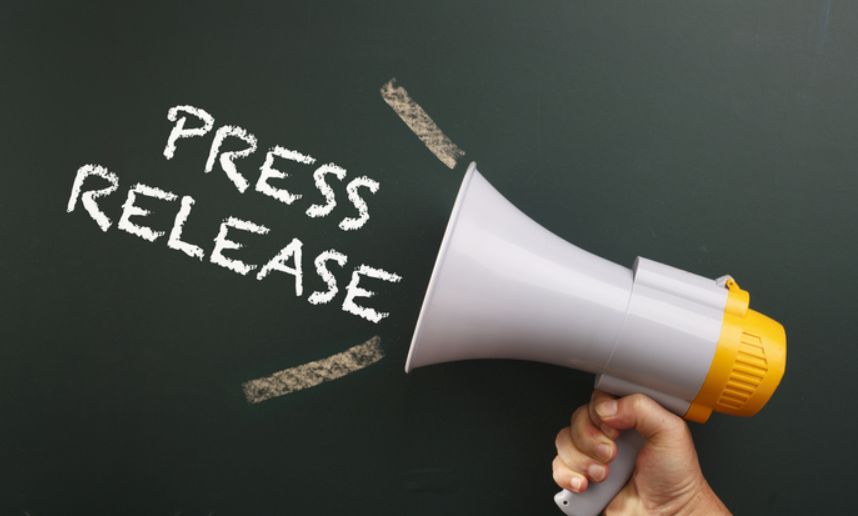 Today, most of your customers and prospects are probably online scanning different brand headlines on Twitter or Facebook to see what's trending.
The world has changed in the past decade.
If you told me we would be living around this amount of technology and AI devices, I wouldn't have believed you.
But here we are.
People now have control over what, when, and how they receive information and consume it.
As a result, public relations was forced to transform from feeding into the traditional news cycles and provide more relevant highly-optimized content for their prospects.
You'll also have to be mindful of how, where, and when your customers, influencer, and prospects will consume this information.
Anything less, and your target audience might not even get the chance to see your post.
Press release rules have changed significantly in the past decade.
Sure, they are still important.
Especially in helping to spread messages more effectively to the masses.
So, what's changed?
Press Release Guidelines
Businesses issue press releases every day with the hope of generating more traffic to their websites.
If your syndicated press release is engaging enough, it will definitely generate more social signals, direct targeted and organic traffic, drive sales, and create journalistic interest abroad.
That's the power of an effective press release.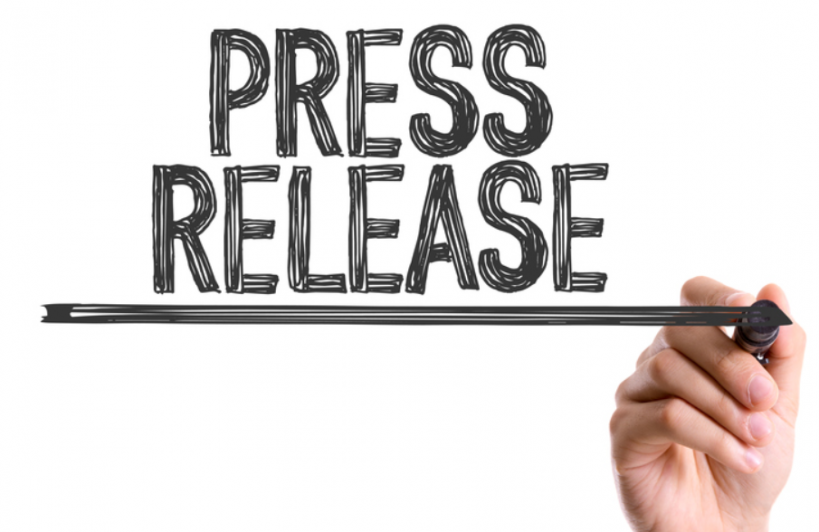 All of this is in addition to the probability of major media coverage.
Knowing all this, one would wonder why businesses haven't taken this content marketing strategy seriously enough.
It doesn't receive nearly as much attention and seriousness as it should.
However, to enjoy all these lovely amenities, you'll have to play by the press release rules and guidelines.
But get it right, and you can spread the word about your brand and its offering in the most ethical and journalistic manner.
You want content that focuses on both branding and newsworthiness over social media, SEO, or anything else.
To make it work, you must abide by press release rules.
Here are some unbreakable press release guidelines for obtaining publicity.
Write a Good PR
If you've never written a syndicated press release, you may want to consider hiring a professional content writer/service for the job.
Press releases are about conveying your story to the target audience.
Writing from a journalistic approach may require years of studying and practice.
But that's not to say that there aren't writers who're up to the task.
It's just that you'll want your press release to be as knowledgeable and professional as possible.
If you cannot manage this yourself, you can hire someone who can.
Press releases must cover newsworthy content.
PR Daily outlines six crucial AP style guide steps to use when composing your press release.
These steps will help make your press release newsworthy.
Here's the press release format you'll want to focus on.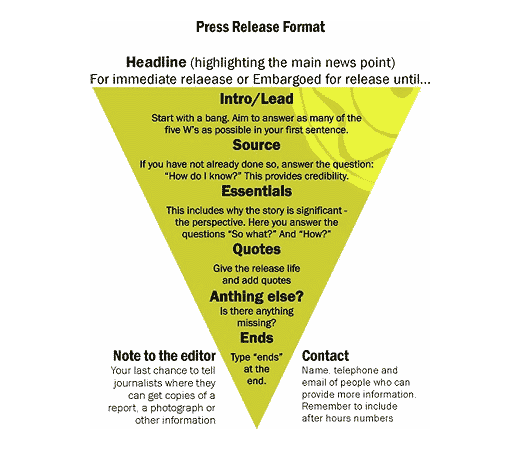 Another critical consideration is to keep your press release short and brief.
BiQ Content Intelligence will provide you with critical insights to fix any critical issues that may hurt your PR and rankings.
Once your press release is complete, you must monitor it and track its performance in the SERPs and other press release channels.
You can also publish it and wait a few weeks to see how it performs in Google.
BiQ's Content Intelligence will analyze your content and indicate all sections in your PR to improve further.
It's the lifesaver you'll need to provide you with quick insights into how your press release is performing.
This Content Intelligence feature will unveil all SEO errors within your press release.
Know Your Audience
When writing a press release, you must have your audience in mind. They form the main focus for creating the press release.
Therefore, you must always write with them in mind.
A bit of customer and demographical research will also go a long way toward realizing this goal.
Therefore, it's imperative that you know who you're targeting, your target audience types, and the best press release content to use.
You must also be sure to pinpoint your publication's audience.
These are the people who will engage with your publication.
So, if your publication's target is a different niche from yours, there's no reason to send them your press release.
Write an Attention-Grabbing Headline
All press releases are targeted toward helping you share and spread critical information with your target audience.
An effective press release should basically set up the groundwork for your content distribution.
However, proper targeting will mean the difference between having thousands of reads and traffic streaming to your website or the lack thereof.
Writing an attention-grabbing headline is a surefire method of getting readers to click on your press release and check your message.
It's also good practice to use your target keywords in the titles, so readers know what your press release is about.
BiQ Keyword Intelligence will provide you with a comprehensive list of keywords to target.
You will have access to multiple keyword features, including keyword volume, keyword trends, related keywords, keyword competition, and more.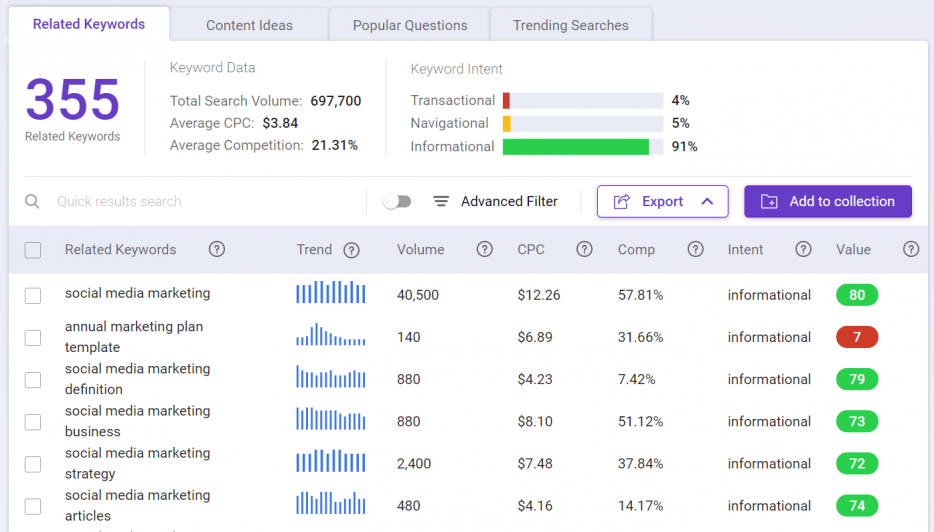 With BiQ's Keyword Intelligence tool, you can rest assured that your press release addresses all your audience's needs.
You will know the reasons why someone might search for a particular keyword and the best solution to offer them in your PR message.
Time Your PR
Like with everything else, timing is critical when it comes to publishing your press release.
It's one of those essential press release rules you must adhere to if you want to avoid unnecessary competition with other brands.
One such common practice you must avoid is releasing your press release on the hour.
For example, 1 p.m., 2 p.m., 5 p.m.
Most companies are already accustomed to releasing their press releases on the hour.
Therefore, doing the same will most likely lead to your press release getting lost somewhere in the mix amongst other press releases.
If you're going to send a press release, you can try going with more distinct times like 1:17 p.m., 4:12 p.m., or 5: 13 p.m.
You can also check this post to figure out the best time to send a press release.
Cross-Promotion
Most businesses refer to cross-promotion as free advertising.
And rightfully so because it helps to spread critical information about your brand across multiple platforms quickly.
However, there are three inherent rules of using this strategy.
These include cost, control, and credibility.
Fortunately, finding a cross-promotion partner isn't a difficult task.
It's even easier for businesses that already do business with them.
For instance, you can split the cost of your syndicated press release and distribution with another brand to improve your overall branding and visibility.
Sometimes, reaching out to a few business partners might be all you need to find a reliable and mutually beneficial cross-promotion partner.
It will help you gain product/service visibility and reach an even wider audience.
Use Quality Distribution Channels
Ever heard of the phrase cheap things are expensive?
Well, cheap distribution isn't good.
And good distribution isn't cheap.
Distribution costs money.
You must be prepared to fork out a lot if you want quality distribution channels for your press release.
Currently, there's a lot of squabble doing rounds on the internet about the best press release distribution services for businesses.
Speaking from experience, there's only a handful of PR distribution services that are worth using.
For add-ons, you'll get even more back for your press release distribution because you can add images, videos, and hyperlinks for free.
You could also consider other services like MarketersMedia, which can get your news on reputable sites like Business Insider, Yahoo! News,
Although quality distribution channels may be slightly more expensive, they are also channels with high authority in their industry.
Therefore, you'll want to tread carefully and maximize your use of the distribution channels mentioned above.
Syndicate Post-Distribution
Syndicated press releases are crucial. Sure, they're going out to different uncontrolled places.
So, you must ensure you take additional "traction-action" to avoid wasting your own time, money, and effort.
Therefore, you'll want platforms such as your social channels to syndicate your PR.
Facebook, Twitter, Pinterest, LinkedIn, Snapchat, and Reddit will all need to be syndicated to your press release to be most efficient.
Sit back and watch as your press release goes out around the world.
Then immediately it hits major portals like news websites, you can use those hyperlinks to syndicate on.
Syndicating your press release content by sharing and resharing it on different platforms increases its chances of being found by your target audience.
This could even mean syndicating it to your own website, blog, and social media channels.
Social Branding
Social branding and marketing distribution is perhaps the most effective strategy for any business.
It allows businesses to track social analytics and crucial insights as they gain more headway in the online space.
Social branding is particularly effective if you've drafted a unique PR copy, allowing it to gain even more traction.
You can also issue press release posts on social media.
Especially when you're considering boosting your blog posts to spread even more awareness, create chatter, and garner more social signals.
Repost on Your Site with Some Edits
Once you've released your press release, you can always repost it on your website to establish your authority as well.
However, you'll want to avoid reposting the actual contents on the initial press release as this may denigrate your original PR's authenticity and page-score rankings.
Google may even flag it as plagiarized content and penalize you.
Instead, you can write a few unique teaser paragraphs then link them to your original release on the host website that distributed your original press release.
Reposting your press release will greatly enhance its credibility.
It's even more effective when your PR is reposted on a news outlet like the New York Times.
It will definitely grab your readers' attention because they'll want to know what you covered and why it was important enough to end up in the news outlet.
Add a Relevant Image
Unfortunately, most press release distribution services don't offer worthwhile add-ons that you can use to optimize your PR for the search engines and users.
Unlike normal blog posts and articles, flooding your press release with a lot of images might only end up distorting its meaning.
Adding too many images might also harm your page authority and overall page rankings.
Remember, you're not writing a blog post.
Pictures, videos, and sound files probably speak to users a lot more than text forms ever will.
Humans are very visual beings.
Therefore, using images in your press release will definitely do a lot of justice.
You just want to remember to choose the right images that best fit your press release.
You must also ensure that the images used are of high-quality.
Adding multimedia elements like images to your PR will help gather more of your target audience's attention, improve your social reach, and drive brand awareness.
You just have to ensure you don't overdo it when sourcing for images to use in your press release.
Conclusion
By this stage, you should be armed with the necessary information and knowledge needed to craft the perfect press release.
But above all else, you must abide by the press release rules mentioned above to ensure your PR meets all the required guidelines.
A good press release is one that blows the socks off your readers' feet.
This isn't an easy task.
But it's certainly doable with the right press release guidelines in place.
Therefore, ensure you follow the steps mentioned above to get even more media coverage.
Hard work deserves merit and acknowledgment.
So, it shouldn't come as a surprise to find the New York Times or the Washington Post talking about your press release.
Ultimately, the future of your press release and brand reputation lies in your hands.
It's up to you to make the most out of it.
Above all else, don't forget your PR content.
It's the key element in elevating your brand reputation.