There are only a few reasons why certain websites are able to drive many views and clicks. The one single reason for such results is the use of engaging, powerful, and catchy titles that people cannot resist clicking.
While there is no one-size-fits-all approach to writing click-worthy headlines, there are various types of headlines that stand out as powerful and unique. If you adopt the right formulas, you can be assured of creating highly persuasive and catchy titles that push readers to want to read your content.
But, how do you create catchy titles?
Read on to learn a few simple tips on how to create catchy titles.
Why Are Catchy Titles Important in Content Marketing?
Have you heard the phrase that a house is only as strong as its roof?
So is the case of a great article – the title of your article is the first aspect that a blog reader notices before reading the content. It is all logical that you have a title that stands out so that it grabs the attention of your page visitors and excites them to wish to read the whole article.
If your article title does not have that element that compels readers to click, you are doomed – your message will just be another drop in the ocean!
Good and catchy titles play a significant role in on-page search engine optimization. A catchy title will attract a high number of clicks from the search results. When more people click on your search engine result page, your page gets a higher chance of ranking top of most search engine pages.
How Do You Write Catchy Titles?
There is no question on how important catchy titles are when it comes to attracting site visitors, views, and clicks.
If you have created great content in the past and still did not get as many clicks, site visits, or views, the chances are high that your article's title wasn't so unique and engaging to warrant such results.
You are not alone – most small business owners are still not aware of how to write catchy titles that persuade web visitors to click and read the content.
Here are a few tips to get you started with a working title for your next articles:
Conduct Keyword Research and Find High Volume Keywords
The best title for your article should be based on profitable keywords. Invest a lot of time and effort in keyword research to come up with competitive and profitable keywords within your niche. There are numerous keyword research tools out there that can help you find keywords on any topic.
However, BIQ's Keyword Intelligence stands out when it comes to finding high volume keywords that will guarantee you significant outcomes once used correctly when creating the content.
Are you wondering how you can use BIQ's Keyword Intelligence to find suitable keywords to target?
Here's how:
The BIQ's Keyword Intelligence offers you a platform to find potential target keywords by gathering crucial data such as keyword competition, trends, volume, and also gives you an insight on related keywords.
Let's say you are looking for high volume keywords on social media marketing. Once you use BIQ's Keyword Intelligence, your results will appear as shown in the figure below. Evidently, the tool gives you the volume, tends, cost per click, competition, as well as other keywords related to your primary search. In this case, you get data on other keywords such as social media marketing articles, social media marketing strategy, and social media marketing definition. With such information, you can create catchy titles for your next series of articles using the high volume keywords you identified.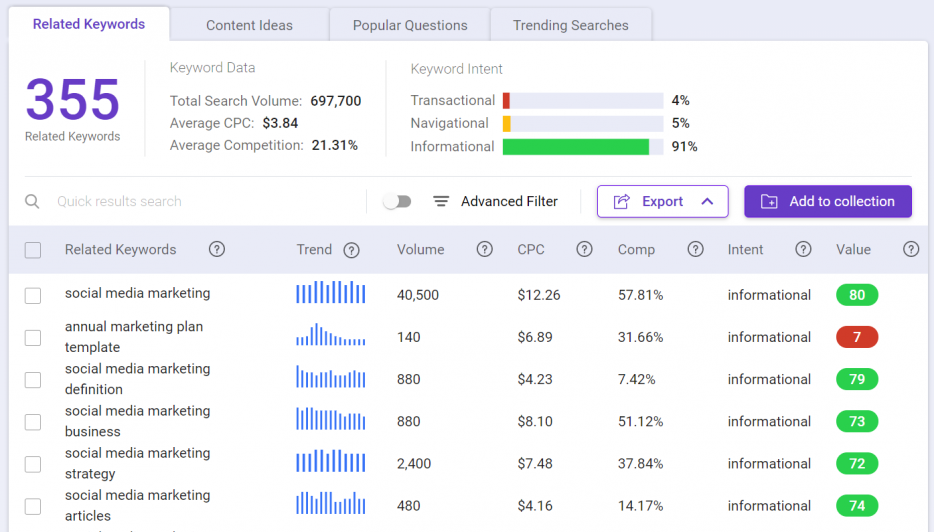 Figure 1: How to use BIQ's Keyword Intelligence to find suitable keywords to target
Use the Keywords to Create Catchy Titles for Your Blogs
Finding high-volume keywords isn't enough. The success of your content as far as ranking high and attracting traffic, views, and clicks depends on how you use the keywords right from writing catchy titles. Usually, your identified keywords should be included in your article title. Such an approach is important for search engine optimization.
Rules of Thumbs for Writing a Working Title
While there is no definite formula for writing catchy titles for articles, how you approach the right process determines your success rate.
The following rules of thumbs will help you create catchy titles that readers will click:
Make Sure Your Title is Accurate
The accuracy of your article title is important for SEO. Catchy titles are not just made for clicks – they should offer a perfect description of the content of the article. While it is important to maintain relevance, you can creatively add a teaser that captures the attention of your target audience.
The significance of maintaining your titles accurately is that you want to keep your brand as trustworthy as possible while at the same time ensuring that a higher number of site visitors click and actually read your content.
Incorporate Compelling and Trigger Words
When creating catchy titles for your articles, make sure to incorporate compelling words. For instance, you can focus on enhancing the readability by incorporating alliteration in your titles. Also, using numbers gives a sense of value to your title. However, avoid using common and overused adjectives and instead use descriptive words as these not only bring out the uniqueness of your title but also make them stand out.
Various factors determine the length of your blog titles. For instance, you need to be careful with the lengths of your headlines if your focus is search engine results ranks, email click-through, or social media shares.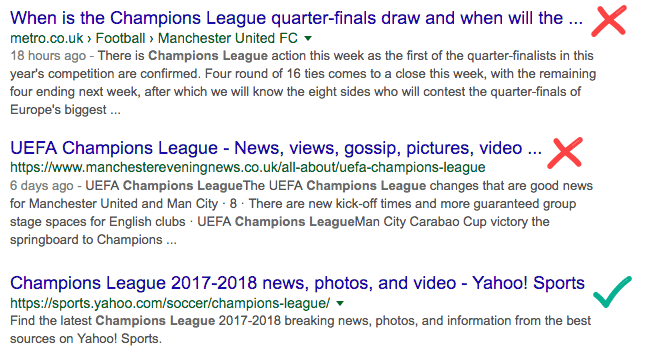 Here is a classic comparison of title lengths.
Figure 2: Comparison of article title lengths
As you can see, the first two headings have some words hidden because the length exceeds the recommended number of characters for SERP.
Always work towards making your article titles as short as possible. However, this does not mean that you lose the relevance of the title while trying to shorten it. In most cases, titles with 55-60 characters show significant performance whether on social media or search engine results pages.
15 Formulas for Creating Catchy Titles
If you want to grow On-Page SEO, then you have to invest in ensuring that your articles have catchy titles.
The following formulas will help you write catchy titles, which will draw many internet users to click and read your content.
Use numbers in listicles
The use of numbers in listicle articles is not only a great way to achieve catchy titles but also makes your headings stand out. Using numbers in the title prepares your readers for ordered content. In addition, it makes it easy for the readers to skim and understand your content within a short time.
Here are examples of catchy titles using numbers:
7 Reasons to Use BiQ's Intelligence tool for Keyword Research
5 Simple Tips for Creating Catchy Titles
Create a curiosity gap
Creating a curiosity gap or a knowledge deficit works well when writing catchy titles that grab attention. When using this approach, you want to limit the amount of information you let out in the first instance. Inserting the word 'the' at the start of your title gives the impression that you are providing specific information about the subject in question, and this raises the curiosity of the reader.
Here are examples of catchy titles employing the curiosity gap approach:
The Top 5 Reasons Why You Should Invest in Content Marketing
The Number One Content Marketing Strategy in 2020
Include familiarity/ relating to your readers
One way to capture the attention of the reader and persuade them to read your entire piece is by creating a title that resonates with them. Readers want to read content that touches on their issues, so creating article titles around readers' burning issues can draw them to click and open your content.
If from your research you notice that your target audience comprises small business owners who haven't incorporated digital marketing, any title that shows them how to implement this marketing strategy will interest a large number of them.
Use trigger words
The words that you use in your article titles matter a lot when it comes to making the right impact. Trigger words will not only nudge but also compel internet users to make the right move, thus contributing to increased engagement.
Here are catchy titles examples using trigger words:
5 Free Keyword Research Tools to Find High Volume Keywords
Proven Tips for Creating Catchy Titles that Draw Enormous Attention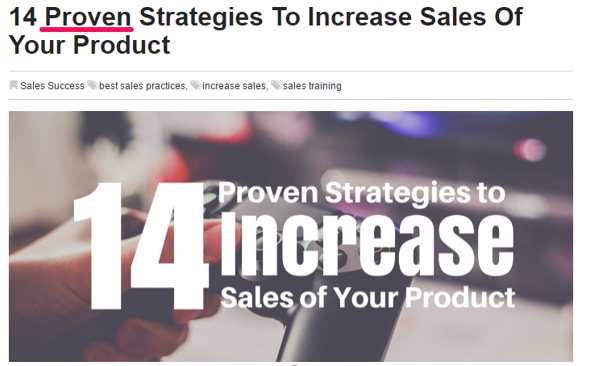 Appeal to your audience emotion
Content that speaks to the emotions of your readers performs best compared to any other content. However, for readers to know that the content targets their emotions, they have to see it from the title. When you write catchy titles that appeal to your audience's emotion, you increase the open rate and reduce the bounce rate.
Provide a practical solution/ Solve a problem
The number one reason why anyone makes a search query is to find information about a given topic. Article titles that suggest you are providing a practical solution to a given problem attract high traffic, views, and clicks. Therefore, it is important that you identify the problems your audience is experiencing and create content and article titles around it.
Some catchy titles examples that suggest a solution to a given problem include:
How to grow your traffic using accelerated mobile pages
5 Simple tips to help you triple your subscribers in one week
Avoid pain
Nobody wants pain, and so this presents a perfect opportunity to create catchy titles to help your readers avoid pain. You are more likely to get a click where your article titles create the impression that the reader will avoid pain, cost, or loss as in the following catchy titles examples:
Your Content Marketing Approach is the Reason You are not getting Sales
5 Reasons lack of Catchy Titles is Turning Readers Away
Promise to change the reader's life
Who doesn't want a changed life, especially if it is in the positive? The promise you give does not have to be huge – at least it has to be realistic.
Here are some catchy titles examples you can adopt in this case:
Here's a little-known secret that will change how you approach content marketing
5 Simple Strategies that will change your opinion of SEO
Fear of missing out
No business owner wants to be left out. The fear of missing out motivates individuals more compared to the desire to succeed. Here are examples of article titles that capitalize on the readers' fear of missing out.
Top reasons why you won't beat your competitors in search results
Why you will never achieve your marketing goals in 2021
5 Simple Areas you are failing in your social media marketing
Use negatives
You are very wrong if you think your readers are often intrigued by positives than negatives. Create articles titles such as the following and you will learn how using negatives in article headings is a great way to trigger actions from the readers.
What Your Readers Aren't Telling You About Your Content
The 5 Worst Content Marketing Approaches that Will Cost You in 2020
Use questions
Questions are effective in grabbing attention even if you pose them as statements as in the following cases:
Why your SEO approach could be negatively affecting your reach
Why addressing your audience pinpoints is key to a higher conversion rate
Make a prediction
Making predictions is another effective way of creating catchy titles. It works best because everyone is always worried about the future. See the list of catchy titles below that make a prediction.
What content marketing will look like in the next 3 years
The future of SEO beyond 2020 – 5 important changes to expect
Use insider information
Everyone wants to get information that other people do not have. If your article titles will suggest insider information, then you can be assured to get a click as in the following examples.
5 little known tips to grow your subscriber list
7 content marketing strategies you never knew could grow your business
Be controversial
Being controversial in your article titles can help you stand out. Here are examples of controversial article titles that can work to grab the necessary attention from your readers.
Why most content marketers are wrong about the future of SEO
5 Reasons why you should not publish blog posts this year
Tell Stories
Storytelling is considered a great marketing approach. Why not advance this to your article titles? An article title that adopts the storytelling approach draws the interest of internet visitors to learn more about the story. However, you need to be highly creative to succeed in this approach.
No bluff, make a promise that the article can deliver
Don't focus more on writing catchy titles for your articles such that you forget the most important aspect – creating outstanding content. It can be highly disappointing to have an attention-grabbing headline but the content is trash. One way to achieve great content is by ensuring that it is optimized and fulfills every promise you make in the title.
BIQ's Content Intelligence tool can help you optimize your content for better search engine results. It helps you engage in serious content marketing by guiding you to create content that converts. With this tool, you are AI-guided on how to optimize your content and it also analyzes all your lines, measures the value of your SEO, and assists you to achieve the right tone for your audience.
Overly, the content intelligence tool helps you create SEO-friendly content, guides you on what you should cover in your article, as well as helps you fix critical issues that may affect your ranking.
A/B testing your headline
Creating the headline isn't enough – you need to determine whether it makes the performance cut. A successful way to do this is through the BIQ's Rank Tracking feature that tracks the performance of your rankings after revising your headlines.

It helps you save a significant amount of time by tracking the movement of all the keywords, track local rankings, and provide you with a visual of your SEO progress. The metrics from this process will help you improve your site's SEO performance.
Use these tools to get to the next level
So you want to get your content marketing to the next level but you don't know how? These tools will help you achieve this objective:
SEOPressor Blog Title Generator: Gives you numerous suggestions of catchy titles and a variety of creative blogging ideas.
CoSchedule Headline analyzer: helps you create powerful headlines by optimizing your headline's number of words, gauging its emotion, and guiding you on the appropriate word balance
Conclusion
The headlines that show up in search engine results directly impact whether people will view, read or share your content. So, always make sure to review your headline to make sure you create the ultimate catchy titles for all your articles.