For better search experience for its users, Google rolls out major algorithm updates from time to time. As such, you need to keep track of Google algorithm updates now and then.
Google uses its well-defined algorithms to give the best possible answer for a search or query.
For a better user experience, Google keeps on upgrading its algorithm.
In this article, I'll look into the various essential Google algorithm updates.
As a website owner, it is crucial to understand what Google's algorithms mean.
It becomes easy to use and understand an updated algorithm you are already familiar with.
Therefore, let's start by defining the Google algorithm.
The Meaning of Google Algorithm
Google algorithm is a way that Google uses to come up with answers for your search or questions.
When you search on Google, you will receive answers displayed on search engine results page (SERP).
For example, if you key in the word "USA Fruits Market" on Google, it will go to its database and get you all information about the "USA Fruits Market."
Your search query is what is called the keyword.
In our example, "USA Fruits Market" is the keyword.
Google uses its algorithm to understand your keyword and give results.
Google has you in mind as a website or blog owner.
It is the reason it keeps changing or upgrading its algorithm.
Google algorithm updates can happen numerous times in a year.
The changes can be small to be noticed even by experts.
But they play a significant role in helping your site or blog rank high on Google.
Google algorithm updates affect Search Engine Optimization (SEO).
You must be aware by now that SEO is essential for your site.
It is the process of ranking your blog or website high on any search engine like Google.
When you optimize your site well, you enjoy thousands of quality traffic.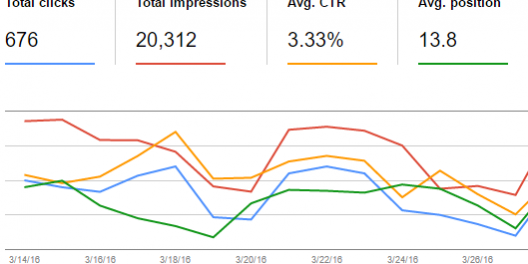 Many people who are likely to become your fan or customers will get directed to your site.
As a result, you will enjoy many sales.
Regarding this, let's look into how Google algorithm updates affect SEO.
How Does Google Algorithm Updates Affect SEO?
Google gives direction on how to optimize your blog or site.
It does so by upgrading its algorithm.
Within one year, Google can change its algorithm four or more times.
It means that Google can change how you optimize your page or site at any time.
Therefore, it is essential to keep up to date with the various Google algorithm updates.
Google search engine algorithms can favor or punish your site.
It depends on how you have optimized your site.
It is not surprising that your website ranks today but fails to do so the following day.
Google algorithm updates focus on specific aspects of SEO.
Today, Google may want a website to get optimized using various ways.
But after some time, Google may decide they want a change of techniques after some time.
Unfortunately, it is not easy to know what Google may want to declare your site optimized.
As a serious website or blog owner, you need to keep track of Google's updates now and then.
That way, you will always be on the safe side when Google applies the changes.
Though Google keeps changing how it chooses an optimized site, relevant content is a constant ranking factor.
If you have been writing valuable content, you may have noticed that your blog or site is always ranking high.
Maybe you have not checked the Google algorithm updates for quite some time, meaning you have not complied with them.
Have you ever wondered why you are still ranking high on Google?
It is because you offer content that readers are looking for.
You could be educating or answering questions from many users.
The content should also be consistent.

Here is a list of some of the important ones, with details of their updates.
List of Google Algorithm Updates
There are many Google algorithm updates in the last ten years.
But some have had a permanent effect on SEO.
Most of the time, the change is minimal.
But there are times when the change is fundamental, permanently altering SEO.
The list of Google algorithm changes we shall discuss in this article is essential for a blog or website owner like you.
You will get insight into why they got implemented and their effects on SEO.
You will also learn how they work.
Do you know how to impact your website with an algorithm update?
You only need to launch Rank Tracker.
You must have a Google Analytics account first, then synch it with Rank Tracker.
After synchronizing, move to Organic Traffic.
On the Organic Traffic page, you will see a graph with dash lines.
Move your mouse over those lines to see if the Google algorithm updates affect your blog's or website's traffic.
Before I go into various Google algorithms, let's look into a brief history of these updates.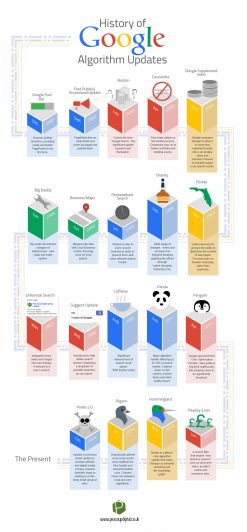 1. Panda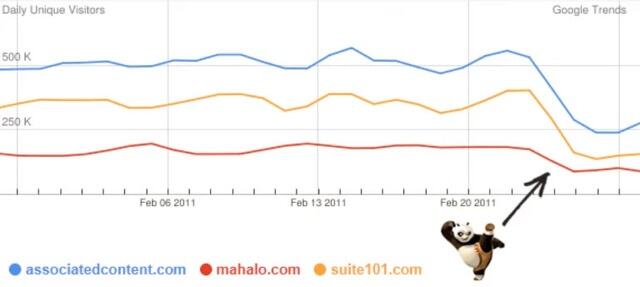 It got implemented on 24th February 2011.
Objective: Google Panda checks whether your site has keyword stuffing, thin or plagiarized and duplicated content, and user-generated spam.
Operation: This change gives your site's pages a 'quality score.' The score helps in ranking your site. Google incorporated this change in January 2016
How To adjust: Ensure your site is free from keyword stuffing, duplication, and thin content. Using a site crawler like Website Auditor or a plagiarism checker such as Copyscape will help.
2. Penguin
The Penguin algorithm update was implemented on 24th April 2012.
Objective: It checks irrelevant or spammy links in your website or blog.
Operation: It traces unnatural backlinks. It is because of this update that the low-effort link building has gone down. Site owners have from then ceased buying links.
How to Adjust: Refrain from buying or using unnatural links. Use a backlink checker such as BacklinkGap to monitor your links.
3. Hummingbird
Google applied it on 22nd August 2013.
Objective: It was applied to check low-quality content and keyword stuffing.
Operation: It helps Google know what you want and give you results that match your interest. That's why a page can rank despite having no matching keywords searched by the user.
How to Adjust: Expand the keywords used by focusing on the concepts behind them. Analyze co-occurring terms, related searches, and synonyms carefully. You can get great ideas from excellent sources like Google Related Questions and Google Related Searches.
4. Mobile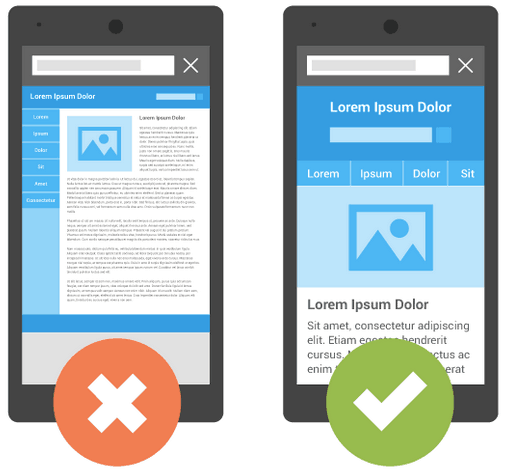 Google administered it on 21st April 2015.
Objective: It checks if your site's page has a mobile version.
Operation: It informs Google if your blog or website has a mobile version. If your site is mobile-friendly, user-friendly, and works fast, Google will rank it highly.
How to Adjust: Make sure your site is optimized for mobile search, works fast, and has excellent usability. Website Auditor will help you analyze whether your site's pages are optimized for mobile search.
5. Rank Brain
Google executed this change on 26th October 2015.
Objective: It looks out for irrelevant queries and shallow content.
Operation: Like the Hummingbird algorithm, RankBrain helps Google understand what a question means and then gives results with the best answers for the queries asked.
How to Adjust: Ensure your site's pages are comprehensive and relevant. WebSite Auditor will help you discover relevant concepts and terms used by the leading competitors. Then add them to your content to boost your site's relevancy.
6. Pigeon
Google released this update on 24th July 2014.
Objective: It increases the ranking of the searched local listing.
Operation: It informs Google the user's location and the number of times something has been searched locally.
How to Adjust: Indicate where you are located so that Google can direct users on your way when searching what you have in your location. Optimize your location on your site.
7. Fred
It is an update carried through by Google in March 2017.
Objective: It check's the site's quality for monetization. It uses black-hat tactics to monetize your site aggressively.
Operation: It informs Google on the number of adverts, added user benefits, and low-value content on your site.
How to Adjust: Avoid many ads and low-value content on your site.
8. Bert

Google applied it on 22nd October 2019.
Objective: To identify content that is written badly, has no focus, and lacks context.
Operation: It works by using natural language technology to understand the searched keywords or questions, discover entities and the relationship between them, and interpret a text.
How to Adjust: Write excellently and let your site's content have meaning. Also, do your research well before writing and avoid fluffy words.
9. Core Updates
Google started administering these core updates from 2017 to the present.
Objective: To help Google rank sites effectively.
Operation: When Google administers big updates, it refers to them as Core Updates. Since there is no transparency about what they are and the parts they affect, SEOs try to figure them out. Probably, they are improvements on the existing updates or a group of small updates.
How to Adjust: Google core updates effects are unknown. Therefore, it is important to track the history of the searched results for the keyword you want to search. Check which competitor is on top and down in ranking and guess the contributing factors. Rank Tracker will help you to track your SERP history.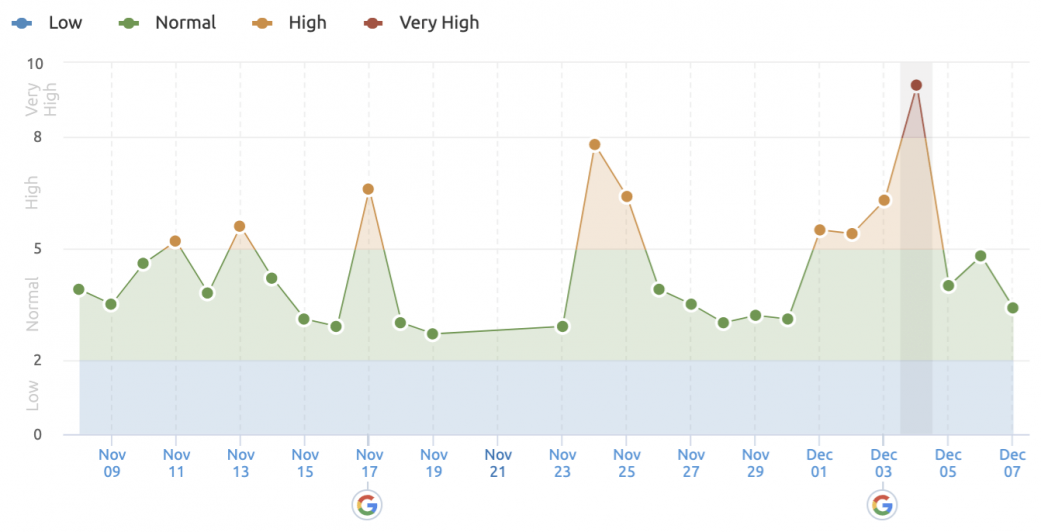 To track your daily keywords and your site's page rank movement, you can use BiQ Rank Tracking.
Are you wondering what it is? Here is the insight.
About BiQ Rank Tracking
BiQ Rank Tracking is a one-stop suite for content optimization.
Website or blog owners like you utilize it to track their daily keywords and page rank movement.
Here is how you can do it.
Create a new profile by filling in your domain name, location, and language.

Then, click on 'Create New Profile.
Once you're inside, click 'Add Keyword To Track' and add your own keywords.
If you have a keyword list, you can also import them immediately into Rank Tracking.
CSV formats are currently supported for importing keywords.
Once your keywords are added, you can track its ranking movements over time.
Keyword ranking will boost your SEO strategy.
Is it possible to know your progress if you don't track it?
Knowing how you are faring will help you know your strong and weak areas.
As a result, you will work on improving, thereby improving your strategy.
Conclusion
Google algorithm updates are essential for they offer an excellent user experience.
By updating its logarithm, Google ensures that it stays ahead of its competitors by offering its users the best services.
It is the reason it makes the changes many times every year.
As a blog or website owner, you are supposed to keep yourself updated with the recent Google algorithm updates.
That way, your site will remain ranked high on the Google search engines by complying with the updates.
The requirements for a website's optimization by Google keeps on changing.
That is why you may rank high now, and the next minute you are nowhere.
But if you adjust to the list of Google algorithm updates discussed above, your site will rank high most of the time.