8 actionable link building strategies every marketer need to double search traffic.
Use these link building strategies to outrank your competition and rank higher on search engines.
Backlinks are crucial for your online presence.
They measure the quality and relevancy of your content. Google loves them so much that they're in the top 3 ranking factors.
"46.2% the reason that a site ranks highly in the search engines is because of links." – WebpageFX
However, most businesses can't get any backlinks, which leads to lower traffic, customers, and sales.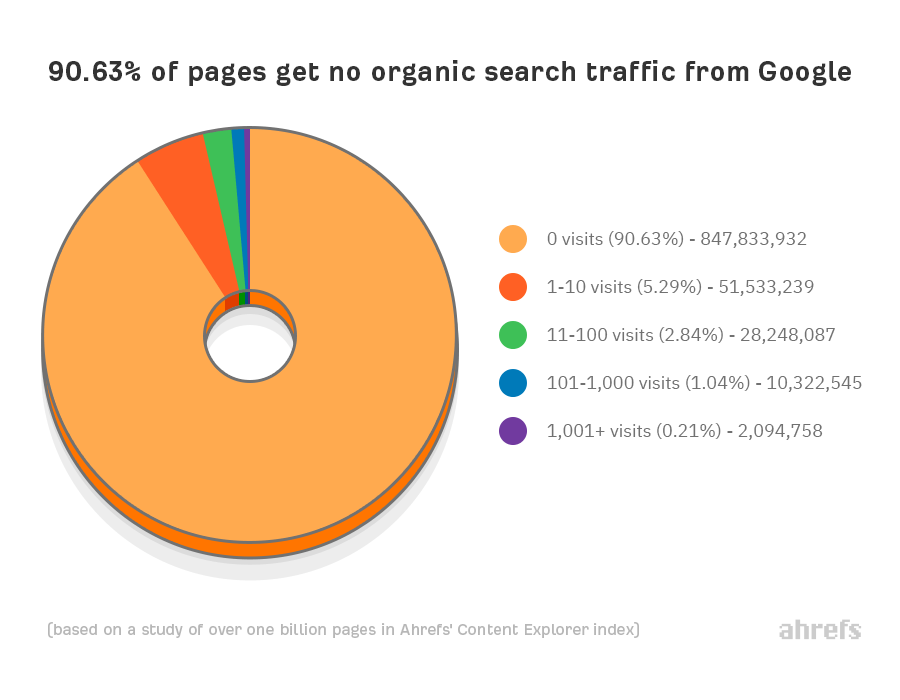 Fortunately, you can fix it with 8 SEO link building strategies.
They'll help you build tons of backlinks, rank higher, and beat your competitors.
What is link building?
Link building is crucial for increasing traffic.
It'll help you rank higher, outperform your competitors, and become an authority in your niche.
However, what exactly is link building?
Link building is an SEO strategy for getting more backlinks. Backlinks are valuable, and Google rewards sites with lots of backlinks.
"The more backlinks a page has, the more organic traffic it gets from Google." – Ahref.
However, you should always prioritize the quality of quantity. You can learn that and more about backlinks in our recent post.
Why Is Link Building Important For SEO?
Link building is important for a couple of reasons. It will:
Boost your traffic
Increase your rankings
Improve brand awareness
However, why is link building so important?
It shows Google that your website is high-quality and relevant.
Your content must be great when other people are linking back to it. The more people link back to you, the higher chances that you have high-quality content.
"The number of domains linking to a page was the factor that had the highest correlation to rankings in Google." – Backlinko.
Unfortunately, most sites have no backlinks…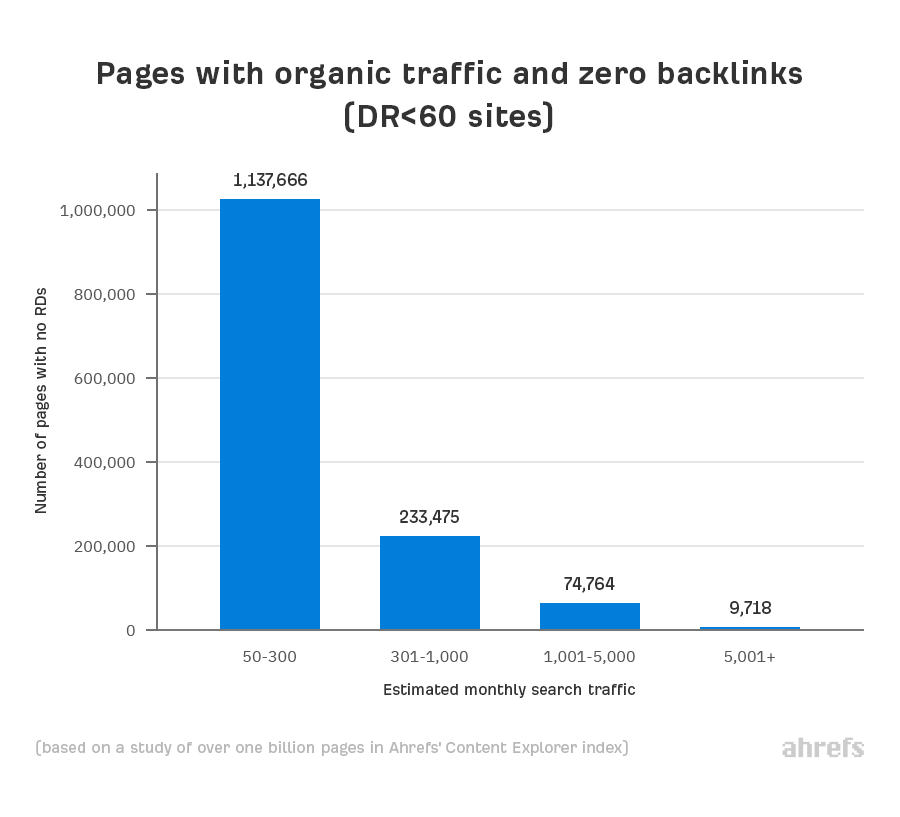 Let's fix and look at some strategies that can help you build backlinks and get more traffic.
Link Building Strategies
It doesn't matter whether you have zero or thousands of backlinks. Everyone can benefit from link building and having more backlinks.
We'll look at 8 strategies for getting more backlinks.
They'll help you stay ahead of your competitors and rule the search engine rankings.
1. Write Great Content
Content is king, especially for link building.
"Businesses that blog generates an average of 97% more inbound links and 55% more site visitors" – Neil Patel.
It's the most important ranking factor. However, with that much content available to us, it isn't easy to stand out.
"There are about 70 million posts being published each month by WordPress users." – WordPress
Fortunately, there are still ways to break through and get on top.
Give Your Readers What They Want
The most crucial part of every content strategy is research.
You must create content your readers are looking for. You can have the best content in the world, yet if nobody searches for it, you won't get any readers.
The same applies when you don't answer your readers' questions.
They simply close the tab and move on to your competition. The easiest way to prevent that?
Proper keyword research.
Keyword research helps you discover keywords and phrases that people use in search engines. That said, you can focus on optimizing the keyword that has demand and able to convert your potential audience better.
We'll use Keyword Intelligence for that.
Type in the topic you want to write a blog post about and hit enter.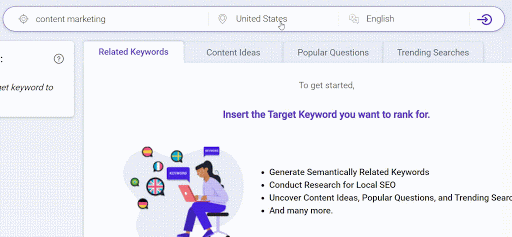 You'll get in-depth data about the keywords for the topic. You can see the search intent, volume, and related keywords.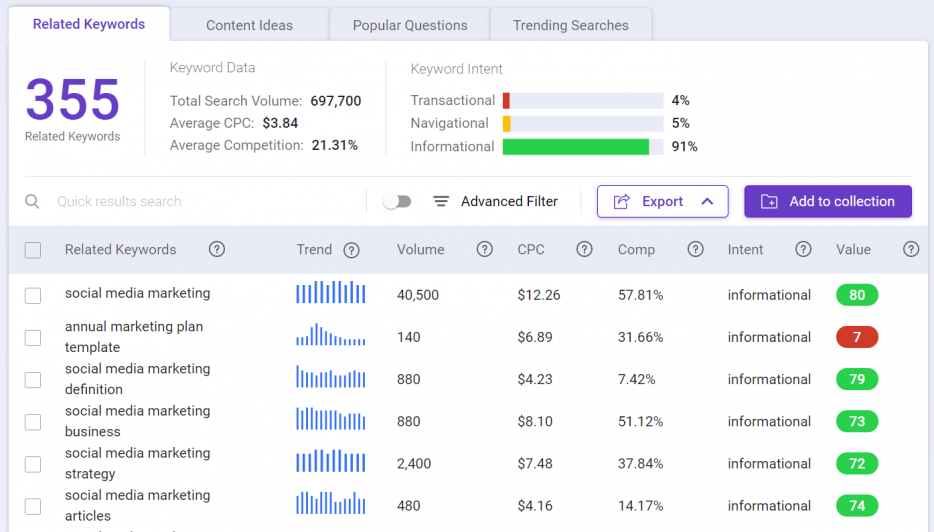 These insights tell you whether the keyword has potential and worth your time to invest.
Another keyword strategy is to target long-tail keywords. Even though they do not have much traffic, they target the highly intended audience hen compared to short-tail keywords. As a result, you will have an easier time converting your audience into a customer.
Furthermore, according to USM, the average conversion rate for long-tail keywords is 36%.
You may use continue using Keyword Intelligence to find long-tail keywords.
Just click the Advanced Filter. Then, select the level of keywords length. You may also choose the level of your long-tail keywords relatedness to your main keywords.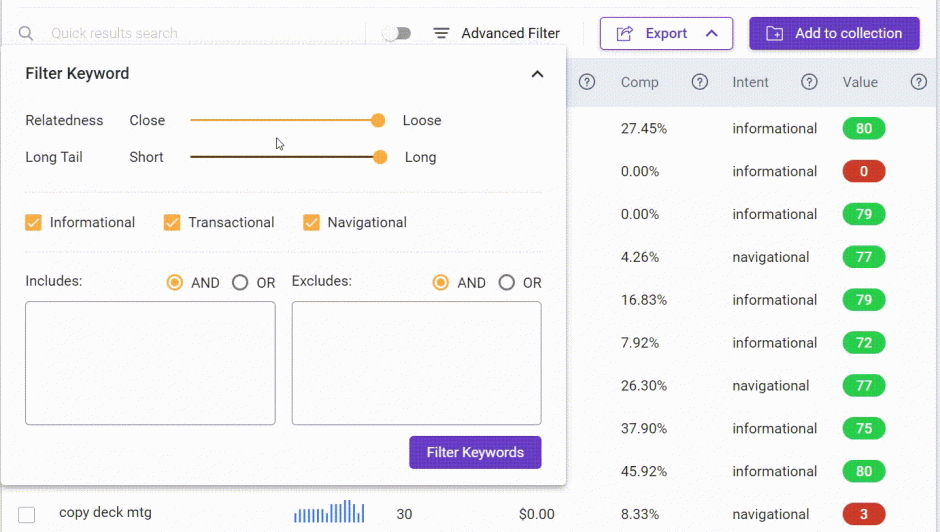 If you are unsure which keyword to use, you can sort the keywords based on their value. The higher valued keyword means it can potentially bring more traffic to your website at a lower competition.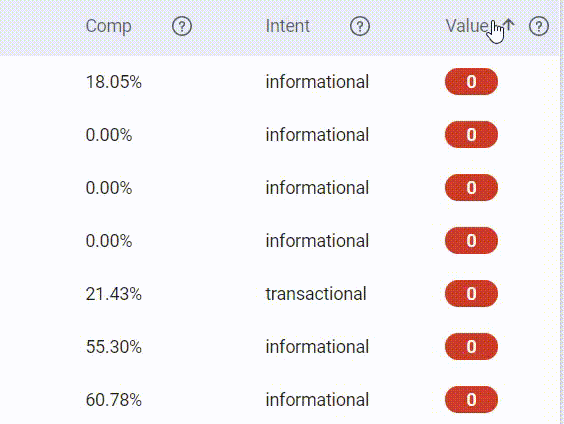 They're the ones that people are searching for. Include them in your content to boost your rankings and boost sales.
Perfect Your Delivery
Your readers will leave If your content is difficult to understand and confusing.
Make it clear, easy-to-read, and engaging. But where should you start and how to improve it?
Use Content Intelligence.
It uses advanced AI technologies to recognize any issues that hinder your content ranking high on search engines and give you actionable steps to improve them.

Type in the URL to your post, the target keyword, and hit enter.
Content Intelligence will analyze your content and show you all errors you should improve.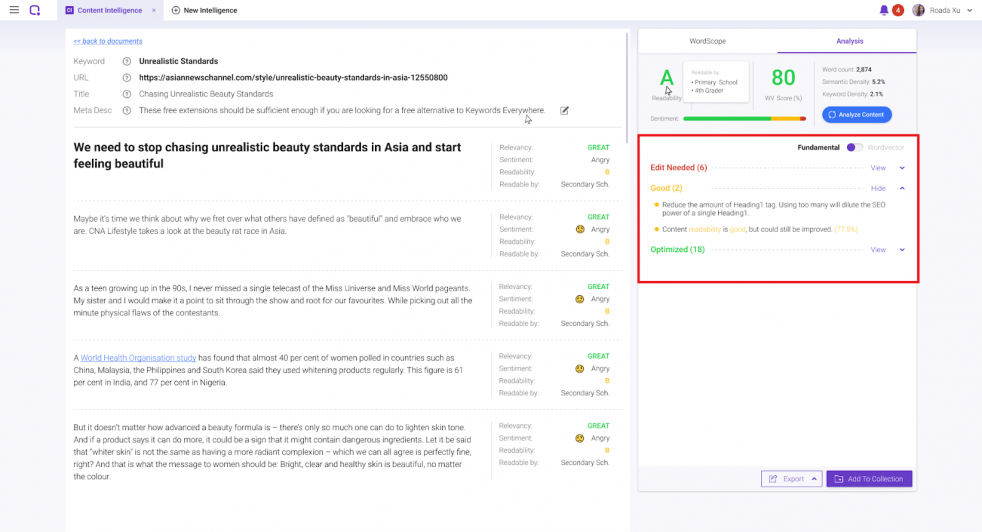 You'll get an in-depth analysis of target keyword performance and also of on-page SEO. It's a lifesaver if you're looking for a quick insight into how your content is performing.
You'll get in-depth stats about your content.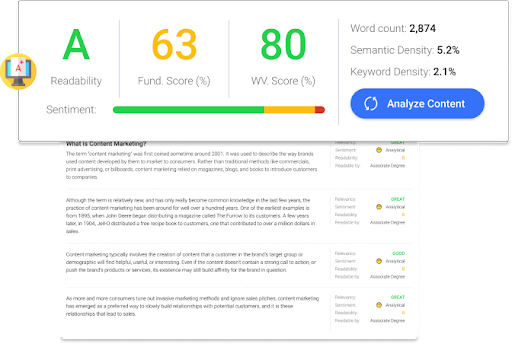 Go through each category – WordVector, Keyword, and Fundamental SEO and fix all "Important" and "Alerts."
They're the errors that impact your rankings.
Start fixing them today so you can rank higher, beat your competitors, and get more traffic.
2. Outreach Through Email
Email outreach is one of the most effective link building strategies.
There are three reasons for that.
You'll build relationships with folks in your industry, which can lead to guest blogging and other link building strategies.
It can lead to press coverage.
Most link-building strategies for SEO require email outreach, either you do it yourself or buy from a professional agency to do it for you.
However, you must do it right, and just as with content, you must find ways to stand out in the mailbox.
We're bombarded with tons of emails daily.
"Experts generally agree that 121 business emails are sent and received each day" – Campaign Monitor.
Therefore, you must craft your emails perfectly.
You can make your emails stand out by following the four steps below.
If you're emailing the wrong audience, you won't succeed.
Target the right audience – the businesses in the same niche as you that are similar in size.

The subject line is an essential part of any email.
"80% of people will read the headline, but only 20% will read the rest." – David Ogilvy.
It would be best if you didn't sound desperate or be the only one who can benefit. Instead, make it seem like you're doing a favor to other businesses.
Show them the benefits of working with you, and they'll jump on the board.

Everybody likes to feel special; it's in our DNA.
If you're looking for a higher response rate, you must make your emails personal. It's a lot better to write an email to a business owner rather than to a business because you can call him or her by name.
Always address your recipients by name and tailor emails to them.
Be prepared for the rejections because there will be a lot of them. Stay consistent, believe, and keep emailing.
You'll see the positive results.
Follow these steps for email outreach and improve your link building. Get more links, rank higher, and beat your competitors.
3. Help A Reporter Out
Help A Reporter Out, or HARO is an online website connecting journalists with bloggers.
When you register and select your niche, you'll receive three requests a day. They're from reporters and journalists looking for stories, blog posts, and information they want to write about.
You can respond to these requests with your blogs.
When done correctly, you can be featured in major publications, gain lots of fame, and build backlinks.
The best thing about it?
It's free, and you can start doing it right off the bed. You don't need any number of followings. You need high-quality content.
So, how do you start?
Go to the HARO website and create a free account.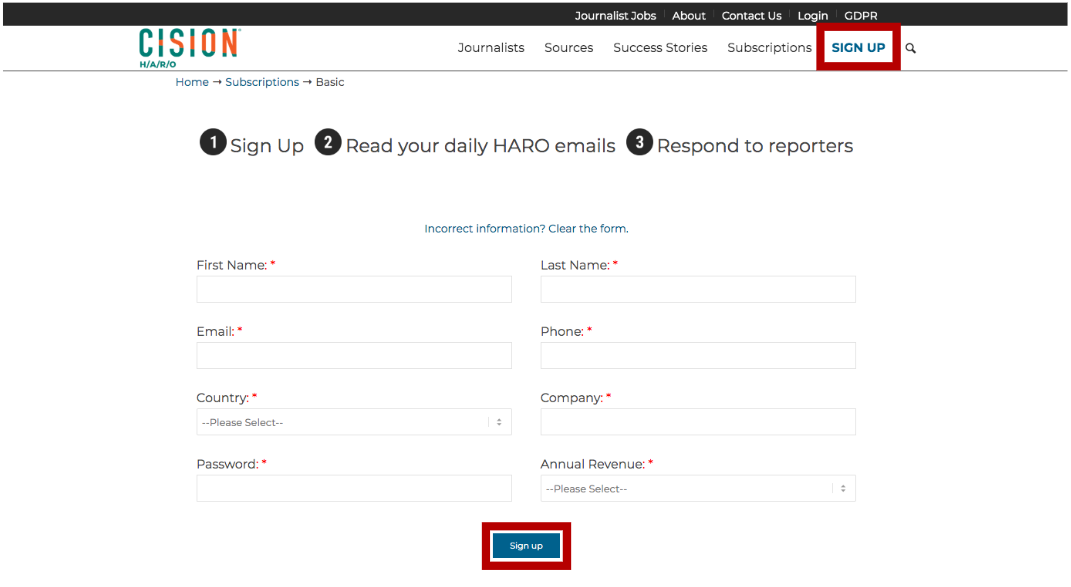 Fill in the sign-up form and confirm your email.
You'll need to go to your account details, set up your niche, and fill in additional information.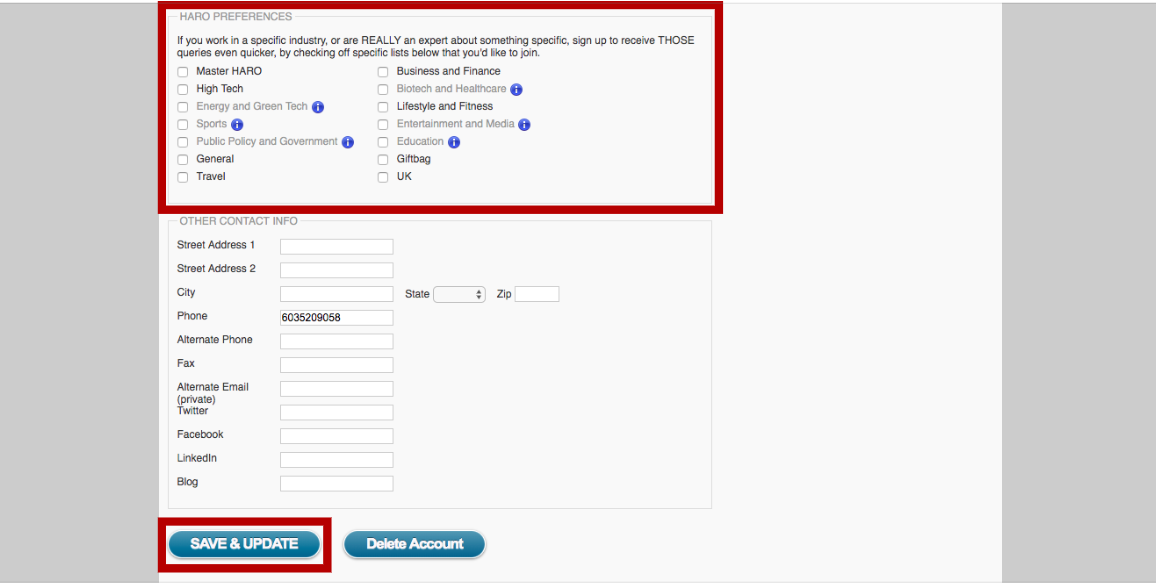 When you're done, you need to wait for the queries and respond.
You'll get at least 27 queries a week, which are 27 chances for getting published in major publications.
It's a great link building strategy for getting more traffic.
Start using it today and link tons of backlinks while helping others.
4. Unlinked Brand Mentions
It's always a good thing when somebody mentions you online.
There's a big chance you get traffic and maybe even new customers.
However, how many people make an effort to type in your company's name into Google and find your website? – Almost nobody.
That's what happens with unlinked mentions.
Someone gives you credit but won't link back to you, which costs you lots of traffic and backlinks. Fortunately, all you need to do is contact the author to fix it.
However, how do you find these unlinked brand mentions?
You can use Social Mention, a free tool for finding brand mentions. Go to Social Mention, type in your company's name, and hit Search.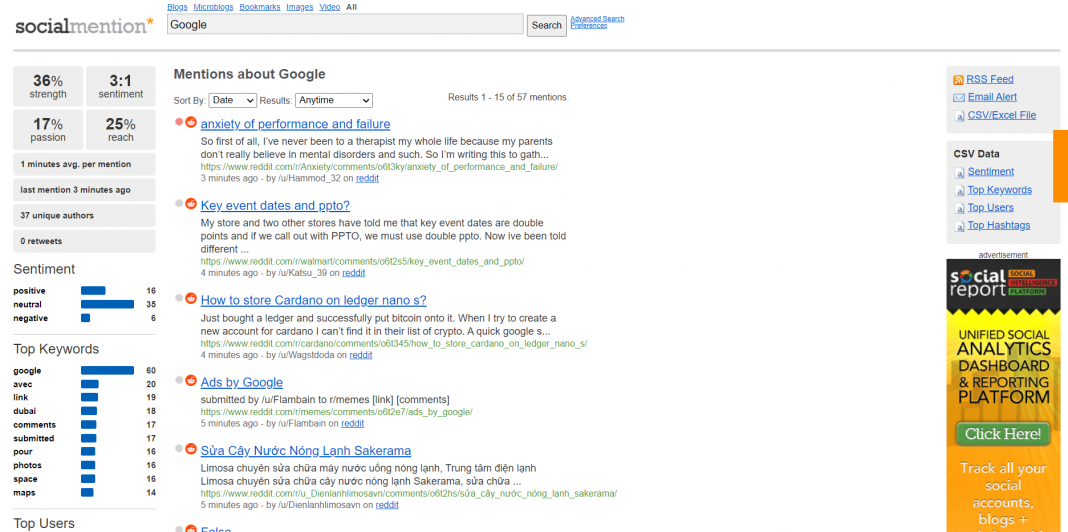 You'll get a list of all your brand mentions.
Go through each of them and find the unlinked ones. Reach out to folks who mentioned you and ask them if they could link back to you.
It's a simple link building strategy that will help you get easy backlinks.
5. Get Links From Resource Pages
A resource page is a website that lists useful links and resources about the specific topic
It covers a big topic and slices it down to smaller parts, which it links to.
What makes resource pages great?
The number of backlinks, in fact, the more backlinks they have, the better for their readers.
They're continually looking for more resources to provide better info.
This is your chance to get lots of backlinks quickly.
Unless other websites that you wish would cooperate, these are dependent on it.
Send an outreach email to them and build more backlinks.
6. Find Your Competitors' Sources
Find where your competitors get their backlinks, create better content, and reach out to these websites.
It's that simple.
You can do that in 4 easy steps.
Identify your competitors
Perform a Google search and find your competitors. They should be in the same niche and similar size.
List at least 5 of them and continue to the next step.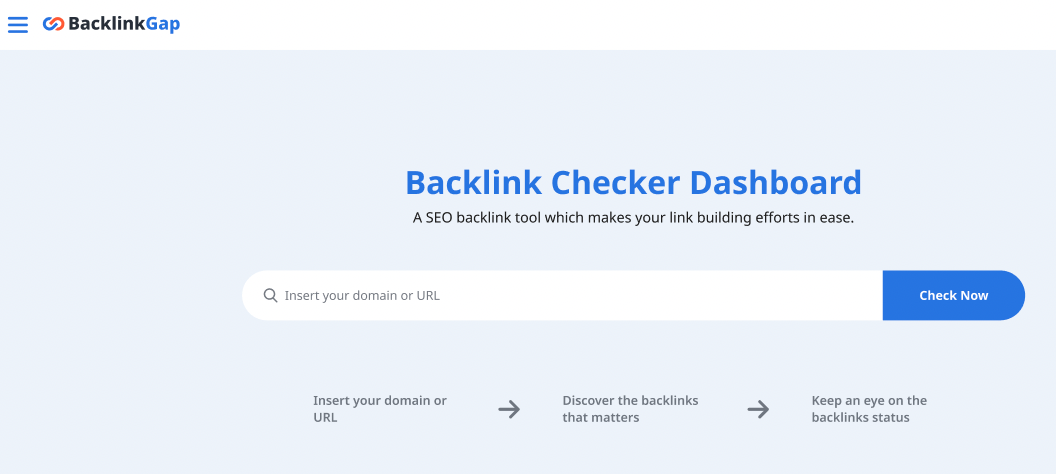 Go to BacklinkGap, a backlink checker tool, and find your competitors' backlinks.
Type in your competitors' URL and hit Check backlinks.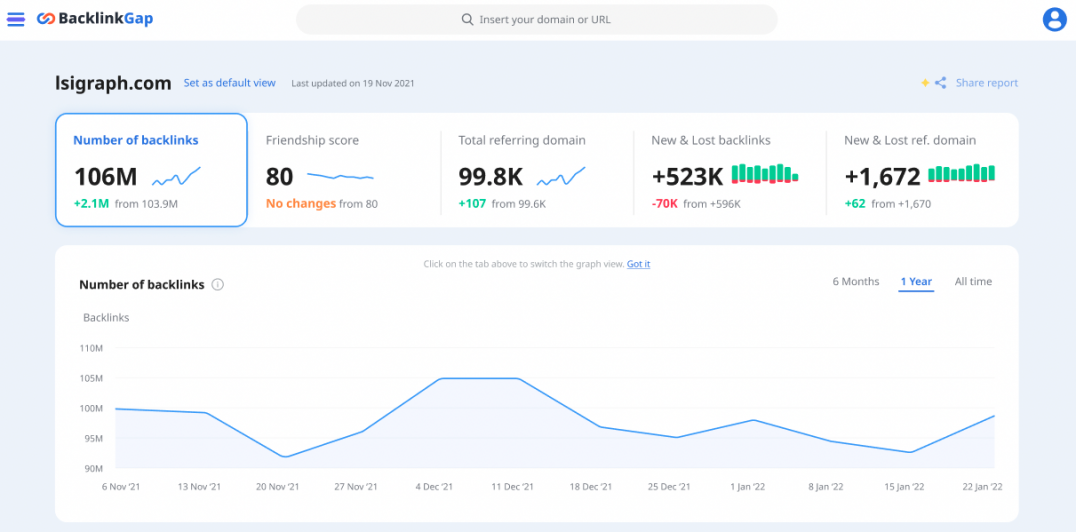 You'll get the detailed stats with the pages that link back to them.
Find competitors' posts that they link back to and create better content than they.
You can do that by diving deeper into the problem, addressing readers' questions, or writing more clearly.
Use tactics we've talked about in the first link building strategy.
Perform an email outreach to websites that mentioned your competitors.
Send them your better version of the content and build backlinks.
It'll help you get more backlinks and steal existing ones from your competitors. This will boost your rankings and help you stay ahead.
7. Link Out To Related Sites
If someone helps you, you feel like you owe him or her, right?
That's how we operate. You should use that to your advantage and use it as a link building opportunity.
Identify your competitors and find content that you could link back to. When you publish a new post, be sure to mention them in it by linking back to their blog post.
You should then reach out to them and inform them you did.
Be sure to tell them that you have similar content, and you'd be more than happy if they did the same for you.
You may be wondering if that really works and what if they don't link back to you, however…
"73.6% of domains have reciprocal links, meaning that some of the sites they link to also link to them." – Ahref
They'll be more than happy to link back to you. You'll also create valuable relationships that can go a long way.
8. Get Interviewed
"I need to be famous to get interviewed."
That's what's stopping thousands of bloggers from getting interviews. Unfortunately, that's not true, and if you're like that, you're missing on a vast link building strategy.
Everyone can get interviewed, no matter how popular you are.
We'll look at the three steps of how to get interviewed and build tons of backlinks.
Find interview opportunities
You need to find out two things in this step.
Topics of the interview
Who can interview you
Google search is all you need.
Look for bloggers who have been interviewed in the same niche.
See what they talked about and compile a list of topics for the interview.
The second part is finding people who could interview you. You can do that easily by typing these terms into the search engine.
"Interview" + niche / topic
"Interview series" + niche / topic
"Interview" + your competitor's blog name
Search for websites that interview blogs that are of a similar size as you.
When you find the right website, it's time to reach out to them.
Reach out to get interviewed
It would help if you convinced people that you're worth interviewing.
It's better to post a few comments on the interviewer's website, engage with them, and make yourself at least a little known before you reach out.
After a few days or weeks of doing that, it's time to contact them.
We've talked about email outreach earlier.
Follow the best practices and answer these three questions in your email.
Who are you?
Why are you reaching out?
Why should they interview you?
When you get the answer, it's time to move on to the next step.
Answer the Interview questions
Most interviewers will follow up with interview questions. Read all their instructions and answer all questions.
There are a few things you should follow.
Always ask, "What's in it for your readers?"
Add a link to your blog and social media.
Look at the comment section of the previous interviews and try to answer readers' questions.
When you're done, send all questions to the interviewer and thank him or her for the opportunity.
You can then share this interview on social media. It'll help you establish yourself as an authority and gain tons of backlinks.
Conclusion
Link building is one of the essential parts of SEO.
It helps you establish yourself as an authority, rank higher, and get a lot more traffic to your website.
Unfortunately, most businesses don't have any backlinks.
"More than 55% of pages have zero backlinks." – Ahref.
If you're one of them, don't worry, we've covered 8 SEO link building strategies you can use to get more backlinks immediately.
They'll help you outperform your competitors, increase your brand visibility, and make your business more successful.
Let me know if you have any other link building strategies that you'd tried before in the comments below!