What is an email drip campaign? Learn what it is and how you can use the drip email campaign strategies to convert your lead into a customer. 
Discover the five email drip campaign strategies you can use to create a sustainable email marketing strategy.
After 5, don't you just want to get home, slip into shorts, and turn on Netflix? Too bad, marketing is not a 'normal' job. You must nurture clients even in the middle of the night, on Sundays, and simultaneously as you put off fires in conference calls and investor meetings. That is where email drip campaigns come in.
What is Drip Email Campaign?
The drip marketing strategy is used by many specific sellers where continuous delivery of marketing messages is delivered to customers over a while. The uniqueness of drip marketing is that it helps create sales with long-term repetitive exposure to its recipients of the goods and services advertised.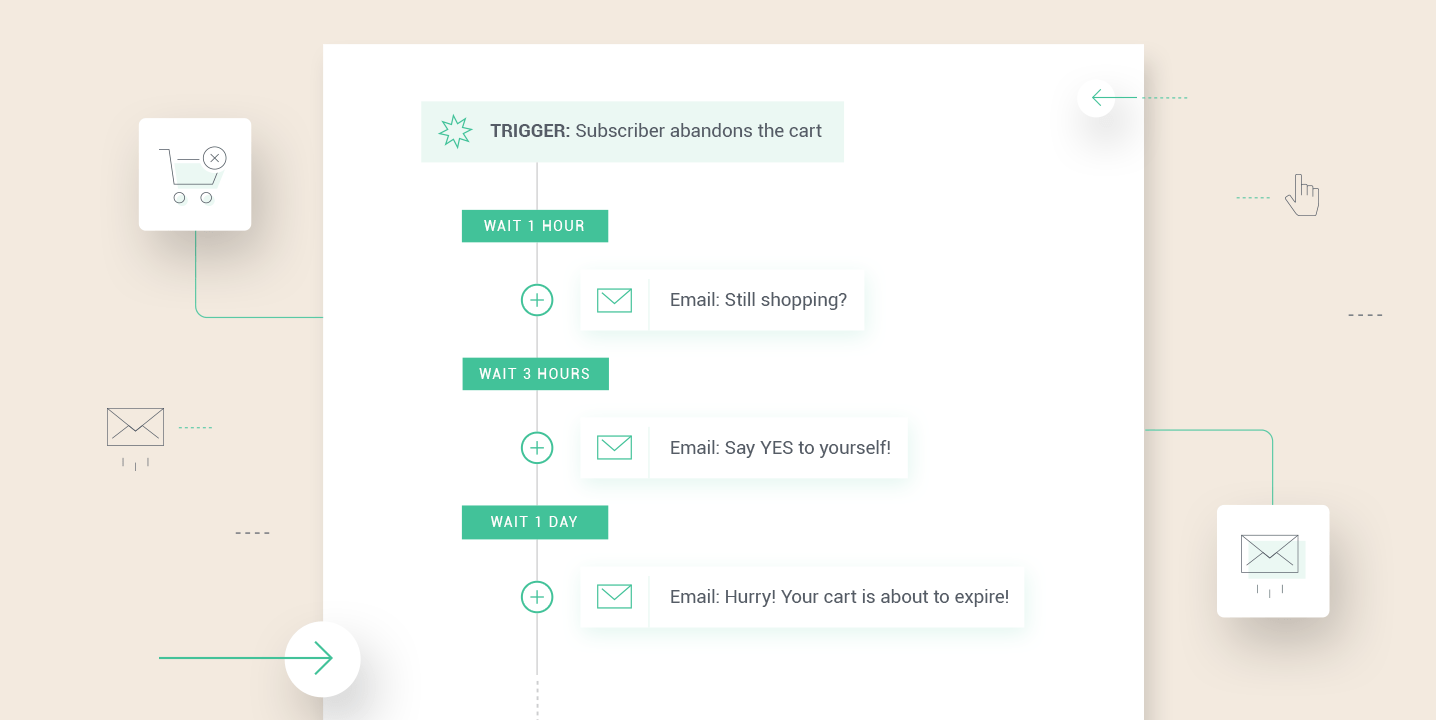 More specifically, drip email campaigns involve an automated set of periodic emails that go out to customers at designated times.
They help you keep in touch with groups of people based on events such as the user signing up or the frequency with which they visit your site. Each time an email is sent, it comes from a line of pre-written emails – no need to handwrite and send each one.
When to Use a Drip Email Campaign?
You might want to consider drip marketing as a way to save time and resources. Even when away on vacation, you can send emails that make the cash register ring. They save time.
Use an email drip campaign when you want to guide customers up the sales funnel from the introductory stages.
Use drip campaigns when your marketing budget is limited or when you don't have sufficient marketing personnel. Drip email marketing campaigns are easy to set up, require fewer statistics, and a small investment in general resources.
When you want to focus on quick sales, consider drip campaigns.
Drip marketing can attract prospects, nurture leads, reward customers, and more – all in the same email campaign. By targeting, splitting, and then reaching specific users, you can contact the right people and at the proper times.
A well-targeted email drip campaign can also build audience trust. Instead of sending your email list with the same campaign, subscribers split into separate panels and approach differently – appropriately. Since the emails you send are highly targeted and relevant, they feel made more personal.
How to Create a Drip Email Campaign?
In an excellent drip email campaign, each email stands alone and builds on the emails that came before it. All emails are strategically organized and tracked to encourage specific action by the recipient.
1. Identify your campaign's objective
Start from what you want. Do you need warm email leads? Or maybe you want to convert them and make them buy a product? Be specific when it comes to your goal, and be sure to measure frequently.
Decide which step you want your audiences to take at the end of the drip campaign. Ask yourself which of the following goals applies most to your current campaigns:
Increase product awareness
Promote a new product or service
Combine customer feedback
Drive registration for the next event
Generate income
Improve user engagement
After you have found your campaign goal, think about who will be included or removed from this drip email campaign. This brings us to our next point.
2. Identify your target group
You can only elevate engagement levels by sending out email drip campaigns to relevant recipients. For example, if someone just recently learned about your business, they might not be ready to receive conversion-focused emails.
It would be best if you continually fed them a lot of information content, which is vital before seeing the sales value. Subscribers who know your product, and have been reviewing it for a while, may enjoy product/product comparisons, coupons/discounts, and free trials.
Ensure the right people get the right message at the right time. Who should be included and who should be excluded from the campaign? Ask yourself these questions:
What action did the audience do get included in this drip email campaign?
What are their motives?
What are their pain points?
What will get their attention during the working day?
What do I hope the audience will do after reading one of these spitting emails?
Why would they delete an email from this campaign?
3. Determine the email frequency in the campaign
Don't spam, but be consistent. Pace yourself. Keep your brand or offering top of their mind, but also leave them wanting more. Allow them to miss you.
Beware: Too much contact can appear aggressive and may create opportunities for them to unsubscribe from your email lists. Use this golden rule: do not send more than one email to a prospect per day. Give them time to breathe and better digest your content.
Generally, start at a high tempo, then slow down as time goes on. The first few days, you can make it daily, then every few days, then weekly, then once a month, and so on.
For the best email sending times, check your statistics to see if there is a specific time of day that has generated high open rates. You can also send drip email campaigns to people who have been on your list for a long time.
Most importantly, drip email campaign messages should be integrated and streamlined. To make sure this happens, write down all the emails at once. While this may sound time consuming and intimidating, these emails can be just a few paragraphs to be written fast in a short time. We shed light on a few helpful ideas later in the post.
4. Create and personalize email
When you start writing drip email campaign content, ask yourself: What do my customers and prospects need to learn to take the action I want?
For example, suppose your goal is to get subscribers to use your cloud security software product. In that case, create emails that explain its functionality and show how other people have used it more effectively.
Remember that drip email campaigns are not just about automation, content matters. The content needs to be really good. If you send awesome emails, the result will reflect in your sales volume.
To compose good email content, consider the following suggestions:
Short, concise pros: Large text blocks are intimidating, especially for small devices, so keep them short and add white space.
Let your personality show: Once in a while, share non-business-specific information – such as a compelling story of overcoming or a funny anecdote. This improves the opportunities for connecting with your email and product.
The first email should be just a few lines: At first, limit the content to a few lines since audiences don't trust you completely yet. They may not be ready to give you most of their time.
Create value: Always post important content so that subscribers feel like they are getting something from your messages.
Tip 1: Get more content ideas using BiQ's Keyword Intelligence
You can use the Content Ideas feature in BiQ's Keyword Intelligence to get more content ideas that can give value to readers. It helps you quickly get ideas that will make a good blog post, which will get your readers wanting more.
Type your keywords or phrases into the Content Ideas section of BiQ's Keyword Intelligence, and the AI-powered solution will spew a limitless list of gangbuster content topics.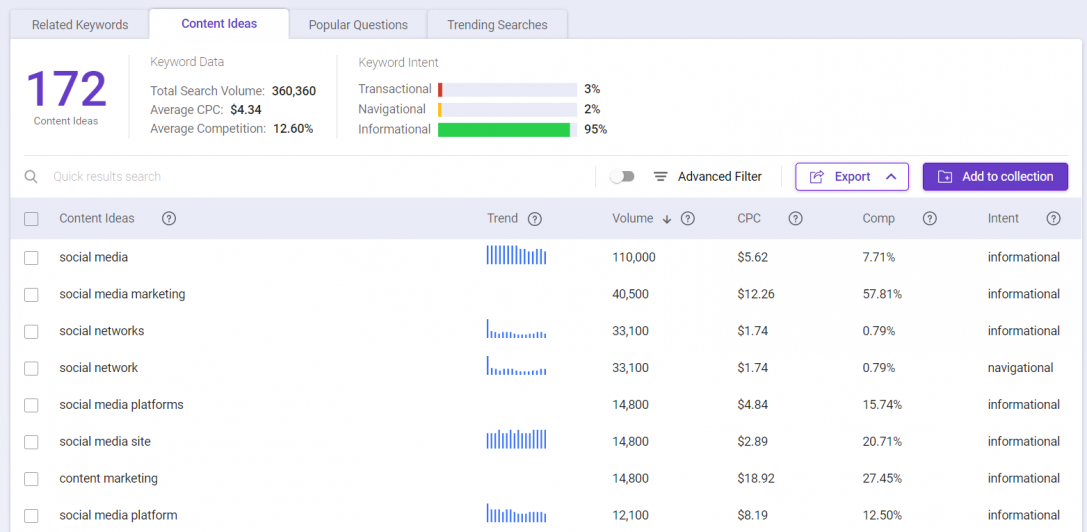 All keywords shown come with a set of key metrics to use when deciding which topics you want to focus on. For example, you can use the search volume to find the number of people search the title. While the trends section will let you know the most searched topics.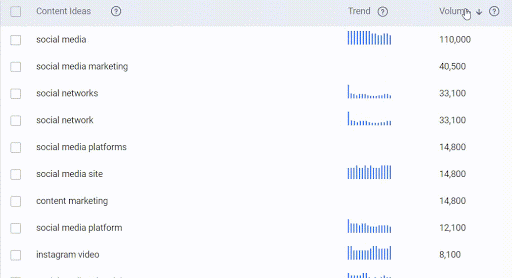 Keep an eye on what's trending to capitalize on it to get engagement.
Tip 2: Identify the keyword intent to create an email that better matches your prospects' needs.
Let's say you have prospects that landed on your site using the search term 'Content Marketing.' If you got them to sign up for your emails, use their exact search terms on BiQ's Keyword Intelligence to find user intent to speed up the buyer journey.
Type Content Marketing into BiQ's Keyword Intelligence. It will show you the intent percentage of target keywords rated based on the total number of related keywords.

The keyword is intended for information from the example above, which means that searchers are in the sales funnel's awareness stage. So, focus on creating informative content for these audiences.
As searchers want more information, you can create informational content such as 'Why do you need content marketing?' As well as 'Content marketing best practices.'
5. Monitor campaign performance and optimize
Do you want to boost your sales? Track the quantity of traffic you get from drip campaigns to the sales page and look for conversions.
Drip emails may be automated, but they are just as critical as any other marketing tool. It would be unwise not to measure and optimize. A / B testing is the name of the game, even with this type of campaign.
After spending a long time identifying specific user characteristics and targeting, you must re-evaluate and correct those segments as needed. I would also recommend you to split test the various elements (subject lines, language, tone, CTAs, etc.) to see what works best.
That said, here are some of the metrics that you want to consider to measure the drip email campaign performance:
a) The rate of conversion over time
Prospects who respond positively and accomplish your desired actions are called conversions.
Your drip campaign conversion rate is the percentage of subscribers who take the required action in your email campaign.
Measuring the conversion value of the email marketing campaign can be done using this formula.
Email Campaign Conversion Rate = Conversion Rate / (Number of Emails Sent –Those That Bounced) × 100
When calculating your conversion rates for email marketing, be sure to use the appropriate number of email submissions. Don't include the emails that bounced.
It is always good to know your email marketing conversion rate for then you quickly determine your email marketing ROI. Your conversion rate is the litmus test of whether your email campaign was successful or not.
b) Value and cost of leads per drip campaign
Your main goal is to make money, right? No matter what kind of business you are in, that is your ultimate goal, so knowing each lead's acquisition cost is very important.
Because after that, you can easily compare the cost of leads from your other strategies to identify the goose that lays golden eggs.
Calculating the lead's value and cost reveals how much money you have to spend to get new leads. If you know your traffic campaign's total cost, it can easily show you which campaigns are worth the extra traffic!
It helps you plan your budget to go as cheap as possible with your lead process and user acquisition process.
Use this formula
Cost Per Lead (CPL) = Total Drip Email Campaign Spend / Total New Leads
c) Unsubscription rate over time
All email campaigns have an unsubscription rate: the number of unsubscribes divided by the number of email contacts in the campaign.
This metric will show you what messages need to be sent later (for example, sales messages are sent very soon) or what information is not enough for the current leader stage.
However, this metric must be translated into the correct context. The messages you created for a specific drip email campaign may be good but targeted to the wrong people.
Drip campaign examples
Netflix Win-Back campaign
In the beginning, a customer was happy to do business with you. However, something happened, and they jumped ship to your competitor.
They may have found a better product or better pricing and have forgotten about you. They no longer need you.
Therefore, you need to create a well-crafted campaign message that is personalized and enticing enough to retrieve your customer.
Here is an excellent win-back drip campaign example from Netflix.
RedBubble Gifting Emails
The first time a person joins your subscription list, they are very interested in your content and offers. Use that chance to blow their mind with a discount.
Sending them a hard to resist offer right away can help increase your revenue and keep some of your subscribers committed to reading future emails and possibly buying more products or services.
RedBubble does it best. Here is an example of a drip campaign by RedBubble:
Abercrombie & Fitch Confirmation Auto-responder
After converting a sale, don't suspend your email drip campaigns. You can use this strategy to verify purchases by sending customers a "thank you" autoresponder immediately after every purchase.
Shipt does it best. Here is an example of a drip campaign by Abercrombie & Fitch: 
Final thoughts
Simply put, marketing is all about giving people the right information at the right time.
Today, drip emails have evolved. Make sure to use the drip email strategies to get ahead of others. These strategies have helped me in designing some good drip email campaigns.
Despite so, no one size fits it all. So it is important to measure, test, and repeat the drip email campaign to see which works best for you.
Try it out and let me know which strategy have you applied and proven successful. Let me know in the comments!