Discover the top 9 digital marketing strategies that you will need in 2022 to grow your business exponentially.
Here are the 9 effective digital marketing strategies you can use for your 2022 marketing campaigns. 
It doesn't matter what products/services you offer or what industry you're in – you cannot ignore digital marketing strategies. Not so long ago, businesses relied very little on websites and social media posts to market their products/services.
Now, the digital landscape is evolving at such an exponential rate that it's hard to even for marketing experts to keep up.
As of writing this, there aren't too many businesses that can count themselves as successful without having a strong online presence. That's just it! In 2022, we can expect new technologies and digital marketing tools to come to the fore, forcing content creators to adapt to keep their businesses at the top.
So, what is a digital marketing strategy? It's a resource that provides marketers with a wide variety of marketing tools and services under one roof. A digital marketing strategy describes several actions that utilize marketing channels to achieve specific goals. These channels may include paid, owned, and earned media.
In other words, a digital marketing strategy is a process used to outline how your company will achieve its marketing objectives through online channels like social media and search.
Whatever you do, one fact remains true: digital dwarfism is unforgiving in the digital era we live in today. If you don't adopt it, and fast, you'll surely be left behind.
Importance of Digital Marketing Strategies in 2022
Keeping up with digital marketing strategies is an essential step if you want to achieve all your business's marketing goals. Whether you are a small or large organization, digital marketing trends will always inform your marketing strategies.
If you are still looking for concrete reasons to implement effective digital marketing strategies for your website, you've come to the right place. Here's a brief overview of the benefits of using digital marketing trends:
Improves website visibility
SEO is relatively cheaper than other types of marketing
Improves user experience and usability
Stay ahead of the competition
Boost your site's credibility and authority in your industry
Use local SEO to increase local traffic and engagements
Reach users in all buying stages
Lower your customer acquisition costs
Marketers can leverage digital marketing trends to inform their marketing strategies. This ensures that their brands stay relevant and aligned with their customer's expectations of the brand—it's how digital marketing works.
In this post, you will discover 9 of the most effective strategies of digital marketing to prepare yourself for 2022:
9 Best Digital Marketing Strategies to Use in 2022
1. SEO
Search Engine Optimization is always a moving target for marketers to chase constantly. The general agreement being that the search algorithm is gradually evolving, thereby creating a regular flux certainty that will go well into 2022.
For many marketers, SEO is simply the best digital marketing strategy to implement in your marketing strategy. It has always been crucial to effective digital marketing and will continue to be in 2022.
SEO algorithms undergo constant updates to respond to and learn user behavior developments to enhance consumer experience throughout the customer journey. Therefore, it's always important that your site and other marketing platforms keep SEO at the forefront of all your marketing strategies.
Going into 2022, there are a few key SEO trends to watch out for. These include:
Increased focus on understanding your audience's intent and questions they're likely to ask through conversational AI platforms
Optimizing content to achieve the coveted zero-click search rankings
Factoring in user experience signals to boost search engine rankings for an efficient and consistent experience across multiple platforms
Effective SEO is all about constant experimentation and optimization. You must know which SEO trends will be the most effective in your content marketing strategy and know-how to implement them.
BiQ's Rank Tracking feature allows you to link all ranking positions to your SEO processes. This way, you'll always be in the loop about which keyword rankings and SEO strategies are working and which ones aren't.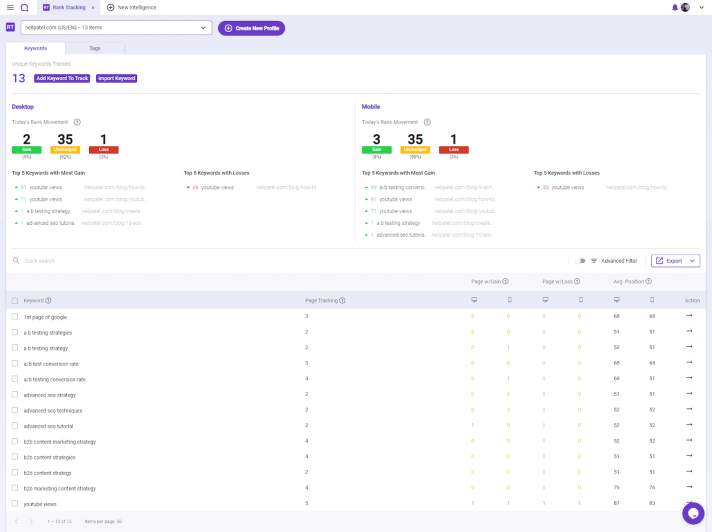 Whether you've just built backlinks to your website or added some target keywords in your blog post's title, BiQ's Rank Tracking feature helps you to understand which actions and processes will likely lead to your SEO success.
2. Content Marketing
As one of the most effective digital marketing strategies in the marketing industry today, content marketing plays a big role in attracting the right audience to your website.
What's essential about content marketing trends is that it's crucial in helping you create valuable, relevant, and consistent content. Every marketer creates content hoping that the audience will find it engaging and informative. After all, only then can the consumer even take time to read your post.
In today's time, you must pay attention when creating content. Your content must focus on solving your target audience's pain points and stay evergreen through the years. Using shortcuts such as black hat SEO strategies no longer work. Thanks largely to Google's all-seeing eye.
Ever heard of the term "content is king?" Sure, you have. In fact, to make your marketing campaign successful, you'll need to focus all your energy on the content you're creating. You will also have to pay attention to native advertising, mobile content, marketing automation, and influencer marketing.
As a marketer, you must think seriously about content marketing and mobile use because smartphones already make up over 50% of all global devices. It's already evident that this trend is affecting digital advertising and has a huge impact on how influencers promote brands.
BiQ's Content Intelligence feature has the exact metrics to boost your content marketing strategies and keep you ahead of the competition. It's now more important than ever to refine your content marketing strategies to boost your rankings for today's sophisticated search engines.
Enter your content URL and the target keyword in the Content Intelligence's search box.

Content Intelligence will start to analyze your content and show you all errors that can be further improved. Make sure to switch to the Analysis tab on your top right corner.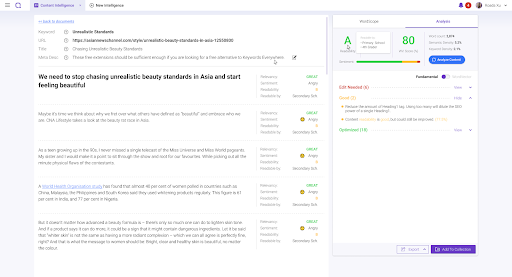 The 'Fundamental SEO' tells you the on-page SEO performance.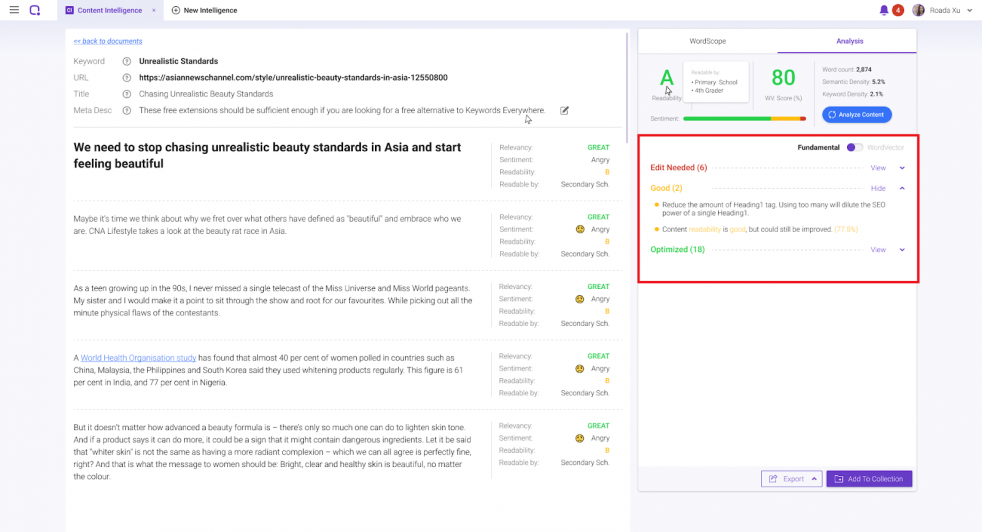 They're a lifesaver if you want a quick insight into how your content is performing. It will unveil all critical SEO errors in your content.
In the Content Intelligence Analysis tab, switch to 'Word Vector'

WordVector tells you the performance of your content against the Top 10 SERP content in relation to your target keyword.

The best part about this feature is that it can tell you exactly which paragraph has lesser relevance to the overall content.

Now, you will be looking at the "Edit Needed' section to check which paragraph needs revision.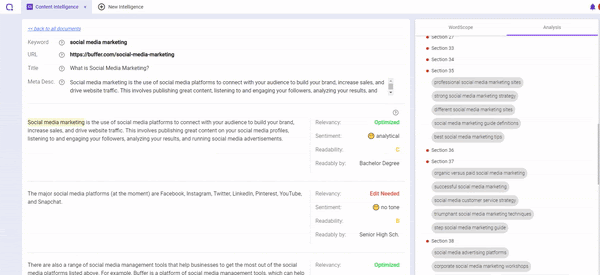 You can then dive deeper into the paragraph and analyze how to better improve its relevancy to your target keyword.
BiQ's Content Intelligence allows users to achieve semantic content to help them achieve better content quality and, consequently, higher rankings. Metrics matter, especially when it comes to digital marketing. Understand your content better with BiQ's Content Intelligence feature today!
3. Local Search Marketing
Local search marketing is another digital marketing strategy that has gained a lot of traction in the last few years. It will certainly get a lot more attention going into 2022 as more businesses realize the value of ranking for local searches.
This local SEO checklist should help you optimize your website for more local consumers.
Through Google My Business, you can turn up your local SEO marketing listing whenever an online user performs a Google search using your keywords. Having your business appears on Google Maps is a bonus, more so, as the search engine will easily update your listing. Nothing will become out of date.
Online reviews and social reputation also play a critical role in maintaining your local search marketing dominance. Therefore, you must work on inspiring your customers to give positive reviews on platforms like Yelp. You can also start conversations on social media and post targeted content to utilize inbound marketing.
BiQ's Keyword Intelligence plays a critical role in boosting your local search marketing strategy. With BiQ's Keyword Intelligence, you can tap into local keyword opportunities you never knew existed.
This fantastic keyword tool provides users with a list of all relevant keywords their local audience is using.
The Keyword Intelligence feature analyzes keyword use in different places to determine which keywords are the most frequently used by the locals. So, you can choose keywords with the highest volume and possible conversions.
4. Social Media Marketing
This digital marketing strategy focuses more on building brand awareness and increasing your conversions. An effective social media campaign can feature different social media platforms, thereby deepening your target audience and focusing on their platform preferences.
Here is the most popular social networking platform worldwide as of October 2020: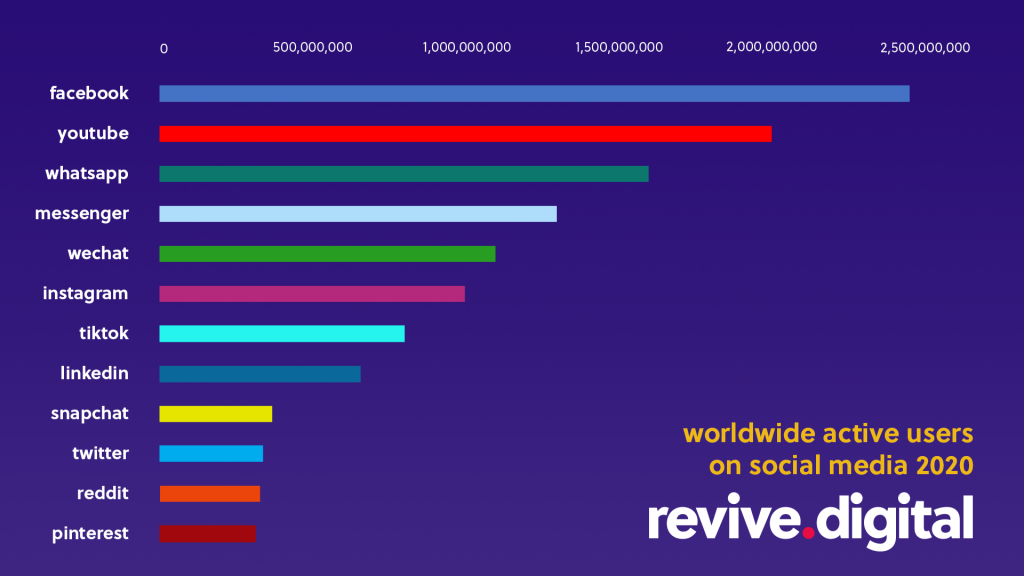 Besides marketing your brand on social media, this marketing strategy also focuses on advertising your products/services on social platforms. Social media marketing helps in building and maintaining your company's reputation. That's why social media lays more emphasis on creating promotional and informational content.
With less than 30% of companies utilizing social media as a digital marketing strategy, it's vital that businesses invest in this perfect outlet for connecting.
In this digital era, users rely almost exclusively on social media, even more than how much they share with their families and friends. Therefore, it wouldn't do you or your business any justice to inconvenience your clients by not maintaining an active social media presence.
Low or no social media activity leads to low client retention, which directly impacts your revenues.
Check out our post on the effective social media tips you can use for your social media marketing campaigns.
5. Video Marketing
2020 saw video marketing soar to new heights in both B2B and B2C sectors. We can expect the same trend going into 2022 as video-based content takes precedence over text-based content.
Written content alone has never had the power to compete with attractive, delightful, and engaging videos.
In today's digital world, smartphones have almost become extensions of our bodies. We carry them wherever we go, LITERALLY!
On average, millennials spend well over 5.7 hours per day on their smartphones. People use their smartphones to communicate almost all the time, to shop, work, and find information all day.
Currently, video ranks as one of the main forms of consumable content accessible to smartphone users. As a business, you must capitalize on this marketing tool. After all, over 92% of marketers agree that video plays a critical role in digital marketing strategies.
Consumers would rather watch a short video to obtain information quickly than read about it in a blog post. We should expect an acceleration of video marketing in 2022 as it adapts to involve AI and AR. When combined with live streaming and influencer marketing, video content will be unstoppable come 2022.
Effective use of video content can create powerful visual tools that will boost your overall engagement and customer experience across several digital platforms. That's all the reason you need to adapt this digital marketing strategy come 2022.
You will probably recognize and appreciate the importance of social media influencers after checking out a few marketing posts on social media. 2020 has also seen a spontaneous increase in how influencers align themselves with brands to form relationships that benefit both parties.
A study reveals that over 87% of online buyers were inspired by influencers to make purchases, making it even more important to leverage influencers in your digital marketing campaigns to boost your engagement and leads.
We're also likely to see more brands continuing to use influencers to promote their products/services in 2022. Visual platforms like YouTube, Facebook, TikTok, Instagram, etc., have established influencer marketing as one of the best digital marketing trends this year.
7. Podcasting
Podcasting is another massive industry you cannot afford not to check out in 2022. Whether you're looking to catch up on social media marketing or learn about true crime or hone your French skills, there's always a podcast for that.
One of the best reasons for using podcasts is that even a beginner can get right into them without much hassle. Starting a high-quality podcast is excellent for brand and audience building. However, podcasts, like SEO, can take a while before building traction.
Also, most people don't always have the right equipment or industry connections to build popular podcasts. However, as a business, you can simply hire a popular podcaster to promote your brand on their podcast. You can ask them to interview you or your business to gain more visibility. It works magic, especially when done right and for the right audience.
8. Email Marketing
As a marketer, you've likely tried email marketing at some point in your marketing campaign. But how effective is it, really?
Email marketing is already a powerful tool for generating leads for businesses, provided you know how to use it. The key is to ensure your emails reach your intended targets to boost your sales and conversion rates.
Email marketing is also one of the most affordable digital marketing strategies available. In some cases, it's free, unless you're using an outsourced service.
Email is also one of the most integrated digital marketing methods since marketers can combine it with other media. You can add referral reward systems or social share icons to compelling content that customers will happily engage with and find informative.
Learn the different email marketing metrics you can use to track your email performances.
9. Paid Ads
Most small startups never consider paid ads. Why? Because they aren't "free."
Remember, however, that nothing is ever truly free. Everything takes time in this world, and time is money. As a result, there's always no need to shun paid advertising. However, you want to avoid throwing money blindly into an advertisement network because somebody told you it was good.
What works for one person doesn't automatically mean it will work for you, or something like that.
You must know your audience and figure out which digital platforms your target audience uses. Paying for ads anywhere else will be money wasted.
You must also have a reasonable budget for your ad spending and know your paid advertisement's commerciality.
Note: Not everyone who's looking at your ad is always looking to buy.
When used properly, paid ads can be your best tool to promote your products/services and boost brand visibility. It's one digital marketing tool you must seriously consider using going into 2022.
Conclusion
As you can see from the excerpt above, the digital marketing world is evolving really fast.
In 2020, SEO, video, interactive content, paid ads, email marketing, and influencer marketing are among the most prominent digital marketing trends that will gain even more traction in 2022.
This is no time for your business to stand still, as more tech-savvy consumers and younger demographics of today engage with brands that connect with them in new ways.
Now is the time to dive in and try these digital marketing strategies. Pick one strategy and master it before moving to the next one.
If this is your first time hearing about digital marketing, check out these content marketing practices to avoid in 2022.