Email marketing continues to deliver results. Here are 8 important email marketing metrics that will prepare you for maximum conversions and higher engagement levels.
Are you satisfied with your current email marketing performance? If you aren't here are some email marketing metrics you'll need to take note of.
If there is one marketing strategy that has taken root and is used widely in today's business world, it's email marketing. Email marketing is a type of digital marketing that involves sending emails to prospects and current clients.
The emails you send to your customers can be used to develop your relationship and increase your sales exponentially if done right. Based on 2018 data, email marketing is one of the most effective marketing channels beating social media affiliate marketing and SEO.
If you use this form of marketing for your businesses, you must learn some of the metrics you could use to ensure a successful marketing campaign. The metrics could help you avoid some common rookie mistakes by optimizing your emails for better engagement.
Have a look at some of these 8 critical email marketing metrics to ramp up your email marketing effectiveness.
Email marketing metrics that you should monitor
1. Email open rate
Email open rate refers to the percentage of subscribers who open your emails. The email open rate is affected by several factors that, if addressed, could greatly improve your marketing outreach and, consequently, your sales.
Now, what's the average email open rate?
Your average email open rate should be around 15 to 25 percent, whereas your average click-through rate should be about 2.5%. It would help if you also aimed for an average open rate of about 20 to 30 percent or higher.
To improve your open rate, you should ensure that you group your customers into categories of either. Segmenting your customers helps you write personalized emails that are relevant to people in those categories.
Research has shown that personalized emails have an open rate probability of more than 26%.
2. Email click-through rate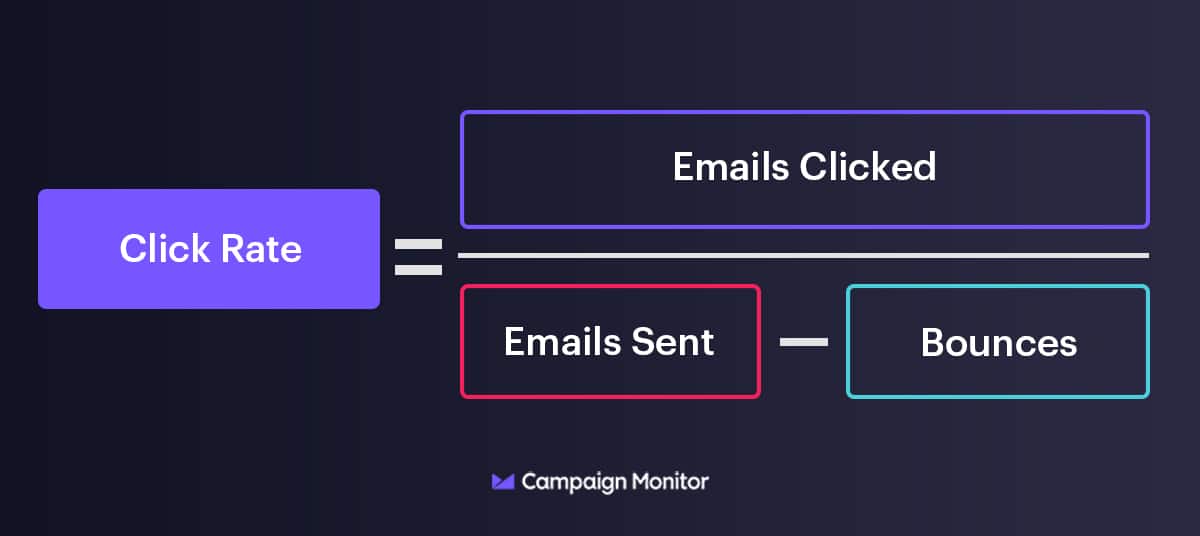 Your email click-through rate represents the number of people who not only open your email but click through to your website. The email click-through rate is often higher than all other metrics; however, sometimes it doesn't work.
You can take steps to improve your email click-through rate by personalizing your emails and making them more interesting to your readers, giving them an incentive that encourages them to click through to your site.
Sometimes your clients may be too busy to read your emails, and they may push them forward to be viewed later, which they are very likely to forget. Resending your emails could act as a reminder, which could help boost your click-through rates.
3. Campaign ROI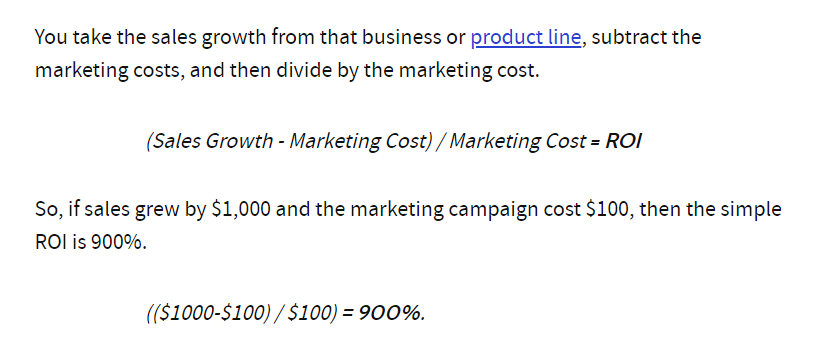 You can calculate the campaign ROI, return on investment, subtracting your marketing cost from the sales growth, and then divide it by the marketing cost. So, if, for instance, the sales after your email marketing conversion rates campaign grew by $1000 and you spent $100 on the actual campaign, then the ROI is 900%
How valuable is an ROI?
Calculating your email campaign's return on investment helps you determine whether the marketing strategy you used was good. If the ROI is too low, you could troubleshoot and look for ways to improve it or drop the email marketing strategy altogether and adopt a new one.
To improve your ROI, you should also include other soft email marketing metrics such as incentives and brand awareness in your email marketing. You could also use emails to communicate and remind your customers about any current offers that you are offering through your email list.
4. Bounce rate

Email bounce rate refers to the percentage of emails that were not delivered to your customers. They can be classified into two categories; hard bounces and soft bounces. Email bounces can happen for several reasons. Luckily, there are steps you can take to mitigate them.
You can calculate the email bounce rate by taking the total number of undelivered emails, dividing the figure by the total number of sent emails, and multiplying the result by 100. So, what's an acceptable bounce rate? A bounce rate of 26-40% is acceptable, depending on the website.
Fixing the bounce rate can help boost your email marketing conversion rates, consequently improving your sales.
Soft bounces
Soft bounces can happen due to a full inbox or a temporary delivery failure from your end. They can also happen because of a failure in the receiver's email server. The issue can be fixed easily, however, by resending the email.
Hard bounces
Hard bounces can happen due to an incorrect email address, a non-existent email, or closed emails. It would be best if you always watched out for hard bounces since too many of them could affect your email marketing and, consequently, your business.
5. Spam rate
The spam rate is the scariest complaint any server can ever get, which is why you should put in enough effort to ensure that these numbers stay down. There are several reasons why this might happen; however, there are some strategies you could use to solve the problem.
If your customers report your emails as spam, your email service provider, the ESP, will then stop sending the emails to the inbox folder and instead send them directly to the junk folder. This will greatly affect the engagement metrics between you and your customers.
You should, therefore, keep your spam rate below 0.1% for every 1000 emails sent.
So, how do you go about solving it? What you should do is build trust with your customers and, at the same time, control your email frequency. You could also use non-spam headlines to avoid being flagged down by your client's email provider.
It would be best to make your unsubscribe button as visible as possible for your subscribers to prevent them from going for the spam button.
6. Unsubscribe rate
How valuable is an unsubscribe rate? Working out the unsubscribe rate is critical for your email marketing analytics since it informs you of the number of people who didn't want to receive your emails.
An unsubscribe rate of 2% is considered normal however if it rises to more than 5%, it means that you've got work to do.
You get your unsubscribe rate by dividing the amount of unsubscribed by the total number of messages delivered and multiplying that by 100. Knowing your unsubscribe rate will help you determine whether your subscribers find your content interesting.
To decrease the unsubscribe rate, you need to work on a few areas. You could start by figuring out the optimum email sending frequency to avoid overwhelming your subscribers with information. You should also ensure that your emails contain relevant information that your subscribers find useful.
Working on these three sections of your email campaign will help you retain your subscribers and increase your click-through rate.
7. Link Click Rates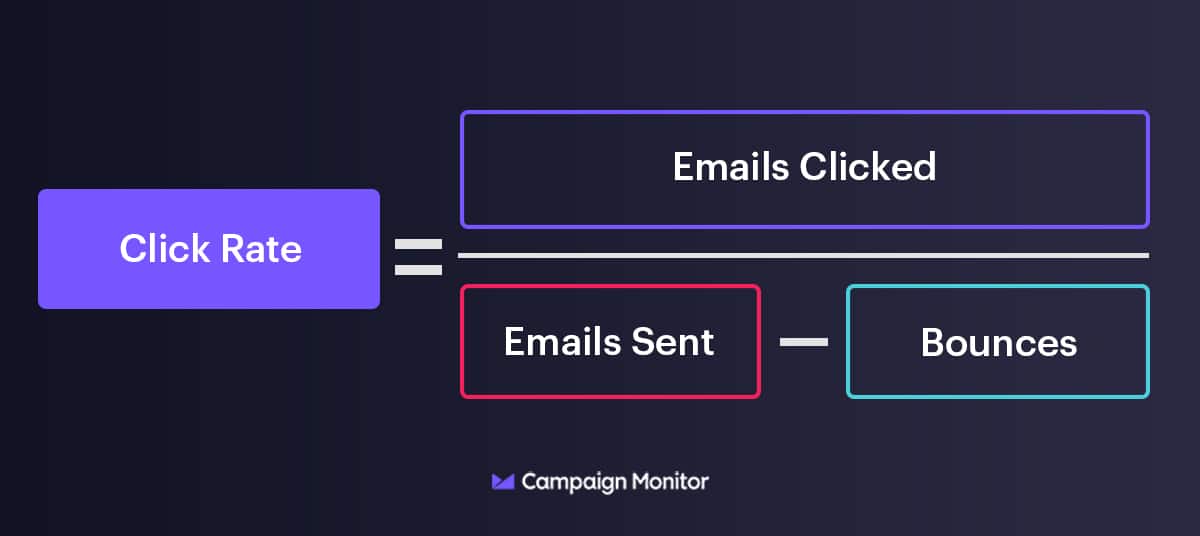 This refers to the rate at which your subscribers click any links added to your emails. You can get this percentage by dividing your links by the total links clicked divided by the total number of emails sent multiplied by 100.
If you want to increase your link click rates, then you should try and place appropriate links in the right places. You could place a link right after talking about your product. This is more likely to increase the chances of your subscriber clicking on the link.
8. Email marketing conversion rates
The current average conversion rate is 15.11%. This is not a bad percentile; however, you should aim to increase your conversion rates even further. Email marketing is still significant since it currently accounts for at least 18% of all transactions.
To increase your email marketing performance, you need to make your content more appealing by using incentives that can entice your customers to follow through. For instance, email my cart can be used by online stores for buyers who may want to abandon their purchases to give them a later opportunity to complete the purchase.
Using these email marketing metrics helps you form some engagement with your customers, which could have been lost anyway. If your customers demonstrate a very high intent to purchase, you should make this option available to them since it is very effective.
What Should You Test to Ensure Effective Email Marketing Performance?
1. The time when the email is sent
There is no appropriate, tested time for sending emails per se. Most would claim that sending emails in the middle of the week at midday could be the best time; however, other businesses send emails on Tuesday mornings, and they still work out for them.
There is a current change in habits globally, and the traditional best times for sending emails have changed drastically. Sending emails midweek at 8-9 am used to work for users who opened their emails at work. However, currently, most users prefer to use their phones, which has greatly shifted the paradigm. Go do a check and see what is the most suitable time for you to be sending emails!
The best thing you could do is do some research on your current subscribers to help you get the best time to send your emails. You could try different times of the week and different times of the day to determine the point at which you'll get the best open rates.
2. Subject lines
Subject lines are essentially the headlines of your email marketing campaign. Therefore, it pays to have the best and most attention-grabbing subject lines you can muster. There are five tips you could use to communicate and catch the attention of your customer.
However, ensure that the subject line aligns with your brand; otherwise, your email may seem suspicious and spammy Communicate urgency
Creating urgency compels customers into action. It works great because it makes your subscribers feel like they're being left out, which in turn propels them into action. However, you should be careful to use this trick quite often since it may feel irritating to your customers if overused.
Adding a bit of mystery to your subject lines creates an open-ended chain reaction in your subscribers' minds, which pushes them to want to read more about the email. It would help if you used cliffhangers to pull your subscribers into reading your emails.
Don't be afraid to be controversial.
Being controversial makes your emails stand out. It makes the emails look more unique and different from the other emails that your subscriber reads, which may pique their interest and convince them to read your content.
Getting personal helps to connect you to your subscribers through your emails. Using your subscriber's name in your emails helps them connect, which can, in turn, boost open rates by 10 to 14%. The more the personalized emails you send, the higher the chances are that you will increase your conversion rates.
Tell your subscribers exactly what's inside the email.
You should cut the chase and tell your subscribers exactly what's inside the mail. The reason behind this is that your subscribers are most likely very busy, and they have to share this time with you, their family, friends, and even their job.
Cutting to the chase helps them make a quick decision, and considering the number of emails they receive daily, they'll be glad you did them that favor.
3. Link anchor text- Does the CTA button work better in an email?
Anchor text refers to the clickable text in a hyperlink that can be used to redirect your subscribers to your website from an email. The anchor text can be quite handy since they help your subscriber seamlessly move from their inbox to your website.
It would help if you made your anchor texts visible to your subscribers to increase their chances of clicking the link. The anchor texts should also have visible information on exactly where they are going to redirect you to.
CTA, call to action, buttons could also be a valuable asset to your email campaign. After reading your email, there is a 28% chance that the subscriber could go ahead and click the CTA button. You won't have anything to lose if you add it to your mail.
4. Topic and content
Your topic and content are the backbones of your whole email marketing campaign, and as such, it should be treated accordingly. Your topic should be catchy since it can attract your customers and influence them into reading your email.
If you are at a loss on what to be sent for your email marketing campaign, you can look for newer and trending keywords using the Trending Searches feature in BiQ's Keyword Intelligence.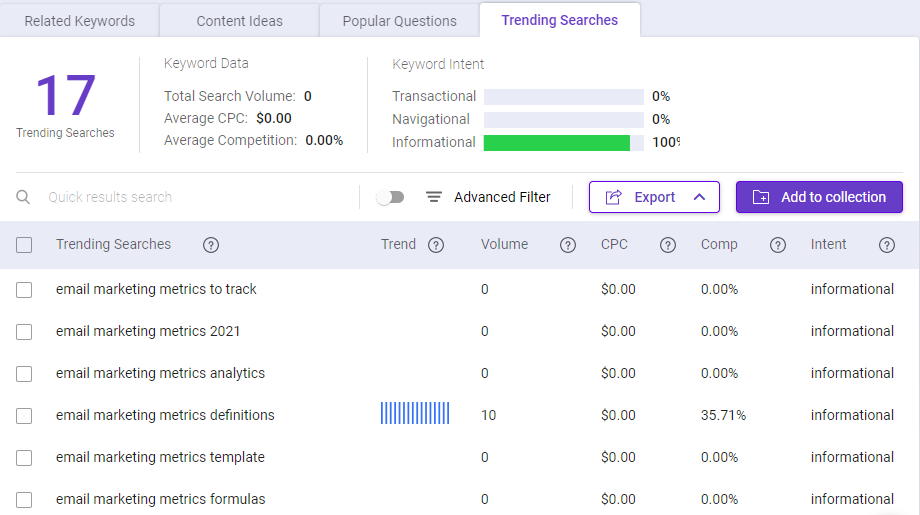 Trending searches show the latest keywords or topics around your selected keyword. It helps you discover what trending searches people are searching for online.
At the same time, use the Content Ideas feature in BiQ's Keyword Intelligence to quickly find ideas that will make great blog posts, which will keep your readers coming back for more.
Enter your keywords or phrases, and this tool will come up with a list of content ideas that you can use to prove a hit with your readers.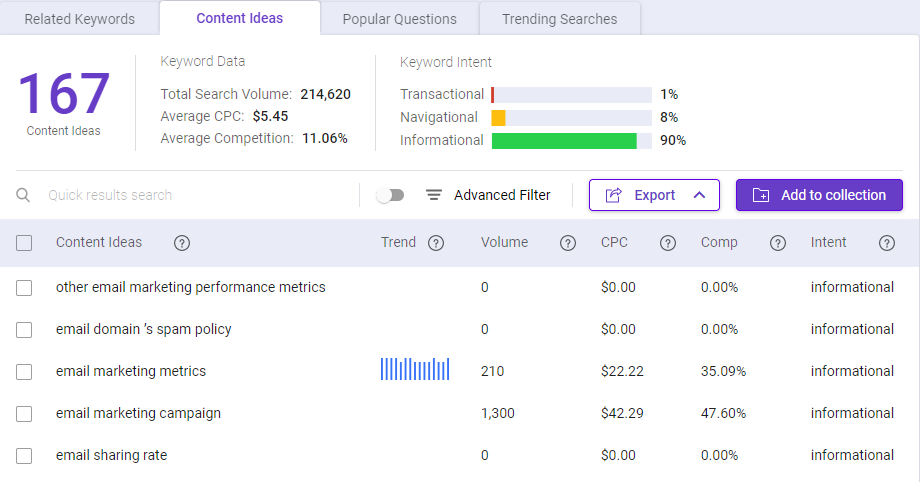 The best part?
All keywords come with a set of vital metrics that you can use when deciding which topics you want to focus on.
For example, you can use the search volume to determine a 'demand' for the topic. At the same time, the trends tell you if the topic is emerging. Keep an eye on what's trending to capitalize on it to get engagement.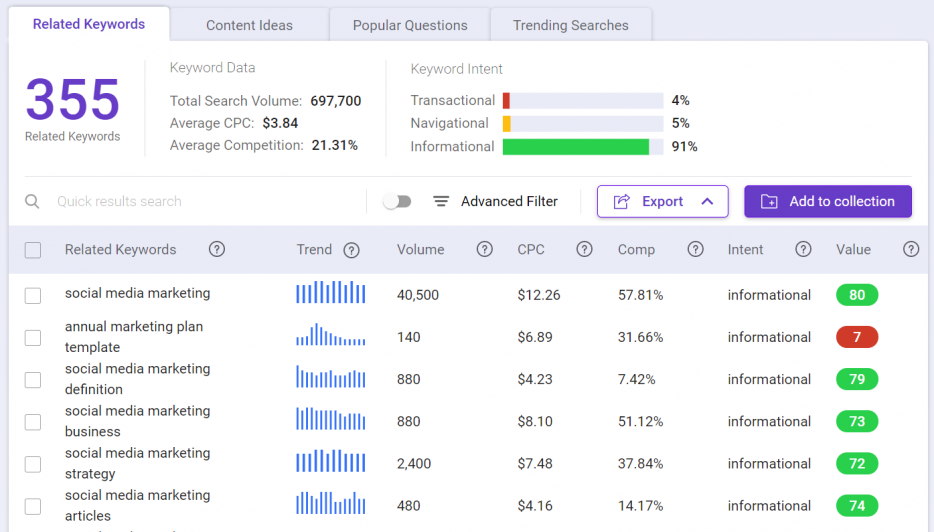 Always ensure that your emails have relevant and engaging content that your subscribers can enjoy reading, sharing, and even coming back for more. Strengthening these two sections of your email marketing performance could go a long way in helping out your conversion rates.
Conclusion
As you can see, there are tons of factors that determine how effective your brand's email marketing is. You've got everything from basic deliverability and open rate to more advanced email metrics that impact profitability like conversion rate.
Getting a firm grasp of the important email marketing metrics now will prepare you for maximum conversions and higher engagement levels.