Cornerstone content is crafted text so compelling, other brands and customers are more than willing to link to it. Learn how to write great cornerstone content in just 6 steps.
Imagine for a second that a prospective client arrives at your website.
This person doesn't have any idea what your cornerstone content is or what it's talking about.
Remember, this is an important prospect client.
Picture this single visitor could make a significant difference and determine your brand's success or failure.
What do you do?
Any brand that invests in content must have between three to five flagship content that anchor the rest of the website's content.
Remember, cornerstone content is crafted text that's so compelling and comprehensive that other brands and customers are willing – even excited – to link to it.
Do you have such content in your arsenal?
If you do, that's excellent.
If you don't, you've come to the right place.
The entire concept behind cornerstone articles is establishing your website as an authoritative and credible website in your niche.
Therefore, you can use it to make the rest of your blogs linked to it stand out and appear higher in the search rankings.
What is Cornerstone Content?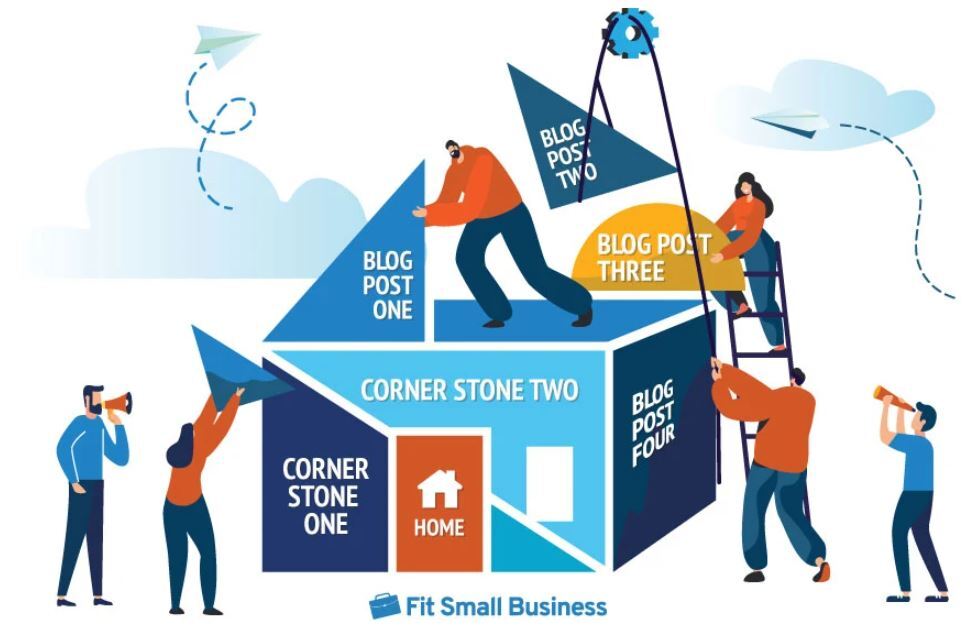 Cornerstone content (cornerstone articles) are those important pages of your site.
These are the most important web pages that appear right up there alongside your "Home," "Contact Page," and "About Us" page.
They are the top three or five articles of your website that define your website's main focus.
They are also among the top web pages you'll want new prospects to your website to read.
Most cornerstone contents are typically long-form blog posts that function more like guides than regular posts.
Their main objective is to explain your niche's key concepts in-depth and spark numerous sub-topics in your readers' minds.
Think of it as the foundation on which you can create relevant and useful articles around.
All (or most) of your other content should relate to one or more of your cornerstone articles.
It's also important that you link back to your cornerstone post, so Google and other search engines know it's important.
Your primary objective for creating this content type should be to get better rankings for your focus keywords and target better rankings in the SERPs overall.
And a well-written and established cornerstone article helps make this possible.
Benefits of Cornerstone Content
Cornerstone articles play a critical role in any SEO strategy.
It can be difficult for startups or SMEs to tank for some of the very popular search terms.
Therefore, a cornerstone approach might be just what you need to gain a competitive edge over your competition.
Besides improving your rankings in the SERPs and overall keyword rankings, cornerstone content also has other benefits your website can enjoy just as much.
1. Increase Traffic
When your content solves most of your users' search queries, it will help your website rank higher in the search engine results pages.
Ideally, your cornerstone content should answer most of your searchers' queries, which consequently enables you to create immense traffic flow into your website's marketing funnel.
People love reading content they can relate to, adds value to their lives, and solves their pain points.
Cornerstone articles are meant to be the pillars of your website that meet all these criteria.
After all, a happy customer is more likely to visit your website more frequently and even subscribe to it.
2. Link Building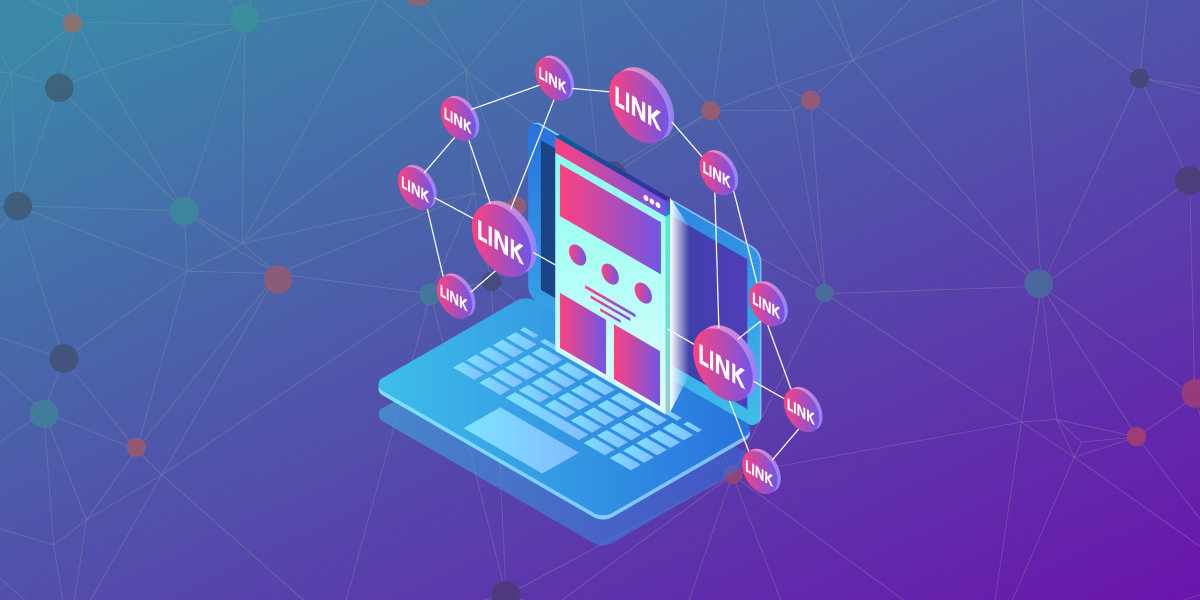 The more informative and comprehensive your web pages are, the better your chances will be of getting backlinks from bigger and more authoritative websites in your niche.
Cornerstone articles are quite effective for attracting other relevant sources to link to.
After all, link building for SEO is one of the main reasons for writing great content.
It helps expand your reach and influence to an even wider target audience.
Therefore, pillar posts rich in information won't only be regularly linked internally but will attract lots of backlinks.
3. Establish Authority
Upon selling your content, users will start considering you as an expert on the topic, thereby increasing your brand authority.
The secret lies in crafting your pillar content wisely.
You want it to serve as a guide for everyone who visits your website.
In turn, visitors will be more inclined to share your content on their social platforms.
Google, Bing, and other major search engines will also consider you an authority website and boost your rankings.
Tips for Great Cornerstone Articles

Ideally, you should do extensive keyword research on what you intend to write about before you start typing.
This will help you generate an excellent, long, informative, and well-written cornerstone masterpiece.
However, if you've already written hundreds of blogs, your work becomes a lot easier as you've already got most of the tools you'll need to draft the best cornerstone content for your audience.
Here's a cornerstone content strategy that will help you develop pillar posts and get them to rank well in the SERPs.
1) Keyword Research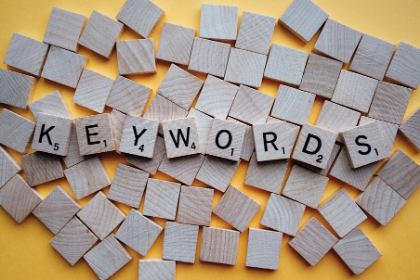 Of course, keyword research is a critical aspect of any content creation process.
You may already have a great topic idea in mind.
However, even the best and most perfectly crafted content might not get to the desired audience without extensive keyword research.
As such, you'll want to be sure your content has a healthy keyword search volume since keyword volume shows the interest and demand levels of certain keywords.
Therefore, if a lot of your prospects are searching for your keyword in Google, you stand a much better chance of capturing that traffic.
Extensive SEO keyword research also helps you create a great first impression of your website and brand.
However, if your website is new, you'll need even more extensive and in-depth keyword research to determine the best focus keywords your site should rank for.
BiQ's Keyword Intelligence is the best SEO tool you can use to help you choose the right keyword phrases for your cornerstone content.
With Keyword Intelligence, you'll have critical insights on keyword volume, keyword competition, trends, related keywords, and more.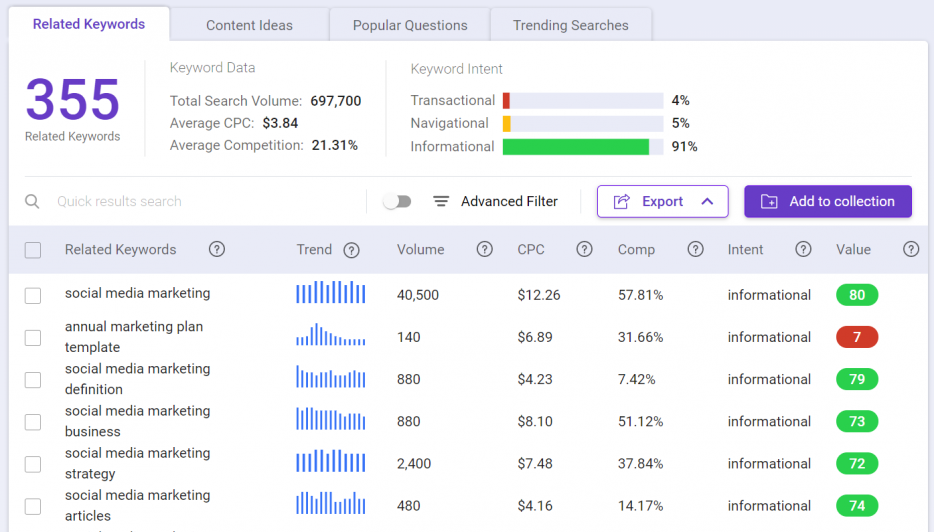 BiQ Keyword Intelligence is the perfect tool to help you determine why online users might search for a particular keyword in the search engine.
You can use this data to plan your pillar post in such a way that it meets your searchers' needs.
2) Write Your Content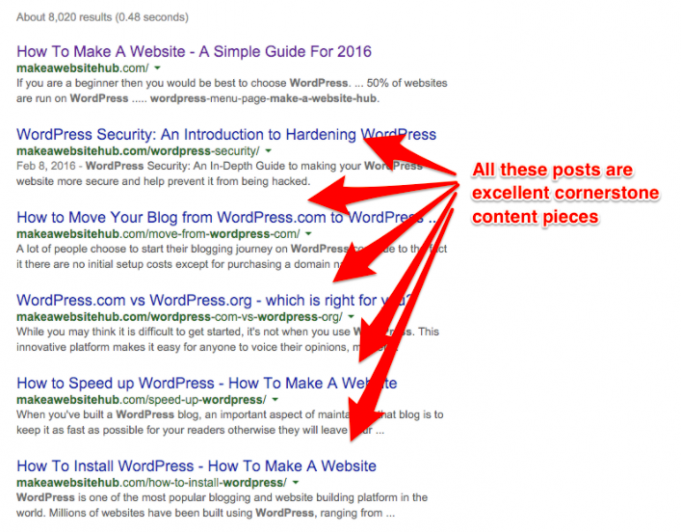 Now that you've got your keywords ready, it's time to roll up your sleeves and create your content.
This process will look different depending on the topic and format you're using.
It also depends on your website niche and industry.
However, whatever you decide to write on, there are a few considerations you must keep in mind when writing your cornerstone content:
Quality matters – You're staking your reputation on this content. Therefore, you must ensure that it's completely accurate, truly helpful, highly engaging, and really "wows" your target audience. Hire the best-talented content writers if you have to and get the job done right.

Quality encompasses several things – Your content must be visually appealing and easy to navigate. You want your searchers to have the best user experience navigating through your website, no matter what device they're using.

Use your keyword research – Remember to place those keywords you pinned down naturally in your blog post. Let the keywords define your content structure. They should be your guide.

Intent – Matching your searchers' intent is a crucial aspect of cornerstone content. Therefore, ensure you only tackle a topic you understand inside and out. It must also really and truly solve your searchers' pain points and get them to where they want to be.
BiQ's Content Intelligence is another great tool you can use to understand what's important to cover about your topic.
You never have to second-guess whether your topic is covering what your searchers are looking for or not.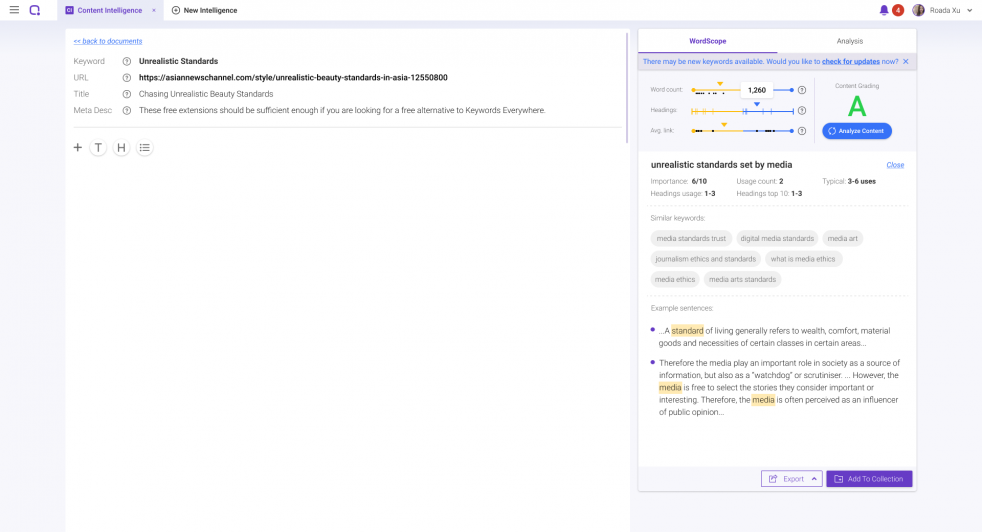 Better still, Content Intelligence gives you a breakdown of your focus keyword in terms of usage, example in sentences, and similar keywords.
In other words, it's the perfect tool to help you find the perfect topic and craft the perfect outline for it.
3) Title Tags and Headline
There's still a lot of debate among SEO experts about what strategies work and what doesn't.
However, no one disputes that title tags and headlines are crucial when drafting cornerstone articles.
Search engines are always looking for and present only relevant results to their users.
Therefore, your title tag should prominently reflect what your searchers are looking for and the words they use to find it.
Ideally, you'll want to speak back to your target audience using their own chosen words.
At the same time, you'll have to wrap up those same words in a compelling headline that promises to offer the best solution for your readers' pain points or answers to their questions.
Finally, writing the perfect headline will make it easier for other brands that like your content to link back to you.
It's critical that you add your keywords in your title tag and headlines to optimize it for SEO, as well.
Get this part right, and you're well on your way to creating the most effective cornerstone content for your website.
4) Spread the Word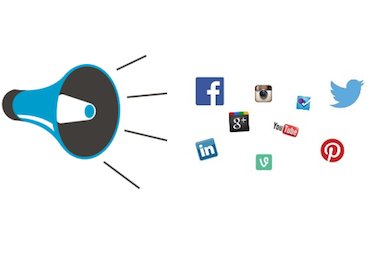 It couldn't make much sense to invest his much effort into your cornerstone articles then fail to promote it.
You want people to see your work. It should make a splash.
Make people know you're in town and have the best products/services to offer.
You must also note that, like with all things SEO, it will take time for your cornerstone content to start ranking in organic search.
This is particularly important if you're a new business.
Therefore, ensure you pursue all avenues available to you to quickly get your content in front of the right audience.
Some of the best avenues you can use include:
Email promotion – If you already have an email list, use it. Start by sending out a dedicated email to your prospects announcing your new awesome content piece. Such top-of-funnel emails often see remarkable open and click-through rates.

Social media promotion – Of course, you must open social media profiles on all the social networks where your target audiences are. But it will take a little more work than simply posting fresh content to your social media post. You must tailor your text for different social networks, focus on social networks that work best for your content, and share content more than once.
It's important that you set aside a significant sum to promote your blog posts on social media and ensure your targeted audience sees them.
Otherwise, all your hard work will have gone to waste.
5) Write Articles That are Related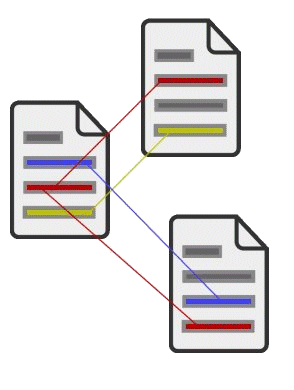 You already know that Google favors websites with lots of relevant and frequently updated content.
Therefore, you must invest in active blogging to ensure constant participation in your content creation strategies and social media platforms.
It's one of the best strategies to build your website authority and improve rankings.
Use links in your blog posts, delve into related and specific topics, and reference your cornerstone articles throughout your posts.
When done right, you will have the perfect, natural, and well-crafted content that meets your users' search intent.
Don't go overboard.
But ensure you provide relevant context, especially when discussing advanced topics.
Your visitors should know and understand your cornerstone content basics to know exactly what your content is about.
BiQ Keyword Intelligence will help you with more content ideas to make amazing blog posts, keeping your readers coming back for more.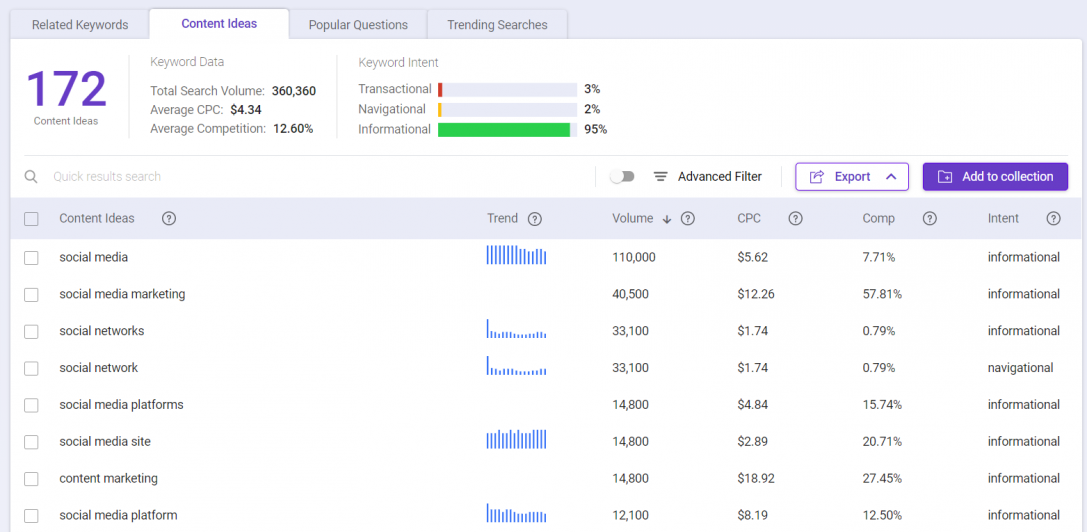 The Keyword Intelligence tool also comes with a set of vital metrics you can use to decide the best topics to focus on.
You can keep an eye on what trends are emerging and how to capitalize on them to get engagement.
6) Internally Link Your Content
Internal linking is the most overlooked SEO tactic.
But it's a quick win for websites that know how to use it.
Google uses web crawlers to crawl your website for web pages.
Tell Google that your new cornerstone content is the most important post on that topic on your website.
To do this, you'll need to link all your related blog posts to your cornerstone article.
Pillar pages that get linked severally will cause the content to be processed more than others.
The quicker you impress other potential link sources, the simpler you'll make it for them to follow through.
Conclusion
It's no secret. Cornerstone content can be intimidating to tackle.
It requires you to invest a lot of time and effort.
Neither is it a quick solution to improve your web rankings and site visibility.
However, cornerstone articles are meant to provide visitors with relevant, useful, and highly authoritative information that answers their search queries.
Once you've nailed that down, the search engine rankings will come naturally.
With that said, you should now have a better understanding of how to implement your pillar content.
We wish you the best of luck in your future SEO goals!