Looking for a better way to manage your SEO marketing and SEO campaigns? Here's a list of tools that cater to each part of the search engine optimization process to help further boost your rankings.
Using SEO to strategically increase traffic to your website and make your content more visible is often seen as a long-term process.
When it comes to using the right keywords to target the right audiences, your content would take some time before it actually ranks, and that can come with its own set of challenges.
For instance, the keywords used can vary over time, you may find it hard to get the most productive keywords. Or else, your content may be facing lots of competition from more established websites.
If you are wondering if there is any way you could make the process of managing your SEO campaigns a little more effective?
Your answer would be SEO management tools.
What are SEO management tools?
SEO management tools are primarily analytical tools you use to monitor and access information to get your website to rank higher.
The right tools will provide you with important tracked information such as traffic, backlinks, relevant keywords, etc.
Using this information wisely, you can optimize your SEO campaigns and strategy to make your website rank higher, bring you more traffic, and all-around bring about more conversions.
Breaking down SEO management tools
Since there are numerous SEO tools online, the best step you could take would be to break them down and understand their functions to see if they are a fit for you.
Doing this will help you understand each of these tools better, which could help you utilize them more effectively.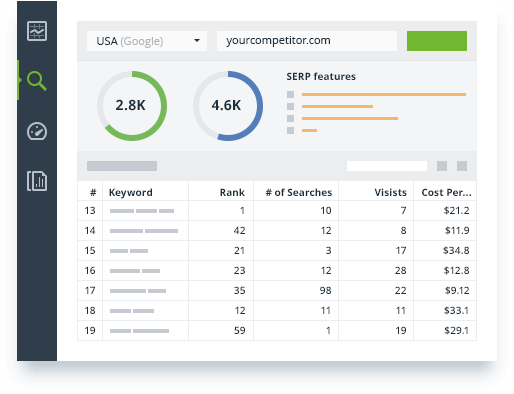 During your campaigns, you'll find yourself focused on keyword research, web analytics, rank checking, link analysis, etc.
Each of these sections is quite important to your success, and this is why you'll need to get the most appropriate SEO tools for each part of your SEO campaigns.
What types of SEO tools do you need to manage your SEO campaigns?
Here's the full SEO tool list and each of our recommendations:
1. Web analytics
Web analytics involves tools used to measure, collect, analyze, and record data that one can use to optimize web usage. Contrary to popular opinion, web analytics isn't solely used for measuring web traffic.
Instead, these tools are used to improve a website's effectiveness from a business and market research perspective.
In this aspect, Google provides you with two free web analytics tools that you could use to improve your website's effectiveness: Google Analytics and Google Search Console.
a. Google Analytics
Google Analytics is an SEO management tool that web admins can use to measure different aspects of web activity like session duration, bounce rate, pages per session, etc.
The tool is also used to measure the source of the traffic. You could use this information to ensure an adequate Return on Investment (ROI).
Analyzing your traffic
To analyze your traffic, you'll need to navigate to behavior on your Google Analytics console. From there, you could go ahead and choose to view your traffic and sources from your entire website, i.e., your content, landing pages, and exit pages.
Let's try to look at the traffic sources for your website's landing page.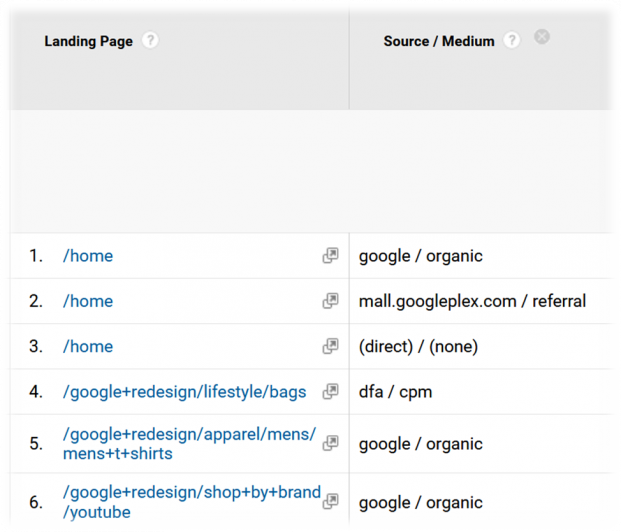 Go to the Secondary Dimension and look for Source/Medium under acquisition.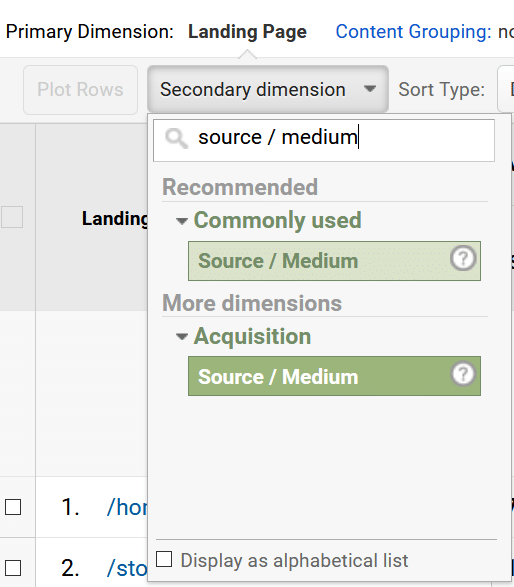 You'll get some results that include a list of your landing pages accompanied by your traffic sources.
The sources refer to where your traffic was before clicking through to your website. You'll also get results for the medium through which your visitors used to get to your website.
b. Google search console
Google's search console helps you determine your website's presence on Google's search results.
You could use this free tool to monitor, troubleshoot, and maintain your website and set it up to receive alerts whenever Google encounters spam, trouble with indexing, etc.
You could use Google Search Console to determine what keywords your content is ranking for.
You could sort these keywords out and choose keywords that have high impressions but have few clicks. You could optimize these keywords and include them in your content strategically to rank higher.
2. Keyword research
Keyword research involves researching and analyzing your target audience's words or phrases whenever they search for any content on the internet.
It is a crucial step in audience analysis since it helps content creators accurately strategize and deliver content to huge and more appropriate audiences.
The more suitable the keywords you add to your content, the higher the chances are that you'll get more relevant traffic that is more likely to convert.
What tools can you use to ensure that you get the most appropriate keywords?
a. BiQ keyword intelligence
BiQ SEO suite is an SEO tool equipped with various tools that you could use to improve your content and boost its position on Google's search index. One of the modules designed for keyword research is BiQ's Keyword Intelligence.
Using BiQ's keyword intelligence, you could perform your keyword research and get data on keyword volume, related keywords, keyword competition, and so much more. What makes this tool stand out from the rest of the tools is its keyword analyzer feature.

The tool provides you with the keyword's search intent: the user's intention for searching for a particular keyword.
You could use this information to develop the most appropriate keywords based on what you intend to do with your website.
If you have an eCommerce website, you could opt for keywords with buyer intent; however, if your website is informational, you'll be better off using keywords with informational intent. The tool also enables you to organize the keywords based on value.
High-value keywords have the potential to bring in more traffic to your website.
At the same time, you could also use BiQ's Keyword Intelligence tool to get content ideas. Go to the content ideas feature, and you'll find ideas that could help you create fantastic blog posts that your readers are more likely to be interested in.
All you need to do is enter your keyword or keyword phrase, and BiQ will come up with content ideas related to the keyword. You could sort this content out based on 'demand' or trends. Creating content right about when their trends are about to peak could help bring more traffic to your website.
b. LSIGraph
LSIGraph is an SEO management tool that visualizes the relationship between keywords, and it helps you increase how your content is related to your topic.
You could use this tool to generate long-tail keywords that could help make your content more visible and better understood by search engines.
For instance, with "avocado" as the main keyword, one can generate many more long-tail keywords that they could use in their title, content, meta description, etc., to make it more relevant.
But why are long-tail keywords so important?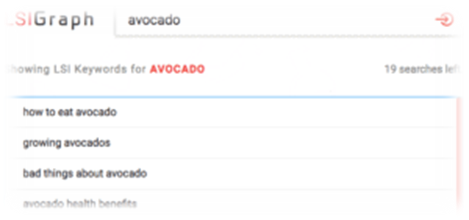 LSI is an acronym for Latent Semantic Indexing, and it simply refers to how keywords in your content relate to each other. LSI keywords are crucial since they make your content easier to be understand both by your readers and Google.
For instance, when you use the word 'apple' in your content, it could mean the iPhone brand or the fruit.
However, using LSI keywords could help search engines understand the keywords to place you in the correct search results whenever a user uses the keywords 'apple' in a search query.
Using these keywords increases your website's visibility on the relevant search engine results page (SERPs).
3. User experience
User experience is how your user interacts with your site and your aim should be to make it as seamless as possible.
However, the more you adjust your website and improve your target audience's user experience, the better your chances are for getting more conversions.
Web designers have done many developments to improve user experience, and more is still being done on the same. For instance, 50% of internet users expect pages to load within 2 seconds. Not improving such aspects about your website, you risk being left behind by more efficient competitors.
To improve your website's user experience, you could begin by improving your content's storytelling, adding more problem-solving tools, engineering a better relationship with your customer, etc.
Core web vitals, introduced in 2020, refer to a set of metrics that you could use to measure a website's speed, visual stability, and responsiveness. Recording, analyzing, and improving these metrics and more could help you get more users to your website.
Which tools could you use to analyze and improve user experience?
a. HotJar
Hotjar is an analytic tool used to collect qualitative data to offer website owners more insight into how people navigate their websites and what they experience while doing the same. When used correctly, the tool can be pretty invaluable.
Since HotJar deals with behavior analytics, the data it provides could help you improve user experience and, consequently, your website's ranking in SERPs. It represents this data as heat maps, illustrating how far users scroll, what items they decide to look at, and what they don't.
Using this information could massively improve your user experience. Google ranks websites with better user experience higher than those with poor user experience since users are more likely to come back to those websites later.
b. Google analytics
Apart from HotJar, you could also use Google Analytic SEO management tool to get more insight into user's experience while navigating through your website. You could use various metrics to determine whether your website ranks highly on user experience.
Using Google Analytics, you can measure different aspects of your users' navigation experiences such as bounce rates, average time on page, behavior flows, etc.
You could use Google Analytics's SEO tool to track the specific URL where most of your users land so that you can aim for maximum conversions from these points. You could also track your 'money pages' to get more insight on channels that provide valuable traffic to your website.
You could also track your visitors' time on your website and get to know if they're reading your entire content.
If you find out that they are not, you could try breaking down your content into smaller articles, convert them to simple eBooks that users could trade for some personal information, or convert them to video.
4. Rank checking
The ultimate goal for every web admin is to have their website rank first in their respective niches. Think of search engine results pages like real estate. The higher you rank, the higher your chances of getting more traffic and, consequently, more conversions.
After all, 36% of users click on results on the first page, and 75% of all clicks go to the first five results.
a. BiQ Rank Intelligence
To rank higher, you have to use a combination of several tricks. One of these tricks involves outperforming your competitors by using more relevant keywords.
To do this, you could begin by analyzing your content to discover keywords that you rank for using BiQ's Rank Intelligence.
Using these keywords in your content effectively could help you rank higher on SERPs. You could also use BiQ's Rank Intelligence to analyze your competitors and determine which keywords they rank highly for.
You could then go ahead and create better content using these keywords to outperform them by rank and come out as an expert in the niche.
This strategy will help reduce the content gap between you and your competitors and give you an excellent fighting chance in making your website more visible.
b. BiQ Rank Tracking

This BiQ Rank Tracking feature is quite crucial when you want to see how your keywords rank over time. Keeping track of your keywords can give you more insight into whether your competition may be stealing your keywords.
Being privy to this information gives you more time to prepare and secure your keywords before it's too late.
You could also take advantage of rank tracking to identify your keyword trends. You could then fortify your content with more similar keywords to help you get more traffic whenever they are trending. This could lead to more conversions.
5. Link analysis
Link analysis refers to a technique used to evaluate relationships between network. Simply put, it is a deeper analysis of that point back to your website and makes up your entire link profile.
Link analysis is used when you suspect that you have several wrong links affecting your rankings. To solve this issue, you could perform a link analysis to determine these bad links that you could then eliminate.
Link analysis can reveal serious problems affecting your website and its SERP. However, it can also be quite profitable. Performing a link analysis on your competitors could provide you with important links that you could work on adding to your website.
a. LinkMiner

Linkminer is a backlink checker that's relatively easy to use. The tool helps you find your competitors' backlinks so that you may try to replicate them.
Linkminer is designed to analyze your competitors and develop valuable links you could add to your websites to grow your rankings.
You only need to type in a valid URL and click on 'find links,' and get more than two billion results from crawled websites. The tool will analyze the links and filter them to produce links that are interesting and useful.
5. Content audit
Content audits refer to the content analysis done on a website or several websites and social media platforms.
The procedure involves systemic analysis and assessment of all content on your website, and the end goal is to find content that can be improved or repurposed.
a. BiQ content intelligence

If you want to rewrite your content to make it better or even repurpose it, you'll need to use a content audit tool to help analyze your post.
BiQ's Content Intelligence tool provides you with insights on how you could improve your content and make it better.
The tool helps you ensure that your content is SEO friendly, enables you to understand the essential details you'll need to cover, and fixes critical issues that hurt your ranking. BiQ's Content Intelligence also makes finding and using keywords easier by providing suggestions as you write.
The tool also provides you with analytical data that shows your content's performance helping you know when your content is good enough to be posted. This is a great way to create your content because it allows you to fix it before publishing so that you don't have to wait until after publishing to know how your content will rank.
Conclusion
Using these tools, you'll be able to work smarter and faster and improve your rankings in no time. You could apply these tools to your content creation process and website management at a steady pace, ensuring that you put all their resources effectively.