Today we'll look at how Campaign Creators used topic clusters and increased their traffic by 744%.
(In just 12 months)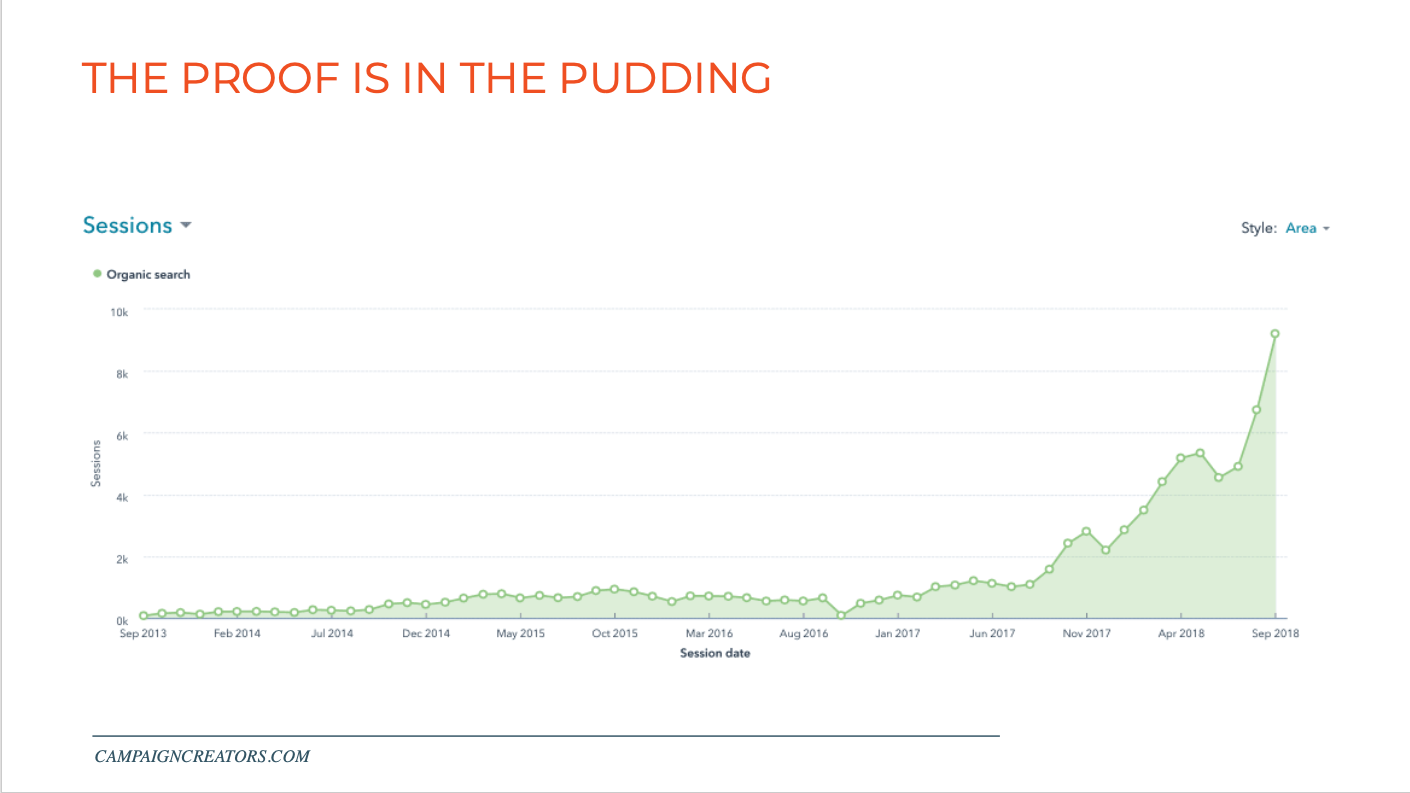 They used an easy and reliable content cluster strategy any business can benefit from.
You'll also learn everything about topic clusters – what is it, how to use it and why it is important.
It'll help you perfect your content strategy and rank higher.
What Is A Topic Cluster?
Topic clustering is a great way to help you organize your content.
A topic cluster is a group of interlinked web pages about one big topic.
There are three components to a topic cluster.
Pillar content – the main page that covers a big topic and links back to its subtopics
Cluster content – the sub-topic of a big pillar content topic
Hyperlinks – links between the cluster content and pillar content and vice versa
So, how does a real-life example of a topic cluster look like?
It's a long-form page about a big topic that also links out to a lot of other pages within the same website covering specific branches of that topic.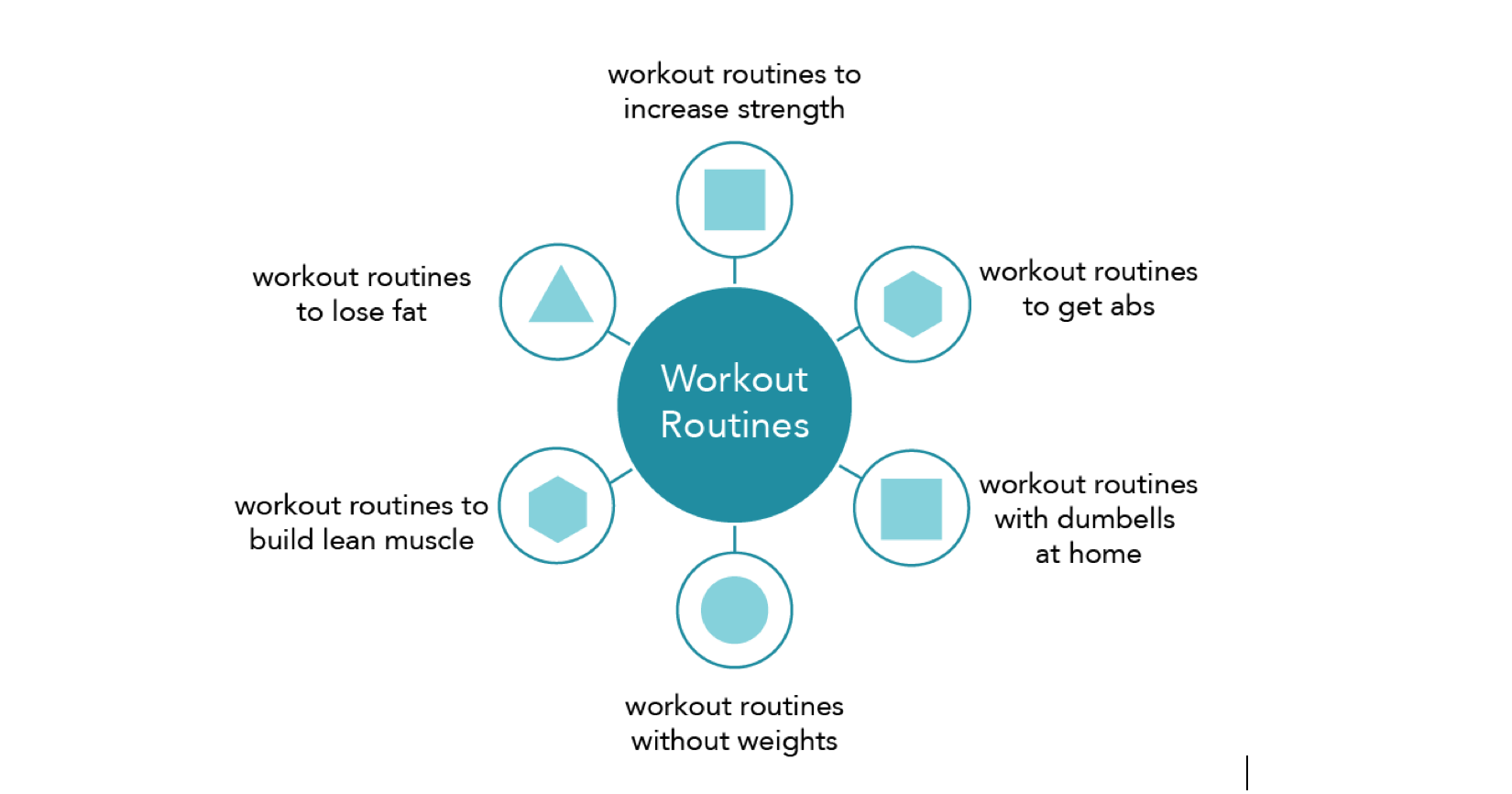 Basically, a topic cluster will serve everything you need to know about the topic right in front of you.
Why The Shift From Good, Old Traditional Blogging?
You might wonder, "Why the heck were pillar pages created?"
You're probably used to traditional blogging:
You have one webpage, where you have all your blog posts. But this is very unorganized and ineffective.
It's difficult to navigate through them all and your readers might not find what they are looking for (even though you have it on your website).
The precise reason why topic clustering works is because of two big Google algorithm updates.
Hummingbird Update 2013
It was much easier to rank on Google before the Hummingbird update.
The only thing you needed to do was using a whole lot of keywords. However, the resulting content was… most probably… trash (or at least not that good, by today's standard.)
There was keyword stuffing all over the internet and user experience was horrible.
That changed following the Hummingbird update.
The update was focused on providing a positive user experience and serving relevant content for searchers.
You can say Google went from a "keyword approach" to a "topic cluster approach".
The reason for the change in approach is simple – topic clusters provide a much better user experience to the searchers.
This also helps to distinguish Google from other search engines. Searchers can now enter a site and find all the information they need without having to go through numerous other websites.
RankBrain Update
In the past, if you typed the keyword to Google, it showed you search results that specifically included that keyword.
However, this changed following the RankBrain Update in late 2015.
RankBrain is a machine-learning algorithm driven by AI. It basically tries to understand the searchers' intent behind every search.
The best thing about it is that it focuses on the topic, rather than a single keyword.

If you type in "how to use marketing in business", you won't only see the results which include that keyword. Instead, RankBrain will try to understand why you searched for that keyword and show you the most relevant results.
In a nutshell, if you focus on a topic instead of a single keyword, traffic from multiple long-tail keywords will be pointed your way.
Why Are Topic Clusters Important?
There are 5 great benefits of using a content cluster strategy.
Increase Your Traffic
Topic clusters are great for boosting traffic.
You're not only showing your visitors every cluster content in a neat and organized way but also covering every area of a large topic.
That's how Campaign Creators increased their traffic by 744%.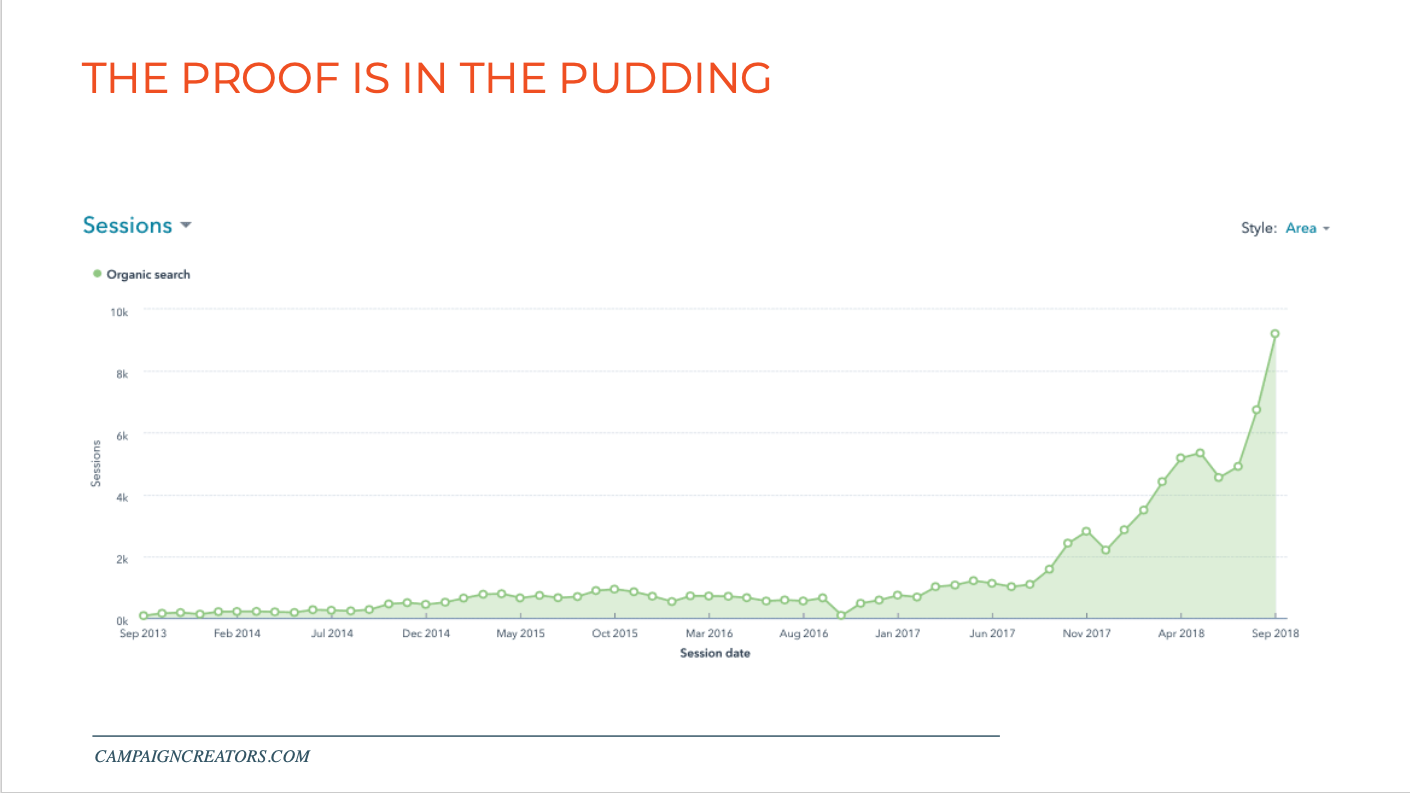 Scrolling through a topic cluster is a seamless experience and visitors will definitely find something that interests them.
Site Organization
Another great benefit is having organized content.
It'll prevent visitors from abandoning your site because they haven't found what they were looking for (even though you may have it on your site).
Everything will be neat and in place, providing a great user experience.
Serve All Types Of Visitors
Whether your visitors are looking to buy or just want to learn more, your pillar page should satisfy everyone's needs.
You should focus on all three main search intents.
Let's look at an example on a Keyword Research pillar page.
You can satisfy a customer at the bottom of the funnel, who's just looking for information about what is keyword research.
However, you should also satisfy a customer at the top of the funnel – looking to buy.
You can do that by selling your products – keyword research tool.
Build More Backlinks
Topic clusters are great for building backlinks.
Other websites will naturally want to link to you because you provide all there's about the specific topic.
It'll help you improve rankings and get more traffic.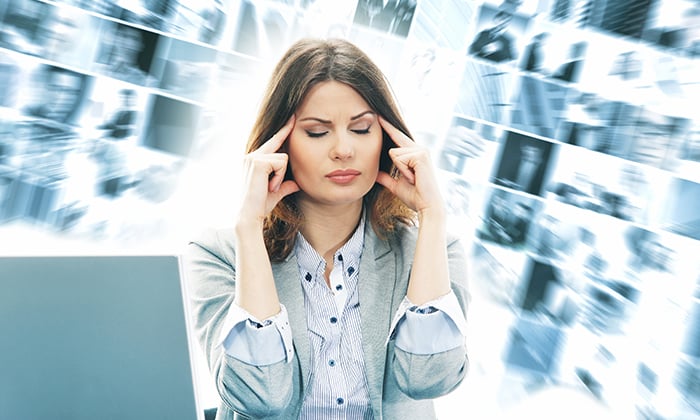 You can also use internal links to your advantage.
You'll build tons of them, between the cluster content and pillar page. Most marketers believe internal links aren't important though.
The chart below would probably change their minds…

Improve Site Authority
Lastly, it'll also help you become an authority site.
You'll create in-depth content and cover all areas of a large topic. It'll make you an expert in your field.
You'll gain lots of backlinks and become people's go-to.
The Best 8-Step Content Cluster Strategy
The best thing about topic clusters is that there aren't many out there.
You can see a chart below, most websites have less than 5 pillars on their site.
Most of them aren't in-depth though. In fact, 40% of pillars have less than 5 cluster content attached to them.
You can use that to your advantage and start creating pillar pages properly to drive traffic and increase sales.
Map Out Popular Topics
You must give your readers what they're looking for.
It's the only way to make your website relevant and show up in the search results.
Pick the main topic you want to write about. Ideally, it should be related to your brand and the products you sell.
You should then find out the most common questions and challenges of your main topic.
You can do that with two easy ways below.
Find the most common problems
Find the biggest challenges of your potential customers on places like  forums, social media or different research reports like the one below.
This is a handy report that summarizes the most common marketing challenges.
Include them in your topic clusters to solve the most common challenges of your target audience and be more relevant.
Find popular questions searchers have
You can do the same as above, but instead of looking directly for the challenges that they have, you can instead look at the questions that they're asking.
Go to BiQ Cloud Keyword Intelligence and type in the name of your topic into the search bar.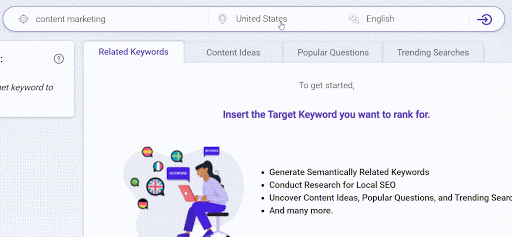 Hit enter and navigate to Popular Questions in the upper menu.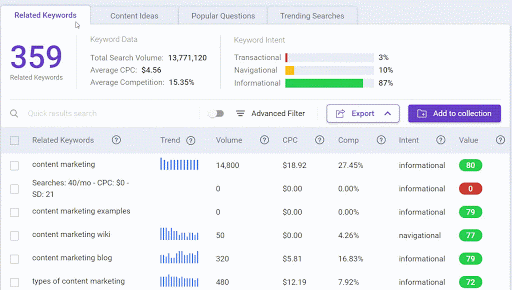 Find questions people ask and do the same as in the first step.
Group Problems Into Smaller Topics
When you look at data we have gathered from the report, and from using the Popular Question function of BiQ there are many different challenges and queries listed.
Let's look at a specific challenge we gathered from the data – gathering traffic and leads.
Including all the popular questions related to this specific challenge in one topic cluster isn't a good idea.
The problem with that is that there are many different large sub-topics like lead generation, lead nurturing and marketing technology.
It's better to be ultra-specific and create a topic cluster for each of them. You should divide your topic into smaller groups.
It'll improve the content organization on your website (listing all those things under one pillar page would be just too much).
Find Content For Smaller Topics
Let's say we want to create a topic cluster for content marketing.
How will we start?
We'll first need to find a list of related topics, which can be included in a cluster and then assign relevant long-tail keywords to them.
Find topics
Go to BiQ Cloud Keyword Intelligence and type in the name of your smaller topics.
I've typed in "content marketing" for example use.
You'll then need to navigate to Content Ideas in the upper menu.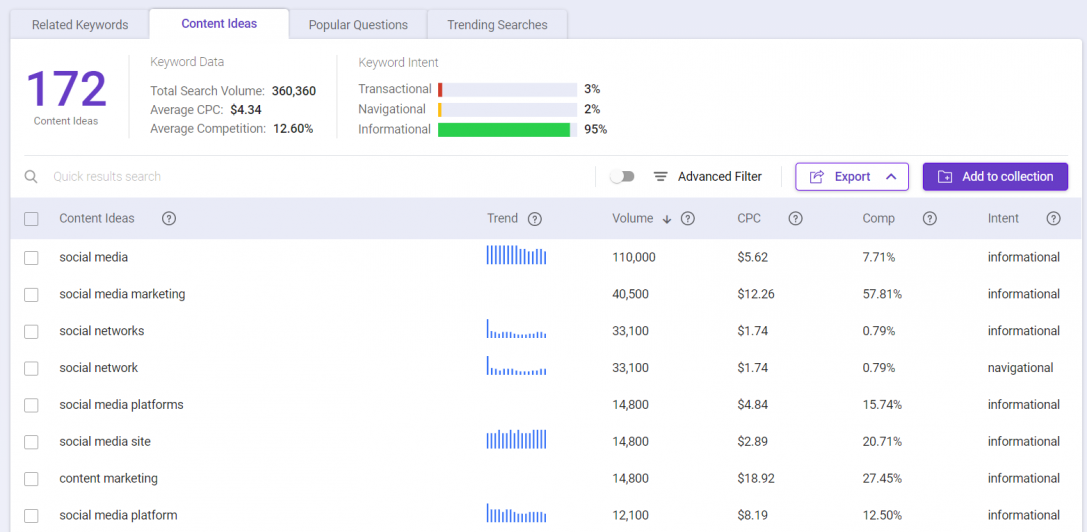 Voila, you now have a list of content ideas you should include in your topic cluster.
2. Find long-tail keywords
Switch to Related keywords in BiQ Cloud and find long-tail keywords with a good traffic-to-competition ratio.

Use them in your cluster content, but make sure they are relevant and are a good match to the searchers' intent.
Finding keywords can also help you come up with new content ideas.
Don't Forget About The Old Content
Creating content for pillar pages may seem overwhelming.
There are so many things you must cover. It'll take ages till you finish everything.
However, you can speed up the process by leveraging your existing content.
Create a list of all existing blogs on your website. Categorize them into different topics, so you can get back to them later when you'll be creating other topic clusters.
Create A Basic Pillar Page
Finally, it's time for action.
You should create a very basic pillar page about the main topic you picked in the first step.
It can look like the one below.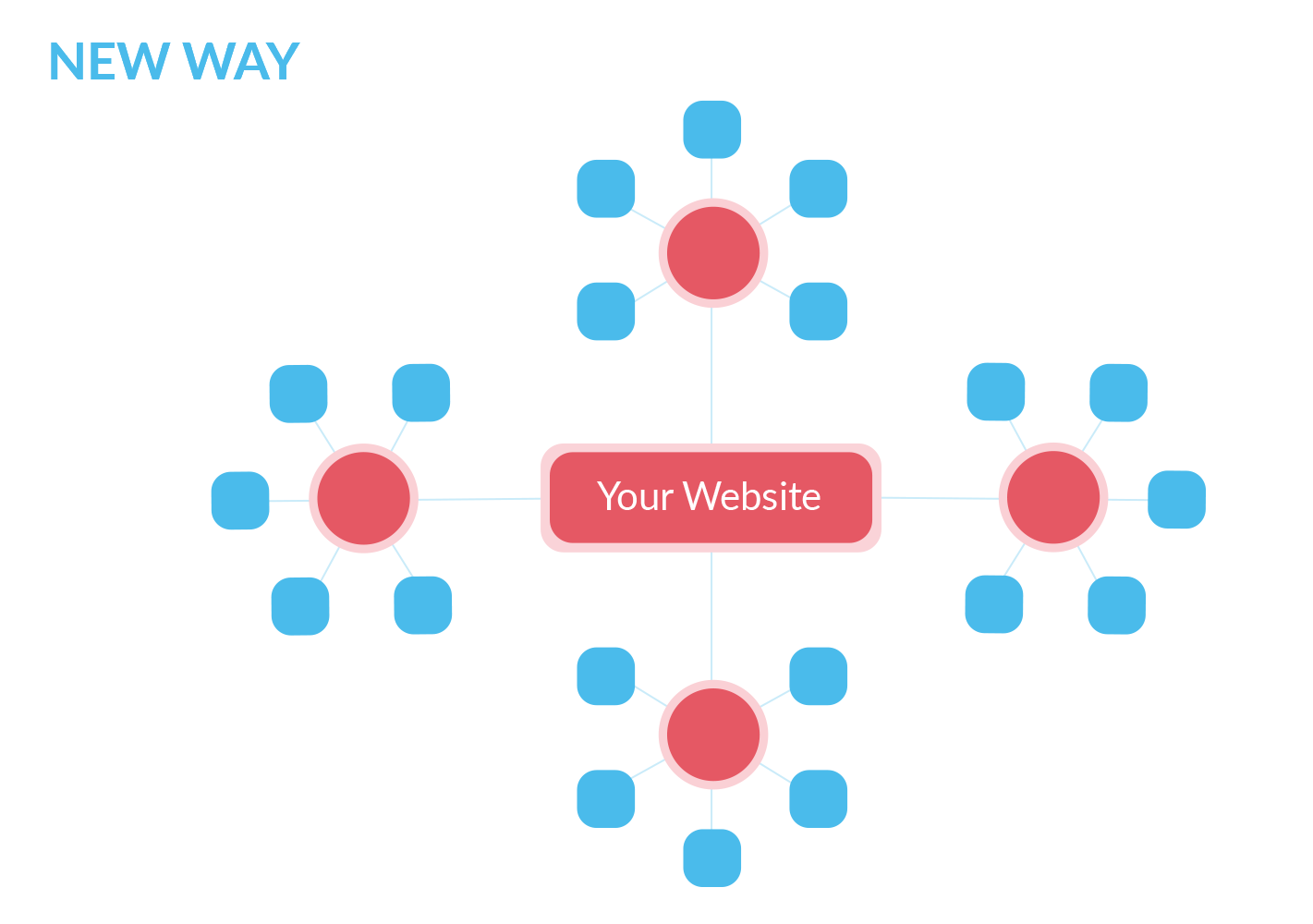 However, if that's too much, don't worry.
Creating a pillar page that looks like a table of content is sufficient too.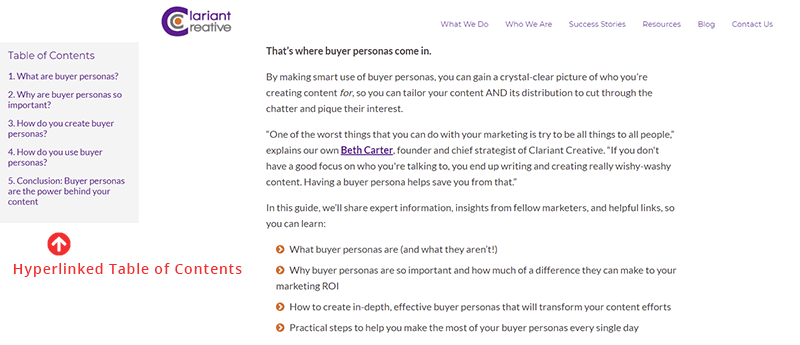 We'll be designing it and adding texts to it later.
Start Linking To Your Pillar Page From Cluster Content
You'll now have a lot of backlinks going from your pillar page.
However, you should also add links to a pillar page from each cluster content.
You should end up with something that looks like this.
Remember, you should link from but also to a pillar page.  Ideally, you should also interlink the different topic clusters for maximal efficiency.
Schedule Your Content Consistently
You must publish content regularly.
It'll help your readers know they can expect new content and check out your website. Which means a steady number of returning traffic.
It's also great for your traffic and higher rankings.
If you want to ultra-optimize everything, there's a certain day and time you should publish and promote your content.
But aside from this, posting content consistently can be a great sign for your readers that you're committed to your website.
Optimize Your Pillar Page
Now is time for all the fancy stuff.
You should make your pillar page visually appealing and add headings and descriptions to each section to provide a positive user experience.
Visuals will help your visitors grasp the concept better – improve your overall web design and build more returning visitors.
Images are pretty good, however, videos are the winner…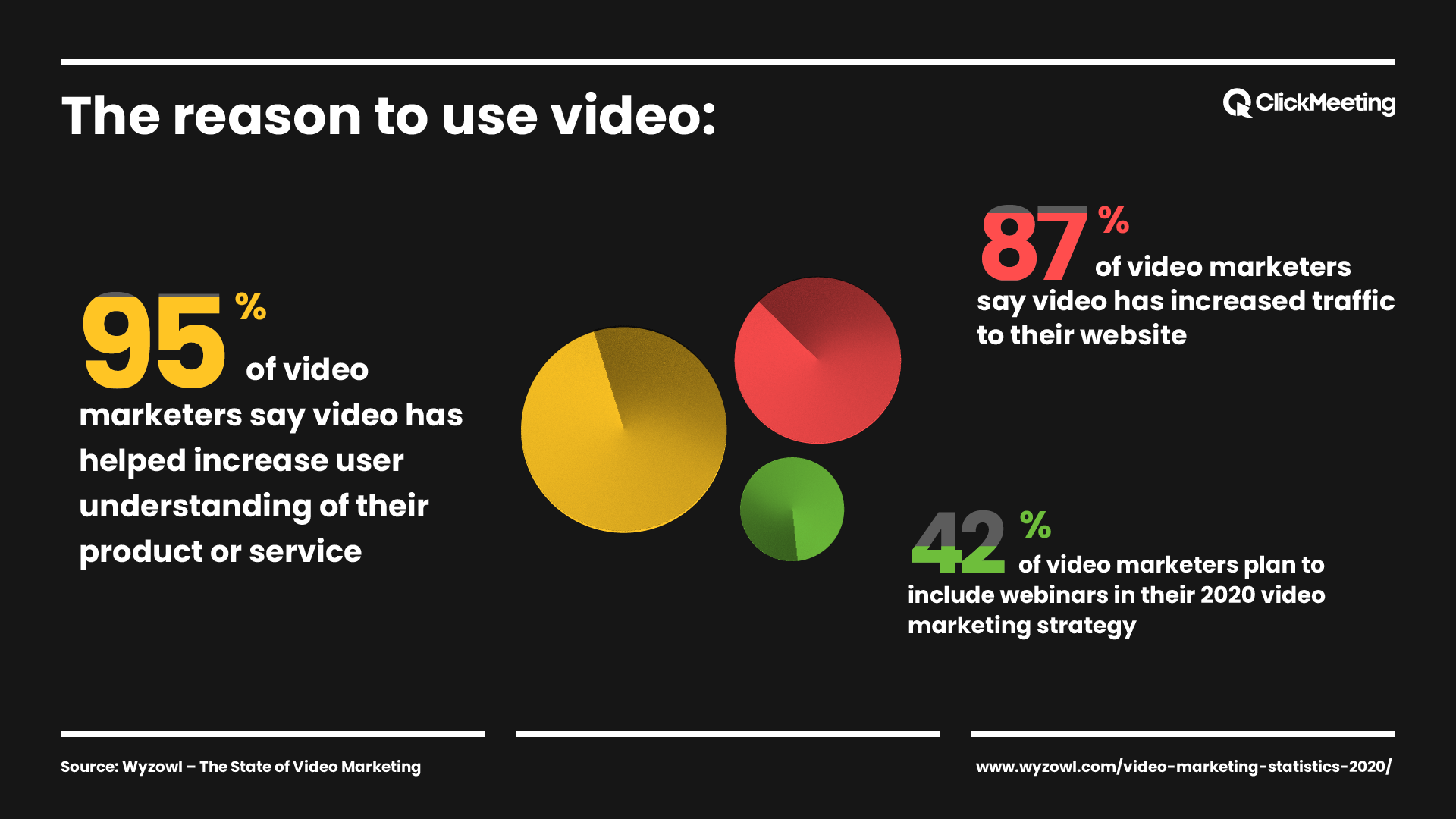 The last thing you should do is make your pillar page easy for skimming. That's how most people go through webpages…
A good example of a pillar page that's great for skimming is like the one below. 
It's neat, nicely designed and easy to understand.
BONUS: Create Pillar Pages For Subtopics
You can have a large topic in one of your subtopics.
A great example is email marketing.
It's a large topic, which can be easily transformed into a pillar page.
It'll help you produce almost endless amounts of blog posts, go in-depth on each topic and deliver what your visitors desire.
It'll establish you as an authority and skyrocket your rankings.
Don't Forget About The SEO
Creating a topic cluster takes a lot of hard work.
You must think about the content, structure, design and everything. However, make sure to not forget about the SEO.
You're creating topic clusters because you want to rank high, right?
Well, if you fail to make them SEO-friendly, you won't succeed.
You should look for things such as:
You can learn more about that in our technical SEO checklist.
It'll help you make your website SEO-friendly, rank higher and get more traffic.
Conclusion
Creating topic clusters is a fun way to get tons of traffic.
It'll improve user experience, establish you as an authority in your niche and help you build lots of backlinks.
We've talked about the 8-step process for making topic clusters properly.
Now, I'd want to hear from you.
What topic cluster will you start building next?
Or maybe you have some useful tips I haven't mentioned.
Either way, leave a comment below and let me know right now.