Dwell time plays a role in your ranking and site visibility. Most SEOs consider dwell time a ranking signal. Determine how best to increase dwell time to boost your SEO rankings and site visibility.
What does it really take to rank in the SERPs for a specific keyword?
What does it take to get on the first page of Google, much less the top?
You might not know this yet, but your dwell time may be the culprit here.
So, here's the thing.
Here's a high likelihood that you're making several mistakes in your content that send users running back to the SERPs.
Dwell time plays a critical role in your overall ranking and site visibility.
Don't let anyone tell you any different!
Sit back, relax, and digest this beautiful read.
Here's a comprehensive look at what dwell time is and why you need it.
What Is Dwell Time?
Ever wonder why some users take longer periods on your web page than others?
Well, this is what we refer to as dwell time.
Dwell time is the length of time an online user spends on your web page reading your content before returning to the search engine results pages.
Most SEOs consider dwell time a ranking signal.
But Google has yet to confirm this theory.
For instance, let's say you want to become better at skiing.
So, you google "skiing best practices."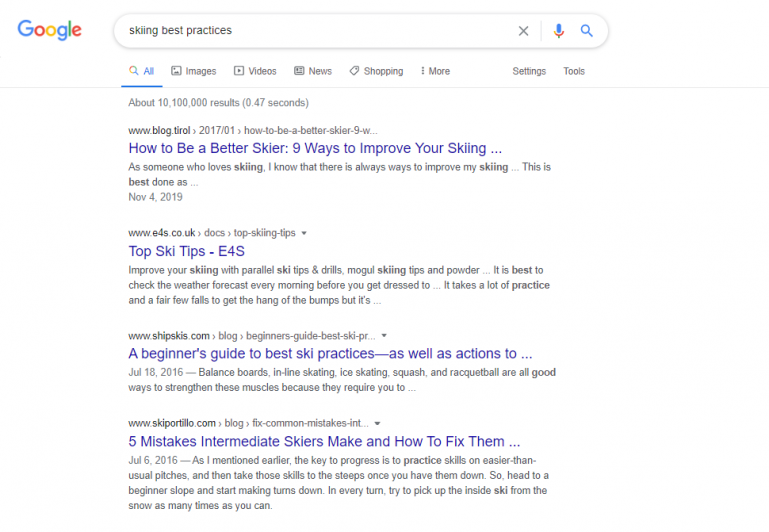 It's only instinct that you'll find yourself clicking on the results on the SERPs' first pages.
What if you click on the first result you find, but the web page is difficult to navigate?
Or the content is difficult to read?
The content on that page isn't useful either.
You wouldn't spend another second on that page.
You quickly hit back and click on the second search result.
It has great content, exactly what you were looking for, and more.
The website is easy to navigate, and the buttons are easy to use.
You take your time consuming every bit of content on that page and end up spending several minutes before pressing the back button.
Now, if other online users also spend more time on the same page, Google may factor this in its page rankings and promote it to the first result, bumping the #2 page regular to #1.
What would that tell you?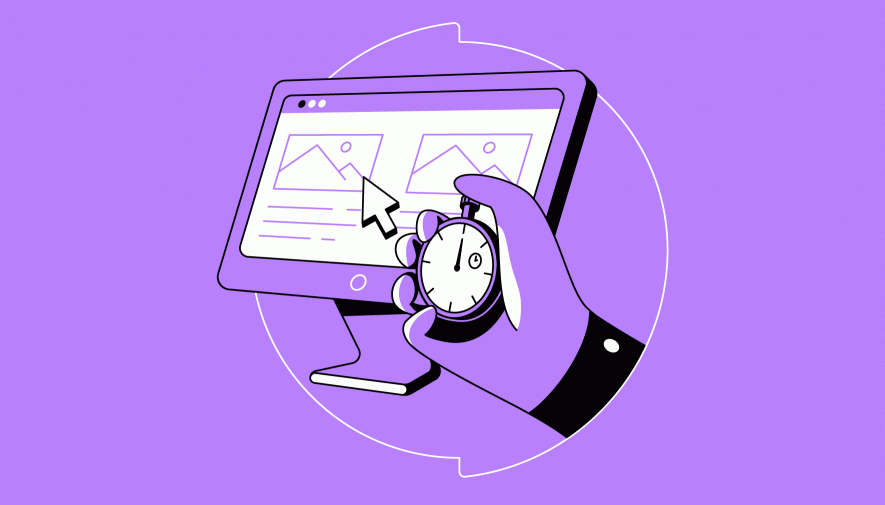 Although Google hasn't officially said that dwell time is a ranking factor, it's evident that it is.
Overall, dwell time is important as it tells content marketers if their content matches their users' search queries.
Dwell Time Vs Time On Page Vs Bounce Rate
As a content analyst, it's crucial that you know the difference between bounce rate and time on page and dwell time.
Here's a simple breakdown of the three metrics.
Dwell Time
As aforementioned, dwell time starts and stops with the SERPs.
This is the key differentiator from the other metrics on this list.
Time On Page
Time on page refers to the average time an online user spends on your page before returning to the SERPs or navigating to a different page.
Ideally, this could be anywhere.
It could also mean navigating to another web page on your website.
Bounce Rate

A bounce rate is when an online user visits one web page on your site and then leaves.
The bounce rate consists of a website's overall percentage on single-page sessions.
It can result from an online user going back to the SERPs or closing your web page entirely.
Whether they spend a few seconds or hours on a single page then leave, it'll still qualify as a bounce.
However, if the time on page is low, Google could take it as a sign that the user found the answers they needed quickly.
Which resulted in them leaving quickly.
The same is also true for bounce rate.
The user might've gotten all the details they needed after a quick scan of your website and decided to close the page.
On the other hand, dwell time is more telling.
If a searcher visits your website briefly and goes back to the SERPs, it could mean that they didn't find your website as informative as they'd have hoped.
In simpler terms, they weren't satisfied with the information they got on your web page.
So, what's a good dwell time?
It's anywhere between two to four minutes on a single page.
Google will consider anything less as poor dwell time.
But the precise number is always shifting, like many other SEO metrics.
How To Calculate Dwell Time?
Besides knowing how to increase dwell time, which SEO strategies to use, and which ones to avoid, you must note that Google Analytics doesn't record dwell time.
Therefore, you cannot measure this factor using the said tool.
Essentially, there's no dwell time calculation formula.
But don't despair as you can get a rough measure of your web page's dwell time using the "Average Session Duration" metric provided by Google Analytics.
This is the average time spent on your website by every user who lands on your web page.
You can use this step-by-step guide to determine your web pages' average dwell time:
Log in or sign up to your Google Analytics Account
Navigate to the "Behavior" section
Click "Site Content"
Click on the "Landing Pages" section
Create a "New Segment" that specifies you want to view only your "Organic Traffic"
Here, you will find the "Avg. Session Duration" metric
As with any other metric, average session duration allows you to determine what is working and what isn't.
For instance, say one of your web pages stands out for having over four minutes dwell time while the rest clock less than two minutes.
You can examine this page to determine what differentiates it from the rest.
It could be about more text, provision of an embedded video, or use of custom visuals.
You can use this information to increase dwell time on your other web posts.
But more on this later on in the post.
How To Increase Dwell Time?
Here's where the real work starts.
Understanding dwell time's meaning, and how you can calculate it is just half the task.
You must also determine how best to increase dwell time to boost your SEO rankings and overall site visibility.
Here are some excellent ideas we compiled for you.
1. Match Search Intent With Target Keywords
If you are looking to grab the number one spot on Google, you'll have to work for it.
As a result, you will need to make your content be the most relevant search query in an ocean of competitors.
That's to say, the content on your website must reflect the searcher's intent plus their reason for the search.
Google determines the most relevant results from millions of online users who've either stuck around pages or bounced.
In this case, the target keywords you use must be relevant and exactly what your users might use to find you or something similar.
There are four common types of search intent.
Informational
The searcher may use keywords associated with the 5Ws when trying to look for general information.
These can be anything from "how can I live my dreams?" "how old are the ancient pyramids?" or "when is the next NBA draft?"
Navigational
With navigational searches, the online user basically has an interest in visiting a specific website.
They already know where they intend to go.
They may find it easier to just google "YouTube", rather than typing Google's URL into the address bar.
Transactional
In transaction searches, the searcher is reading and willing to make a purchase.
They're either looking for the best website that offers the best price or searching for a specific item or service that's a better alternative.
These search examples can be anything like "athletic greens coupon" or "chipotles near me."
Essentially, knowing the right target keywords to use to reach your target audience is a crucial step for getting your products/services in front of the right people.
BiQ's Keyword Intelligence allows you to identify the searchers' keyword intent and use it to determine the estimated keyword intent percentages compared to its related keywords.
This keyword tool also allows its user to see whether the keyword has an informational intent, transactional intent, and navigational intent.

Keyword Intelligence provides you with critical information regarding your target keyword by identifying each keyword's intent.
Scroll through the results to have a better gauge of your audience's search intent.
With this data, you can better understand your audience and know which target keywords to use for maximum results.
2. Write Longer And Better Content
While it may seem logical enough, all long-form contents are relevant.
Sometimes, what you're writing about just doesn't have that much to talk about.
Which isn't a sin either.
But Google loves content!
If you can put more flesh onto your web page, it will favor you more.
Searchers will also spend more time on your page, consuming your content, thereby increasing your dwell time.
Usually, contents need to be at least 2,000 words in length to be considered long-form.
However, you must note that it's not just the quantity of words you use that matters.
Quality is just as critical, if not more.
If an online user finds a few subpar paragraphs on your web page, they'll quickly leave, thinking that the rest of your content is the same.
This will ultimately harm your dwell time and search engine rankings.
Need help creating content that can increase dwell time?
BiQ's Content Intelligence is the answer to your woes.
Content Intelligence provides you with critical data that helps you write content that's optimized for your target keywords.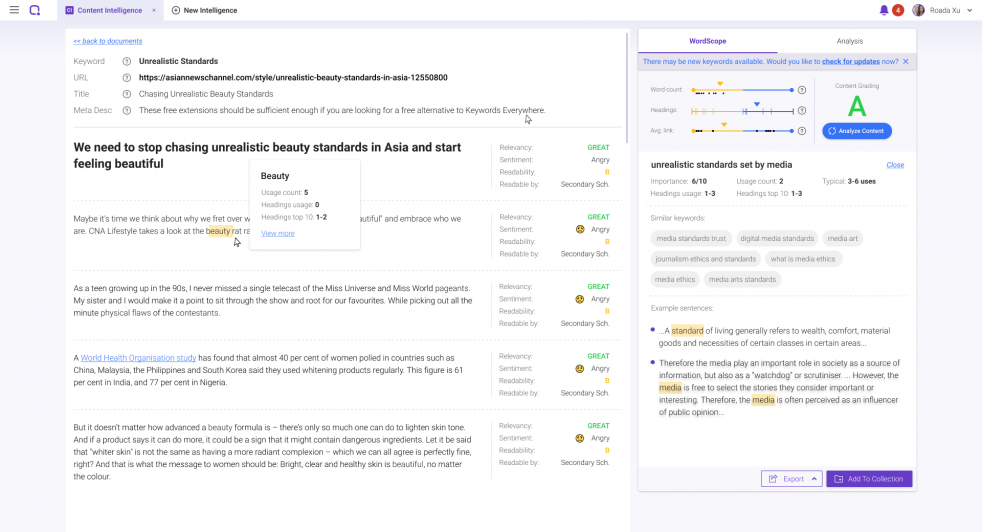 Assuming that you already have a great keyword at hand, Content Intelligence analyzes all keywords used in your content against the top-performing organic content in Google.
It also gives you a breakdown of your target keywords in terms of usage, example sentences, and similar keywords.
This allows you to be strategic about your keyword placement and avoid overstuffing keywords.
3. Enhance User Experience
Ultimately, Google's primary objective is always to enhance its online user experience.
That should be your main goal too, if you want to increase dwell time on your website.
Besides breaking up your content with subheadings and short paragraphs, here are a few other strategies you can use to make your web page more accessible and user-friendly:
Reduce load time
Create mobile-friendly pages
Use scannable content
Test browser compatibility
Use clean coding
These are some best practices to use in your web pages to make your content more user-friendly.
Remember, the easier a visitor can navigate through your content and read your information, the longer they will stay on your web page.
4. Add Embed Videos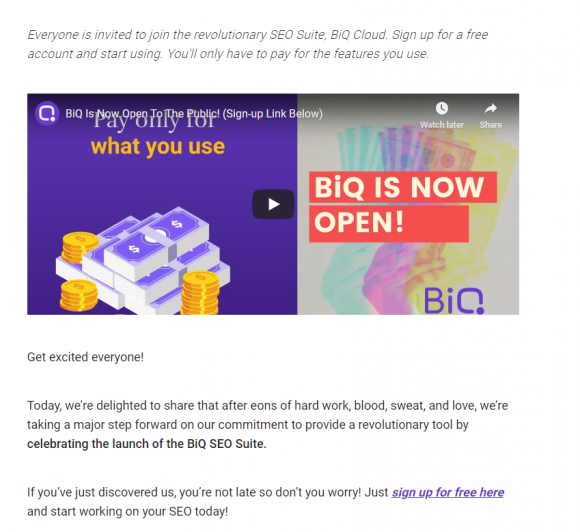 Video has established itself as a critical metric primary ranking factor used by Google.
People also just love videos.
Supplementing your written text with videos is also an excellent way of breaking the written content monotony.
Users also feel more engaged with videos than with written text.
Most people are more inclined to watch videos, which often last a minute or two.
This automatically keeps visitors lingering on your website longer.
That's to say, if they watch the entire video, then they'll have stayed for the duration of the video.
Thereby increasing dwell time on your website.
5. Have A Comment Section
Comments put users in an active role.
By allowing your users to actively engage with your platform, you'll be keeping them on your web page longer.
Don't just open up your comments section and walk away.
Ensure you check in regularly.
Respond to users and spur further engagement with your visitors to boost time on page.
Comments rank as one of the best user engagement metrics that contribute to website success.
So, maximize its use and engage your visitors more.
Conclusion
As an online business, improving your dwell time depends on several factors.
At first, it might seem like a daunting task.
More so, when you have to factor in all these metrics just to increase dwell time on your website.
However, most of the tools and tips mentioned above are readily available and easily accessible.
You just need to exercise patience and dedication.
Remember, climbing Google ranks isn't easy.
It takes time.
You'll get there eventually.
The secret is getting your audience to stick around and, afterward, trying to convert them.