Since Youtube can't "read" your videos, these 8 effective Youtube SEO ways to optimize Youtube videos will get your content seen by many and enables you to rank high.
The world is being dominated by videos, finding effective ways to optimize Youtube videos should be on your to-do list.

From the start, business owners and entrepreneurs saw the potential of Youtube for business.
They realized that people from all walks of life love videos. A lot.

But why Youtube?

Well, the obvious benefits of Youtube for business were: the platform offered a video-hosting service, a social network, and a search engine function; all-in-one. Just so you know, Youtube is the 2nd latest search engine in the world, with roughly 22 billion monthly visits!

The power of Youtube was further strengthened in May 2007, when they debuted their Partner Program. This allowed users to generate revenue based on the AdSense advertising model. The concept was simple: upload a video, get lots of views, and earn some money.

From then on, Youtube was incredibly well embraced by consumers but when it comes to businesses, many were facing challenges trying to get hold of Youtube marketing. Several reasons that could contribute to the failure to launch:

A lack of creative talent to produce engaging videos
Fear of being in front of the camera
A misunderstanding of the site's purpose believing that it is simply a video-hosting site
Unable to clarify a marketing strategy that will work on Youtube
Inability to embrace new online video standards
BiQ started Youtube not long ago. When we first started out, we didn't understand all the potential that Youtube held for our business but we wanted to make videos that could promote BiQ and let our brand be known to the mass audience.

We understood that videos could help us get it off the ground. These days you need to create content that spreads awareness of your company and builds affinity for your brand.

Most of us would start off like this: Create an interesting 2-3 minutes video, embed it along with our blog posts, share them on our social media accounts – to name a few. These seemed like a fairly good way to create some noise and get people to engage with our products.
Yes in some ways, but there's more than what you see beneath the surface.

Our channel isn't very well-known, we just started not too long ago, and our industry isn't exactly "exciting." Compared to our top competitors, our subscriber count is microscopic. But to date, we've gone through some trials and errors along the way.
Although BiQ's Youtube is as young as a toddler, we're confident enough to be sharing with you all we know to optimize Youtube videos and get seen.

8 Effective Ways To Optimize Youtube Videos And Get Seen

When optimizing your videos, these are the few things that you have control over that can influence your ranking and views. Follow these eight ways in ranking Youtube videos:

1. Find topics with traffic potential

Before you begin working on anything else, generate viable video topic ideas that will attract the right audience to your Youtube channel.

A good practice is to know what your audience is interested to explore. When you do come up with a content idea, do a quick Youtube search and see what comes back. Take a look at the returned results and decide if it's a saturated area or there's room for you to create a unique version.

If you have a basic topic idea, use Youtube to narrow down your search. Just type some keywords into the search bar and just like Google, the autocomplete feature will give you additional keywords that Youtube suggests.

Put importance on this step because these are terms people are actually typing on Youtube! If Youtube suggests those phrases, it is 100% a popular search term that you shouldn't miss out on.

Here's an example where I typed "LSI keywords" into the search bar and a list of topics was suggested to me.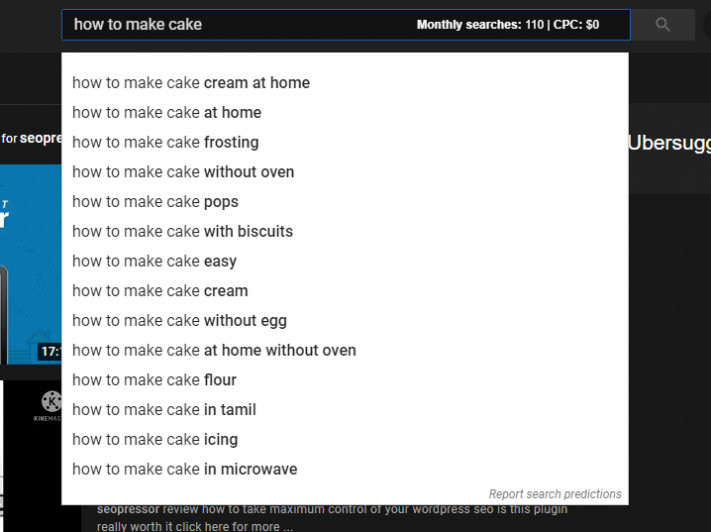 Upon researching, topics surrounding "LSI keywords" would get me focusing on explaining what LSI keyword is, use-cases, and featuring keyword tools as a good starting point.

2. Optimize Youtube title, description, and tags
(i) Think thrice about your titles
The first thing that draws users to your video is the title. That's often the crucial point where users will decide whether or not to click into your video. Hence, the title should be clear and concise that tells users upfront what they are going to get from watching the video.

Before you decide on your title, do your keyword research as you would when optimizing for your website. Take this to another level by using a free keyword tool: BiQ's Keyword Intelligence module, which will show you related keywords and trending searches that'll help you decide the best keyword to use for your title.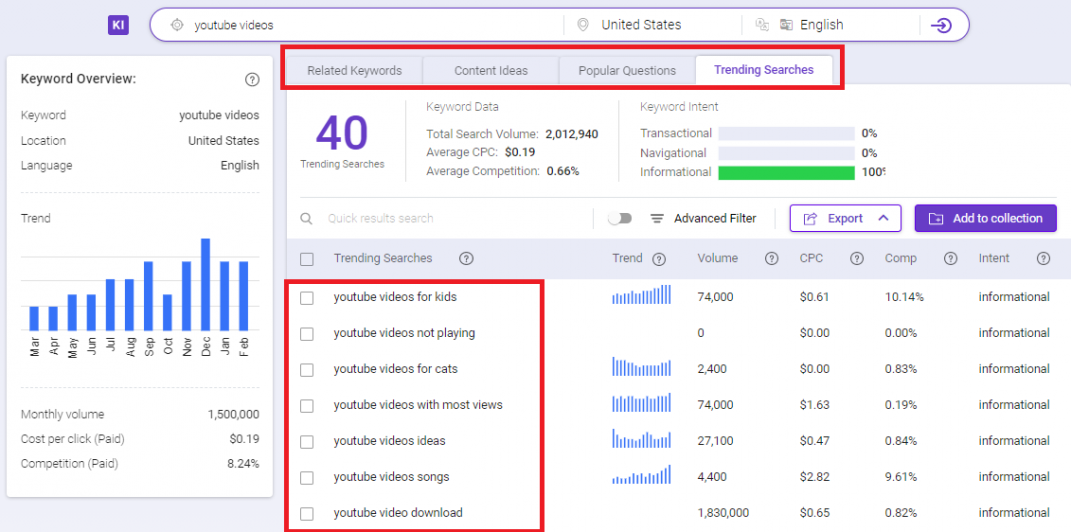 Your title should be 5 words long and like your blog post, putting your keywords in the front may give your SEO a little boost.
(ii) Have quality and rich descriptions
Most people make the mistake of writing only a few sentences for the video's description. But that's not the right way for something so important.

Instead, you'll want to include a long, detailed description so that users can get more insights into the video. This is another section that gives you the opportunity to include those relevant keywords.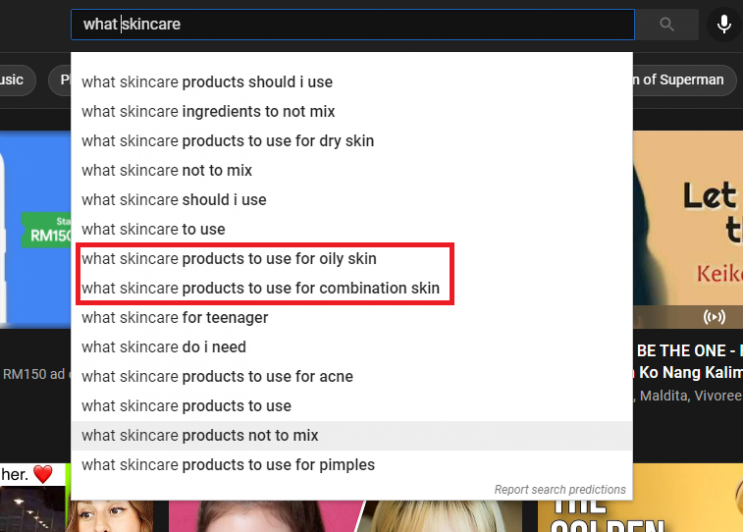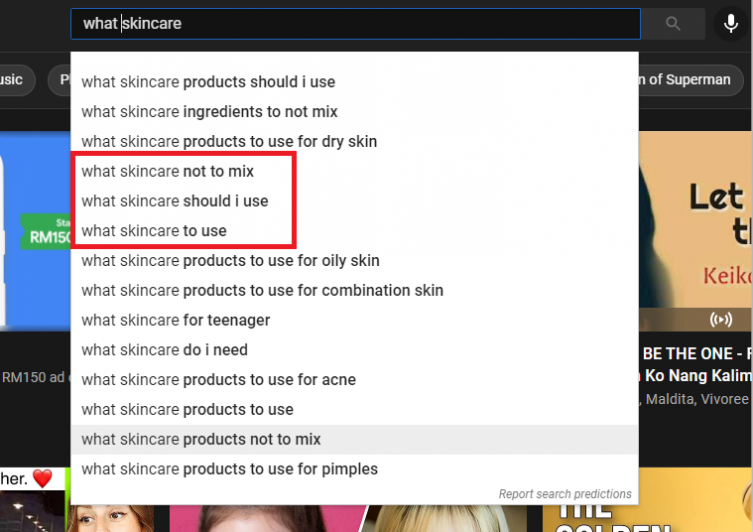 The general rule of thumb is: include your keywords in the first 25 words and make the description at least 250 words.
(iii) Don't forget your tags
Little do people know that tags are super important as part of the ways to optimize youtube videos and get seen. Youtube tags for views are words and phrases that describe your video and provide more context that helps people find your context easily.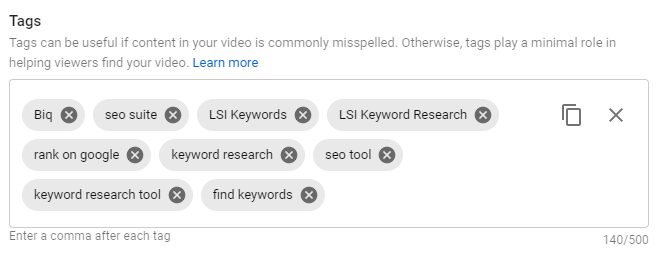 Of course, compared to your title and description, tags play a minimal role. Whether or not it truly helps, I think it isn't wrong to be having it as part of your optimizing strategy. There's no need to be spending too much time on this though, just keep these in mind:
– set your primary target keyword as your first tag
– add relevant keywords from top-ranking videos (I use Tubebuddy to spy on competitor's tags)
– don't go overboard with tags
– don't add tags to your video description

Here's a reminder once again, invest more time on your title and description and spend some on your tags. Your SEO will thank you for that.

3. Use info cards and end screens
(i) Info Cards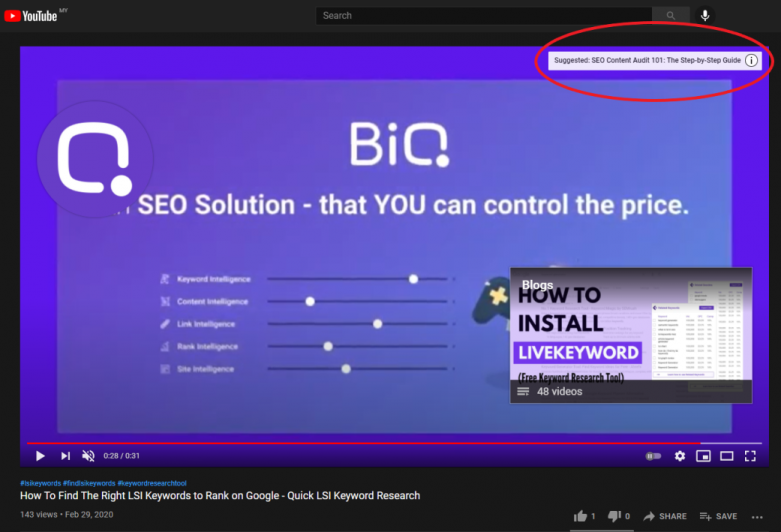 According to Youtube academy, cards are preformatted notifications that appear in the corner of your screen could be to promote other brands or other videos on your channel. They can appear anytime you want them to appear.
Depending on your goals, there are several different card types you can use:
Channel cards: link to other channels you would like to highlight
Poll cards: viewers are able to vote on their favorite product/services/requests
Video/Playlist cards: link to another public Youtube playlist
Link cards: create links directly to the website you wish they would land on
(ii) End Screens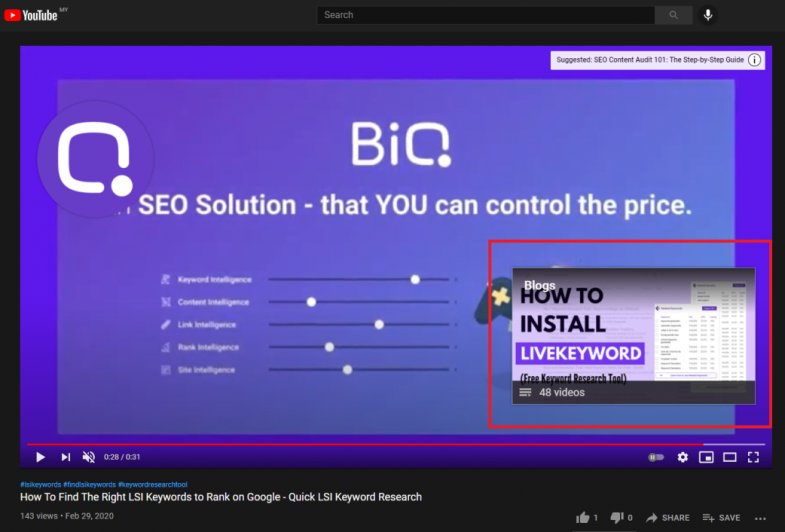 End screens are quite like info cards but they are more visual-based and occur at the end of your video. They are placed during the final five seconds of your video by default.

End screens get your viewers interested in other videos you have produced, highlight a specific playlist that might interest them, or prompt them to subscribe to your channel.
4. Attractive thumbnail images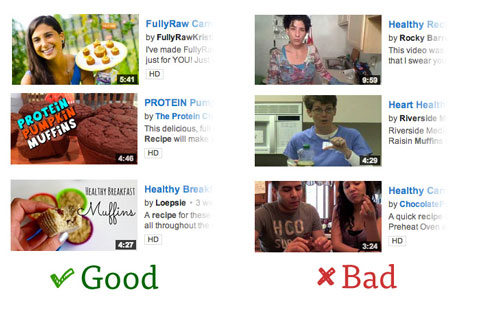 Like the video's title, thumbnails are what the users will see at a glance. They hold a tremendous impact on a video's view rate and SEO, so you should choose a good one. The best way to be doing so is to create a custom thumbnail that is illustrative of the content in the video.
Your Youtube video thumbnail appears in the following places: channel page, watch page, playlists, suggested list, Youtube search, Google web search, mobile search. So keep these practices in mind when working on your thumbnails:
(i) Be bold in your image choices. You're competing with other related videos in your niche, so you need to be the one that stands out among the rest. Color contrast, easy-to-read fonts, and the image quality of the visual layout matter here.

(ii) Add close-up personification. Clarity works best here. Show the close-up view of faces or standoffish details of something you wish to show, if possible. Viewers will be attracted to click-on faces and expressive features more than anything else.
(iii) Strive for accuracy. Never attempt to use the video as clickbait. It has to be relatable to what is being offered in the video.
(iv) Maintain the right image size. The ideal dimensions for your YouTube video thumbnail are 1280 pixels x 720 pixels tall–roughly a 16:9 ratio.
(v) Can be viewed on smaller screens. Lastly, keep in mind that over 50% of YouTube videos are viewed on mobile devices, so make sure your thumbnail image and text are legible on a smaller screen.
5. Create playlists
Why are playlists included as part of your optimization efforts?
First, playlists make it easy to curate your content into different categories. Whenever someone new visits your channel page, they can easily find the right content for them.
Viewers can watch your consecutive videos without jumping to other channels. After the first video ends, your other videos will automatically play which may contribute to more views without them having to click or navigate off the page.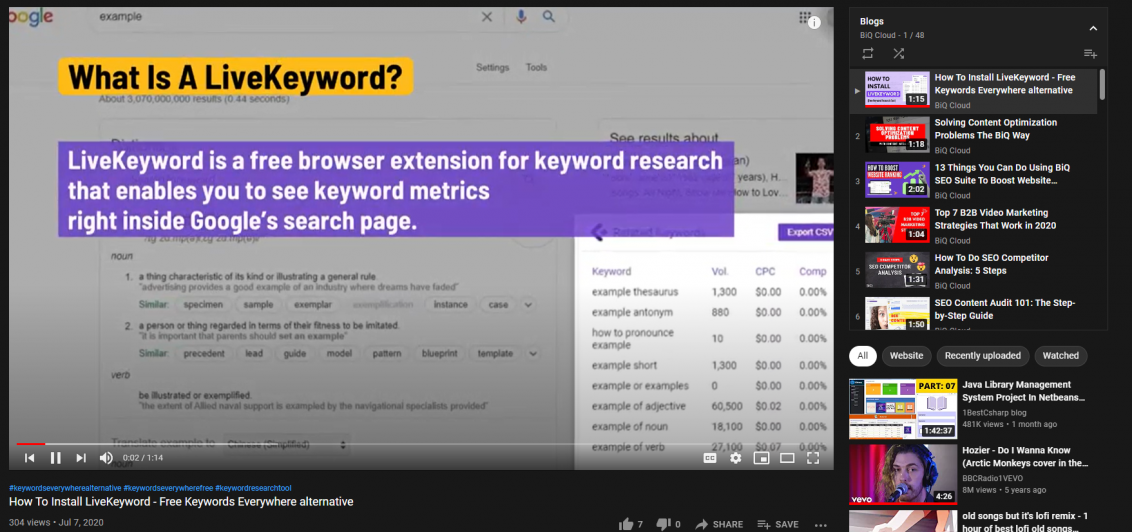 Stick to no more than 20 videos per playlist. You don't want to overwhelm your audience with a massive content of a million videos. No one is going to watch the entire playlist, right?
When they choose to explore your other videos, that's user retention done right!
6. Constantly check on Youtube Analytics

Knowing your Youtube Analytics is crucial if you want to achieve success in the platform. By clearly pointing out the successes and failures of your videos, you can laser focus on opportunities to provide the best to your viewers.
Here's how you can check on your Youtube Analytics:
(i) Log in to your Youtube account
(ii) Click the profile icon on the top right then click Youtube Studio
(iii) In the Youtube Studio dashboard head to the Analytics tab on your left.
(iv) You should see some basic analytics (Watch time, Views, Subscribers, and Estimated Time Revenue)

Analytics allows you to discover how your content is performing up to date (average number of views, comments, watch time, thumbs up, etc) and to generate reports after you optimize your videos with custom thumbnails, video tags, tailored video title, and description.
So make sure you check up on these aspects all the time!

7. Add transcript to the video description

The video description is a prime spot for search engines to crawl and index your video. Since transcripts are likely naturally keyword-optimized for your topic, it's a great fuel for your Youtube SEO.

Have you ever watched the captions that are auto-created? They hardly ever get it to a 100% right. This means that YouTube can't fully understand the actual video content unless you give it a helping hand. If you upload or add your own transcript, it will help Youtube better understand the meaning of your video.

Some benefits of video transcript include:
(i) Improve website rankings – Once you have taken the time to transcribe your YouTube video, you may as well put the content to work on your website as well. Turn your transcript into a blog post.

(ii) Locate certain topics quickly – With Youtube transcription, your audio content is timestamped. If you have a long video, your viewers won't have to watch the whole thing to find one bit of information.

(iii) Assist the hearing impaired – When you offer video transcription, you are making sure everyone enjoys your content, which gets you even more views!

8. User Engagement Matters
What does Google care most about? The users! They care about how viewers respond to your content because that's what keeps people on their site. There are a few things you can focus on:
(i) Watch Time
This refers to the actual time spent watching your video (not the percent watched). For example, 50% completion of a 10-minute video will rank higher than 100% completion of a three-minute video. That's why it's really important to hook your viewer in the first 15 seconds with a teaser!

(ii) Session Watch Time
This is another important measurement of user engagement. Youtube takes into account how a video contributes to a user's overall viewing session. Did the viewer leave the site after the video, or did they watch five more videos? The more time spent watching, Youtube will undoubtedly favor the particular video.
(iii) Publish regularly
It is said that subscribers can generate a lot of watch time within the first week of your published video. The quicker you are able to amplify user engagement in the first 7 days, the better it will be. A good idea would be to post videos on a regular basis so your subscribers know when they can expect a video from you.
Conclusion

You can optimize your videos for search both within and outside of YouTube. Although the best known and most used search engine in the world is Google, YouTube follows right behind in 2nd place.

Remember, with proper YouTube SEO, your video gets displayed higher in YouTube's search results or suggestions. Additionally, your own videos can also be featured in Google Search – as so-called video snippets.

Don't forget to leverage your existing audience outside of Youtube. You can try to ask them politely to like and share your videos! As long as you don't resort to spamming, there's no harm doing so!

That's all for today's blog. If you have any other input on Youtube SEO or other effective ways to optimize videos and get seen, please feel free to drop me a comment below!