You will learn how to drive traffic to your website and improve search rankings using this free SEO tool. Get your access to this free SEO tool inside.
If you are new to the BiQ SEO Suite, you may find it overwhelming at first. 
Because there are plenty of ways on how you can use BiQ to improve your search engine rankings. 
That being said, let me show you how you can use the BiQ SEO Suite and get the most out of it. 
Let's dive in!
BONUS: Click Here To Get Free-Tier Access To BiQ SEO Suite
13 Amazing Things You Can Do Using BiQ SEO Suite
1. Find related keywords with a high SEO value
Related keywords help to further explain the content of your website so both the user and search engines can understand them better. 
You can find them on the search engine result pages manually, or you can save your time and resources by just using BiQ's Keyword Intelligence.
Just enter your target keywords in the search box, and you will see a list of related keywords ready to be used.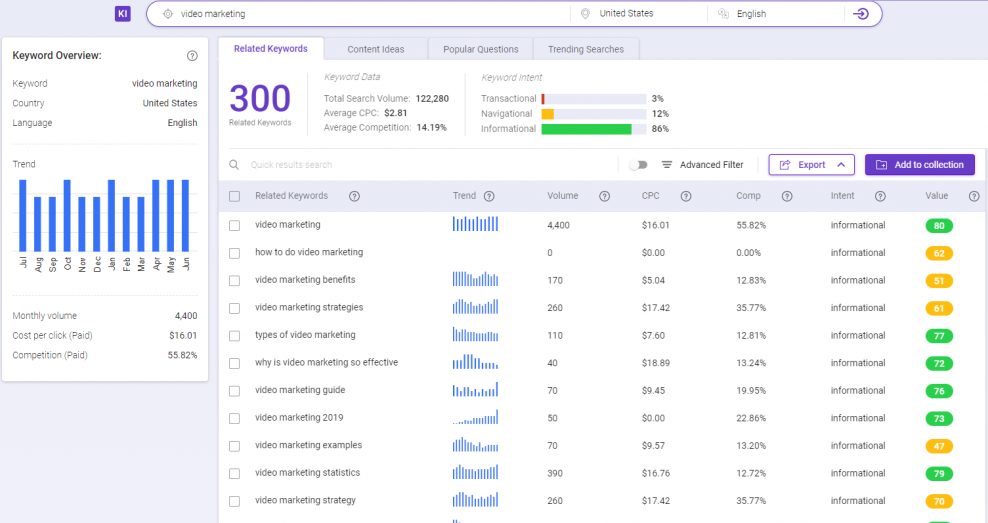 You may be thinking there are many other tools that offer the same features too – generate related keywords. Well, we thought of the same thing too. 
That is the reason why we want to make sure this feature giving you not just related keywords but also able to tell which keywords have a higher value.
Sort the keywords based on their value. And you will see which keywords are more valuable in relation to the target keyword. Higher-valued keywords give you more traffic at a lower competition.
Other than the keyword's value, you should also be able to take advantage of the other important metrics such as trend, volume, cost-per-click, competition, and intent. 
These important metrics will help you better understand which related keywords to use to optimize your content.
2. Understand user intent to boost the conversion rate
When a user types in your brand name in the search engine, they may already know exactly what they want. 
But what does it means when they type in 'video marketing' or 'video'? What are the most likely to be looking for? Well, there are a number of possibilities.
It is important to make sure that you create content that aligns with the search intent.
However, it is not that simple when it comes to determining the search intent.
We can make a guess, but that's not how optimization should be done. 
Fret not, you can easily determine the search intent using BiQ's Keyword Intelligence.

The 'Keyword Intent' tells you the searcher's intent when typing the keyword.
From the example above, a higher percentage of the users are looking for information when typing 'video marketing'. 
Let's see another example here.
When we change the keyword to 'video maker download', users are not only looking for information but also looking to make a purchase. 

You may also look at the individual intent for each keyword by looking at the 'Intent' column.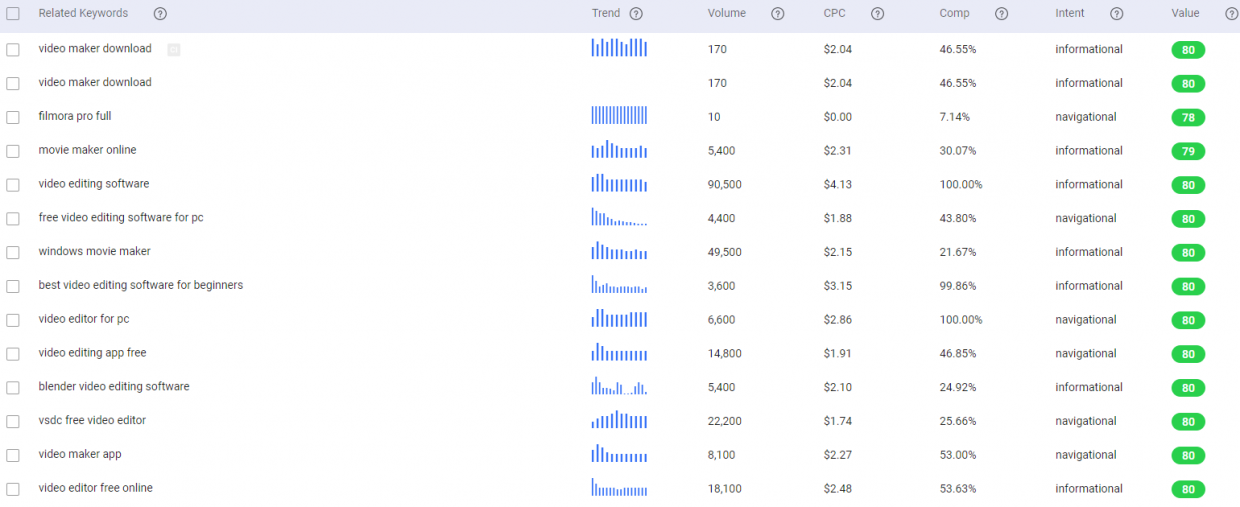 This information gives you a better idea of what to write to better match your content with the user intent.
Make sure to factor in search intent when writing your content so that you have a higher chance to rank at the top.
3. Find long-tail keywords that give you higher traffic potential
If you want to increase your website traffic and conversions quickly, the secret lies in using long-tail keywords. 
In fact, I am pretty sure you must have known that long-tail keywords convert better than short-tail keywords.
A long-tail keyword has a lower search volume but the intent is higher when compared to the short-tail keywords.
So here's how you can find a long-tail keyword in BiQ's Keyword Intelligence.
Go to Keyword Intelligence, and enter your target keyword.
Then, click the 'Advanced Filter'.
Drag the scale to 'Long' so that it will only show you the long-tail keywords. 
If you want the long-tail keywords closely related to your target keyword, choose 'Close' for the keyword relatedness.
It will return with a list of closely related long-tail keywords.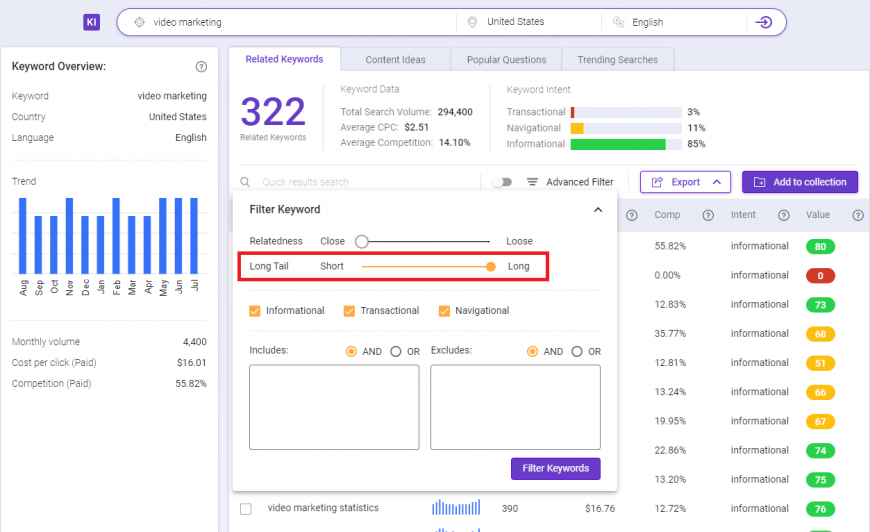 Once you have clicked the 'Filter Keywords' button, you'll find all long-tail keywords on the results. 
These are the keywords that searchers are more likely to search for when they're closer to taking some actions. 

The long-tail keyword above, 'how to do video marketing', may indicate that the searchers are interested in learning about how to get started with video marketing.
4. Find and fix critical SEO issues in your content that hurts your ranking
Do you know which SEO errors are hurting your search rankings the most?
It's easy to guess, but hard to know exactly what the errors are.  
Imagine spending all your resources and time to publish content, and then it does not result in any rankings.
Here is where SEO content audit comes into the picture.
Fortunately, it is easy to identify the SEO issues in your content using BiQ's Content Intelligence. 
Enter your content URL and the target keyword in the Content Intelligence's search box. 
Content Intelligence will start to analyze your content and show you all errors that can be further improved. 
The 'Fundamental SEO' tells you the on-page SEO performance.

They're a lifesaver if you want a quick insight into how your content is performing.
It will unveil all critical SEO errors in your content. 
Both the 'Edit needed' and 'Good' tab shows errors that have impacted your search rankings.
Start fixing the errors in the 'Edit needed' tab because it needs your attention more than the 'Good'.
You will see a list of errors and the actions you need to take in order to fix them. 
Start to fix them to improve your content performances today.
5. Identify gaps in your content strategy
The best way to identify if there are any gaps in your content strategy is to compare with what's already ranking on Google's first page.
How do you do that?
In the Content Intelligence, switch the tab to 'Word Vector SEO'
The WordVector SEO tells you the performance of your content in relation to your target keyword. 
The best part about this feature is that it can tell you exactly which paragraph has lesser relevance to the overall content. 
Again, you will be looking at the 'Edit needed' tab to check which paragraph needs revision.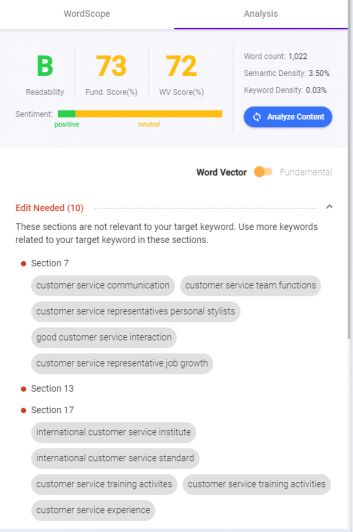 You can then dive deeper into the paragraph and analyze how to better improve its relevancy to your target keyword. 
Helpful tip: Try to use related keywords to increase your overall content relevancy than stuffing the same target keywords.
6. Discover your competitor's content strategies, then replicate them
If you can emulate what your competitors are best at, and do slightly better, you have a better chance of ranking higher. 
It will be easier to learn from your competitors rather than go down the path to test and try what works best for you. 
Go to the search engine and type in your target keyword.
Browse the first ranking site and analyze them on Content Intelligence with the same target keyword.

You will get to discover what your competitors have done the best and which areas you can do better.
I recommend you go through each of the tabs in Word Vector SEO and Fundamental SEO. 
The 'Optimized' sections tell you a list of activities that they have done well, which usually makes their ranking go up.
Check each of the best practices and from there you can list out any strategies that are relevant to your content strategy. 
But don't stop there!
Just like what you have done previously, audit your SEO content, you can do the same for your competitors too. 
Discover what 'errors' that they may not notice on their website, and make sure you do not repeat the same mistakes.
7. Discover your hidden ranking keywords
How do you know if all the time and money that you have spent on search engine optimization is worth it? 
Answer: Check if the keyword is ranking on the search engine. 
To do this, just enter your domain name on the Rank Intelligence.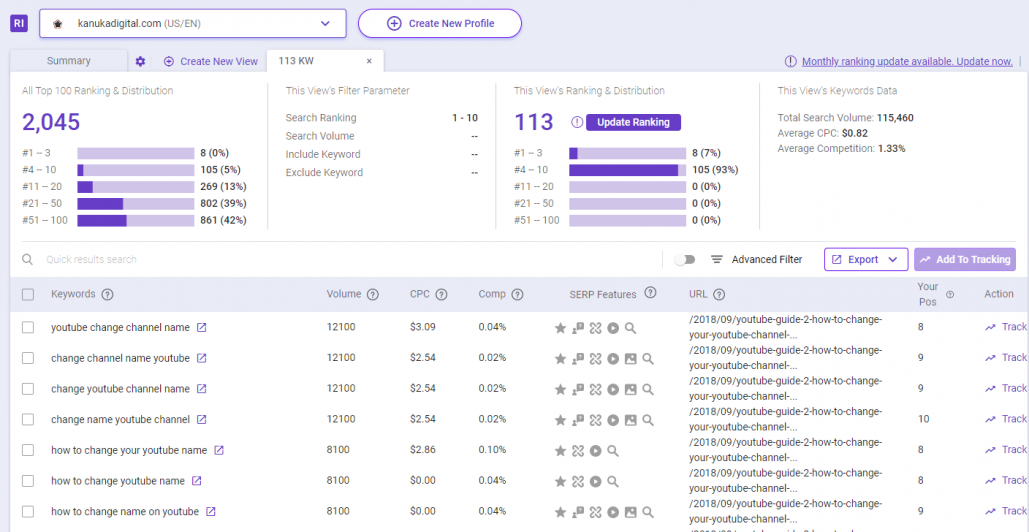 Rank Intelligence will unveil all keywords and pages you are currently ranking for.
In other words, you will get to see all the keywords you are ranking together with their positions on the search engine results page.

By looking at the ranking distribution alone, you get to know how your website is performing.
It shows the percentage of how many of your keywords are ranking in the top 3, top 10, top 20, top 50, and top 100 positions.
With the snippet of your ranking distribution, it tells you immediately which keywords to focus at this point of time. 
8. SERP Features Opportunities to gain more exposure
Many of us get so fixated on optimizing website content that is only ranking on the first page. But there is more to it than that. 
There are featured snippets, knowledge packs, local features, image packs, people also ask, and more.
Getting your content optimized for any of these search features can drive a lot of traffic to your website.
In fact, there is a study saying that the featured snippet can drive more than 500% more traffic to your website! 
If you can find out which of your ranking keywords has any of those search features, then you can easily optimize your content to replicate the format. 
Enter Rank Intelligence.
BiQ has compiled all of the search features under 'SERP Features'.
You can quickly identify which ranking keywords have any of the search features.
Not to forget, you can also see their ranking position. 


By filtering your SERP position to those ranking in the top 10 results, you can quickly get to see which content has a higher chance of getting the search features.
You may also sort the keyword volume to see which has the highest searches and worth the effort to optimize first. 
9. Identify ranking opportunities in your lower-ranking keywords
Some people struggle in their search optimization because they are putting a lot on the plate and not focusing on what's important. 
But when you have insight on your ranking performance, you will have a good idea of where are immediate opportunities for improvement are.
Use the 'Advanced Filter' to filter the keyword volume and search position.
Start with optimizing keywords that are ranking in the top 10 positions with a reasonable volume.
Move them up to the top 3 positions then only start with optimizing those on the top 20.
10. Discover your competitor's ranking keywords
Do you want to know what keywords your competitors are ranking for? You have come to the right place. 
Other than discovering what are the keywords your website is ranking for, you can also search for your competitors' winning keywords using Rank Intelligence. 
This information allows you to understand how your competitors are performing in the search engines and where you can pass them by. 
Just enter their domain name on the Rank Intelligence, and BiQ will tell you their ranking keywords.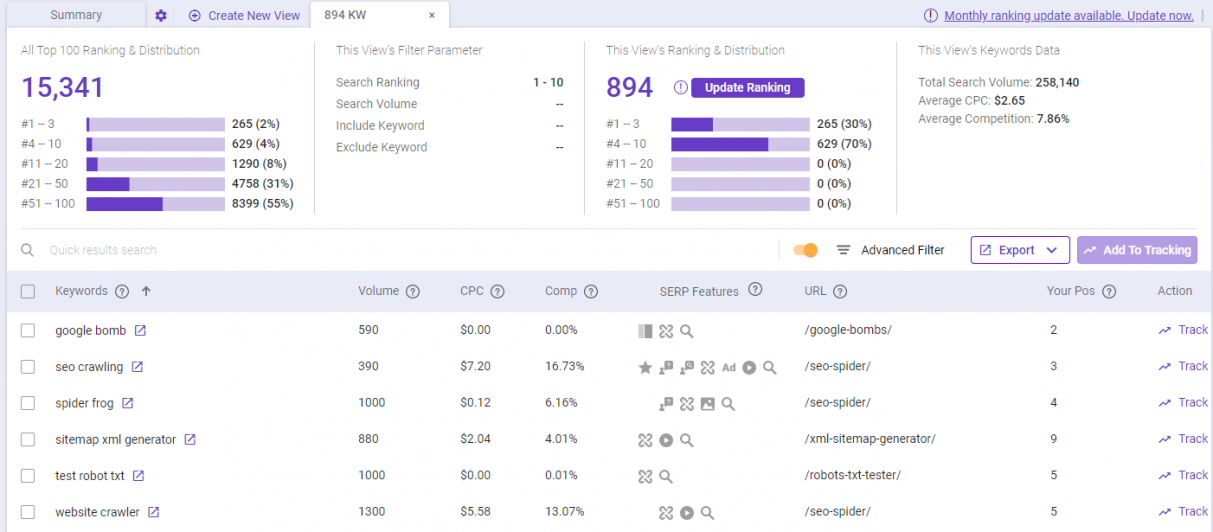 Use the 'Advanced Filter' to filter the data that matters to you.
For example, you want to see what are keywords are ranking in the top 3 positions with a minimum of 10,000 search volume.
With this, it should be easier and faster for you to do your competitive research. 

Other than that, you can also check if your competitor is targeting the same keywords as you do.
Include all the keywords you are targeting and click the 'Filter Results' button.
11. Identify new content opportunities from your competitors' winning keywords
There are many ways you can find new content opportunities. But if you want to save your time and effort, check out how I usually did it.
First, I'd normally check my competitor ranking keywords using the Rank Intelligence.
Once I identify their ranking keywords, I will go one step further by filtering only keywords that are ranking in the top 10 positions with a minimum of thousand search volumes. 

From here, you can go through which keywords may work for your next content.
But it doesn't end there.
You can check the competitor's content and analyze them in Content Intelligence.
You can check the format and types of content used.
Do they feature in any search features?
Do they use any images or videos on the page?
Are there any significant differences between this content and the rest? 
It may be difficult to rank your content in competitive SERPs.
But when you conducted a competitor analysis, it will give you a better insight into how you can create content that outperforms your competitors
12. Track your website's keyword rankings in the search results
Rank Tracking allows you to track your daily, weekly, and monthly ranking progress for any locations and languages.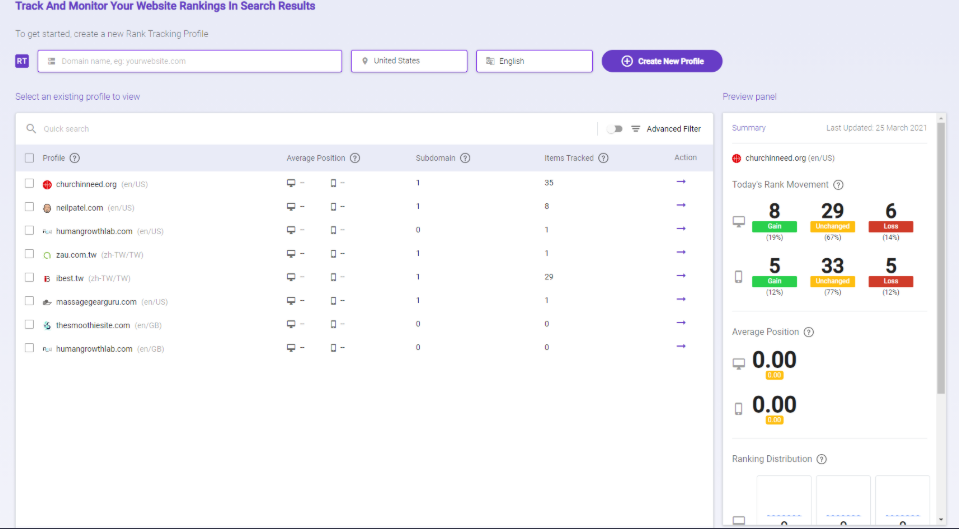 From the insight above, you can even see the average ranking position and ranking with the extra features. 
The best part is you can see the overall progress at a glance.
Skip the guesswork and let Rank Tracking show you a visualization of your ranking progress. 
By clicking on the bar charts of either the average position, ranking on the first position, or ranking with extra features, you will get to see an overview over the last few days, weeks, months, or a custom date range.
But what if you have certain keywords and pages you want to track?
Just click the 'Add Keyword To Track' or 'Import' button, and enter the keywords and pages you want to track.

13. Get additional keyword suggestions on the search results
If you don't already know, BiQ SEO Suite comes with a free LiveKeyword extension.
LiveKeywords is a browser add-on for Chrome that shows keyword suggestions together with their search volume, cost-per-click, and competition.
Once you signed up to BiQ, you can immediately get the LiveKeyword extension API key at your 'Account Settings'.
Install the LiveKeyword extension on Chrome, and paste your API key inside the extension settings.
Now go to Google and search for any keyword. You will see the keyword suggestions on the right side of the search page.
'Related Keywords' are phrases that people often search in relation to the keyword that you searched.
While 'Related Searches' are searches that are closely related to your main keyword.
I always found both of these real-time features help me with new keyword ideas. The metrics also help in selecting my keywords for search engine optimization.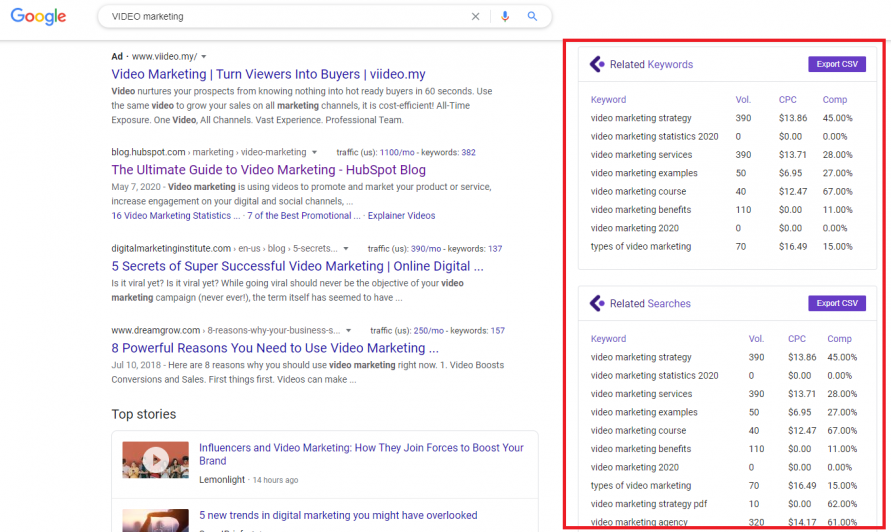 If you click any of the keywords on the widget, it will open a new Google search for you. It is especially useful for keyword discovery.
Another cool feature for this extension is you can also download the list of keywords in the CSV file!
BiQ Seo Suite Comes With A Free-tier Access To All
Now that you know how you can use BiQ to improve your website ranking, I would like to share with you this free access to this SEO suite.
Click here to get your free-tier access to BiQ SEO Suite
I recommend you give it a go if you are serious about getting more traffic and conversion on your website.
If you need in-depth tutorials on each of the features in BiQ SEO Suite, then you are ready to dig into our BiQ Tutorial.