Search engines use brand signals as a ranking factor in determining a site's authority. This post informs you why brand signals are essential and how to improve your brand signals for better SEO
Businesses are grappling with link building and link profiles to rank better in search engines.
However, another type of marketing method has been slowly taking over the realms of search marketing.
It is neither technical nor complicated.
It is known as brand signals.
Businesses globally, both small and big, engage with the world through various platforms.
From websites to broadcast advertising, product interaction, and even company representatives.
All these systems use brand signals such as logos and names to engage.
Brand signals are fast becoming one of the most effective ways for businesses to build visibility and trust on the web.
Actually, you must work on your brand signals to increase brand awareness through SEO today.
Search engines use brand signals as a ranking factor when determining a site's authority and usefulness.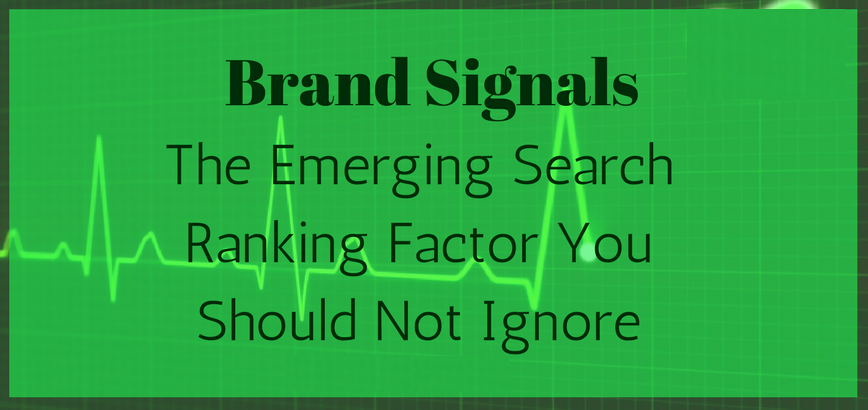 That is why you find well-known brands such as Amazon, Apple, and others ranking better than others.
This article spells out what brand signals are, how they impact search marketing, why they are essential, and SEO branding tips for your brand.
What Are Brand Signals?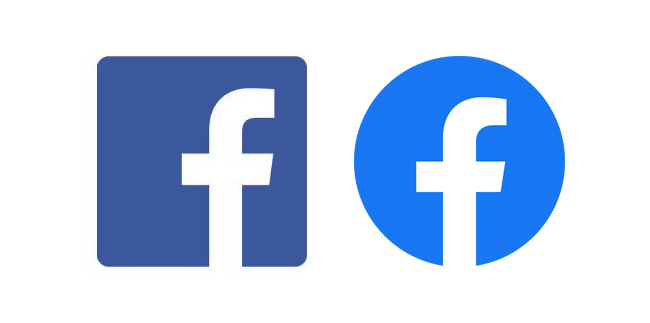 If you take a look at the image above, you'll instantly recognize the logo as Facebook's.
That's how brand signals work!
Brand signals speak to consumers about the type of brand, origin, quality, and price.
They contain some influence that equates to the brand in question,
This lets people differentiate one brand from another through packaging, logo, name, etc.
Brand signals act as vessels crafted to convey or carry information about a brand so as to motivate, inspire, and inform audiences, both external and internal.
That said, branding is fast becoming a vital aspect of search engine optimization.
This is mainly because search engines are now using brand signals to determine a site's authority and authenticity.
A recent research by Search Metrics also indicates that top brands have the upper hand when it comes to ranking.
It's quite obvious that Google favors big brands on search results.
Essentially, the more a business or product is mentioned by other people or sources, the more Google will consider it authoritative and useful.
Here is an insight by Rand Fishkin on how brand signals algorithms work.
Mentions
Your brand signals relate to how often you are mentioned by other sources.
For instance, if you are mentioned in a publication such as the New York Times or The Wall Street Journal, your brand signal is sturdy.
And the more you are discussed online, the greater your brand signals.
Verifiable identity
The more legitimate your brand is, the stronger your brand signals.
Features such as the About page, detailed contact data, and business listings or NAP (network access point) all are part of building a verifiable identity.
Activity on social accounts
Presence on various social platforms as well as engagements such as mentions, tweets, and mentions all enhance brand signals.
User queries
If more and more people are searching for your name, odds are search engines will adjust your brand's ranking based on the number of searches.
Aspects such as click-through rates can also enhance your SEO and brand signals eventually as it shows viewers are searching for you.
Similarly, if you are often associated with particular keyword queries, this is a good brand signal.
Search engines may be prompted to build a powerful link between those keywords and your business.
Indications You Have Brand Signals
Branded Anchor Texts
Google loves to see websites with a robust brand image.
As such, using branded anchor texts (visible and clickable links) in relevant pieces will validate your business as an expert within your sector.
Here's an example of branded anchor texts on BiQ's blog post on targeted marketing.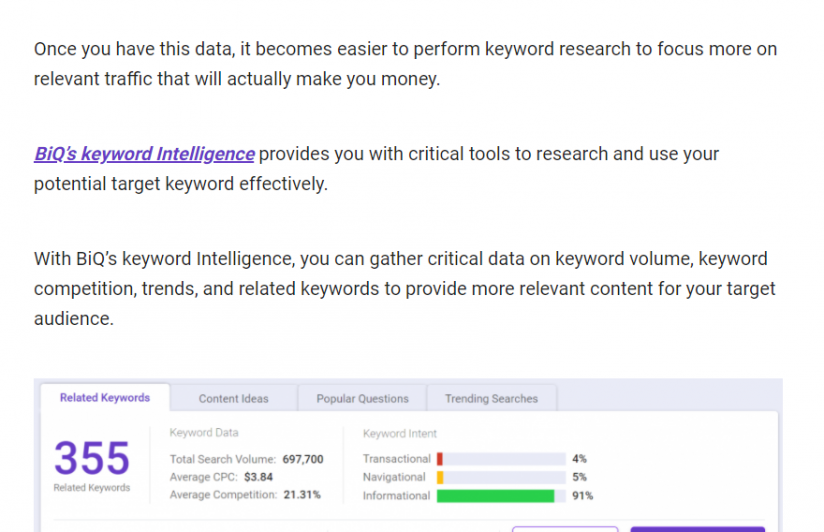 The more consumers see your name out there, the more the chances they will search for it making your brand signals even stronger.
What's more, branded anchor texts allow you to tell a story about your business.
So, if you want to be the narrator of your brand's story, not someone else, get your branded anchor texts out there.
You will be glad you did!
Branded Searches
Your SEO strategy for brand awareness does not need to be perfect for your brand signals to be top-notch or to rank high.
The most important aspect is for people to locate your business website.
So how will users find you if you are not in search results?
With some research using BiQ's Keyword Intelligence tool, you can find keywords pertinent to your brand.
Creating useful content using such keywords will help users find your brand easily when they search for services or products that you offer.
Instead of buying ads, which are fast becoming irrelevant, create an inbound campaign for your business.
Then you can organically build a powerful online presence.
To achieve that, create SEO-friendly web pages and engage on social media platforms.
And when consumers search for your brand, Google regards this as brand signals.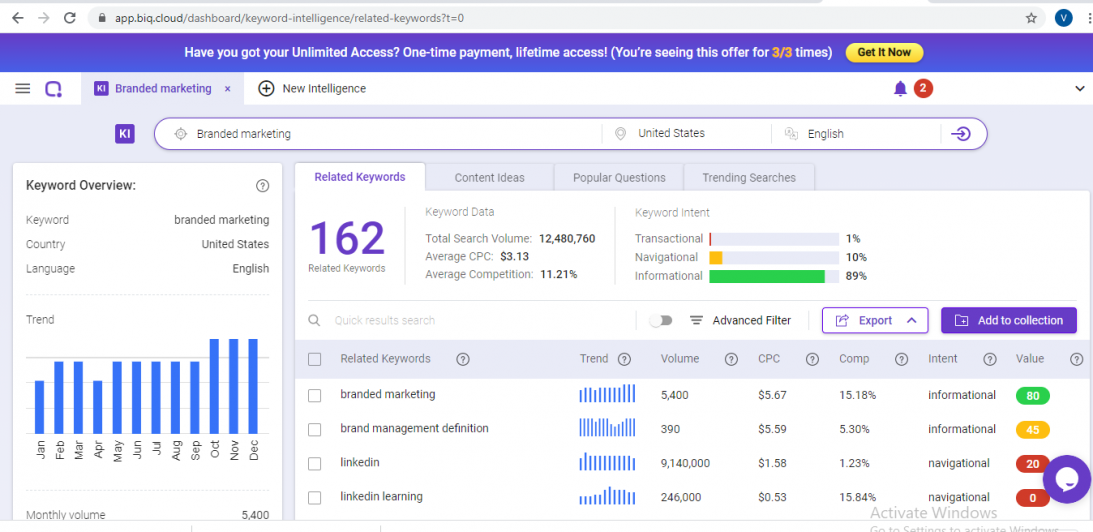 The Brand Has Social Media Accounts With A Follower Base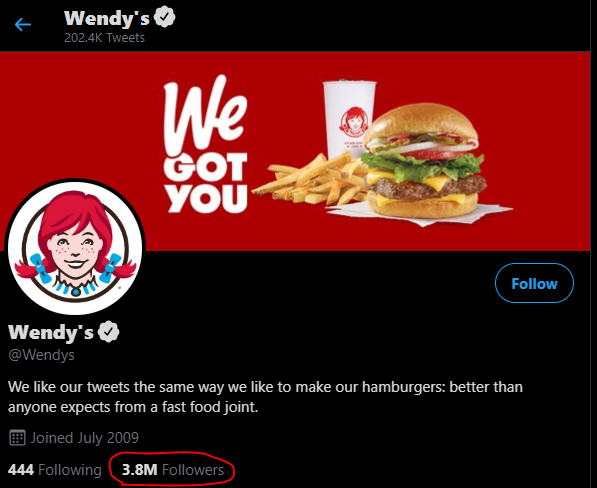 A brand with brand signals should have quality consumer engagement through social media channels.
If you do not have a strong presence on social media accounts and a fan base, then you do not have brand signals.
And you risk losing a lot.
Social media platforms don't just enhance brand awareness.
They also provide an avenue where your clients can ask questions as well as engage with your team.
Similarly, if you have social media accounts like Twitter or Facebook that do not get likes or followers, it means your brand signals are lacking.
It might be that your content on the channels is irrelevant or obsolete.
LinkedIn Page
LinkedIn is one of the largest professional networks in the world.
The channel is ideal for businesses, not only for advertising themselves but also for establishing relationships and building connections.
That is why companies with a LinkedIn page are regarded highly.
It makes their branded signals very powerful.
It is essential to note that companies that use the page as a branded signal usually update it often and utilize it as a channel to drive traffic to their site.
They do this by sharing blogs and valuable news on the site.
They also follow pertinent firms and influencers on the page.
They take advantage of their current relationships by creating new ones.
Also, having connections with specific people will make you known in the sector.
Brand Mentions On External Sites
When other sites, bloggers, and internet users mention your service or product even without a link, that mention alone is a signal that your business is legit.
The more you are referred to, especially by popular news outlets, the higher the chances you will rank better than the competition.
As mentioned earlier, Google and other search engines rank mentions higher than other factors such as links.
Mentions indicate a brand is a leader in its industry.
Links can be used for various reasons, including reciprocation, sponsorships, or they could even be purchased links.
Google and Bing have a database of millions of sites.
And its main priority is to have professional and useful sites rank high.
And what a better way to analyze that than through mentions and recommendations as they show your brand signals are very powerful.
How To Improve Brand Signals
Have A Unique Name
Naming your brand is an important factor in the branding process.
It needs excellent ideas and foresight.
You must use a name that does not only reach your audience but also captivates them.
A memorable, unique, and short name makes it easy for people to remember.
Thus, it increases the chances of people searching for it online.
Also, a brand name is your opportunity to give a good first impression.
As such, it must be strong enough to make an impact.
Your customers will engage with the name more before anything else.
So make sure it not only wows your audience but also conveys an accurate message.
Also, short domain names are ideal for SEO.
Just make sure you secure the name on all the major social platforms.
But selecting your brand's name involves more than just settling for any Tom, Dick, and Harry name.
By going for an unforgettable name for your venture, you will attract clients and make personal connections between your business and customers.
Don't forget to select a name that perfectly represents your business and its goals.
It will set you up for both short and long-term success.
Create Content Based On Brand's Expertise
When you regularly create content showing how your product or service can solve consumers' challenges, it will validate your business as an industry leader.
Content makes it easy for search engines to comprehend the brand and allows the product or service name to be identified with the search.
If you are not sure about the type of content to create, BiQ's Keyword Intelligence tool can help you identify topics related to your industry.
You can search for trending or newer keywords inside the tool.
Keyword Intelligence will give you all the latest topics or keywords trending around your chosen keyword.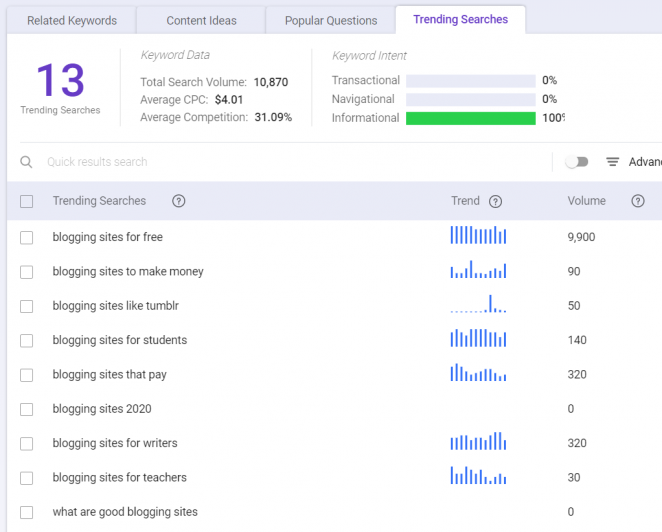 What's more, there's another tool that complements Keyword Intelligence called Content Intelligence.
Content Intelligence can help users identify what to cover for their target keyword or brand.
It will give you a detailed breakdown in terms of your keyword usage, similar keywords, and similar sentences.
Establish Social Media Presence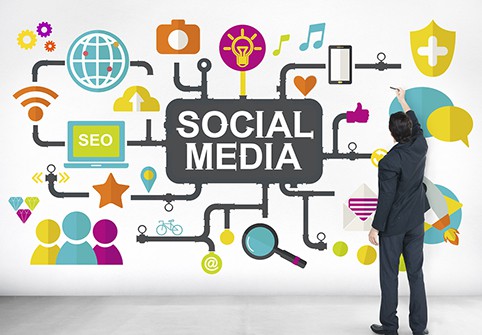 One of the main sources of a firm's brand signals is the different activities that take place on social channels.
As such, it is vital that your business is represented on all social media platforms.
Tip: Head to http://knowem.com/ to search for your company's name across all social media platforms.
As mentioned earlier, a good method to acquire social media followers is to develop great and useful content.
The more you develop amazing and relevant content, the greater brand signals it will develop.
You can also share posts from influencers, especially those that you think will add value to your followers.
Get Press Coverage
Utilizing press coverage is another way of building authority and brand signals.
Just like human beings, search engines will consider your brand an industry leader if the press mentions or talks about your business.
Be A Guest Writer
Being a guest writer or contributor to any influential media outlet or website has its advantages.
For example, you can showcase your business in front of many more people.
This will certainly enhance the number of leads, clients, and customers in your sales funnel.
Here's an example of a guest author writing for Forbes.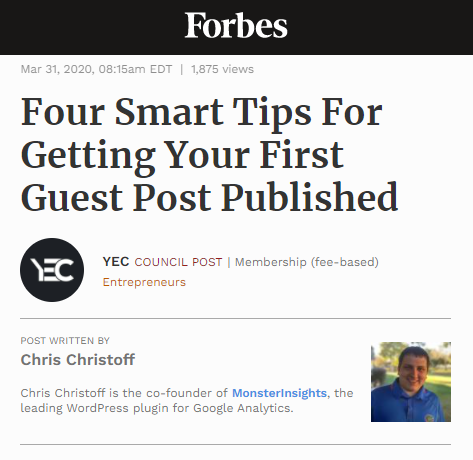 Similarly, the authority of that influential media will also be passed via your brand.
This method is a great way to create brand impressions, generate traffic, and eventually build trusted brand signals that search engines and clients can use to measure your website's expertise and importance.
Tip: If you are not sure of where to start with guest posting, try Google. Just type "Target keyword" + "write for us" in the search box. You will be surprised at how many opportunities you find!
Gain Co-Citations And Branded Links
When other sites mention your business, you gain stature in Google.
Below is an image of BiQ gaining a branded link on Yahoo!
But how do you get them to mention you?
To get value, you must offer value.
So, link your posts to other quality sites or mention other quality brands.
You will gain more back through co-citation.
Search engines normally analyze and categorize websites based on other firms that they mention.
Therefore, associate yourself with the brands.
You may find yourself ranking for keywords the firms also rank for.
Also, do not vary your keywords with words like top, leading, affordable, or best.
They do not work anymore.
Instead, focus on branded links.
Use your brand name or any other text to develop the anchor text.
You can add your target keywords around the branded text so that search engines notice the target phrase and the brand.
Final Thoughts
Off-line brand signals were a must-have for customer engagement before the invention of the internet.
Still, that has changed much even after marketing moved to the world wide web.
Why?
Because nobody wants to do business with a business, they do not know.
In today's digital era, it has become vital for businesses to have an online presence through various forms, including branded signals.