Content syndication is when other third-party sites use a piece of content you posted on your website, in their own posts and link back to your content. You can gain referral traffic, new leads and..
Gain 500 or 1,000 or even 10,000 subscribers to your blog post from republishing just a single post!
That's the kind of legs content syndication can give your content.
Your posts are likely the pillar of your online content marketing strategy.
As such, you invest a great deal of time, energy, and resources to make it successful and search engine optimized.
It's the vehicle for your return on investment (ROI).
So, you cannot afford to play around with it.
Therefore, you grab any opportunity you get to make it go the distance.
If it's any consolation, getting traffic is a common problem that even expert content marketers face.
It's not something new.
And while several strategies can help get those numbers up, incorporating best practices from content syndication would stand out more.
That's because it's really cost-effective, improves SEO performance, and helps boost brand awareness.
What else would you ask for?
Optimizing content for SEO is only always half the job.
As a marketer, you must also invest time promoting your blog posts.
Craft SEO strategies that work best on your post and wait to see tangible results.
But with content syndication, you simply repurpose already published content to get in front of your target audience much more quickly.
What Is Content Syndication?
Content syndication is when high-quality, third-party websites use a piece of your content in their posts and link back to your content.
Syndicated articles don't have to be long posts.
They can simply be a few lines of your original post.
Neither do they have to be articles or blog posts.
Thanks to the digital world, searchers now prefer visuals over written content.
Online users now engage more with visual content like:
Videos
Images
Infographics
No matter the size of your brand, when applied properly, you can actually reap huge benefits from syndicating your content.
Companies now provide their audiences with several syndicated contents from different sources to avail their audience with fresh content and new information.
It is the added benefit of sharing fresh content with your target audience without creating the content internally.
As the original author, you also benefit from the syndication since it boosts your brand visibility and outreach.
Both sides win!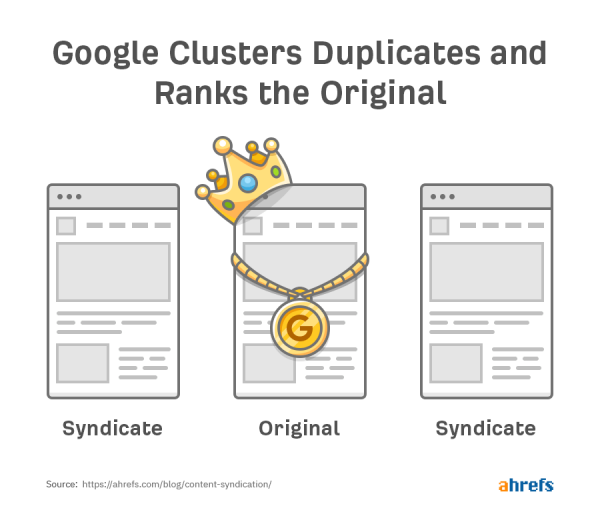 However, you probably already know that Google dislikes duplicate content.
It actually abhors it and will penalize you for it.
Duplicating content is a big NO NO!
Hence, this caused many content marketers to worry about syndicating their content because duplicated content issues might arise.
After all, producing fresh, original, highly informative, and engaging content is one of Google search engine's ranking factors.
And it's highly protective of it.
Well, fear no more!
Google now supports syndicated content, provided you inform the search engine giant and readers that it's actually syndicated content.
You can do this by ensuring the third-party website that's publishing the content links back to your original post.
Ideally, this should be within the content of your syndicated post.
Benefits Of Content Syndication
Other than getting more eyeballs staring towards your blog post, there are several other benefits you can enjoy from syndicating content.
Obtain Referral Traffic
More links to your website mean more referral traffic and, of course, link equity.
The links acquired through syndication can provide referral traffic directly from other websites.
Not just that, but they also act as a vote of confidence from the other websites.
Google will notice this and reward you accordingly.
Referral traffic supports your organic performance and will largely contribute to increased traffic to your website.
Increasing web traffic is one of B2B marketers' top objectives when implementing a content syndication strategy.
Ideally, you'll be creating more brand awareness as more traffic drive through your website.
New Subscribers/Leads
When it comes to generating new subscribers/leads, syndication is a lot easier and more effective than other strategies.
Essentially, distributing your content to other publishers who're targeting the same audience as your brand increases referral traffic.
This allows you to target prospects based on the other site's company size, industry type, and role.
So basically, you'll gain new subscribers and leads to your website quickly.
Build Your Brand Presence
Syndicating content regularly is a sure way of making your brand more visible and accessible to your target audience.
As a brand, sharing relevant and helpful content for audiences helps nurture prospects throughout your sales pipeline.
When searchers see your brand name consistently on authoritative websites, it creates a halo effect.
They also start to see you as an authority, which is big news for your brand.
Not to mention, the mere exposure effect allows prospects to see your brand more often.
This increases their chances of interacting with your products/services in the future.
How You Can Get Your Content Syndicated
You can use several strategies to syndicate content and garner positive results like the ones listed above.
In this section, we will focus on four super-effective strategies on how to syndicate your blog.
1. Republish Content On Bigger Websites
You can actually grow the reach of some of your best-performing posts on larger sites that already boast a high volume of established readers.
Typically, most of these websites will also have a higher authority than yours.
Plus, they allow you to publish content directly.
Thereby syndicating your established successful posts for their readers to digest.
While the followers of a pre-established site are already familiar with that site's posts, they may not be with yours.
Therefore, this avenue may sometimes not bring a lot of traffic to your site.
But they will definitely see that the original content came from your website, consequently increasing your brand awareness.
Think of it as a way of amplifying your reach to a much wider audience.
However, you must also prepare to face the fact that some readers might actually consume your entire original content from the third-party website and leave it at that.
But if you're lucky, you might have a few searchers click on your link to see what other great content you have in store.
Therefore, syndication is definitely the way to go.
Especially if your primary objective is to increase brand awareness.
2. Syndicate Old Content On Similar Authority Websites
Repurposing your existing post by syndicating it on authoritative third-party websites with audiences similar to yours is another excellent strategy to boost brand awareness.
This strategy is particularly beneficial for brands looking to reach a niche audience.
Syndicating content to smaller publications like yours would probably include more in-content links that send readers clicking back to your blog posts.
It's a prime way of syndicating more focused publications, which generates more traffic to your site and possibly garner new leads.
Ideally, you want to focus more on publications with smaller authority and readership similar to your website.
Such publications might be more inclined to allow more contextual links that refer back to your blog.
3. Guest Post On Bigger Publications
You can also write guest posts for larger digital publications.
Then, syndicate them through your blog and other websites like Medium, LinkedIn, and Quora that allow free publishing.
With this strategy, you gain the perception of an industry thought leader that's seen by a huge audience.
These people might have otherwise never known your brand even exists.
Many of these larger publications also allow you to republish the original content on your owned posts, establishing you as an authority.
After some time, depending on the publication, you will be free to republish your content to suit your new audience and social channels.
Think of it as a way of getting more bang for your content.
4. Get Picked Up By Other Publications
You also want to look for websites that already consistently use syndicated content on their platforms.
Such websites will link back to your original posts, thereby boosting your overall brand awareness and authority.
For instance, say a high-authority website like Fox News, Entrepreneur, Forbes, MSN, Food Network, etc., publishes an exceptionally popular piece.
When you google the title of that post, you'll find several other smaller websites referencing it and linking back to the original piece by the larger publication.
It's also possible to utilize this strategy to get your blog post picked and syndicated.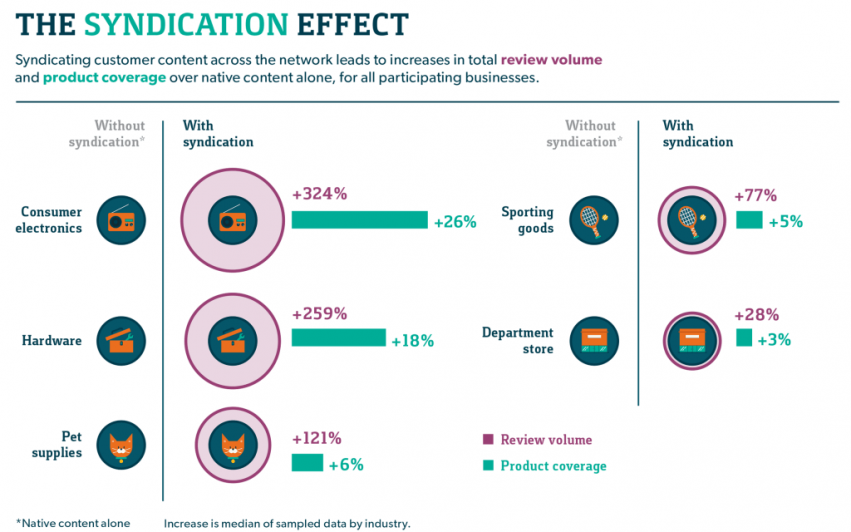 But remember to link back to the original source from the larger publication.
This is to avoid harsh penalties from Google and possible charges from the original publisher.
Before That…
Before you embark on getting your content syndicated, there are a few simple steps you must follow.
Knowing how to syndicate your blog is only half the job.
You must also work on how you'll get great content syndication.
These are the top three tips you can use for the best content syndication process.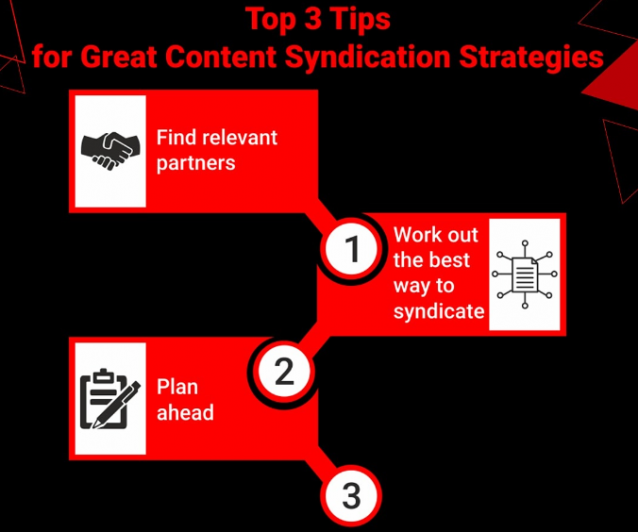 1. Find Relevant Partners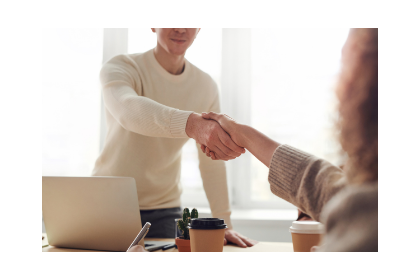 Before you republish your content, ensure it's featured on popular and high-ranking sites that reach your target audience.
Therefore, it's crucial that you research potential syndication partners that can make the most impact syndicating your post.
After you've found relevant partners, reach out to them and present your content.
If they find it to be a good match, they'll definitely be interested in the idea.
2. Work Out The Best Way To Syndicate
On some occasions, it's best to syndicate your entire blog post or article to a third-party site.
Other times, it's more practical to syndicate just your headline and a link back to your website.
All these depend on the website's guidelines and processes, its audience, and the type of content they publish.
Wherever possible and appropriate, you can also include links to your website or landing page and a CTA to encourage conversions.
But all this stems down to writing content that's awesome, and both the publisher and reader consider authoritative, interesting, and highly informative.
3. Plan Ahead
Like other marketing activities, your content syndication strategies will only be effective with a solid plan in place.
A good strategy starts with great content.
From there, you define your business goals, identify relevant syndication partners, creating winning pitches, and mapping out your short- and long-terms syndication plans.
That's what happy content syndication is about!
BiQ's Content Intelligence is a leader in providing content marketers with critical data necessary to cover important data about your topics.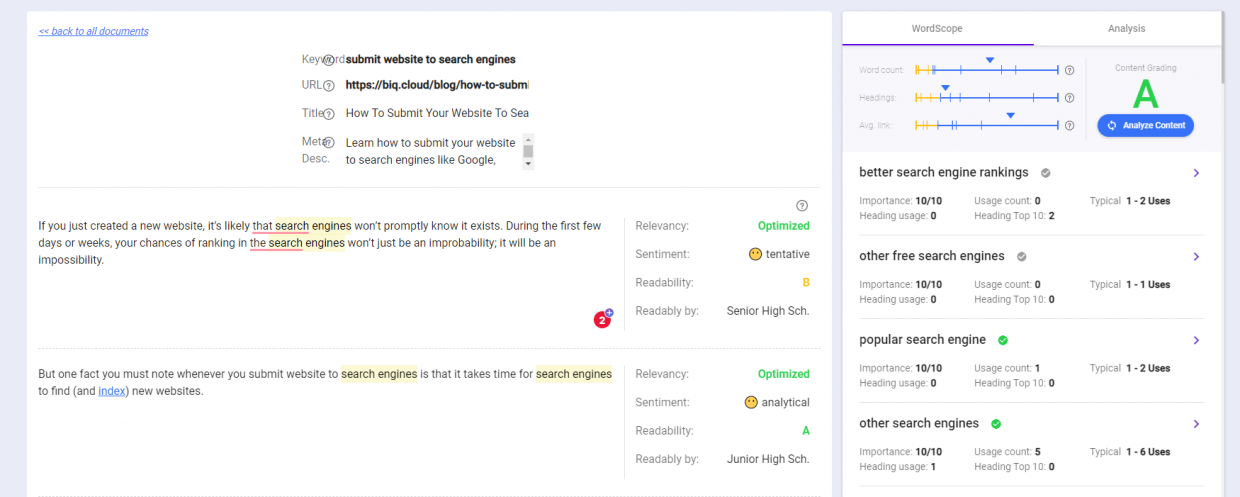 Typically, most content writers hop over to Google as their guide to creating optimized content.
But the problem with Google and SEO is that they take too long.
Plus, humans are prone to error.
Here's where Content Intelligence tool comes in handy.
This tool analyzes all keywords used in your document against top-performing organic content in the search engine giant.
Better still, it provides you with a breakdown of your target keywords in terms of usage, example, sentences, and other similar keywords.
Supporting keywords are the go-to source to support your target keyword, making them just as important to help your post reach your target audience.
With Content Intelligence, you can also discover your competitor's content strategies and use this data to outrank them. The process is quite simple.
Search Google for the first ranking website and analyze its content using BiQ's Content Intelligence with your target keyword.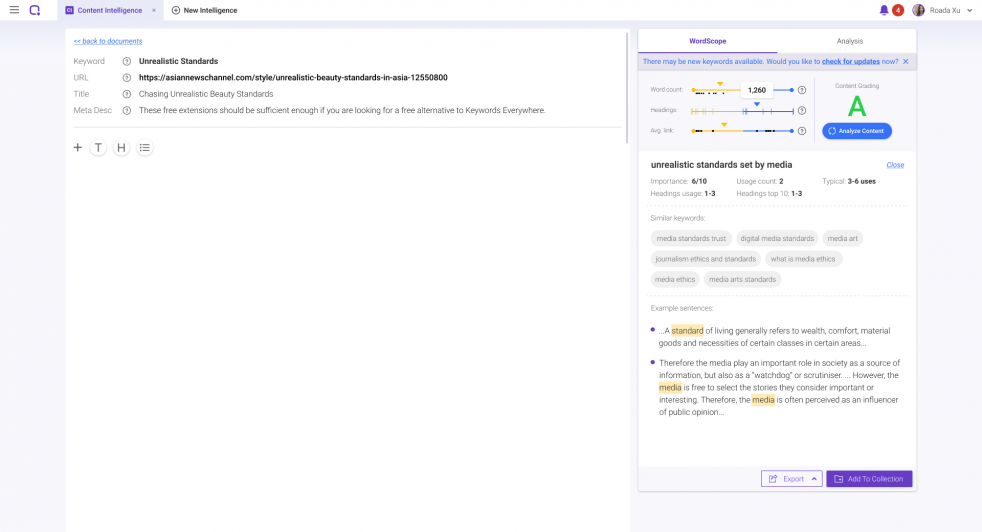 The content analyzer provides you critical data that enables you to determine what your competitors did to establish themselves in the top spot in the SERP and how you can better it.
With this strategy, you can also discover what errors they made on their website and capitalize on them to better your post.
BiQ Cloud saves you time, energy, and resources you would have otherwise spent searching through Google for loopholes.
Conclusion
Ultimately, content syndication is an excellent opportunity to help you reach new audiences and potentially convert them into leads.
Consequently, if you allow other publications' content on your website, you'll be able to treat your audience to fresh and valuable content without them having to leave your website to find it elsewhere.
Think of content syndication as a win-win strategy for both parties involved.
When exercised properly, everyone wins in this online game!